Warm weather weddings are wonderful, but how to keep your outdoor wedding guests comfy? Do we have the ideas for you!
Your primary concern for your outdoor venue will be how to keep your guests comfortable all throughout the ceremony. They all came from different places just to celebrate with you on your wedding day, so it is actually your "job" to provide for their comfort! But no worries—we've got plenty of tips to make your outdoor wedding fun and comfortable for everybody.
How to Keep Your Outdoor Wedding Guests Comfy
Banish the Bugs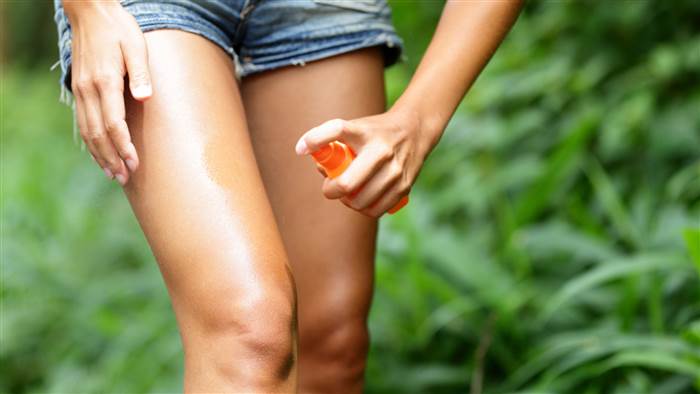 Since you're hosting the wedding outside, make sure to get rid of the pesky little parasites flying around. There are professionals you can hire to spray the area, or you can just buy a bug repellent in your hardware store and spray it around to protect your guests.
Provide sun protection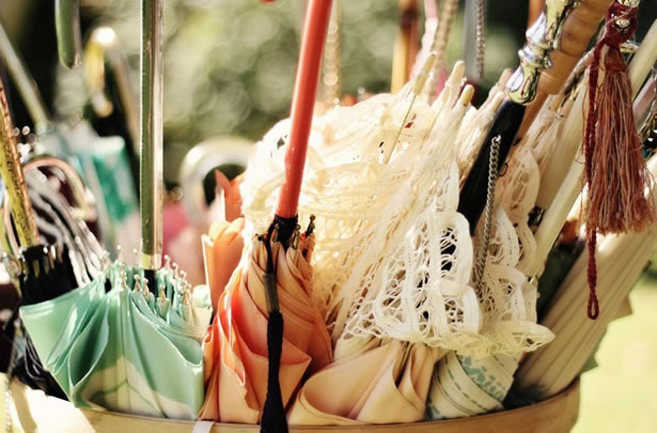 While it is most enjoyable to celebrate your wedding under the sun, you also want to consider the health of your guests. You can provide sunscreen, umbrellas, and parasols to keep their skin safe under the harsh blaze of the sunlight.
Make Their Path Smooth Somehow
Celebrating your wedding outdoor can include walking in grass, pebbles and other uneven surfaces so make sure that you tell your guests first so that they won't wear expensive high heels on your wedding day. You can also lay down a tarp or fabric to make a path over uneven ground, similar to a runner for a church.
How to Keep Your Outdoor Wedding Guests Comfy
Serve Non-Alcoholics Before the Ceremony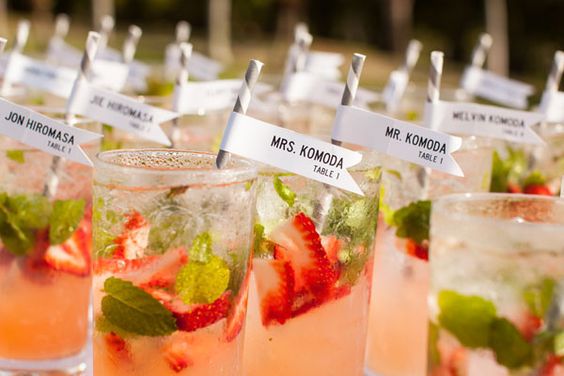 Sunlight can dehydrate so make sure to offer non-alcoholic liquid refreshments even before the ceremony starts. Hot summer days are perfect for fruit infused water. Additionally, you can provide some snacks to keep their energy up throughout the ceremony. This is especially thoughtful for distant relatives who have travelled a good distance specifically to witness your wedding.
Keep Them Cooled Down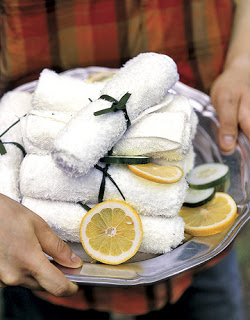 If you really want to pamper your guests, offer chilled towels infused with lemon. These are ideal for pre-ceremony and then again throughout the reception if you celebrate outside.
Made in the Shade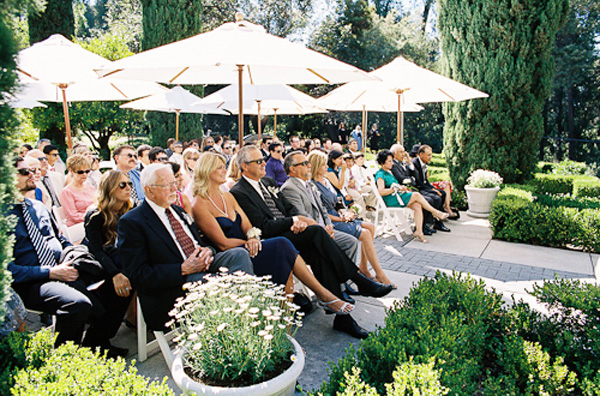 Make sure that you don't seat your guests directly under the harsh rays of the sun. The best thing is to have patio umbrellas for shade. You can ask your florist to style your umbrella base to complement your wedding theme.
How to Keep Your Outdoor Wedding Guests Comfy
Bucketful of Water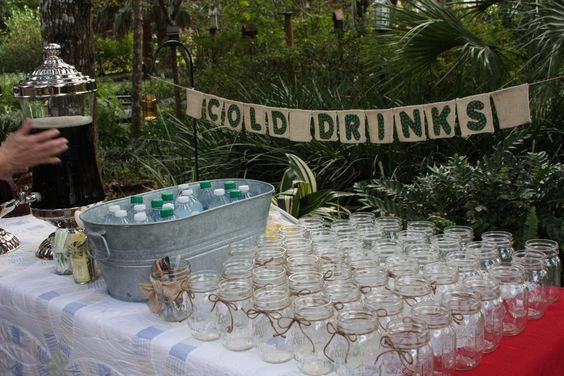 Scatter some baskets full of chilled water and light liquids like herbal iced tea. If anyone is thirsty before cocktail hour, they can help themselves and feel comfortable. As a guide: For every two guests, plan on ordering one beverage only. Not everyone will take advantage, so this is also a practical move to help you to save some money.
Fan-tastic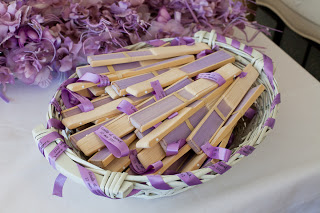 Aside from the bucket of chilled drinks, you could also provide fans for the wedding ceremony. You can customize the fan and add a brief message with your names and wedding date or even a short message such as, "Thank you for coming to our wedding!" Your guests will definitely appreciate your thoughtfulness.
Keep 'Em Cozy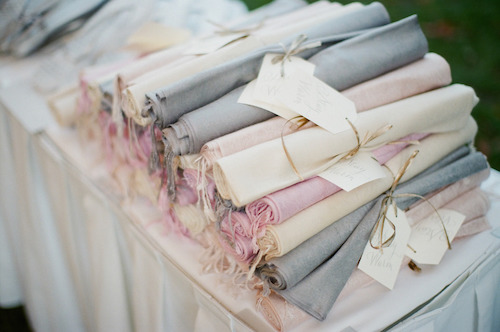 If your wedding is in the autumn or if your location tends to get chilly after dark, you can provide pashmina type shawls to keep your guests warm. There's a wide variety that you can choose from, and the details and design will be all up to you. You can have the shawls rolled and put it beside each seat or drape them on each chair so that they'll be handy when needed.
Warm 'Em Up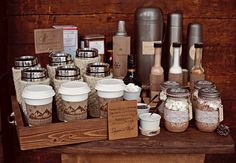 Another great idea for a cool weather wedding or for a reception that cools off after dark is to have a mini coffee bar. You can hire a professional or just have a DIY station with easy access. The experts could provide their signature coffee and cappuccinos paired with a few delicacies. While coffee is often served at the end of a formal sit down reception, not every wedding will have a coffee bar, so this is one touch that will make your wedding stand out.
How to Keep Your Outdoor Wedding Guests Comfy
Nicely Presented Necessities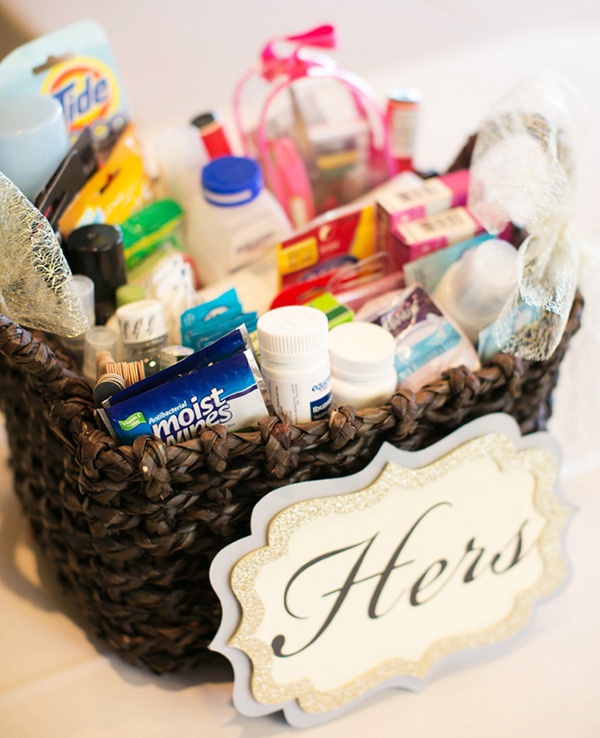 Purchase a small basket and fill it with necessities such as powder, toothbrush, toothpaste, breath mints, hand soap, hand lotion and disposable guest towels. You can decorate the basket to match your theme, but even unembellished, your guests will appreciate your thoughtfulness.
Change Out Shoes: Flip Flops All Around!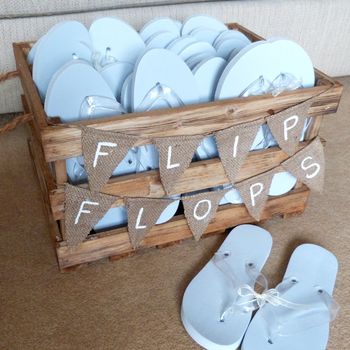 Just the same as you don't want your guests trying to navigate through the grass or a rocky path in good dress shoes, you also don't want them discouraged from dancing if the dance surface is uneven. Flip flops are also nice just as a change of pace for tired feet. Put a basket near the dance floor filled with various sizes either in your wedding colors or, better yet, in black, gold and silver. Those colors will easily complement almost any guest's attire.
How to Keep Your Outdoor Wedding Guests Comfy
Provide a protected shelter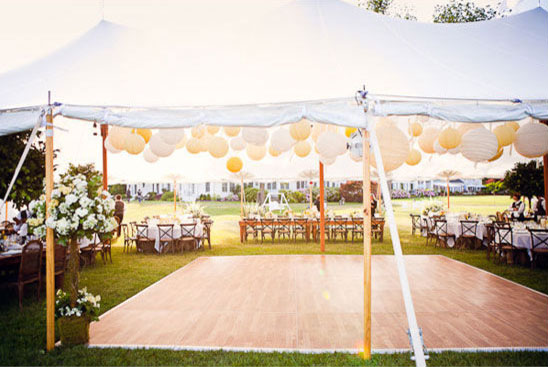 Always have a backup plan in case of rain! The sun and heat can also be too much especially once the party starts. You can rent several tents for your or you can choose a venue with a sheltered area for guests who want to sit down and relax for a bit.
Hosting an outdoor wedding is always fun just as long as you can keep everyone's comfort in mind, both when it comes to the sun and heat, and the cool of the evening. Just follow these tips, and you'll enjoy a lovely wedding that runs smoothly and is hassle-free both for you and especially for your guests.
For the very best collection of great ideas for planning your wedding and adapting to circumstances that may have delayed your big day, Click HERE or on the image below for DaVinci Bridal blog: