Venues
Home Wedding Reception 102: 6 More Tips for a Wonderful Party
How are your wedding plans going? Did you decide to have your reception at home, or are you still on the fence? (No pun intended!) We think a home reception can be just as memorable—perhaps more so—than a reception held at a formal venue. Obviously, you'll have a smaller guest list so you'll have more time with the people you love. But either way—whether you've begun to plan for your home party, or if you're still deciding, as promised, here's our second set of tips to help you pull off a wonderful home wedding reception.
1. Prep Your Space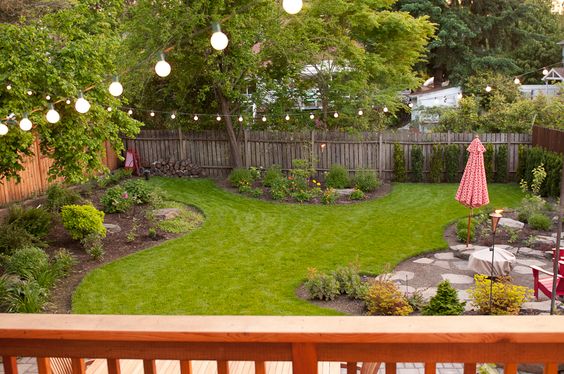 If you want a backyard wedding, or just want to have the grounds of your home looking lovely so you can take photos outside, give yourself at least 8 weeks' time.
If you're getting married in spring, summer or early fall, Mother Nature will cover most of your decorating costs. Your perennials will be in full bloom, and it's easy to plant some annuals that will fluff up nicely in just a couple of months.
If you're getting married next year and think you might want a home reception, plant this year's garden and greenery with your event design and layout in mind. 
Here's a great tip:  Talk to a wedding planner, rental company or a caterer about the plan before you do any outside work. You may not have thought to take into consideration certain tables and prep areas. Also, a wedding consultant can sometimes help you see new layout ideas to maximize the space.
So think about having a professional stop by, just for a couple of hours, and give you some pointers.
2. Rent That Tent
This is one of our strongest recommendations. Not only will a tent come in handy in case of foul weather, but it can also keep your decorations in place. No having the wind tip over your centerpieces or lift the edges of your tablecloths.
If you have an in-home reception—as opposed to a backyard reception—a small tent outdoors is a perfect idea for a dance space and another place to congregate. Then the guests who want to mingle can stay inside while the ones who want to party can have a blast on the dance floor in the tent. Others might just appreciate a place to step outside to a covered space for a little fresh air.
To make it feel more "a part of the space" leave the sides of the tent open or pulled back to the uprights just as you would use a tieback on draperies.
You can also rent space heaters for a tent. Just be sure to carefully research the type of heater that's appropriate for the tent materials.
3. Layer on Lovely Lighting
One huge perk of a backyard or home wedding is that you can doll up the space with as many—or as few—strands of lights as you want. And you can start putting them up as early as you want to since no one else will be renting your event space. 
For a tent, string the lights across the ceiling. For the backyard, wrap the lights around trees and/or hang icicle lights from the tree branches. If you use long banquet tables for seating, you can run a strand of fairy lights down the center of the table either on top of a solid runner or underneath a swath of chiffon or illusion netting.
For indoors, use battery operated string lights in table decorations and run plug-in light strings across the mantle. For an elegant touch, tuck a light string around the powder room mirror.
Money saving tip: If you start planning at the right time, you can snag Christmas lights dirt-cheap right after the holidays. After all, who said the lights all have to be white? Use primarily white lights for illumination but then include other lights in your wedding colors.
4. Rent, Buy or Build a Dance Floor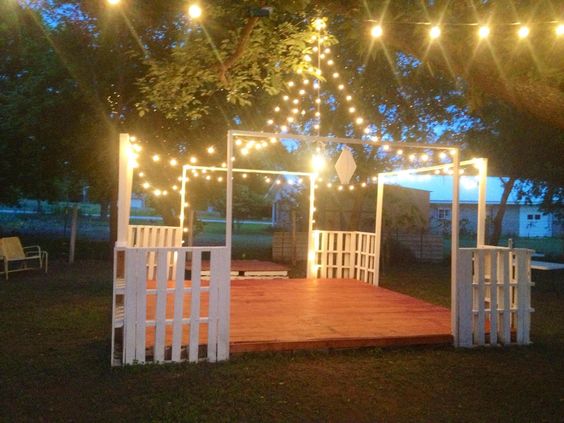 Every backyard wedding reception needs a dance floor, a solid space to protect high heels and protect your lawn. An in-home wedding could use a small dance floor, too, if your basement floor is unfinished or if the room you want for dancing is carpeted. Let's look at some common options:
Perhaps the most fun and practical—and possibly cost-effective—is to

make your own

dance floor!  
Here's a fabulous and easy DIY tutorial on how to make a dance floor out of—would you believe—discarded shipping pallets! Ask your local hardware store or consult a decking specialist, but if you season the wood just right—perhaps paint a waterproof glaze or deck paint—you might be able to enjoy this floor as an extra entertaining space outside for a season or two.
https://ourchildrensearth.wordpress.com/2013/08/06/creating-a-dance-floor-from-recycled-pallets/
5. Personalize with Pictures
It's your home—show it off! If you'll be indoors and you don't have a family photo showcase already, start one. Make a gallery wall down a hallway or group photos in frames on a table or on the ever-popular piano. Even if you don't plan to display them all the time, you can buy economical frames to temporarily show off your baby and growing up pictures.
If you'll be in the backyard, hang Polaroids of the two of you on a string around the tent walls or even as centerpieces. One to three photos in mismatched frames all grouped around a simple flower arrangement can be lovely.
And of course, display your engagement photos, but also include family wedding photos of your parents, grandparents and friends.
Put framed photos everywhere you can think if: on the buffet table, next to your wedding cake, even in the powder room. 
And speaking of powder rooms, be sure to prepare a basket for your guests with things like mouthwash, fragrant hand soap or hand sanitizer, and pretty disposable hand towels.
6. Choose a Few Amusements

Particularly with an outdoor wedding, you'll want to host some yard games and other amusements for your guests to enjoy while they wait for you to finish your photos or even during cocktail hour. 
Tip: How many children will be at your outdoor reception? Do you need to make sure there's a fence to keep everyone safe? If you don't have a fence, you can rent a small children's tent or game area to encourage the children to stay close to the adults.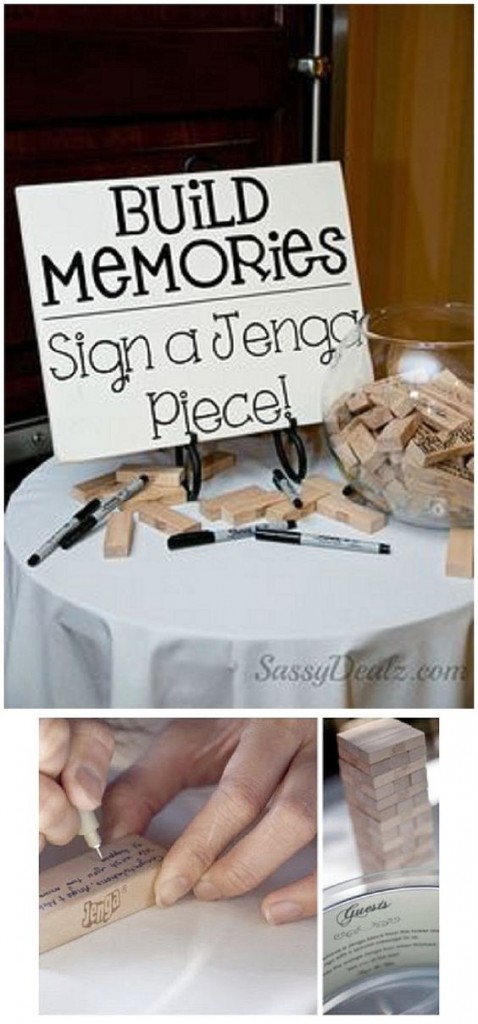 Indoors, put out a wedding Jenga game and perhaps include one of the classic reception guest games on the buffet table. And don't forget a guestbook, but make it clever, perhaps have your guests sign their names on their birthday square on a calendar, or writing well wishes on an oversized wooden initial that you can hang on the wall with all those family photos.
You Can Never Have Too Many Wedding Checklists!
It's also just fine to check those lists more than twice. So to close, here's our home reception checklist—and make sure to add on anything that you've decided to do that we haven't mentioned!
Home Reception Checklist Ideas
Have the caterer/wedding planner visit your home beforehand

Give the caterer your headcount

Talk to your vendors before planning

Rent a tent!

Create a real dance space and floor

Hire setup & teardown company

Review temperature control & rent equipment if need be

Make a fun space for junior guests

Call Town Hall regarding road construction

Let your neighbors know about your "noisy plans"

Rent tables, chairs, linens, etc.

Double check that there are enough personal facilities

Protect against the elements
To read our blog with the first 7 tips for a home reception, click here:
http://www.davincibridal.com/blog/home-wedding-reception-101-7-top-tips-for-a-truly-successful-event/