Pop the question to your bride squad with fun, clever or useful bridesmaid proposals! Make it a memorable celebrated moment or keepsake treasure to cherish for a lifetime.
Choosing Bridesmaids for your wedding day is one of the most important milestones in planning your dream day. Some best friends have been by your side your entire life and others have been with you since college. Maybe you met them recently and just clicked – regardless of time what matters MOST is how much you love and support each other. Make it memorable – pop the question to your bride squad with a celebrated moment or keepsake treasure to cherish for a lifetime.
"Bridesmaid's Proposal" or how to enlist your bride crew to help get you down the aisle has become the new trend in bridal traditions. There are a ton of new creative ideas to pick from and are perfectly suited for any #BrideStyle!
Source: Pinterest UK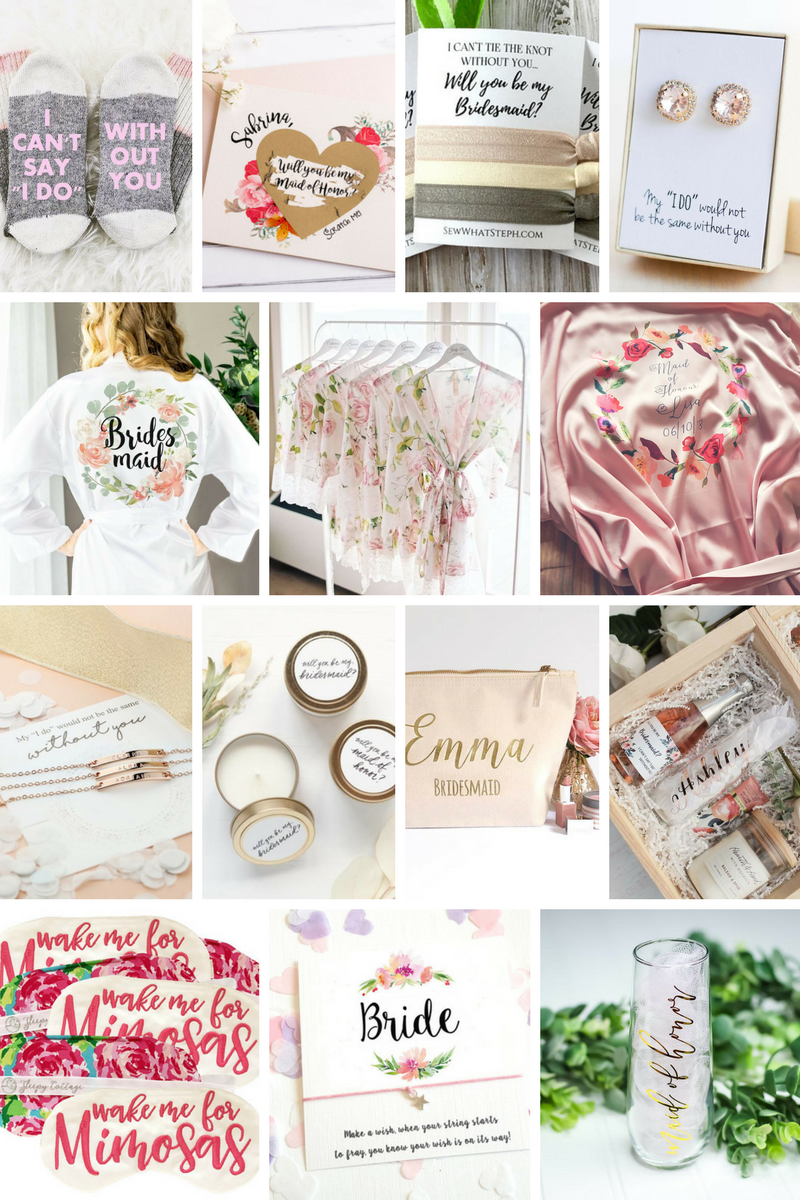 Here are a few of our favorite bridesmaid proposal ideas for cleverly customized gifts and bridesmaid's proposals on asking your best gals to be part of your special wedding day!
Source: Pinterest
1. Pretty Personalized Bracelets or Necklaces + Card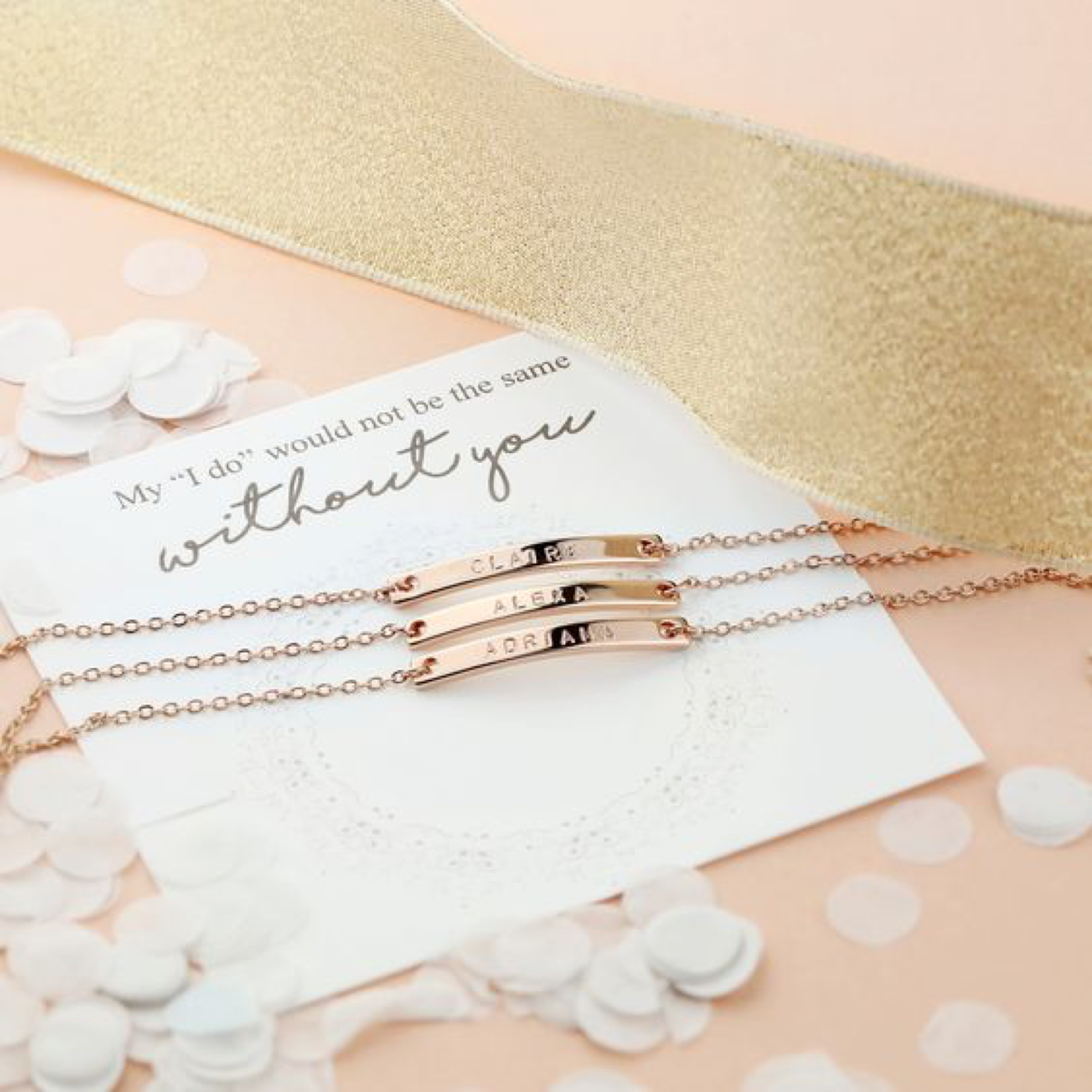 Source: Pinterest
These elegantly personalized rose gold bracelets & gold necklaces are a unique way to ask your girls to be your bridesmaids! The great thing about this token of appreciation is that they can wear it on the wedding day and continue to use it as an everyday staple – a versatile keepsake!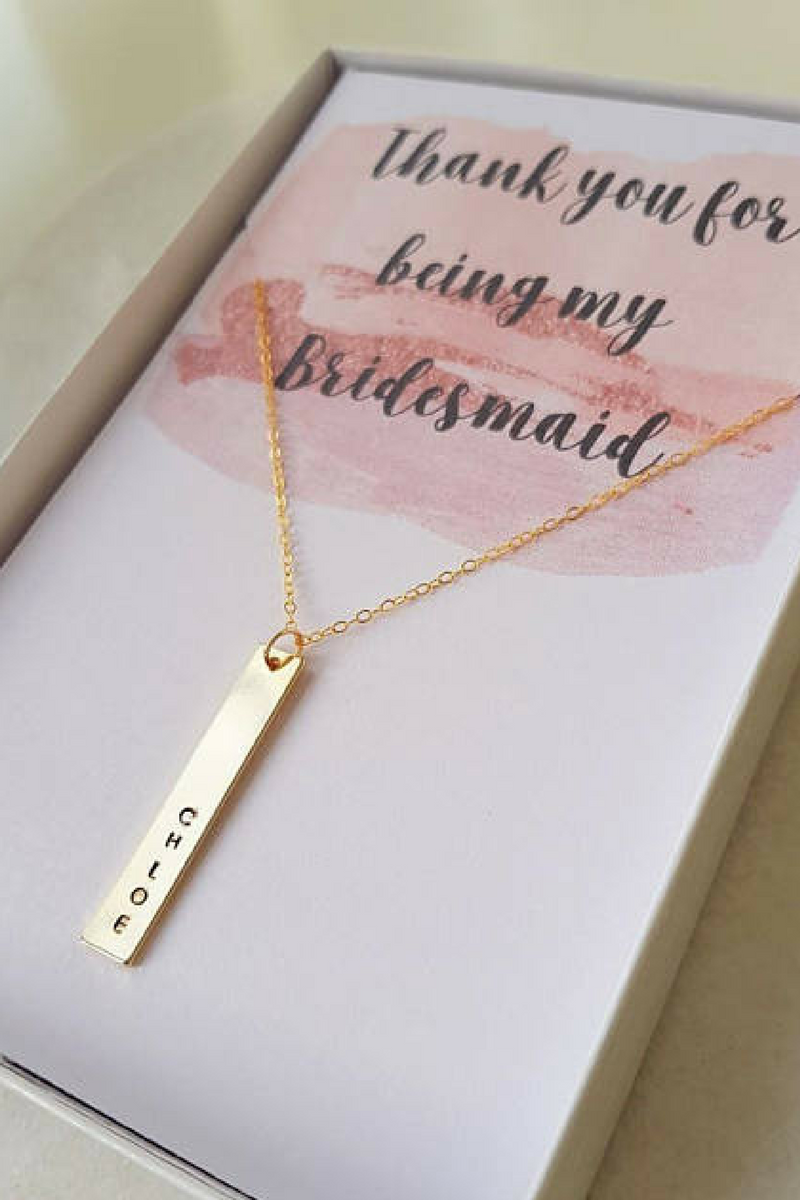 2. Bridesmaid Proposals Idea: Best Friend + Bridesmaids Confetti Gift Box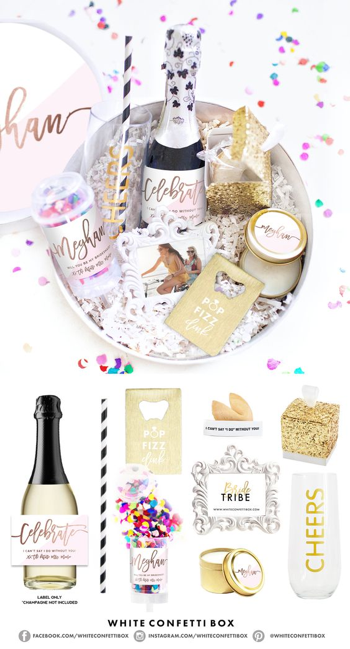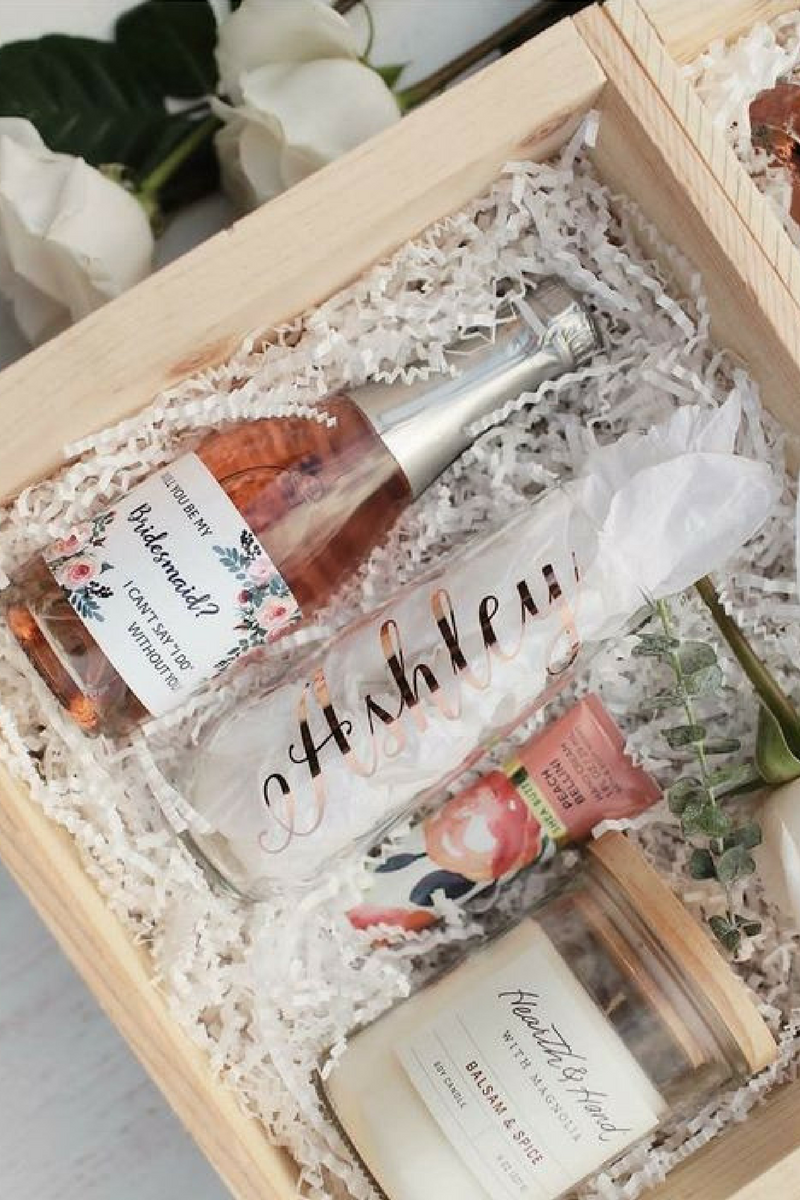 These gorgeous bridesmaid gift boxes are perfect for your best girls! Have fun and get creative choosing the items that'll go inside, the best part is that you can customize it for each one of your girls & put something different to make them all feel special! You can also buy a pre-made gift box from Etsy that are just as lovely!
3. Pretty Earrings With A Bridesmaid Proposal Note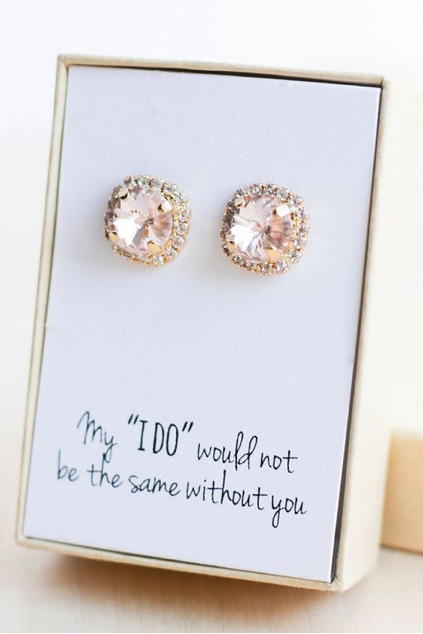 Source: Pinterest
Try this when popping the big Bridesmaid proposal question to the ladies in your life by giving them an offer they simply can't refuse! These gorgeous cubic zirconia earrings are the perfect gift for your bridesmaids! Tell them to wear them on your special day for a timeless tradition!
4. Personalized Makeup Bag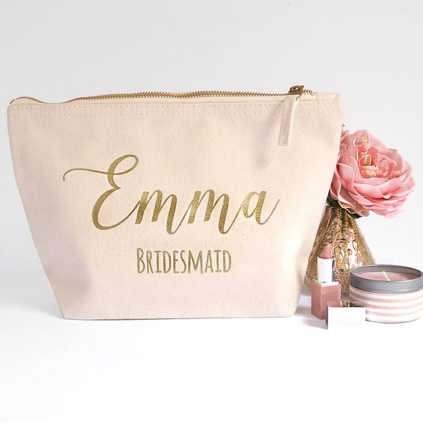 Source: Pinterest
This personalized and stylish makeup bag is the perfect gift for your future bridesmaids! Fill it up with a lipstick shade of your preference, makeup brushes, mascara, eyeliner, brow gel or anything you want so that it's ready to go for wedding day festivities!
5. Bridesmaid Proposals Idea: Personalized Stemless Champagne Flutes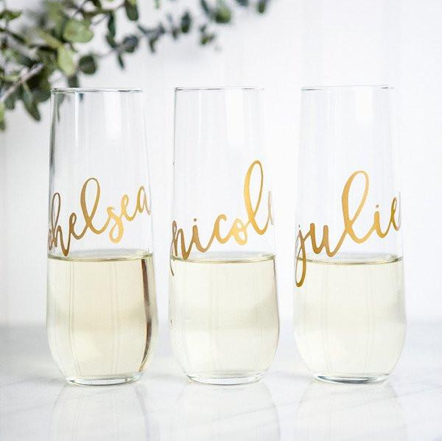 Source: Pinterest
Pop the question by giving them these stemless champagne flutes! You can personalize each one of them with their names or with the word "Bridesmaid"! A perfect and elegant gift your bride squad can cheer you on and toast your lovely marriage!
6. Personalized Bridesmaid Monthly Planner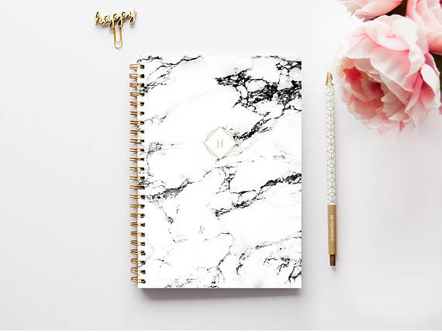 It's time to get organized. Give your girls the perfect personalized Bridesmaid Planner so that they can plan each one of your parties and nights out before the big day! This customized planner is oh-so-useful and they'll absolutely love them! Get them on Etsy or order the entire bunch from Minted!
7. Bridesmaid Hair Ties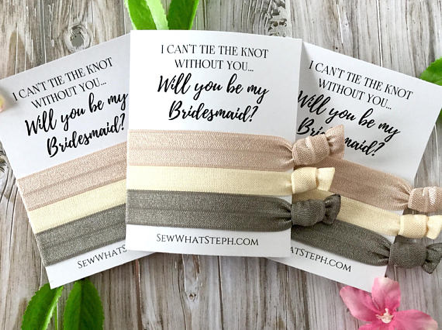 Source: Etsy
These "Will You Be My Bridesmaid" hair ties are perfect for the cool sporty bride-to-be! Ask your girls the big question by giving them these fun hair ties, perfect for gym dates and hikes with your ladies while discussing wedding day details!
8. Bridesmaid Proposals Idea: Chenille Socks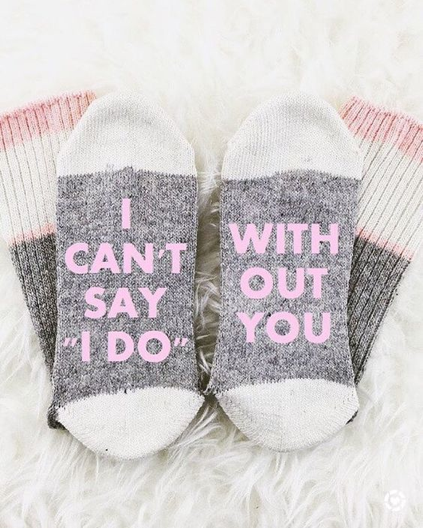 Source: Pinterest
These special chenille socks are a super cute way to propose to your bridesmaids! Not only will they love the comfy gift, but they can all wear them on pre-wedding night sleepover before you tie the knot! They are so luxe & plush – we recommend you get a pair for you to enjoy as well!
9. Scented Candles With Bridesmaid Proposals Question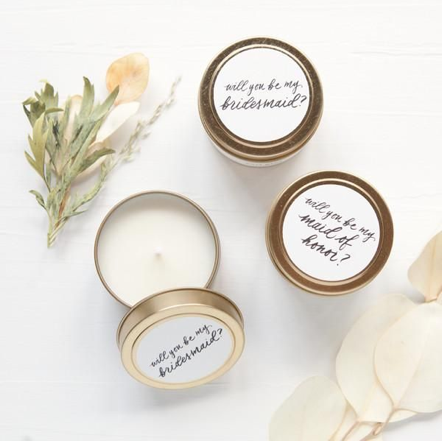 Source: Pinterest
These scented candles are the perfect way to pop the question! Plan a relaxing spa day with your girls and give them these deliciously scented Bridesmaids candles topped with the lovely question! They can use them for lazy Sunday or the next time you have Girls Night!
10. Chíc Bridesmaid Gift Box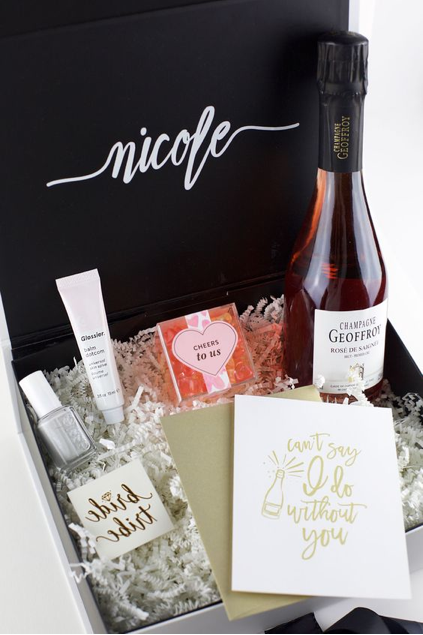 Source: Pinterest
This gorgeous gift box comes with a Glossier Balm Dot Com, Sugarfina Champagne Gummy Bears, Essie nail polish in the shade Go With The Flowy. PERFECT for your girls to wear it on your wedding day! A mini champagne bottle and super fun 'Bride Tribe' gold tattoos are also included in the fun personalized box!
11. Personalized Silk Robes For Wedding Day Makeovers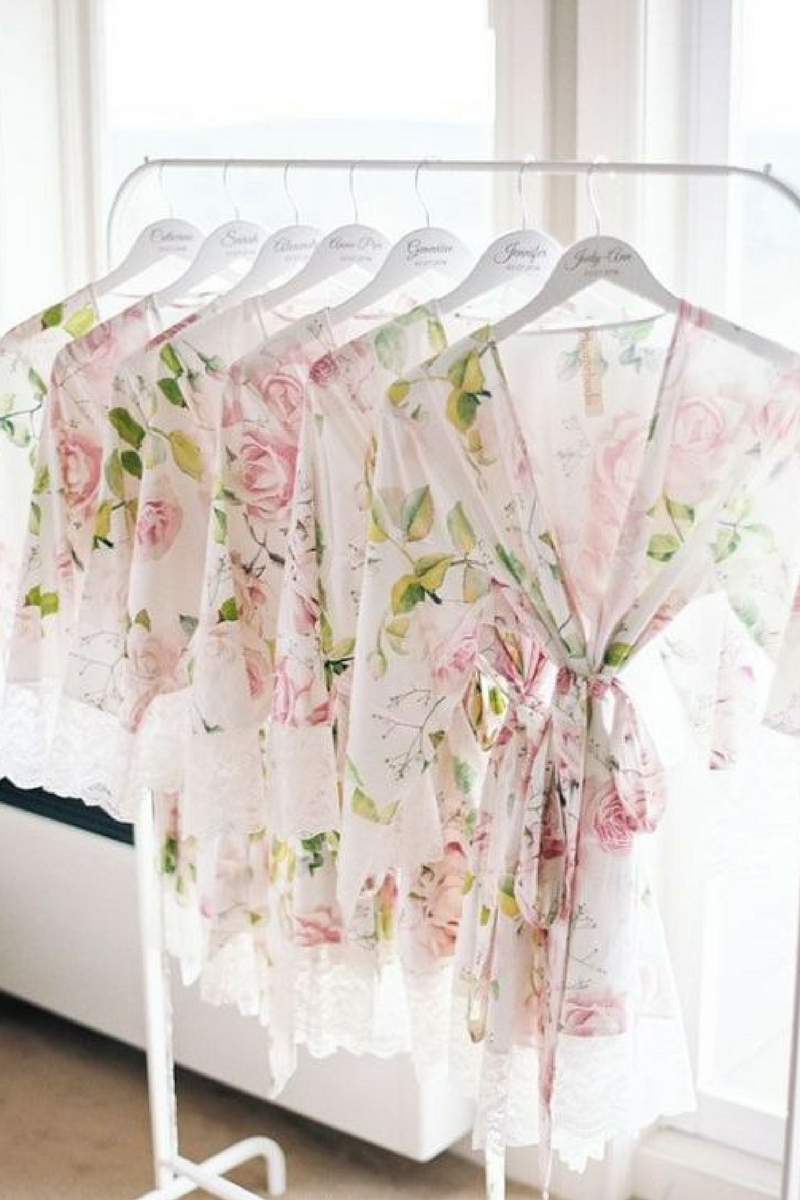 Source: Pinterest
Another creative way to ask your girls to be part of your journey in "tying the knot" is by gifting them with personalized silk robes! Perfect for the wedding day when you are all getting ready together and pre-wedding photoshoot! They will also look gorgeous in the photos – so it's a win-win for you and your bride squad!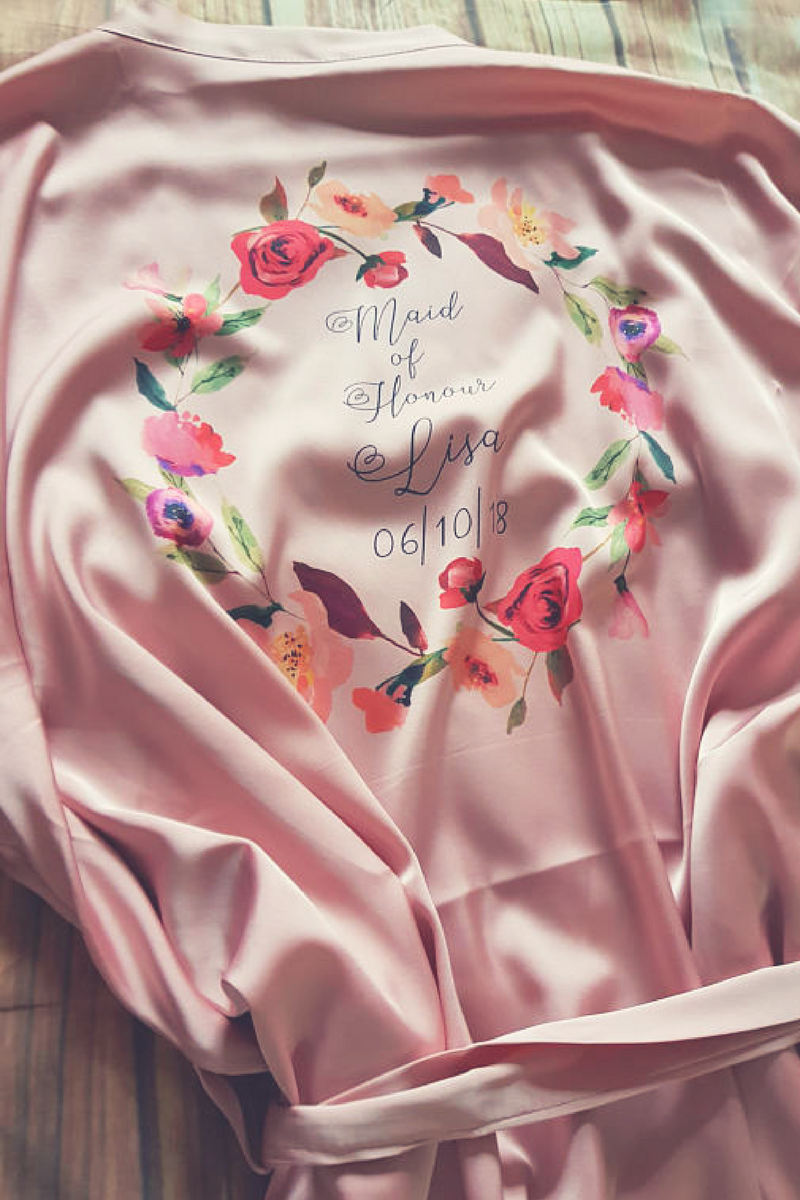 12. Bridesmaid Proposals Idea: Make It A Riddle
DIY Pop-The-Question Balloon Box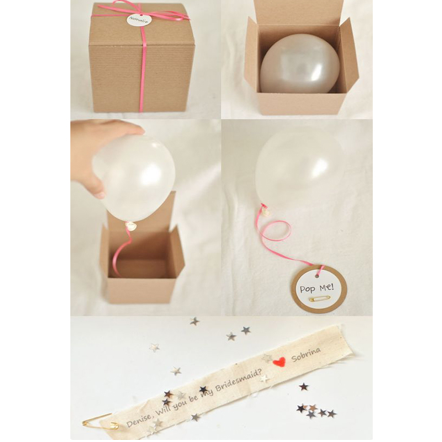 Source: Pinterest UK
Send this interesting bridesmaid proposal question box to your gal pal's place of business or home via courier. She will be surprised & entertained by the thoughtful gesture. Plus – confetti!
13. Flannel PJ's for a Sleepover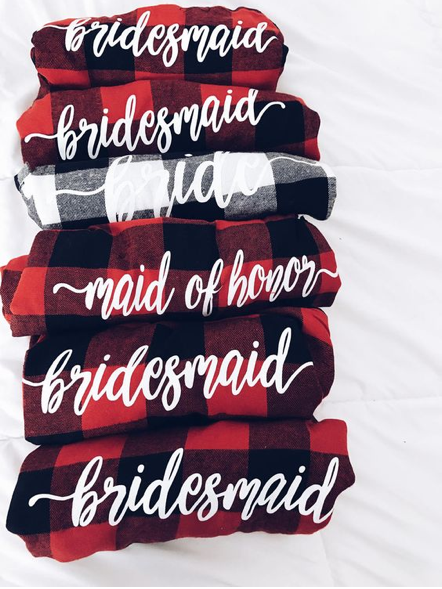 Source: Pinterest
These clever flannel PJ's are the perfect gift for your favorite girls! Gift them these cozy flannel PJ's with the word 'Bridesmaid' written on the back! Plan a fun sleepover a week before your big day and wear them together! Perfect for pre-wedding day photoshoots or post bridal shower sleepovers!
14. Personalized Bridesmaid Proposals Idea: Tumbler Bottles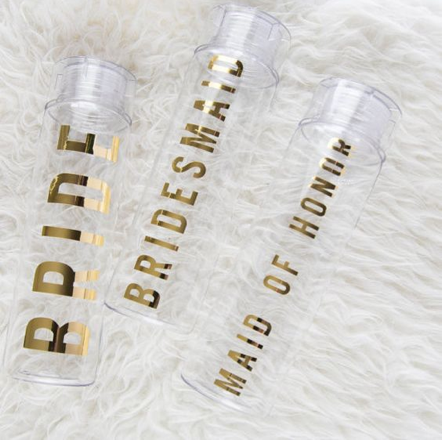 Source: Pinterest
Give your sporty girls these chíc gym-ready tumblers! Get in shape for the big day by going to the gym together and use these wedding-inspired BPA-free bottles that will help make sure your ladies remember their wedding day chores!
Whatever you pick and the method you choose to pop the bridesmaid question – just make sure to make it memorable and splurge on your best bride squad!
To see our new collection of bridesmaid dresses that go with any and every color theme Click HERE Champagne & Neutral Colored Bridesmaid Dresses for Fall 2018
Want something more colorful for your ladies? Click HERE Jewel Tone Bridesmaid Dresses for Fall 2018