For a formal but less "serious" wedding vibe than black, choose the Classic Wedding Color Scheme White with Blue Bridesmaid Dresses.
Blue & white will always be a classic combination because it works in any season of the year. It can read as traditional, preppy, modern, or rustic.
Letting your bridesmaids chose different shades of blue will work beautifully to create depth & richness.
Also, consider accenting your venue decor with blue and white in a pattern for added interest.
When you buy your Blue Bridesmaid Dresses from DaVinci …
You know that your gowns will be created by one of the premiere bridal dress companies in the world. We use only top quality fabrics fashioned into high fashion design using high-end construction. We guarantee you'll love their affordable prices. A DaVinci is the bridal dress retailers love to carry because, best of all, most of these dresses are available for rush delivery at no extra charge!
About our Colors:
Each of our bridesmaid's dresses is available in many more colors than are shown here. This color chart gives you an idea of how much we have to offer:

For a closer and accurate look, check out swatches at one of our DaVinci bridal boutiques.
To find the DaVinci retailer nearest you Click HERE then enter your city, state, or zip code.
Classic Wedding Color Scheme White with Blue Bridesmaid Dresses: Cobalt Blue Bridesmaid Dress Ideas
DaVinci Bridesmaid Style #60214: Chiffon & Lace A-Line Bridesmaid Dress with Fitted Bodice, Pleated Halter Neckline, Sheer Lace Straps & Open Back. Full Gathered Floor Length Skirt has Satin Waistband. Choose Matching or Contrasting Lace, Waistband/Belt & Dress Colors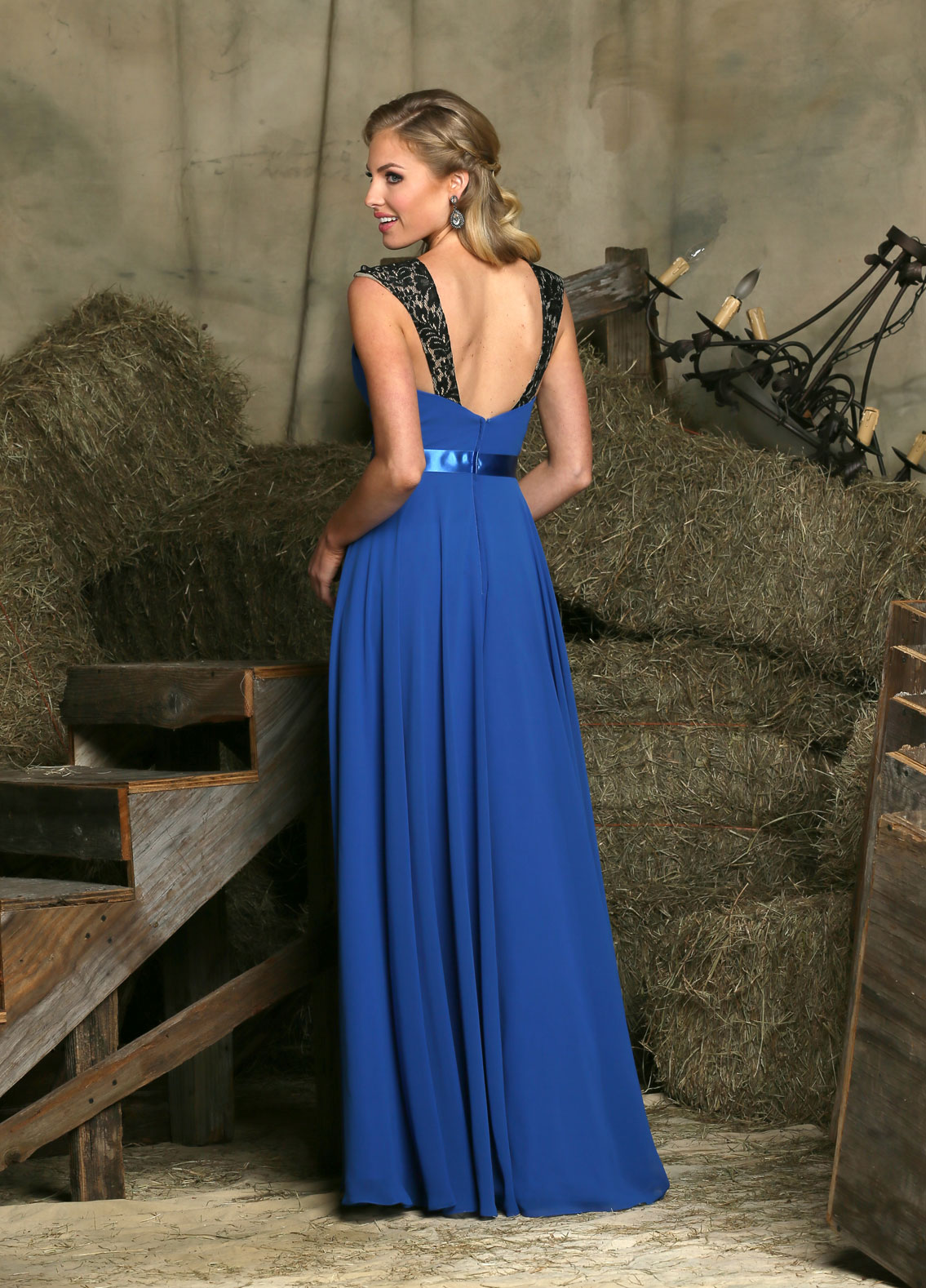 To see more details Click HERE for DaVinci Bridesmaid Style #60214
DaVinci Bridesmaid Style #60221: Chiffon & Lace Fit & Flare Bridesmaid Dress with Fitted Sweetheart Bodice, Sheer Lace Bateau Neckline & Sheer Lace Scoop Back with Covered Buttons. Floor-Length Chiffon Skirt Flares Below the Knee. Choose Matching or Contrasting Lace & Dress Colors
To see more details Click HERE for DaVinci Bridesmaid Style #60221
Classic Wedding Color Scheme White with Blue Bridesmaid Dresses: Deep Midnight Blue Bridesmaid Dress Ideas
DaVinci Bridesmaid Style #60376: Satin & Lace Fit & Flare Bridesmaid Dress with Sheer Lace High Halter Neckline, Back Straps with  Triangle Keyhole & Covered Buttons. Smooth Lace Skirt Flares Below the Knee to Floor Length. Choose either Matching or Contrasting Lace & Lining Colors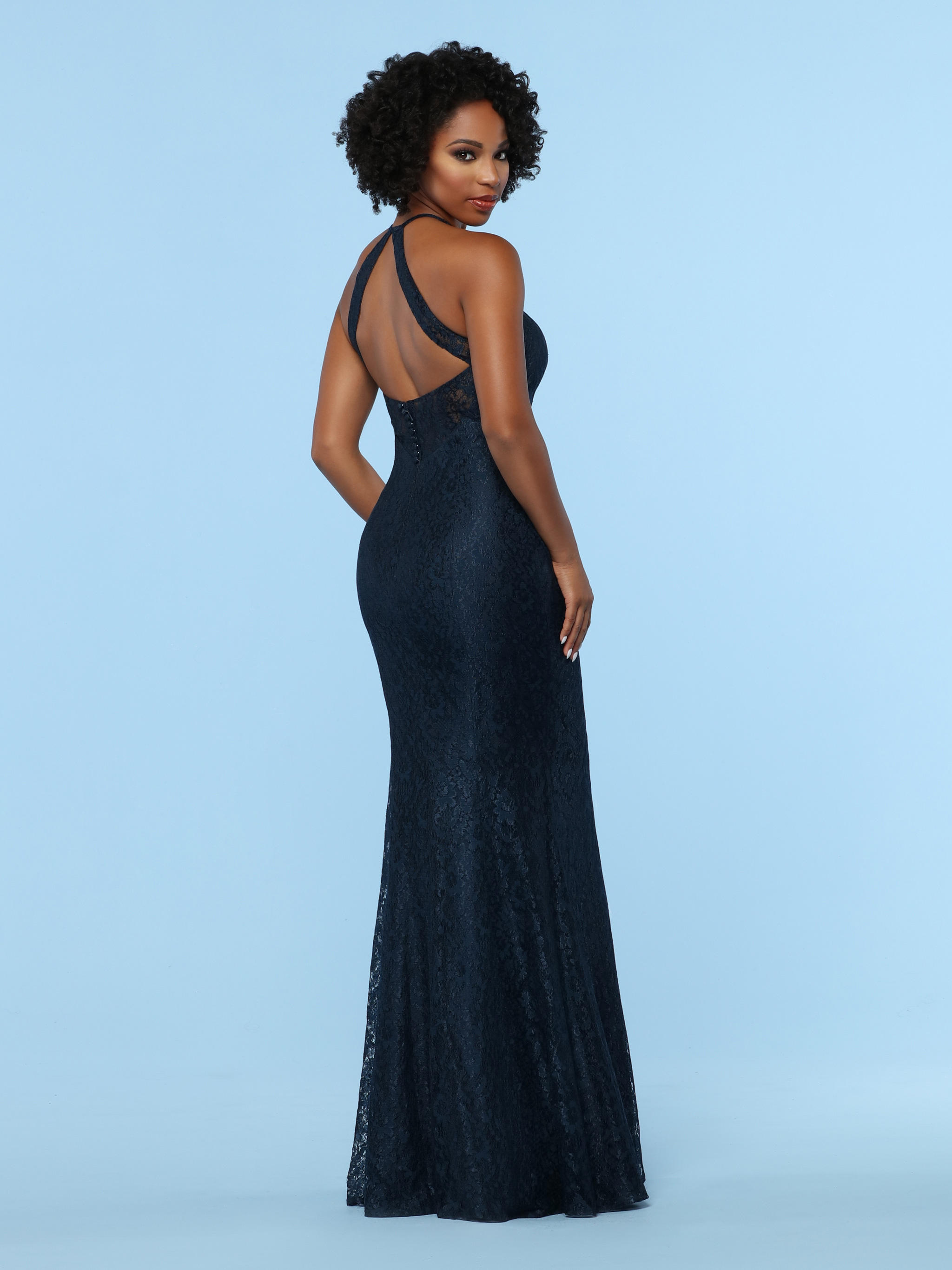 To see more details Click HERE or DaVinci Bridesmaid Style #60376
DaVinci Bridesmaid Style #60315: Chiffon A-Line Bridesmaid Dress with Vertical Ruched Front Bodice, Wide X-Strap Neckline, Square Back & Satin Waistband. Full Gathered A-Line Skirt is Floor Length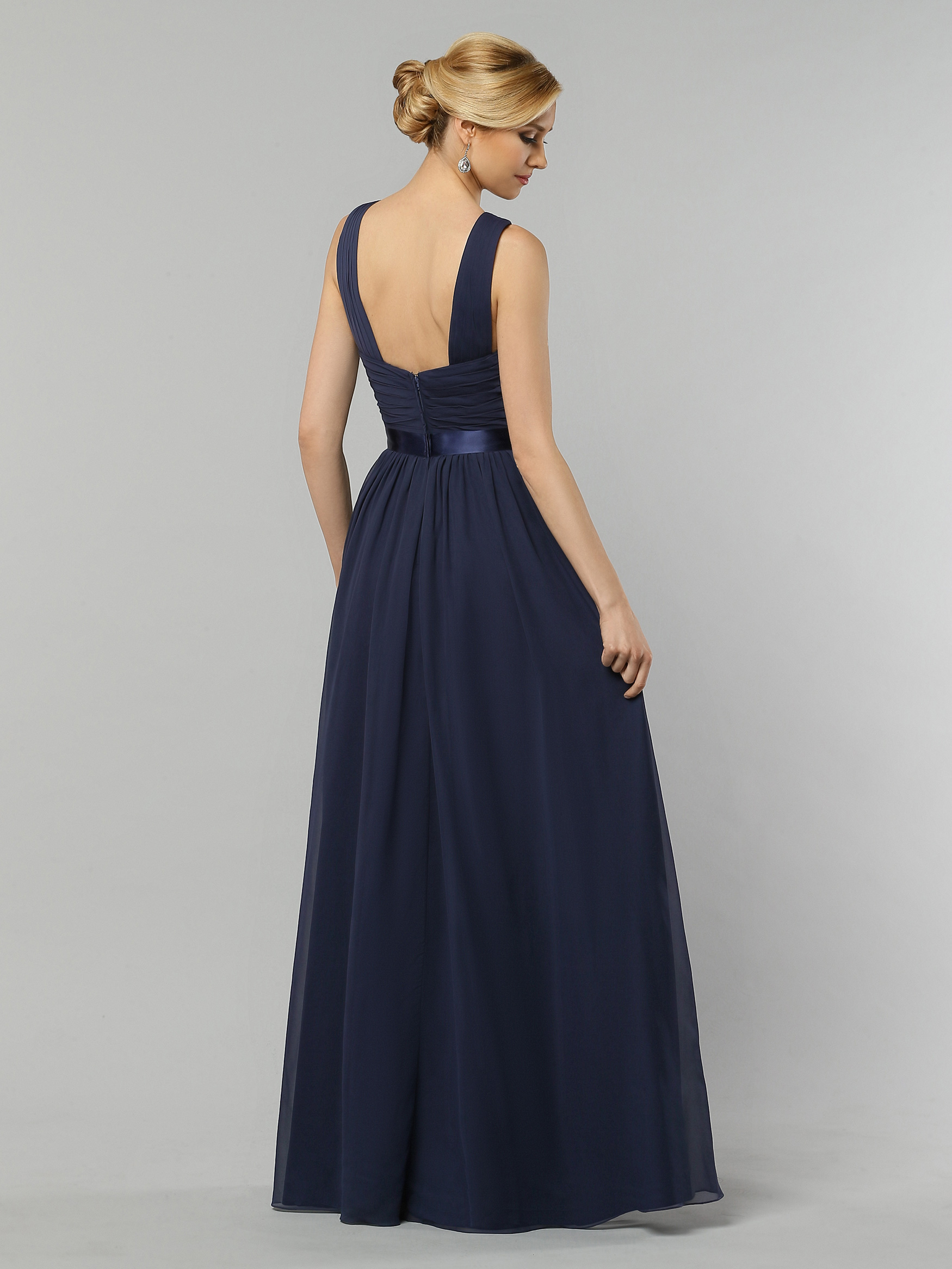 To see more details Click HERE for DaVinci Bridesmaid Style #60315
DaVinci Bridesmaid Style #60234: Chiffon A-Line Bridesmaid Dress with Faux Wrap Ruched Bodice, V-Neck, V-Back & Wide Ruched Waistband. Center Front Pleated Skirt with Ruched Hip Flares to Floor Length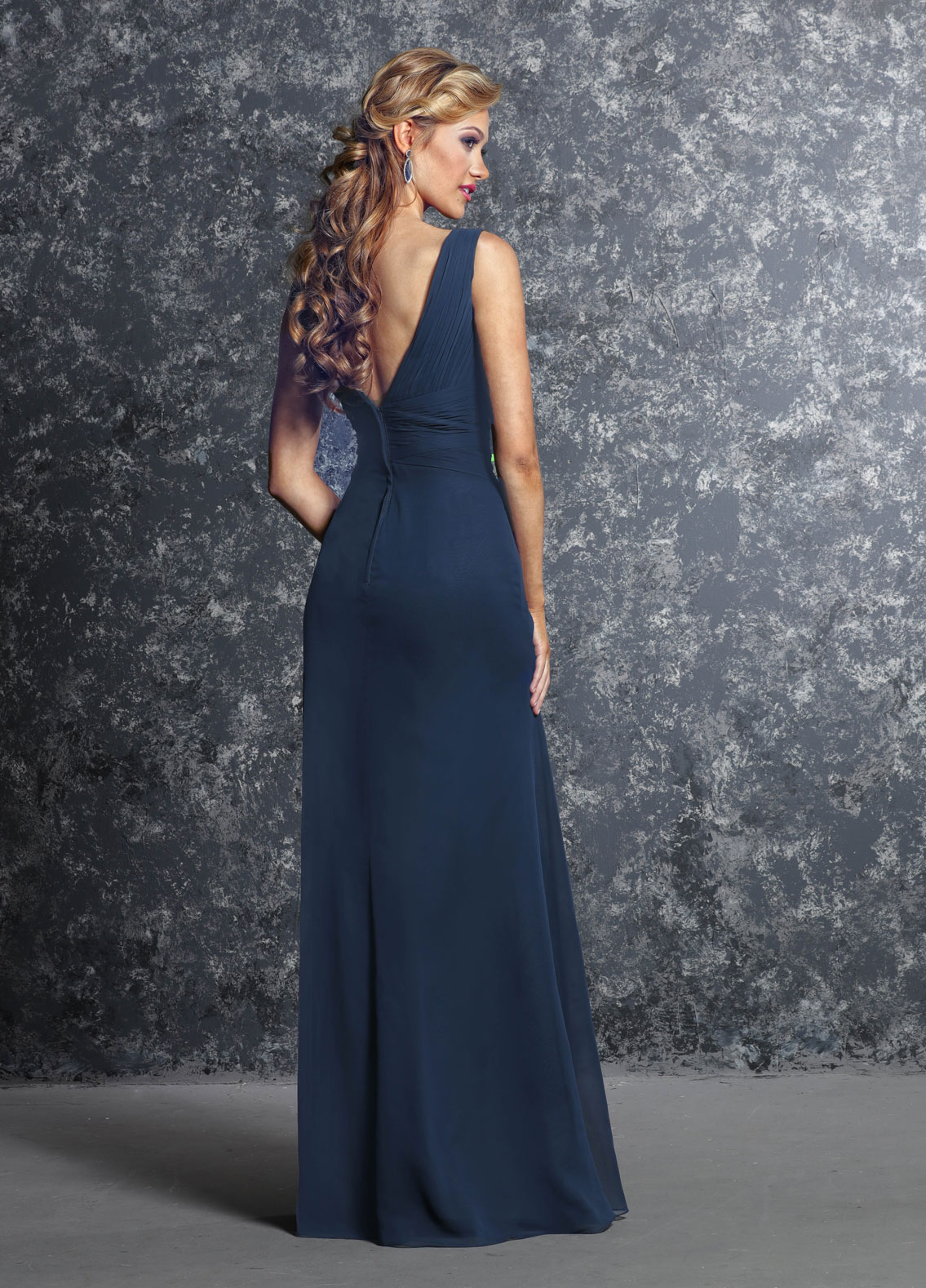 To see more details Click HERE for DaVinci Bridesmaid Style #60234
DaVinci Bridesmaid Style #60068: Chiffon A-Line Bridesmaid Dress with Ruched One Shoulder Neckline. A-Line Skirt with Asymmetrical Hip Pleat is Floor Length
To see more details Click HERE for DaVinci Bridesmaid Style #60068
DaVinci Bridesmaid Style #60322: Chiffon A-Line Bridesmaid Dress with Faux Wrap Ruched Empire Bodice, Sheer Bateau Neckline & Sheer Back with Keyhole. Floor Length A-Line Skirt is Gathered at Center Front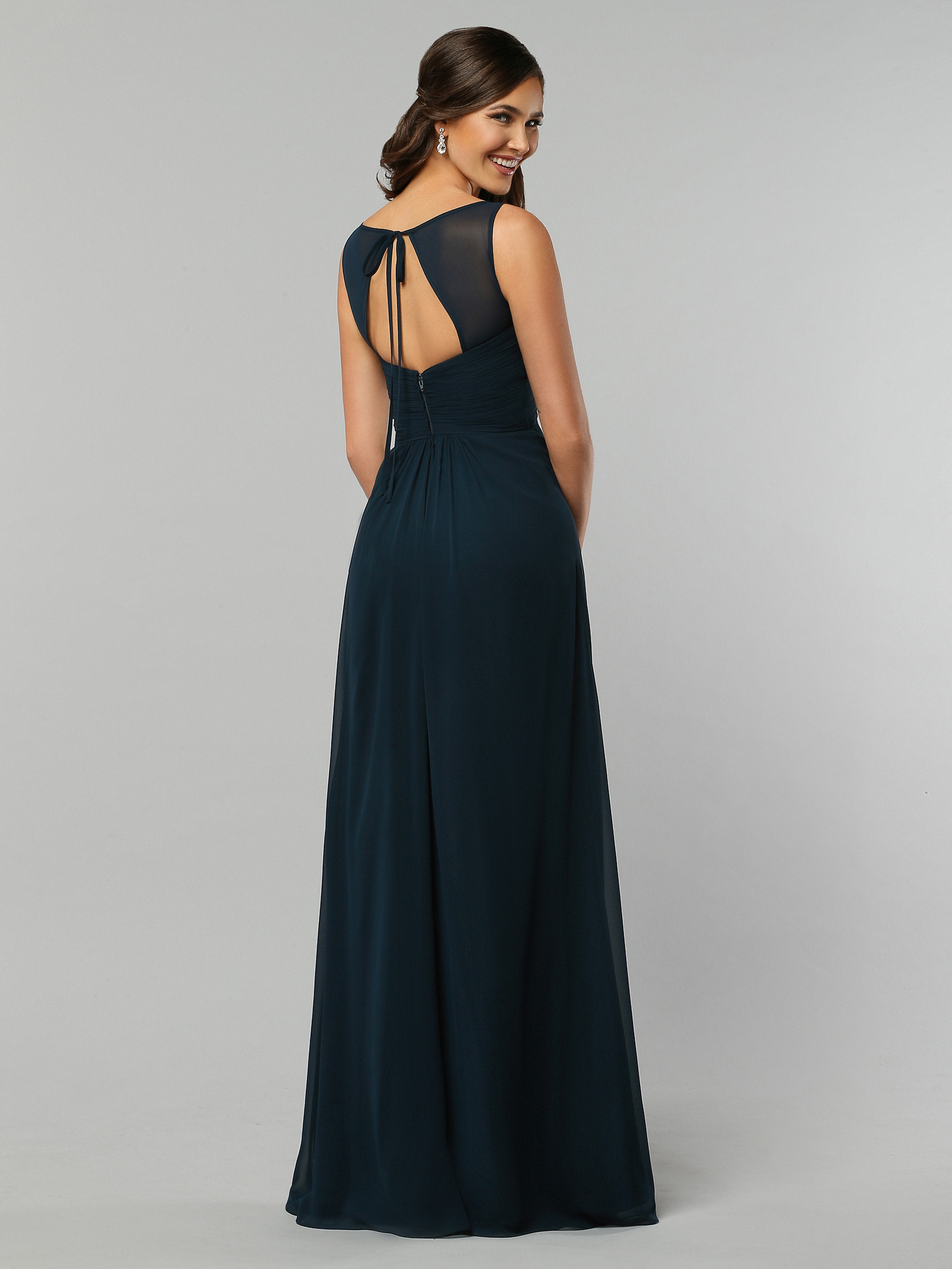 To see more details Click HERE for DaVinci Bridesmaid Style #60322
Classic Wedding Color Scheme White with Blue Bridesmaid Dresses: Classic Navy Blue Bridesmaid Dress Ideas
DaVinci Bridesmaid Style #60375: Satin A-Line Bridesmaid Dress with Fitted Bodice, Sweetheart Neckline, Scoop Back & Covered Buttons. Smooth Satin Skirt Flares Below the Knee to Floor Length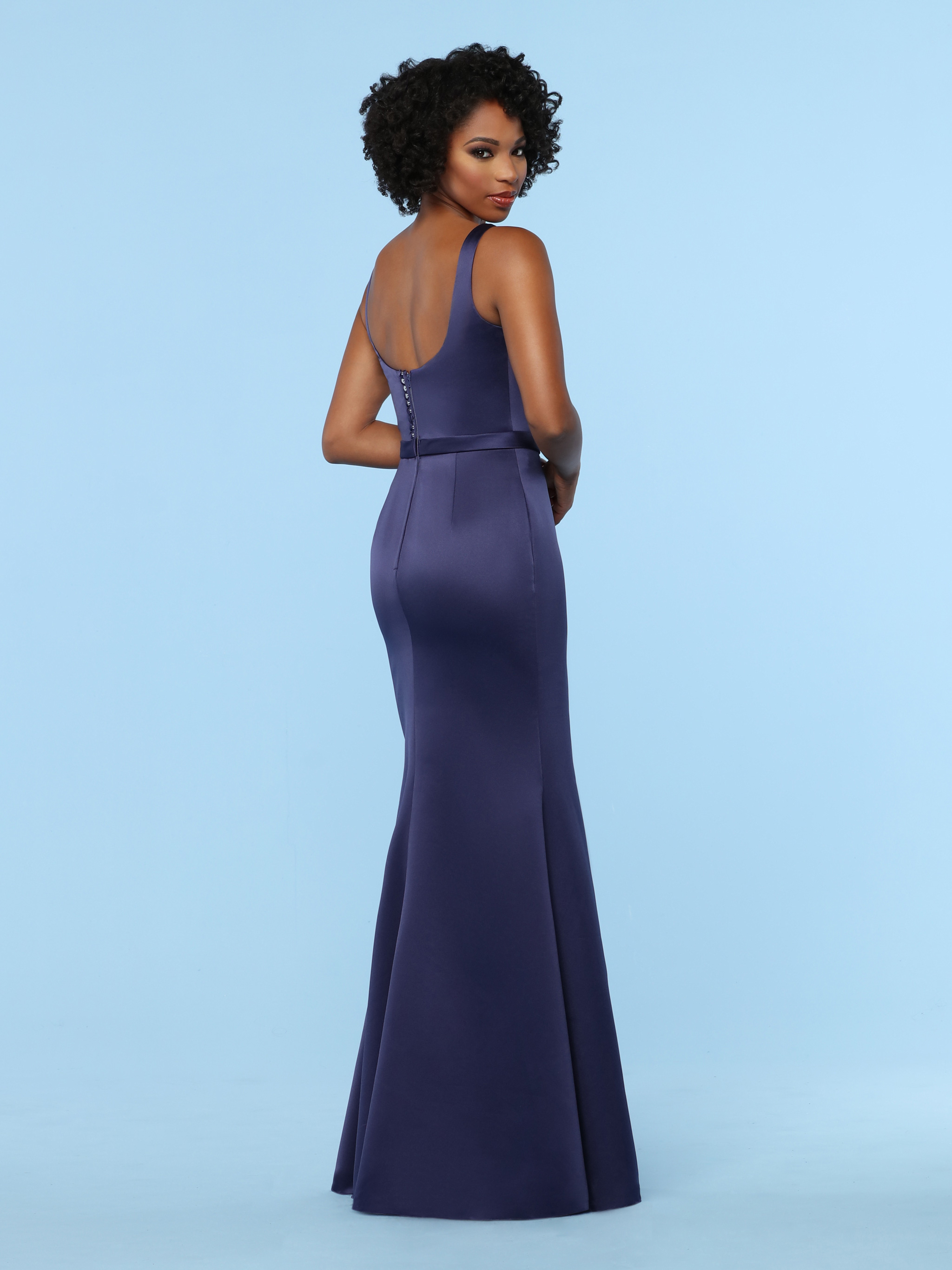 To see more details Click HERE for DaVinci Bridesmaid Style #60375
DaVinci Bridesmaid Style #9270: Chiffon A-Line Bridesmaid Dress with V-Neckline with Faux Wrap Ruched Bodice & Waist. Skirt with Crystal Accent is Ruched at Hip & has a Sweep Train
To see more details Click HERE for DaVinci Bridesmaid Style #9270
DaVinci Bridesmaid Style #60361: Mikado Silk A-Line Bridesmaid Dress with Fitted Bodice, V-Neckline, Deep V-Back, Covered Buttons & a Beaded Waistband. Smooth Skirt Flares Below the Knee to Floor Length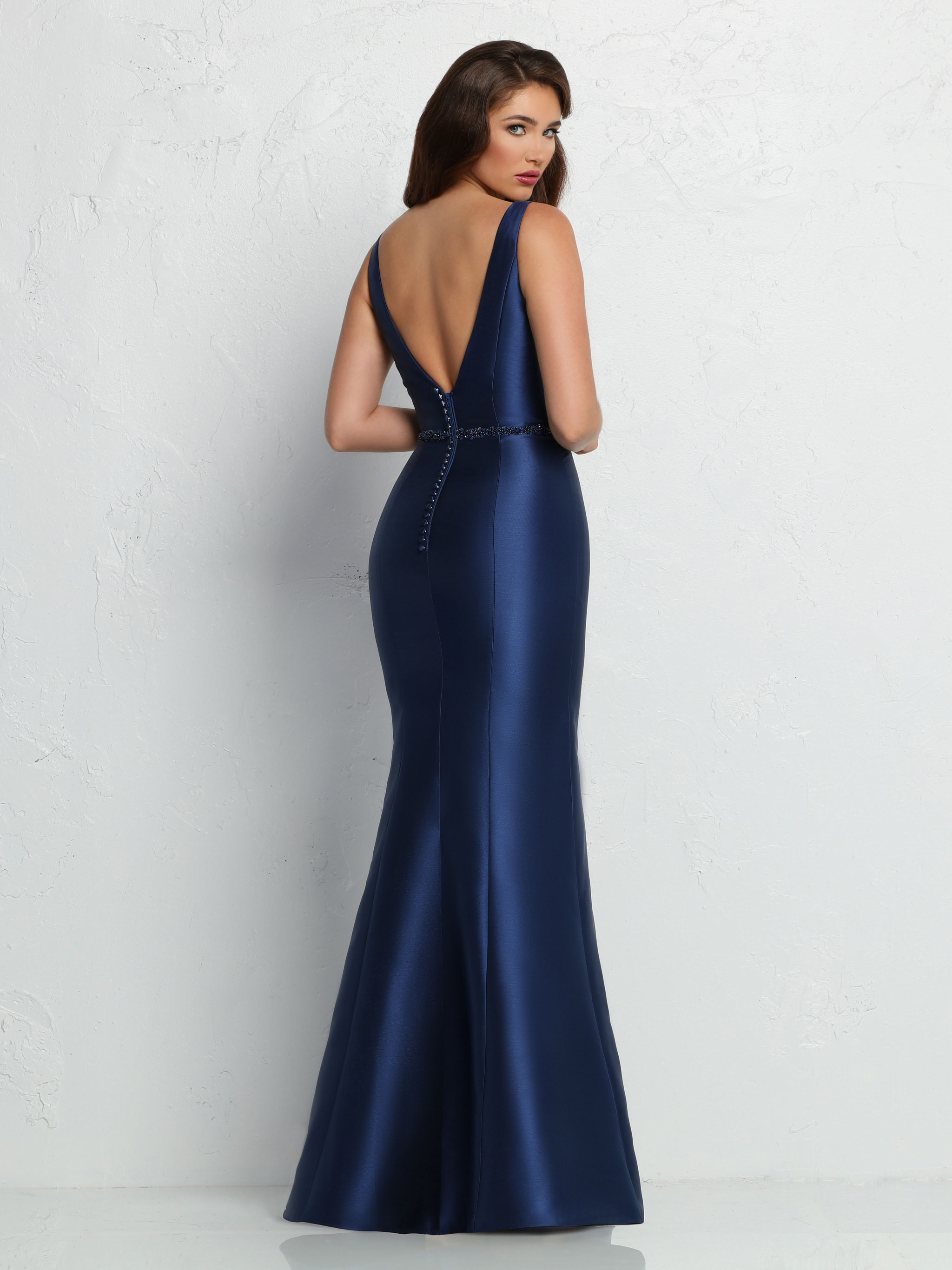 To see more details Click HERE for DaVinci Bridesmaid Style #60361
DaVinci Bridesmaid Style #60240: Satin A-Line Bridesmaid Dress with Fitted V-Neck Bodice, Inverted V-Shape Empire Waist & Wide Back Straps with Triangle Keyhole. Skirt Flares in Back to Floor Length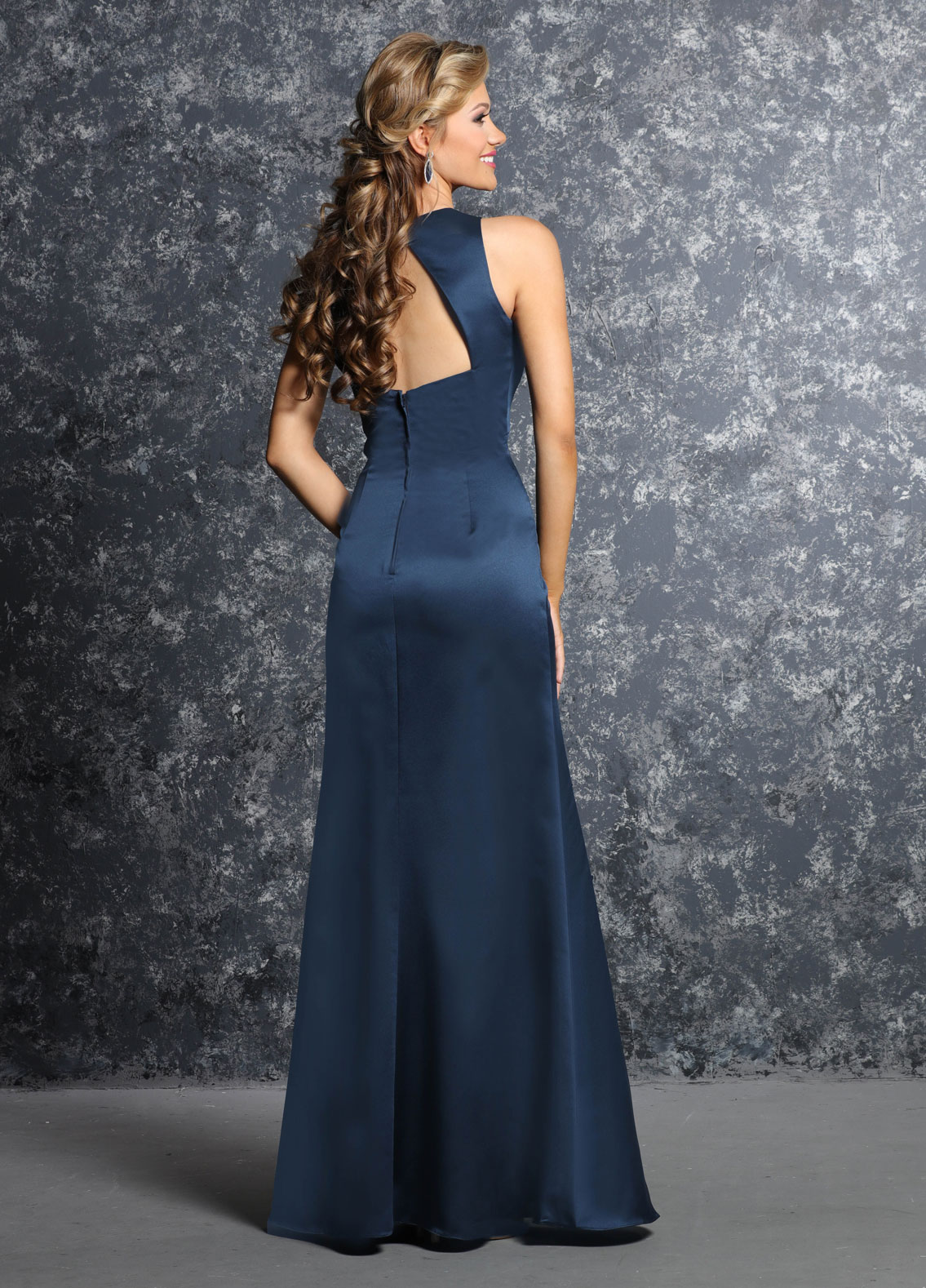 To see more details Click HERE for DaVinci Bridesmaid Style #60240
DaVinci Bridesmaid Style #9248: Satin Fit & Flare Bridesmaid Dress with Faux Wrap Ruched V-Neck Bodice, Diagonal Ruched Waist & V-Back. Ruched Sash with Wide Back Ties Complements Flared Trumpet Style Skirt with Floor Length Hem. Choose either Matching or Contrasting Dress & Sash Colors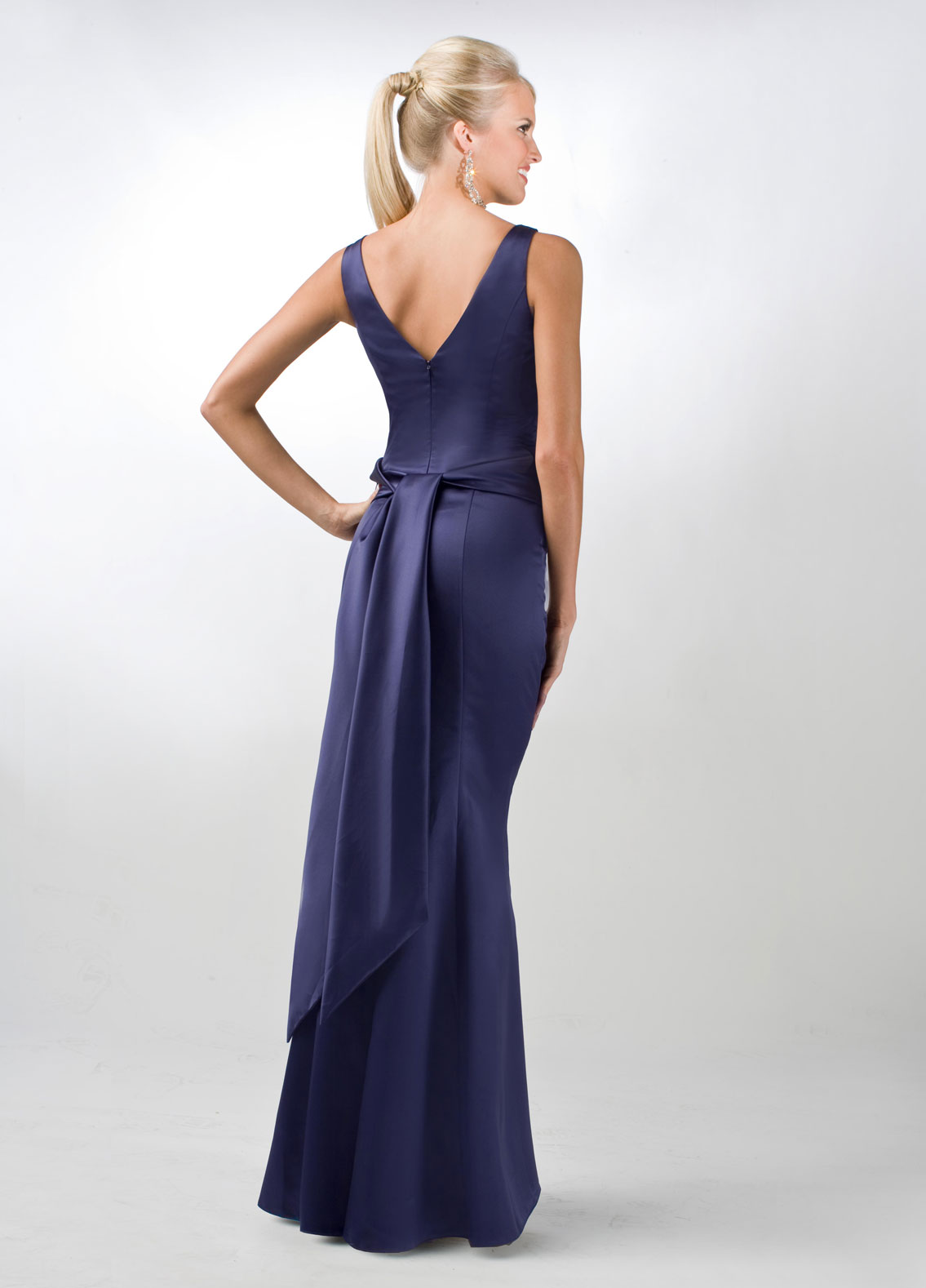 To see more details Click HERE for DaVinci Bridesmaid Style #9248
DaVinci Bridesmaid Style #60374: Chiffon A-Line Bridesmaid Dress with Tailored Bodice, Modest V-Neckline & V-Back. A-Line Skirt Flares to Floor Length
To see more details Click HERE for DaVinci Bridesmaid Style #60374
DaVinci Bridesmaid Style #60184: Chiffon A-Line Bridesmaid Dress with Diagonal Ruched One-Shoulder Bodice. Flared A-Line Skirt is Floor Length
To see more details Click HERE for DaVinci Bridesmaid Style #60184
Classic Wedding Color Scheme White with Blue Bridesmaid Dresses: Bright Royal Blue Bridesmaid Dress Ideas
DaVinci Bridesmaid Style #60326: Chiffon A-Line Bridesmaid Dress has Faux Wrap Halter Bodice with Keyhole, Beaded Halter Neckband & Cut Out Arms. A Wide Ruched Waistband Accents the Gathered Floor Length A-Line Skirt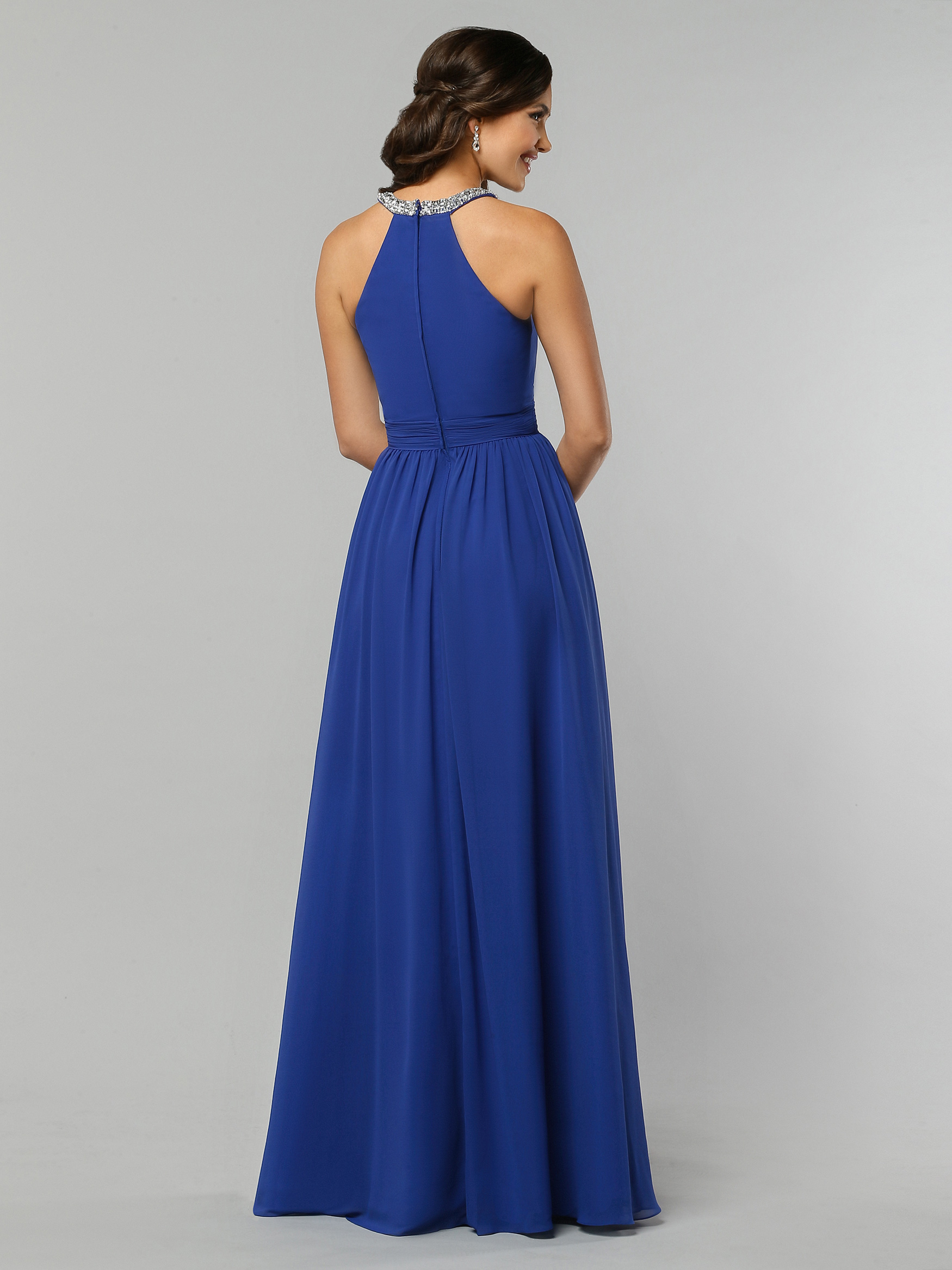 To see more details Click HERE for DaVinci Bridesmaid Style #60326
DaVinci Bridesmaid Style #60302: Chiffon A-Line Bridesmaid Dress features Sheer Chiffon over a Strapless Mini-Dress with Vertical Ruched Halter Bodice & Back Straps. Satin Ribbon Waistband accents Sheer Gathered Floor Length A-Line Skirt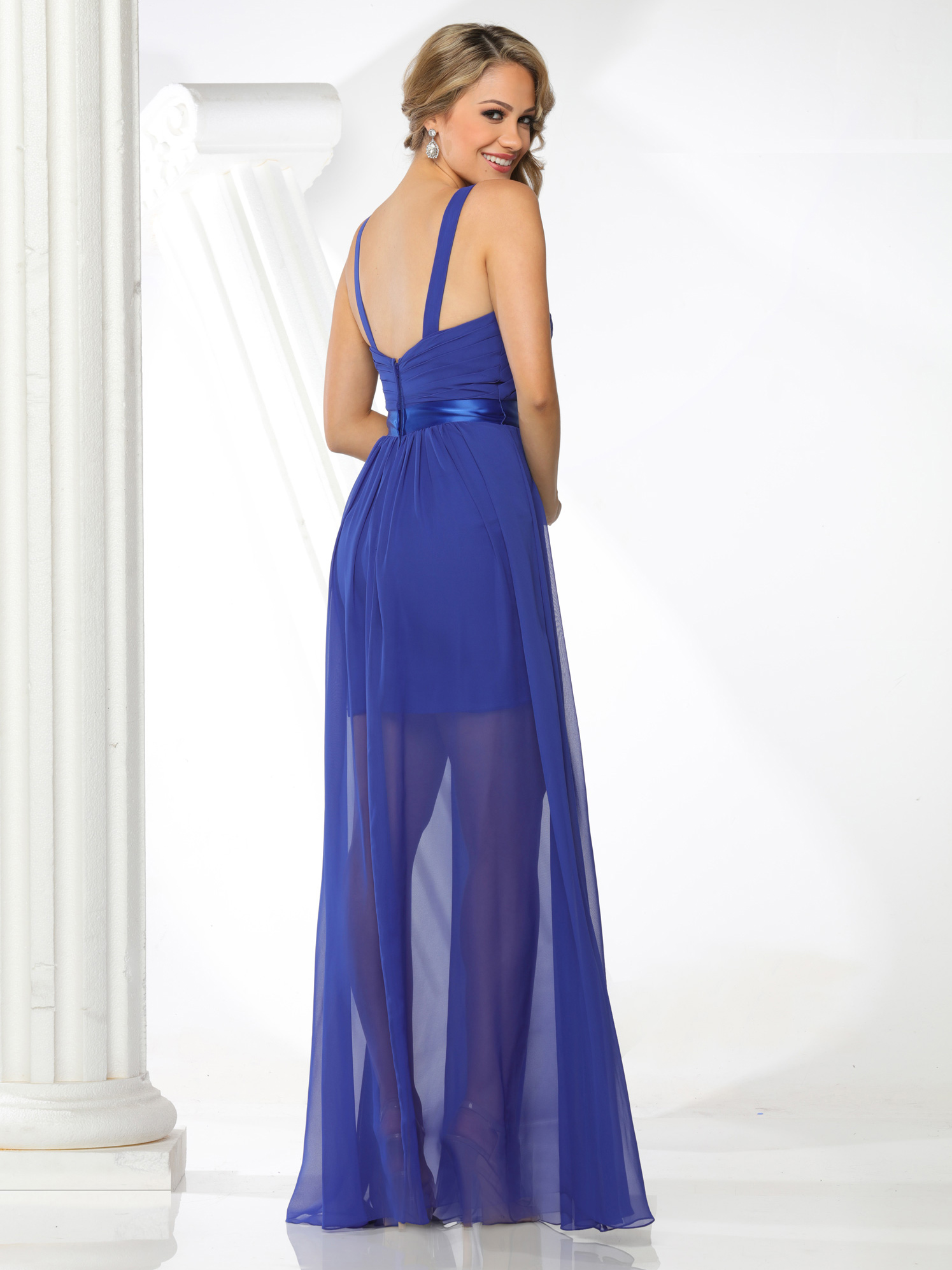 To see more details Click HERE for DaVinci Bridesmaid Style #60302
DaVinci Bridesmaid Style #60284: Chiffon A-Line Bridesmaid Dress features Faux Wrap Ruched Chiffon over a Strapless Sweetheart Bodice with Sheer Straps & Full Coverage Sheer Back with Covered Buttons. Full Gathered Floor Length A-Line Skirt has Satin Waistband & Crystal Accent. Choose either Matching or Contrasting Lining & Dress Colors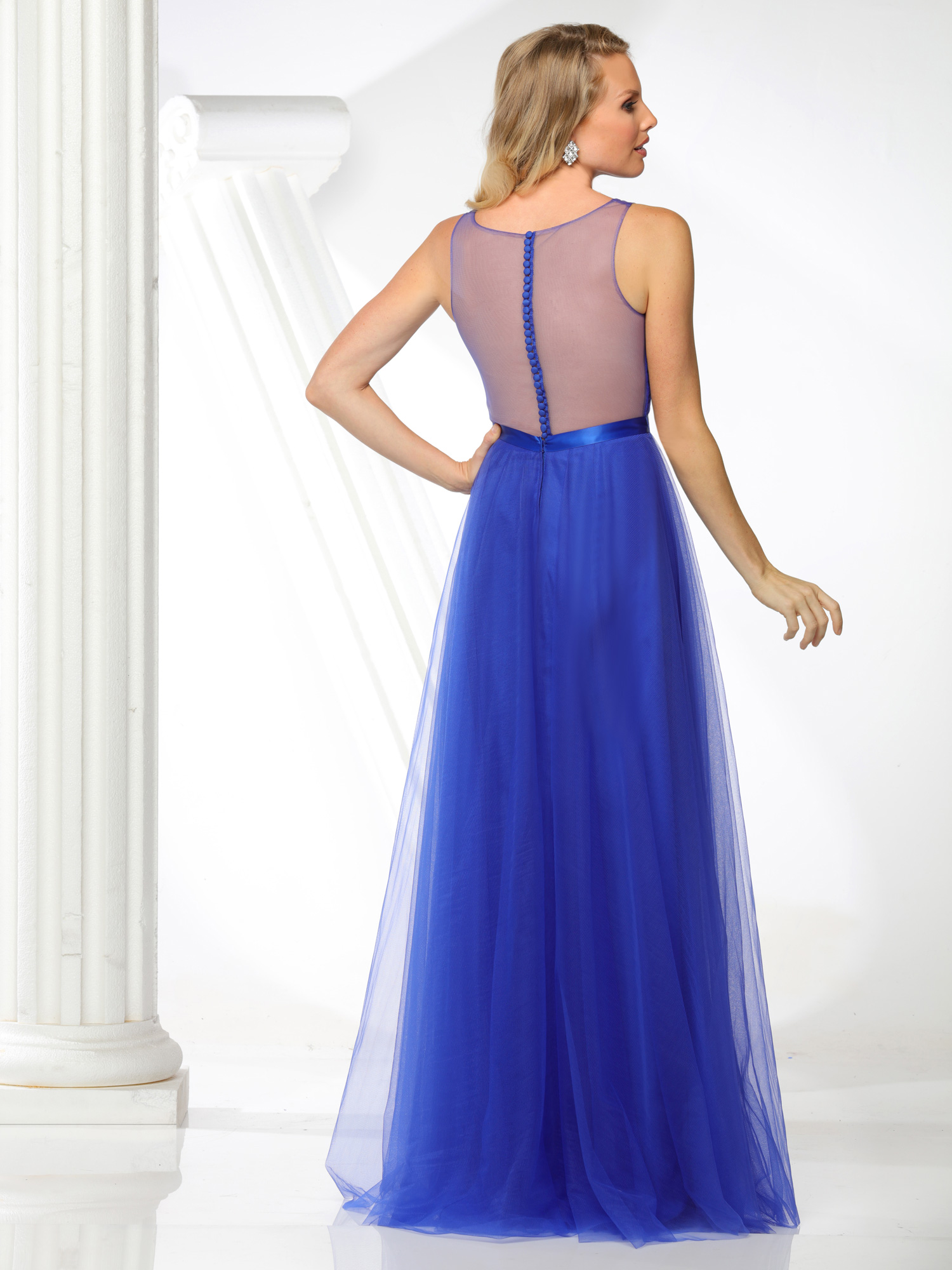 To see more details Click HERE for DaVinci Bridesmaid Style #60284
DaVinci Bridesmaid Style #60236: Chiffon A-Line Bridesmaid Dress with Tailored Halter Bodice, Spaghetti Straps & Knee Length Pencil Skirt with Side Slit. Split Back Panels Create a Cape that Ties in Front as a Belt. Choose either Matching or Contrasting Dress & Wrap Belt Colors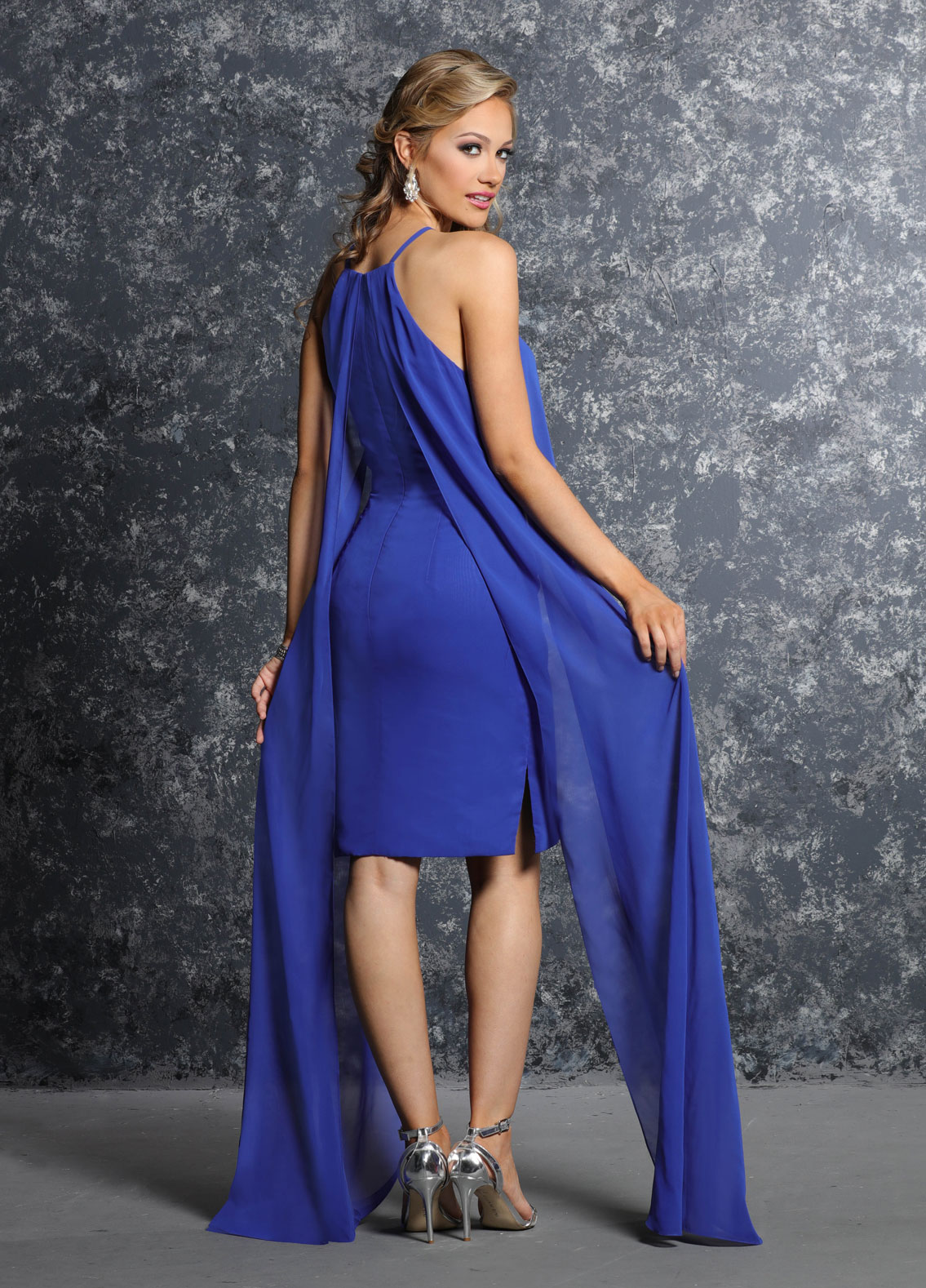 To see more details Click HERE for DaVinci Bridesmaid Style #60236
Classic Wedding Color Scheme White with Blue Bridesmaid Dresses: Blue Bridesmaid Dresses with Sequin Details
DaVinci Bridesmaid Style #60360: Minimalist Floral Sequined Tulle A-Line Bridesmaid Dress with Sweetheart Neckline, Spaghetti Straps & Open Back. A-Line Skirt Flares to Floor Length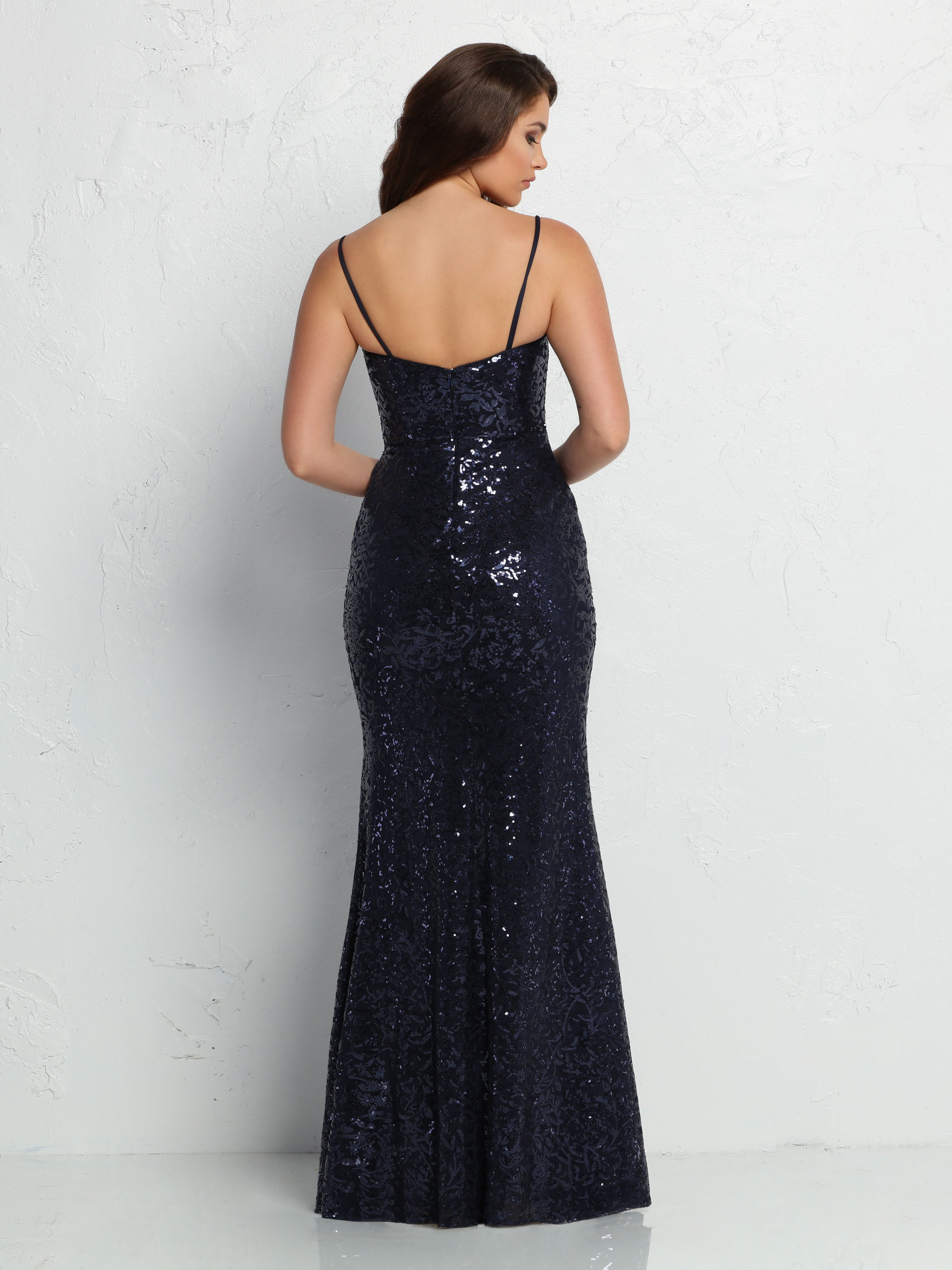 To see more details Click HERE for DaVinci Bridesmaid Style #60360
DaVinci Occasions #S1009: Chiffon & Sequin A-Line Fit & Flare Dress with Fitted Sequin Bodice, Sweetheart Neckline, Shoulder Straps & Double Keyhole Back. Chiffon Skirt with Inverted Center Front Pleat Flares to Floor Length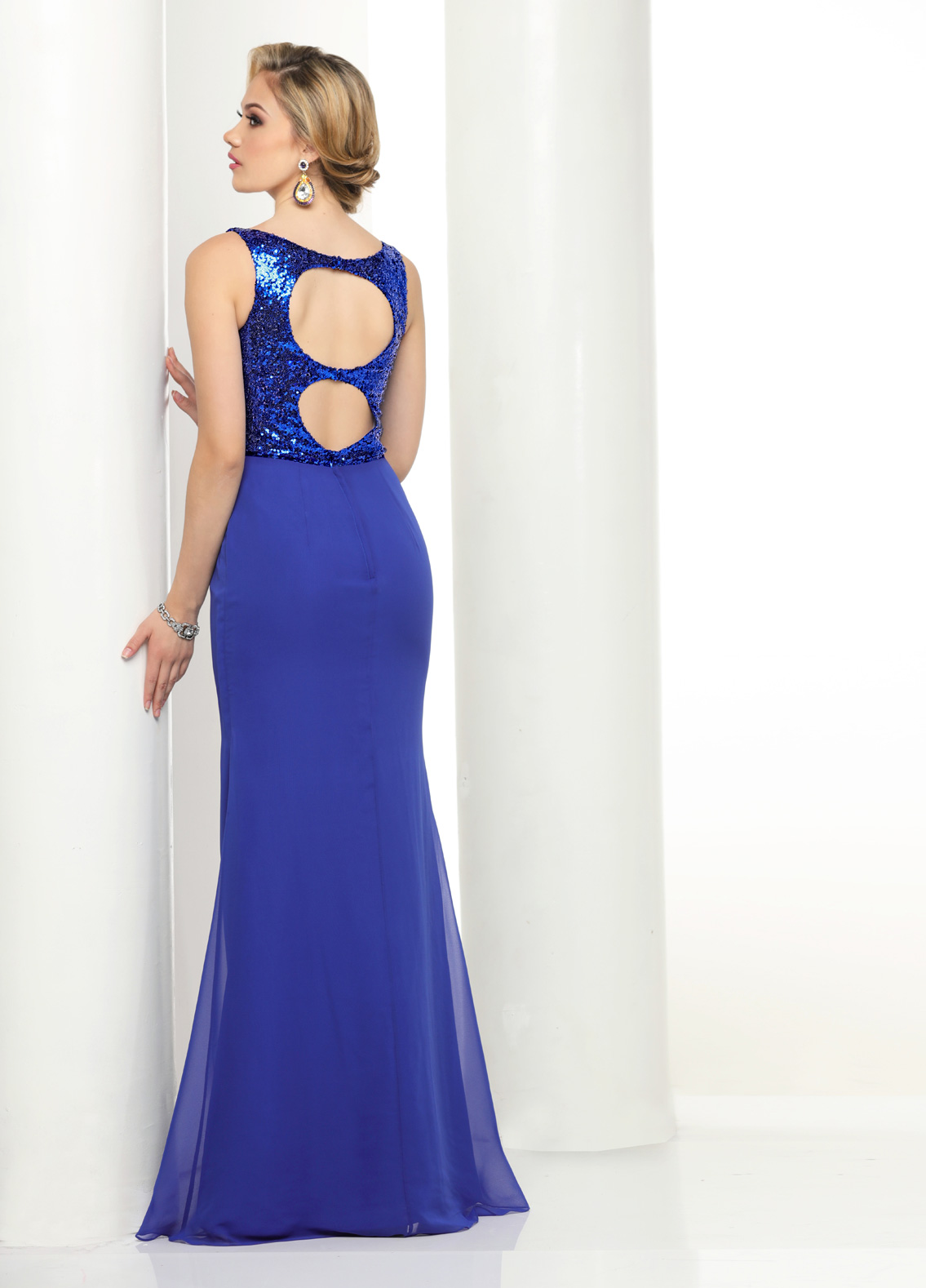 To see more details Click HERE for DaVinci Occasions Style #S1009
Classic Wedding Color Scheme White with Blue Bridesmaid Dresses: Short Blue Bridesmaid Dress Ideas
DaVinci Bridesmaid Style #60165:  Chiffon A-Line Bridesmaid Dress with Fitted Bodice with High Bateau Neckline & Beaded Waistband Detail. Flared Skirt is Hemmed Above the Knee. Choose Matching or Contrasting Belt & Dress Colors
To see more details Click HERE for DaVinci Bridesmaid Style #60165
DaVinci Bridesmaid Style #60051: Chiffon A-Line Bridesmaid Dress with Faux Wrap Ruched V-Neckline, Ruched & Ruffled Skirt, Chiffon Flower Waist Detail & Above the Knee Hem
To see more details Click HERE for DaVinci Bridesmaid Style #60051
DaVinci Bridesmaid Style #60159: Chiffon A-Line Bridesmaid Dress with Faux Wrap Bodice with V-Neckline & Belted Waist. Gathered Skirt is Hemmed Above the Knee. Choose Matching or Contrasting Belt & Dress Colors
To see more details Click HERE for DaVinci Bridesmaid Style #60159
DaVinci Bridesmaid Style #9329:  Satin & Chiffon A-Line Bridesmaid Dress with Ruched Faux-Wrap V-Neckline & Satin Empire Waist Belt. Layered Chiffon Skirt is Knee Length. Choose either Matching or Contrasting Bodice & Belt Colors
To see more details Click HERE for DaVinci Bridesmaid Style #9329
Classic Wedding Color Scheme White with Blue Bridesmaid Dresses: Two-Tone Blue & White Bridesmaid Dress Ideas
DaVinci Bridesmaid Style #9204: Satin A-Line Bridesmaid Dress with Bodice with Fitted Strapless Neckline & Ruching from Bust to Hip. Contrast Sash Accents the Flared Floor Length Skirt. Choose either Matching or Contrasting Dress & Sash Colors
To see more details Click HERE for DaVinci Bridesmaid Style #9204
DaVinci Bridesmaid Style #60212:  Chiffon & Lace A-Line Bridesmaid Dress with Gathered Lace High Neck Halter Bodice, Wide Neckband & Back Keyhole. Full Gathered Knee Length A-Line Skirt has Satin Ribbon Waistband & Back Bow. Choose Matching or Contrasting Lace, Belt & Dress Colors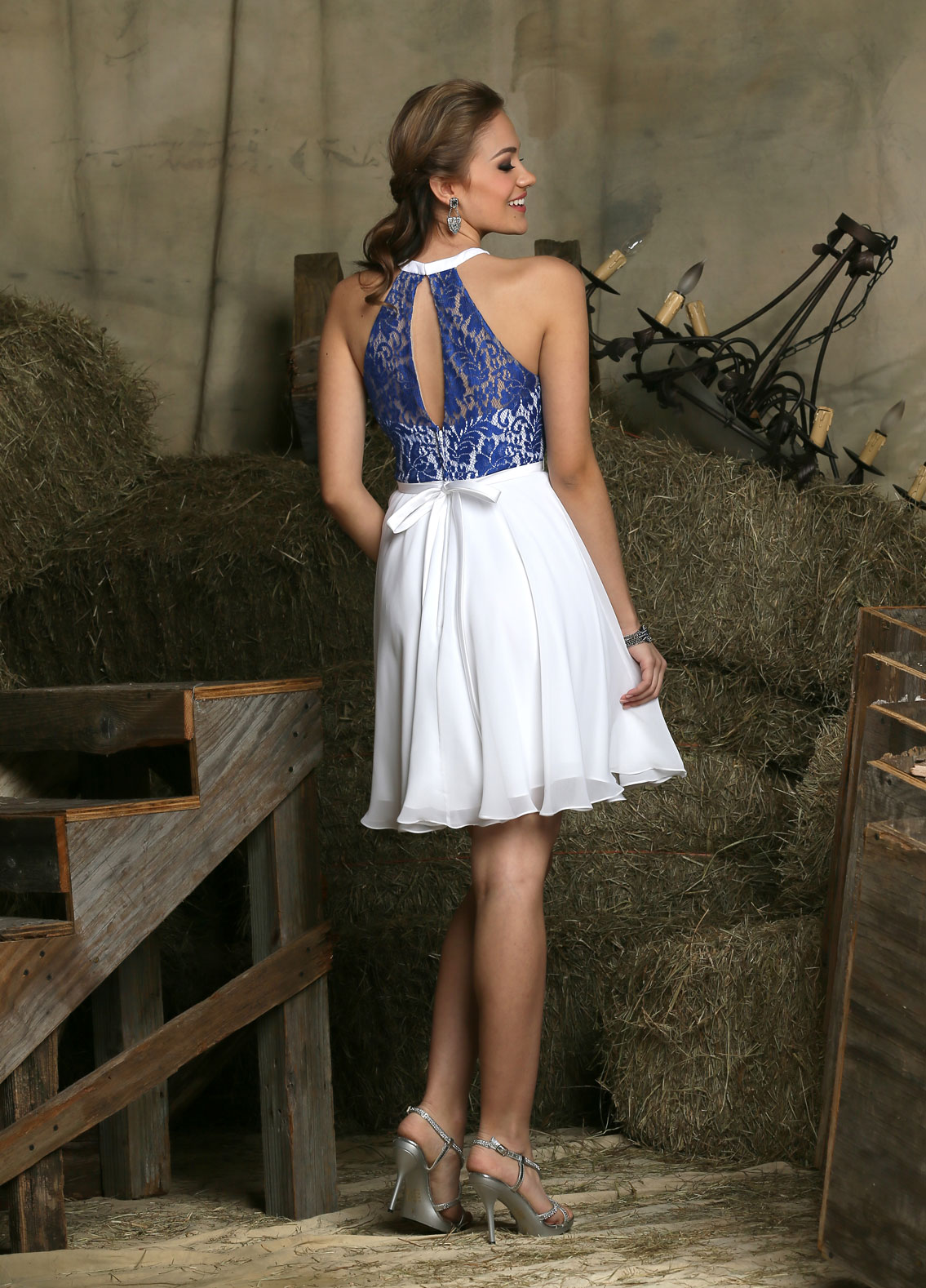 To see more details Click HERE for DaVinci Bridesmaid Style #60212
For more ideas on choosing the perfect color scheme, Click HERE or on the image below to read our blog 8 Classic Wedding Color Schemes: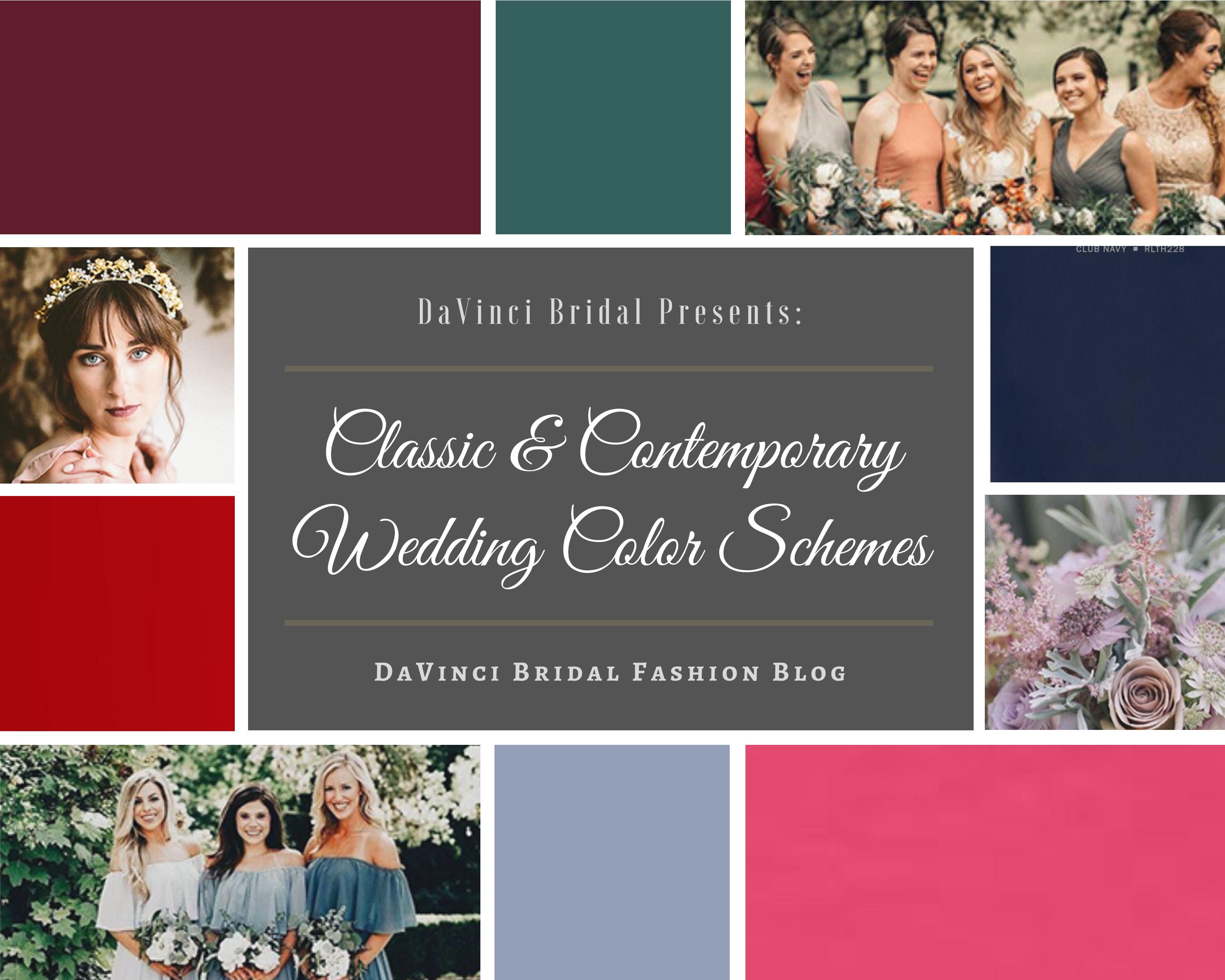 To shop our entire line of beautiful bridesmaid dresses, Click HERE or on the image below: