You don't have to break the bank to have a beautiful day including lots of traditional trimmings, not with our Top Tips for a Frugal Not Cheap Wedding.
All it takes is time—either more time brainstorming how much you can cut or time invested in DIY creativity.
Go ahead & choose upscale, elegant details like invitations, your dress, awesome food & a romantic honeymoon. Just choose fewer of each of those things.
Let's get started!
Top Tips for a Frugal Not Cheap Wedding: Guests & Gifts
Source: Brides
Keep the Guest List Short
Resist the temptation to invite everybody you know. Why? Each extra person:
Raises your budget requirements
Makes your wedding less intimate
Can make you feel obligated
How to whittle the list:
Reduce by 20%
Review & then reduce by another 20%
You may be surprised to find out you're happy with the results!
Ask for Help, not Presents
Assistance creating decorations or florals
Friend or family member's fancy car instead of a limo
Assistance with decorating
Help with breakdown & cleanup
Tip: Consider an alternative wedding "registry" where guests can donate to your honeymoon.
Don't buy groomsmen & bridesmaid gifts
Consider a simple but beautiful thank you card
Throw a pizza, cocktail or potluck dinner party just for them in your new home after your honeymoon
Create a ceremonial thank you at the reception—take a minute or two, call up each attendant & share with the other guests a special memory or moment that led to that person being in your wedding
Top Tips for a Frugal Not Cheap Wedding: Food, Venue & Drinks
Food Options
Do the catering yourself
Dine at a family-owned restaurant—or—have the family restaurant do the catering
DIY Your Own Wedding Cake? Why not?! 
It's easier than you think. Click to check out this article with 15 Homemade Wedding Cake Recipes
Venue Options
Renting a building or hall can cost a fortune. Instead, consider having either the ceremony or the reception—or both—in a free location.
Ceremony in your home or one of your parents or friends
Ceremony in a public park with a gorgeous view
Reception in a traditional venue
Or—
Ceremony in a traditional venue—church, synagogue, or an alternative like a museum, library, etc.
Reception in the church or synagogue hall—often located downstairs or in an adjacent building)
Reception in someone's home or backyard
Reception in a free public venue
Note: If you can have all or part of your wedding outside, do have a Plan B that accounts for the weather—tents, industrial fans, etc.
Bar Options
Source: Elegant Wedding Invites
Ask the formal venue if you can provide your liquor:
Get everything—open bar, champagne & beer/wine—from a discount supplier
Ask to bring one or the other–either the bar liquor or the dinner beer/wine/champagne
Limit alcohol to beer, wine & soft drinks only
Important Tips & Advice:
Do buy more than you need—better to have extra than run out
Do not buy kegs for beer—they won't keep if you have any leftover
Top Tips for a Frugal Not Cheap Wedding: Flowers & Invitations
Flowers: Simple & Elegant
One single rose or bloom per bridesmaid—for instance, calla lilies & over-sized stem blooms like hydrangeas or giant sunflowers make a statement
Petite bouquet for the bride
Fancy ties for the groom and/or groomsmen instead of boutonnieres
Splurge on bouquets but choose fakes or rent greenery for ceremony & reception
Tip #1: DIY as much of the flowers as you can & you'll save a bundle.
Tip #2: Fake flowers—either silk or dried—for all flowers (bridal party, ceremony & reception).
Check out more gorgeous fake flower designs at Budget-Bride
Source: Budget-Bride Silk Wedding Flowers
Invitations: DIY or Digital
DIY on a home printer with an invitation kit
A cost-effective site like Vistaprint
Hire a freelancer for a custom invitation—freelance sites like Fiverr can start as low as $5
Top Tips for a Frugal Not Cheap Wedding: Entertainment & Photo/Video
Source: Entertainment Unlimited
Instead of DJ:
Use or borrow stereo equipment
Put speakers only around the dance floor
Create an iPod playlist
Instead of Professional Musicians:
Use truly talented family or friends
Contact a local university
Check out talent from your local community theater
Insider's Tip on Community Theater: In addition to a singer, ask about hiring amateur musicians from their orchestra pit
Instead of Pro Photo/Video:
University students with a major in media
Hire the professional's apprentice or assistant at a discounted rate
Tip if you still want professionals:
Offer "Vendor Cards" as a trade-off for reduced rates
Advertise with a card at each place setting with each vendor's name, business specialty & phone number
Note: This could work for your florist & caterer as well
Top Tips for a Frugal Not Cheap Wedding: Decorations
Source: Rock My Wedding
Price shop places like Hobby Lobby, Michael's, even Walmart for DIY
Consider used florals & centerpieces—Craigslist often has used items from brides & sometimes venues that are updating & getting rid of older decor
If marrying in your church or synagogue—ask if the Ladies Auxiliary can help with existing decorations
Tip: Do ask the Ladies Auxiliary for help in setup & cleanup, especially if you have the reception at the same place you get married. Groups like that are often thrilled to help in exchange for a donation.
Top Tips for a Frugal Not Cheap Wedding: Tuxedos, Rings & Honeymoon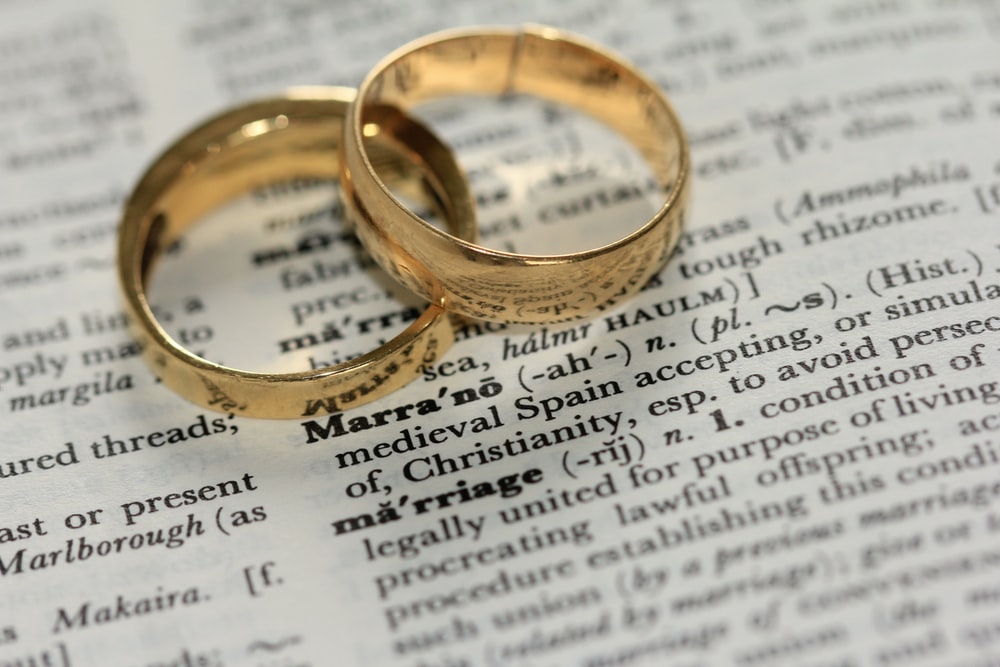 Source: Unsplash
Tuxedos
Rent tuxedos as a group
If cheaper, rent matching suits
Skip the tuxes & suits—instead ask the guys to invest in quality mix & match dress pants, sport coats & sharp dress shoes
Rings
Splurge on an engagement ring but keep wedding band simple
Substitute the diamond solitaire for a semi-precious center stone—Morganite is one stunning alternative
Skip the engagement ring & choose a diamond eternity band
Instead of gold for the engagement ring & wedding bands, chose titanium, sterling silver or ceramic
Honeymoon
Source: Wedding Ideas
If you've kept your wedding & reception super-simple, then sure—splurge on an over the top honeymoon. If not:
Choose a "fancy" trip like a cruise or destination but keep it shorter—3 to 5 days.
Honeymoon at a local upscale hotel or one just far enough away for privacy—one state over can do the trick.
Offset the price of the fancy trip with a credit card that offers rewards or a sign-up bonus.
Rent a fun car like a convertible & take a road trip—stay in less expensive motels (Motel 6 is famous for being both cheap and clean) then splurge on nice meals.
Stay in a nice hotel/motel with amenities that offset food & entertainment costs.
One example: Courtyard by Marriott has beautiful rooms with the works.
Well-stocked efficiency kitchen
"Living room" with sectional
"Bedroom" a king-sized bed
Over-sized flat-screen TV that separates the living area from the bedroom area
Complimentary breakfast/brunch
Want to get away but not spend a fortune?
Last & Most Important Tips
Plan, plan plan

Do Not Stress
You got this! 
Source: Sounds Unlimited