Accessories
Wedding Day Hair Accessories: 4 Classic Looks & Which to Choose
Creating the perfect look for your wedding day tops the list of the most important things you'll need to do, but there are a lot of little details involved in getting it just right. Once you have The Dress—which actually makes all your other decisions a bit easier—you'll need to find jewelry, shoes, a makeup look and, of course, a hairstyle.
Each of these details helps complete your wedding day wardrobe and makes you look beautifully pulled together on your big day, but the crowning touch is what you choose to wear in your hair. Each option is lovely—veil, flowers, headband, tiara, to name a few—but choosing just the right one can be difficult because they're all so beautiful.
If you want a truly polished look, you'll need something to complement your dress and frame your face. If you're an offbeat bride, you may choose something entirely different, but even the classic looks have variations that can make your options feel overwhelming. For now, though, let's have a look at the 4 most common and popular choices of wedding day hair accessories and some things to take into consideration to help you choose just the right one.
1. Veils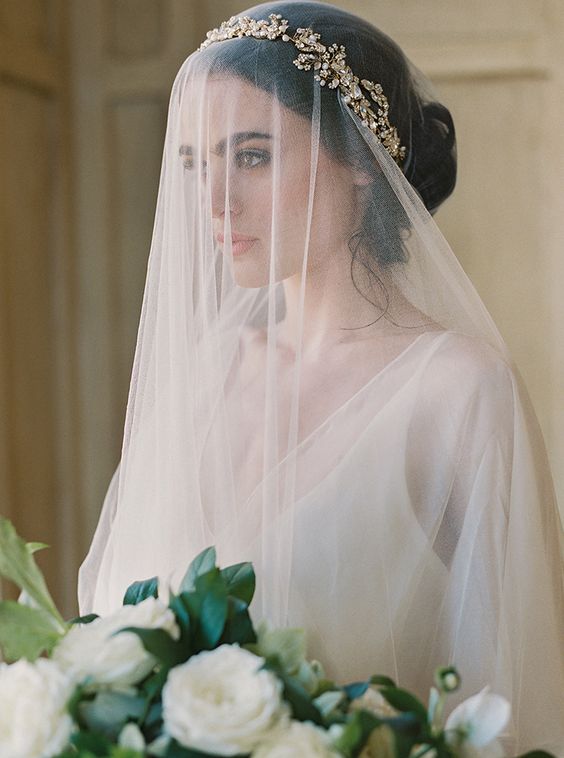 One of the most traditional options is the veil, and for the most part, its length depends on the feel and formality of your entire wedding. A wedding that's ultra-formal and/or royal calls for a traditional veil with lots of length and possibly layers. At the other end of the spectrum, there's a birdcage veil that's perfect for intimate weddings to give a minimalist or vintage look. You can also opt for the contemporary choice of something in between.
Here's a little primer on the basic veil lengths and which style of gown is a good match: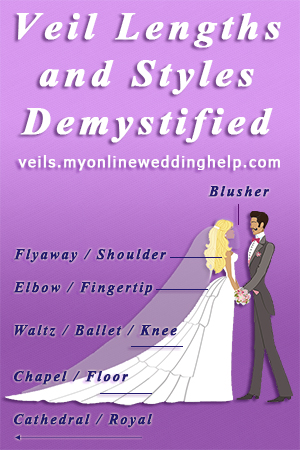 Birdcage:

Short, typically made out of netting, birdcage veils fall above the chin and cover a portion of the bride's face. They're perfect for a vintage look and work especially well with short wedding dresses.
Blusher:

Covering the entire face and ending at the shoulders, a blusher veil is often combined with a longer veil for more traditional ceremonies. This is the veil that's either pulled back by the bride's father to reveal her face or by the groom at the end of the ceremony so he can kiss her.
Flyaway:

 Falling at or below the shoulders, and making a bigger statement than a birdcage, a flyaway veil is another great option for vintage or short wedding dresses.
Elbow-length:

 This veil falls right around the elbows or waistline, looks lovely with almost any dress style and is a hassle-free and easy look that can either be worn all day or removed for the reception.
Fingertip:

 Falling at or right below the fingertips, the fingertip veil is an elegant and timeless look with just enough length to add that "wow" factor. This is the veil chosen by Kate Middleton.
Ballet—also called waltz or ballerina:

Falls below the fingertips but above the ground and is usually knee or ankle length. This length is perfect if you want the look of a long veil but don't want one that trails the ground or you don't want to worry about someone stepping on it.
Chapel:

Falling at the ground or a few of inches beyond the gown, a chapel veil is a statement piece that creates a dreamy, romantic look. A chapel veil and anything longer is commonly removed before the reception.
Cathedral:

 The longest style, a cathedral veil trails behind and falls well beyond the dress hemline. A cathedral veil is an excellent choice if you want the look of a long train but don't want the expense of a gown that long and/or don't want to have to bustle the dress too much.
Juliet cap:

These come in a variety of lengths, offer a vintage look specifically recalling the 1920s and 30s, and are "the look" of the moment due to Downton Abbey. Kate Moss paired her Juliet cap with a longer chapel-type veil.
Mantilla:

 Typically round and lined with lace, mantillas are pinned a couple of inches back from the hairline so that the lace frames the face.
The most important consideration for which type of veil to choose is that it works with your wedding gown. Just as with other wedding fashions, the more elaborate the dress, the simpler the veil should be and vice versa. So if you want a beautifully elaborate veil, choose a simple, minimalist dress. Witney Carson's wedding gown is a good example—a straight sheath with no embellishment whatsoever and then yards and yards of unembellished veil. Gorgeous!
The biggest benefit of opting for a veil is that there's very little room for error. It's a classic option for any number of reasons. Veils work well with and are flattering to most silhouettes, and are easy to personalize to suit your preference.
2. Floral Crowns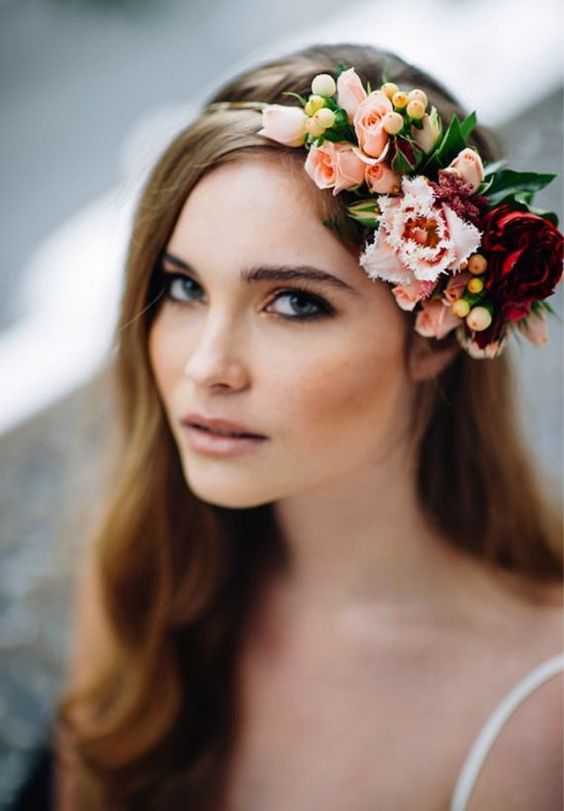 For a more bohemian look, choose a flower crown for your big day. It can easily be customized based on your tastes and whatever else you've already decided on. Whether it's your color scheme, your bouquet, or your floral centerpieces, you can incorporate those aspects into this type of hair accessory.
The one problem with a flower crown is that, if it's made of fresh blooms, it may not last the entire wedding day or it might fall apart if you have a lot of activities planned. This problem can be solved by either making the crown exceptionally sturdy or by using silk flowers then adding fresh greens. Ivy and fresh or dried baby's breath included in a silk flower crown will hold up extremely well against the heat of your scalp.
3. Headbands, Hair Clips & Combs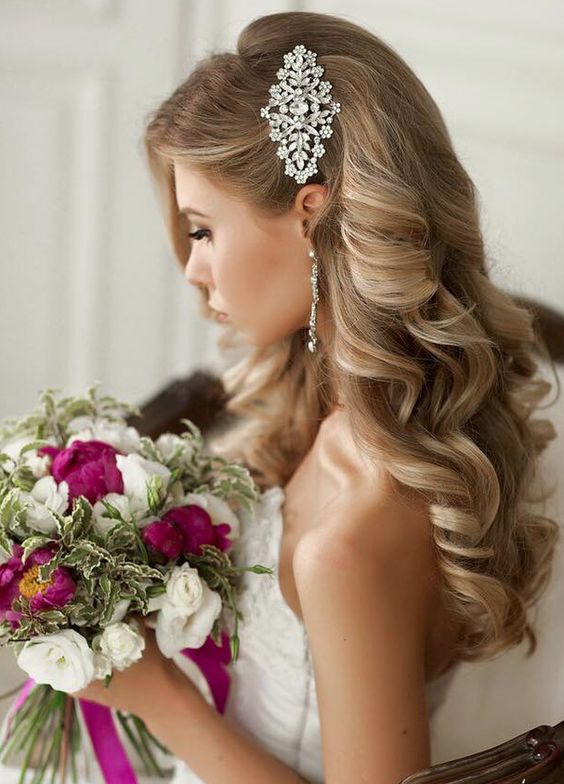 For a simpler ensemble, opt for a jeweled headband or a bedazzling hair clip. These pieces add a little extra to your entire look without overpowering. So if your wedding gown is the definite centerpiece, a headband or a hair clip is your best option. Another benefit is that these types of accessories work well with all types of hair—thick or fine, short or long, curly or straight—and you can still add a removable veil.
The biggest consideration is the color of the headband or clip. It definitely needs to complement the color of your wedding gown but also must perfectly complement your hairstyle, and if jeweled, it should blend well with your other jewelry.
4. Tiara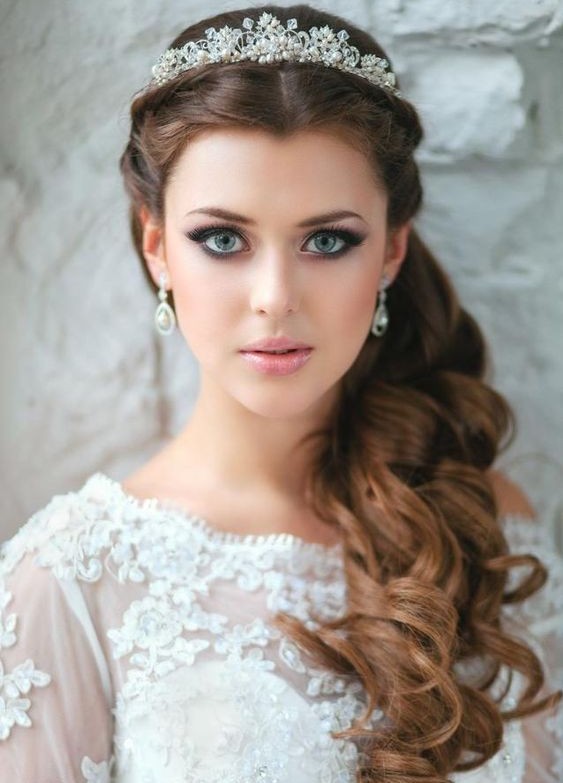 There are few things more royal than a tiara. It's definitely a statement piece, so give careful consideration before making a tiara your choice. Color matters especially if your tiara is a vintage piece, because over time, jewels and pearls can discolor a bit, and some older pieces are made with iridescent or aurora borealis stones. Just make sure the embellishments in the tiara work well with the details of your gown and also don't clash with your other jewelry.
There is one possible drawback: Some still feel that wearing a tiara is "tacky." Also, depending on the materials, if it's not extremely sophisticated in design, a tiara can, unfortunately, look a bit childish. Nevertheless, there's nothing like a tiara to make you look and feel like royalty!
Which Look to Choose?
There are many more considerations when choosing a wedding hairpiece, but here are the three top deciding factors to keep in mind:
Though it's definitely not a requirement, having a general idea of the hairstyle you plan to wear is important, because the decision to wear your hair up or down will make a difference. After all, there are some hair accessories like clips and combs that oftentimes work a bit better with an updo.
How the piece looks from all angles
This is key, so make good use of a 3-way mirror to make sure the hair decoration looks good all the way around. Wedding photographs are taken from each and every angle, so save yourself some stress, check it out beforehand, because your hair accessory can truly make or break your look.
Most hair accessories now come in a variety of colors, so make sure the one you have in mind complements the color of your gown and your hair.
Closing Thought: Be Open to your Bridal Consultant's Advice
Obviously, you should do your homework, checking out pins and magazine photos, then showing your bridal consultant which of the many wedding headpieces you like and don't like. But when you're trying on different gowns, let your consultant have a say in which type of veil or headpiece will look best with the style of dress you're trying on at the moment. You may walk into the shop with a strong preference for a particular gown, but then see a veil you just adore. If so, let your consultant guide you to gowns that will work with that veil.
You can also combine veil lengths and headpiece styles, adding a veil to a tiara, tucking a veil at the back of a floral crown or headband, or combining two or even three veil lengths. This works especially well with ultra-formal gowns. You can wear a removable chapel or cathedral veil for length, then add a fingertip or blusher veil over the top. You can also add a blusher to an elbow length, fingertip, or ballet veil for an old-fashioned feel.
Just know that whatever you choose, we guarantee you'll look stunning!
For some extra help deciding which dress best flatters your body type so that you an choose a hairpiece to complete the look, check out our blog:  http://www.davincibridal.com/blog/how-to-choose-your-wedding-dress-by-body-type-6-important-tips/