For a modern wedding day look with a retro vibe, check out the beautiful gowns in our Square Neckline Wedding Dresses 2021 & 2022 collection.
Square necklines have been around forever & were popular as far back as Renaissance & Regency times. The geometric shape shows off shoulders & collarbones & works with pretty much every wedding day look.
This neckline trend will let you go boho in crepe or classic in satin. Or you can add a romantic vibe with floral & lace styles.
When you buy your Wedding Dress from DaVinci Bridal …
You know that your gown will be created by one of the premiere bridal dress companies in the world. We use only top-quality fabrics fashioned into high fashion design using high-end construction. We guarantee you'll love their affordable prices. A DaVinci is the bridal dress retailers love to carry because best of all, most of these dresses are available for rush delivery at no extra charge!
Square Neckline Wedding Dresses 2021 & 2022: Off the Shoulder Styles
DaVinci Bridal Style #50577: Lace & Tulle A-Line Ball Gown Wedding Dress with Square Off the Shoulder Neckline, Lace Bodice, Full-Length Sheer Sleeves with Lace Applique & Wide Ribbon Corset Back. Layered Tulle Ball Gown Skirt with Lace Applique Accent has Chapel Train.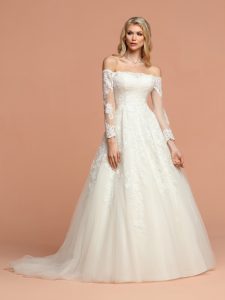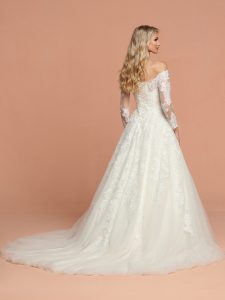 Available in: Ivory, White
To see more details Click HERE DaVinci Bridal Style #50577
Square Neckline Wedding Dresses 2021 & 2022: Classic A-Line Silhouette
DaVinci Bridal Style #50628: Glitter Tulle & Lace A-Line Ball Gown Wedding Dress with Square Neckline & Shoulder Straps. Lace Applique on Bodice trails Below Waistline & features Sequin Accents. Full Layered Glitter Tulle Skirt with Chapel Train. Available in Two-Tone Color Option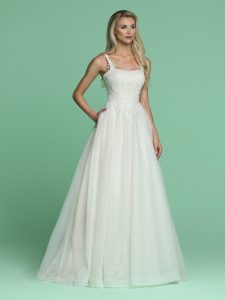 Available in: Ivory or Two-Tone Ivory/Champagne
To see more details Click HERE for DaVinci Bridal Style #50628
Square Neckline Wedding Dresses 2021 & 2022: Ball Gown Styles
New for 2022! DaVinci Bridal Style #50669: Glitter Tulle & Tulle A-Line Ball Gown Wedding Dress with classic Fitted Bodice & Full Gathered Skirt. Beaded Lace Applique on Modest Square Neckline with Slender Shoulder Straps & V-Back. Extra Full Ball Gown Skirt with Lace Accents & Chapel Train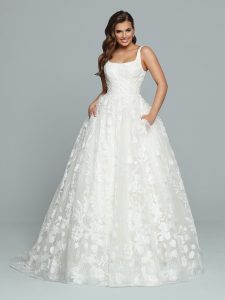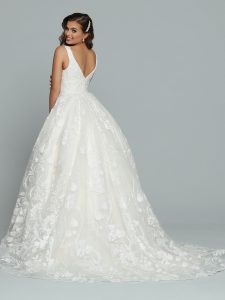 Available in: Ivory/Ivory or Ivory/Baby Pink
To see more details Click HERE for DaVinci Bridal Style #50669
Square Neckline Wedding Dresses 2021 & 2022: Strapless Designs
DaVinci Bridal Style #50084: Taffeta & Lace Mermaid Wedding Dress, Strapless Square Neckline Fitted Lace Bodice, Diagonal Ruched Taffeta with Beaded Accents, Corset Back, Taffeta Mermaid Skirt with Pickups, Beaded Lace Hem, Chapel Train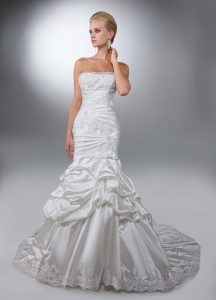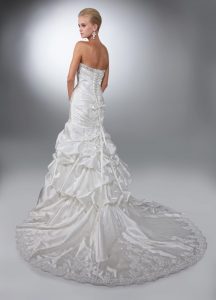 Available in: Ivory, White
To see more details Click HERE for DaVinci Bridal Style #50084
DaVinci Bridal Style #8371: Chiffon A-Line Wedding Dress, Strapless Square Neckline Drop Waist Bodice with Diagonal Ruching, Beaded Embroidery on Neckline, Waist & Corset Back, A-Line Skirt with Front Ruffled Panels, Chapel Train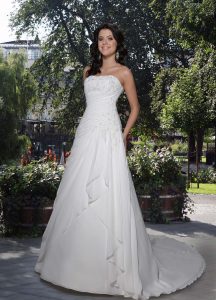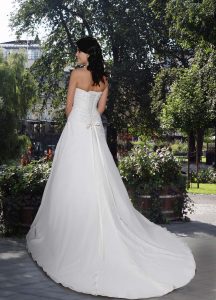 Available in: Ivory, White
To see more details Click HERE for DaVinci Bridal Style #8371
DaVinci Bridal Style #8354: Satin A-Line Wedding Dress, Strapless Bodice, Square Beaded Lace Neckline, Wide Pleated Ruching with Beaded Lace Applique, A-Line Skirt, Corset Back, Chapel Train with Beaded Lace Applique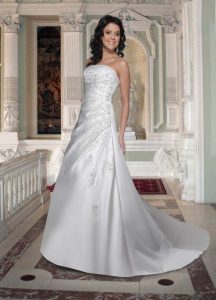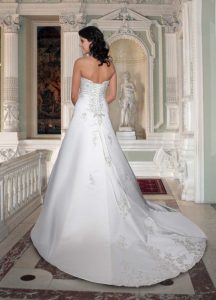 Available in: Ivory, White
To see more details Click HERE for DaVinci Bridal Style #8354
Have you seen all of our latest bridal fashion styles? Click HERE or on the image below for a Sneak Peek at our brand new 2021-2022 formal wedding gowns: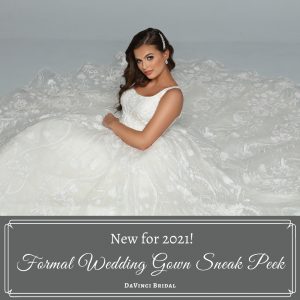 For the very best collection of great ideas for planning your wedding and adapting to circumstances that may have delayed your big day, Click HERE or on the image below for DaVinci Bridal blog: