Food
Wedding Cake Design: 7 Top Trends for 2016
By the time you get around to deciding on your cake, you'll already know that planning a wedding is probably the most enjoyable project you've had—and quite possibly the most stressful as well! But once you have your theme or your general direction, choosing a gorgeous cake be just plain fun, because these days, your wedding cake is nothing less than a work of art.
You can use almost anything to inspire your cake design. From the ornate moldings on your wedding venue to the flowers you'll carry down the aisle, even the design on the plates you picked out for your wedding registry, there's no limit when it comes to what your wedding cake can look like. So here's a little inspiration for you based on some of the most beautiful wedding cake trends ever!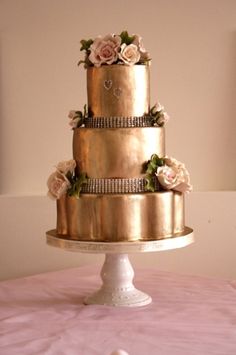 One showstopping trend that's making its way around the wedding circuit is the Metallic Cake. If you're planning a traditional wedding in an elegant ballroom, why not add a little shimmer to your classic tier cake? This gold leaf encrusted trend will definitely have you looking like royals!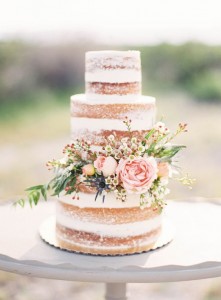 Although we will always have a soft spot for delicately piped frosting flowers, we must admit that little can compare to the sight, color, and scent of fresh cake adornments. So gather some of your favorite blooms, including perhaps whatever you'll carrying down the aisle, and make your wedding cake pop with some fresh florals.
This style is so perfect for an earthy and whimsical wedding theme, you could even consider natural elements like tree bark and leaves!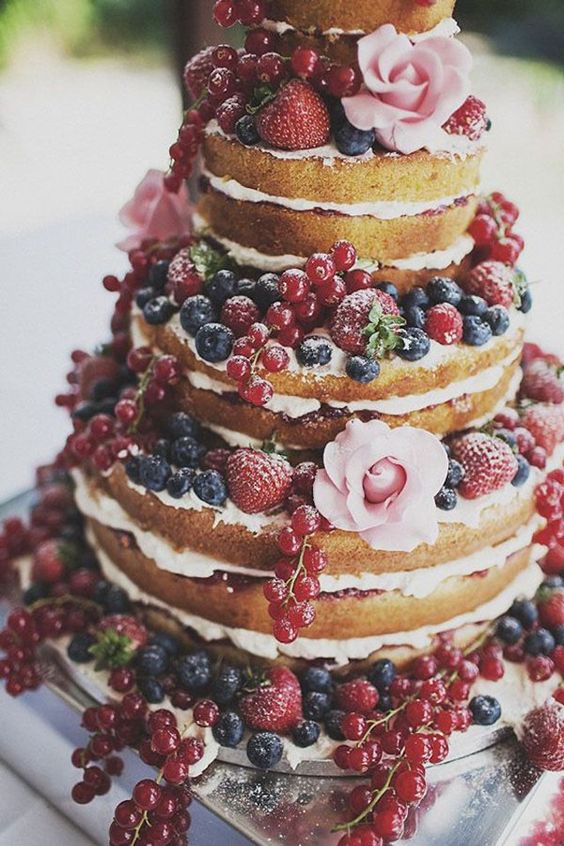 Another noteworthy wedding cake style we've seen these days is the aptly named Naked Cake. In keeping with the restaurant trend of deconstructed dishes, these wedding cakes boast very little icing and sometimes have uneven layers as well. Their rustic look draws the eye and makes them look more modern than homemade. Some bakers even recommend that for summertime weddings, seasonal fruits should be included. Berries, blood oranges, apples, and pears surrounding each tier—and also perhaps included in the layers—make a Naked Cake brighter and even more appealing.
The Flowing Palette of Ombre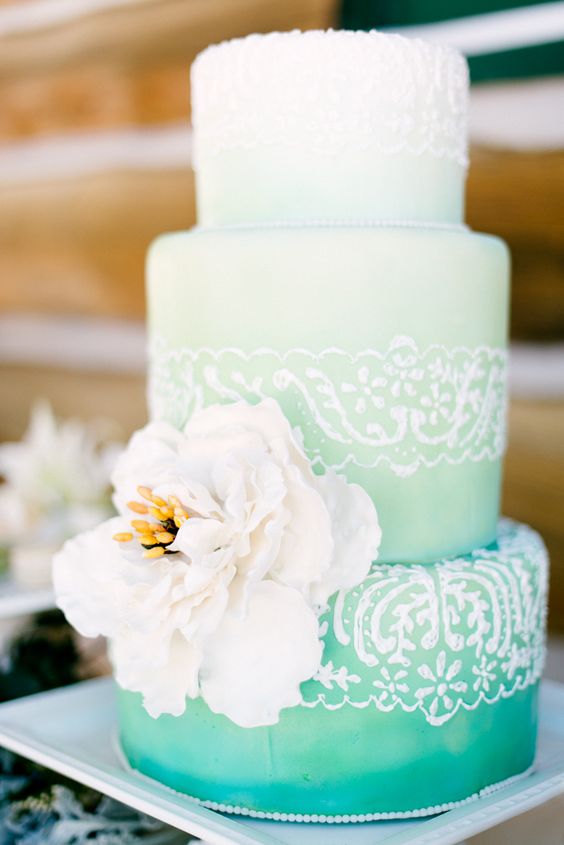 If you want a truly cutting-edge wedding cake design, go for Ombre. This is definitely a less traditional option but is a stunning look than can be achieved with almost any texture. These cake creations are almost too pretty to eat and we think are particularly lovely when the ombre effect is achieved by piping the colors in soft petals or rosettes.
Ombre is also a versatile design that works well whether you're going with a vibrant color that pops, or a subtle, more elegant hue like a pastel that fades to white.
If you're not too keen on color, but still want this creative effect, try an Ivory Ombre. Ivory will keep your cake in the classic white category, but the ombre effect will give it a kick that will leave your guests stunned by its simplistic beauty.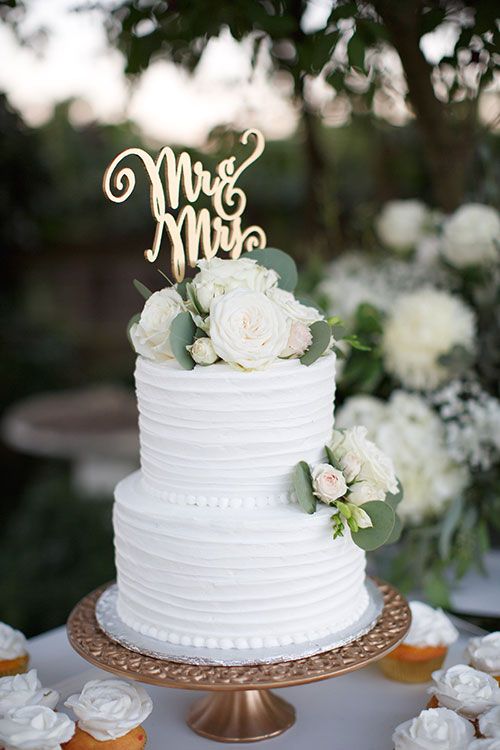 If you're a bit of an old soul who just adores the thought of a classic white wedding cake, we've got something for you, too. We love this delicate white on white trend. It's always in good taste, and is a fresh take on a traditional cake that uses different white embellishments on each tier. Think of it as piping embroidered lace in frosting, or layering chiffon flowers on the skirt of a gown.
If you're on the daring side, we recommend ordering an unusually shaped cake like a hexagon or mixing shapes from layer to layer. This combination of texture and shape created on a classic white field blends modernism with tradition and makes for a truly eye-catching cake creation.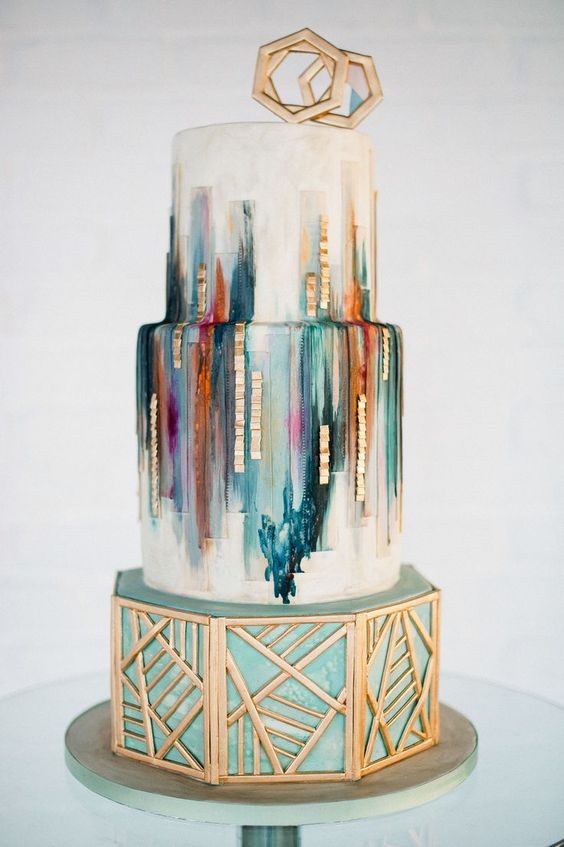 Most of us are familiar with Angelina Jolie's unusual wedding dress that was adorned with her children's hand drawn crayon art. Although not every bride may want to go that far, one way to include drawings in a wedding theme isto paint the cake. This trend requires a skilled artist, but especially if you're planning a small romantic wedding, splurging on a watercolor cake may be the perfect choice.
If you're looking for something a bit more upscale, consider either a stained glass or a marbled cake. We'd definitely recommend you use a traditional cake layer shapes such as round or square, though, so that it doesn't look too busy.
A single marble tier on an elegant cake stand can be the ultimate crowning touch to an exceptionally intimate yet decidedly opulent wedding celebration.
Three Times the Charm…or More!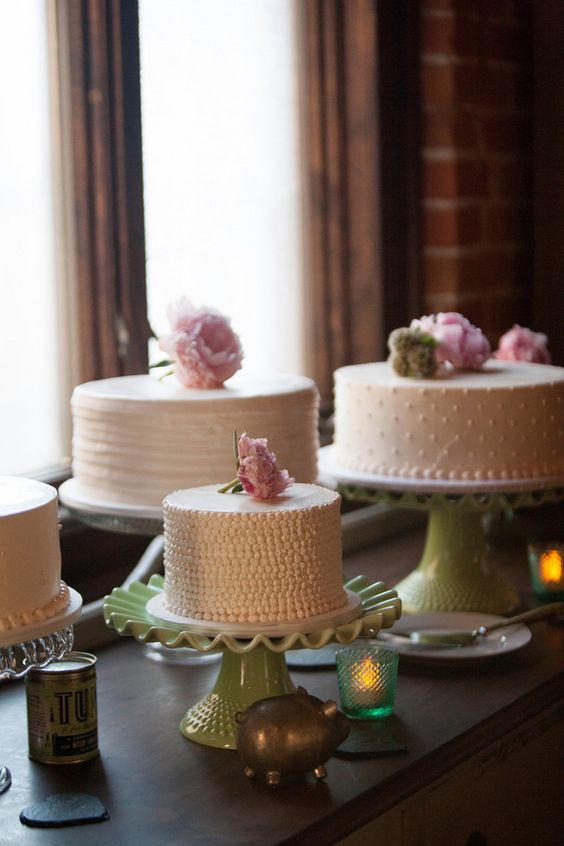 Even couples planning an ultra-formal wedding may not want one towering concoction. Not only are sky-high stacked tiers expensive and difficult to construct, they're just as difficult to deconstruct in order to cut and serve to your guests. You're also limited in design if you choose one single cake, but breaking up the layers can create a decidedly dramatic display.
Consider a larger dessert table with your wedding cake layers spaced out and placed on different levels. Choosing a varied display will also give you the opportunity to play around with different ideas, so theoretically you could choose to have a smaller cake in each of the popular trends—perhaps decorate each individual cake in a different design so that you don't have to choose just one.
Creating an array of different cakes also allows for a much wider range of flavors. One important tip, though:  Do not go with more than three flavors, else your guests will be overwhelmed by too many choices.
Believe us when we say that the possibilities and opportunities for creative designs are almost endless when it comes to today's modern wedding cake. So don't feel as if you must settle for a standard white wedding cake, not when there are so many simple—and extravagant—ways to dress up this classic reception dessert.
And no matter whether your wedding will be grandly royal or charmingly informal, you should still treat your cake as a work of art!