British Royal Family Engagement Rings are always impressive heirlooms. But the designs themselves are quite simple.
Each of the Royal Family Rings has sentimental value of some kind. With a few exceptions, each of the British Royal Family Engagement Rings features a colored center stone.
The one constant is the massive carat count of each ring. But the stories behind the rings are just as intriguing, especially Princess Diana's ring.
So here's the rundown on each of the British Royal Family Engagement Rings. We've included a little info about the engagement, and a little gossip, too!
British Royal Family Engagement Rings, 1947: Princess Elizabeth presented by Philip, the Duke of Edinburgh
The royal engagement ring worn by Queen Elizabeth II has a fascinating history. It has  a round, brilliant cut 3-carat diamond solitaire with ten smaller diamonds, five on either side. What's interesting is that Philip was born into a royal family but they didn't have much money.
So Prince Philip's mother, Princess Alice of Battenberg, gave him one of her tiaras. It was taken apart and made into a ring for the future Queen of England.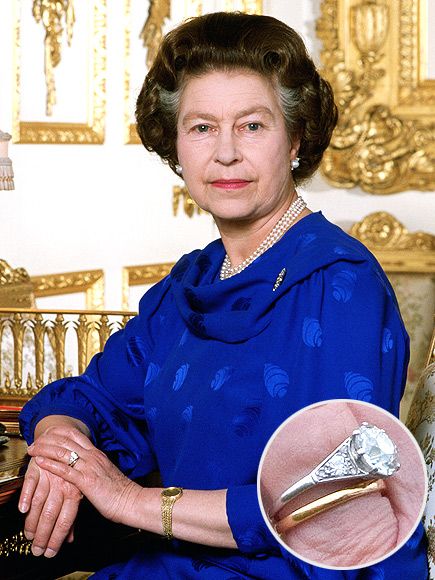 Source: Pinterest
1960 Princess Margaret Rose's Engagement Ring from Antony Armstrong-Jones
The Princess' ruby and diamond ring was custom-designed by her husband-to-be, Anthony Armstrong Jones. It resembles a rose so as to reflect Margaret's middle name.
Consisting of three oval rubies flanked by baguette diamonds with brilliant cut diamond edge detail, the ring was designed by Margaret, and the rubies came from her mother, Queen Elizabeth, the Queen Mother.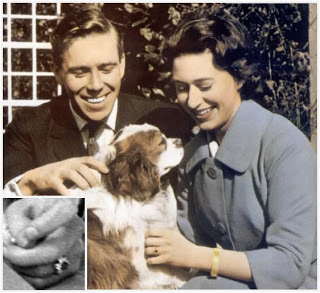 Source: orderofsplendor.blogspot.com
Those in the know say that this replica of Margaret's royal engagement ring, created for the series, "The Crown," is extremely accurate. The only difference is that the ruby in the real ring isn't quite as large.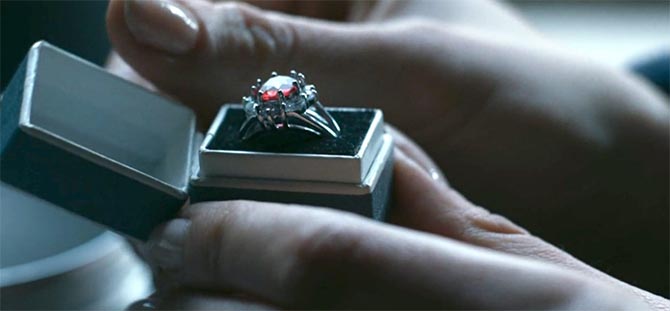 Source: theadventurine.com
1973 Princess Anne's Engagement Ring from Captain Mark Philips
Princess Anne received two sapphire and diamond engagement rings, each in a different style and cut. Her royal engagement ring from Captain Mark Phillips, shown here, is a round sapphire with three diamonds on either side.
Her second engagement ring, also sapphire and diamonds, was given to her by Sir Timothy Laurence.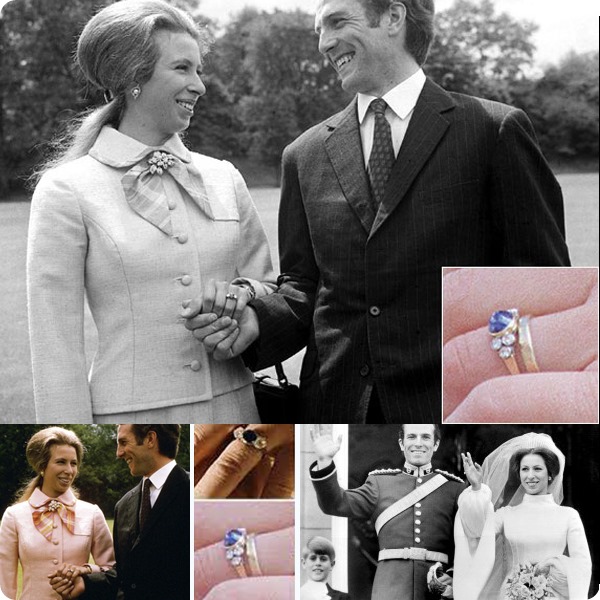 Source: blog.angaga.com
The Original Showstopper of the British Royal Family Engagement Rings:  Diana, Princess of Wales, 1981
Princess Diana's engagement ring may be the most famous royal engagement ring in recent history. It's a 12-carat sapphire set in 18 karat white gold and surrounded by a halo of 14 diamonds.
However, unlike nearly all other rings of royalty, Prince Charles did not choose this ring for Diana. Supposedly he wanted to "give her time to think" about the changes involved in marrying him. So he took her to Garrard Jewelers & she was presented with a selection to choose from.
At the time, the ring was part of Garrard's regular catalog. So not only was the Princess's ring essentially "bought off the rack." It was also common knowledge how much her ring was worth. And anyone who could afford it could buy an exact duplicate from the very same jeweler!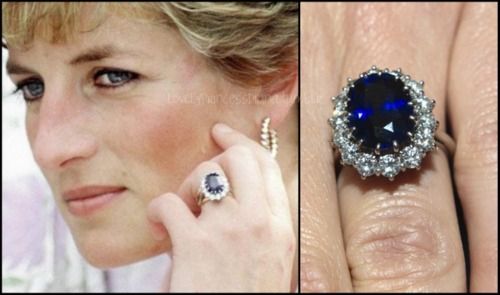 Source: Pinterest
British Royal Family Engagement Rings 1986: Sarah Ferguson's Engagement Ring presented by Prince Andrew
Sarah, affectionately known as Fergie, was also presented with a ring from Garrard's. Prince Andrew chose an oval cut Burmese ruby set in yellow gold and surrounded by ten diamonds.
Rumor has it that the Prince chose a ruby to complement Sarah's rich red hair.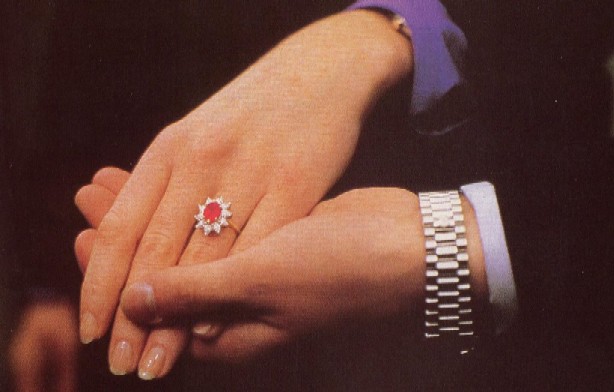 Source: buymearock.com
1999 Sophie Rhys-Jones' Royal Engagement Ring from Prince Edward, Earl of Wessex
When Prince Edward, youngest son of Queen Elizabeth II, proposed to Sophie Rhys-Jones, Countess of Wessex, he gave her one of the few clear-colored stone rings. It's also from Garrard's. It has a 2-carat oval cut diamond with heart-shaped stones on either side.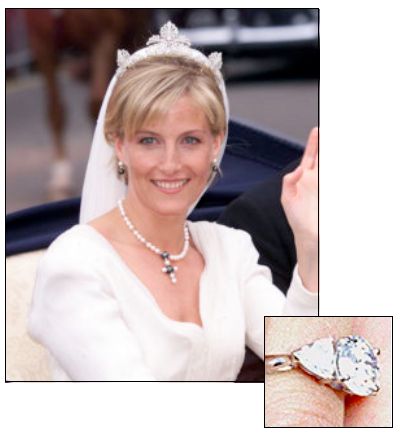 Source: Pinterest
British Royal Family Engagement Rings 2005: Camilla Parker-Bowles, Duchess of Cornwall, Prince Charles' Second Wife
When Prince Charles proposed to Camilla Parker-Bowles, he gave her a ring that formerly belonged to his grandmother, the Queen Mother. It is presumed to have been a gift from the Queen Mother's husband to celebrate the birth of Princess Elizabeth, their first child, now the current Queen.
Although it's an impressive emerald cut diamond flanked with baguettes, it doesn't reflect light very well. So in photographs, it doesn't look as striking as it does in person.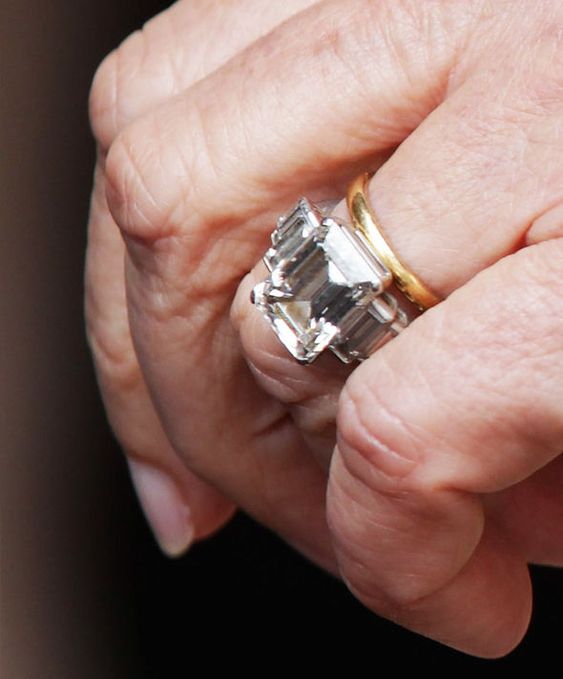 Source: Pinterest
2008 Autumn Kelly's Engagement Ring from Peter Phillips
Autumn's royal engagement ring is another with clear stones. It's a three stone ring with an oval center diamond and a smaller diamond on each side. There are also baguettes flanking the side stones.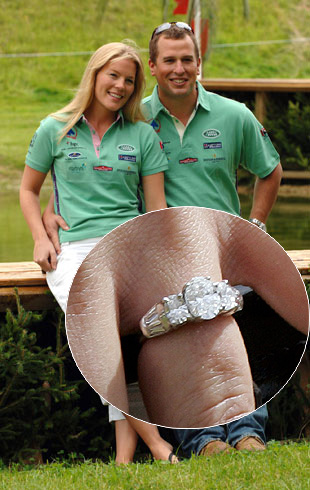 Source: us.hellomagazine.com
2011 & the Best "Hand Me Down" of the British Royal Family Engagement Rings: Catherine, Duchess of Cambridge
Prince William presented Kate Middleton with the same Ceylon sapphire and diamond ring worn by his mother, Princess Diana, a most traditional choice. But it seems that William and Kate are following the current trend of "stacking" rings.
Since Prince George was born, Kate has been wearing a diamond eternity band along with her gold wedding band and sapphire ring. Some humorously refer to it as a "push present" from her husband!
Source: Pinterest
2011 Zara Phillips' Engagement Ring from Mike Tindall
Zara Phillips is an avid equestrian, and it's said that she never wore rings until Mike Tindall proposed. Rumor has it that, instead of jewelry, when she was a teenager, Zara got her tongue pierced! Zara's ring is a split shank setting with diamonds and a large clear center stone.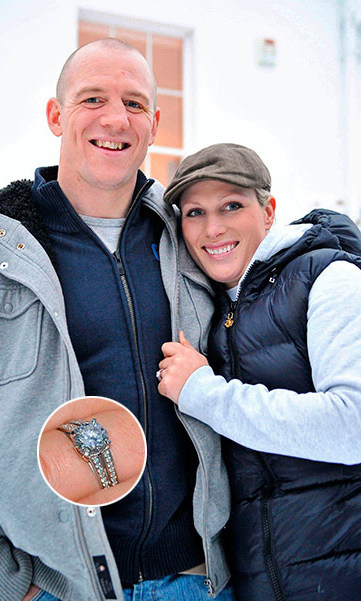 Source: Pinterest
British Royal Family Engagement Rings 2018: Meghan Markle's Ring from Prince Harry
Prince Harry had a ring personally designed for Meghan. It's a 3-carat cushion cut diamond from Botswana on a gold band and is flanked by a smaller stone on either side. Those smaller diamonds came from the personal collection of Harry's mother, Princess Diana.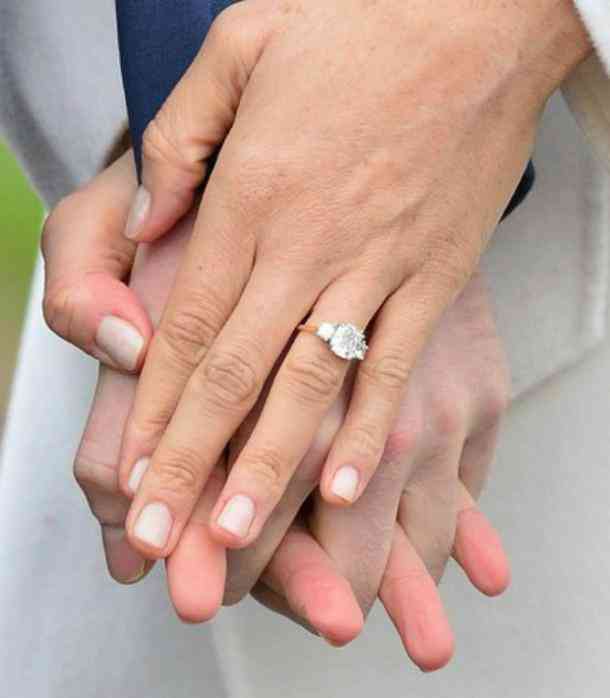 Source: yourtango.com
To see the lovely engagement photos that highlight these beautiful rings, Click HERE to read Royal Engagement Photos Through the Years
Did your groom present you with an heirloom ring? Click HERE to read Engagement Etiquette: How to Handle an Heirloom Ring