Accessories
A Gift for your Groom: 10 Tips for Picking the Perfect Watch
As proud as you are to show off your engagement ring, you need a gift for your groom that he can be equally proud of, and one of the best gifts you can give him is a quality watch. Watches are often treasured for a lifetime and are sometimes handed down from father to son. But finding the perfect one takes some thought and planning, so here are our top 10 tips for buying a watch for your groom that's both a quality timepiece and suits his personal style.
1. Choose Between Two Main Styles Of Watches
Your first decision will be based on the way your guy likes to dress, whether he's always more informal even at work, or if he likes to dress up on occasion.
Dress Watch:

A dress watch is worn on the wrist. If your groom

really

needs a new watch for everyday wear, this might be the best choice and can be a sturdier piece. What you're really looking for, though, is a fancier watch for him to wear when you go out.

Pocket Watch:

This is the dressy type of watch you see on a chain. It's old-fashioned and elegant, and when worn with formal suits and a vest, the watch is kept in the upper left pocket with the chain attached behind one of the vest buttons. Some guys like to have a pocket watch to tuck in their trouser pocket rather than wearing one on their wrist all the time. In this case, again, while you're looking for a treasured gift, if he has a real need for a daily watch, a sturdier version of a pocket watch is a good choice.
The important point here, though, is that you're looking for a gift—something to be treasured, that will last, and that can be handed down one day.
2. If You Choose Gold, then Opt for Solid
Not everyone can afford a gold watch, but if you like the idea of a real gold wedding watch to give to your husband, you should make sure that it's solid. Watches with gold plating will eventually start to fade. Remember your goal—giving a timepiece that can be passed down from generation to generation.
If you can't afford gold, then choose another type of metal that won't scratch or turn color such as stainless steel.
3. Keep It Small and Simple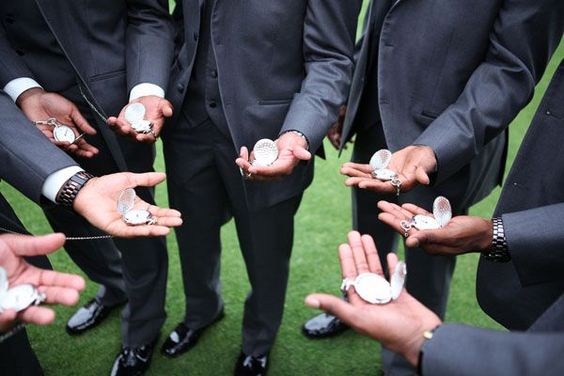 Make sure that the watch you're considering is elegant but not too flamboyant. You want heads to turn when your handsome groom enters the room, not have people staring at "that thing" on his wrist!
Always keep in mind that higher quality watches are less ornamental. The fussier the details, the cheaper the watch looks, even if it cost you a small fortune.
As for the color of the face of the watch, unless you know he strongly prefers black, stick to a white face. Then consider his skin tone as to whether to choose a white metal or a gold metal for the band and accents.
Make sure that the watch will easily pair with any outfit and not look out of place. Also be sure to choose a watch that he can easily slide into the sleeve of his shirt or jacket without it getting caught on the cuff.
4. Consider a Watch with a Background Story
Give some thought to visiting antique shops and private jewelers for a watch with a good story, particularly one that's inspirational to a newlywed. Even if you get one at a real bargain price, vintage timepieces and quality pre-owned watches are precious when it comes to sentiment. Therefore your groom will probably put a little more effort into taking care of it.
However, if you can't find a fascinating vintage or secondhand piece, buy him a brand new watch and create a story of your own. See if you can think of a way that the watch represents the history of your love for each other. Then you'll have something to share when it's time for your son to get married.
5. Become Knowledgeable
Put a little time into learning the technical terms when it comes to watches. Most people know what's meant by the face, hands, and band or strap. But there's almost an entire alphabet of terms when it comes to choosing a quality watch—automatic, bezel chronograph, crystal, lugs, quartz—and how many people know what a tourbillon is?
Not to worry. Here's a great article that's highly educational without being overly complicated and will teach you all the basics you need to know about quality watches: http://designerwatchesonline.net/wristwatch-terminology-basic-watch-terms-you-should-know/
6. Consider His Interests and Hobbies
You want your groom to love the watch not "just because you gave it to him." It should be something he'll really cherish whenever he wears it. Ask yourself these questions to get some ideas:
Does he love vintage items in general?

Does he love elegance and sophistication?

Does he prefer a leather or metal band?

Does he admire a particular design?
For instance, there's a lot of history and mystique surrounding the "Paul Newman Daytona" Rolex that he supposedly wore in the movie "Winning." If your groom is a fan of sports trivia, he may love a quality knockoff of Newman's watch.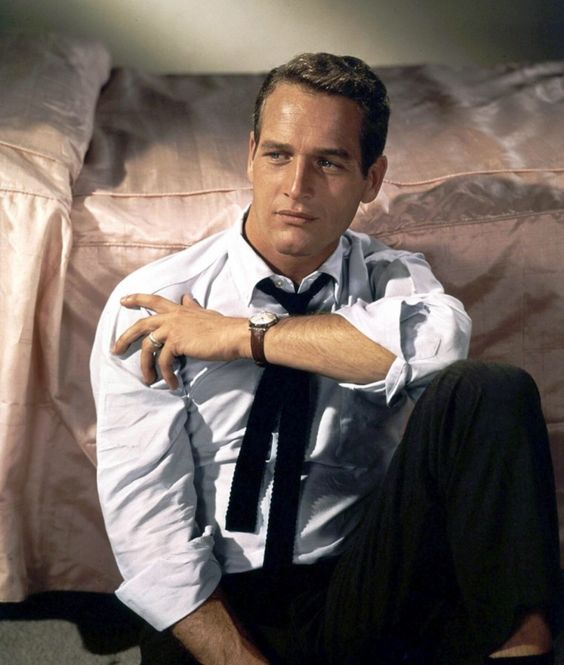 For fun reading, check out this article about the history of Paul Newman's Rolex collection: http://www.rolexmagazine.com/2010/05/profiles-in-coolness-paul-newman.html
7. Stick to Your Budget
For the same reason that bridal tradition holds that your groom should spend 3 months' salary on your engagement ring, so it goes that you should spend 3 months of your money on his watch. That may not be practical, though, especially because often jewelry in that price range has to be financed and if you can avoid it, it's much better to start your marriage debt-free when it comes to wedding expenses.
So the question of how much to spend really comes down to how much money would he spend if he bought a watch for himself. Then use that as a budget guide for yourself and begin shopping for stylish watches in that price range.
8. Start your Search Online
The way to start shopping for watches is through online retailers and jewelers. That's the best way to see all the various styles out there and get an idea of what watches cost. You can also start a Pinterest board with those you like best and take the photos with you to see if the jeweler or watch salesman has something similar.
Fun reading: For an informative article on the top 10 bestselling watches these days, check out this article. http://top101news.com/2015-2016-2017-2018/news/products/best-selling-watch-brands-world/
9. Personalize It
If you want to add a truly personal touch, engrave the watch. You can have your initials, the date, and if the case is big enough, you might be able to etch a couple of words of endearment.
Engraving can make an everyday store bought watch seem as if it was custom designed just for him!
10. Avoid Complicated Designs
Once again, remember that the fancier the detail, the cheaper the watch looks, so stick with simple and elegant. You also want to avoid choosing a watch that will distract your groom due to too many complicated functions.
Your wedding day should be memorable for both you and your groom. He'll definitely appreciate your gift if you opt to buy him a quality watch that's truly one of a kind, whether it's vintage and comes with its own history or whether you personalized it just for him.