For an effortless, elegant look that skims the body & never overpowers, check out our Informal & Destination Sheath & Column Wedding Dresses for 2021.
Sheath wedding dresses are designed to fall in a sleek line below the hips then straight to the floor. This style requires less fabric, which makes it really easy to move around in.
Because sheath dresses have less volume, they're exceptionally versatile. They work with every possible fabric—beading, satin, lace, even crepe. V-necklines & spaghetti straps add a classy, sometimes sexy touch.
You also don't have to be tall & willowy to look stunning in a sheath wedding gown. Petite brides look amazing in the graceful, elongated lines of this silhouette.
When you buy your Sheath Wedding Dress from Informal by DaVinci…
You know that your gown will be created by one of the premiere bridal dress companies in the world. We use only top quality fabrics fashioned into high fashion design using high-end construction. We guarantee you'll love their affordable prices. A DaVinci is the bridal dress retailers love to carry because best of all, most of these dresses are available for rush delivery at no extra charge!
Informal & Destination Sheath & Column Wedding Dresses for 2021: Slip Dresses
New for 2021! Informal by DaVinci Style #F105: Sleek Minimalist Crepe Fit & Flare Wedding Dress. Sweetheart Neckline, Criss Cross Back Straps, Sweep Train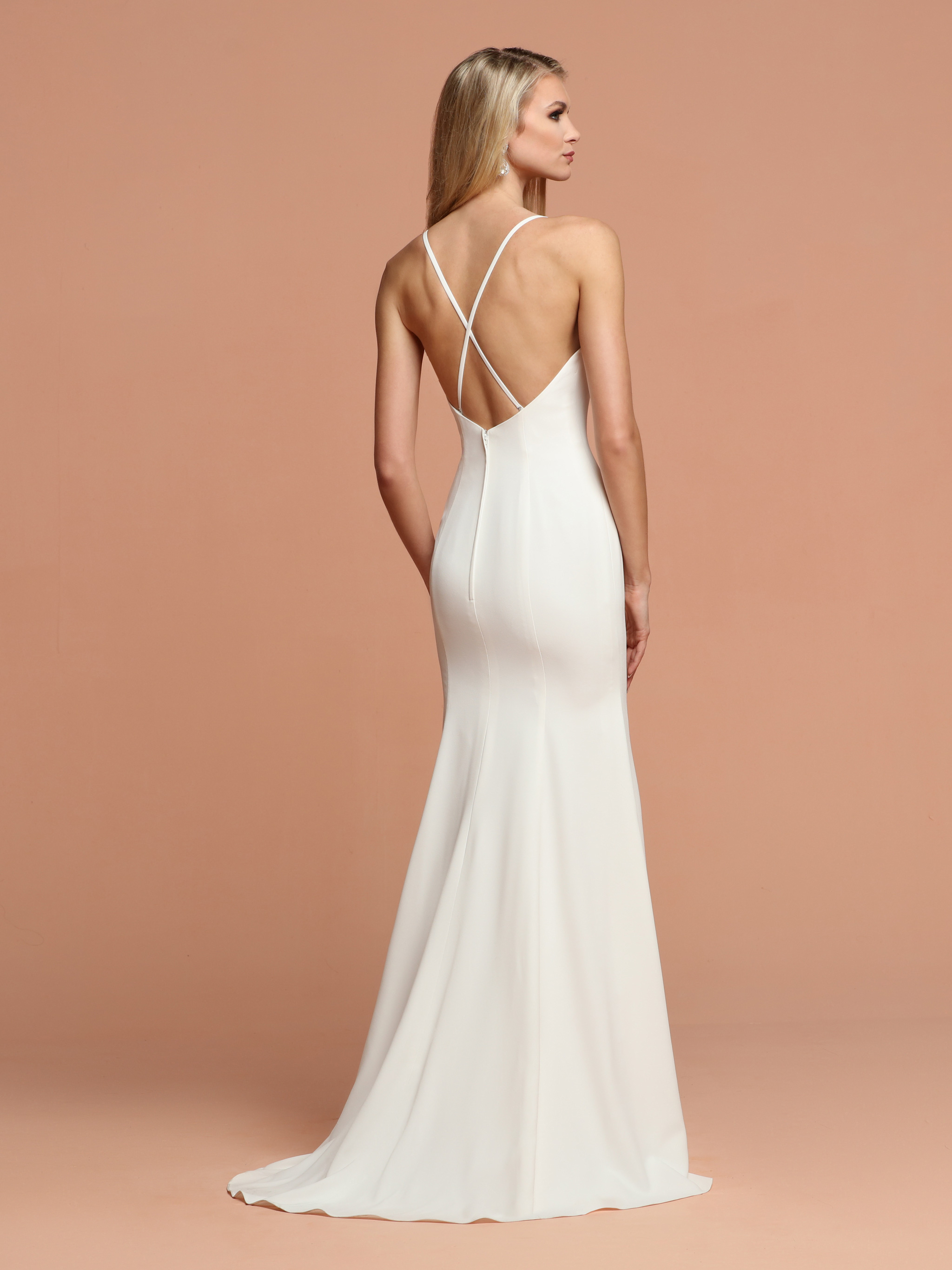 Available in: Ivory, White
To see more details Click HERE Informal by DaVinci Style #F105
Informal & Destination Sheath & Column Wedding Dresses for 2021: Styles with Sleeves
Informal by DaVinci Style #F115: Crepe & Point D'Esprit Fit & Flare Wedding Dress. Sheer High Neckline over Strapless Sweetheart Lining, Lace Edged Back Triangle Keyhole. Full-Length Sheer Sleeves, Lace Applique Trim. Skirt with Sweep Train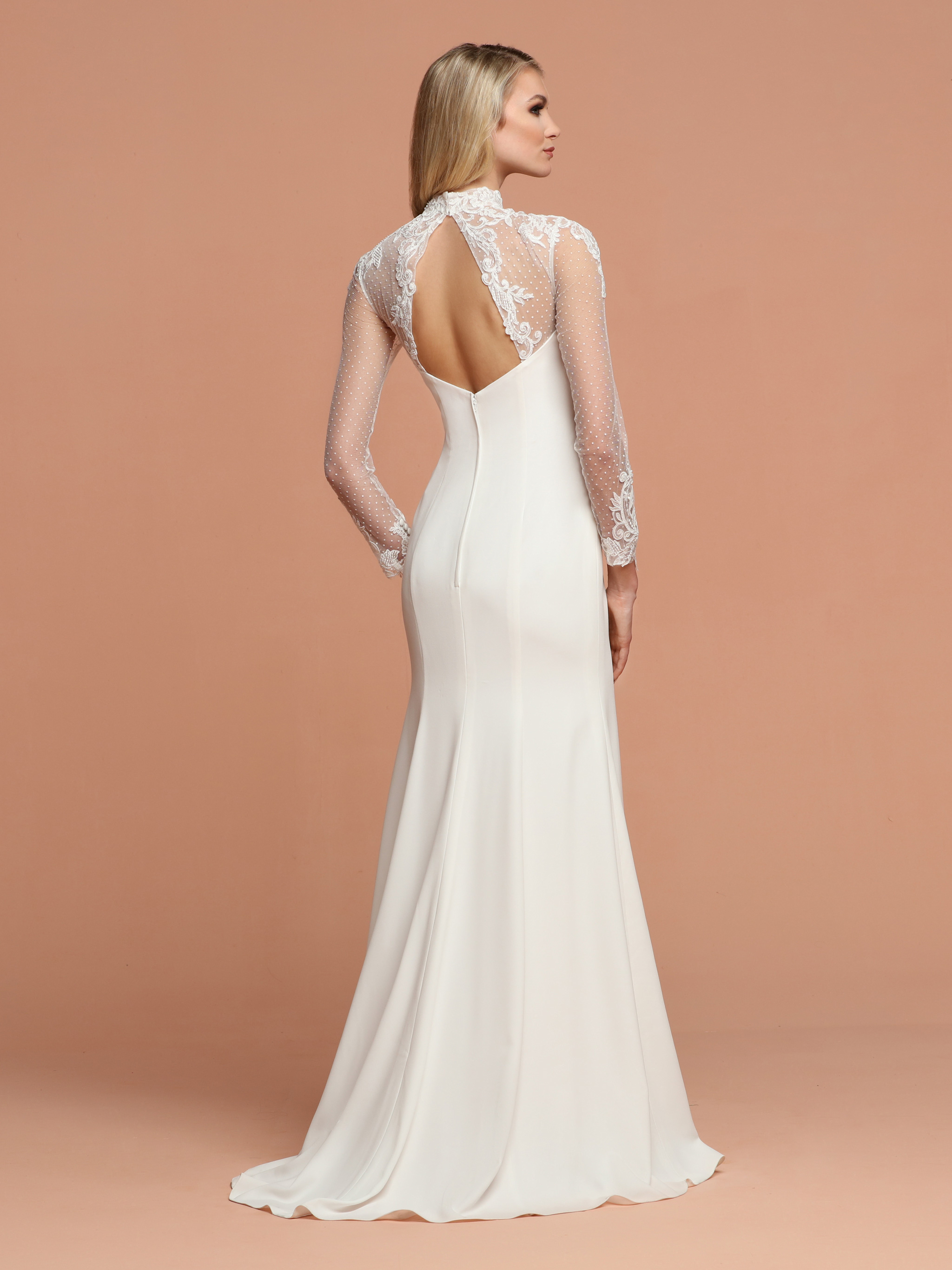 Available in: Ivory, White
To see more details Click HERE Informal by DaVinci Style #F115
Informal & Destination Sheath & Column Wedding Dresses for 2021: Structured Looks
Informal by DaVinci Style #F7062: Tulle and Lace Fit & Flare Informal Wedding Dress. Deep V-Neck, Deep V-Back, Wide Lace Off-the-Shoulder Straps, Sheer Lace Back, Sweep Train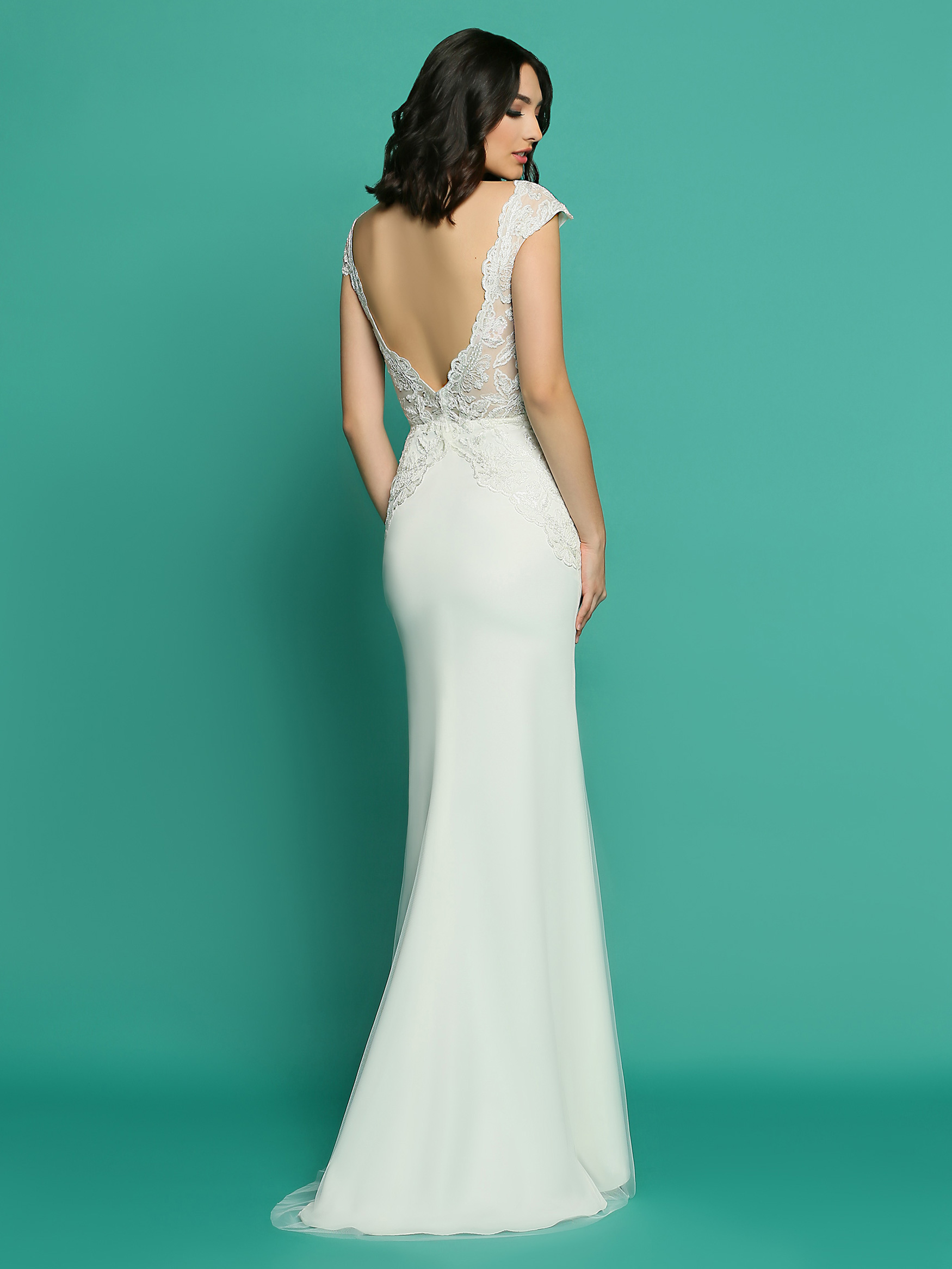 Available in: Ivory or White
To see more details Click HERE for Informal by DaVinci Style #F7062
Informal by DaVinci Style # F7091: Minimalist Fit & Flare Informal Lace Wedding Dress. V-Neck Halter, Open Back, Bandeau Closure, Covered Buttons, Keyhole. Beaded Waistband, Sweep Train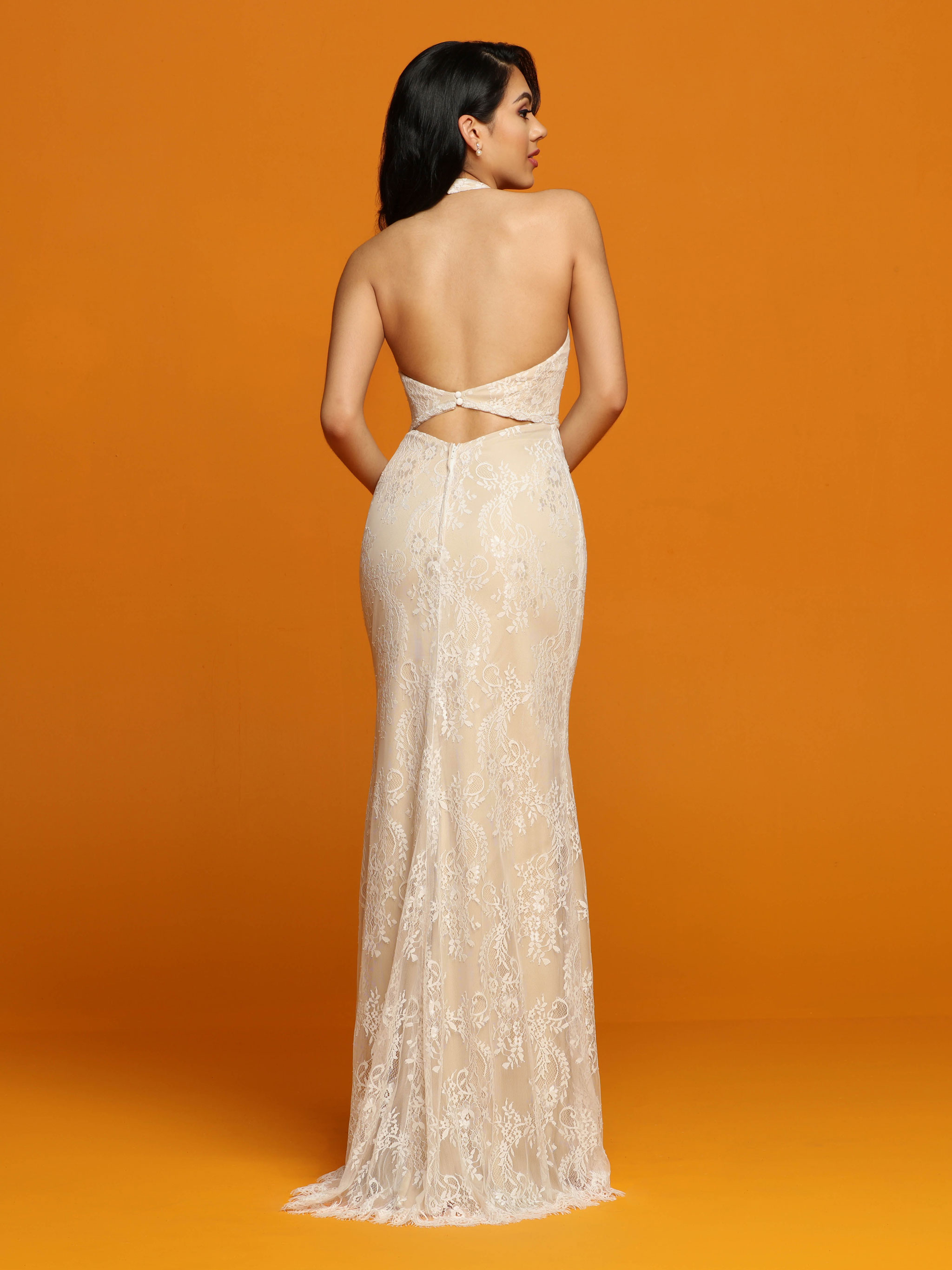 Available in: Ivory or Two-Tone Ivory/Champagne
To see more details Click HERE for DaVinci Informal Style # F7091
Informal by DaVinci Style Style #F7078 Chiffon & Lace A-Line Fit & Flare Informal Wedding Dress. Deep V-Neck Faux Wrap Bodice, Plunging V-Back, Beaded Waistband, Lace Skirt, Sweep Train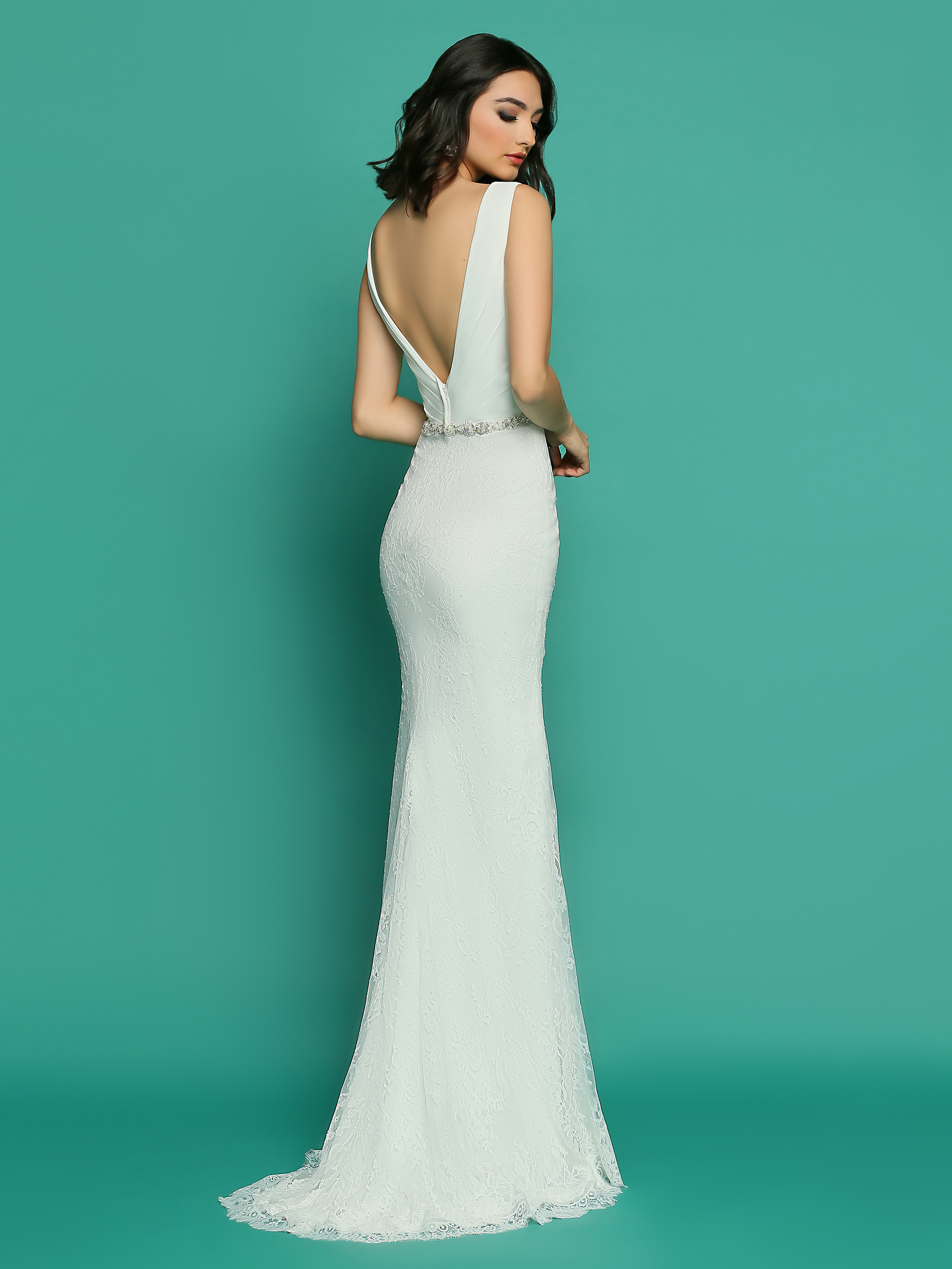 Available in: Ivory & White
To see more details Click HERE for Informal by DaVinci Style #F7078
Informal & Destination Sheath & Column Wedding Dresses for 2021: Removable Jacket or Skirt
Informal by DaVinci Style #F7072: Chiffon & Satin A-Line Informal Wedding Dress. Sweep Train, Removable Sheer Lace Bateau Neckline Jacket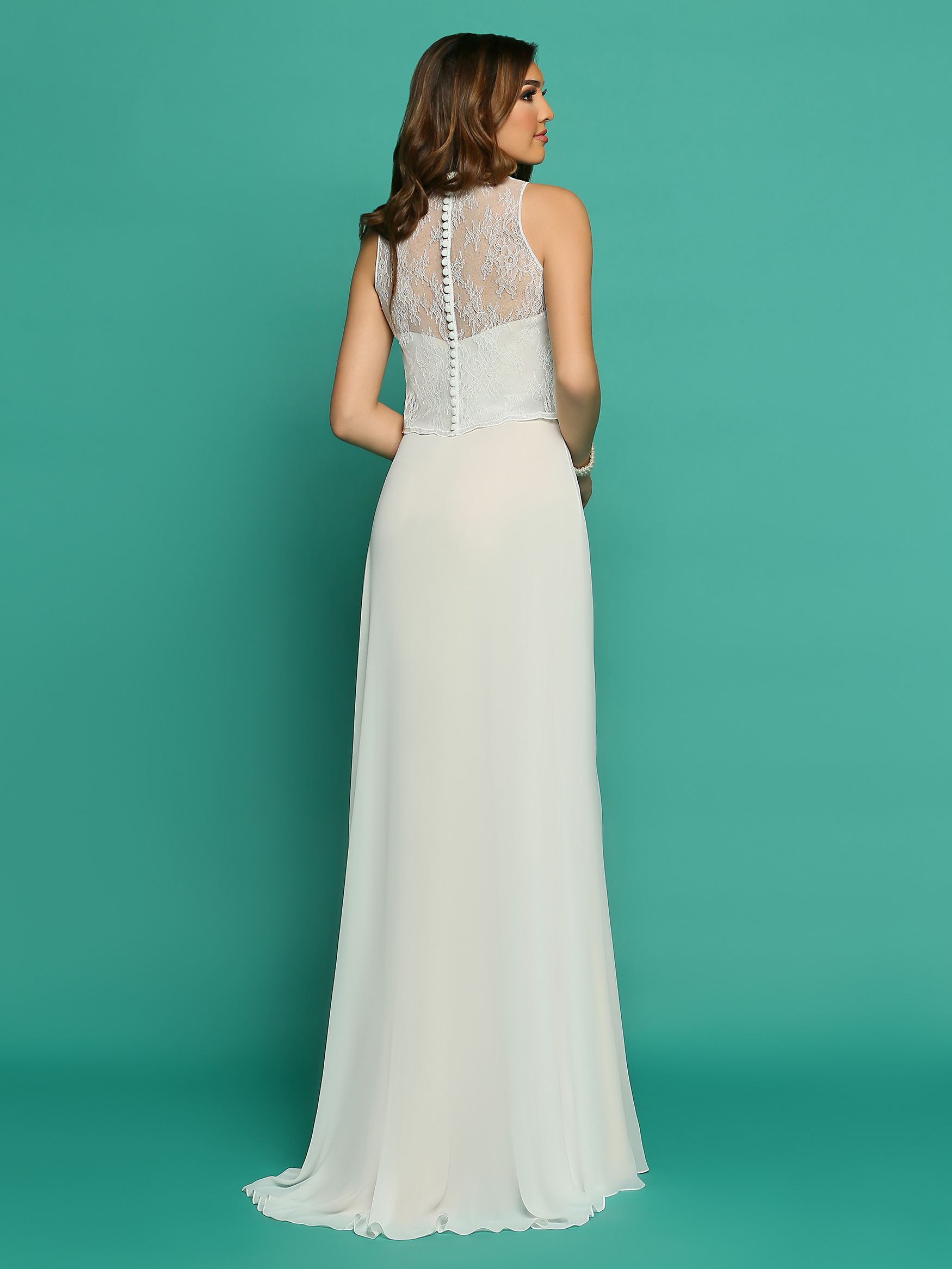 Available in: Ivory, White or Two-Tone Ivory/Champagne, White/Champagne
To see more details Click HERE for Informal by DaVinci Style #F7072
Informal by DaVinci Style #F7005 Satin & Tulle A-Line Informal Wedding Dress. Strapless Sweetheart Neckline with Lace Applique & Removable Lace Bolero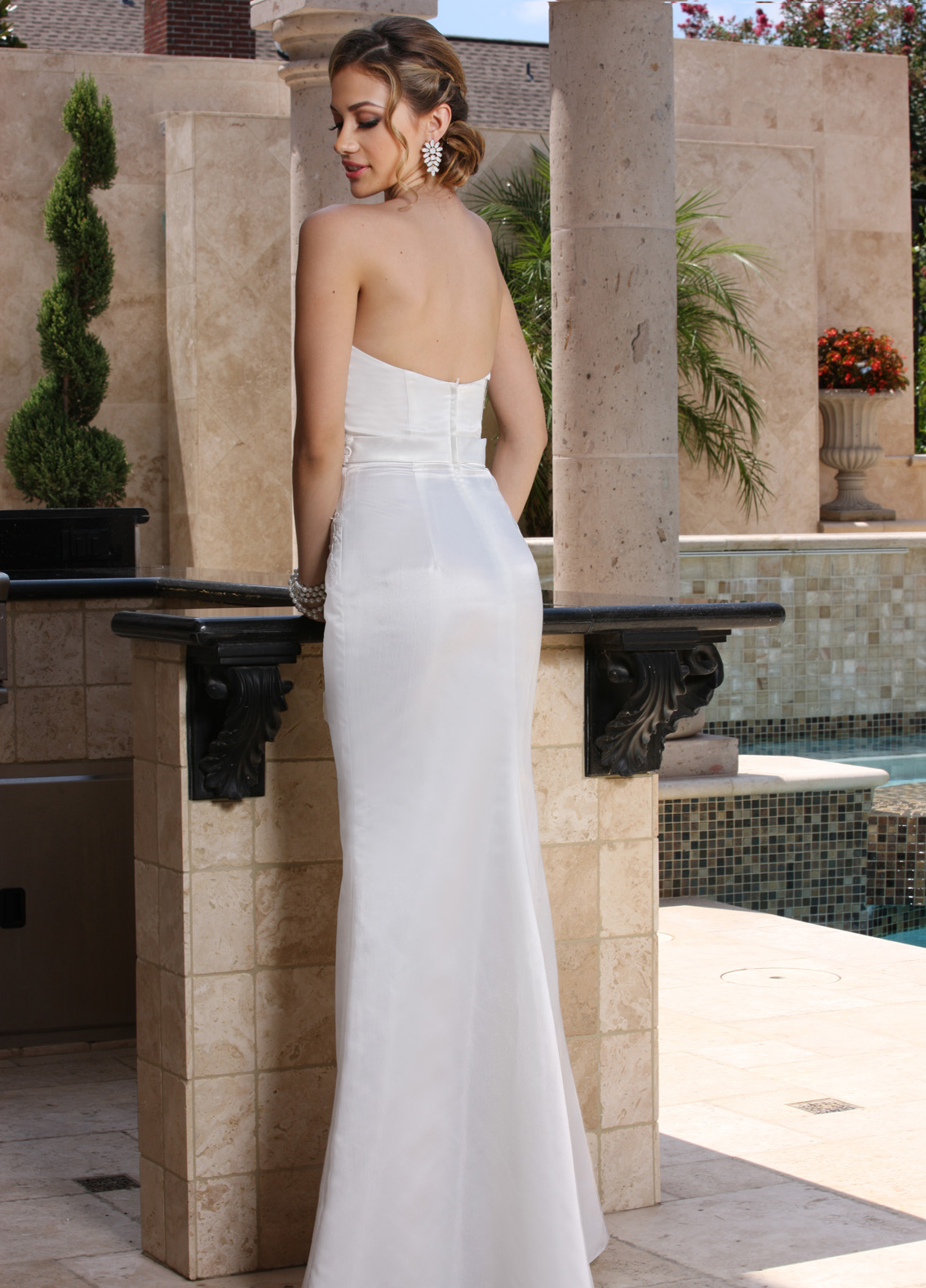 Available in: Ivory, White
To see more details Click HERE for Informal by DaVinci Style #F7005
Informal by DaVinci Style #F7065: Two Piece Soft Tulle Informal Wedding Dress, Knee-Length Lace Sheath. Sheer Bateau Neckline, Sheer Back, Covered Buttons. Removable Soft Tulle Ball Gown-Style Skirt, Lace Applique, Sweep Train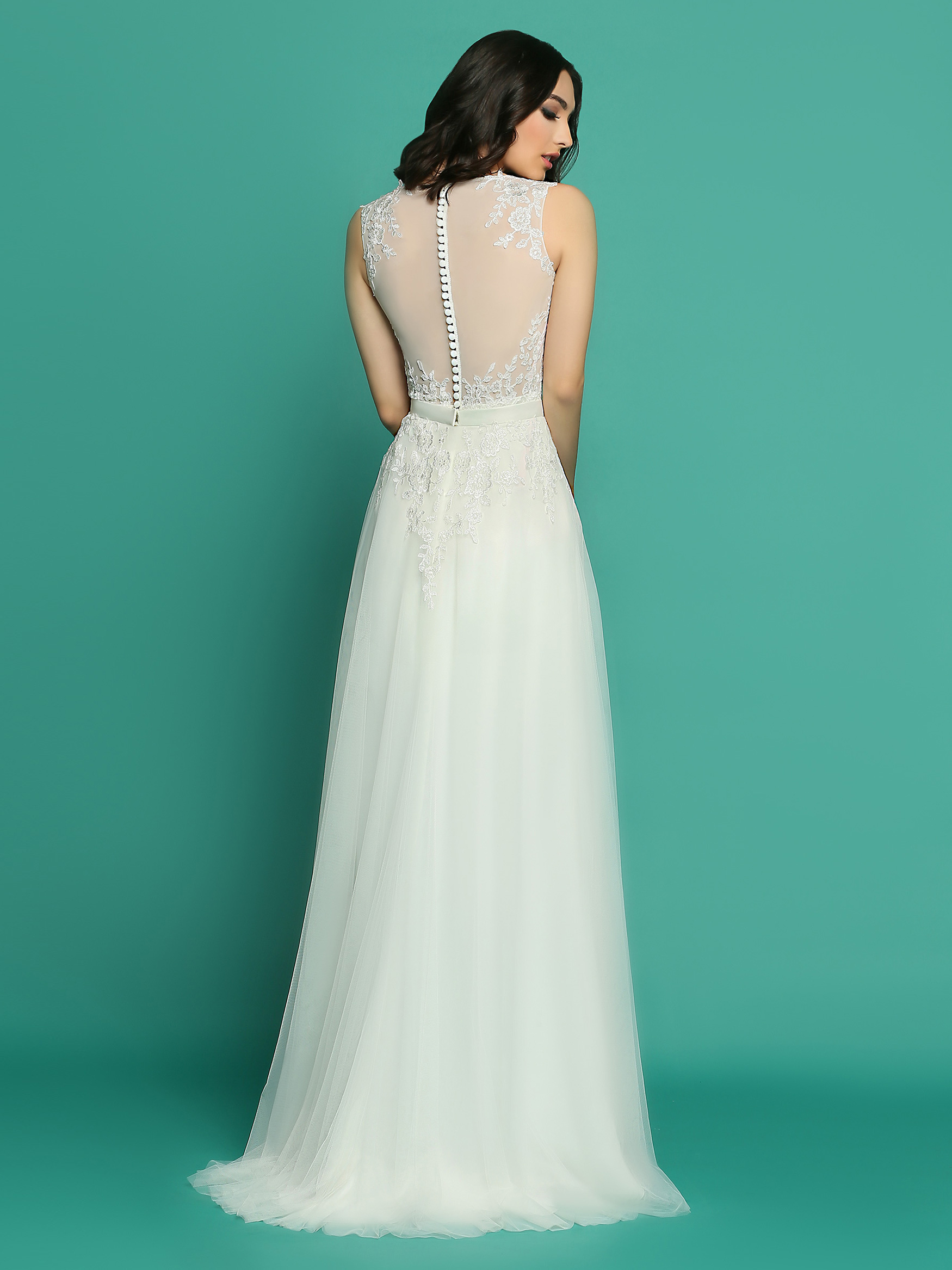 Available in: Ivory or White
To see more details Click HERE for Informal by DaVinci Style #F7065
Informal & Destination Sheath & Column Wedding Dresses for 2021: Beaded Belt Accent
Informal by DaVinci Style # F7085: Soft Satin A-Line Fit & Flare Informal Wedding Dress. Sheer Lace Bateau Neckline, Cap Sleeves, Sheer Lace Back, Beaded Waistband. Button Detail, Sweep Train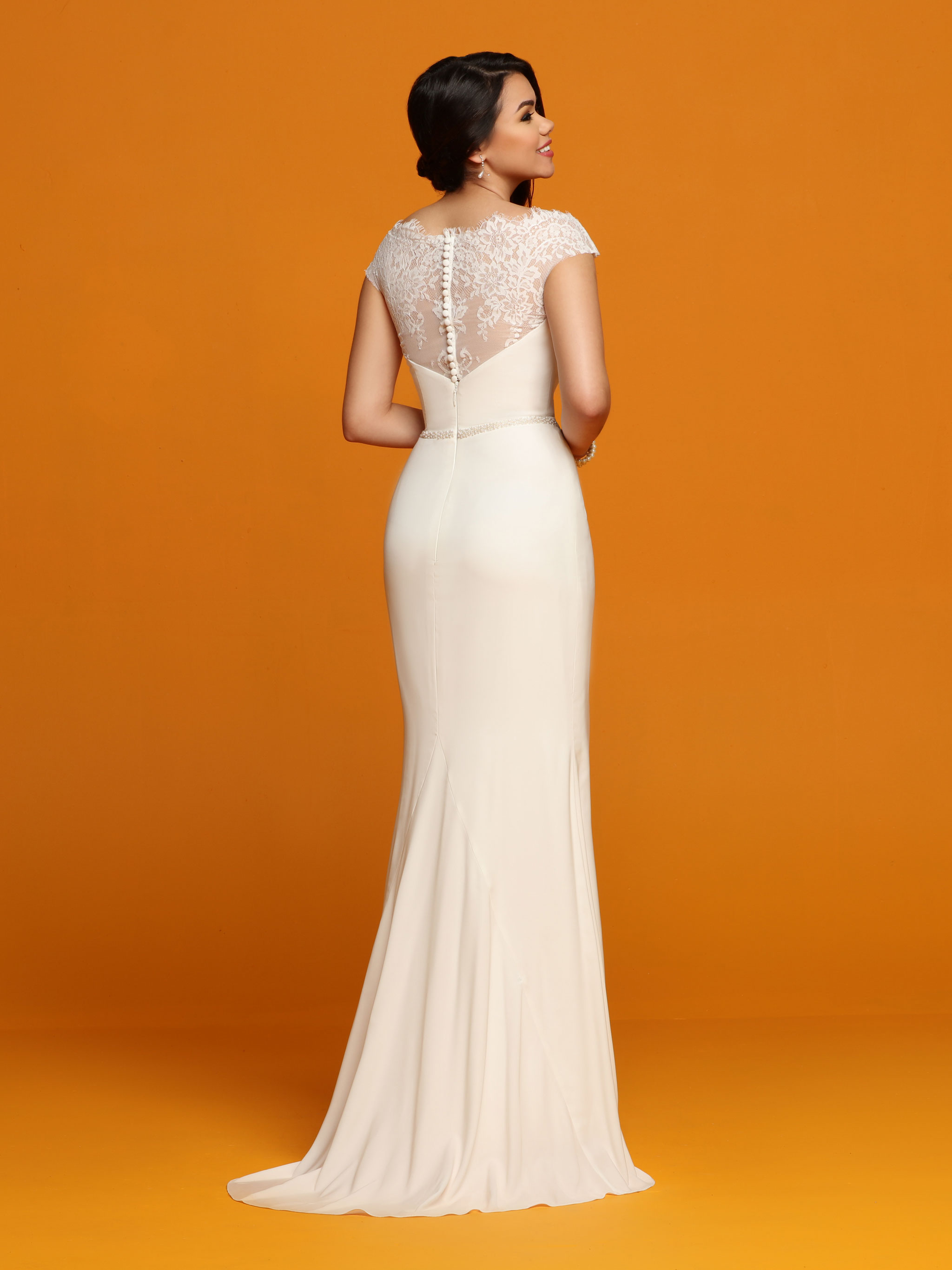 Available in: Ivory, White
To see more details Click HERE for DaVinci Informal Style # F7085
Informal by DaVinci Style #F7001: Satin & Lace A-Line Informal Wedding Dress. Modest Bateau Neckline, Sheer Lace Back, Covered Buttons, Beaded Belt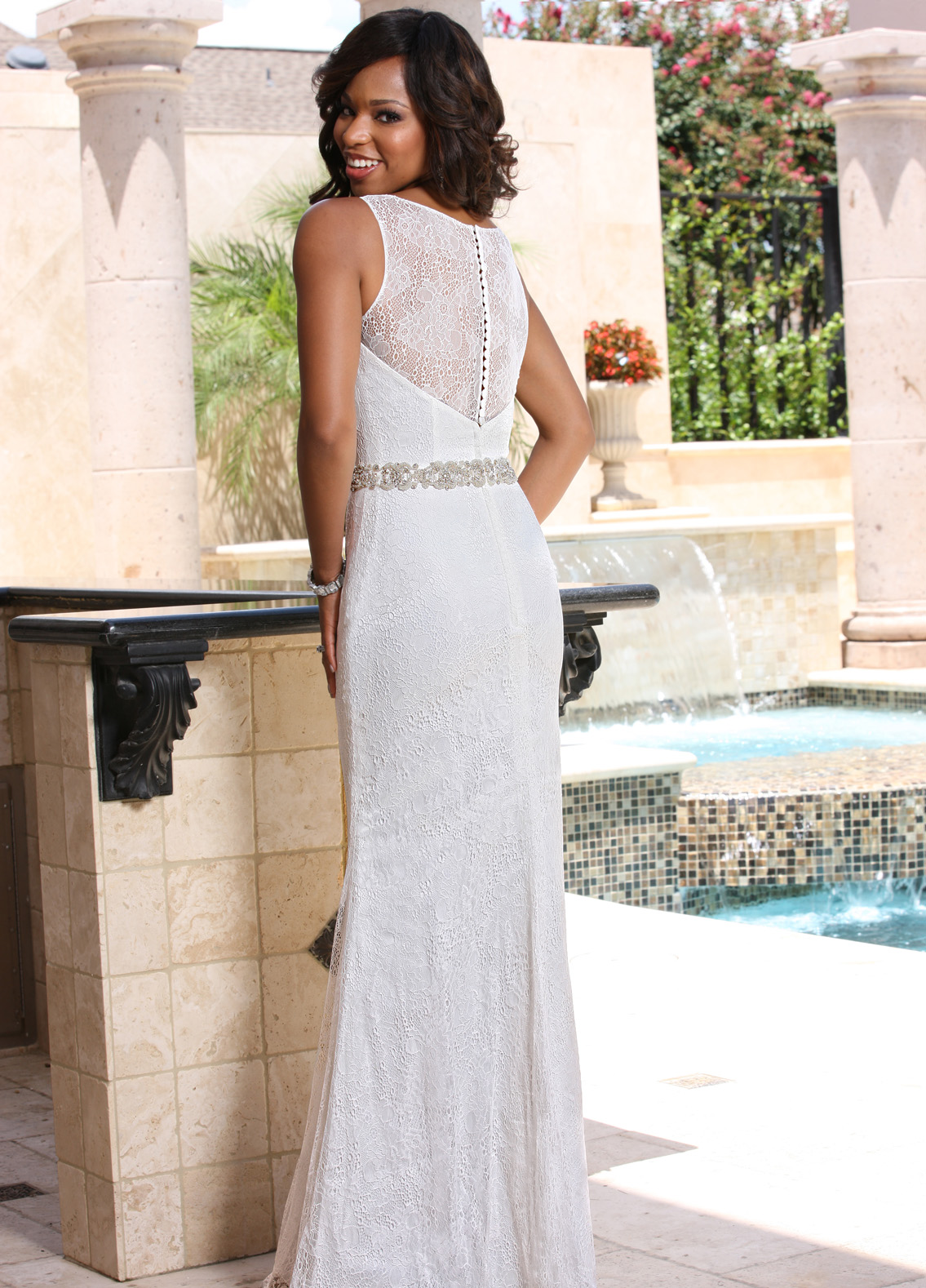 Available in: Ivory or White
To see more details Click HERE for Informal by DaVinci Style #F7001
Looking for a fitted silhouette that's still easy to wear? Then Click HERE or on the image below to shop our Informal & Destination Fit & Flare Wedding Dresses for 2021:
For our entire line of Informal and Destination wedding dresses Click HERE to browse Informal by DaVinci