An engagement photo session is a must! But you want to look fabulous on that day, too & our Top 5 Confidence-Building Engagement Shoot Hacks can help.
If you haven't planned an engagement session as part of your wedding photo package, reconsider! The whole point of an engagement shoot is to document the deep love you have for each other. What better way to capture the memory of your engagement and your anticipation of the wedding to come than through beautiful photos?
And believe it or not, you do not need to be supermodels to produce striking photographs! Just give our tips and tricks some thought, and then give serious consideration to putting that engagement shoot back into your package.
Top 5 Confidence-Building Engagement Shoot Hacks:
1. Get to know your photographer before the shoot
When we say "get to know" your photographer, we do not mean just looking at his or her work on other couples' portfolios. You'll have already done that as a way to decide which pro to use.
We do mean that you should find out a little bit of what your pro is like as a person and also let him or her get to know the two of you better.
Hang out a while:

Spend a little time "just sitting around talking." And don't "focus on business." Be yourselves because trust us, this will

really

pay off on the day of your wedding.

Ask how it all works:

A lot of the time couples tend to stiffen up on the day of their shoot, not knowing what to do or how to pose in order to look good. Not only is that completely normal, but now is the perfect time to talk about it. This also gives your pro a chance to earn your trust.

Talk about what you don't want:

This is also the perfect time to say, "I've had photos taken before and I think this angle made me look bad." Your pro may already have noticed a few things and will take them into account. But pros also know how to work different angles to make you look good no matter what. So again, try not to set any hard and fast rules that might hinder him or her from grabbing the perfect shot.

Make your pro your friend for a day:

Think of your shoot as "a date with a tag along." Except

this

tag along is

not

a third wheel! The more you can think of your shoot like a real date, the better your pictures will turn out.
2. Posing well is as simple as KISS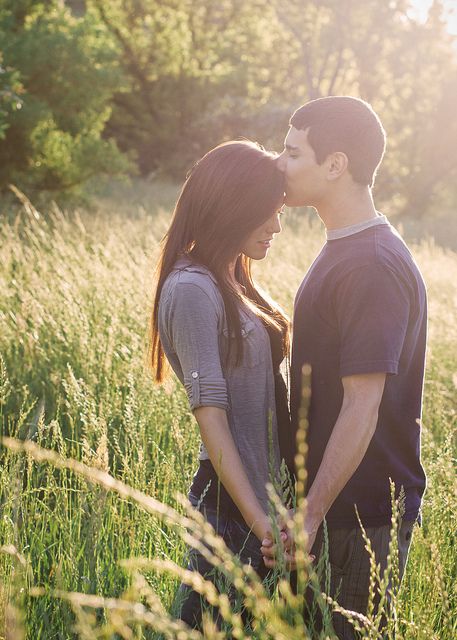 When it comes to engagement shoots, photographers are well aware that they're photographing real people who probably don't have much experience in front of the camera. He or she will help you out—tell you to move your head, tuck your chin, etc.—but here's some basic advice to get you started:
Keep it simple:

 You'll find that some of the best photos will result from the little things, like when he kissed your forehead ever so gently, or when you two were walking down the street "just holding hands."

Shoot a mix of posed & candid:

Ask your photographer to plan for a mix of formal engagement poses and some dynamic candid outdoors shots, because

those

are the pics that often turn out to be Pinterest-perfect!

"Awkward" is often charming:

Your photographer will be taking photos all through the shoot, even when you're "just standing around" or maybe even goofing off. At the moment, you might think, "Ugh! That was awful!" only to find out that turns out to be your favorite photo, so just let your pro do his job.

Do kiss each other—for real:

No, we don't mean a make-out session. Just go with the moment and let your natural affection for each other show.
Top 5 Confidence-Building Engagement Shoot Hacks:
3. Time it Well & Don't Rush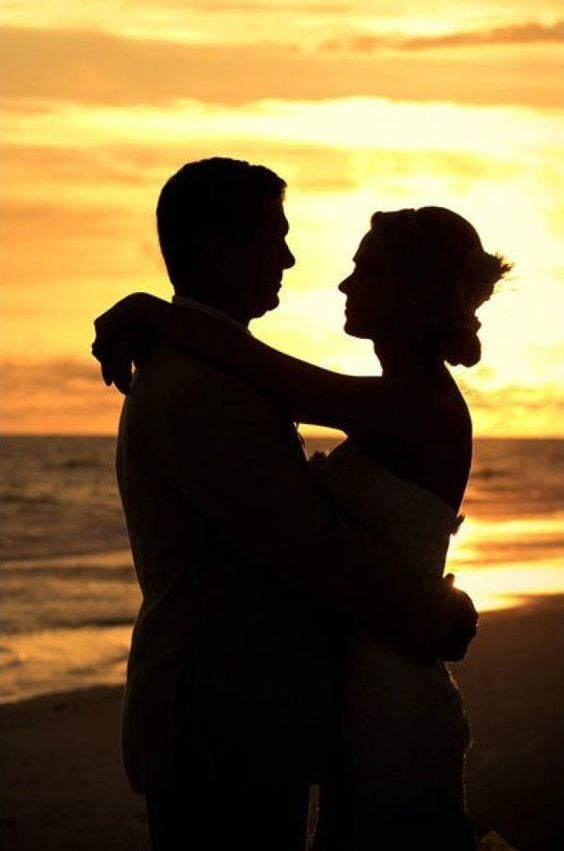 The absolute worst thing a couple can do is rush the photographer through their engagement session. That's the one thing that will for sure reflect in your finished product and maybe even "ruin" your photos. At the very least, they won't come out the way you want them to.
Allow 2-3 hours:

Excluding prep time—hair, makeup, getting to the location—an ideal engagement shoot should take to 2-3 hours, depending on the poses. You might meet at the photography studio first while you're "still looking perfect" for the formal poses done in professional studio lighting, then travel somewhere for the candids.

Use the "golden hours":

We're talking about the times of day with the most beautiful source of natural lighting. Depending on your time zone and the season, golden hours are considered to be from 6:00-9:00 am and again from 3:00-6:00 pm.

Take an entire day or full half day if you can:

If you can block off half, or even the entire day, this is all the better. It lets your photographer follow you around and catch you at your best—

and

at what

you

think is your "

worst

." (Remember: awkward

is

charming!)
4. Venues, Backdrops and Scenery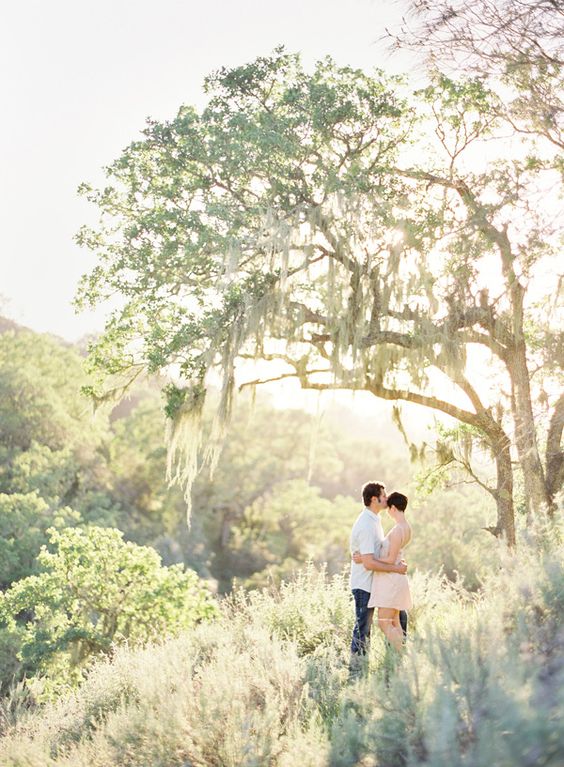 Make good use of Mother Nature:

A big trend these days that makes for gorgeous photos is to integrate the outdoors into the shoot. Indoor formal portraits create one mood, but natural light—whatever the weather—is sometimes even better.

Use your romantic places:

 Why not take some photos in the park, or wherever it was that he proposed to you, or somewhere with a beautiful backdrop like the sea, a wooded area, or the city skyline? Making use of these dynamic backgrounds can add depth and personality and easily set your photos apart from the rest!

Don't be afraid of the weather: Believe it or not, strong winds, snow, and even a thunderstorm can make for beautiful photography! So if you're thinking of cancelling your shoot due to "inclement weather," think again. Do call your photographer, though, and get his or her best advice. If you've got a real pro, photos done in the wind or rain can turn out to be truly magical.
Top 5 Confidence-Building Engagement Shoot Hacks:
5. Look great & own it!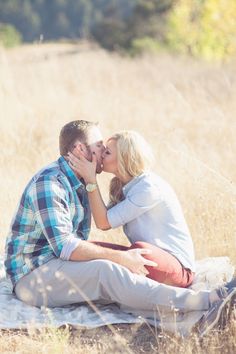 To wrap up, here are some quick beauty tips for both of you, starting with our first piece of advice.
Get over Supermodel Syndrome:

You do

not

have to "know what to do" or how to stand or pay a fortune for stunning makeup or even lose those 5 pounds you want to drop to fit into your wedding dress. Your pro's job is to make you look beautiful.

Your

job is to show up looking your best without going overboard.

Consider colored contacts:

If you can afford it—and can tolerate the discomfort—invest in a pair of amethyst, grey, or green lenses. They really don't look fake, and they can make your eyes pop because the contacts deflect the light and keep your eyes looking fresh.

Fit over Fashion—Always:

 For the same reason you don't want to be too trendy on your wedding day, unless "quirky" is your typical everyday style, don't wear anything out of the ordinary for your engagement photos. Yes, you want clean, pressed, and pulled together clothing, but other than that, wear what you usually wear.

Consider one change of clothing:

You might want to wear something dressier for the formal indoor studio poses, then switch to casual for the candids. Ask your photographer about this, though. He or she might have some suggestions like a well-placed scarf or whether your guy should wear a tie or not. And remember: those recommendations will be made based on the time you spent getting to know each other

before

the shoot.

Pack an Emergency Beauty Kit:

 Bring along just a few things—brush, comb, hairspray, touch-up makeup, then ask your pro if you need a little more lipstick or blush, or you need to tame your guy's cowlick, whatever it takes for the close-ups to look polished.
The Best Advice We can Give You: Own It!
You're in love, you're getting married, and it shows all over your faces. That's what will show up in the photos—your love. So be confident, have fun, forget about looking awkward—because remember that sometimes what you think feels awkward makes for the most charming shots—and enjoy every moment of this big day as you anticipate The Big Day!
Need—or want—to stream your wedding? For everything you need to know, just  Click HERE or on the image below for our Virtually Plan & Livestream Your Wedding How-to Guide:
Want a gorgeous wedding gown & bridesmaids dresses in a short time for an amazing price? Click HERE or on the image below to shop all of our DaVinci collections including our 2020 Wedding & Bridesmaids dresses: