Dresses
Sheath Wedding Dresses for 2023
If you love understated design & contemporary wedding fashion looks, you'll love our Sheath Wedding Dresses for 2023.
What is a sheath dress?
In fashion terms, a sheath is any straight, fitted dress, sometimes nipped at the waist with a belt but usually no waistline seam. In one-piece designs, the bodice & skirt are joined by combining both the darts from the skirt & the bodice to make one flowing fit.
Sheath vs. shift
Shift dresses can be rather shapeless (think: trapeze dresses) because they're intended to conceal the body. However, they are convenient because the fabric falls away from curves & allows the skin to breathe.
Sheath dresses are well-fitted from neckline to hem & emphasize (or create) an hourglass silhouette. They also tend to be more formal than shifts.
Benefits of a sheath wedding dress:
The top benefit of this sleek silhouette is the dress's straight lines. They create the illusion of a curvy figure, especially in the hips. Other reasons to love a sheath dress include:
A simple sheath wedding dress is just as traditional & breathtaking as a ball gown. (No more guilt about not liking ball gowns!)
Sheath dresses are very comfortable, especially when going to the ladies' room. On the other hand, a fluffy dress is bulky & can be a challenge. Choose a sheath wedding gown & you might not need an entourage to help by holding your dress up & off the floor.
Depending on the materials, sheath dresses can be more affordable, primarily because they just don't use as much fabric.
When you buy your Glamorous Wedding Dress from DaVinci Bridal …
You know that your gown will be created by one of the premiere bridal dress companies in the world. We use only top-quality fabrics fashioned into high fashion design using high-end construction. We guarantee you'll love their affordable prices. A DaVinci is the bridal dress retailers love to carry because best of all, most of these dresses are available for rush delivery at no extra charge!
Sheath Wedding Dresses for 2023: Sleek Crepe Styles
DaVinci Bridal Style #50776: Crepe & Lace Fit & Flare Sheath Wedding Dress with Deep V-Neckline, Sheer Lace Back with Covered Buttons, Detachable Full Length Sleeves & Chapel Train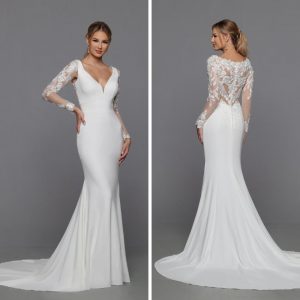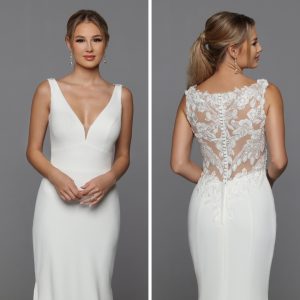 Available in: Ivory/Nude, Ivory/Ivory
To see more details Click HERE for DaVinci Bridal Style #50776
DaVinci Bridal Style #50610: Crepe Fit & Flare Sheath Wedding Gown with Modest V-Neck Front & Plunging Deep V-Back. Bodice with Beaded Lace & Long Sheer Sleeves with Lace Applique. Sleek Crepe Skirt with Chapel Train
Available in: Ivory or White
To see more details Click HERE for DaVinci Bridal Style #50610
DaVinci Bridal Style #50717: Crepe & Lace Fit & Flare Sheath Wedding Dress features a Plunging Sweetheart Neckline with Narrow Beaded Straps. Sheer Scoop Back had Lace Applique & Draped Waist Detail. Smooth Skirt falls to a Chapel Length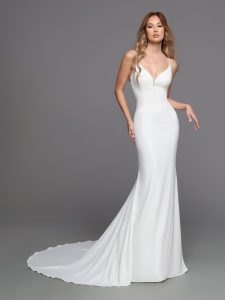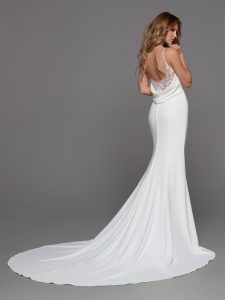 Available in: Ivory
To see more details Click HERE for DaVinci Bridal Style #50717
DaVinci Bridal Style #50734: Crepe & Lace Fit & Flare Sheath Wedding Dress features a Lace Applique Bodice with Sheer Lace Modest High Halter Neckline & Sheer Back with Lace Applique & Covered Buttons. Smooth Skirt has Lace Applique at the Hip & Sheer Scalloped Lace Chapel Train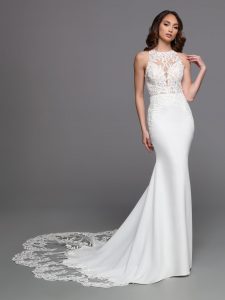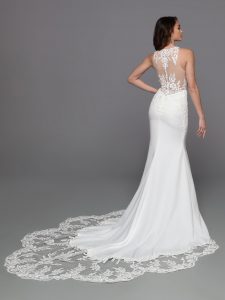 Available in: Ivory/Ivory, Ivory/Nude, White/White
To see more details Click HERE for DaVinci Bridal Style #50734
DaVinci Bridal Style #50712: Crepe & Lace Fit & Flare Sheath Wedding Dress features a Modest Bateau Neckline with Beaded Lace Shoulder Detail & Beaded Lace Applique on Sheer Deep V-Back Bodice. Sheer Veil Wings Flutter to the Waist. Slender Waistband Accents Smooth Skirt with Chapel Train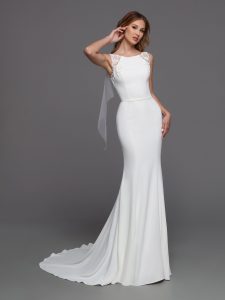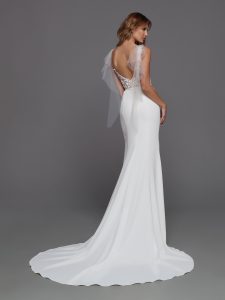 Available in: Ivory
To see more details Click HERE for DaVinci Bridal Style #50712
Sheath Wedding Dresses for 2023: Satin Styles
DaVinci Bridal Style #50708: Soft Satin Sheath Fit & Flare Wedding Dress features a Plunging V-Neckline, Low Sheer V-Back & Beaded Strap Detail. Lace Applique accents Bodice, Back & Skirt with Sheer Chapel Train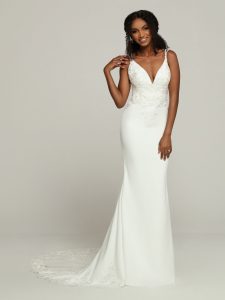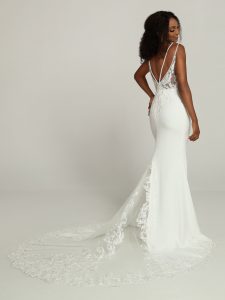 Available in: Ivory, White
To see more details Click HERE for DaVinci Bridal Style #50708
DaVinci Bridal Style #50701: Soft Satin Sheath Fit & Flare Wedding Dress features a Sheer Bateau Neckline above Sweetheart Bodice, Full-Length Sheer Sleeves & Sheer Low V-Back. Lace Applique Accents Back, Sleeves, Skirt & Chapel Train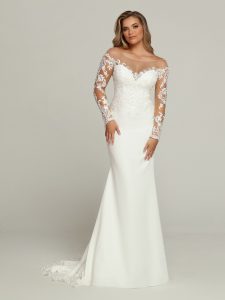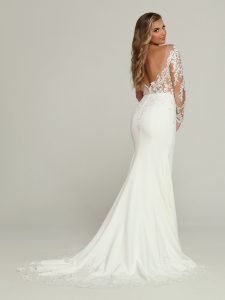 Available in: Ivory
To see more details Click HERE for DaVinci Bridal Style #50701
DaVinci Bridal Style #50697: Soft Satin Fit & Flare Sheath Wedding Dress with Strapless Sweetheart Neckline & Ruched Faux-Wrap Bodice. Skirt has Sweep Train with Detachable Chapel Train with Sheer Lace Hem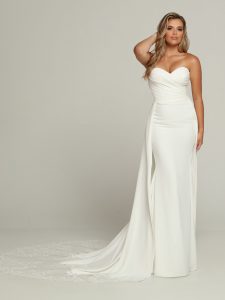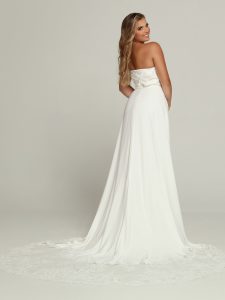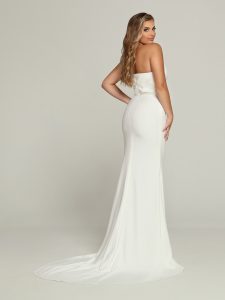 Available in: Ivory
To see more details Click HERE for DaVinci Bridal Style #50697
Sheath Wedding Dresses for 2023: Lace Designs
 DaVinci Bridal Style #50723: Lace Fit & Flare Sheath Wedding Dress features a Modest Sheer Lace Halter Neckline, Sheer Lace Back & Covered Buttons. Form-Fitting Skirt has Scalloped Lace Chapel Train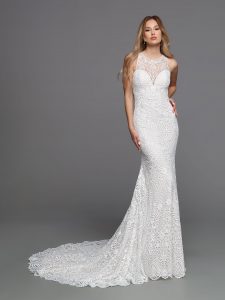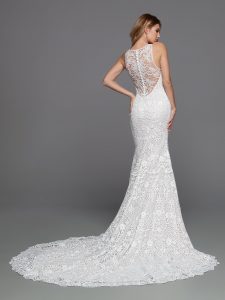 Available in: Ivory/Ivory or Ivory/Mauve/Nude
To see more details Click HERE for DaVinci Bridal Style #50723
DaVinci Bridal Style #50491: Minimalist Lace Fit & Flare Wedding Dress, Strapless Sweetheart Bodice, Open Back, Zipper Closure, Chapel Train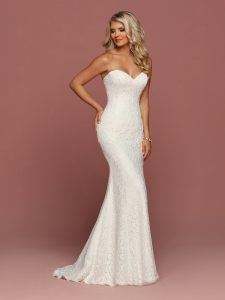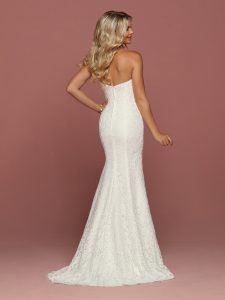 Available in: Ivory, White
To see more details Click HERE for DaVinci Bridal Style #50491
DaVinci Bridal Style #50735: Lace Fit & Flare Sheath Wedding Dress features a Plunging V-Neckline & Sheer Back with Covered Buttons. Lace Bell Sleeves fall to Floor Length & Accent Wide Scalloped Lace Chapel Train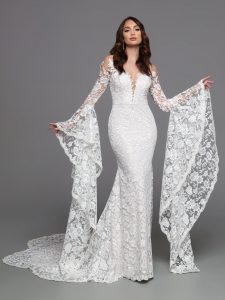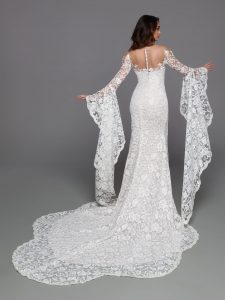 Available in: Ivory/Ivory or Ivory/Mauve/Nude
To see more details Click HERE for DaVinci Bridal Style #50735
Sheath Wedding Dresses for 2023: Tulle Dresses
DaVinci Bridal Style #50762: Tulle & Beading Fit & Flare Sheath Wedding Dress with Off the Shoulder Sleeves, Beaded Back Strap Detail & Detachable Tulle Overskirt with Chapel Train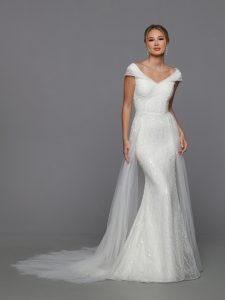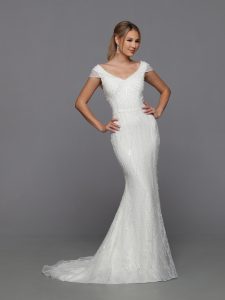 Available in: Ivory
To see more details Click HERE for DaVinci Bridal Style #50762
DaVinci Bridal Style #50540: Tulle & Lace Fit & Flare Wedding Dress, Floral Lace Bodice, V-Neckline, Sheer Lace Wideset Straps, Sheer Lace Back, Covered Buttons, Beaded Waistband, Scalloped Lace Fit & Flare Skirt, Chapel Train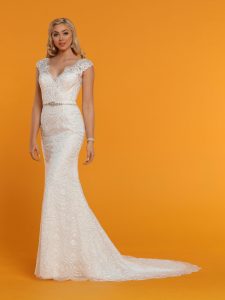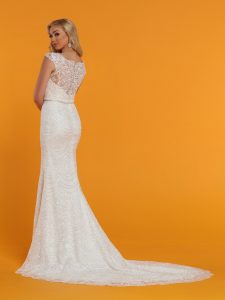 Available in: Ivory, White
To see more details Click HERE for DaVinci Bridal Style #50540
We have terrific ideas for planning your wedding and tips to help you adapt to circumstances that may have delayed your big day. Click HERE or on the image below for DaVinci Bridal blog: