There's a very real reason why your stress level rises as your wedding day gets closer. It's because you know that everything—which really is too much sometimes—needs to go as smoothly as possible. Let's face it: On the day of your wedding, while you know exactly what must be done, you also know you personally won't be able to control anything anymore. It'll be up to everyone else who's been planning with you since day one to make things go right.
But no worries. We're here to help guide you along the way to a perfect wedding day.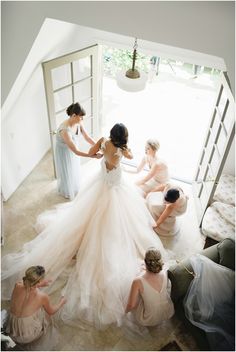 Since you'll be leaving everything up to the people you trust (which is actually nice because if something goes wrong, it's "their fault" and not yours!) you just need to make sure that you're the best bride you can be. That's the only thing you'll have to focus on.
So starting right now, practice thinking, "It's easy to be a bride." Besides, on your wedding day, you'll be wearing a beautiful wedding gown and saying "I do" to the man of your dreams. How much better could it get?!
Now, before you think we're simplifying this way too much, give it some thought: There really are only 6 things it takes to be a fabulous bride, and all you have to do is be your personal best at each one!
Here they are:
Smiling at the camera and your guests
Reciting your vows and a thank you speech
Making 5-minute conversations
Dancing with your new husband
Looking lovely—as if you could forget!
Remember that being your best means that you will have to practice a few things, but only a few. Work on these simple steps and you'll have one of the best days of your life.
Practice your default bridal smile
You've already planned your bridal look with your makeup artist and hair stylist—or your BFFs who rock at that and will make you gorgeous—so you can relax about those things. Your dress will fit just fine (trust us!) therefore, your new assignment is this:
Smile!
Every time you look at yourself in the mirror, flash those pearly whites. Check your smile from different angles and take some selfies to see how each one turns out. You might want to practice a "relaxed portrait smile" for formal photos, so decide if you like the look of an open or closed smile (meaning how much of your teeth you want to show).
Also, get a friend to make you laugh spontaneously and snap a few pics so you know how you look. Sometimes brides decide to "tone it down" so as not to come across as too over-the-top giddy. That's OK as long as you don't stifle your enthusiasm too much.
Tip: Here's some fun reading on how to smile for the camera. http://www.wikihow.com/Smile-for-Pictures
Practice walking in your shoes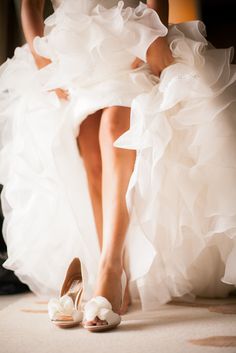 You'll be standing for extended periods of time in heels, so "practice" doing that. One great way to practice walking in heels is to wear heels. So if you don't already, from now on, wear heels to work, to dinner out, or just at home to get your leg and calf muscles in shape.
Also, practice how you'll walk down the aisle. Pace your steps so that you'll walk gracefully and confidently. One of the most important things about being a bride is being confident. You should exude confidence in the way you walk and the way you talk. You don't want your shoes and all that standing to bother you so much it shows on your face—which means your discomfort will show up in candid photos.
If you're not comfortable in heels, or if you just don't want to wear heels the entire time, choose a more relaxed pair, especially for the reception. It's more important to feel relaxed than to look like a picture-perfect runway model in stilettos. There are hundreds of pairs of shoes with "reasonable" heels that will still make you look your best in your dress.
Extra info: Here are some great tips for walking down the aisle—including how to hold your shoulders!
http://www.lusterstudios.com/tips-walking-aisle-wedding-ceremony/
Practice speaking in front of an audience
This is especially important if you're audience shy. If you're writing your own vows, saying them in front of everybody is a big deal! You'll feel all kinds of emotions so practice alone in front of a mirror as much as you can manage. Then maybe practice with a friend or someone dear to you once or twice to get a second opinion.
It's also essential that what you say in your thank you speech at the reception comes across as eloquent. You don't want to look back and think, "I wish I had said this instead," or "I should have said it this other way." You want to be pleased with your delivery of some of the most important words you'll ever say.
Practice your conversational skills
Expect a lot of small talk, especially if yours is a big wedding. Also, practice smiling while talking. It's important to be aware so that when the time comes, you'll have something nice to say to your guests. Perhaps compliment her dress or his tie, or how cute they look together as a couple themselves, or how grateful you are that they traveled so far to be with you. Then practice ending the conversation gracefully with something like, "Thanks so much for coming. I hope you enjoy the reception." It's crucial for your guests to feel welcome the entire time.
There's no shame in being a little flustered on your wedding day. There may be a moment where you'll forget a name or mix up certain information about someone, but that's a small matter. If you're polite, anything you say or do will be just fine. Manners always matter, and even more so when you're the bride.
Practice your first dance with your fiancé
This is a wonderful way to shake off the nerves that come with wedding prep. It might feel a bit silly at first—unless you're both dancers, in which case you might be able to skip this step—but it's an important part of your wedding day, so your dance should be reasonably error-free. It also helps you to gain trust and confidence in each other and can be a really sweet bonding time with your husband-to-be.
Be sure to practice in the shoes you'll be wearing on your wedding day. Then you'll know if you'll need change out to flats before your first dance, or if you can manage in your ceremony shoes.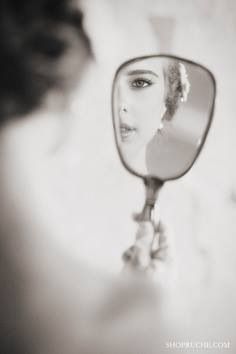 As the bride, you need to look good, but more importantly, you need to feel fabulous. Try to go to the spa the day before your wedding, or treat yourself to an intimate meal with your friends or family. You need to feel as relaxed as possible, so do what you love as much as you can in the last couple of days before your big day. You want to feel totally pampered!
Also, do your very best not to let the pressure get to you. Practice these six steps, and you'll be well on your way to being a gracious bride at her lovely wedding.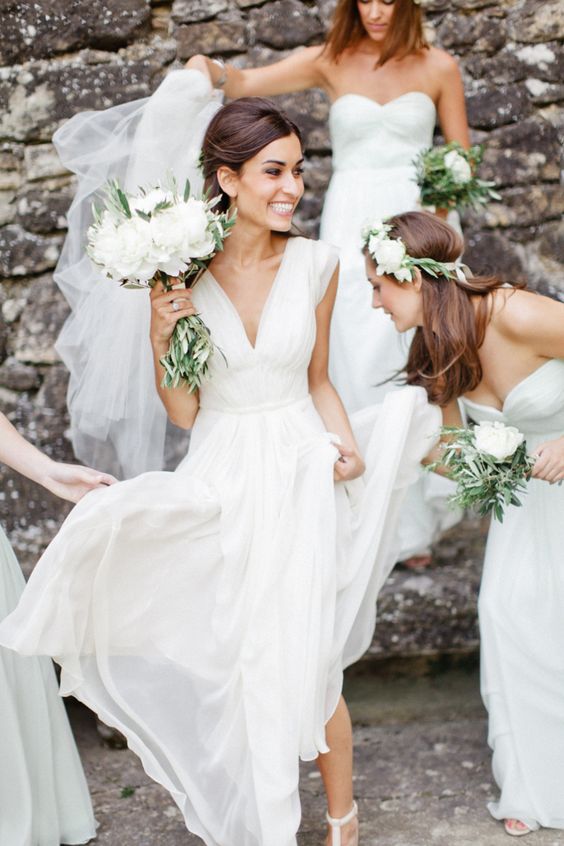 Fun reading: For tips on how to not go Bridezilla at the last minute, check out our blog:
http://www.davincibridal.com/blog/9-tips-banish-bridezilla/
Good luck!