Dresses
Roses are Red: 7 Crimson Dress Ideas for Your Bridesmaids
Is red your signature color? Then boldly sign your wedding day by outfitting your bridesmaids head to toe in your favorite color! We have
several shades to choose from—Bordeaux, Burgundy, Claret and of course, classic Red—and 7 different design ideas to inspire you. All of our high fashion dresses are created with top quality fabrics and high-end construction, and not only will your 'maids find these gorgeous wedding gowns comfortable to wear, but they're also very comfortable when it comes to cost. So outfit your ladies in high style without the high price tag—and love that red!
A Note About Colors:
The beautiful red hue shown in the photograph for each dress is not the only color you can order. The majority of our dresses are available in more than 50 colors and color combinations! Choosing the dress you want in the color you love best is easy: Just visit your nearest DaVinci retailer and ask to see swatches!
To find the retailer nearest you, click here, then enter your city, state, or zip code:
https://davincibridal.com/blog/store_locator
1. Classic Strapless
There's nothing like a strapless dress for an elegant entourage. You can add a shawl if the weather is cool or for the ceremony, and if one of your attendants is expecting, a strapless gown with an empire waist will make her look and feel beautiful.
Embroidered & Ruched: Style #9087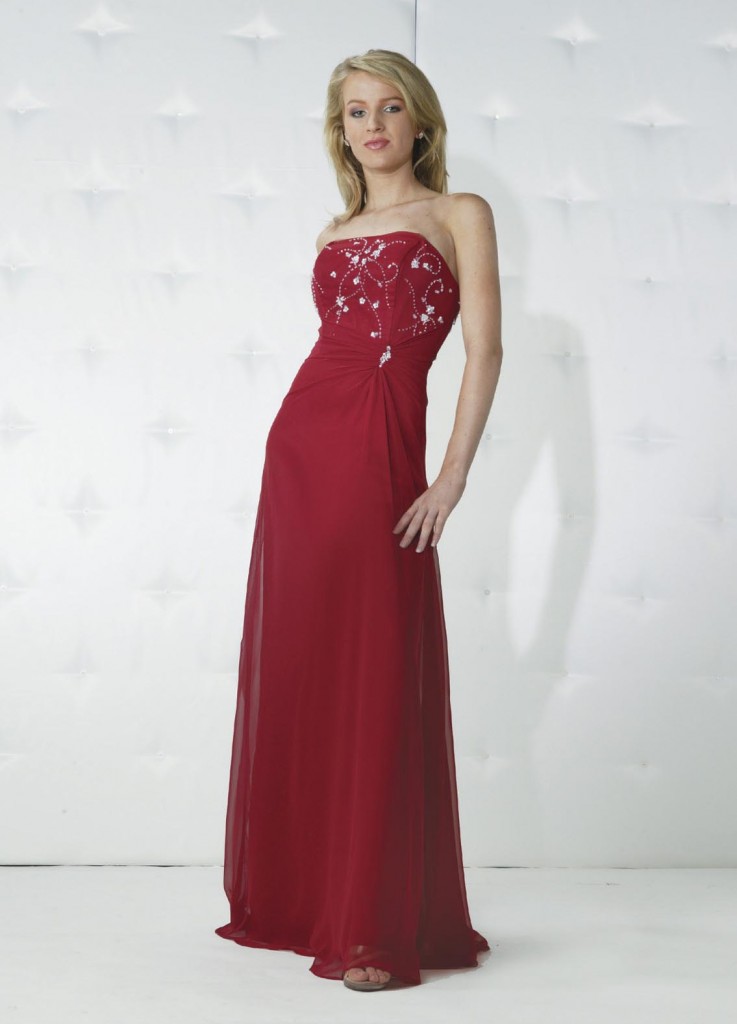 This A-line Empire sheath features a strapless neckline with a modest straight across bodice. Delicately detailed with beautiful filigree bead work on the bust, the high waistline is ruched for drama and accented off center with a crystal clip. Fashioned of soft chiffon, the skirt falls in one long line to the floor length hemline.
Elegantly Gathered: Style #60139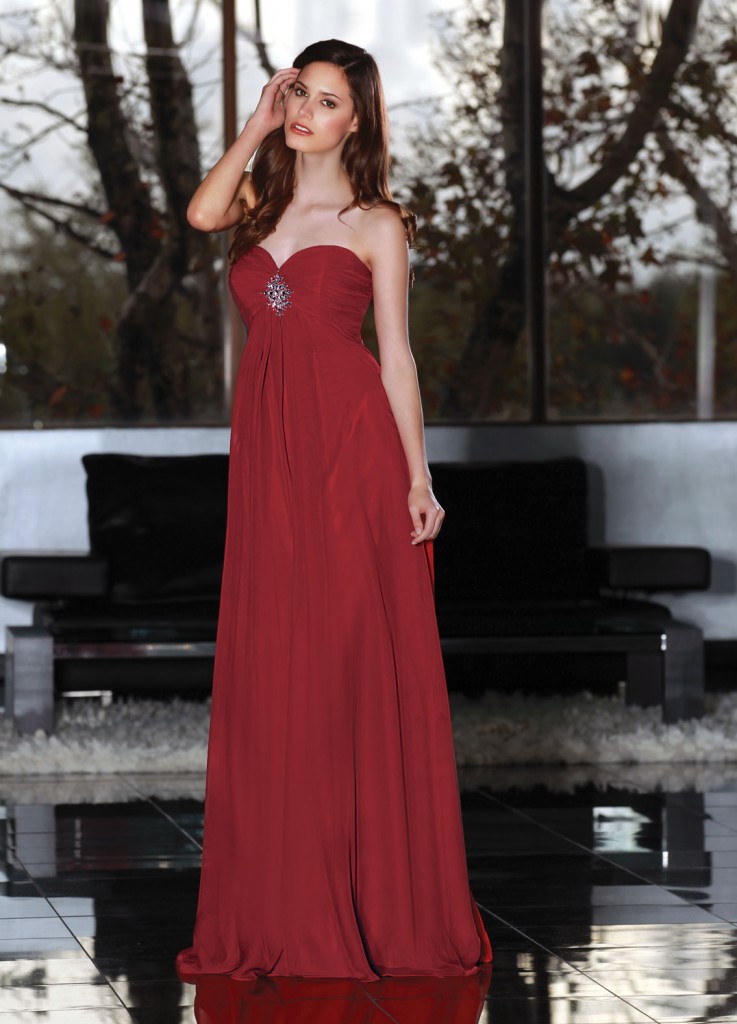 Elegant and adaptable, this beautiful A-line sheath features a strapless sweetheart neckline with a ruched Empire bodice. Falling in soft gathers from the center front crystal accent, this chiffon dress is the perfect choice for all figures including any of your attendants who are expecting.

2. Chic in Satin
Nothing says elegant wedding like satin, but not just ordinary satin. Add a touch of lace either as contrast or as a textural change, or choose a style with figure-flattering ruching.
Beautiful Bateau: Style #60215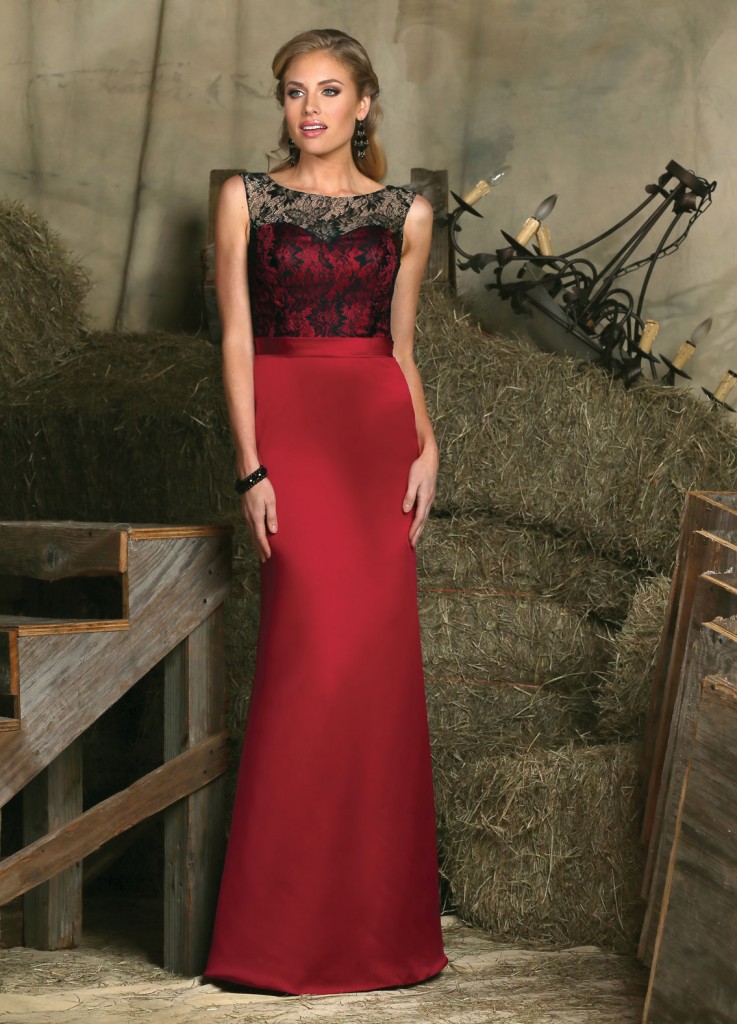 This A-line satin sheath features dramatic sheer lace over a strapless sweetheart bodice. From the front, the lace is fashioned into a wide bateau neckline for a modest touch, then splits at the back into a modified heart-shaped keyhole. The skirt falls from a natural waist, flaring just a bit below the hip and then ends at floor length.
Sophisticated Ruching: Style #9093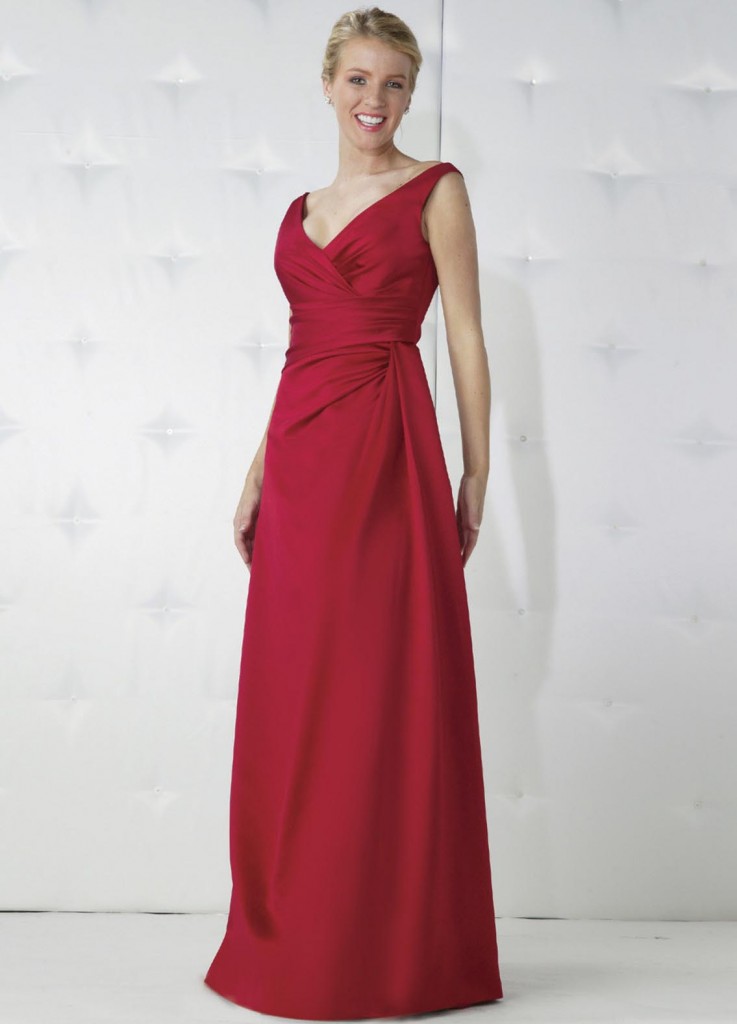 A timeless style in satin, this A-line dress features a modest V-neck ruched on the diagonal with wide set straps. The modified Empire waistline is also ruched and gathered to one side, and the skirt falls in one uninterrupted length to the floor.
3. Add a Waistline Accent
A gown with a beautiful,  long bow or belt accent adds a slimming line, even if the waist is a contrast color.
Ruched & Wrapped: Style #60083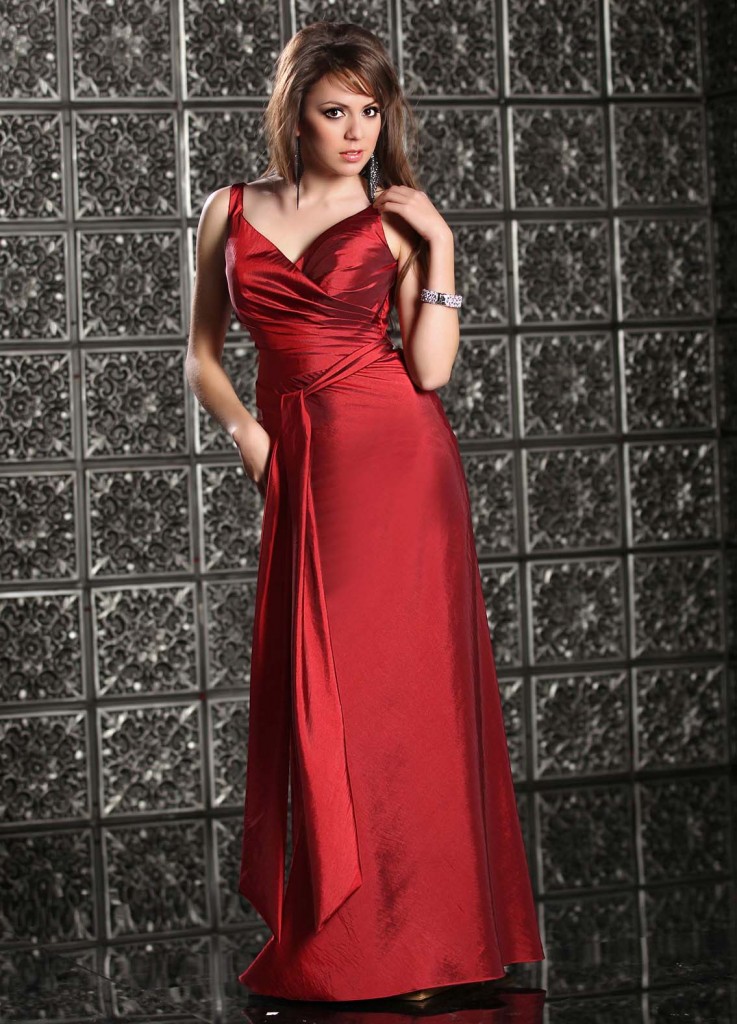 This taffeta A-line dress will rustle alluring as your ladies accompany you down the aisle. The bodice is ruched on the diagonal to create a sweetheart V-neck with wide set straps. The waistline is slightly ruched and gently gathered before falling to a floor length hem. A matching taffeta belt with extended streamers elongates the overall silhouette.  
Contrast Elegance: Style #9145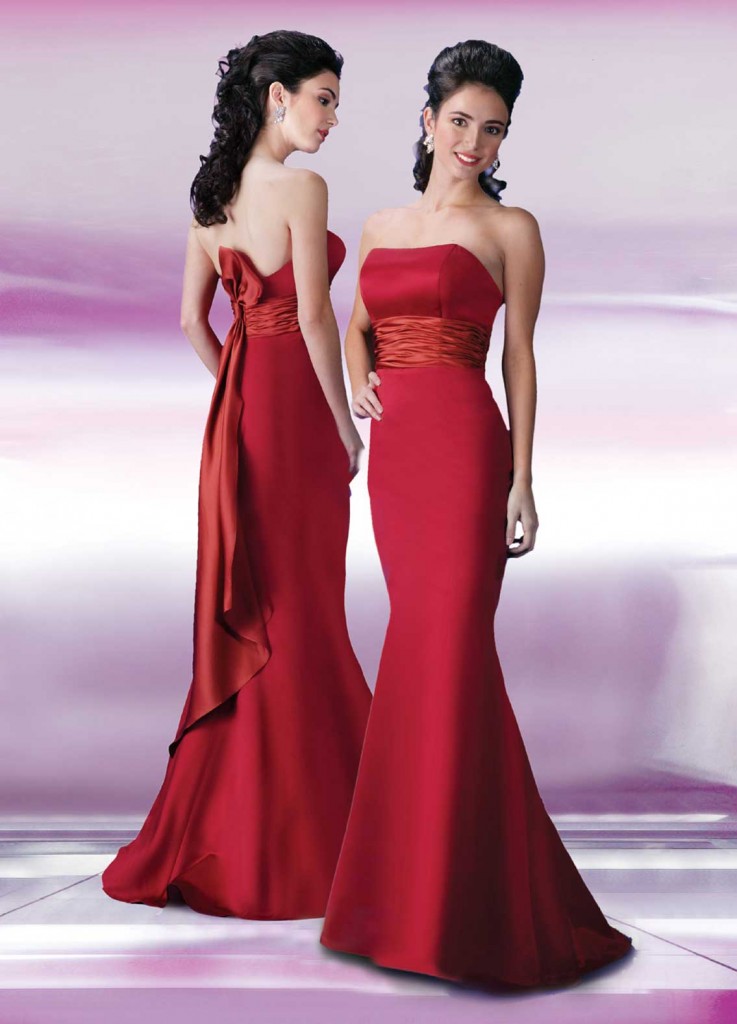 For maximum "Wow!" appeal, dress your attendants in this dramatic fit and flare satin gown. The straight across strapless bodice is in modest contrast to the generously rushed empire waistband. Falling to the floor with just a hint of a sweep train, the dramatic trumpet lines of the skirt are softened by the one-loop center back bow with long waterfall streamers. Select matching or contrasting colors for the dress and belt.
4. Draped in Luxury
Choosing a draped neckline, either front or back, adds drama and flatters all figure types.
Cowl Neck A-Line: Style #60175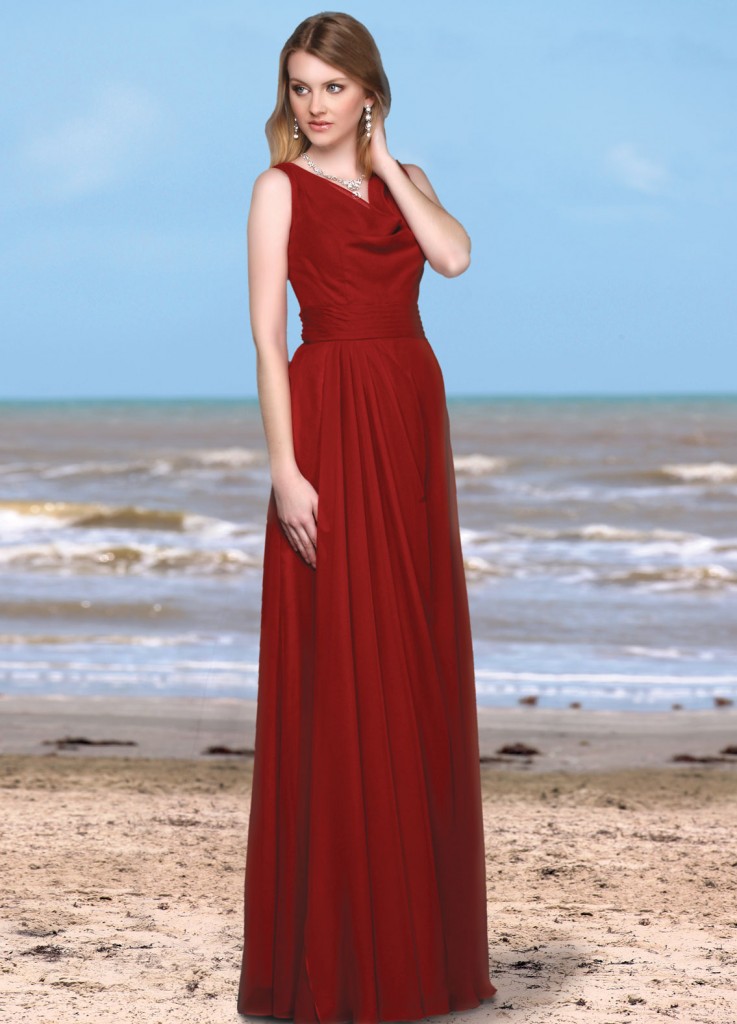 This minimalist chiffon A-line features a modestly draped cowl neckline, a ruched waistband, and a skirt that falls in gentle pleats to a floor length hem.
Dramatic Back Drape & Train: Style #60280
Glamorous and chic, from the front, this gown is a simple, modest A-line chiffon sheath with a V-neck and shoulder straps. But the back creates unique interest with a draped scoop back falling from wide set straps while the skirt is gathered and pleated at the center back to create a sheer sweep train.
5. Short & Sophisticated
Whether yours will be a cocktail reception or a daytime affair, a knee-length sheath is almost a guaranteed wear-it-again choice for your attendants.
Ruched Strapless Sweetheart: Style #60138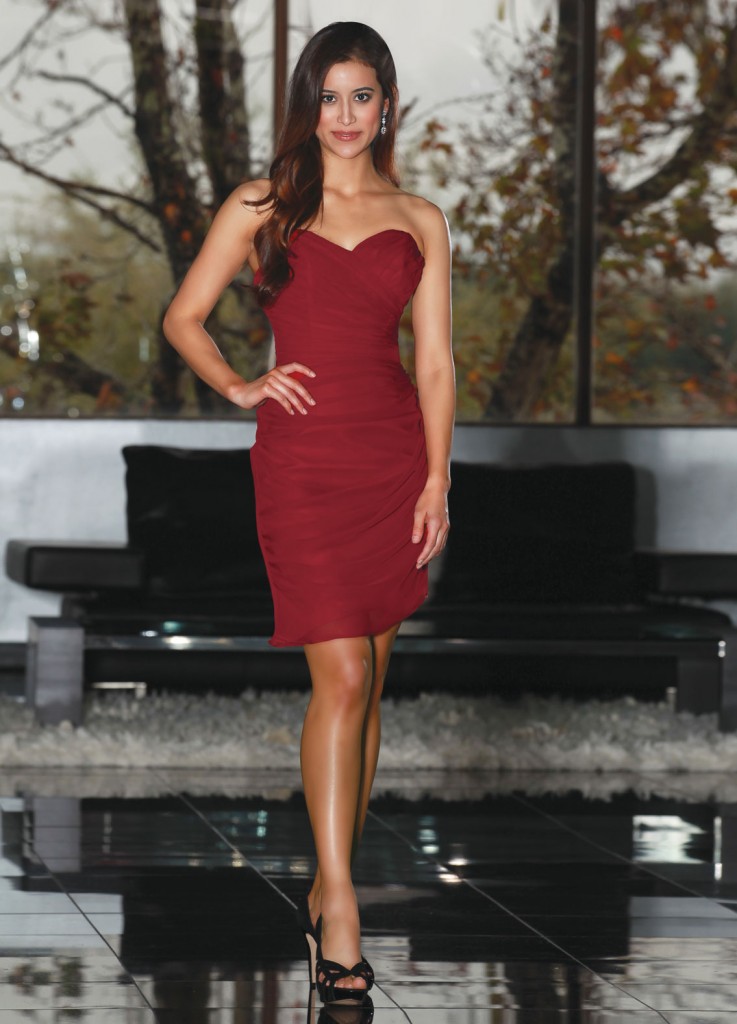 Strategically ruched from top to bottom, this strapless sheath is a study in minimalist perfection. Beginning at the sweetheart neckline, soft chiffon is flawlessly draped and gathered to hug and flatter the figure from the asymmetrical waistline to the knee-length hem.
Color Blocked Drama: Style #60065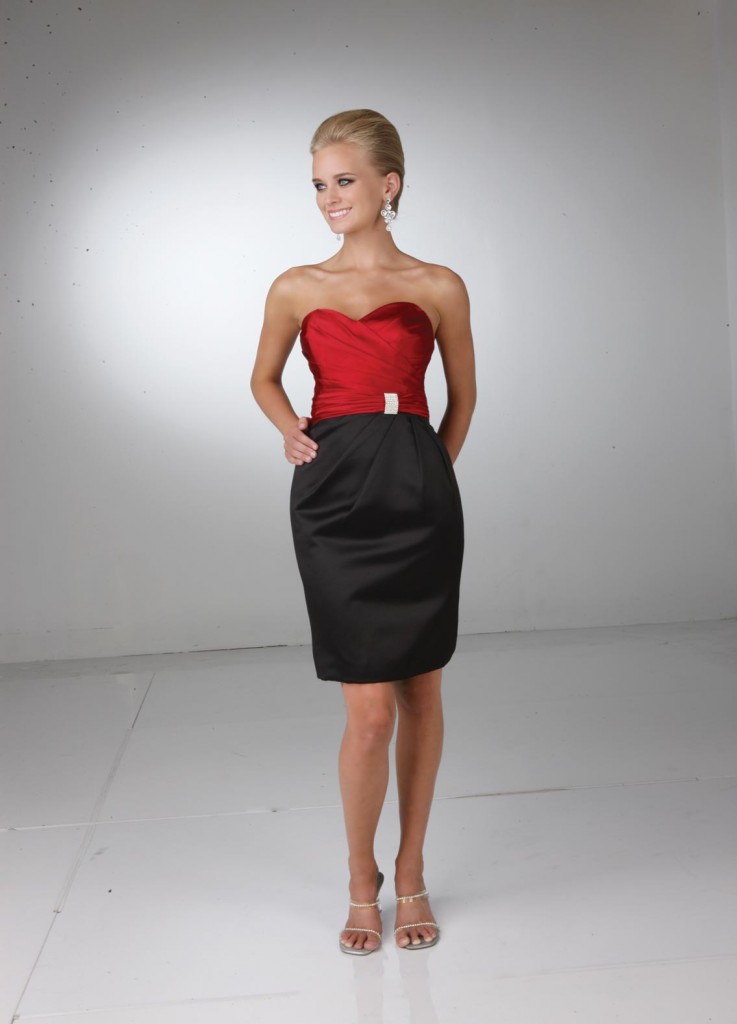 Fashioned from sleek satin, this knee-length sheath combines a perfectly ruched strapless sweetheart neckline with a knee-length pencil skirt and a hint of ruching for shape. A wide crystal clip set off-center accents the ruched waistband and completes the look.
6. One Shoulder Wonders
Nothing adds drama like a one-shoulder dress, and when you choose a dress in red… Just be prepared for your attendants to steal the show at least a little bit!
Ruched Fit and Flare: Style #60067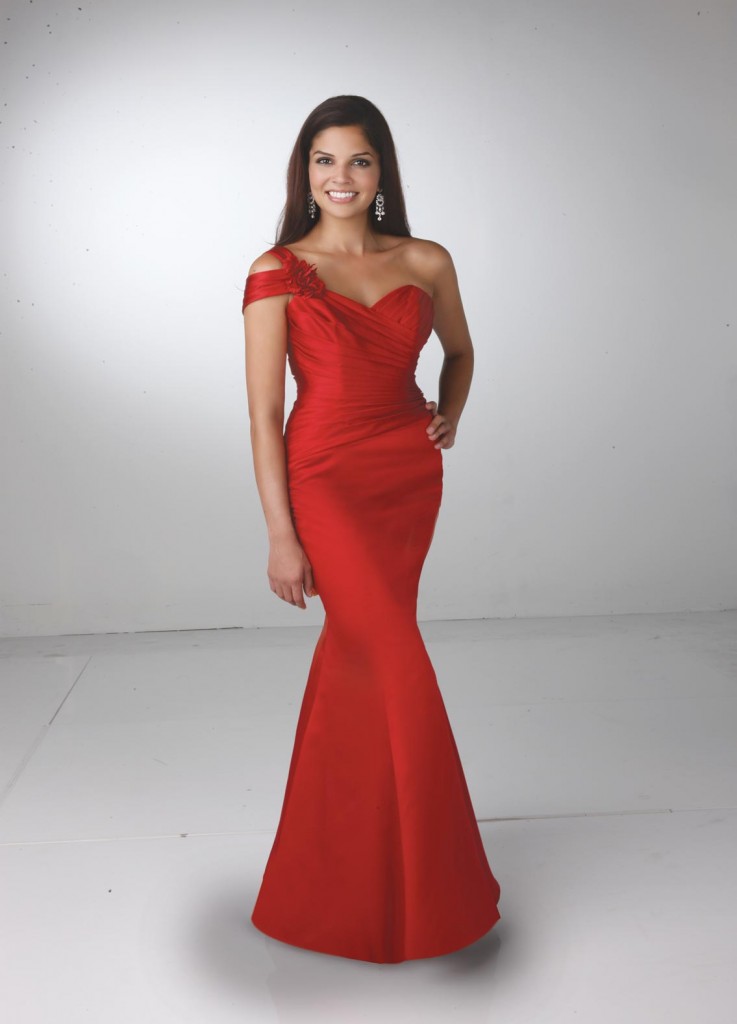 Drama on the diagonal defines this fit and flare satin sheath. Beginning with a perfectly ruched sweetheart neckline and a double one-shoulder detail including a delicate satin flower, the design hugs the body with diagonal ruching ending just at the hip. Then the skirt falls straight to the floor-length hem with just the hint of a trumpet silhouette.   
Asymmetrical Empire: Style #60084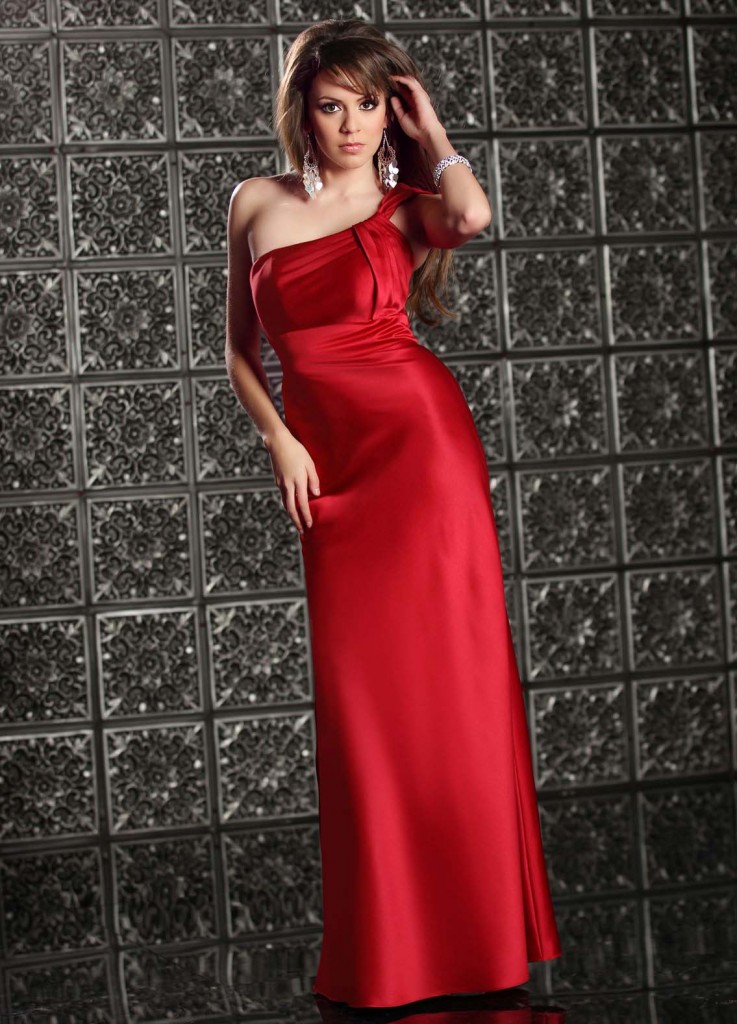 A unique bodice design sets this A-line sheath apart. Smooth satin is fashioned into a modest, straight across strapless bodice, then ruched vertically at one side to create a single shoulder strap. The skirt falls smoothly to the floor with just a hint of fit and flare for added interest.
7. Knock 'Em Dead Red
Of course, you can order any of our bridesmaid's gowns in this bright, brilliant red, but how much more dramatic when you pair a bold red with a bold design?
Dramatic Diagonal: Style #9263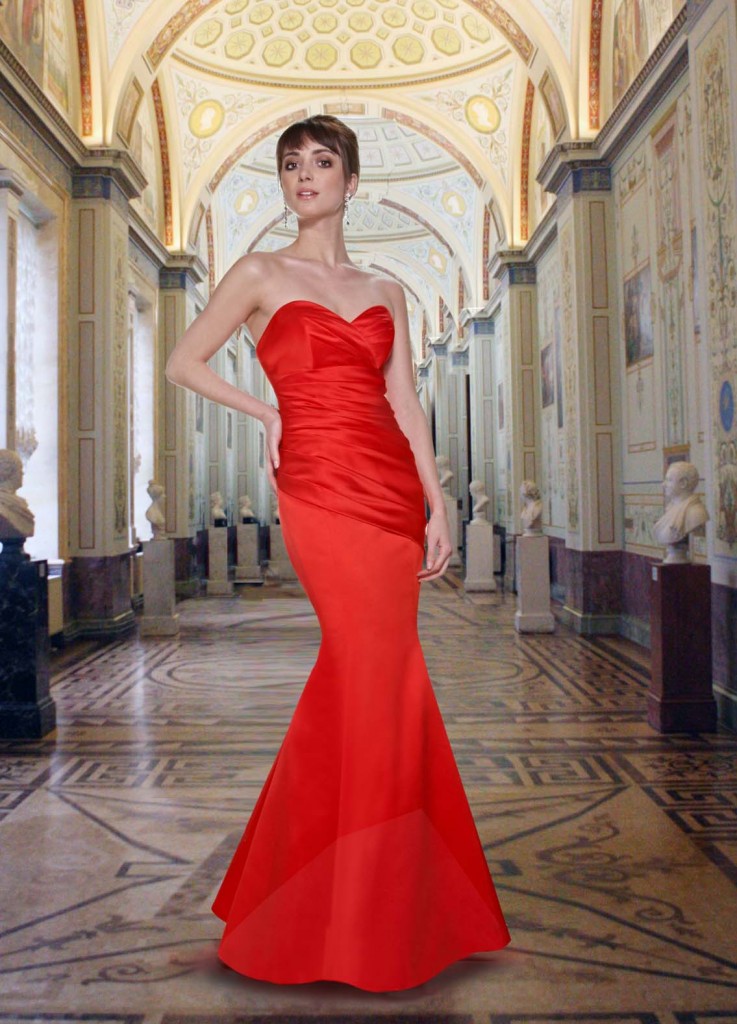 Sophisticated and stately, this strapless fit and flare sheath features a ruched bodice that is gathered on the diagonal from just below the waist on one side to below the opposite hip. The sweetheart neckline is ruched at the front but smooth on each side, and the body of the fabric creates a trumpet effect as the skirt falls uninterrupted to the floor length hem.
Share Your Crimson Bridesmaid Photos with Us!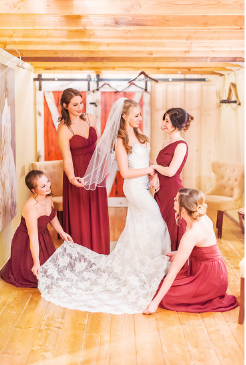 http://www.davincibridal.com/real_brides.php
Share your favorite photos from your wedding day featuring you in your gorgeous DaVinci gown, and your bridesmaids all decked out in your favorite shade of red, and you'll have a chance to be featured on our website and social media. And as a special bonus, you'll automatically be entered into a sweepstakes to win a framed sketch of your wedding dress!
If you'd prefer pink (red's softer sister), check out these wedding dresses with just a kiss of color:
You're Blushing Wedding Gowns with Just a Hint of Pink
To add just a touch of red to your wedding theme, including your dress, consider these ideas: