Hurray for the digital age! No matter the reason, plan and stream your wedding easily with our Virtually Plan & Livestream Your Wedding How-to Guide.
With your laptop, smartphone, video chat & all kinds of other tools, you plan your wedding—at home—on your couch.
What are you waiting for? Let's get started!
Virtually Plan & Livestream Your Wedding How-to Guide: Location Options
Traditional event space
Many wedding venues are now offering FaceTime & Skype personal site tours. With a virtual venue tour, you can talk through everything with the venue on-site coordinator & ask any question as they come up—in real time.
Tip: This is a terrific option to use if you're planning your wedding ahead of time & want to guarantee a great date & time.
Church or Synagogue
Set a time to talk with your clergyman or woman to see what options they can offer. If a staff member is willing, you might also be able to arrange a virtual tour using that person's smart phone for planning ideas like flowers, a wedding canopy, bride's room if they have one & any other details.
Park, Beach or Outdoor Location
Check with local officials to see what they'll allow. Then get permission to drive to the location & take a video or the site. You can use the video with a formal wedding planner to help make detail decisions.
Home or Backyard Celebration
You don't need a large home or a big crowd to have a lovely wedding. You can create a beautiful setting with just be the two of you with a virtual clergyman & guests livestreamed.
If you can have a few guests, then plan your ceremony & reception in a space that has room for everyone. Rearrange furniture in the house to create an intimate setting in the living room, dining room or rec room (garages, basements & storage units are perfect to stash large and small items).
Or throw a pretty outdoor wedding either in your backyard or that of a relative or friend.
Virtually Plan & Livestream Your Wedding How-to Guide: Vendor Consultations
You can't do on-screen menu tasting or makeup & hair tryouts. But you can plan ahead & book all the professionals you'll need:
Wedding coordinators
Photographer (ask if they will send you digital samples)
Videography (also ask for samples)
Florist (they might be able to do a virtual showroom tour to give you ideas for flowers & arrangements in addition to those in the catalog)
Musicians (for sure they'll have recordings of their past work)
Caterer (you can set the basics & arrange a taste test closer to the date)
 Tip: Arrange a Zoom meeting with you & all your vendors so they can meet each other.
Arrange Pre-Wedding Events
Source: Allison Carter Celebrates
If you're planning your wedding in advance, use the same method as you would for vendor video consultations.
If you're having a smaller wedding now, live stream your bridal shower, bachelor & bachelorette parties, even a cocktail happy hour.
 Tip: Instead of gifts that need to be shipped & opened, ask your guests to share their memories of your, a favorite recipe for your new home, or their personal ideas for your new life together.
Virtually Plan & Livestream Your Wedding How-to Guide: Tips on Live Streaming Your Ceremony and/or Reception
If you want to tie the knot now, never mind the rest of the world, live streaming your wedding if the perfect option. All you need is a good internet connection & basic streaming technology. Here's how to do it:
Basic free streaming services:
Can't decide on one? Then stream to multiple sites. This also lets your guests choose their preferred option.
Private options
Private live stream wedding
Option to get marriage license online
Officiant available through the app.
This app will facilitate your Zoom ceremony—for free!
How to Coordinate Vendors
Officiant – Find someone to perform the ceremony online only.
Tip: To make your marriage legal, be sure to get your signed marriage license mailed in as soon as possible.
Photos & Video – E-invite your vendors. They can document everything digitally using a streaming platform for a truly unique commemoration of your wedding ceremony.
Important note: Double check if your state requires an in-person officiant & maybe even a physically present witness or two to make your marriage legally binding.
Option: If you're comfortable with it, go ahead & have the ceremony now—with the online officiant to make it feel like the real thing—then make it legal later in a courthouse or church/synagogue.
Virtually Plan & Livestream Your Wedding How-to Guide: Invitations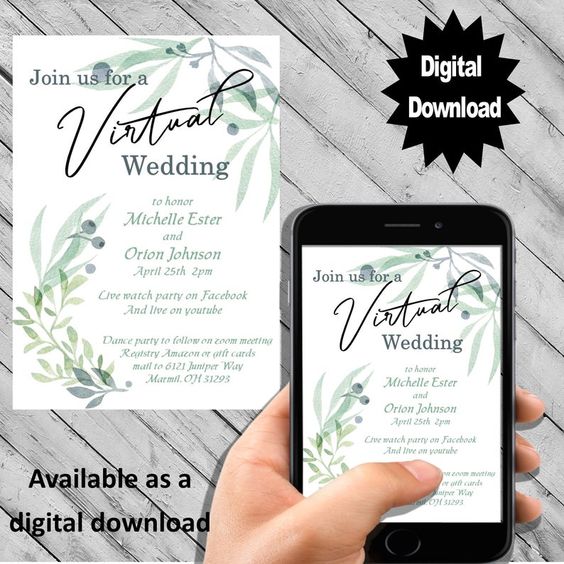 Go digital route with wedding invitations. Here are two companies that can produce elegant totally electronic invites that feel like opening a traditional printed wedding invitation:
Virtual Invitation shown above is available here: Etsy Virtual Rustic Wedding Invitation
How to Set Up Your Ceremony Space
Source: Tanner Burge Photo
Use a tripod for your phone or tablet.
For natural light, open the windows.
For an evening setting, use flameless candles & mini lights.
Frame the space with things like potted plants, candleabra, pictures or posters on the wall.
Set the mood with music.
If you wish, have a champagne toast & pop the bottle after your first kiss or, in a Jewish wedding, after you smash the glass.
Tip: Ask your guests to mute audio in their end until after your vows & kiss.
What to Wear: Bride
If you have The Dress, wear it!
If you'll have your big celebration later, find something pretty but elegant.
Fun Idea: If you choose a less formal dress for now, you can change into that for your reception when you have your big day down the road!
What to Wear: Groom
If you have The Dress, your guy can wear a formal tux or a classy suit with trimmings like cuff links, shiny dress shoes & a pocket square.
Crisp jeans & a sport coat—with or without a tie—look great if you're going for a more casual look.
Option: This is your unique day so if you want to dress out of the box—a little or a lot—go for it!
Virtually Plan & Livestream Your Wedding How-to Guide: Throw a Virtual Reception
Use Google Hangouts or another platform
Ask your guests to dress up & party along with you.
Include any traditional wedding traditions you want 
Source: Tanner Burge Photo
Walk down the "aisle"
First dance
Cut a homemade cake
Open the mic so your guests can make a toast
Create a signature cocktail
Fun cocktail idea: Give your guests the recipe in advance so they can join in 100%.
Have the Best of Both Worlds!
Stream a digital ceremony now
Have your Dream Wedding later with a vow renewal & awesome reception later
Bonus #1: By the time your new wedding day rolls around, all the pressure is off!
You're already married so …
You get to marry your best friend twice.
 Bonus #2:
You get two "anniversaries!"
What more could you ask?!