General Planning
Top 10 Bride's Decisions when Planning Bridal Showers & Bachelorettes
One of the nicest things about getting married is the parties that you'd otherwise never have an excuse for any other time in your life. OK, so maybe once in awhile you and your best girls hit a club, but honestly—how many times do you get together specifically to make wedding dresses out of toilet paper?! Bridal showers do tend to be primarily about gifts and bachelorette parties are, as a rule, notoriously rowdy. But the idea is for you to take a break from the stress of planning the wedding and have a little fun, so you want to make sure that whoever organizes these get-togethers knows what "fun" means to you.
Now, while you probably won't be planning these parties for yourself all by yourself, you still need to decide in general what you want. Then talk to your maid of honor, attendants, friends, mothers—whoever will ultimately be in charge of the shindig. Here are the 10 main decisions you need to make and then pass along so that everyone—including you—will have a marvelous time!
1. Which party to have? There's no rule that says you have to have a shower or a bachelorette party. There's also no rule that says you must have one of them, preferably the shower.
Is a wedding still a wedding without a shower?

A lot of brides, though—as well as their girlfriends and family—can't imagine a wedding that doesn't include at least a shower. But it's still up to you, so give some thought to what you want then politely make your wishes known.

Go all out with one big bash:

You can also combine the two parties, though that may be a bit less common. Maybe you can let your friends make the decision on that one as a surprise. The sooner you let everyone know what you want, the easier it will be for them to plan.

Surprise!

There is one factor you can't always control: a surprise shower. Even if you've told your girlfriends that you don't want a lot of gifts, they may throw you a party

without

presents, just as a way to be nice to you, or maybe give you some silly things (like "naughty toys"!) and if so, just enjoy and let them have their fun.
2. Draft a Guest List: It's a relatively strict rule that you should only invite people to your bridal shower and/or bachelorette party if you are also inviting them to the wedding. The party list can still change, though, depending on factors like budget, venue, and the kind of activities everyone would enjoy.
Bachelorette guest list: Mom or no Mom?

According to

classroom.synonym.com

you probably would not invite either of the mothers to the bachelorette bash, mostly because it tends to be a little on the wild side. However, if you as the bride want your mom to come, then you should also invite your future mother in law. Other than that, the rest of the guest list is up to you and is determined, like everything else involving your wedding, by your budget.
3. Stick to a Budget: Be clear about this. Usually, expenses for the bridal shower and bachelorette party are shouldered by your bridesmaids and perhaps your mothers or female friends.
Offer to help

: It

is

good manners to offer to sponsor some aspect of these events, though, so you might consider quietly giving your maid of honor or another friend a sum of money to work with and just ask her not to tell anyone that it came from you.
4. Choose a Theme—or Two: Here's the great thing about showers and bachelorettes: you do not have to stick to the theme of your wedding. You can if you wish, but you can also get little silly if you want to and have a shower or bachelorette that's totally offbeat. It could be a lot of fun for you to be planning a strict Emily Post wedding, and then have the chance to let loose and go wild with a biker or cowboy theme party!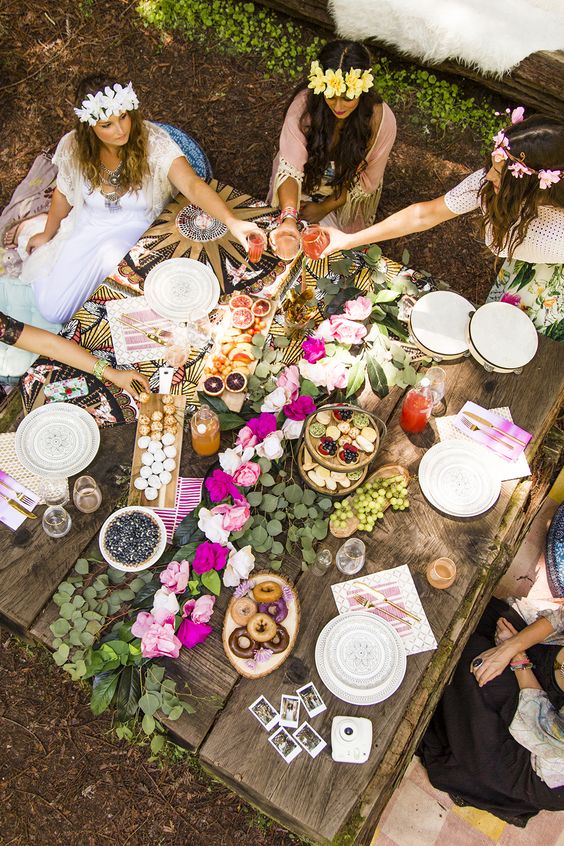 You can also include something you really enjoy, regardless of the party's theme. If you love a particular type of ethnic food, or fancy cocktails, or want to do something fun like bowling or even playing poker—ask whoever is planning to include those ideas and activities. The whole idea behind a shower or bachelorette is for you to relax a little and have some fun doing something you love, so choose a theme or idea that speaks to you or represents you as a person.
5. Pore over Pinterest: Setting up a Pinterest page with ideas for parties that you like—and ideas you do not like—is one of the nicest things you can do for your friends who plan to throw you a bash of some kind. They'll probably already be following your wedding planning pages, so you won't have to spell anything out in person for them to get an idea of what you'd like.
6. Decide what to DIY: Again, this is where Pinterest pages come in handy. And the good news is that, short of high tea at an exclusive country club with waiters in white jackets, these days you can DIY pretty much everything and do it to a very polished level. The DIY factor does go hand in hand with the budget and also depends on whether or not you're involved in the planning.
7. Declare your Deal Breakers: If you absolutely do not want to go out bar hopping until the wee hours of the morning (or go drinking all), or you cannot bear the thought of opening a prettily wrapped package only to find racy lingerie or a "toy," be very, very clear. The last thing you want is to be embarrassed or horrifically uncomfortable at a party that's meant to make you happy.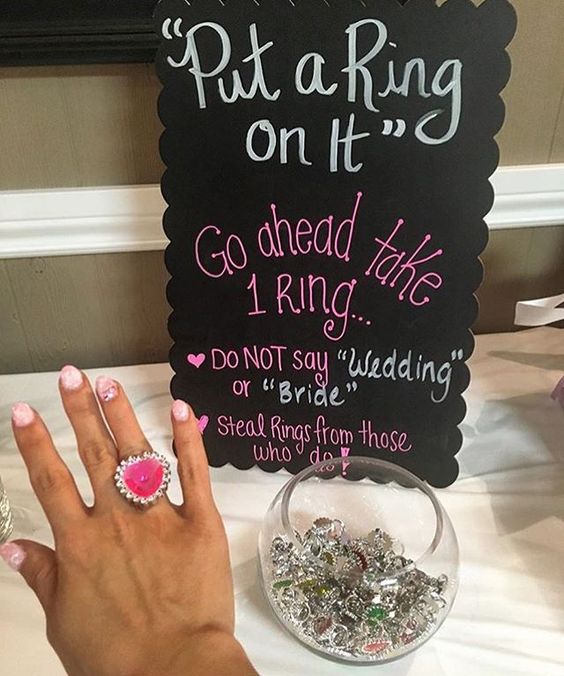 Let your friends know what you do and don't like when it comes to activities, too. Maybe you don't want lingerie, but you wouldn't mind a classy male stripper. Also, give some thought to whether you want to include any of those traditional but goofy bridal shower games like the toilet paper wedding gown contest. They can be a lot of fun, but if they're just not your cup of tea, say so.
8. Consider Hiring a Photo or Video Pro: You might not think to have professional photos done for a shower, but why not? We wouldn't recommend skimping on something important for your wedding in order to have a photographer and/or videographer for parties, but if there's a little float in your budget, or if you mention the idea and one of your friends jumps on it, then go for it!
Take advantage of "student assistance"

This could be a great way to give a startup camera pro a little work, or maybe a college kid in film or photography school. It's also a great way to unburden a friends who will be attending your party so she can fully focus on the fun and not have to worry about whether she's capturing it all on film or in photos.
9. Offer Thoughtful Takeaways: Always have some kind of take home thank you for all the guests. They can be simple and cost-effective or over-the-top lavish. It all depends on your budget, the number of guests at your shower, and your best guess as to what would please most everyone.
Useful & consummable singles:

Today's most popular takeaways are either useful or consumable. Homemade cupcakes, a package of sweets wrapped in your wedding colors and theme, sample sized versions of classy bath and body products.

Groups of goodies:

Load a gift bag with all of the above and a little more—again, it depends on your budget, guest list, and the wishes of whoever is hosting the party.

A silly little something:

Bachelorette party giveaways can be simpler, and even if you don't have a stripper or anything else outlandish, you can still give away little shot glasses or something insanely silly like "I Touched a Stripper" hand sanitizer!
https://www.thehouseofbachelorette.com/I_Touched_A_Stripper_Hand_Sanitizer_p/misc0sanitzstrip.htm
10. Gift Your Organizing Helpers:  Your bridesmaids, friends and probably one or both of your mothers have not only helped you plan your wedding, but they've also thrown you a party specifically in order to support you and make you feel special. It's now your turn to be a great friend by showing them how much you appreciate their hard work.
Gift cards rock!

One of the best suggestions we have is a gift certificate of some kind—a day at a

spa, a mani & pedi, or a gift card from their favorite clothing store—whatever you know they'll like. And the best thing about gift cards is that they don't have to be for the same amount or for the same place. They can be 100% personalized with very little effort.

Try to surprise them:

Do what you can to keep the gift

a secret until you can give it at an unexpected moment. That way they'll have a nice little surprise even though the day was all about you!
Your only party-related must-do: Relax!
Bridal showers and bachelorette parties are a way to dismiss all that wedding planning anxiety. To that end, don't obsess over planning these celebrations. Once your give your bridesmaids and friends those general outlines of what you'd like—and that deal-breaker list—do everything you can to let go. These ladies want to show you a good time, so turn them loose so you can cut loose and lose yourself in the fun, just for a few hours, and let yourself be pampered and loved by the women whom you love the most!
For a few more ideas, check out our blog:
http://www.davincibridal.com/blog/brides-showers-bachelorettes-how-to-throw-a-bang-up-bash/