There's nothing like lace to make you feel like a bride, and our Destination & Beach Wedding Dresses 2020 Allover Lace designs will do just that.
This year's collection of Allover Lace Informal Wedding Gowns fit almost any venue & wedding style:
Romantic destination weddings
Fun beach weddings at home or away
Beautiful backyard celebrations
Lighthearted garden weddings
Dressy City Hall weddings
Intimate formal weddings
Looking for a second dress for your ceremony? There's nothing more perfect than lace head to toe, light & lovely, to dance the night away.
When you buy your Allover Lace Wedding Dress from Informal by DaVinci…
You know that your gown will be created by one of the premier bridal dress companies in the world. We use only top quality fabrics fashioned into high fashion design using high-end construction. We guarantee you'll love their affordable prices. A DaVinci is the bridal dress retailers love to carry because, best of all, most of these dresses are available for rush delivery at no extra charge!
Destination & Beach Wedding Dresses 2020 Allover Lace: Off the Shoulder Styles
Informal by DaVinci Style #F100: Lace Fit & Flare Sheath Wedding Dress, Strapless Sweetheart Neckline, Off the Shoulder Lace Flutter Sleeves, Sweep Train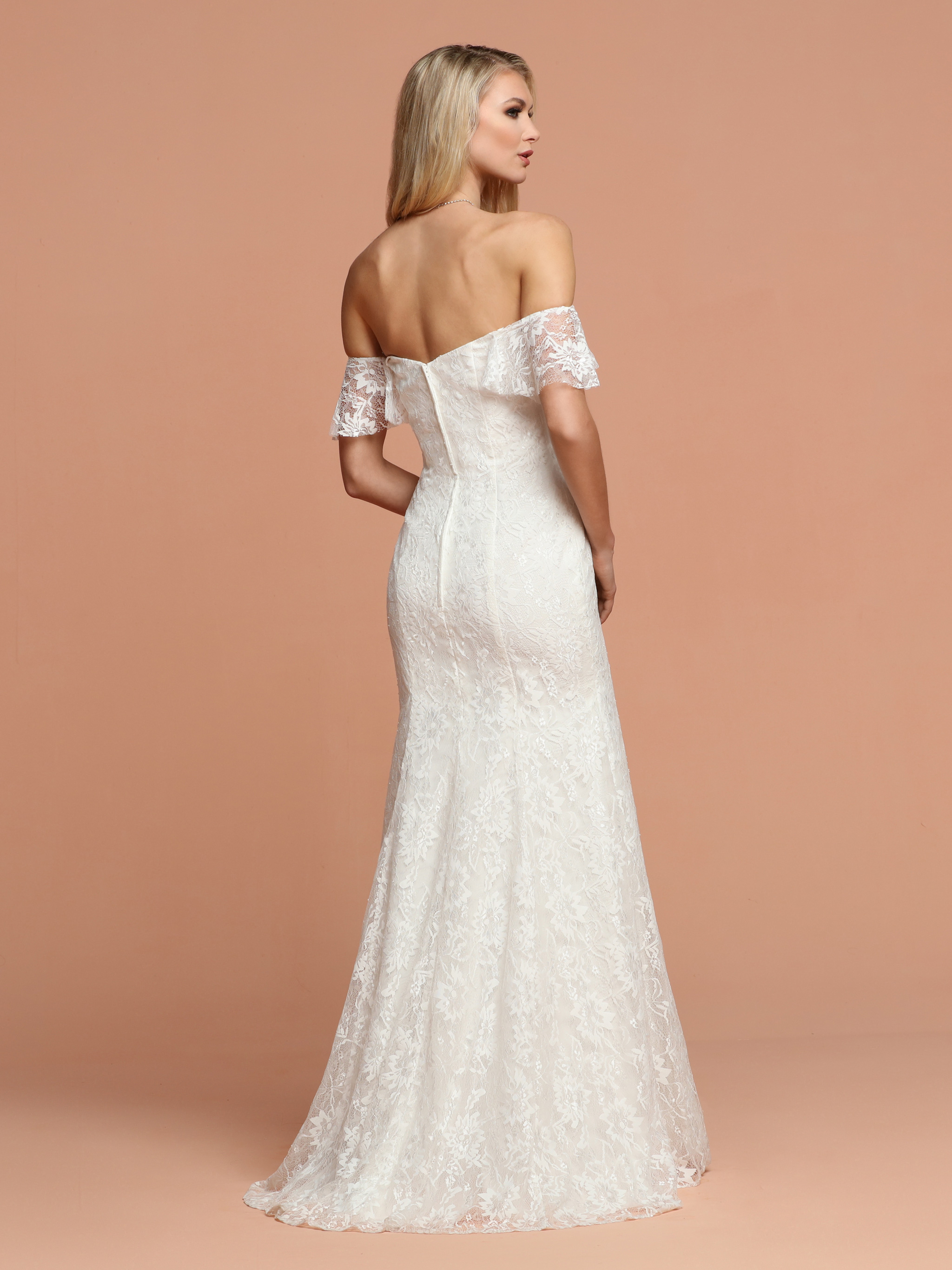 Available in: Ivory, White
To see more details Click HERE Informal by DaVinci Style #F100
Informal by DaVinci Style # F7082: Lace Fit & Flare Informal Wedding Dress, Off the Shoulder Sweetheart Neckline, Open Back, Sweep Train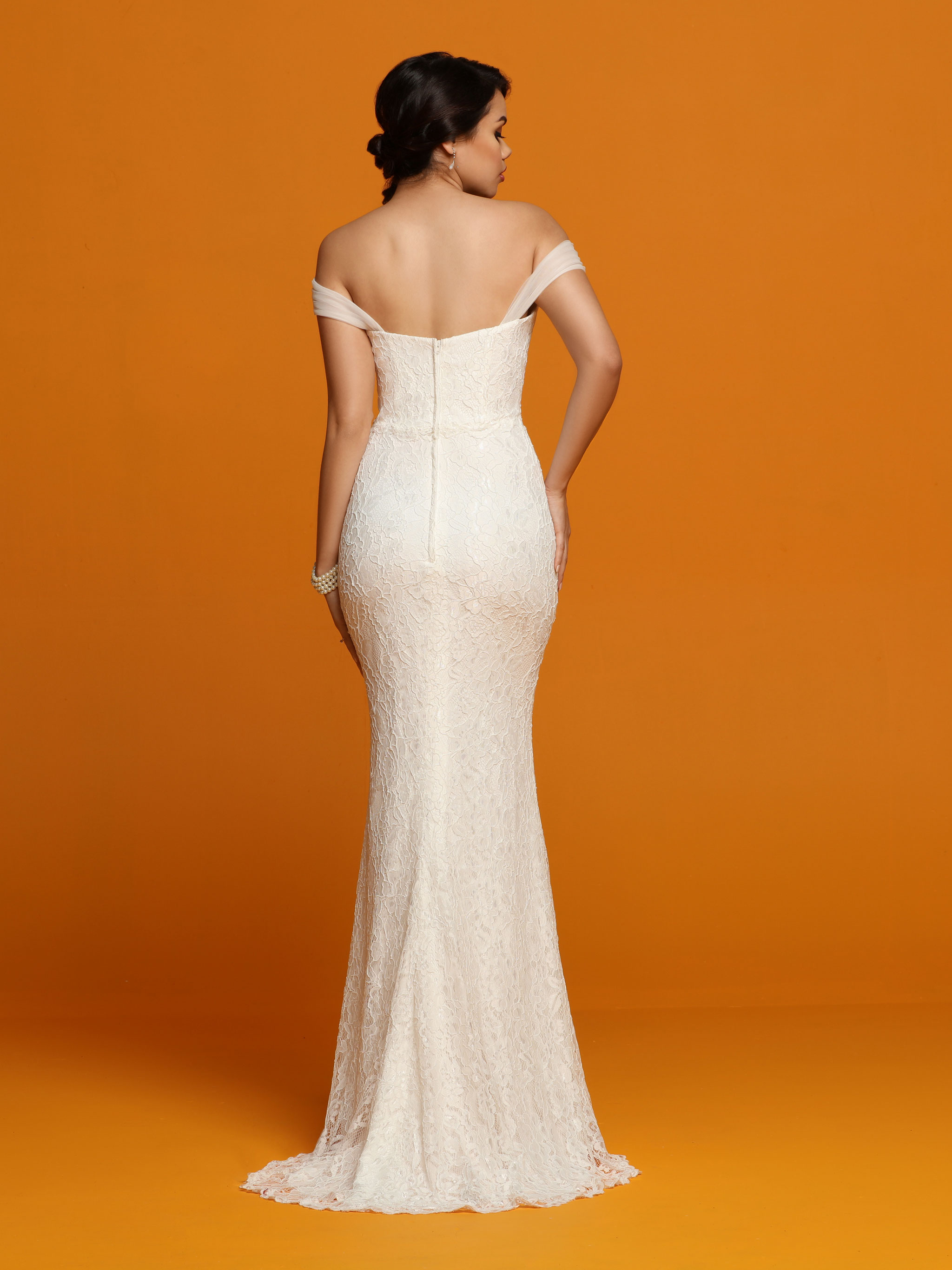 Available in: Ivory, White
To see more details Click HERE for DaVinci Informal Style # F7082
Destination & Beach Wedding Dresses 2020 Allover Lace: A-Line Designs
Informal by DaVinci Style #F102: Lace A-Line Wedding Dress, Modest Sheer Lace High Halter Neckline, Cutout Arms. Sheer Lace Back Straps, Keyhole. Skirt with Sweep Train, Ribbon Belt, Bow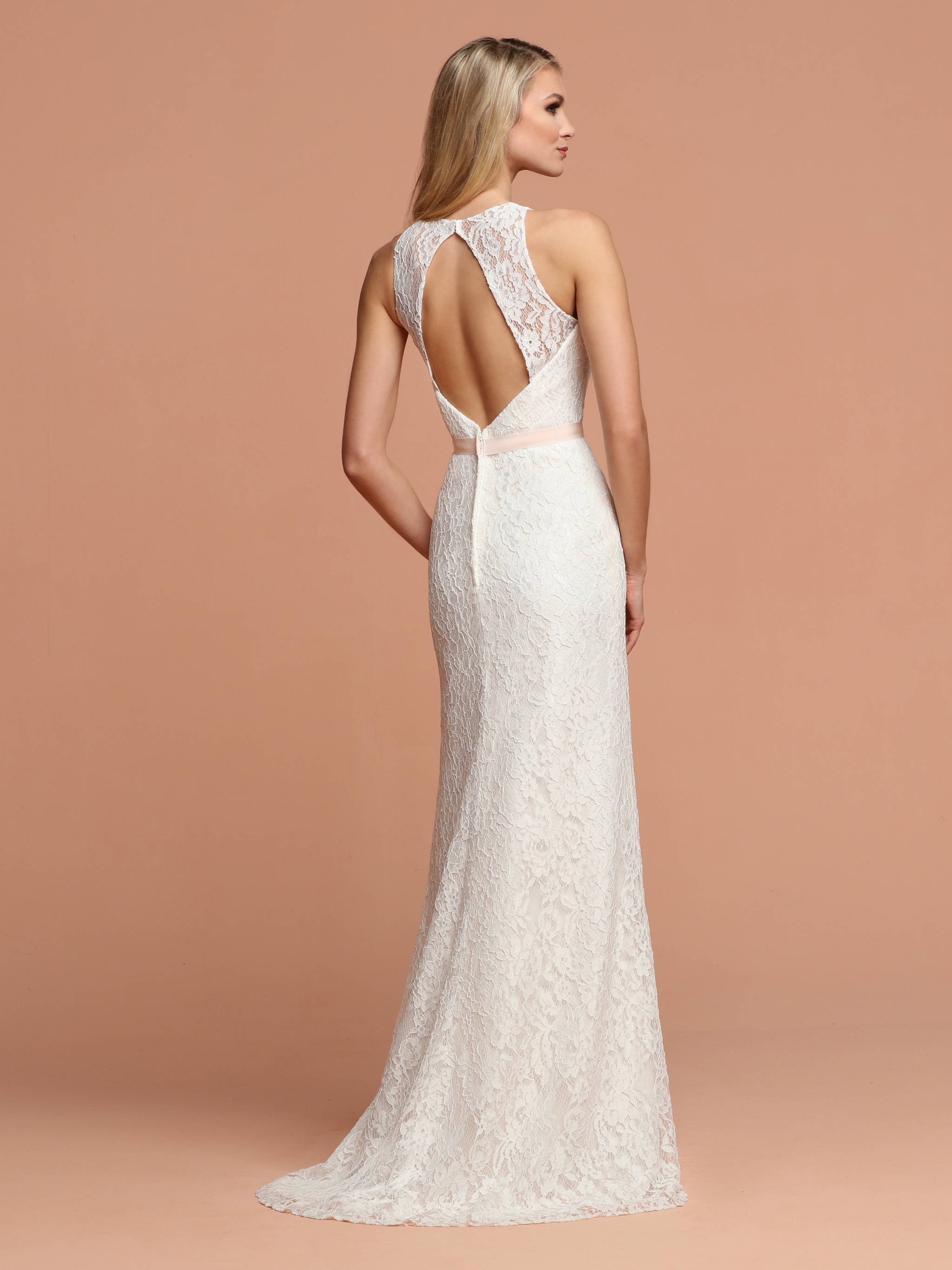 Available in: Ivory, White or Two-Tone Ivory/Blush, White/Blush
To see more details Click HERE Informal by DaVinci Style #F102
Informal by DaVinci Style #F110: Lace A-Line Wedding Dress, Strapless Sweetheart Neckline, Faux Wrap Ruched Bodice, Beaded Neckline, Beaded Belt, Sweep Train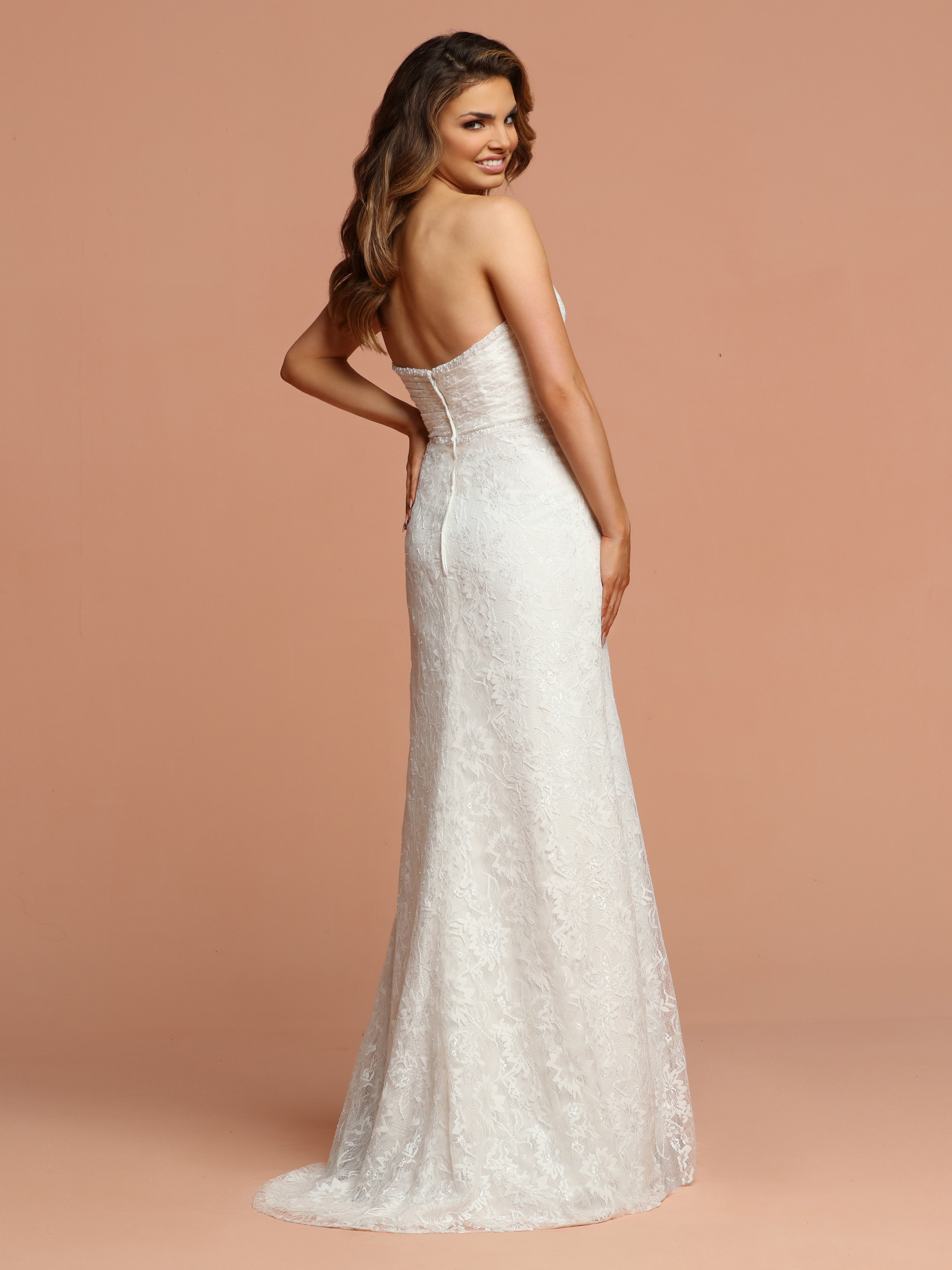 Available in: Ivory, White
To see more details Click HERE Informal by DaVinci Style #F110
Informal by DaVinci Style #F114: Lace A-Line Wedding Dress, Ruched Deep V-Neckline, Deep V-Back, Wide Ruched Empire Waistband, Sweep Train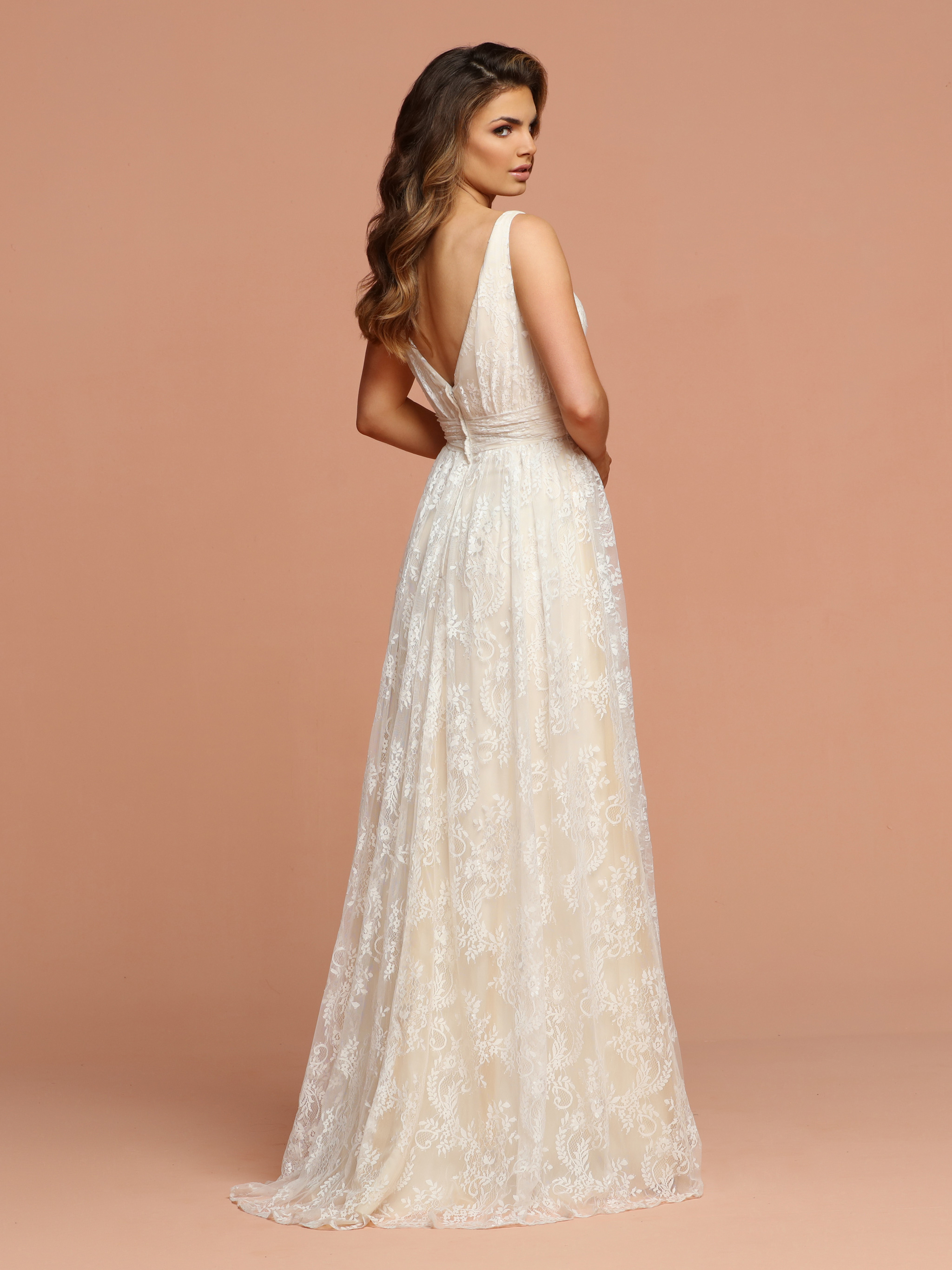 Available in: Ivory, White or Two-Tone Ivory/Champagne, White/Champagne
To see more details Click HERE Informal by DaVinci Style #F114
Destination & Beach Wedding Dresses 2020 Allover Lace: Slip Dress Styles
Informal by DaVinci Style # F7095: Lace Fit & Flare Informal Wedding Dress, Sweetheart Neckline, Open Scoop Back. Sweep Train, Criss-Cross Back Straps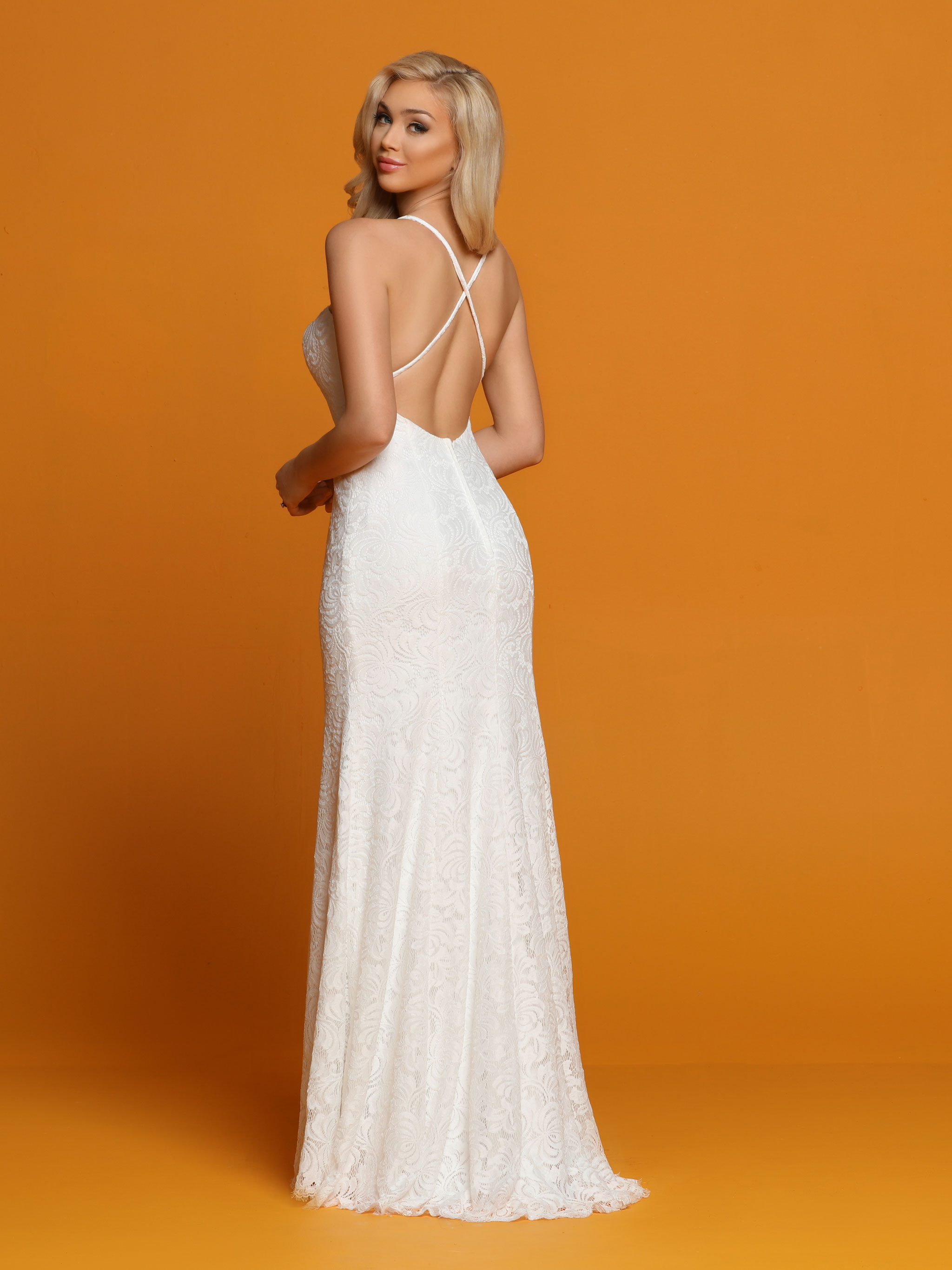 Available in: Ivory, White
To see more details Click HERE for DaVinci Informal Style # F7095
Informal by DaVinci Style #F101: Lace Fit & Flare Sheath Wedding Dress, Sweetheart Neckline, Beaded Cage Style Back Straps, Sweep Train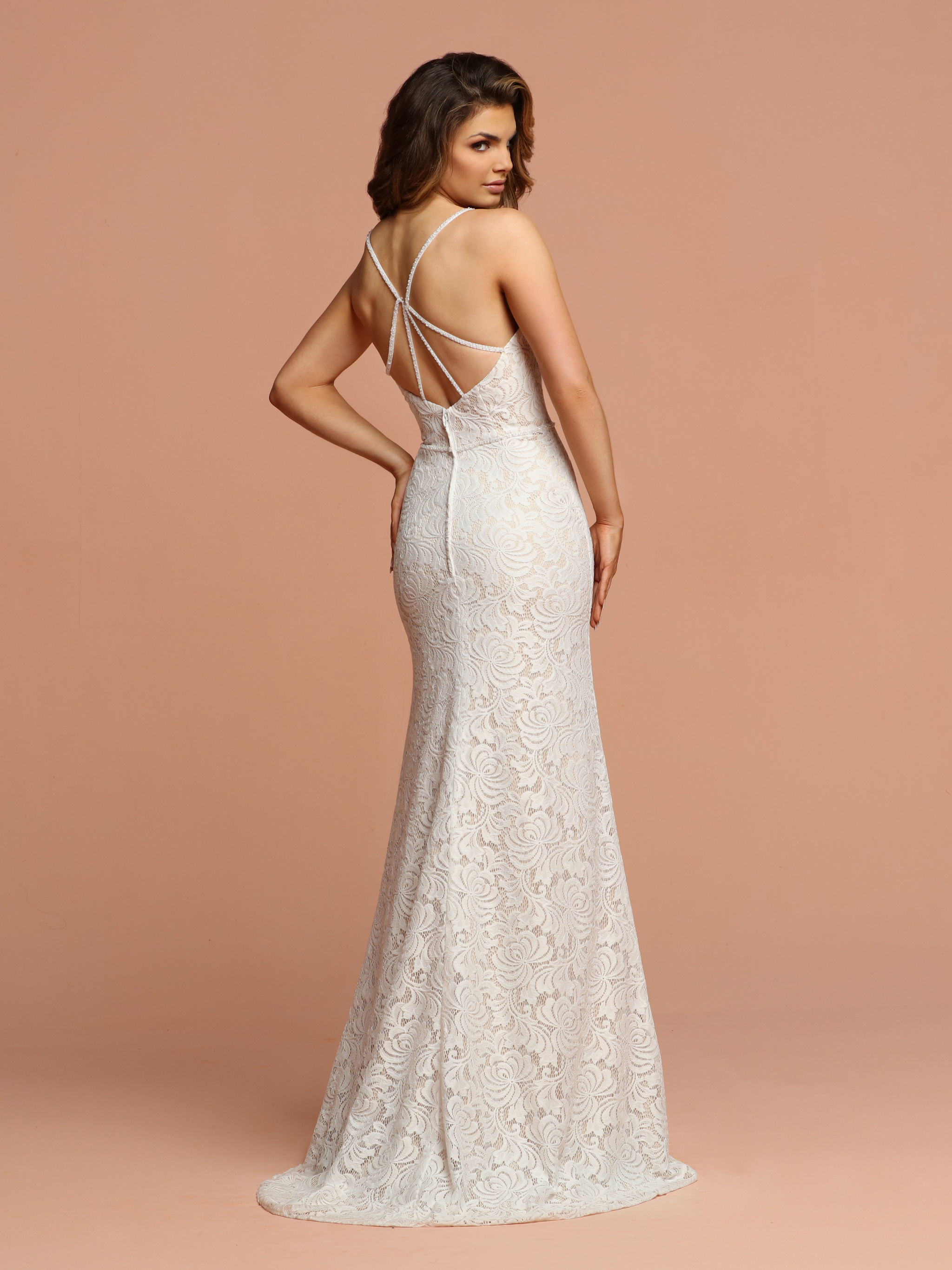 Available in: Ivory, White or Two-Tone Ivory/Nude, White/Nude
To see more details Click HERE Informal by DaVinci Style #F101
Destination & Beach Wedding Dresses 2020 Allover Lace: Sexy Open Back & Sheer Back Dresses
Informal by DaVinci Style #F7063: Tulle & Lace Informal Fit & Flare Wedding Dress,  Modest Sheer Lace Bateau Neckline, Low Scoop Back. Skirt with Lace Applique & Sweep Train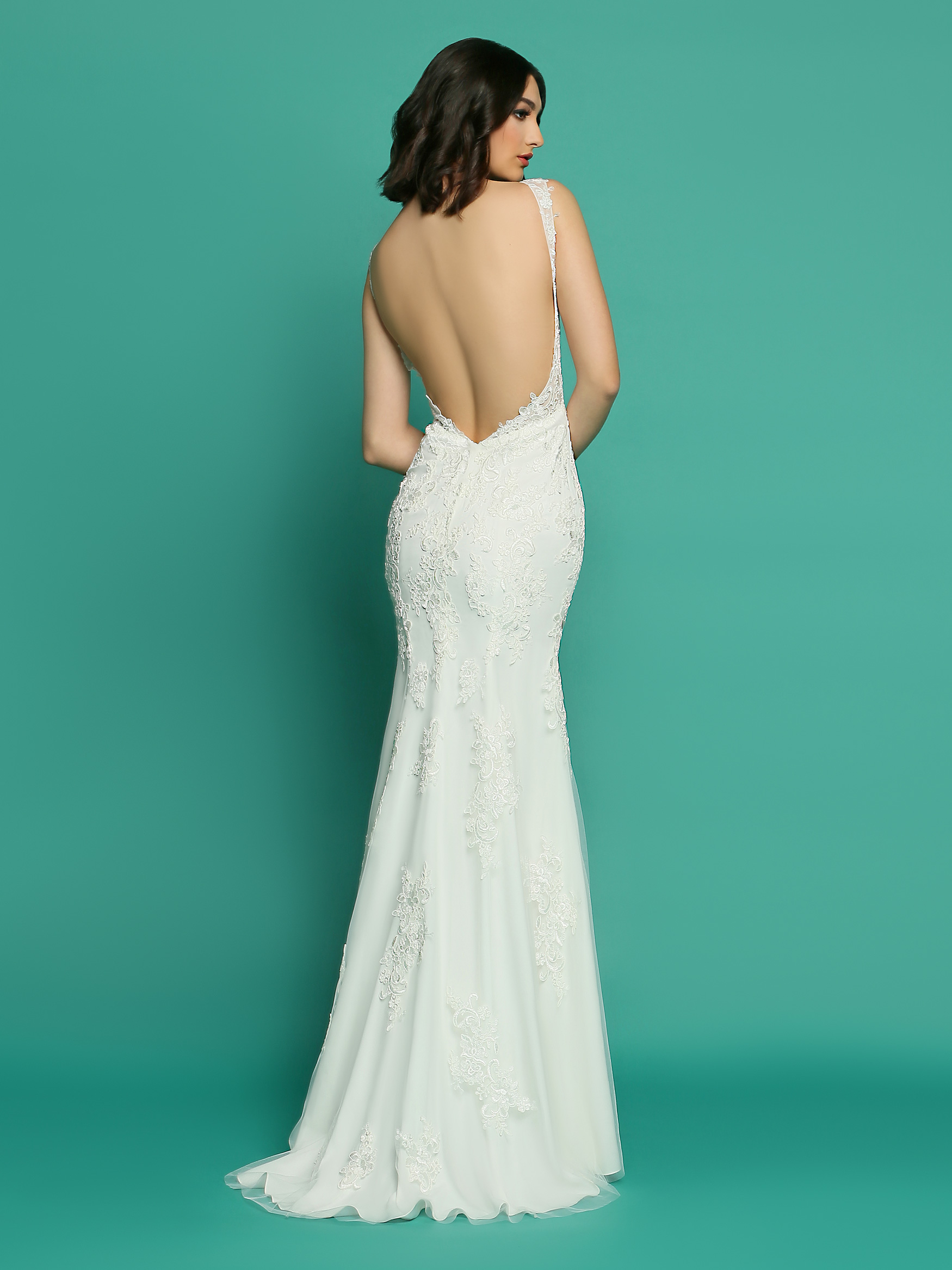 Available in: Ivory or White
To see more details Click HERE for Informal by DaVinci Style #F7063
Informal by DaVinci Style #F7070: Informal Fit & Flare Lace Wedding Dress, Modest Sheer Lace Bateau Neckline, Deep Scoop Back, Sheer Lace Overlay. Skirt with Sweep Train & Eyelash Lace Hem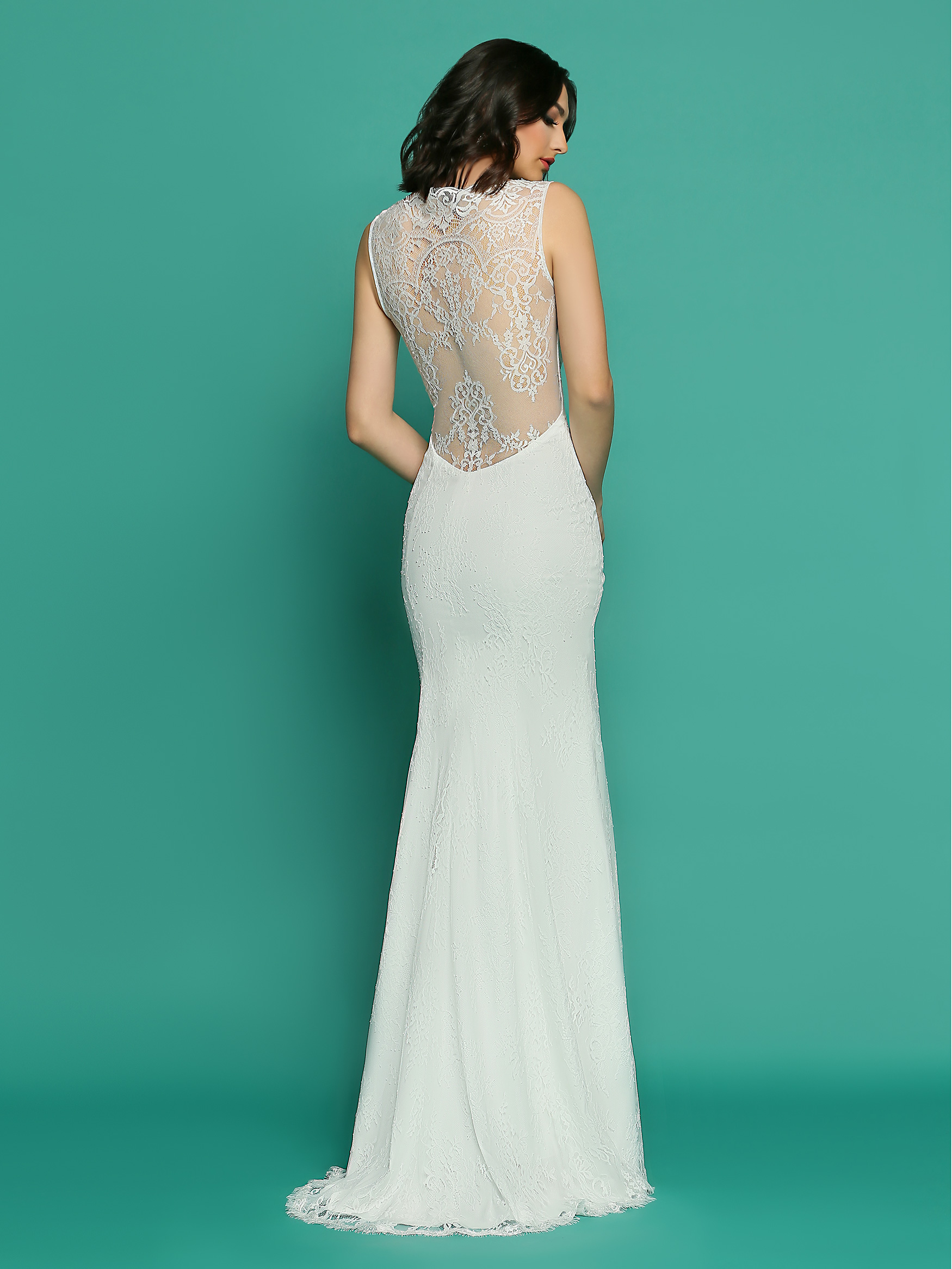 Available in: Ivory or White
To see more details Click HERE for Informal by DaVinci Style #F7070
Destination & Beach Wedding Dresses 2020 Allover Lace: Halter, Strapless & One Shoulder Sheaths
Informal by DaVinci Style #F112: Lace A-Line Wedding Dress, Deep V-Neckline, Narrow Halter Straps, Gathered Skirt, Sweep Train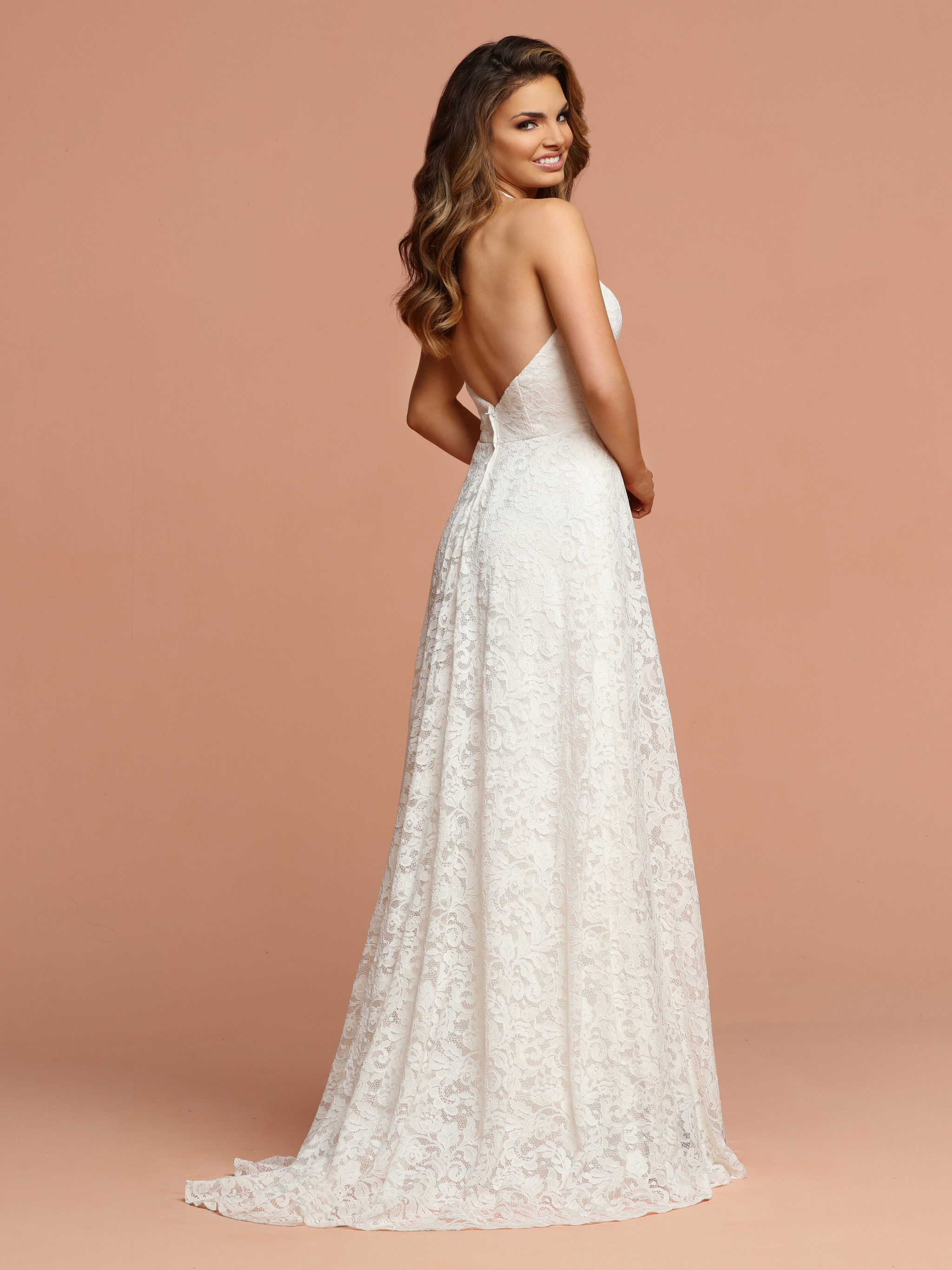 Available in: Ivory, White or Two-Tone Ivory/Blush, White/Blush
To see more details Click HERE Informal by DaVinci Style #F112
Informal by DaVinci Style #F7045 Lace & Tulle Strapless Sweetheart A-Line Informal Wedding Dress, Ribbon Waist Detail, Sweep Train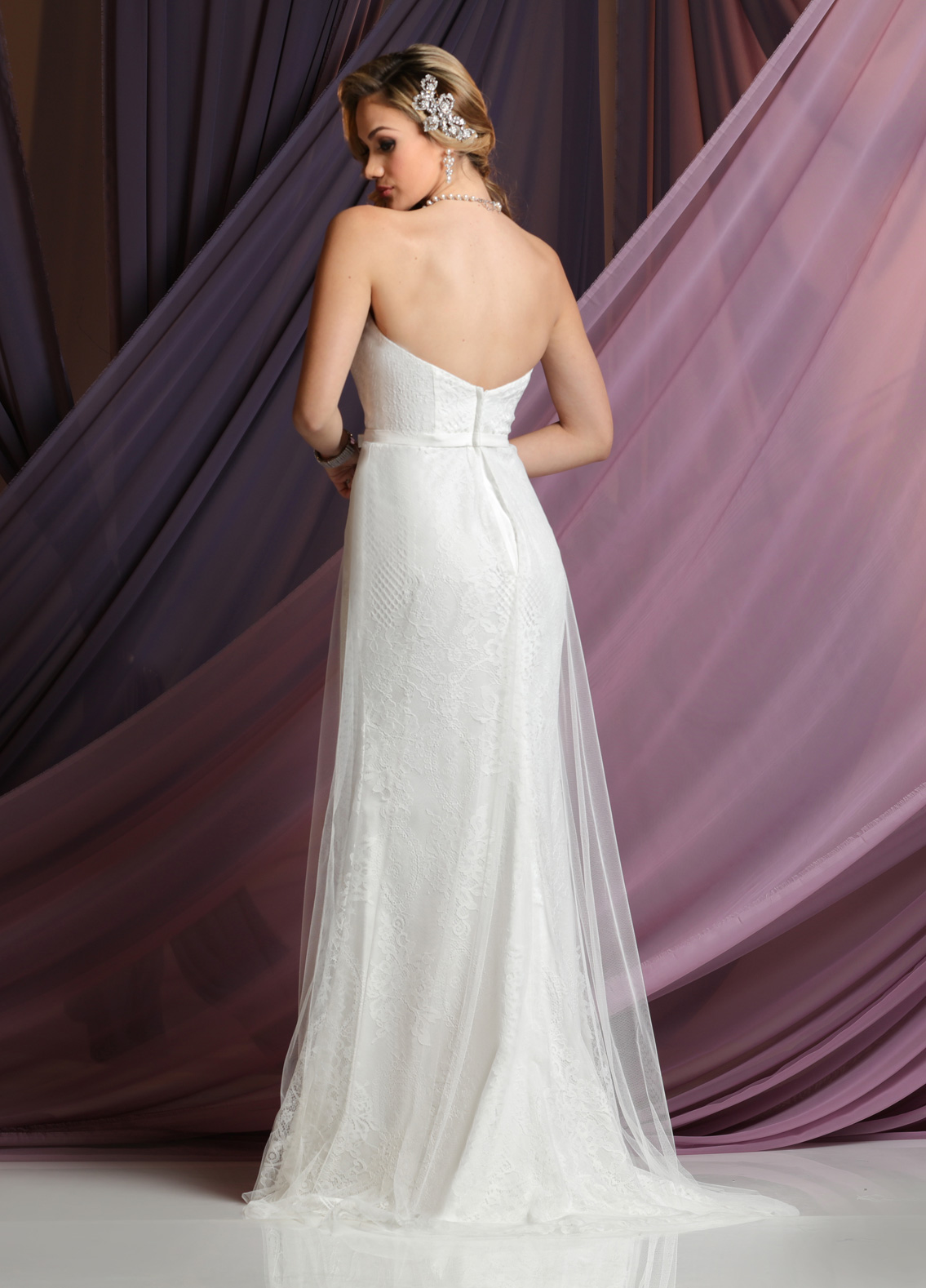 Available in: Ivory, White
To see more details Click HERE for Informal by DaVinci Style #F7045
Informal by DaVinci Style #F7002: Sheer Charmeuse & Lace Informal Wedding Dress, Asymmetrical One-Shoulder Neckline, Ruched Bodice, Sweep Train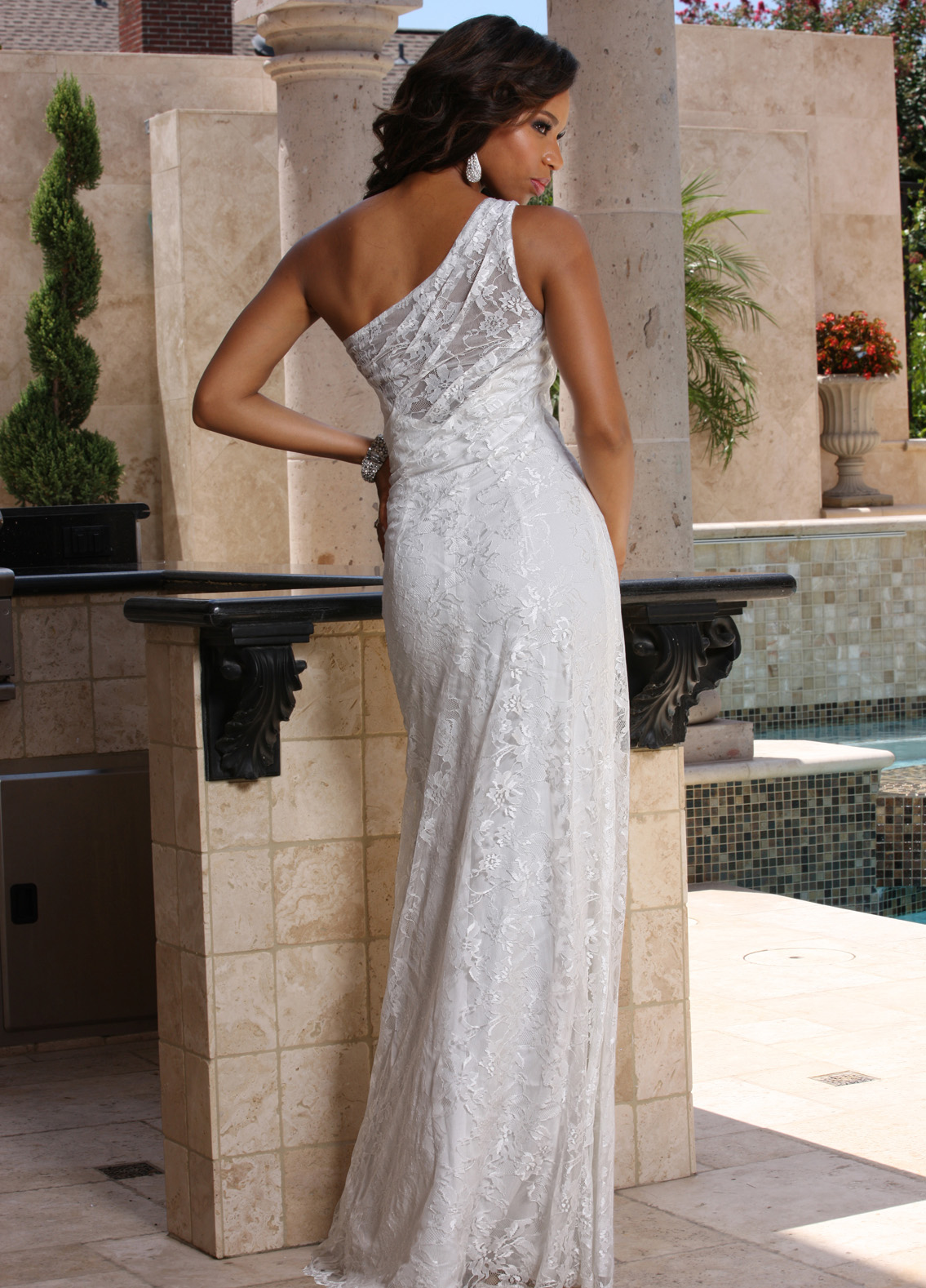 Available in: Ivory, White
To see more details Click HERE for Informal by DaVinci Style #F7002
Destination & Beach Wedding Dresses 2020 Allover Lace: Structured Silhouettes
Informal by DaVinci Style # F7091: Minimalist Fit & Flare Informal Lace Wedding Dress, V-Neck Halter Neckline. Open Back, Bandeau Closure, Covered Buttons, Keyhole Cutout. Beaded Waistband, Sweep Train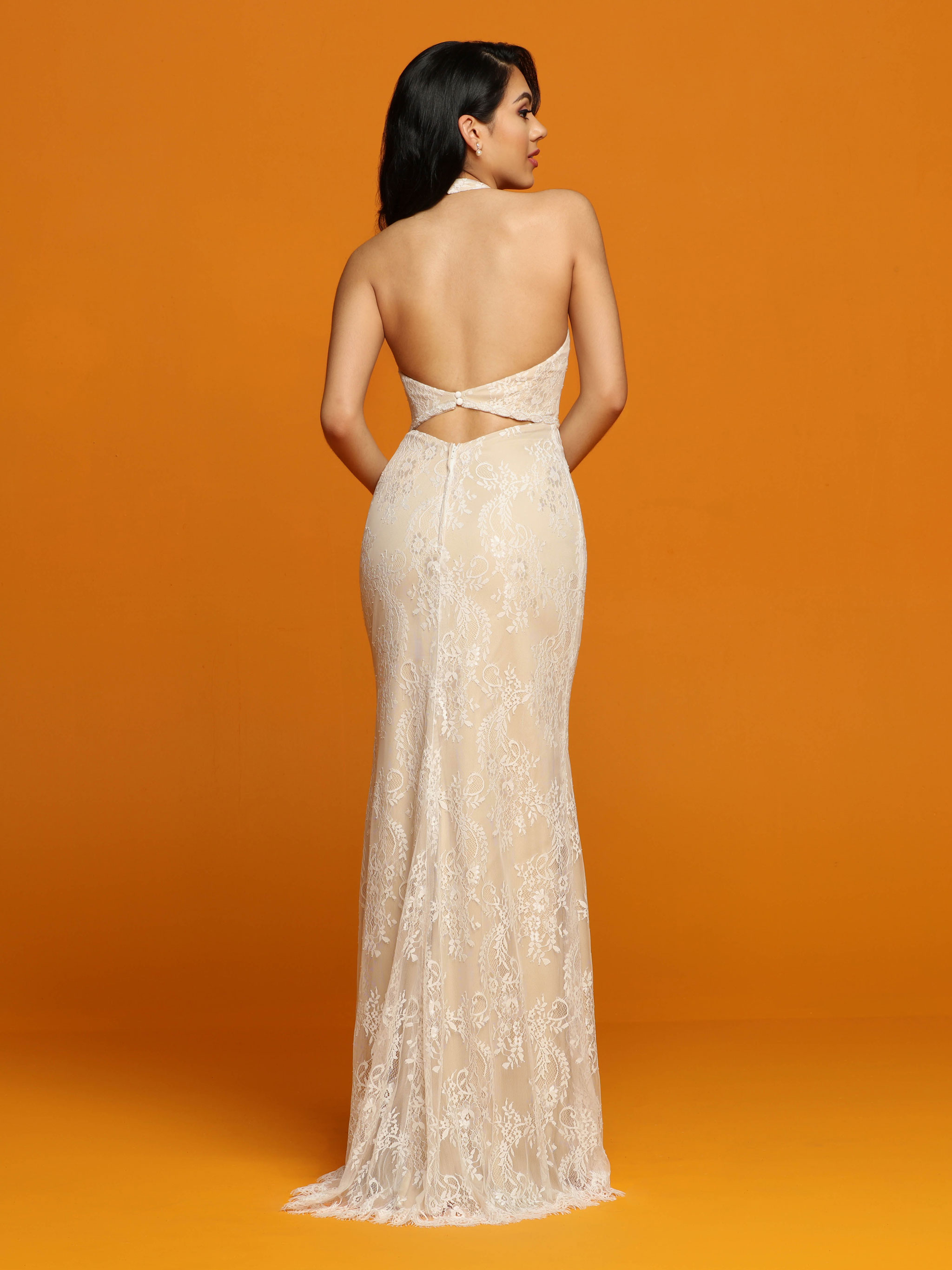 Available in: Ivory or Two-Tone Ivory/Champagne
To see more details Click HERE for DaVinci Informal Style # F7091
Informal by DaVinci Style Style #F7078 Chiffon & Lace A-Line Fit & Flare Informal Wedding Dress, Deep V-Neck Faux Wrap Bodice. Plunging V-Back, Beaded Waistband, Lace Skirt, Sweep Train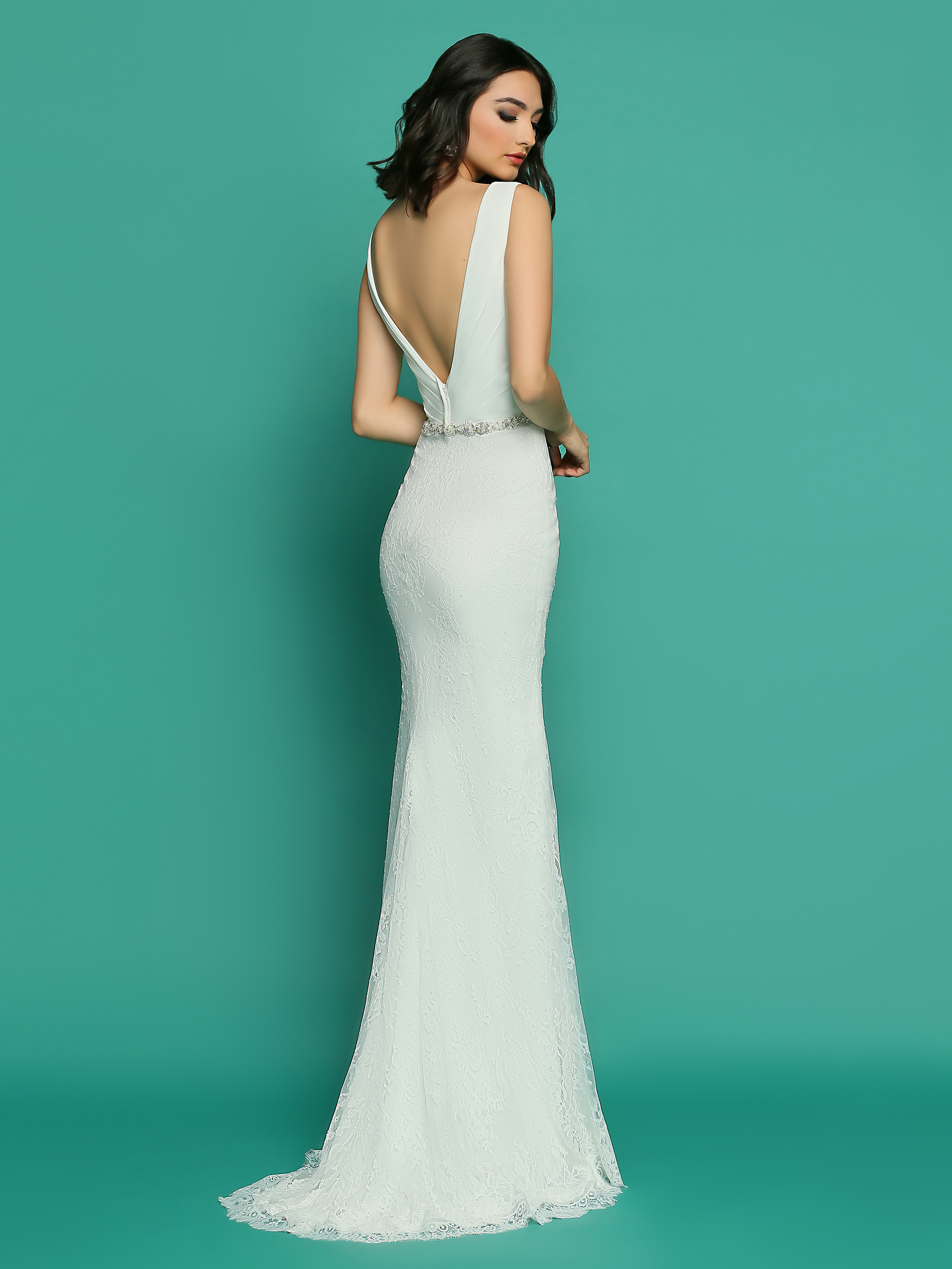 Available in: Ivory & White
To see more details Click HERE for Informal by DaVinci Style #F7078
Destination & Beach Wedding Dresses 2020 Allover Lace: Modest Necklines
Informal by DaVinci Style #F7080: Lace Fit & Flare Informal Wedding Dress, Deep V Bodice, Modest Sheer Bateau Neckline. Sheer Lace Back, Button Detail, Sweep Train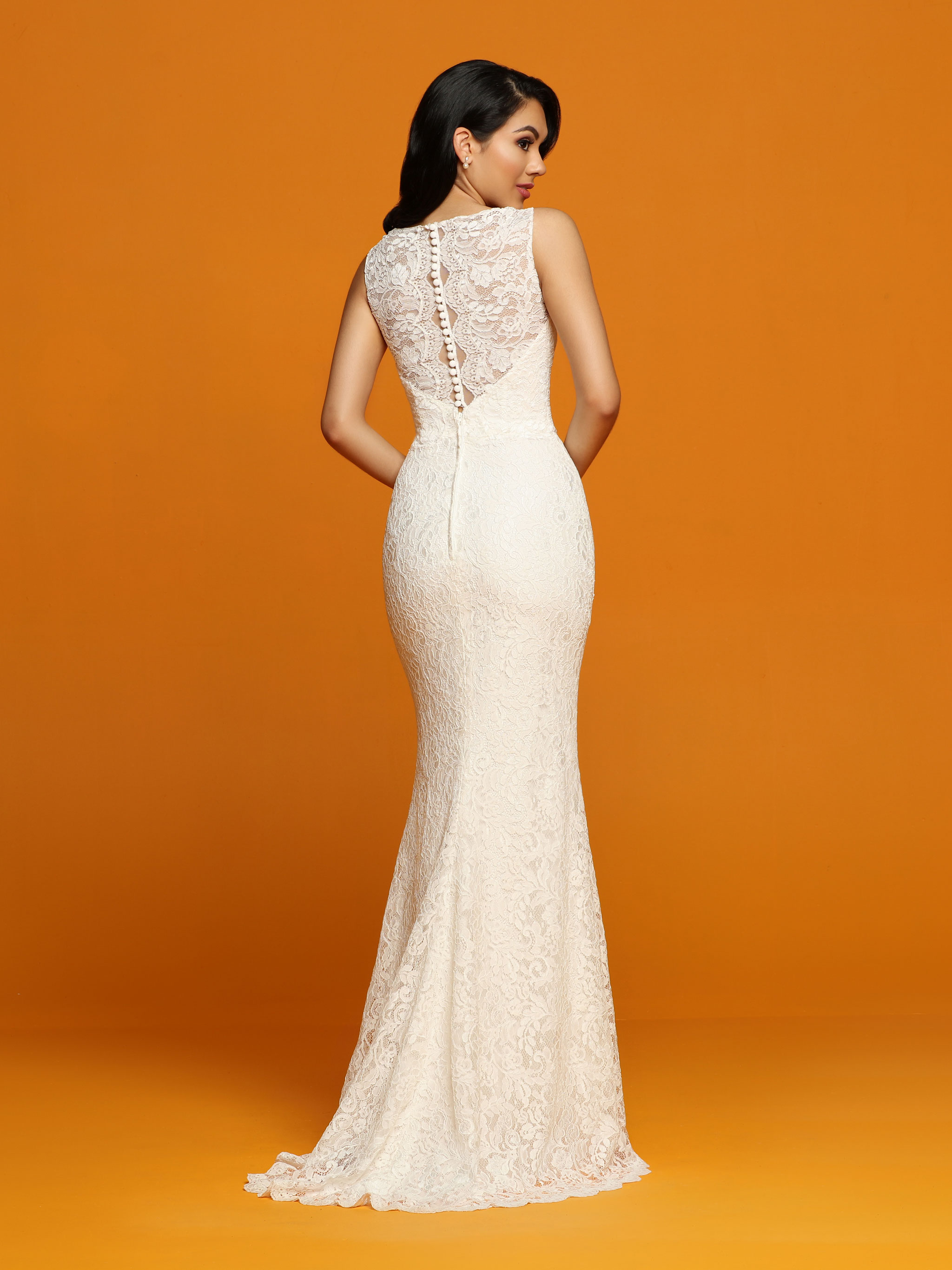 Available in: Ivory, White
To see more details Click HERE for DaVinci Informal Style #F7080
Informal by DaVinci Style #F7001: Satin & Lace A-Line Informal Wedding Dress, Modest Bateau Neckline, Sheer Lace Back, Covered Buttons, Beaded Belt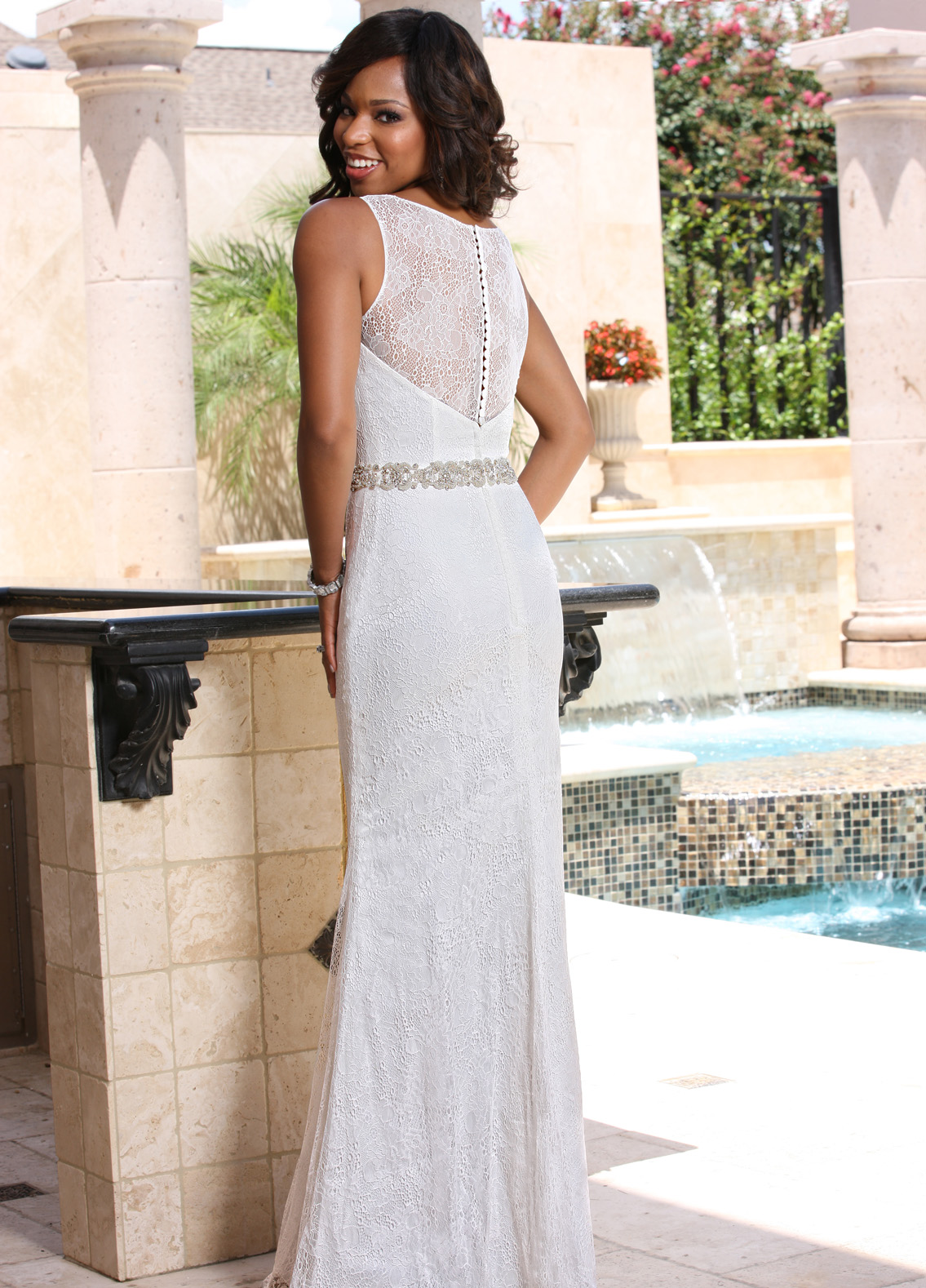 Available in: Ivory or White
To see more details Click HERE for Informal by DaVinci Style #F7001
Informal by DaVinci Style #F7056: Embroidered Lace A-Line Informal Wedding Dress, Sweetheart Neckline, Sheer Lace Back, Button Detail, Sweep Train. Matching or Contrasting Ribbon Waistband with Back Bow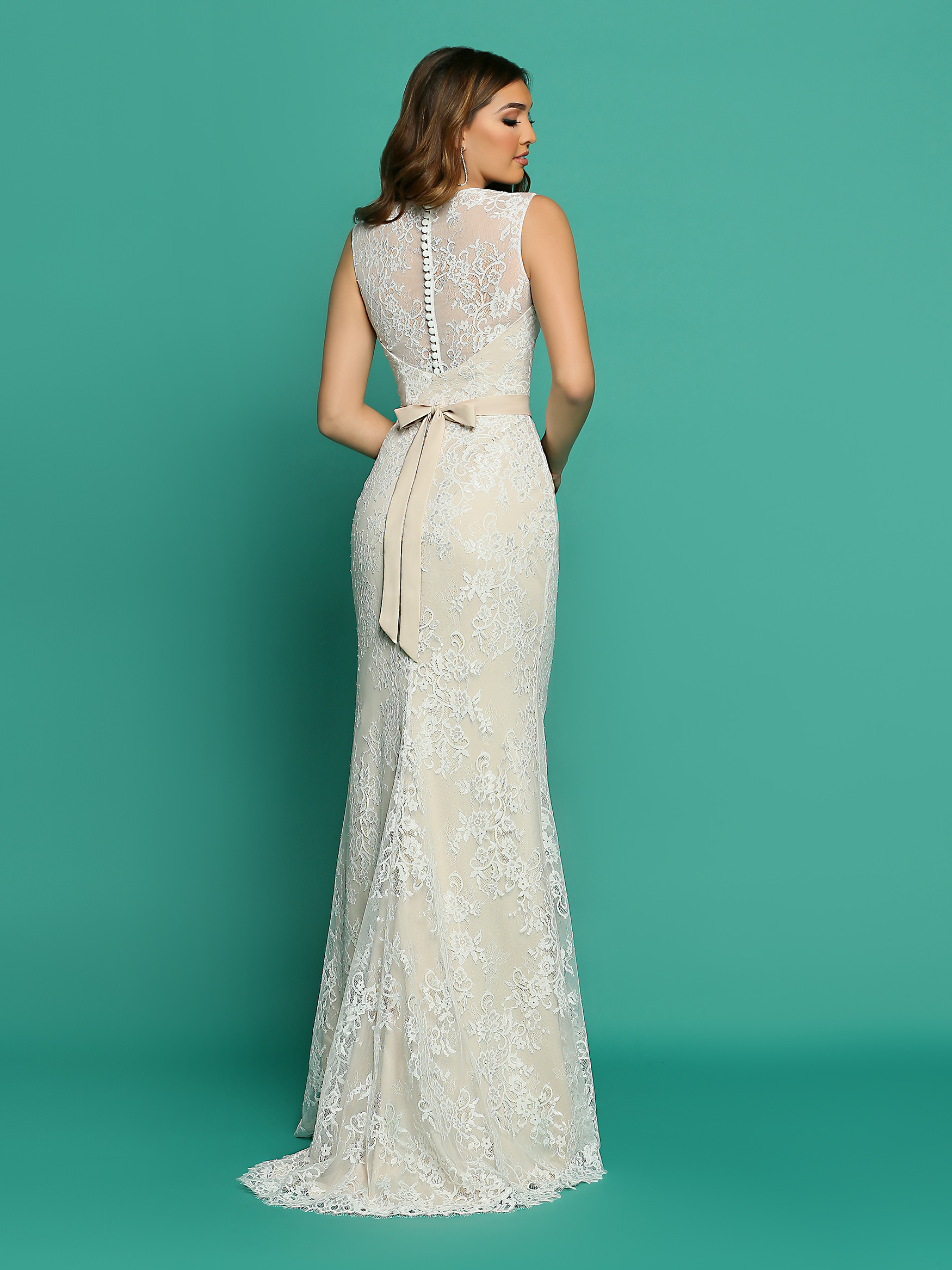 Ivory, White or Two-Tone Ivory/Champagne, White/Champagne
To see more details Click HERE for Informal by DaVinci Style #F7056
Destination & Beach Wedding Dresses 2020 Allover Lace: Long Sleeves & Extra Full Skirt
Informal by DaVinci Style #F7068 Lace A-Line Informal Wedding Dress, Strapless Sweetheart Lining. Modest High Sheer Bateau Neckline, Three-Quarter Length Sheer Lace Sleeves. Sheer Lace Back, Covered Buttons, Extra Full Back Skirt Panel, Sweep Train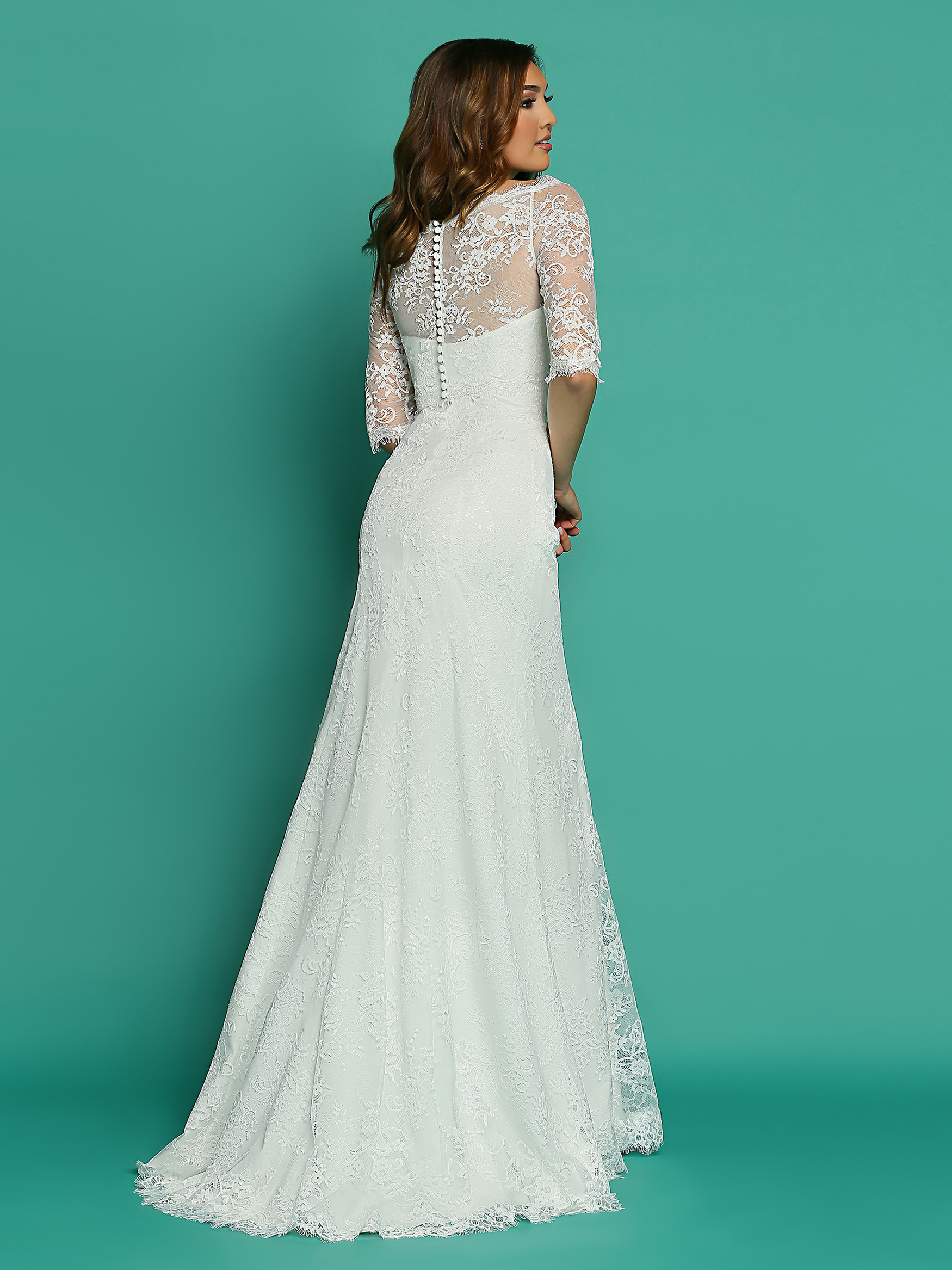 Available in: Ivory, White
To see more details Click HERE for Informal by DaVinci Style #F7068
Our new Bridesmaid Dress collection includes styles that are perfect to mix & match with your gown. There are also plenty of coordinating styles to give each of your bridesmaids an elegant individual look. Click HERE or on the image below to shop our New Lace Bridesmaid Dresses for 2020:
For our entire line of Informal and Destination wedding dresses, Click HERE or on the image below: