You won't find more beautiful styles of Long Sleeve Bridal Dresses & Wedding Gowns than DaVinci Bridal's 2021-2022 Wedding Dress Collection.
Not only will these lovely long sleeve wedding gowns keep you warm during your cold-weather wedding, but their design also makes them the perfect choice for modest brides.
We have lovely off the shoulder wedding dresses with long sleeves that still retain that modest touch as well as pretty gowns with teasing touches like slit skirts & back keyholes.
When you buy your Long Sleeve Wedding Dress from DaVinci…
You know that your gown will be created by one of the premier bridal dress companies in the world. We use only top quality fabrics fashioned into high fashion design using high-end construction. We guarantee you'll love their affordable prices. A DaVinci is the bridal dress retailers love to carry because, best of all, most of these dresses are available for rush delivery at no extra charge!
Long Sleeve Bridal Dresses & Wedding Gowns: NEW! Fall 2021
New for 2022! DaVinci Bridal Style #50701: Soft Satin Fit & Flare Sheath Wedding Dress with Sheer Bateau Neckline over Sweetheart Lining. Full Length Sheer Sleeves & Low Sheer V-Back with Lace Applique Accents on Bodice, Sleeves & Back. Skirt has Chapel Length Train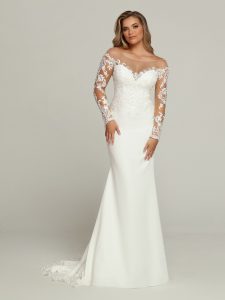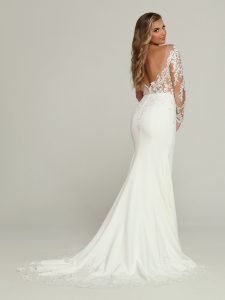 Available in: Ivory
To see more details Click HERE for DaVinci Bridal Style #50701
Long Sleeve Bridal Dresses & Wedding Gowns: Full Coverage Long Sleeve Wedding Dresses
DaVinci Bridal Style #50607: Lace & Tulle A-Line Long Sleeve Wedding Dress, Modest High Neckline, Full Coverage Back. Long Sheer Sleeves with Lace Applique & Sequin Accent. Full Skirt, Scalloped Lace Hem, Chapel Train. Available in Two-Tone Color Option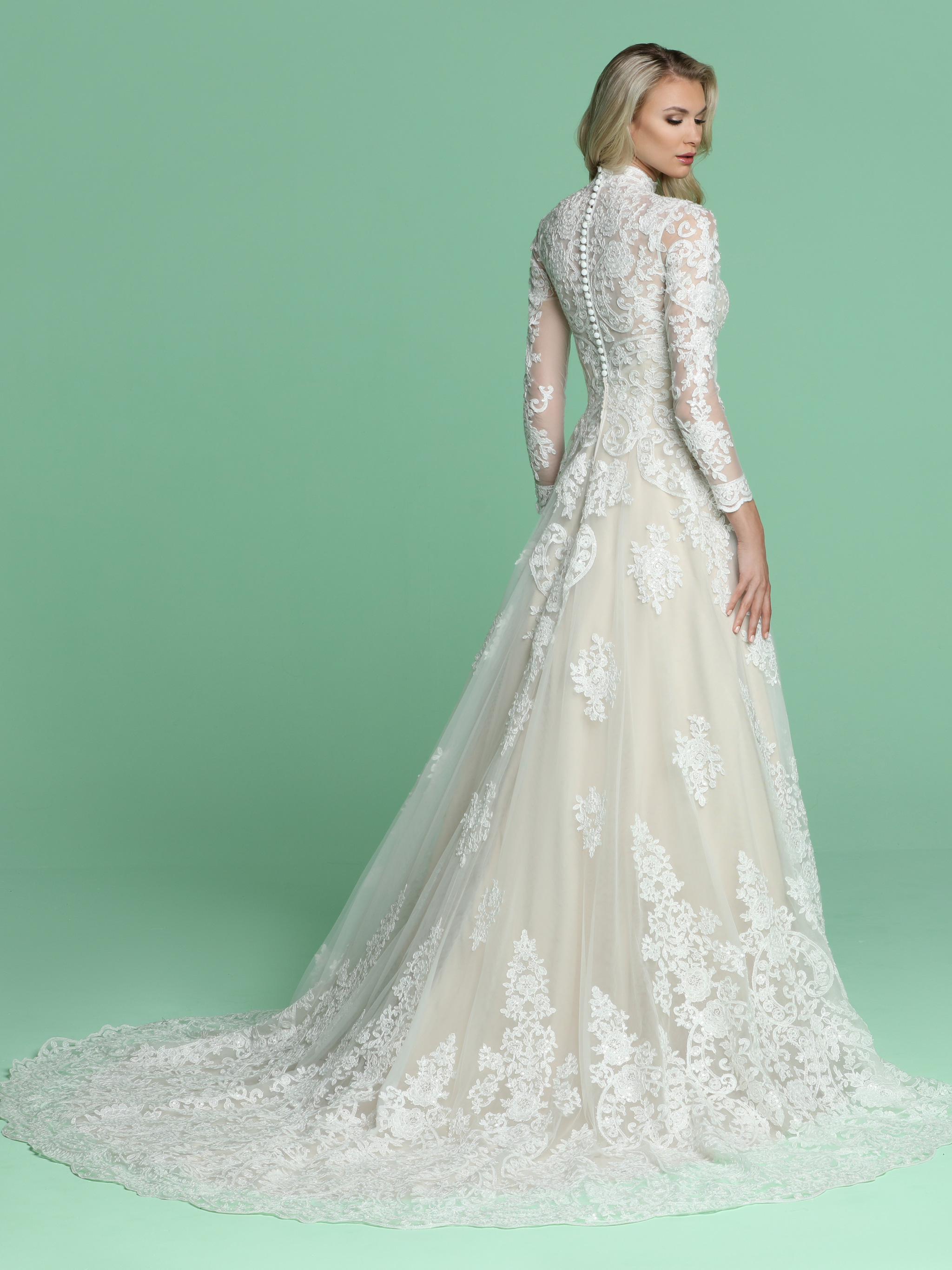 Available in: Ivory or Two-Tone Ivory/Blush
To see more details Click HERE DaVinci Bridal Style #50607
Informal by DaVinci Style #F7068 Lace A-Line Informal Long Sleeve Wedding Dress, Strapless Sweetheart Lining, Modest Sheer Bateau Neckline. Three-Quarter Length Sheer Lace Sleeves, Sheer Lace Back, Covered Buttons. Extra Full Back Skirt Panel, Sweep Train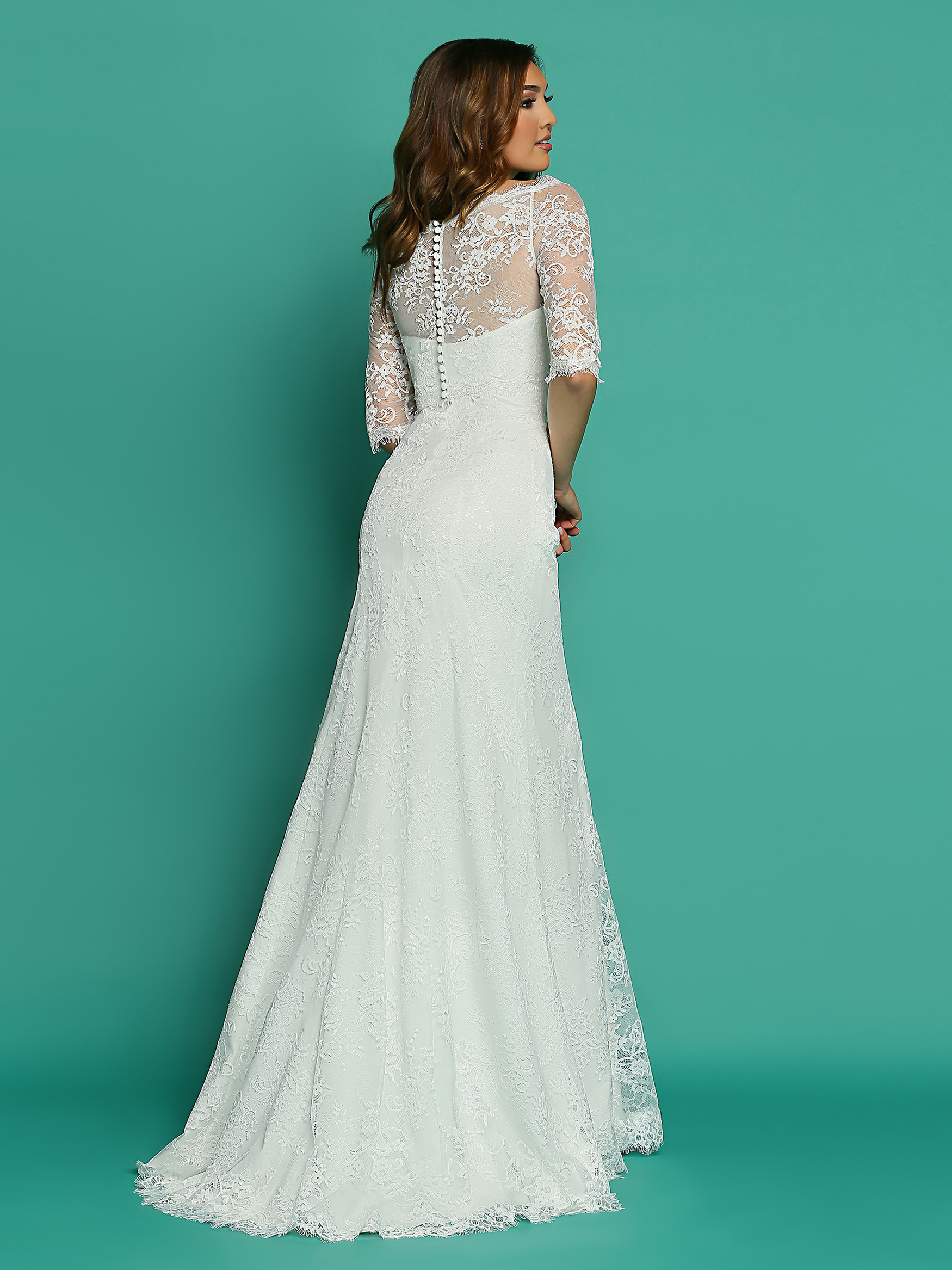 Available in: Ivory, White
To see more details Click HERE Informal by DaVinci Style #F7068
DaVinci Bridal Style #50460: Satin & Lace Fit & Flare Long Sleeve Wedding Dress, Sheer Scalloped Lace Bateau Neckline. Full-Length Sheer Lace Sleeves, Sheer Lace Back, Covered Buttons. Satin Skirt with Trumpet Style Silhouette, Chapel Train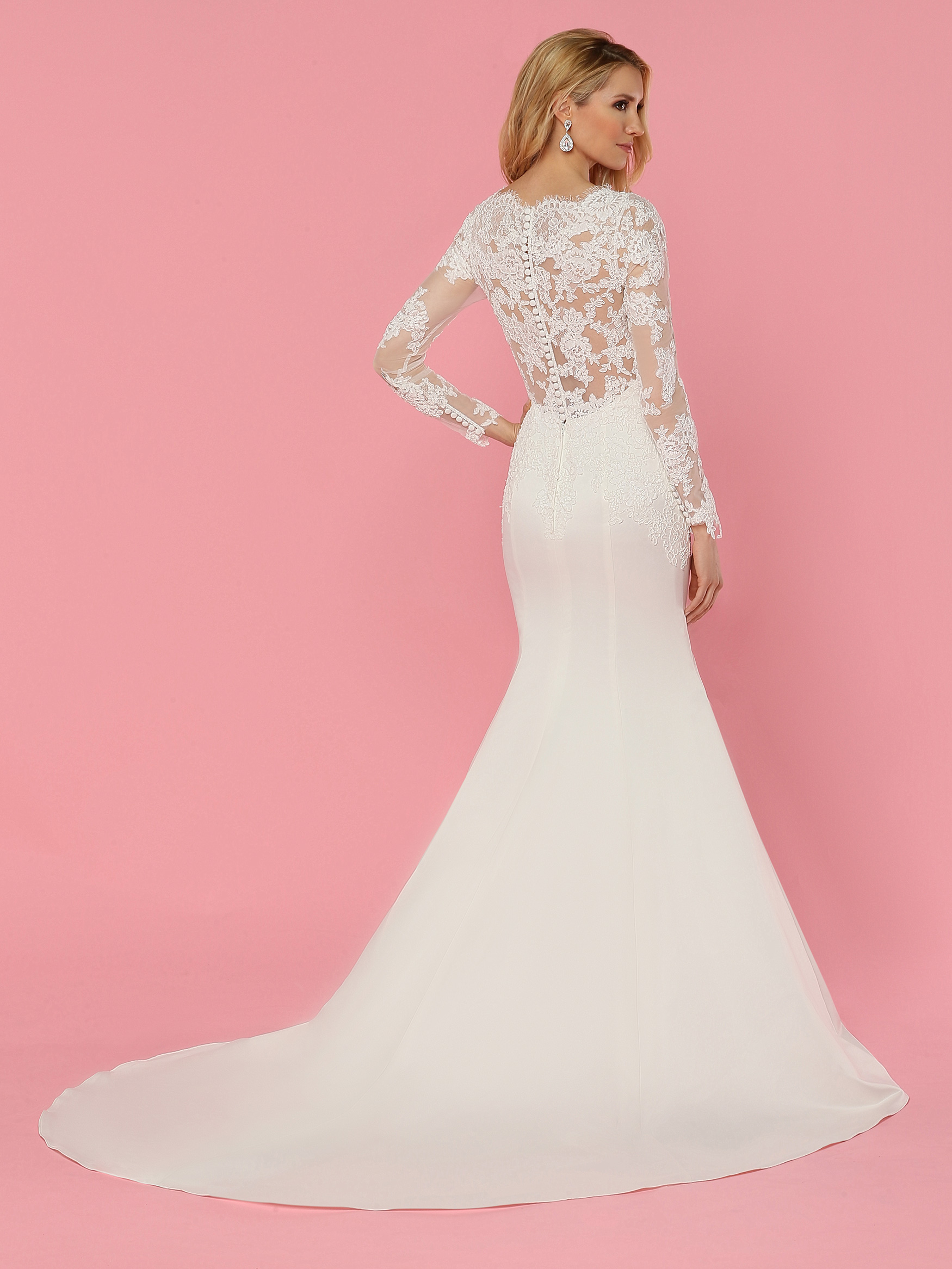 Available in: Ivory, White
To see more, Click HERE DaVinci Bridal Style #50460
Long Sleeve Winter Bridal Dresses & Wedding Gowns: Off the Shoulder Long Sleeve Dresses
New for 2019! DaVinci BridalStyle #50577: Lace & Tulle A-Line Ball Gown Long Sleeve Wedding Dress. Off the Shoulder Full-Length Sheer Sleeves with Lace Applique, Wide Ribbon Corset Back. Layered Tulle Skirt, Lace Applique Accent, Chapel Train
Available in: Ivory, White
To see more details Click HERE DaVinci Bridal Style #50577
DaVinci Bridal Style #50529: Tulle & Lace Fit & Flare Long Sleeve Wedding Dress, Off the Shoulder Bodice, Scalloped Lace Neckline. Sheer Lace Elbow Length Sleeves, Covered Buttons. Lace Applique Skirt, Scalloped Lace Hem, Chapel Train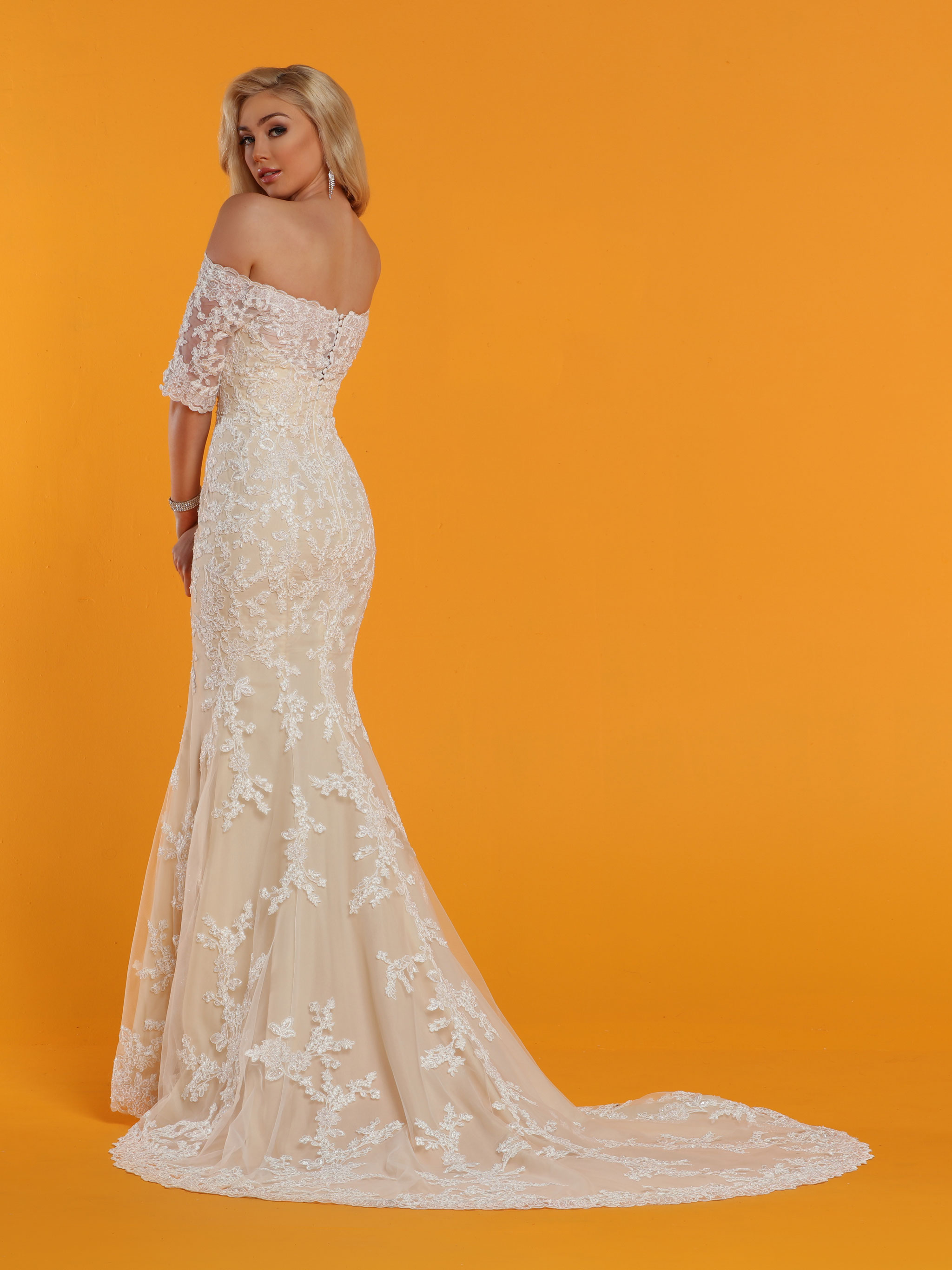 Available in: Ivory or Two-Tone Ivory/Nude
To see more details Click HERE DaVinci Bridal Style #50529
Long Sleeve Winter Bridal Dresses & Wedding Gowns: Open Back Long Sleeve Wedding Dresses
DaVinci Bridal Style #50610: Crepe Fit & Flare Long Sleeve Sheath Wedding Gown, Modest V-Neck, Plunging Deep V-Back. Beaded Lace Bodice, Long Sheer Lace Applique Sleeves, Crepe Skirt, Chapel Train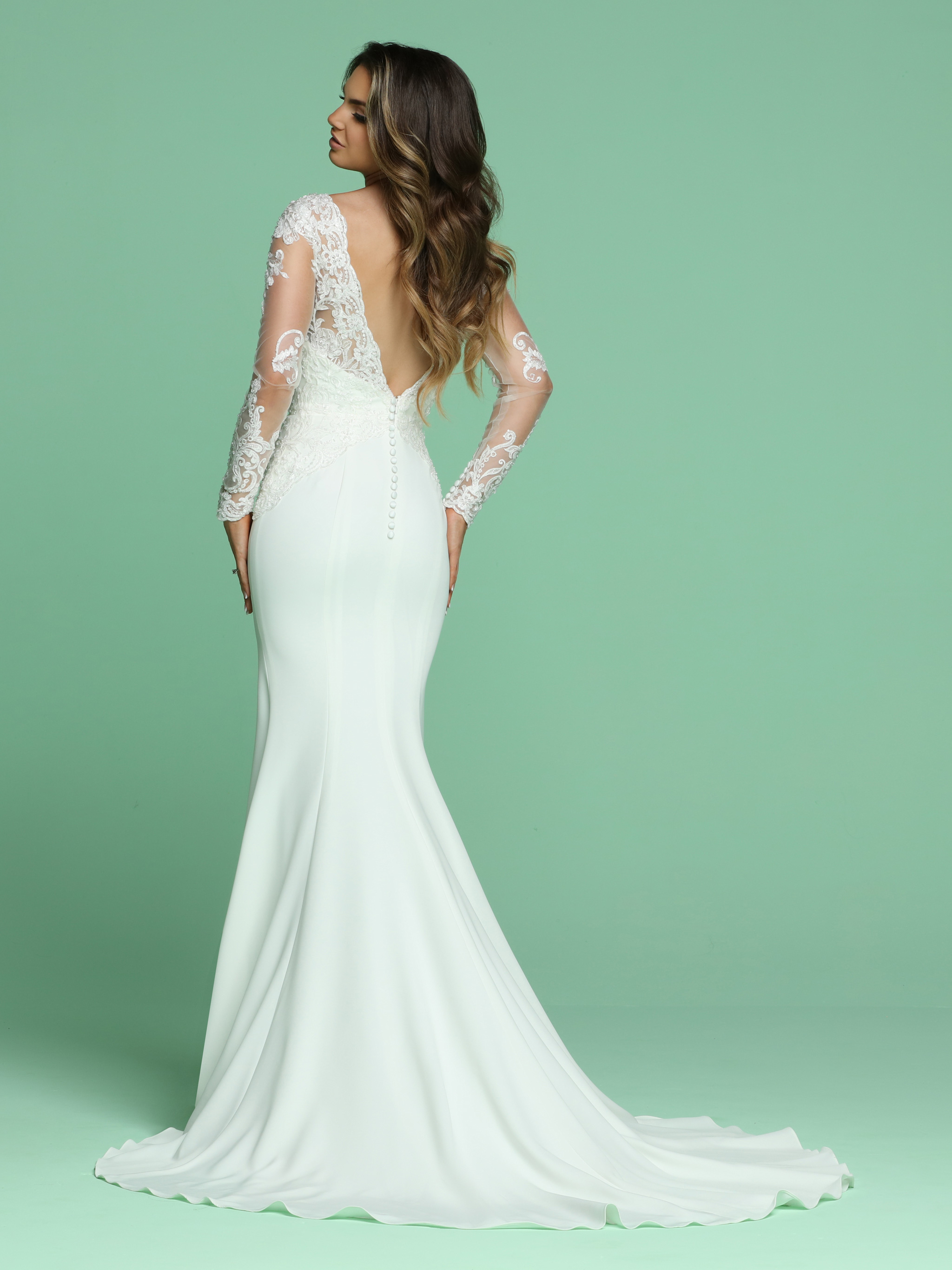 Available in: Ivory or White
To see more details Click HERE DaVinci Bridal Style #50610
Informal by DaVinci Style #F7061 Chiffon & Lace Long Sleeve A-Line Informal Wedding Dress, Strapless Sweetheart Lining. Modest High Sheer Bateau Neckline, Three-Quarter Length Sheer Lace Sleeves. Deep V-Back, Ribbon Waistband, Sweep Train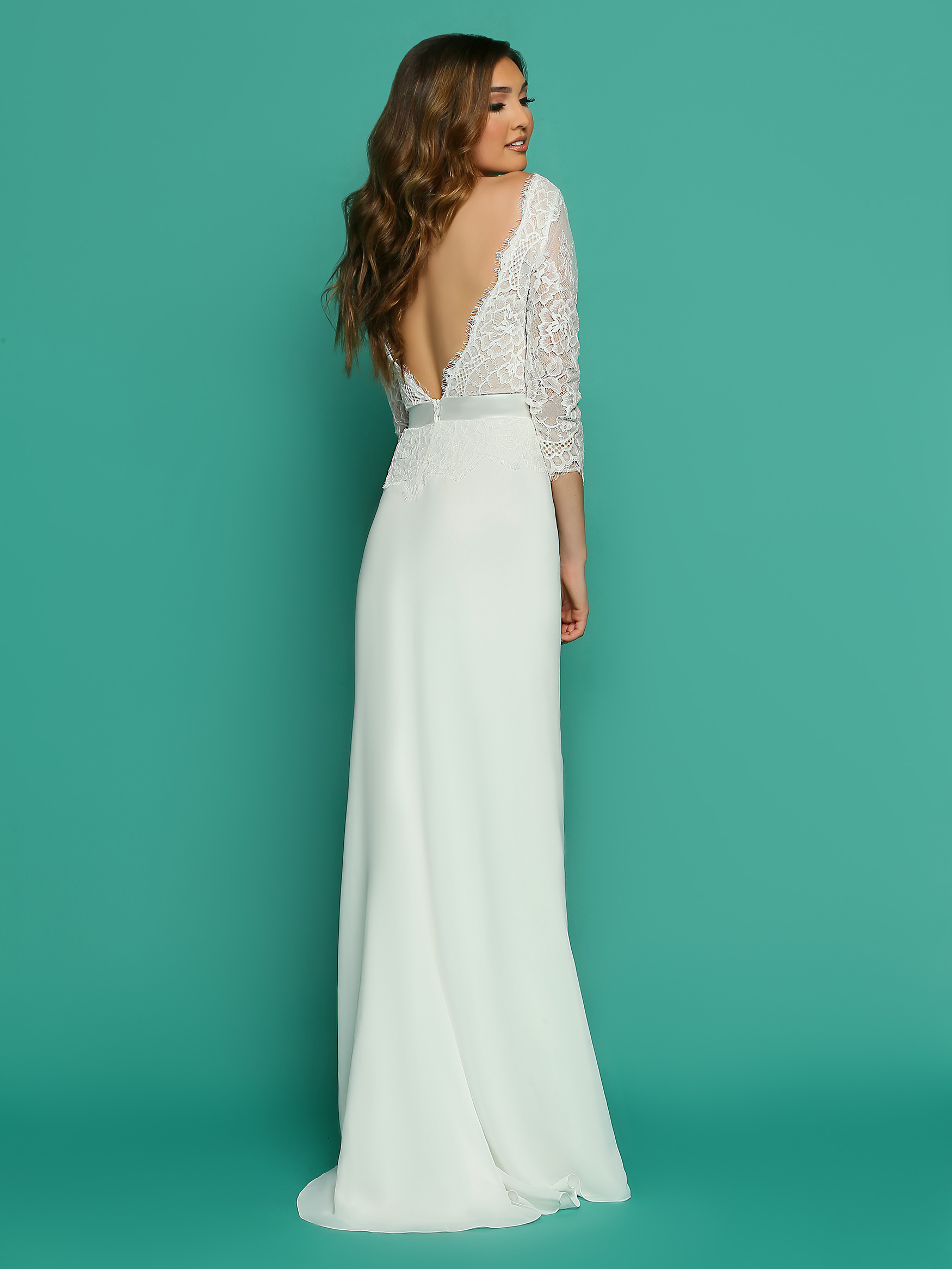 Available in: Ivory, White
To see more details Click HERE Informal by DaVinci Style #F7061
DaVinci Bridal Style #50470: Tulle & Embroidered Lace A-Line Long Sleeve Wedding Dress, Lace Sweetheart Bodice. Sheer Bateau Neckline, Open Back, Beaded Waistband, Sheer Lace Applique Sleeves. Gathered Tulle Ball Gown Style Skirt, Lace Applique Waist Detail, Chapel Train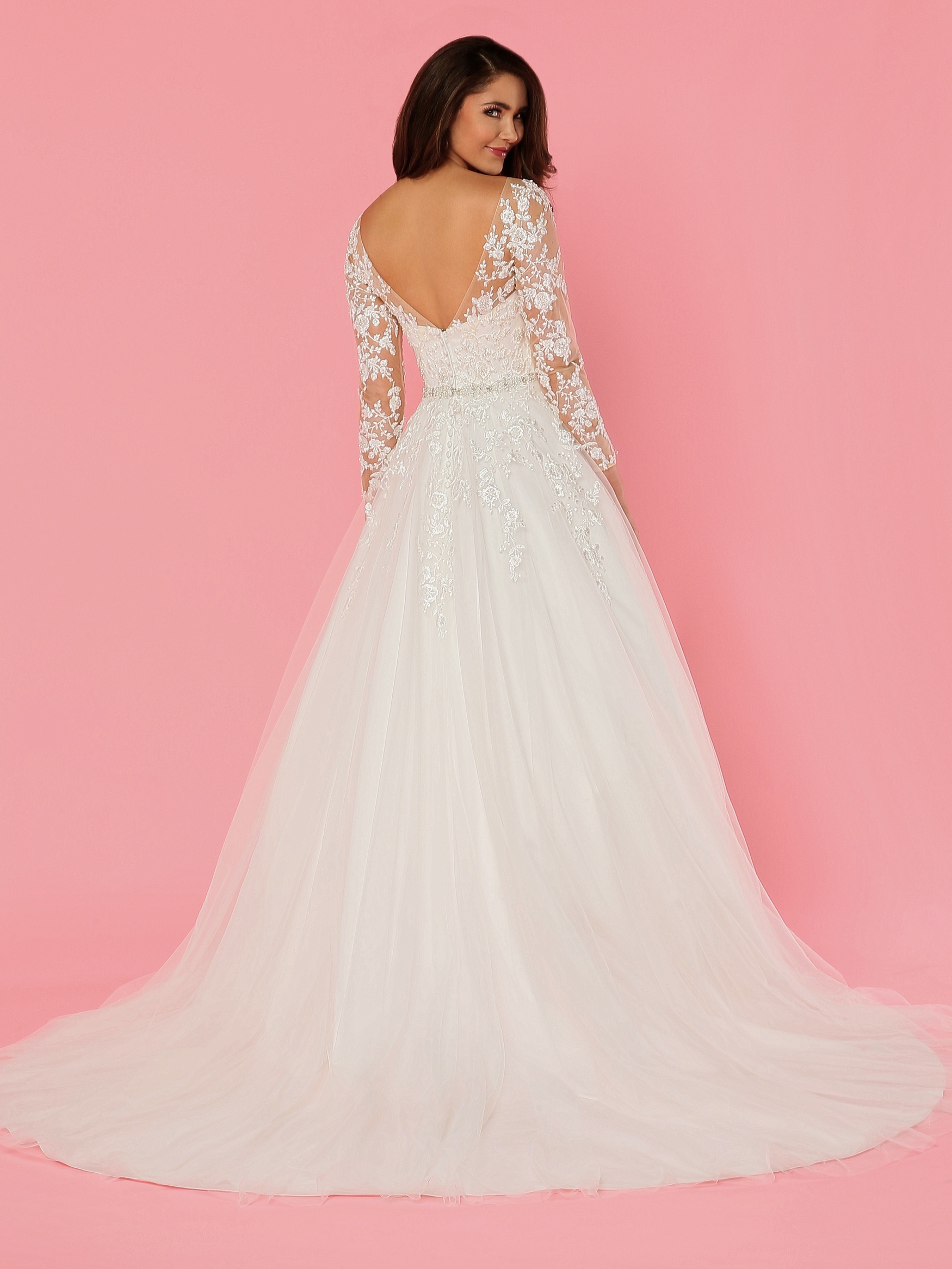 Available in: Ivory or Two-Tone Ivory over Nude
To see more, Click HERE DaVinci Bridal Style #50470
Informal by DaVinci Style #F7057 Chiffon & Lace A-Line Informal Long Sleeve Wedding Dress. V-Neck Lace Bodice, Long Sheer Lace Applique Sleeves. Deep Open Scoop Back, Sweep Train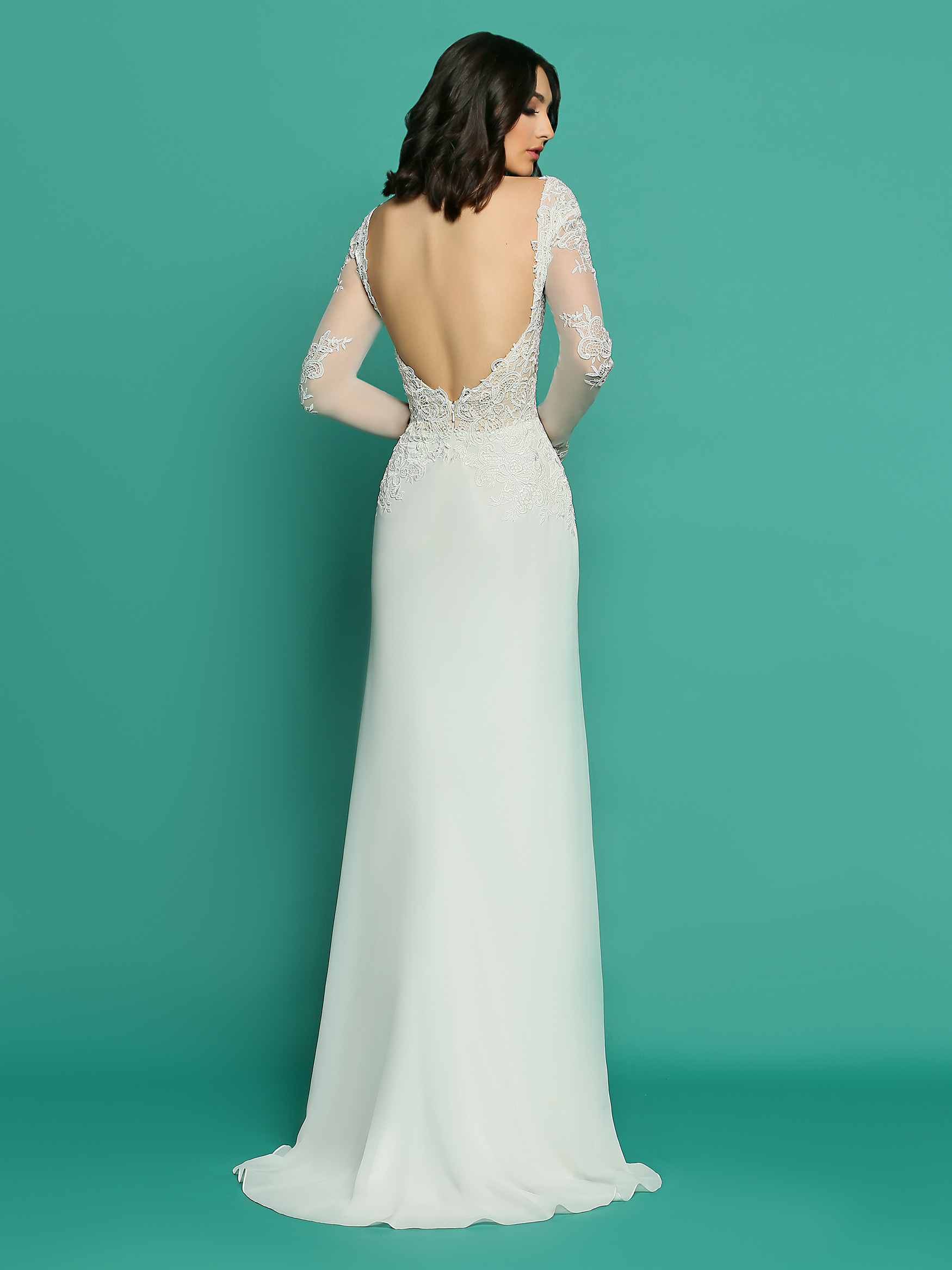 Available in: Ivory, White or Two-Tone Ivory/Champagne, White/Champagne
To see more details Click HERE for Informal by DaVinci Style #F7057
Long Sleeve Winter Bridal Dresses & Wedding Gowns: Long Sleeve Wedding Dresses with Slit Skirts
New for 2019! DaVinci BridalStyle #50596: All Over Lace A-Line Long Sleeve Wedding Dress. Modest High Neckline, Full Coverage Lace Back. Covered Buttons, Gathered Skirt, Chapel Train, Thigh High Front Slit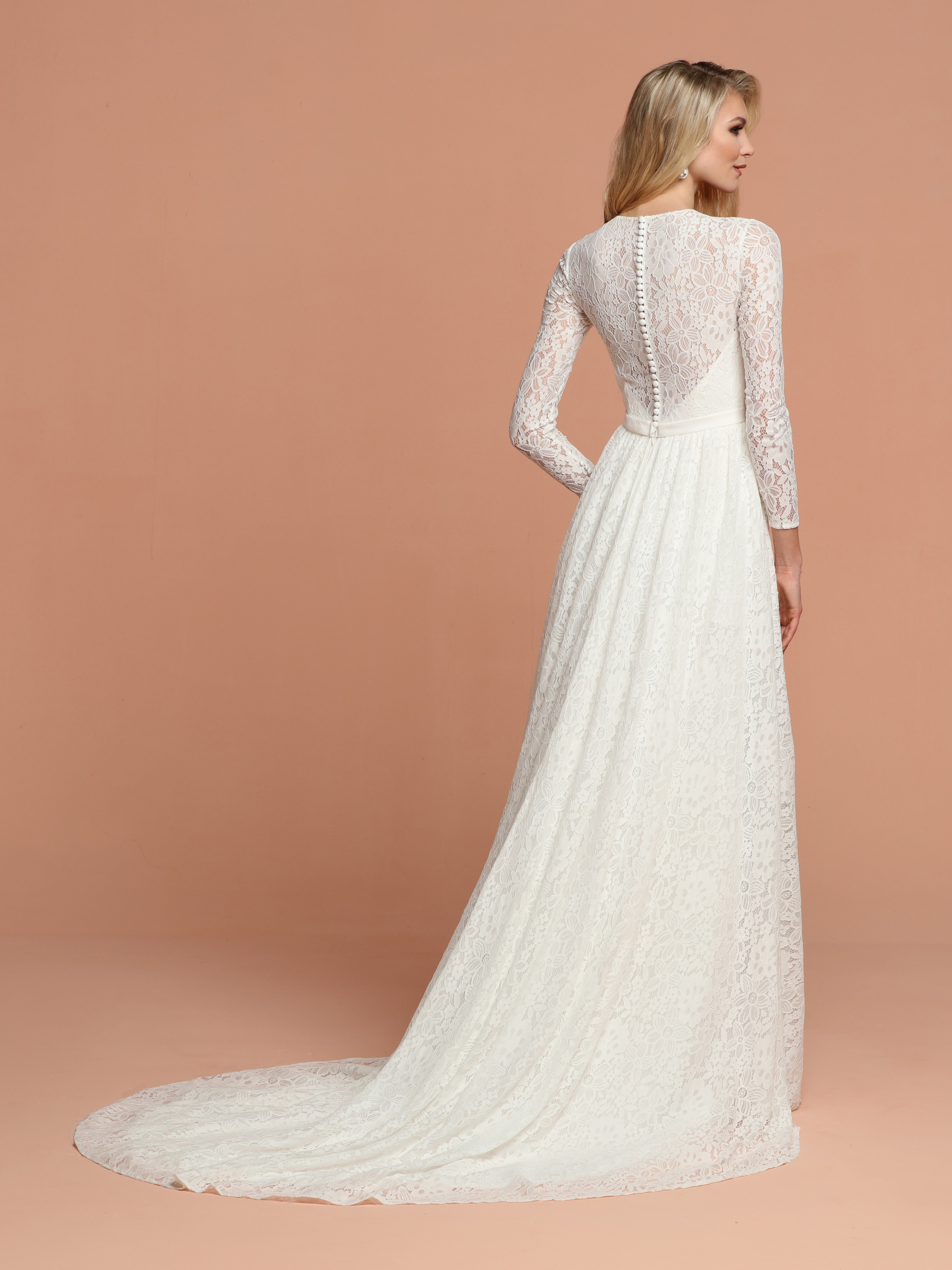 Available in: Ivory, White
To see more details Click HERE DaVinci Bridal Style #50596
Informal by DaVinci Style # F7083: Soft Tulle Informal A-Line Long Sleeve Wedding Dress. Sweetheart Bodice, Modest Sheer Bateau Neckline, Sheer Back, Sheer Three-Quarter Length Lace Applique Sleeves. Covered Buttons, Gathered Ball Gown Style Skirt, Thigh High Front Slit,  Sweep Train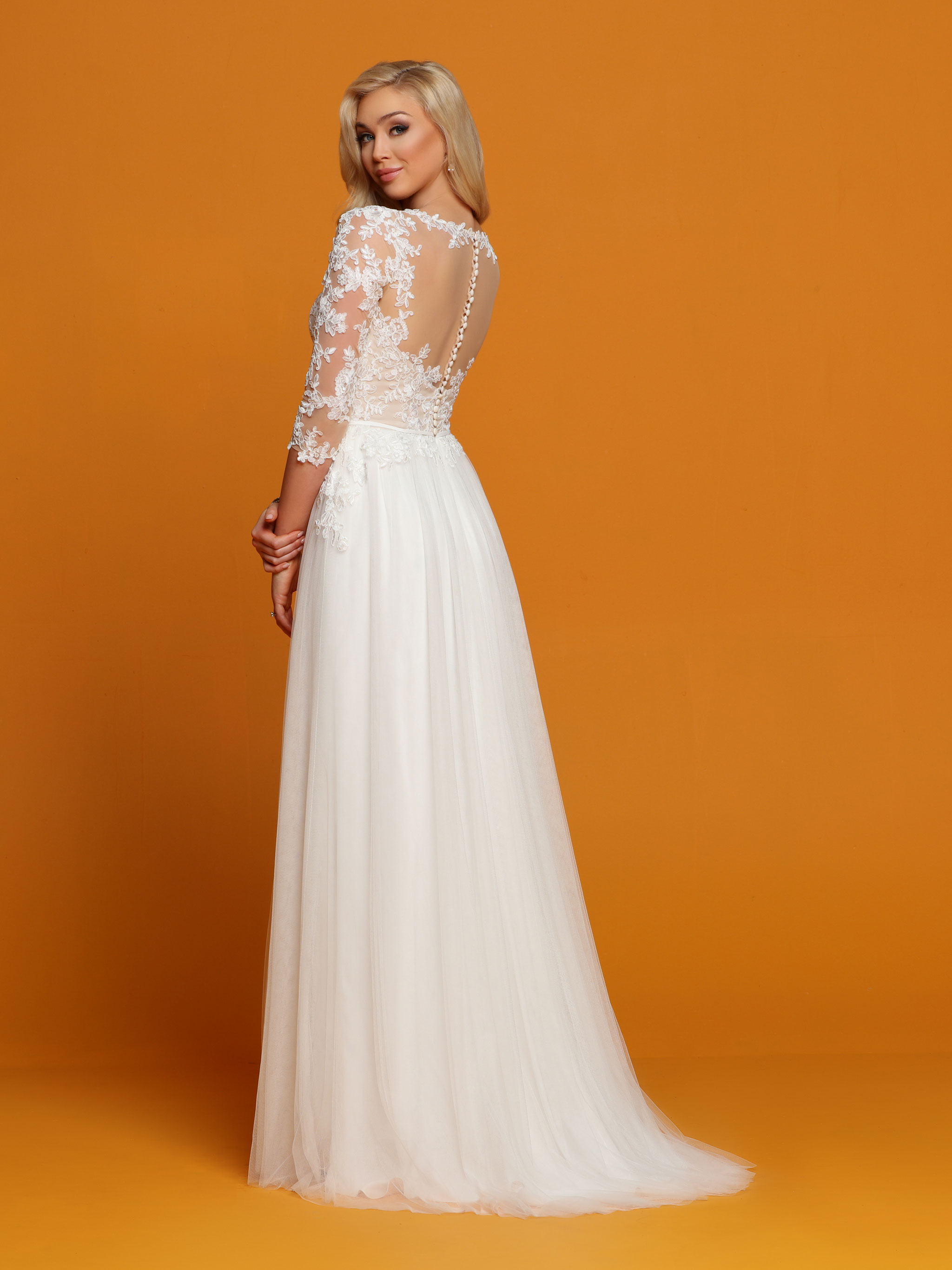 Available in: Ivory or Two-Tone Ivory/Nude
To see more details Click HERE for DaVinci Informal Style # F7083
Long Sleeve Winter Bridal Dresses & Wedding Gowns: Long Sleeve Wedding Dresses with Keyhole Back Detail
New for 2019! Informal by DaVinci Style #F115: Crepe & Point D'Esprit Fit & Flare Long Sleeve Wedding Dress. Sheer High Neckline, Full-Length Sheer Sleeves with Lace Applique, Sweep Train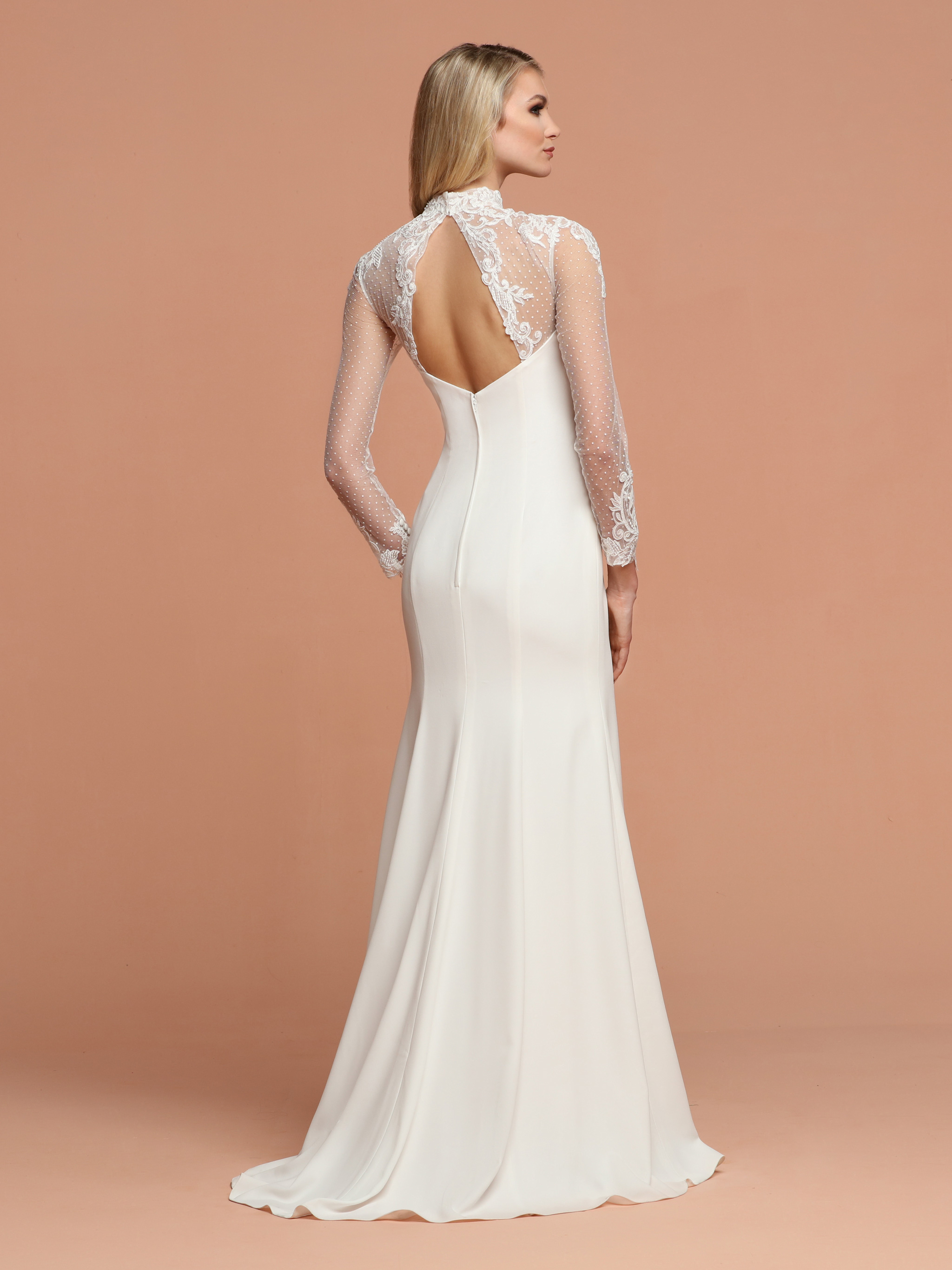 Available in: Ivory, White
To see more details Click HERE Informal by DaVinci Style #F115
DaVinci Bridal Style #50516: Tulle & Lace Fit & Flare Long Sleeve Wedding Dress, Lace Bodice, Sheer Bateau Neckline, Full-Length Sheer Lace Sleeves. Cut Out Back, Covered Buttons, Lace Applique Skirt, Chapel Train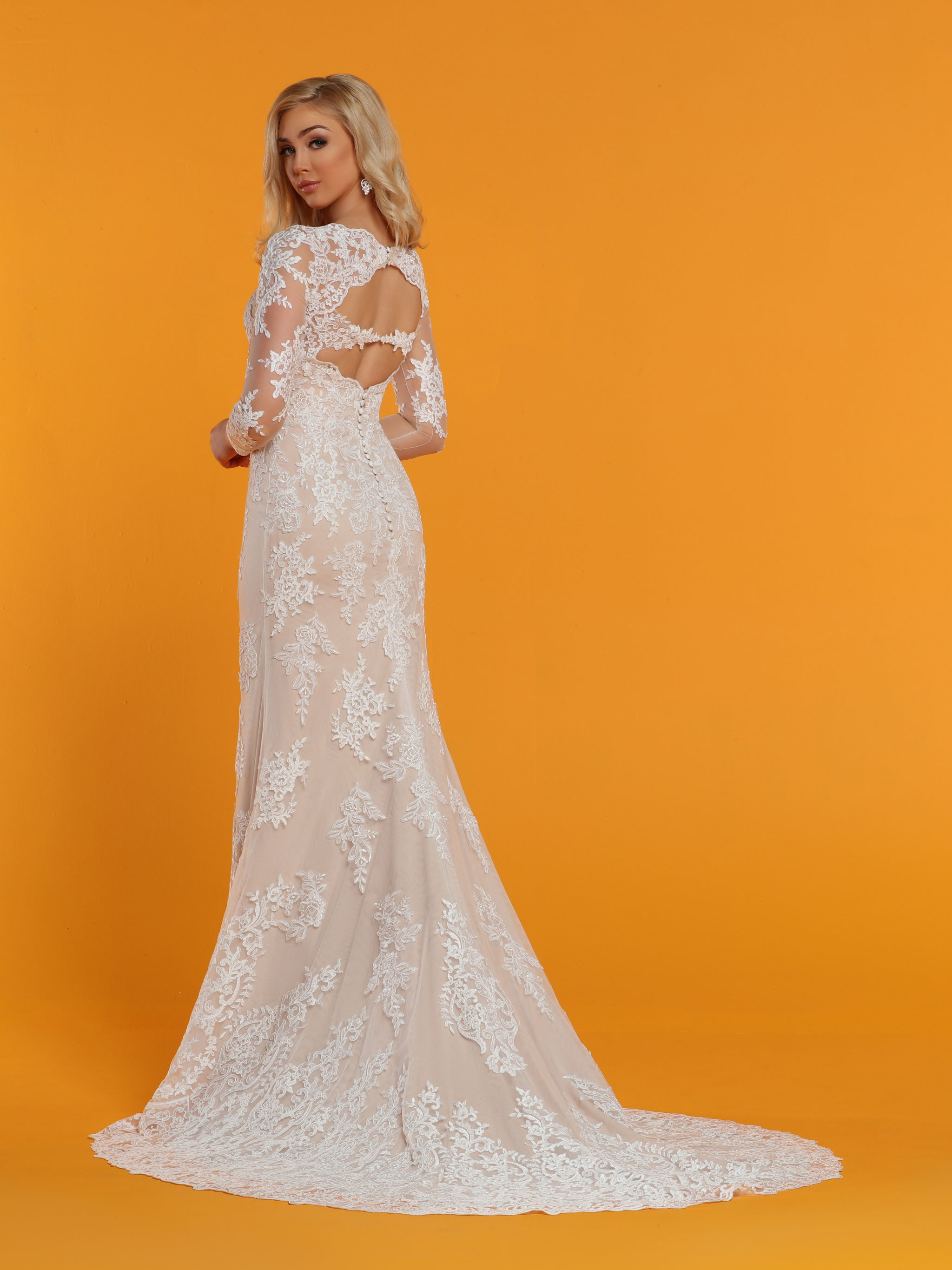 Available in: Ivory or Two-Tone Ivory/Nude
To see more details Click HERE for DaVinci Bridal Style #50516
Have you seen our brand new formal wedding dresses? Click HERE or on the image below for an exclusive New 2021 Wedding Dresses Sneak Peek: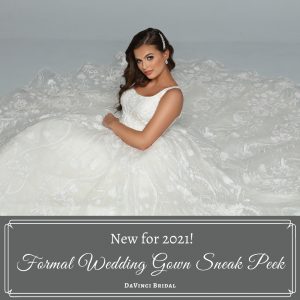 For more Informal wedding dress ideas for Winter & Destination Weddings, Click HERE or on the image below to shop Informal Wedding Dresses by DaVinci: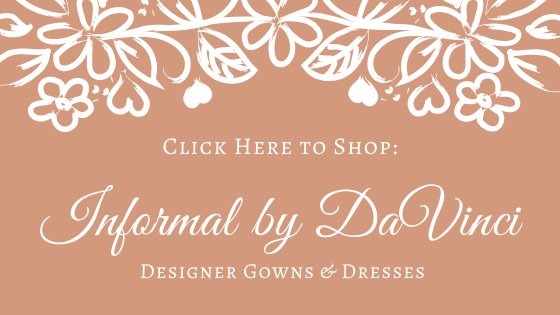 You'll find our entire collection of wedding dresses, starting with our 2021 collection, on our home page. Click HERE or on the image below to shop DaVinci Bridal Wedding Dresses & Gowns: