For many years, wearing a veil was a no-brainer. Today? If you're stumped, we can help with our Veil or No Veil Ultimate How to Decide Guide.
As times goes along, some things change more quickly than other, and some things don't change at all. So it goes with bridal fashion and especially veils.
Just like everything else involving your wedding, your choice of veil—or choice of no veil—will reflect the styles of the weddings around you, the current wedding trends, and your personal preference. You may even question whether you "have to" wear a veil at all.
To help you make the decision of whether to veil, not to veil, and what options there actually are, here's a little information for your consideration.
Veil or No Veil? Ultimate How to Decide Guide
Traditional Stance: Veil Mandatory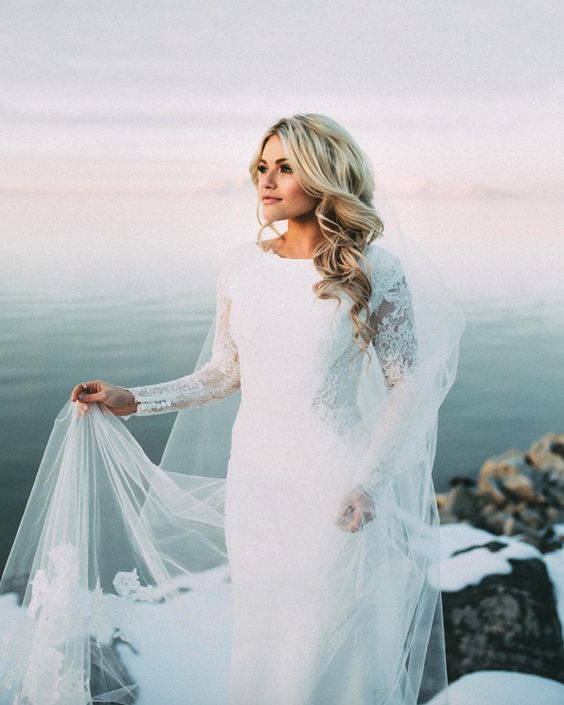 In older traditions, veils are still one of the most vital elements in the bride's wedding attire. Classical thought holds that a woman should best represent virginity by wearing her hair long and loose and pairing that virginal hair with a veil. Tradition also holds that once the groom lifts the veil from the face of his bride, he has taken possession of her heart, soul, and her body. In line with that tradition, which really is lovely and romantic, many brides choose to wear a veil on their wedding day.
The Veil Distinguishes the Bride
Most certainly your veil is one of the things that will set you apart from the bridesmaids. This can be helpful especially because these days, many wedding dresses look more like a ball gown than a traditional wedding dress, so a veil is a definite indication that you are the one getting married. It also lends a certain credibility as the bride of the wedding.
A Veil can Dress Up your Look
If you've chosen a sophisticated and streamlined wedding dress and want to let the cut of the dress make the statement, wearing a simple veil can complete your look and separate you from a "too simple" bridal look. Witney Carson's simple lace sheath and yards of tulle veil is a perfect example.
Wear Less Veil when adding Hair Adornments
If you want a more dramatic accessory such as a tiara or hair ornaments, adding a veil can complete your look. However, you should probably opt for a shorter veil in order to emphasize the rest of the hair decorations.
Veil or No Veil? Ultimate How to Decide Guide
Basic Veil Style Guide
If you decide to wear a veil, you'll face a multitude of choices and decisions. In choosing the veil that you want to wear on your wedding day, here are some classic styles to choose from:
Blusher Veil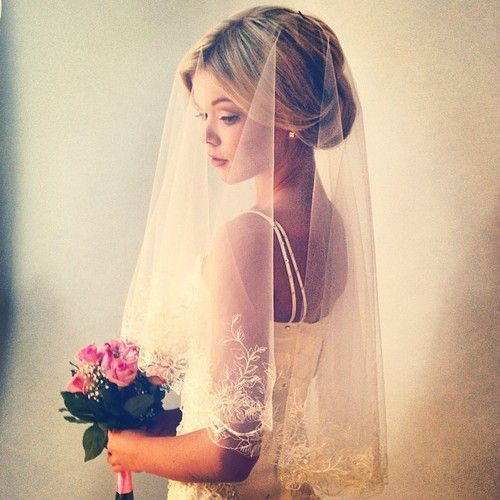 A blusher veil is one simple layer that's placed over the face. It's usually shorter as compared to other types of veils, and during the ceremony, the groom lifts this veil over the back of the bride's head to reveal her face. This kind of veil is perfect for those who choose a simple wedding gown for a semi-formal wedding.
Cathedral Veil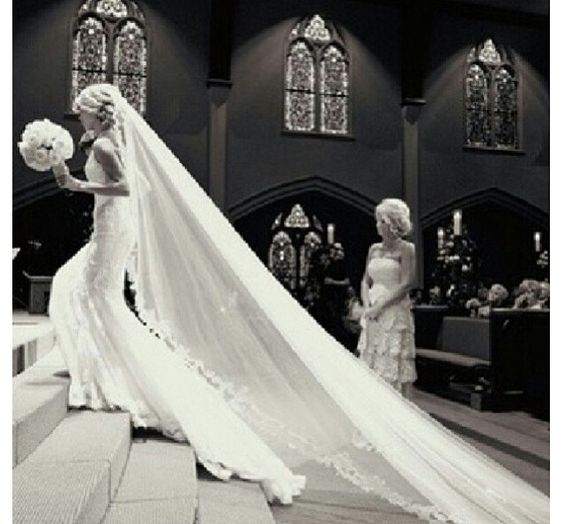 A cathedral veil follows anywhere from 3 or 4 feet to as much as 10 feet past the hem of the gown. If you're wearing a full-skirted wedding dress, you can pair it with a cathedral train and complete the look with a blusher veil. This will create a decidedly dramatic effect as you walk down the aisle—just like the princess from your favorite childhood fairy tale movie.
Chapel Veil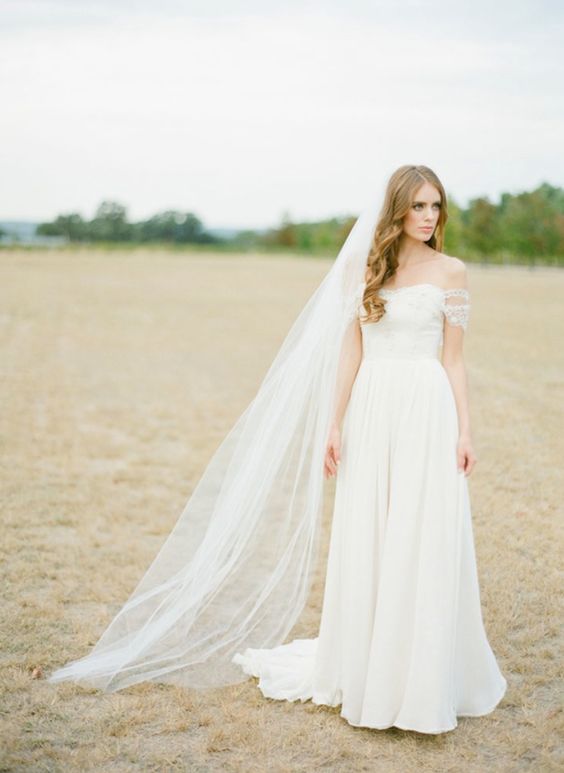 The chapel veil is for the bride who wants to create a gentler but still dramatic effect. It trails and follows on the floor either an inch or two but no more than perhaps a foot past the hem of your gown, and often comes with multiple layers or a blusher veil. The chapel veil is best worn with a full-skirted dress for a very formal wedding celebration.
Fingertip Veil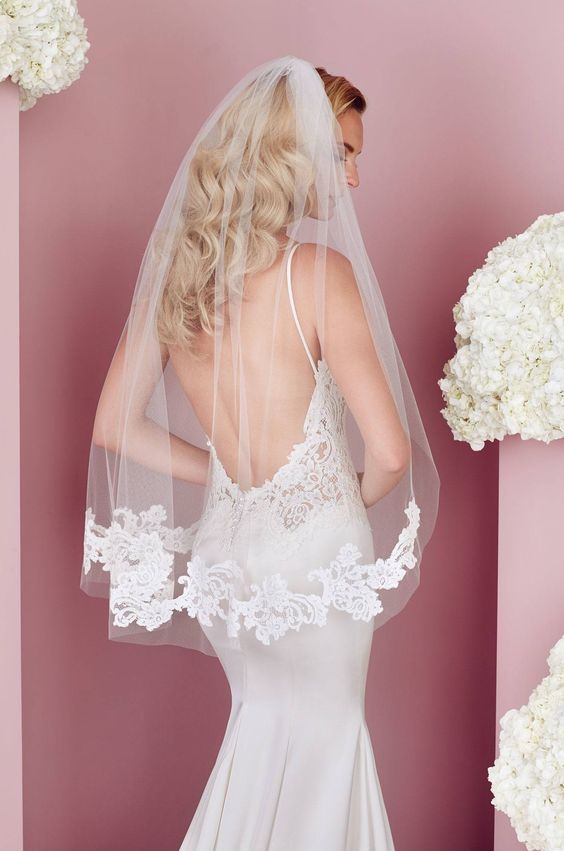 This veil will reach the tips of your fingers when you relax your arms. If you're planning to wear a ball gown on your wedding day, this may be the perfect veil for you.
Double Tier Veil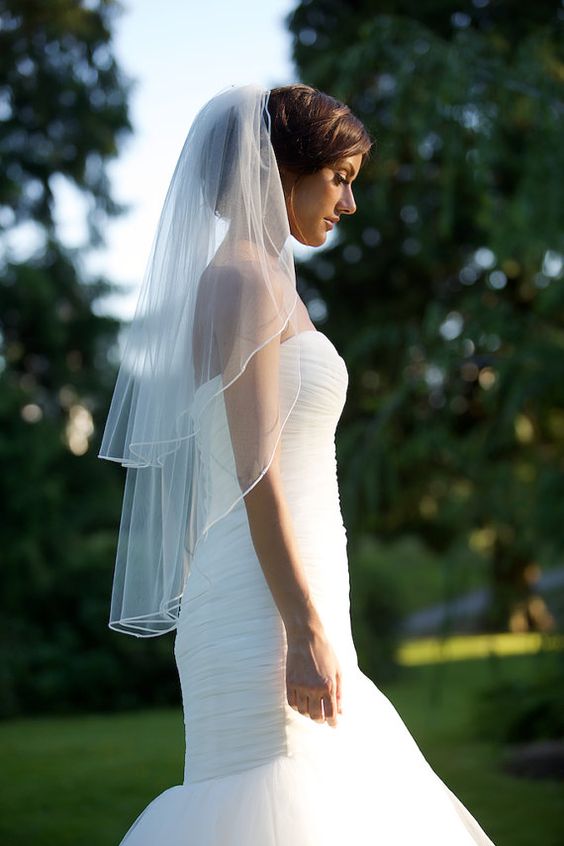 If you want a simple yet elegant look, opt for a double tier veil. It usually consists of two different veils of various lengths and it is perfect for almost any gown. Common combinations include:
Blusher & Elbow Length

Blusher & Fingertip

Elbow Length & Fingertip
Veil or No Veil? Ultimate How to Decide Guide: On-Trend Alternatives
Skirt Veil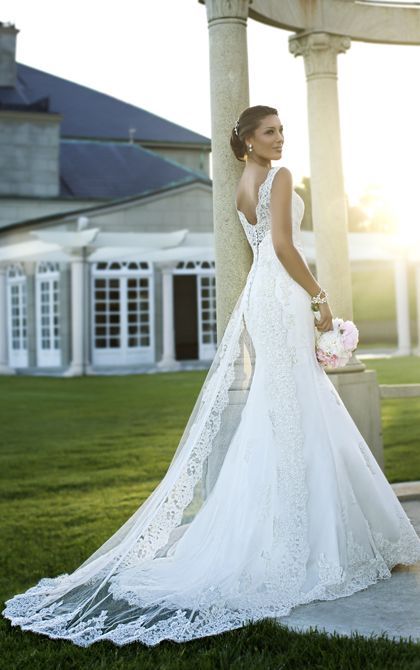 This is a truly unique option and is similar to a removable train. But instead of an opaque fabric like silk, you have a detachable "train" of lace and illusion. A skirt veil may be the best of both worlds because you get to have a veil—that doesn't pull on your head or neck—and you get to have a long, long train—that doesn't have to be bustled. You just unhook it!
A Vintage Touch: the Birdcage Veil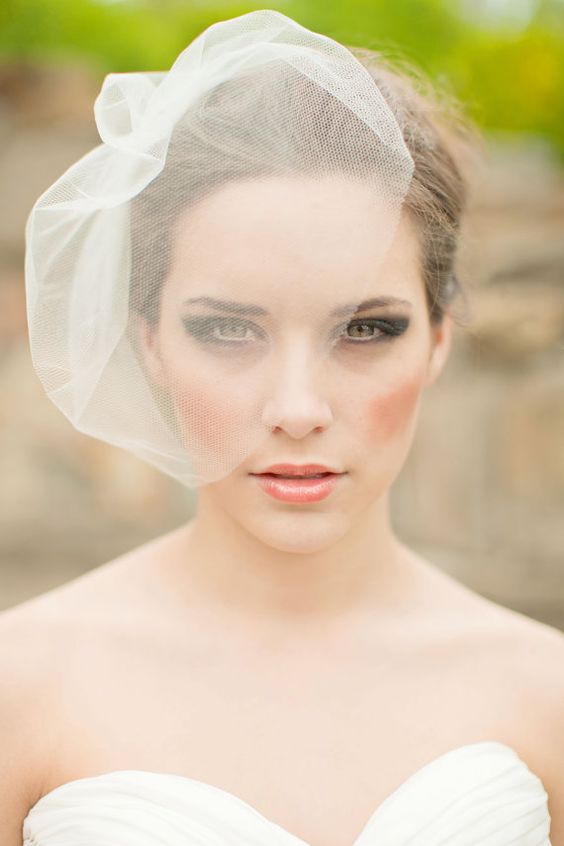 A lovely trend with its origins in the 1940s, the birdcage, or "fascinator" veil, is a classic. It can be a stand-alone wisp of illusion or net attached to a hair comb, or to a little hat, or pinned directly into your hair. A birdcage is pretty much perfect for every bridal dress style, anything from a simple wedding suit to a daring designer gown.
Veil or No Veil? Ultimate How to Decide Guide
No Veil Required!
There are so many gorgeous bridal hairstyles out there today that many brides opt to show off their beautiful hair and skip the veil entirely. There are also lovely floral and non-floral options—flower crowns, jeweled combs, multiple decorative hairpins—you can create a stunning and formal bridal look without even a blusher veil.
From tiny tiaras, flowers, crystal hair pins, barrettes and other hair ornaments, there are literally dozens to choose from to replace the veil. A veil-less look also works well if your officiant doesn't require you to wear a veil.
Still Stumped? Consider Others' Opinions
To make your job easier, why not ask your parents and/or your husband to be if they prefer you wear a veil or not? In the end, though, it all depends on what you want.
Long gone are all the rules and regulations that require a veil or even dictate its length. These days it's up to you, your fiance and family, and your personal sense of style that make you feel good and look good on your wedding day.
You can also check out what Real Brides decide.
Click HERE or on the image below for Wedding Wire's article Veil or No Veil? Real Brides Weigh In: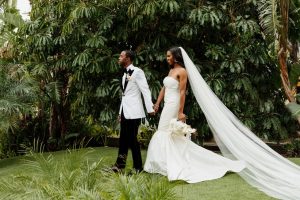 Photo courtesy of Wedding Wire & Porterhouse Los Angeles
Still waiting to reschedule your wedding? It doesn't matter why you had to postpone, but don't let your original date go by without a celebration. Click HERE or on the image below for 8 Ways to Celebrate Your Original Wedding Date: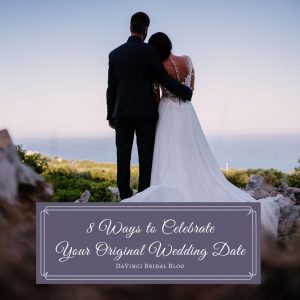 For the very best collection of great ideas for planning your wedding and adapting to circumstances that may have delayed your big day, Click HERE or on the image below for DaVinci Bridal blog: