Dresses
Color Me Beautiful: Top Tips for Choosing the Shade of Your Wedding Gown
Your wedding dress is one of the most important elements in your wedding, so you want to choose carefully. It used to be that every wedding came with a beautiful white gown worn by a radiant bride. Nowadays, the "plain white wedding dress" isn't as much in vogue. Some brides emphasize their color scheme by using colored laces, ribbons, and beads on a white gown. Others either choose solid color wedding dresses or choose gowns made of fabrics with a color print. But the most important thing to keep in mind when it comes to selecting your wedding gown is how it looks on you. Aside from the silhouette and neckline, your wedding dress needs to enhance your skin tone and reflect your personal style.
Fair skin ranges in shades from light white to English rose. To complement your skin, choose a wedding gown in a warm shade of white with yellow undertones.
If you tan without burning, choose a creamy white dress to look amazing.
Medium with Pink Undertones
You'll glow in creamier ivories. With the fabric's yellow undertone, you won't look too pink-cheeked or flushed in your gown.
 Any shade of white—even the brightest—looks gorgeous on you. If you have an olive undertone to your complexion, though, you might consider avoiding yellow-ivory shades for your gown.
After deciding which skin tone group you belong to, now check which shade of white will look most beautiful on you. When you think "white," at first it may seem "plain" or "too standard," but there are many different shades of white that can complement your skin tone. Also, remember that different fabrics reflect light differently, so what looks "too white" on the rack may look fabulous on you!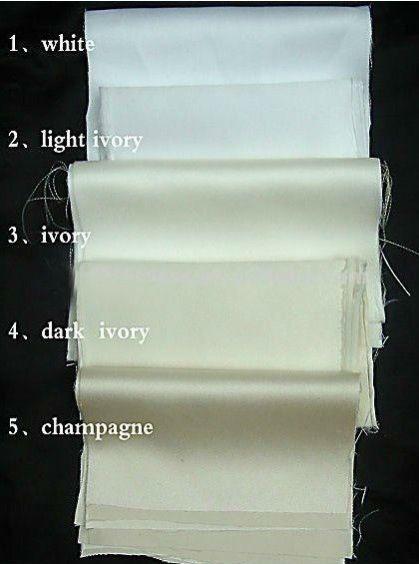 This shade of white is the most difficult to wear because it can wash out women with fair and medium skin tones. The purest white fabric appears to glow and looks marvelous against dark skinned or tanned ladies. Synthetic materials best used for stark white wedding gowns are taffetas, satins, and polyester blends.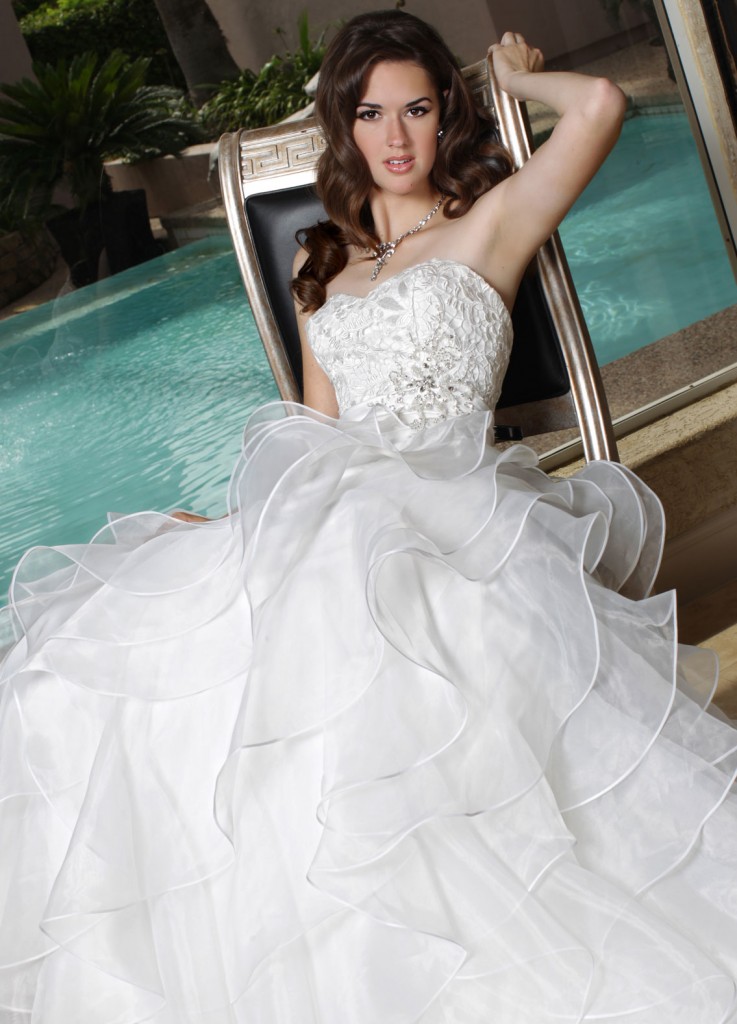 Natural white—also called diamond white or silk white—isn't as bright as stark white, and it doesn't have that chalk-like appearance in photographs. It flatters most skin tones especially brides with yellow undertones to their skin.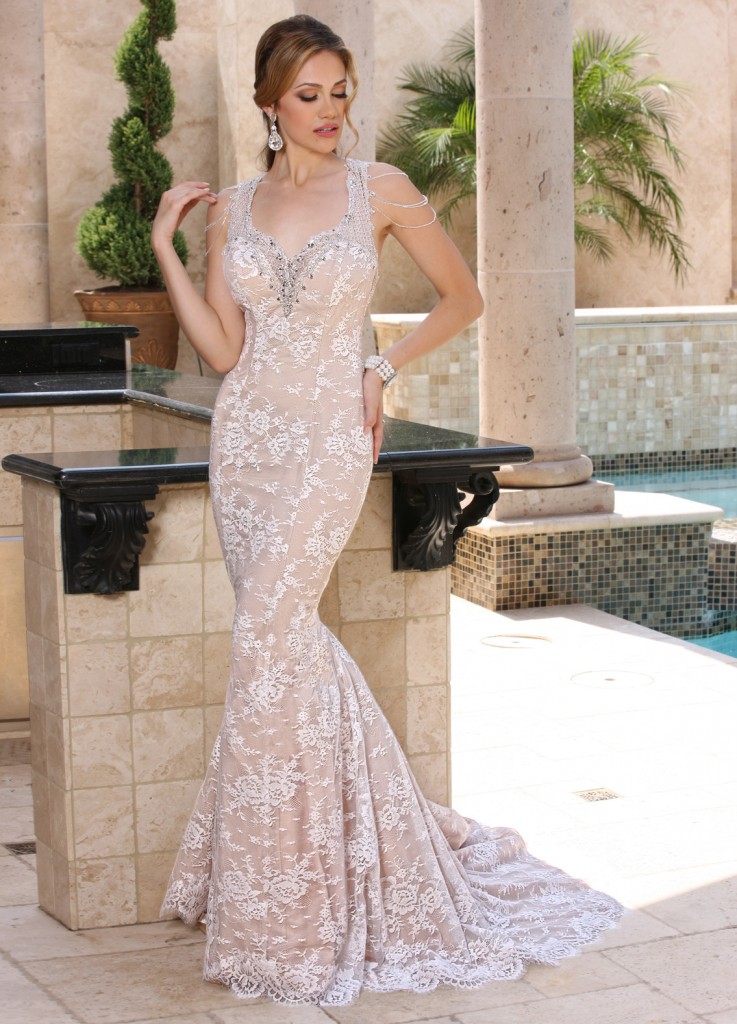 This shade may appear white in photographs but has a slight pink or gold undertone when seen up close. Champagne white is similar to beige but has a bit of a sheen. Those brides with olive or sallow skin look beautiful in this color. Rum white is a deeper version of this shade.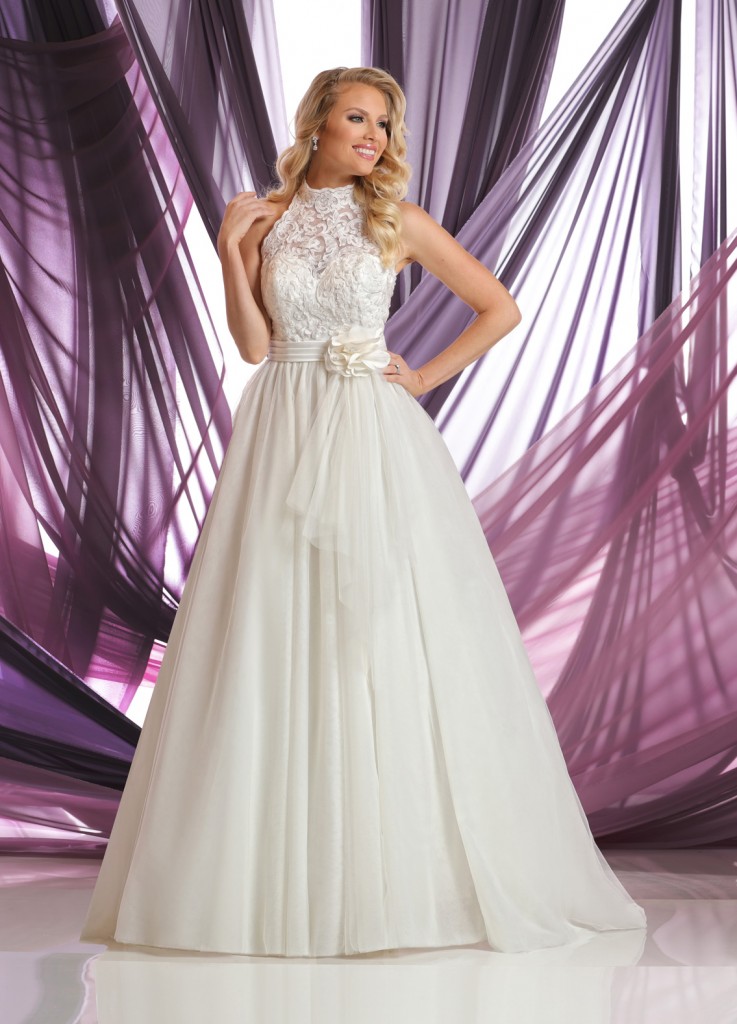 Before trying on an ivory wedding gown, hold a swatch next to your face and see how it works with your skin and eye color. Ivory comes in many, many shades. Eggshell is one of the lightest. Candlelight is a deeper ivory with a beige-cream undertone and is lovely for evening weddings, hence the name. Ecru is the deepest shade of ivory and is closer to tan or beige. Ecru is also less traditional but definitely worth a try if you want something unique. Dress fabrics that work best in Ecru are peau de soie and duchess satin. Ivory shades are stunning on fair-skinned brides with blond or red hair.
If you just don't see yourself wearing a traditional white dress, there are plenty of other options. Whether you want a  dress in light or dark colors, or in white with a print, or even a luscious ruby red, whatever you want, your bridal shop consultant is the best person to reach out to if you need help in creating the wedding dress of your dreams. You can always wear a white dress but add color accents. Some brides ask for colored embroidery, lace, or bands of satin to be added to their gown. Necklines can also be refashioned in a different shade. Choosing white for the basic style of the dress then adding color in the details adds a luxurious touch to your gown.
Pastels are also an elegant choice. Pink, peach, blue, and turquoise are common spring colors while yellow, dusty pink and soft lavender are excellent for summer. For autumn, consider ivories and warm colors. For winter, think sapphire blue, emerald green and ruby red with velvet or fur. Pale gold or silver gowns are gorgeous alternatives for evening weddings. Some brides also choose the color of their wedding dress to complement their eyes! All that really matters is how the dress makes you feel, so it's up to you how you decide to play with color.
In China and some parts of South Asia, the bride wears a traditional red dress. Masai women also wear a red gown with layers of shawls in different colors. Afghani brides wear white and green for their ceremonies. The list goes on and on for other brides all around the world. In the United States, many women go beyond what's considered traditional for the majority, wanting to be a stunning stand out at their wedding. If there's one thing absolutely unforgettable about a wedding, it's the dress, so don't be afraid to reflect your unique personality by way of your bridal gown!
There's a lot to think about when it comes to wedding dress colors, but again, what matters most is how you feel. You must be comfortable with the dress because you'll be wearing it for several hours on a very special day. You also want to feel confident wearing this most important gown in front of the people you love, most of all your soon to be husband.
Ever consider a wedding with your bridesmaids all in simple natural white informal gowns with sweep trains, and you in ecru, or even a deep jewel tone like red? Definitely something to think about…
Hint: Informal by DaVinci is the perfect place to shop for all-white full-length bridesmaids gowns!