Mix & match bridesmaid dresses aren't just a hot trend. Mixing dress styles and/or colors makes a stunning statement and guarantees gorgeous photos!
Also known as mismatched bridesmaid dresses, this idea is perfect if your attendants are really different from each other in size, skin tone, or both. A mix & match theme lets you create a unified look that also brings out the individual beauty of each of your attendants.
There are some rules to follow, though. So here are the best tips & tricks we could find to make your mix & match wedding party practically perfect.
Mix & Match Bridesmaid Dresses: Style & Color Tips 
Source: Pinterest
Choose the Same Style in Different Colors:
Source: bellethemagazine.com
This works really well if your bridesmaids have a wide variation when it comes to skin tone. Find a simple dress style that flatters everyone's figure as best you can. Then vary the colors to adapt to their individual skin tones.
You can choose ombre bridesmaid dresses in the same color family:
Source: Stylemepretty.com
For instance, dress everyone in different shades of blue, pink or purple or whatever color complements your overall wedding color scheme.
Or you can create a classy rainbow effect with each girl in a totally different color: 
Source: Huffington Post
Choose dresses in the same color category:
All pastels – pink, soft blue, lavender, mint green, peach, toned down yellow
All Jewel tones – cobalt blue, burgundy, royal purple, rich red, emerald green
All Neutrals – champagne, nude, beige, tan, oyster white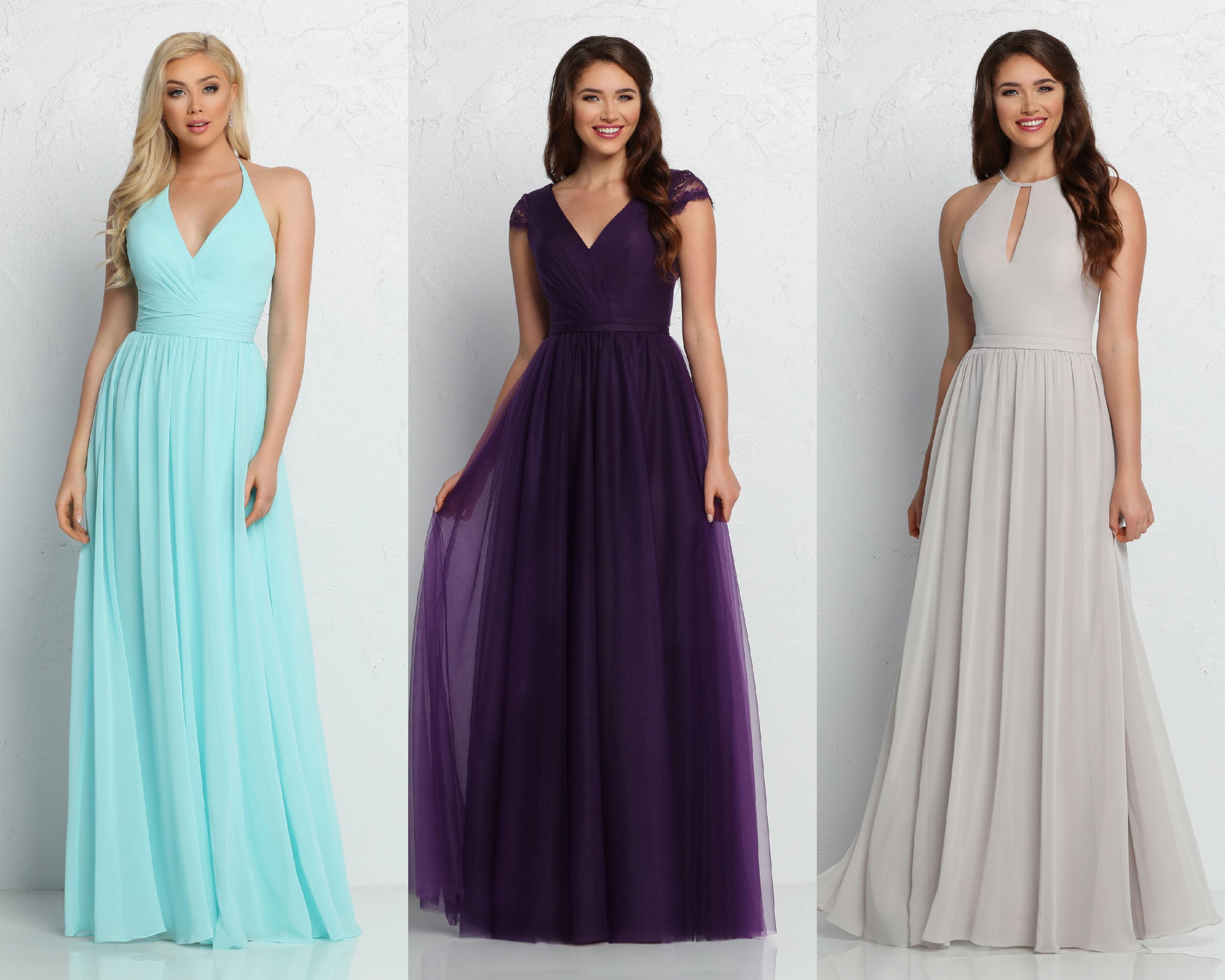 Source: DaVinci Bridesmaid Collection
Tip #1: We have three great collections using mix & match color ideas.
Click HERE for pastel dresses.
Click HERE for jewel tones.
Click HERE for neutral dress colors.
Tip #2: Don't just look at swatches
Source: DaVinci Bridesmaid Collection
Find actual sample dresses—from the same designer—and line them up side by side on a rack in the store so you can see how they'll look side by side on your bridesmaids.
Choose the Same Color in Different Styles:
Source: Pinterest
This mix & match idea lets each of your bridesmaids choose a dress style that she feels most comfortable wearing.
Important Tip: This idea works best if you ask your girls to choose from the same designer.
That way the fabrics will all be the same quality with the same construction style. If there's no connection between the dresses, you could end up looking like you asked well-dressed strangers on the street to be in your wedding!
Mix & Match Bridesmaid Dresses: 100% Mix & Match with different styles and different colors
 If you do it right, totally mismatched dresses can make your wedding look like you hired a professional fashion coordinator! But once again, there are some rules.
Even Hemlines:
Source: bellethemagazine.com
Yes, you can mix & match long & short dresses, but they must be hemmed to the same length when your girls stand in a row. You need all the knee-length dresses to fall in a straight line, and all of the long dresses need to be the very same distance from the floor.
Small Differences in Style Details:
Source: mywedding.com
Don't go overboard with too many variations in the dress details. For instance, change up the dress necklines and colors but keep the same fabric—all lace, all chiffon, etc.
Or choose dresses in the same fabric but with different necklines:
Source: lovemydress.net
Mixed Fabrics with the Same Feel: Perfect for a Vintage Wedding! 
Source: Junebugweddings.com
Mix & Match Bridesmaid Dresses: Different Dresses but All the Same Accessories
Wear identical Shoes:
Source: Pinterest
Rock the same Jewelry:
Source: Etsy.com
Everybody carries the same Bouquet:
Source: stylemepretty.com
Mix & Match Bridesmaid Dresses: Mix Up the Fabrics & Textures
Source: June Bug Weddings
Why not go all out? But you might want to consider hiring a wedding planner to make sure it's all out and not too far out. But for sure, this boho mashup bridal party totally nailed it!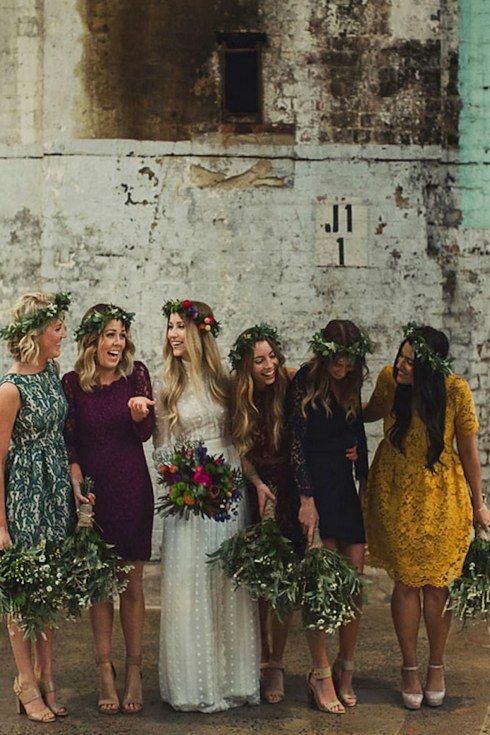 Source: Pinterest
Guess what? Boho can be neutral!
Click HERE for an entire board of neutral boho!
Mix & Match Bridesmaid Dresses: Do's & Dont's
Source: weddingchicks.com
Don't try to go for a "Wear It Again" dress
Even if you buy your girls expensive designer evening gowns, it's very likely that wearing that dress will make your attendants "feel like bridesmaids" all over again.
Do work hard so that "Everybody Feels Good in the Dress"
That's probaly the #1 plus to the mix & match bridesmaid concept. Each 'maid gets to have a style and color that makes her feel good about standing nect to you on your wedding day.
Don't sacrifice Your Vision
This is your wedding. You'll work hard and put a lot of time and effort into making it a beautiful day. Wedding "themes' exist for a reason: They make the celebration feel like a wedding and not just "any old get-together."
Even if you could be the cover girl for a magazine called "Offbeat Bride," keep in mind that "offbeat" is still a theme and has its own style.
Do let your Flowers Do the Work!
Source: Pinterest
Flowers are the absolute best way to make your wedding party look like a unified whole. Especially if every single bridesmaid wears a totally unique style and color dress, if you KISS the bouquets (Keep It Simple, Sweetie) and keep them simple, neutral, and matching, your wedding will look fabulous and you won't regret the mix & match dresses when you look back on your photos!
Traditional bouquets can still have pops of color & texture:
Source: Martha Stewart Weddings
Beautiful bouquet alternatives that match really make a statement!
Bridesmaid Lanterns by Afloral.com Bouquet Alternatives
How to Rock Totally Boho:
Bright flowers tie this boho bridal party together in a truly fabulous way!
Boho bouquets: Martha Stewart Weddings
The Ultimate Mix & Match Bridesmaid Dresses: Neutral Same-Fabric Bridesmaids & a Bold Sheer Lace Bride!
Want more mix & match bridesmaid ideas?
Click HERE for buzzfeed.com's 31 Real-Life Bridal Parties Who Nailed The Mix 'N' Match Look