The trick to keeping your wedding favors fun but cost effective is not to choose an item to give that only costs $1—it's keeping the entire presentation under $1 per guest. That takes a little imagination and sometimes a willingness to give up little details like personalized containers.
For instance, you can buy a small jar for under $1, or spend only $1 per person on each edible treat. But that doesn't mean you won't go way over $1 after you get done buying wax and ingredients to make homemade candles to go in those jars, or end up spending an additional $1 each for a bag, label or box with your names, initials or wedding date.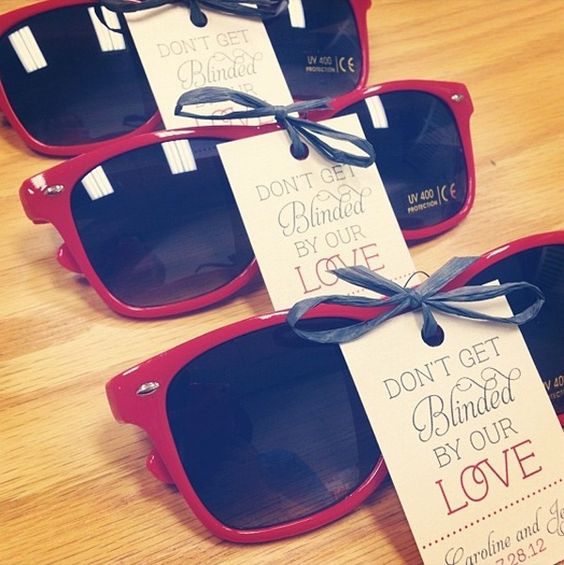 But we've pulled together a dozen very nice options—all truly $1 or less, container or personalization included—to get you started thinking about sending your guests home with "a little something" that only took a little bite out of your wedding budget.

https://www.theprettyblog.com/wedding/candyworld-free-printable/
Money Saving Personalization Advice
The most important thing you can do the save money is to either eliminate or really cut down on personalization. Custom bags and other containers are very costly. But there are scads of FREE downloads to print your own stickers and even paper bags to decorate and/or hold your treats. Just search Pinterest or Google, and you'll find plenty of ideas!
Candy Buffet with Dollar Store Bags
Buy candy in bulk, calculating the total cost per guest. Then lay out your buffet using containers you already own or can borrow—pretty jars, bowls, even teacups—so that your guests can choose what they want to take home.
How to keep the cost down:
Buy the container—usually a bag or box—from the dollar store or an online dealer and do not spend to have them pre-personalized.
Make your own personalization by tying a ribbon around the box or printing laser stickers at home with your names, date, initials and a short message.
Keep the container very small so there will be enough to go around.
Use brown paper bags like the printables in our lead picture. Here's a link: https://www.theprettyblog.com/wedding/candyworld-free-printable/
Fresh Fruit as Place Card

https://www.popsugar.com/smart-living/photo-gallery/34534131/image/34534248/Fruits
Purchase seasonal fruit that will keep without refrigeration—apples, pears, even bananas—then print or write each guest's name on a pretty strip of paper and pin it to the fruit. Then place a piece of fruit in the center of the table setting.
Two fun ideas:
If you use a sturdy fruit like an apple, you can lay the fruit out on an entrance table and use it as an escort card. Just add the table number to the name on the ribbon.
Make the ribbon extra fancy by recruiting a friend who does beautiful calligraphy to write the ribbons for you.
DIY S'mores in Cellophane
Couldn't be easier: 2 graham crackers, one giant marshmallow, and a tiny snack size piece of chocolate. Stack the pieces, bundle everything up in cellophane and tie with a pretty ribbon. Curling ribbon is cost effecetive, and you can mix 2 or even 3 colors to go with your wedding theme
How to keep the personalization cost down:
Create a design on the PC then print on heavier card stock, cut out, punch a hole at one end and tie the tag to the treat via the ribbon.
Water Bottles with DIY Labels

Water is pretty much perfect for every wedding and makes a great take home favor to refill and reuse. It's also a must for warm weather outdoor weddings. To find a free template to download and print off on your PC, just do a search for "wedding water bottle label template" or similar words.

http://www.simonemadeit.com/tutorial-waterproof-water-bottle-labels/
To learn how to use plain paper printed labels but still make them waterproof, click here: http://www.simonemadeit.com/tutorial-waterproof-water-bottle-labels/
Adorable Bonus Idea for Back of Label:

https://www.pinterest.com/pin/AU7MpMHPGLur2mMuc9KqSWcHwhNd7T44lpauUhGHo-gKz4CJGBnkBto/
Nuts in Small Packages
Provided you don't have to worry about too many guests with nut allergies, a small package of mixed nuts makes a wonderful favor and after-dinner treat. Package the nuts in cellophane as you would the S'Mores, or in tiny boxes, or little bags.
Tip: Make your own nut mix with one exotic/expensive type of nut and another more cost-effective. For example, a package with a 2:1 ratio—2 honey roasted almonds to 1 roasted macadamia nut—is a fabulous mix and you'll only need 3-5 macadamia nuts (and 6-10 almonds) per package. Very classy and very affordable!
After Dinner Mints & Gum with DIY Stickers

https://www.pinterest.com/pin/AcqATnKV78e8DRcH68Ra6nhHhsosKBMQ2w9MC3ogL6y3iRAEv0y9WAo/
Buy packages of tiny mint candies and gum—like Halloween size—then use laser return address stickers in the slightly larger size and cover either the entire front (or back) of the package.
Homemade Spice Blend
If you love to cook, you probably already have ideas for spice blends. To make spices into favors for your guests, just mix up a batch big enough to give everyone a couple of tablespoons' worth. Then put them in little cellophane bags and decorate with (free!) downloaded sticker design of your choice.
Bonus idea: Include the idea below for recipe cards as an idea for your guests on how to use the spice mix!
Recipe Cards

https://liagriffith.com/printable-spring-recipe-cards/
Share a secret family recipe—or something you're really good at—on free printable cards. You don't even have to write anything by hand if you use the option shown above or something like it.
Tip: Use a recipe that includes the spice mix you put together in Favor #6, then use the recipe card as the "tag"—2 favors in 1!
Favors in Vending-Machine Capsules

https://www.a-muzu.com/en/products/list?category_id=198&pageno=5
Also known as "acorn capsules" these little containers make "tiny treats" a snap. They come in different shapes, sizes, and styles, and you can fill the little things with anything you like—mint Lifesavers, a gumball, nuts—and include a tiny thank you note printed on plain paper with a lovely font then cut into skinny strips.
Tip: These also make great little treats for kids. You can give the grown-ups an "adult" favor, then buy goofy little trinkets and toys for the kids to stuff the acorn capsules.
Coffee Beans & Teabags
Serve a fancy flavored dessert coffee and tea at your wedding, then let your guests choose from little bags of coffee beans or a couple of tea bags to take home. For coffee, choose something like cholate, hazelnut, or l'orange. For tea, choose something exotic like Stash Tea's dessert collection.
Package coffee beans like S'Mores: Get tiny bags, tie with a ribbon and add a little thank you or name & date note.
To personalize tea bags: Buy the type of bags that come already sealed (like Stash tea), then just print out a little square or rectangular sticker with your names and the date using laser printer address labels.
Sunglasses

https://www.pinterest.com/pin/322570392034818878/
Whether your wedding is in the summer, on a beach, or even in the snow, sunglasses are cheap, fun and practical. Add a little note—that you print yourself of course—as personalization. You might find glasses at the dollar store, or if not, consider buying glasses from a promotional shop.
Cool Idea: From the same site as above, you can buy foldable sunglasses for about $1.25 each. (Yes, that's more than $1.00 but for foldable? Pretty nifty!)
Donation Cards as Escort Cards or Place Cards
Especially if you asked for charitable donations in your wedding registry, a donation for each guest is definitely a controllable option. You might want to be careful of the charity you select depending on the sensitivity of your crowd. And while it may not seem like much, to donate $1 per guest—especially if you're having a big wedding, that's a good sized donation.
Bonus: Providing you give the money in one lump sum, your donation is tax deductible!
How to personalize: Just like all the other printables, you can download a donation template to leave at each place setting. Or order lovely escort or place cards in a "tent" design to match your wedding, then create an oversize laser print address label explaining the donation and stick it to the inside of the tent card.
For the Top 10 DIY ideas to make at home (even if they will cost more than $1!) click here: http://www.davincibridal.com/blog/top-10-diy-wedding-favors-to-make-at-home/