It's a brand new year & you know what that means—it's time for our Winter 2023 Bridesmaids Dresses Sneak Peek!
This season's collection is full of on-trend designs & colors:
Classic Hollywood runway looks
Modern Hi-Low Hemlines
Generous Flowing A-Line Skirts
Flutter Sleeve Ruffles, Capelets & Lace details
You're sure to fall in love with one of them, so make an appointment at one of our DaVinci boutiques for a closer look.
When you buy your Wedding Dress from DaVinci …
You know that your dresses will be created by one of the premiere bridal dress companies in the world. We use only top-quality fabrics fashioned into high fashion design using high-end construction. We guarantee you'll love their affordable prices. A DaVinci is the bridal dress retailers love to carry because most of these dresses are available for rush delivery at no extra charge!
About our Colors:
Each of our bridesmaids' dresses is available in many more colors than shown here. This color chart gives you an idea of how much we have to offer:


Check out swatches at one of our DaVinci bridal boutiques for a closer and more accurate look.
To find the DaVinci retailer nearest you, Click HERE, then enter your city, state, or zip code.
Winter 2023 Bridesmaids Dresses Sneak Peek: Classic Hollywood
DaVinci Bridesmaid Style #60550: Shimmer Satin Fit & Flare Sheath Bridesmaids Dress with Off the Shoulder, Sweetheart Neckline, Faux-Wrap Ruched Bodice & Sweep Train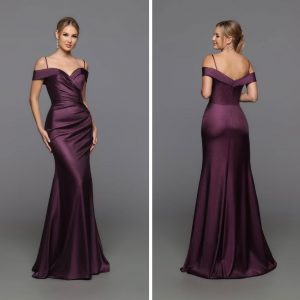 Available in: Ask your retailer for color swatches
To see more details Click HERE for DaVinci Bridesmaid Style #60550
DaVinci Bridesmaid Style #60571: Shimmer Knit Fit & Flare Sheath Bridesmaids Dress with Modest V-Neckline, Faux-Wrap Ruched Bodice, Slit Skirt & Sweep Train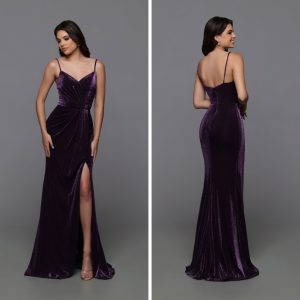 Available in: Blush, Cobalt, Dusty Blue, Teal
To see more details Click HERE for DaVinci Bridesmaid Style #60571
DaVinci Bridesmaid Style #60551: Shimmer Knit Fit & Flare Sheath Bridesmaids Dress with V-Neckline, Faux-Wrap Ruched Bodice & Floor Length Hem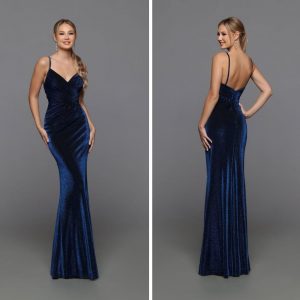 Available in: Aubergine, Blush, Dusty Blue, Teal
To see more details Click HERE for DaVinci Bridesmaid Style #60551
Winter 2023 Bridesmaids Dresses Sneak Peek: Modern Hi-Low Hemline
DaVinci Bridesmaid Style #60554: Chiffon A-Line Bridesmaids Dress with Modest V-Neckline Faux-Wrap Ruched Bodice, Ruched V-Back, Hi-Low Wrap Skirt & Sweep Train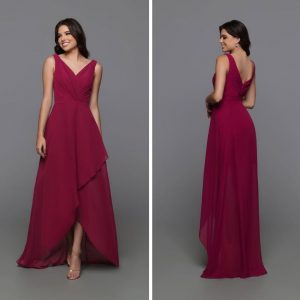 Available in: Ask your retailer for color swatches
To see more details Click HERE for DaVinci Bridesmaid Style #60554
Winter 2023 Bridesmaids Dresses Sneak Peek: Generous Flowing A-Line Skirts
DaVinci Bridesmaid Style #60563: Shimmer Chiffon A-Line Bridesmaids Dress with Modest Draped Neckline, Ruched Bodice Back, Hi-Low Wrap Skirt with Slit & Sweep Train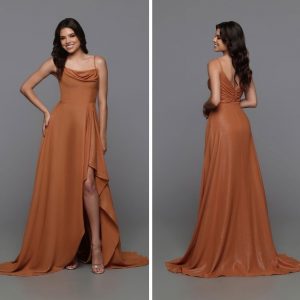 Available in: Ask your retailer for color swatches
To see more details Click HERE for DaVinci Bridesmaid Style #60563
DaVinci Bridesmaid Style #60574: Soft Satin A-Line Bridesmaids Dress with Modest V-Neckline, Faux-Wrap Bodice, Waterfall Ruffled Skirt with Slit & Sweep Train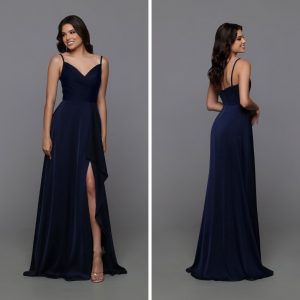 Available in: Ask your retailer for color swatches
To see more details Click HERE for DaVinci Bridesmaid Style #60574
DaVinci Bridesmaid Style #60556: Shimmer Chiffon A-Line Bridesmaids Dress with Faux-Wrap Ruched Bodice, V-Neckline, Slit Skirt & Sweep Train
Available in: Ask your retailer for color swatches
To see more details Click HERE for DaVinci Bridesmaid Style #60556
Winter 2023 Bridesmaids Dresses Sneak Peek: Ruffles, Capelets & Lace
DaVinci Bridesmaid Style #60569: Soft Satin A-Line Bridesmaids Dress with Modest Off the Shoulder Neckline with Ruffled Flutter Sleeves, Diagonal Bodice Ruffle, Slit Skirt & Sweep Train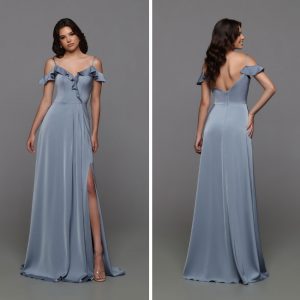 Available in: Ask your retailer for color swatches
To see more details Click HERE for DaVinci Bridesmaid Style #60569
DaVinci Bridesmaid Style #60570: Chiffon A-Line Bridesmaids Dress with Modest V-Neckline, Ruched Faux-Wrap Bodice, Diagonal Front Ruffle Skirt & Flutter Sleeves with Capelet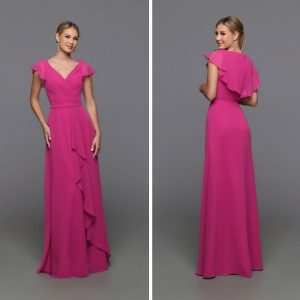 Available in: Ask your retailer for color swatches
To see more details Click HERE for DaVinci Bridesmaid Style #60570
DaVinci Bridesmaid Style #60580: Tulle & Lace A-Line Bridesmaids Dress with Sweetheart Neckline, Lace Applique Bodice & Floor Length Hem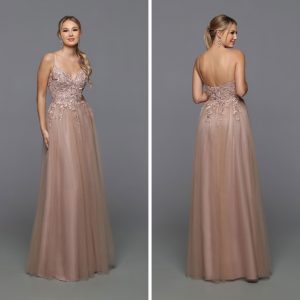 Available in: Claret, Cobalt, Eggplant
To see more details Click HERE for DaVinci Bridesmaid Style #60580
Have you seen our brand new Winter collection of formal wedding dresses? Click HERE or on the image below for Winter 2023 Wedding Dresses Sneak Peek: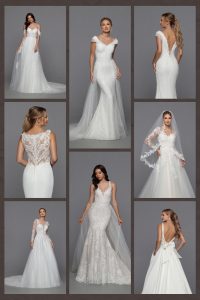 We have terrific ideas for planning your wedding and tips to help you adapt to circumstances that may have delayed your big day. Click HERE or on the image below for DaVinci Bridal blog: