Dresses
Destination Demure: 12 Modestly Beautiful Travel-Friendly Wedding Gowns
Whether you're planning next year's destination wedding, or you're looking to escape at the last minute to a warm climate to marry the man of your dreams, you'll love our DaVinci Informal wedding dress line. Designed especially for the bride who's looking for a wedding gown that's more modest, these 12 dresses are beautifully sedate and totally packable. You'll love how the high-end construction with quality fabrics is still as comfortable as can be, not to mention the budget friendly prices. Also, most of these dresses are available for super-quick delivery at no additional charge, so if planning a fancy wedding just isn't your thing, just snag one of our dresses and hop on a plane. With a DaVinci Informal wedding dress, you'll still look like you took months to choose the one and only custom gown meant just for you!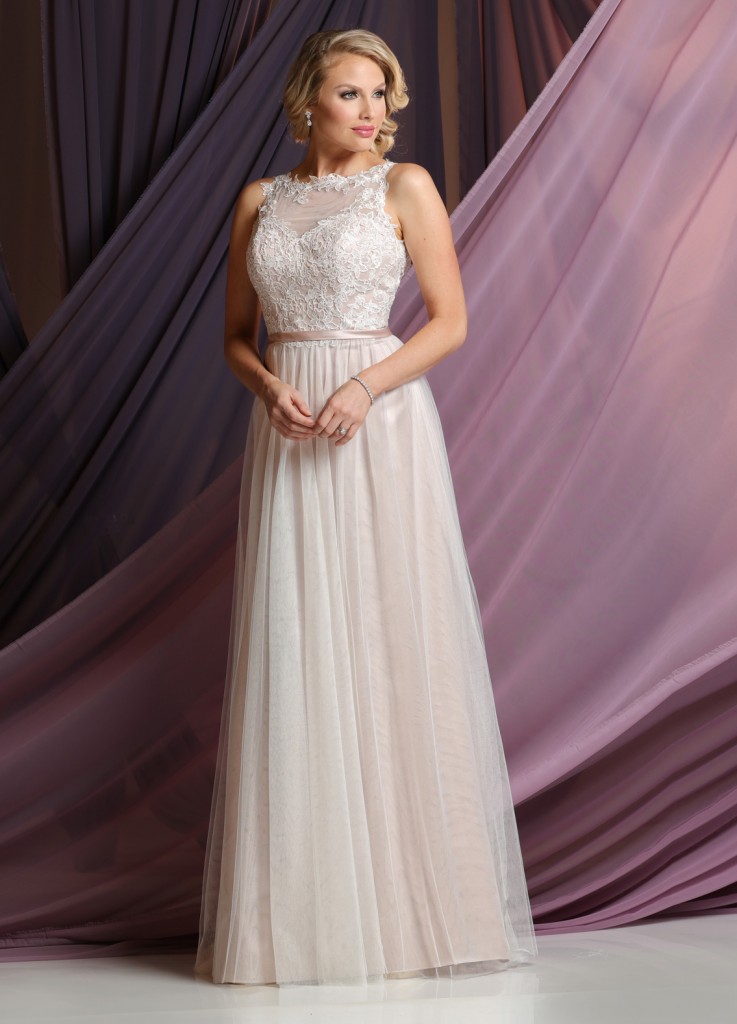 This ultra-sweet gown designed with tulle, lace and charmeuse is everything you've ever wanted for the most romantic day of your life. Shown in Ivory over Ivory, you can also add a kiss of color with a soft Blush underlay.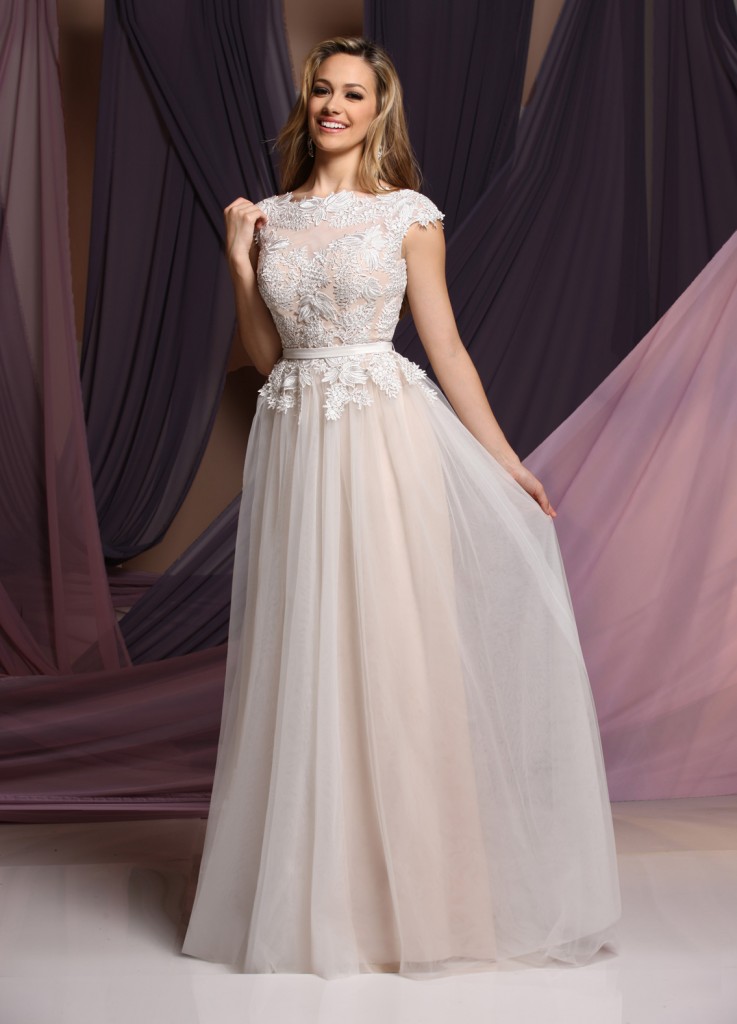 Perfect for your walk down an aisle of sand or a ribbon runner, this vintage-inspired confection features a cap sleeve and a hint of lace below the satin bow waist to create a peplum look. Available in Ivory over Champagne (shown) and Ivory over Ivory.
3. Style # F7039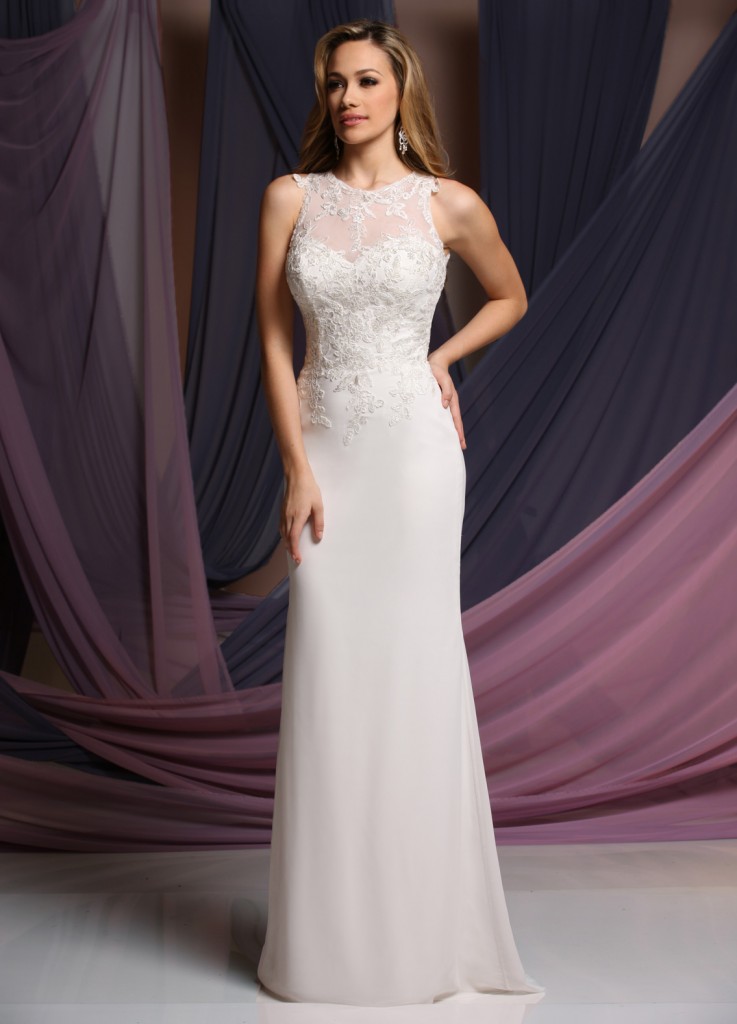 Available in both Ivory and White, this gorgeous streamlined sheath perfectly complements the most modest bride. Clusters and vines of lace detail the sheer jewel neckline bodice while a column of fabric-covered buttons accents the back. Top the cutaway shoulders with a delicate cap sleeve bolero for a more traditional ceremony.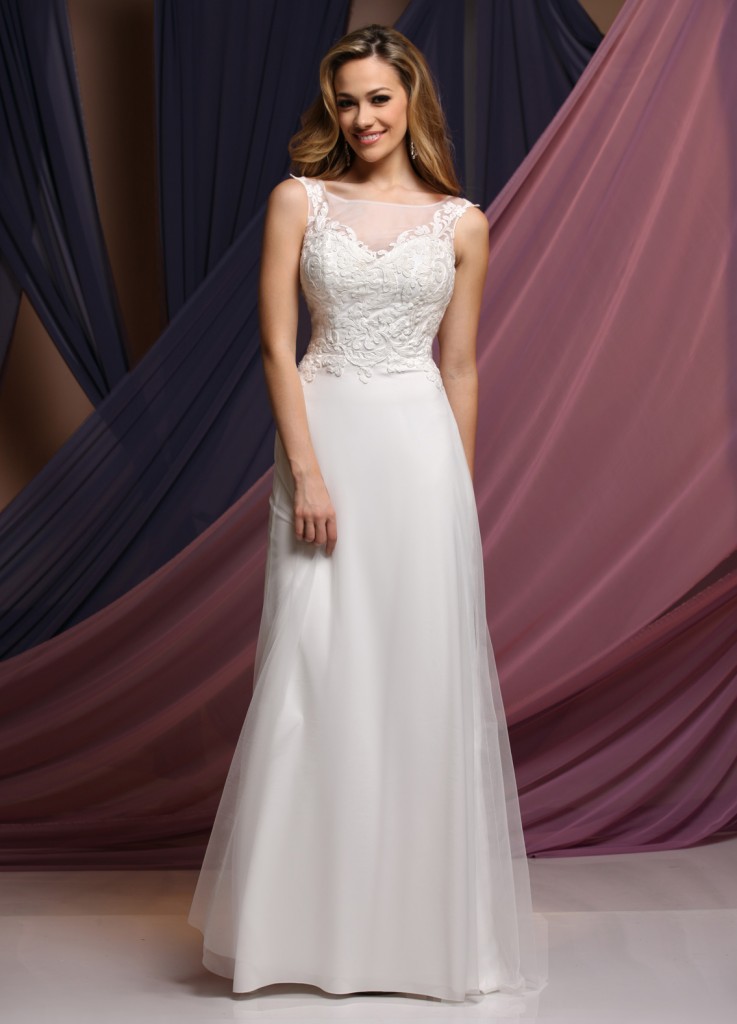 Another demure sheath available in both Ivory and White, this beautiful dress of tulle and lace features a fully enclosed illusion bodice and a row of lovely buttons up the back. The real beauty of this dress is its understated swirls of elegant, unembellished lace. If you're looking for a wedding gown that is, literally, simply elegant, this is the one!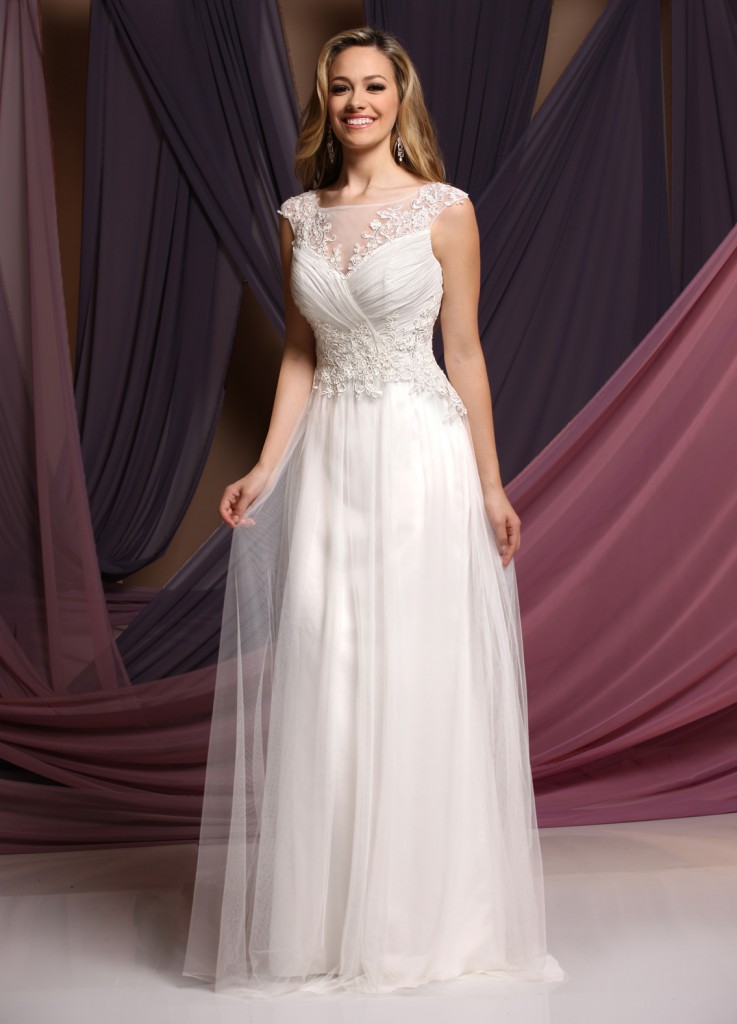 Another understated wonder, this dress features a full coverage illusion bodice and softly gathered skirt. Delicate unembellished lace accents the sweetheart look neckline and the diagonal ruched bodice, and the bateau neckline extends to a faux cap sleeve. Available in both Ivory and White, this dress also features a delicate row of covered buttons for a lovely back detail.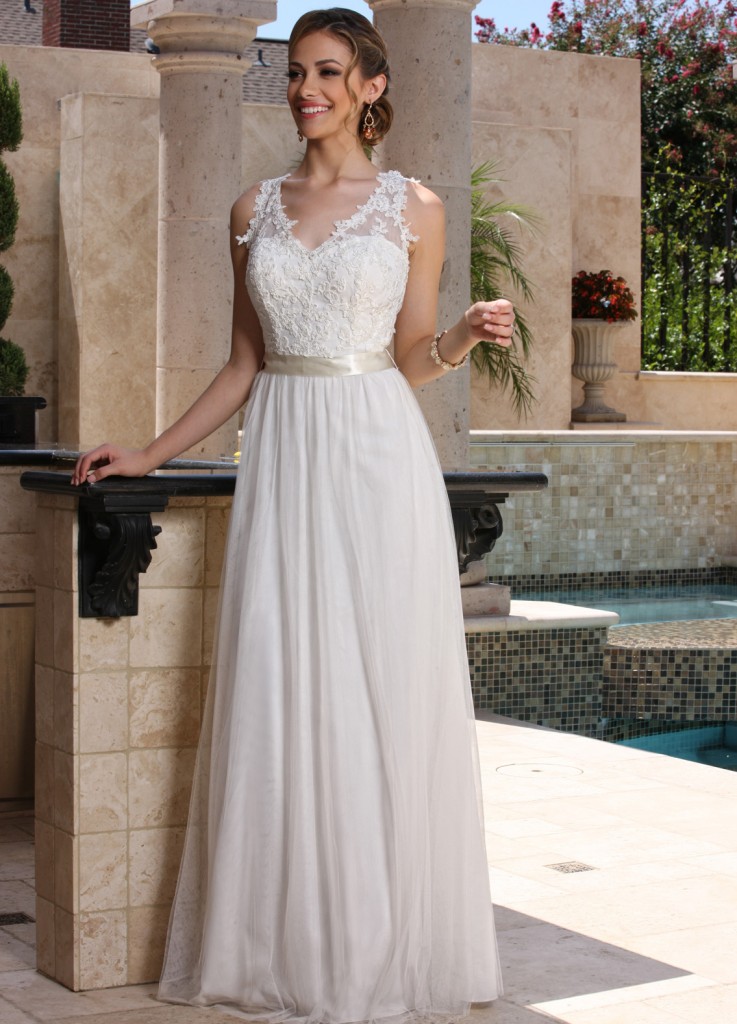 A chiffon and lace confection with a delicate, ladylike satin ribbon bow at the waist, this dress is one of our most versatile because of the color combinations available. The demure high-cut sweetheart bodice leads into an illusion V-neckline enhanced by delicately placed lace and a beautiful lace medallion back detail. Color combinations include ivory/ivory, ivory/palomino, white/white, white/palomino, ivory/bridesmaid, and white/bridesmaid.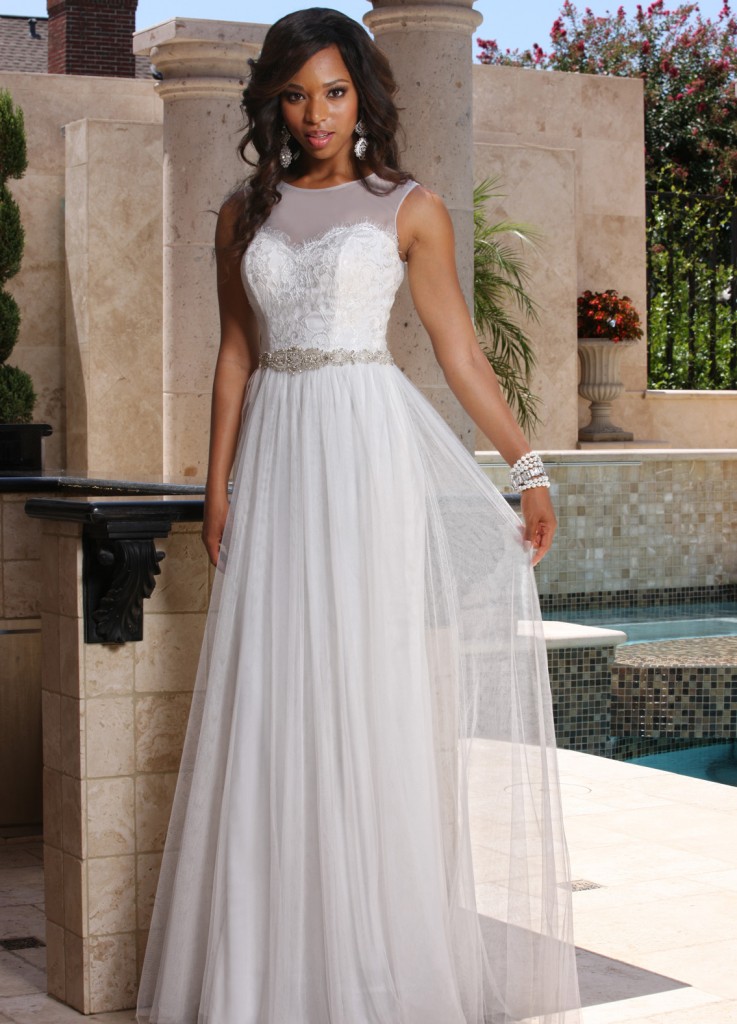 A regal jeweled belt and dramatic keyhole back are the outstanding features of this modest, sweetheart cut, illusion overlay dress with eyelash-finished lace. With a skirt of gracefully flowing tulle over an opaque underskirt, this high bateau neckline dream dress is available in both sedate Ivory and demure White.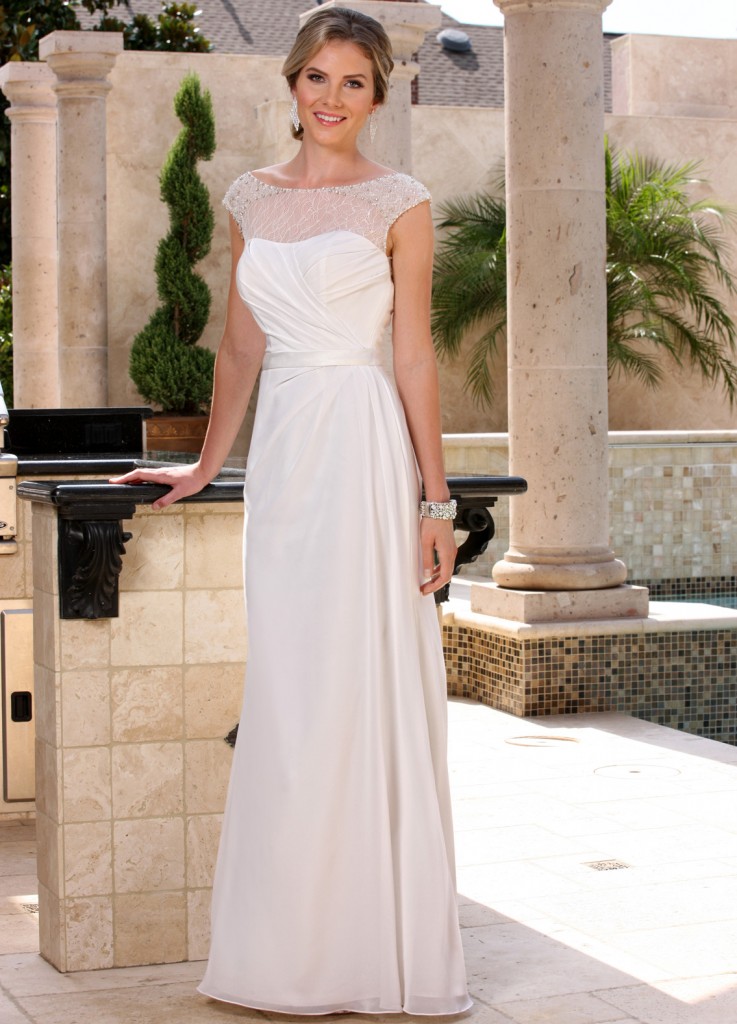 Prong-set crystals sprinkled along the slightly off-shoulder neckline of webbed lace creates a demure front view on this gorgeous gown. The diagonal ruching on the front bodice slims and flatters while the back takes a sexy little dip into more figure-flattering ruching along the back seam. Available in both Ivory and White and finished with an overskirt of diaphanous chiffon, this dignified dress adds just the right touch of softness and sparkle to your lovely wedding day.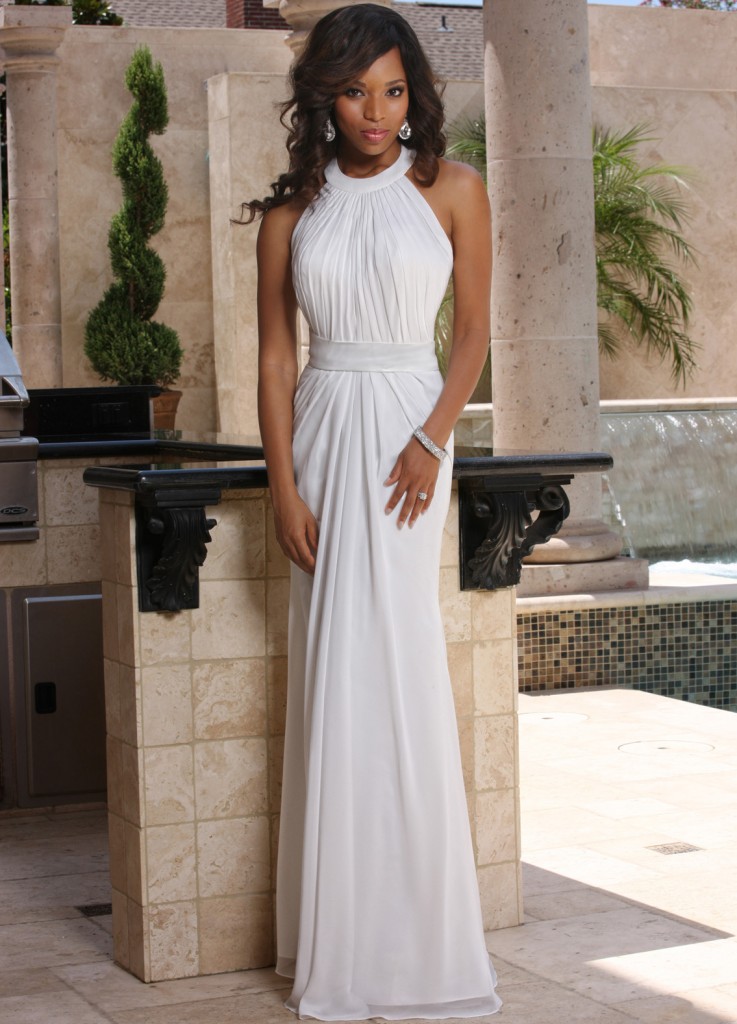 You couldn't ask for a better combination of dramatic and demure than this blissfully unadorned high-neck halter gown created with the softest chiffon. A cascade of accordion pleats falls from neckline to hem, then is beautifully shaped by a wide belted waist for a gently curvy look. The front bodice is completely enclosed, and the open back is cut modestly higher than other halter dresses, so just add a shawl or shrug for complete coverage all around. This beautiful gown is available in both Ivory and White, two classic shades that are easy to accessorize.
10. Style #F7004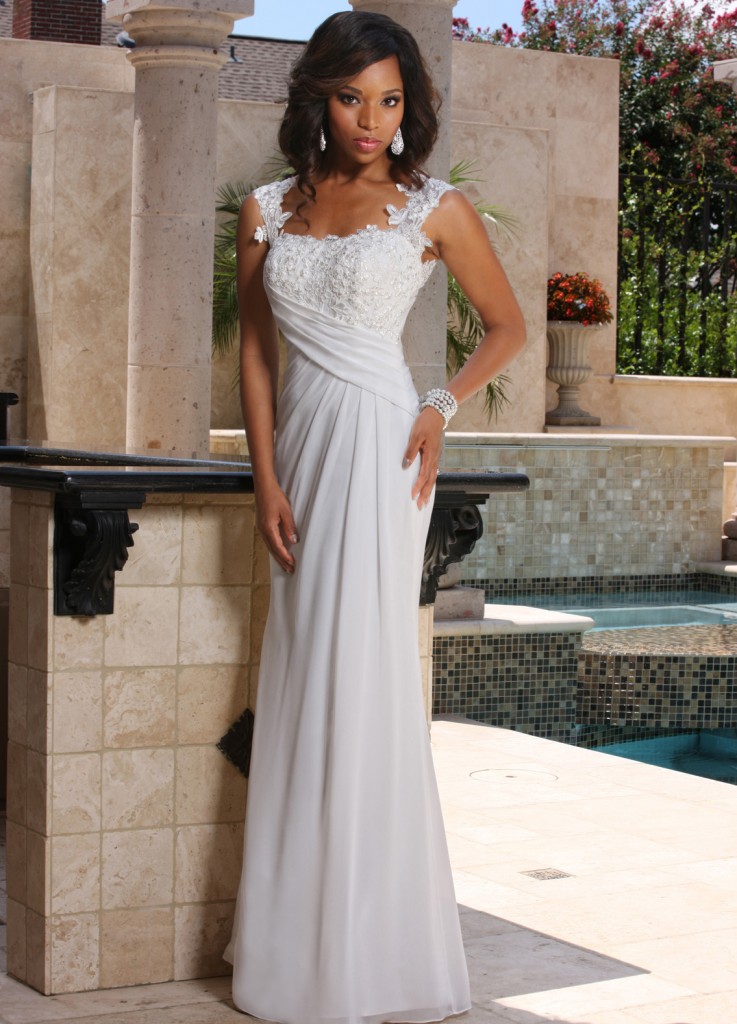 Delicate lace appliques on the shoulders and along the modest, modified sweetheart neckline combine with a chic asymmetrical sash effect of chiffon to create a dress worthy of a fairytale. The grand cutout back detail is softened by a high back neckline secured with three delicate covered buttons. Add a shawl, capelet, or if you have long hair, just wear it down in the back to create delightfully demure coverage.
11. Style #F7002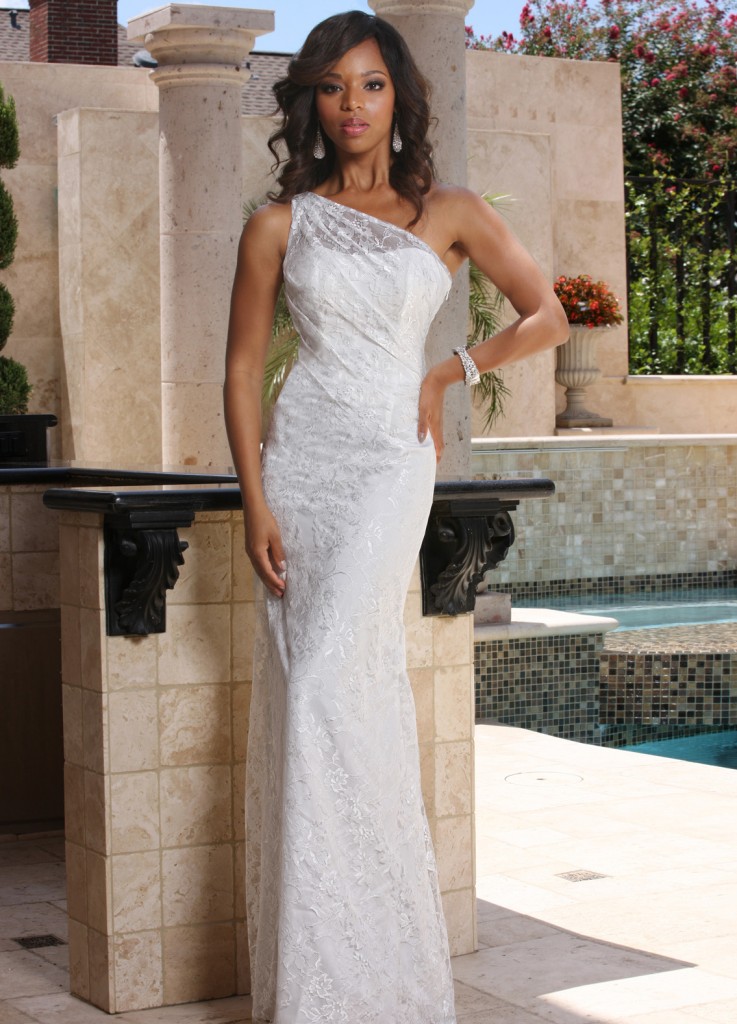 Dramatic meets demure in this elegant charmeuse and lace one-shoulder sheath. Available in both Ivory and White, its classic ruched floral lace overlay that falls from one shoulder has an almost silken sheen. The opaque underdress has a modified sweetheart neckline while the back is encased in a conservatively high one-shoulder lace overlay. Add a jacket, shrug, or even a shawl over the exposed shoulder for an elegantly reserved finishing touch.
12. Style #F7001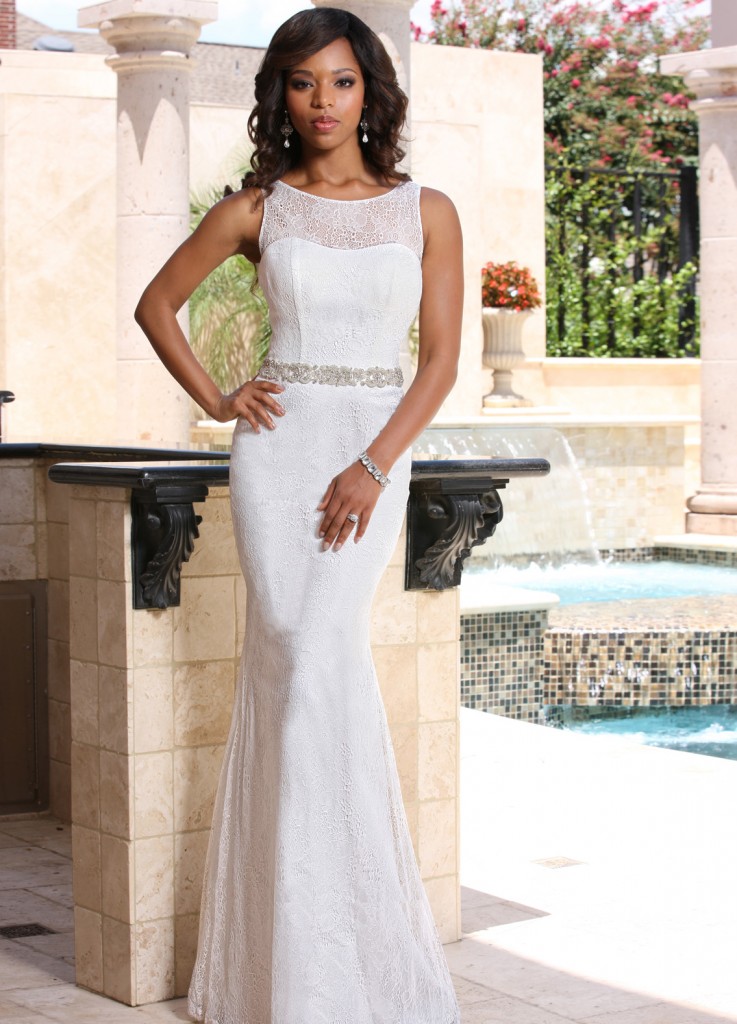 This just may be The One you've been looking for. All-around beaded belt, all-over lace, a fully enclosed lace bodice and a row of perfect little buttons halfway up the back—who could ask for more? This dress has long, lean, luxurious lines that spread into just the hint of a fit and flare mermaid silhouette. With a modest modified sweetheart neckline under a lace overlay, a charming bateau neckline and just a hint of satin trim, this gown, available in both Ivory and White, is the epitome of timeless, modest elegance.
For ideas for the perfect place to take your demure dress for that dream wedding and honeymoon, check out our blog on the top destination wedding locations worldwide: http://www.davincibridal.com/blog/top-12-destination-weddings-around-the-world/
And for some great tips on how to plan your luxurious location celebration, check out these helpful hints: http://www.davincibridal.com/blog/10-tips-for-planning-your-best-ever-destination-wedding/