Skimming the body & falling straight to the floor, our Sheath & Column Wedding Dresses for 2020 offer effortless elegance for the most formal wedding.
Even when a sheath wedding dress is fashioned with ultra-sophisticated fabrics & details like beading, lace, satin & layered skirts, this understated silhouette never overpowers.
Sheath wedding gowns also require less fabric, even with a full train. This makes sheath gowns one of the most comfortable styles to move around in while still maintaining a sleek look.
And don't be afraid to choose a sheath wedding dress even if you're petite. You'll look lovely in the elongated lines—you'll even appear a little taller if you wish!
When you buy your Sheath or Column Wedding Dress from DaVinci Bridal …
You know that your gown will be created by one of the premiere bridal dress companies in the world. We use only top quality fabrics fashioned into high fashion design using high-end construction. We guarantee you'll love their affordable prices. A DaVinci is the bridal dress retailers love to carry because, best of all, most of these dresses are available for rush delivery at no extra charge!
Sheath & Column Wedding Dresses for 2020: Column Sheath
DaVinci Bridal Style #8465: Organza A-Line Wedding Dress, Ruched Strapless Bodice, Satin Waistband Belt with Fabric Flower Accent. Covered Buttons, A-Line Skirt with Diagonal Draped Front Layers, Chapel Train 
Available in: Ivory, White or Two-Tone Ivory/Cafe, White/Cafe, Ivory/Bridesmaid, White/Bridesmaid
To see more details Click HERE for DaVinci Bridal Style #8465
DaVinci Bridal Style #50365: Chiffon A-Line Wedding Dress, Strapless Sweetheart Neckline with Vertical Ruching. Wide Beaded Latticework Belt, Empire Waist, Smooth Chiffon Skirt, Chapel Train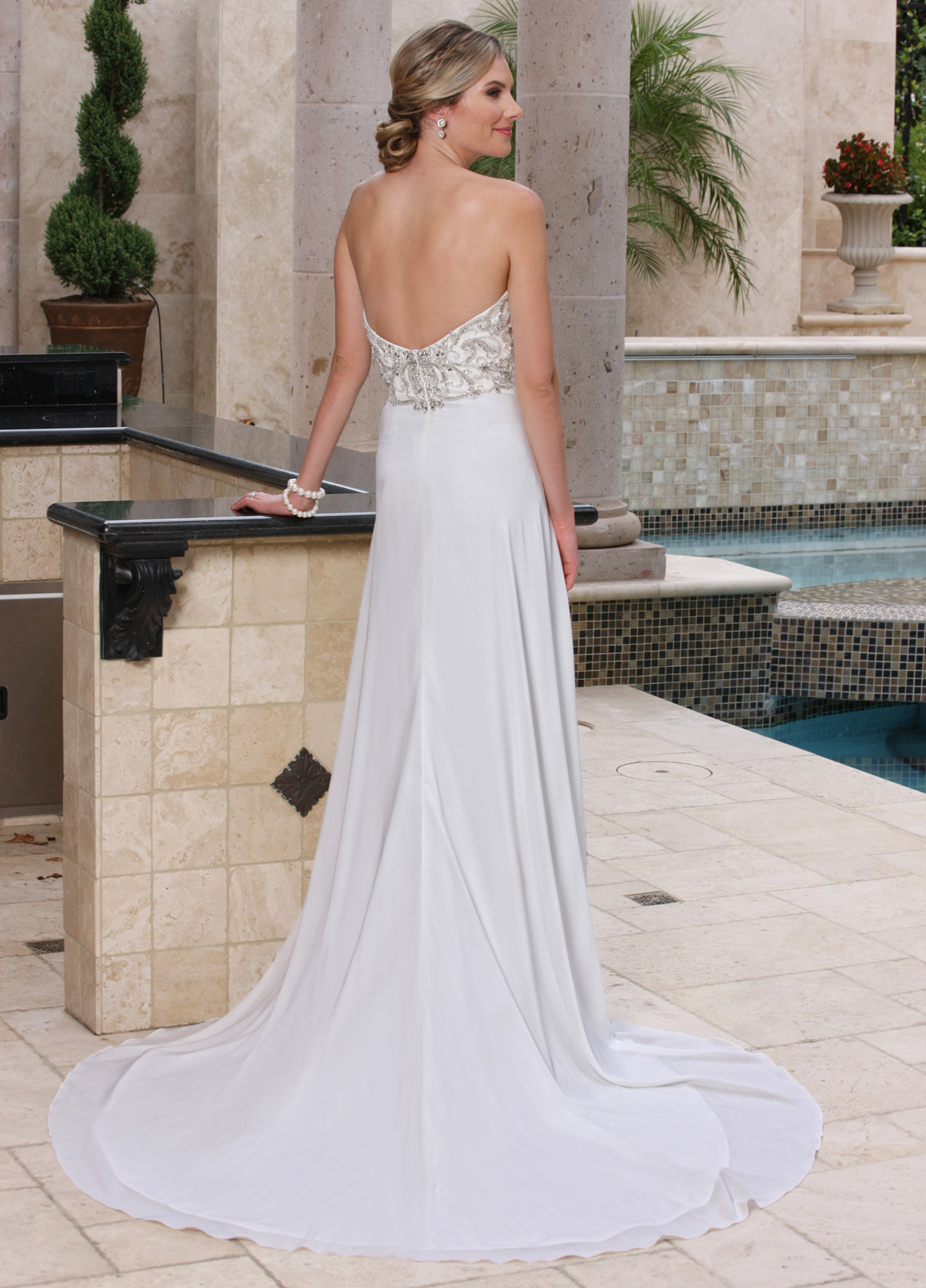 Available in: Ivory, White
To see more details Click HERE for DaVinci Bridal Style #50365
Sheath & Column Wedding Dresses for 2020: Belted Sheath
DaVinci Bridal Style #50441: Soft Tulle & Lace Fit & Flare Wedding Dress, Lace Bodice, High Bateau Neckline, Sheer Lace Back. Covered Buttons, Tulle Skirt, Beaded Waistband, Chapel Train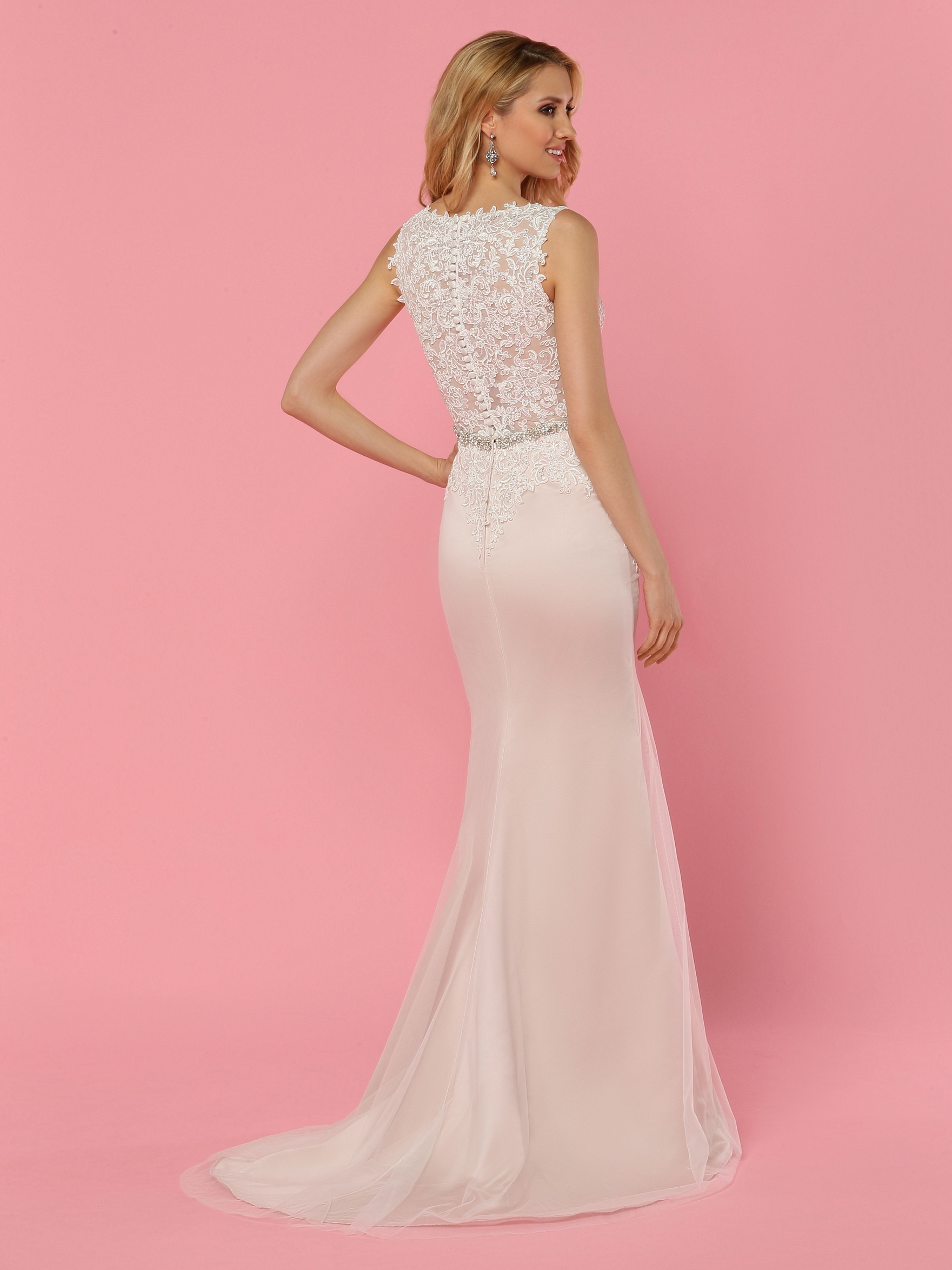 Available in: Ivory or Two-Tone Ivory/Blush
To see more, Click HERE for DaVinci Bridal Style #50441
DaVinci Bridal Style #50364: Chiffon & Lace Fit & Flare Wedding Dress, Fitted Lace Bodice, Sheer Bateau Neckline. Sheer Back, Covered Buttons, Lace Applique on Neckline & Back, Beaded Belt, Chiffon Skirt, Chapel Train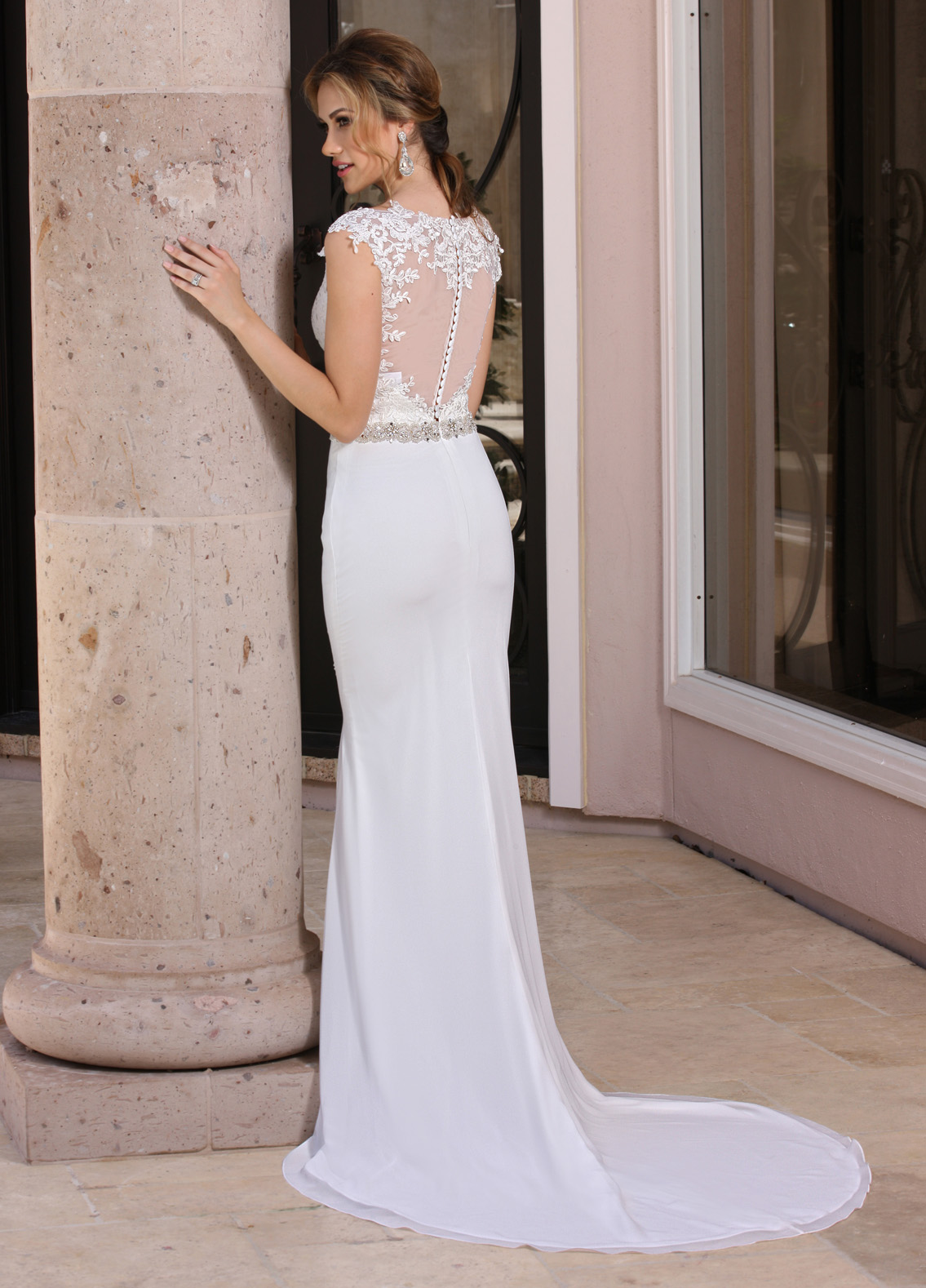 Available in: Ivory, White
To see more details Click HERE for DaVinci Bridal Style #50364
DaVinci Bridal Style #50418: Chiffon, Lace & Tulle A-Line Fit & Flare Wedding Dress, Lace Bodice, V-Neckline, Sheer Lace Straps. Deep V-Back, Crystal Beaded Belt, Smooth Chiffon A-Line Skirt, Chapel Length Train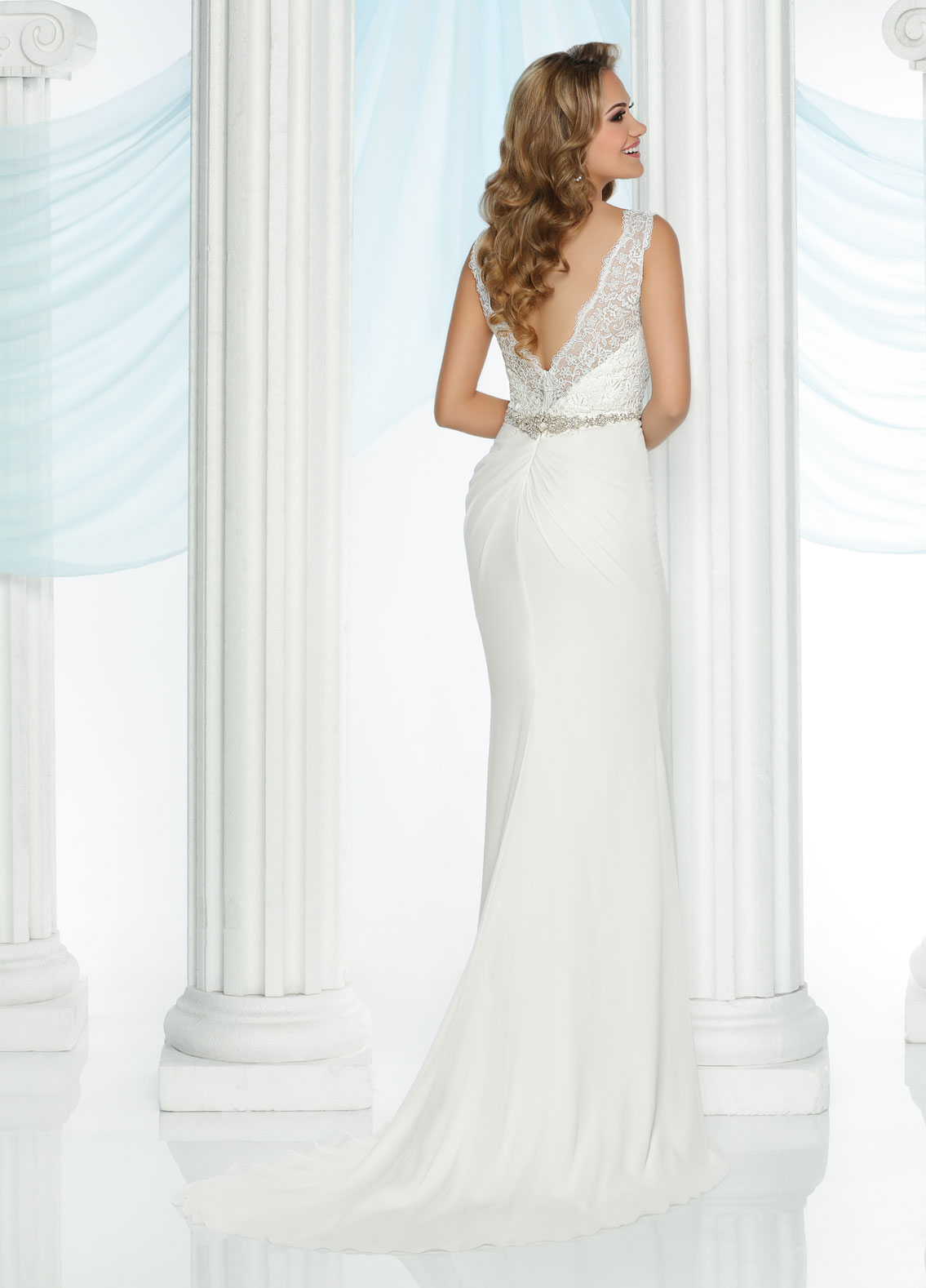 Available in: Ivory, White
To see more details Click HERE for DaVinci Bridal Style #50418
Sheath & Column Wedding Dresses for 2020: Lace Bodice Sheath
DaVinci Bridal Style #50422 Tulle & Lace A-Line Fit & Flare Wedding Dress, Modest Jewel Neckline Sheer Lace Bodice, Extended Shoulders. Sheer Lace Back, Solid Tulle Skirt, Covered Buttons from Neckline to Hem, Chapel Train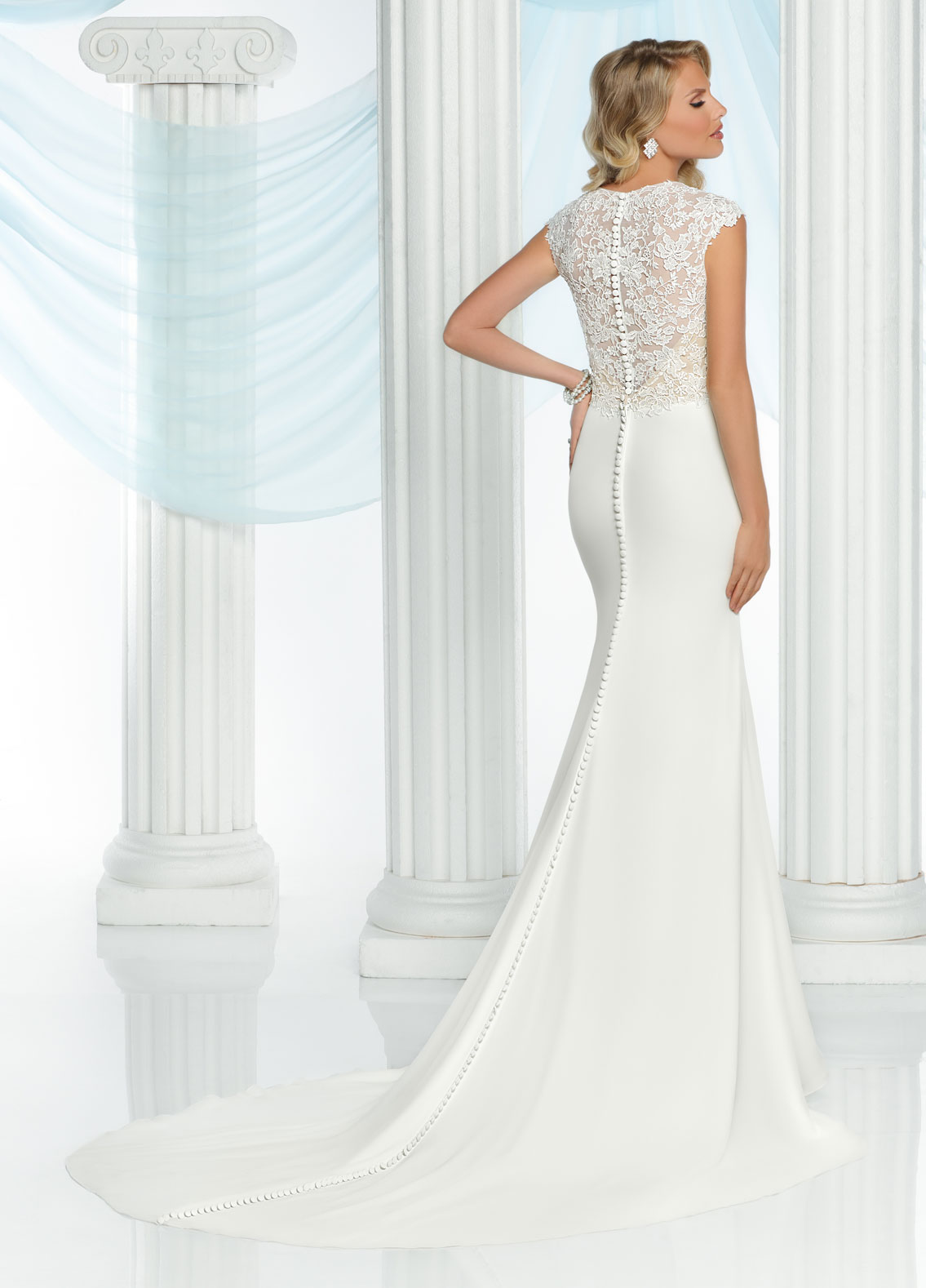 Available in: Ivory, White or Two-Tone Ivory/Antique, White/Antique
To see more details Click HERE for DaVinci Bridal Style #50422
DaVinci Bridal Style #50421: Tulle & Lace Fit & Flare Wedding Dress, Sheer Bateau Neckline, Sheer Cap Sleeves. Sheer V-Back, Lace Applique on Bodice, Sleeves & Hem, Low V-Back with Covered Buttons. Smooth Tulle Skirt, Lace Applique Hem, Chapel Train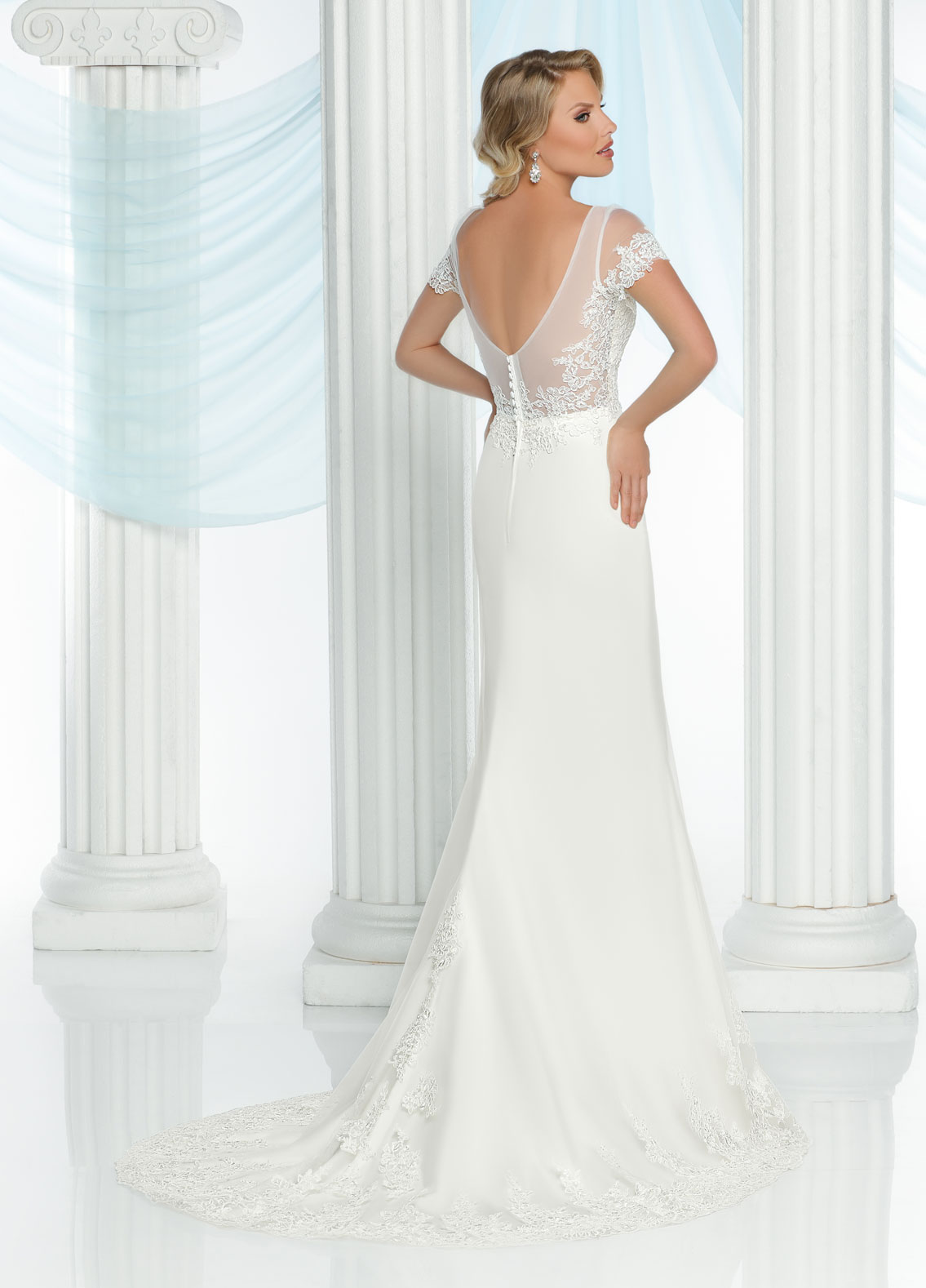 Available in: Ivory, White
To see more details Click HERE for DaVinci Bridal Style #50421
Looking to comparison shop an elegant look that's a bit more pared down? Click HERE or on the image below to see our Informal & Destination Sheath & Column Wedding Dresses for 2020:
For our entire line of exquisite designer wedding gowns, informal bridal fashions & beautiful bridesmaids dresses Click HERE or on the link below:
You May Also Like