Want a unique wedding gown with color but don't want to go over the top with a bright pink? Our Blush Wedding Dresses for 2021 are a great choice.
Blush color wedding dresses are low-key enough so as not to look gaudy & they won't distract from your overall decorations. Blush pink is also considered to be wonderfully feminine.
One more alternative is to go with a gown in white or ivory with a blush lining. But no matter what you chose, a blush wedding gown will add a soft, elegant vibe to your entire wedding.
When you buy your Blush Wedding Dress from DaVinci Flagship Bridal Dress Collection…
You know that your gown will be created by one of the premiere bridal dress companies in the world. We use only top-quality fabrics fashioned into high fashion design using high-end construction. We guarantee you'll love their affordable prices. A DaVinci is the bridal dress retailers love to carry because best of all, most of these dresses are available for rush delivery at no extra charge!
Blush Wedding Dresses for 2021: Blush Ball Gowns
New for 2021! DaVinci Bridal Style #50655: Glitter Tulle & Lace A-Line Ball Gown Wedding Dress with Deep V-Neckline, V-Back. Beaded Trim & Allover Lace. Glitter Tulle Ball Gown Skirt with Chapel Train & Lace Applique. Available with Two-Tone Color Option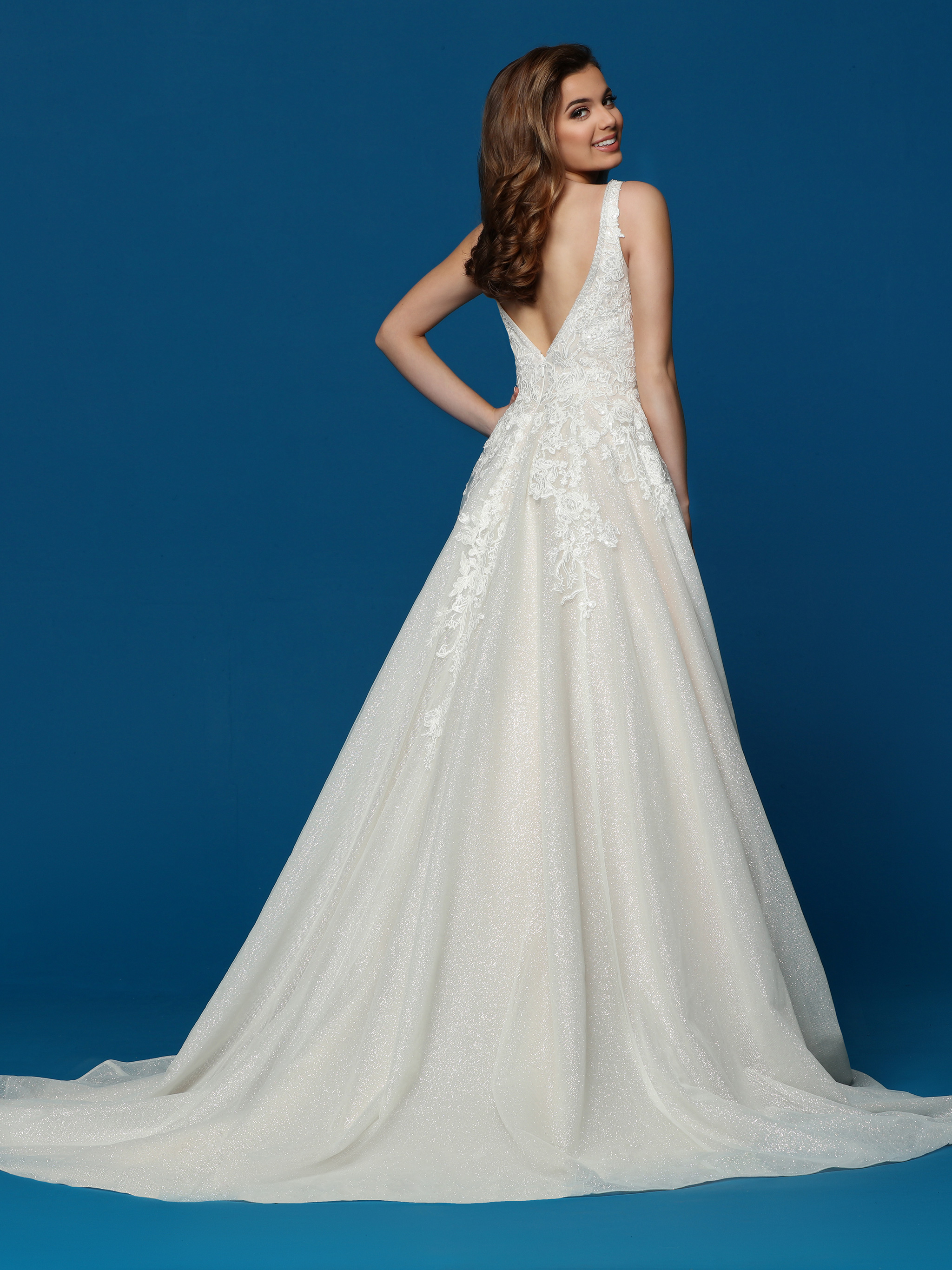 Available in: Ivory/Blush or Ivory/Ivory
To see more details Click HERE DaVinci Bridal Style #50655
New for 2021! DaVinci Bridal Style # 50630: Tulle A-Line Ball Gown Wedding Dress with Sweetheart Neckline,  Sheer Shoulder Straps & Covered Buttons. Lace Applique Leaves & Flowers on Bodice, Straps & Sheer Back. Lace Applique Highlights on Layered Tulle Skirt with Chapel Train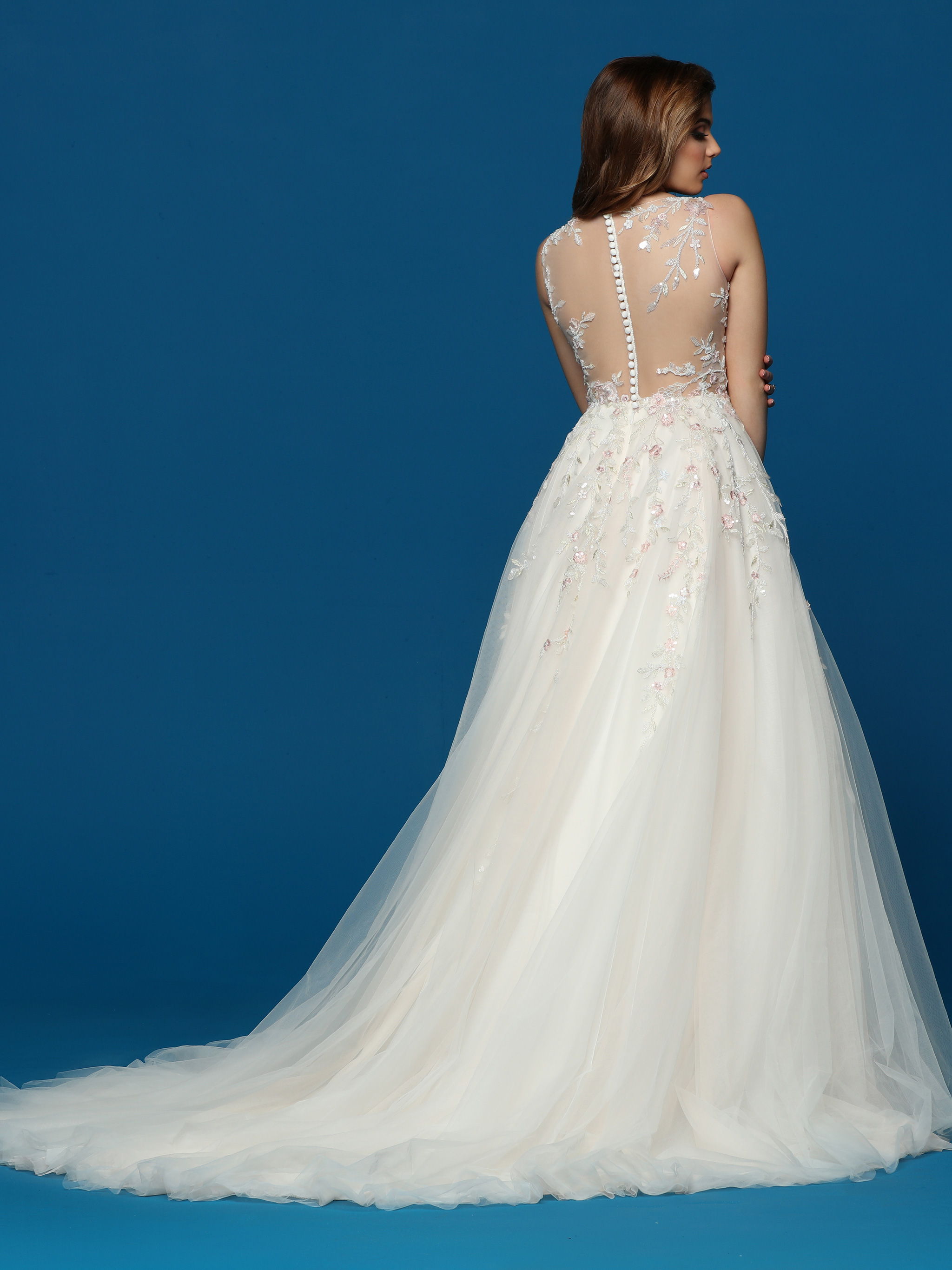 Available in: Ivory/Ivory or Ivory/Blush/Multi
To see more details Click HERE for DaVinci Bridal Style #50630
New for 2021! DaVinci Bridal Style #50634: Lace & Tulle A-Line Ball Gown Wedding Dress with Unique Strapless Scoop Neckline. Lace Applique on Corset Back Bodice. Full Layered Ball Gown Skirt with Smooth Front Hemline & Lace Applique Accent on Sides & Chapel Train. Available with Two-Tone Color Option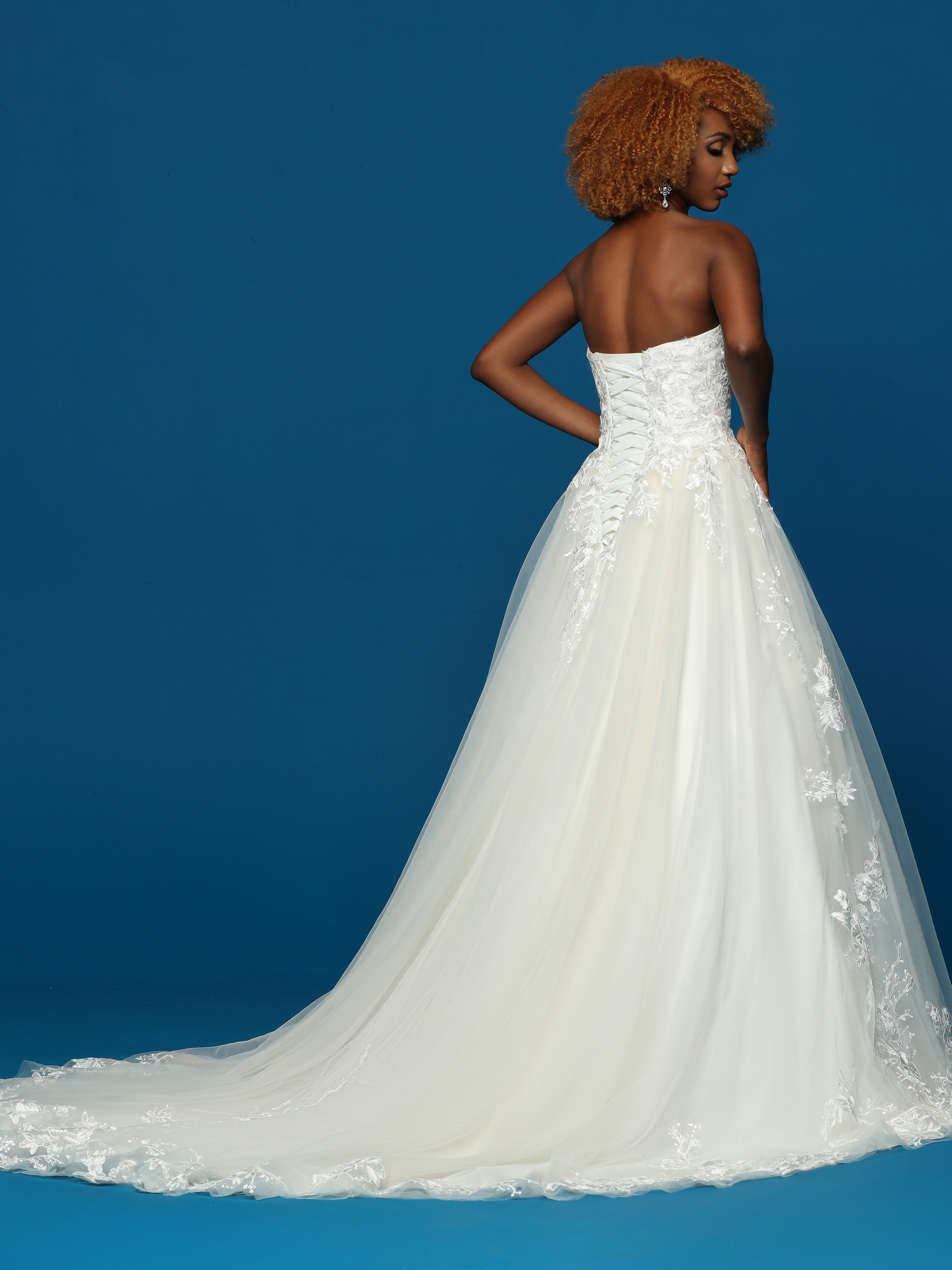 Available in: Ivory/Blush or Ivory/Ivory
To see more details Click HERE for DaVinci Bridal Style #50634
New for 2021! DaVinci Bridal Style #50646: Lace & Tulle A-Line Ball Gown Wedding Dress with Sweetheart Bodice, Sheer Modest Bateau Neckline & Deep V-Back. Lace Applique on Bodice, Straps & Waist. Full Layered Tulle Ball Gown Skirt has a Chapel Train. Available with Unique Three-Tone Color Option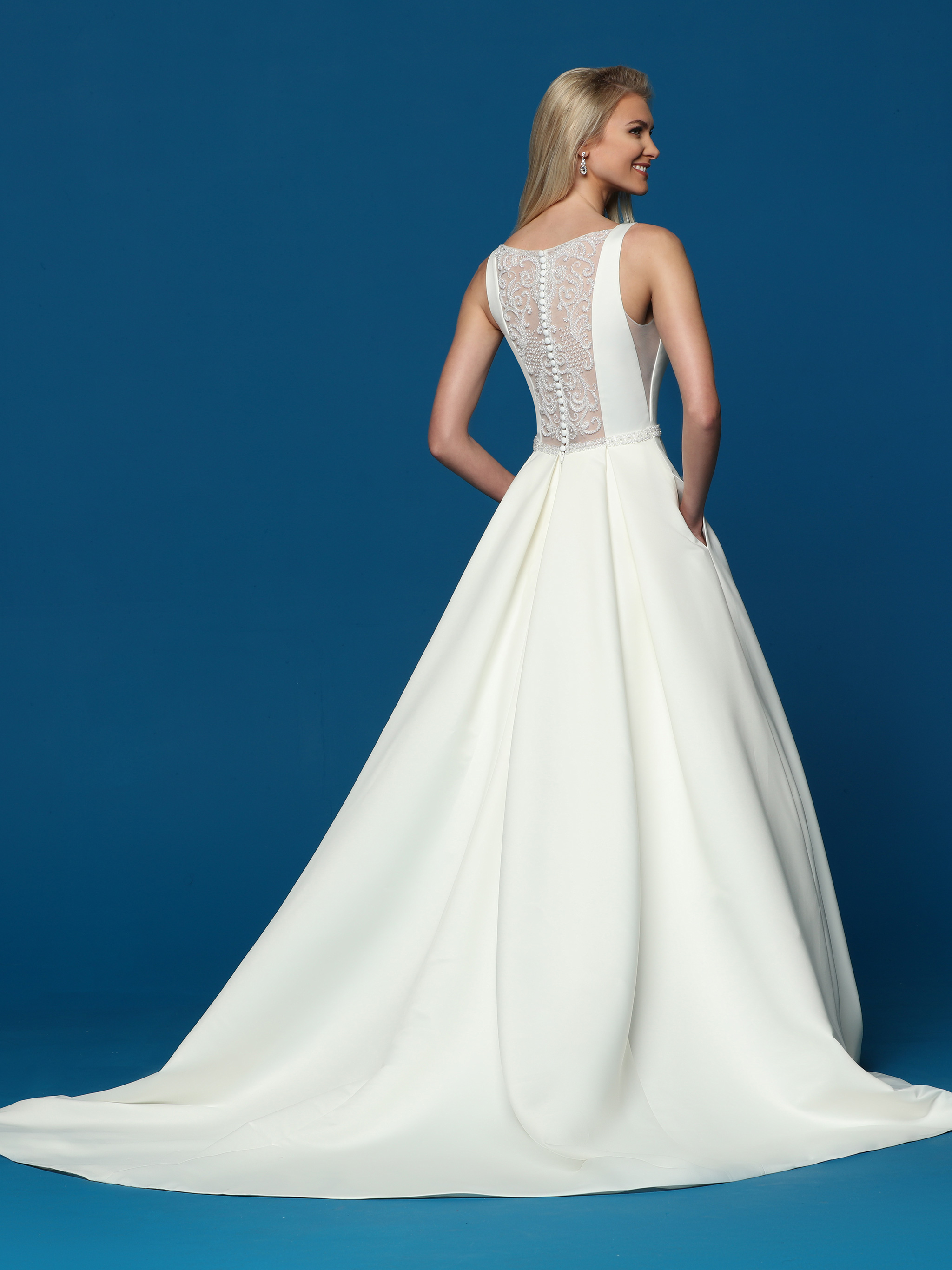 Available in: Ivory/Blush/Nude or Ivory/Ivory
To see more details Click HERE for DaVinci Bridal Style #50646
New for 2021! DaVinci Bridal Style #50637: Lace & Tulle A-Line Ball Gown Wedding Dress with Deep V-Neckline & Deep Scoop Back.  Floral Lace Applique over Translucent Bodice. Full Gathered Ball Gown Skirt with Lace Applique, Smooth Front Hemline & Fluted Chapel Train. Available with Unique Three-Tone Color Option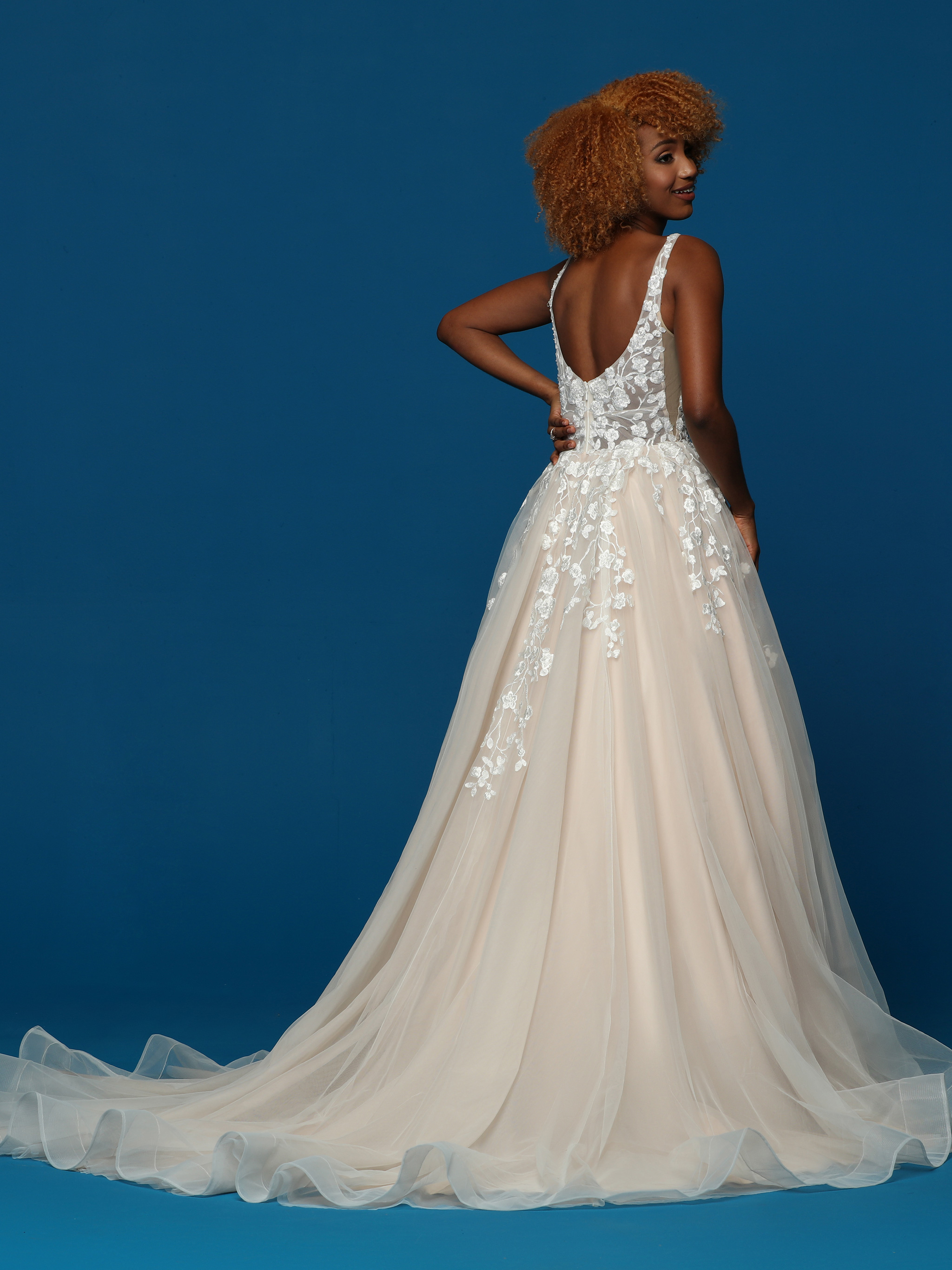 Available in: Ivory/Blush/Nude or Ivory/Ivory
To see more details Click HERE for DaVinci Bridal Style #50637
Blush Wedding Dresses for 2021: Blush Fit & Flare Mermaid Styles
New for 2021! DaVinci Bridal Style #50633: Lace & Tulle Fit & Flare Sheath Wedding Dress with V-Neckline, Full Coverage Sheer Back & Covered Buttons. Lace Applique on Bodice, Back & Below the Knee.  Contoured  Back for a Mermaid Feel & a Fuller Train. Tulle Lace Skirt with Sheer Tulle Overlay , Wide Lace Applique Hem & Chapel Train. Available with a Two-Tone Color Option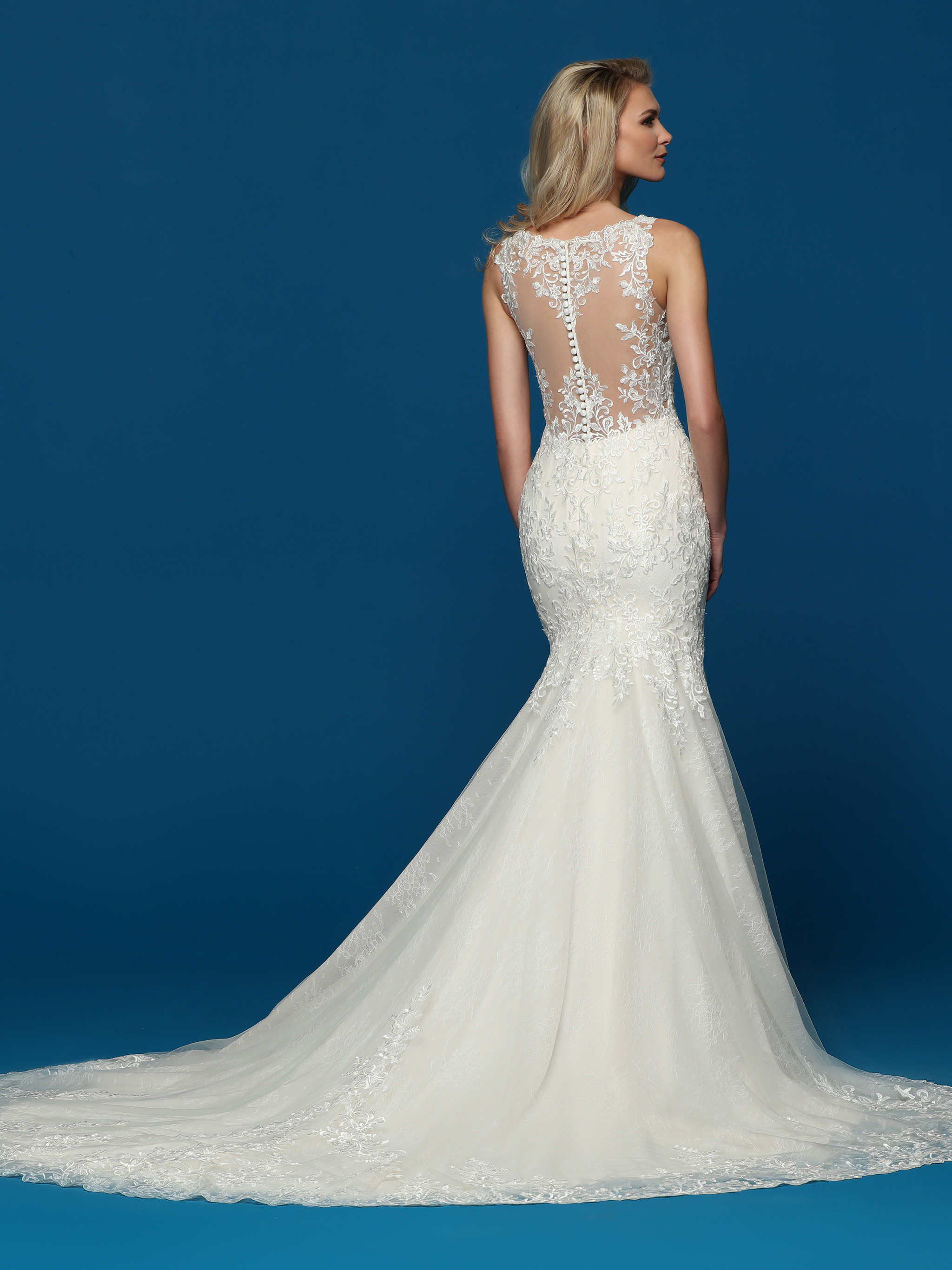 Available in: Ivory/Blush or Ivory/Ivory
To see more details Click HERE for DaVinci Bridal Style #50633
DaVinci Bridal Style #50624: Tulle Fit & Flare Wedding Dress with Sweetheart Neckline, Narrow Shoulder Straps & Plunging V-Back. Lace Applique on Bodice, Skirt & Chapel Train. Lower Skirt has Mermaid Trumpet Feel. Available in Two-Tone Color Option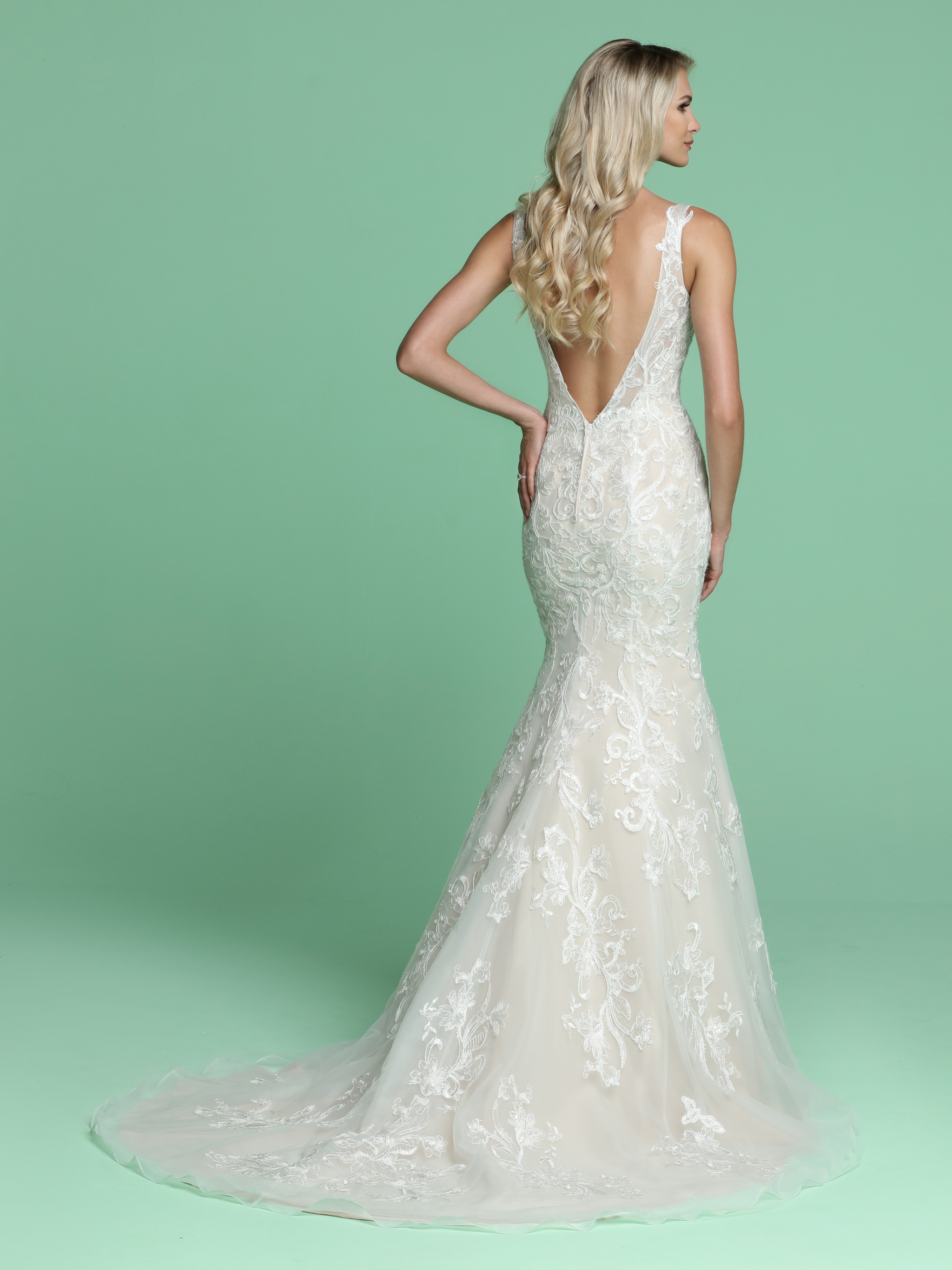 Available in: Ivory or Two-Tone Ivory/Blush
To see more details Click HERE for DaVinci Bridal Style #50624
DaVinci Bridal Style #50573: Two-Tone Beaded Embroidery & Tulle Mermaid Wedding Dress, Fitted Beaded Bodice, Strapless Sweetheart Neckline, Open Back, Corset. Full Gathered Tulle Mermaid Skirt, Chapel Train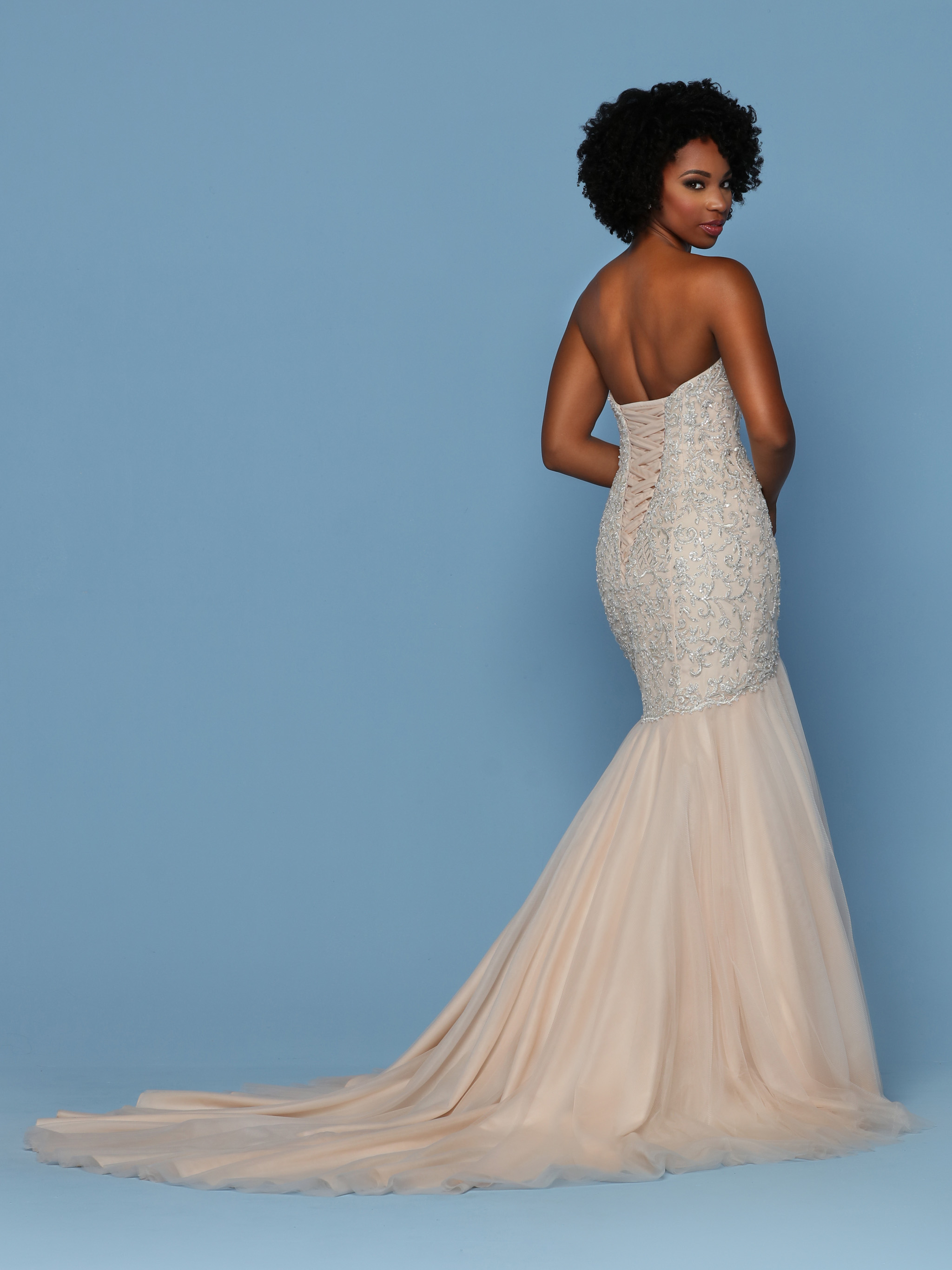 Available in: Two-Tone Blush/Silver or Ivory/Silver
To see more details Click HERE for DaVinci Bridal Style #50573
Blush Wedding Dresses for 2021: A-Line Dresses
New for 2021! DaVinci Bridal Style #50643: Lace & Tulle A-Line Ball Gown Wedding Dress with V-Neckline & Low Scoop Back. Lace Applique on Bodice, Sheer Straps & Sheer Back. Pleated Tulle Waistband. Full Gathered Ball Gown Lace Skirt with Chapel Train &  Sequin Accent. Available with Two-Tone Color Option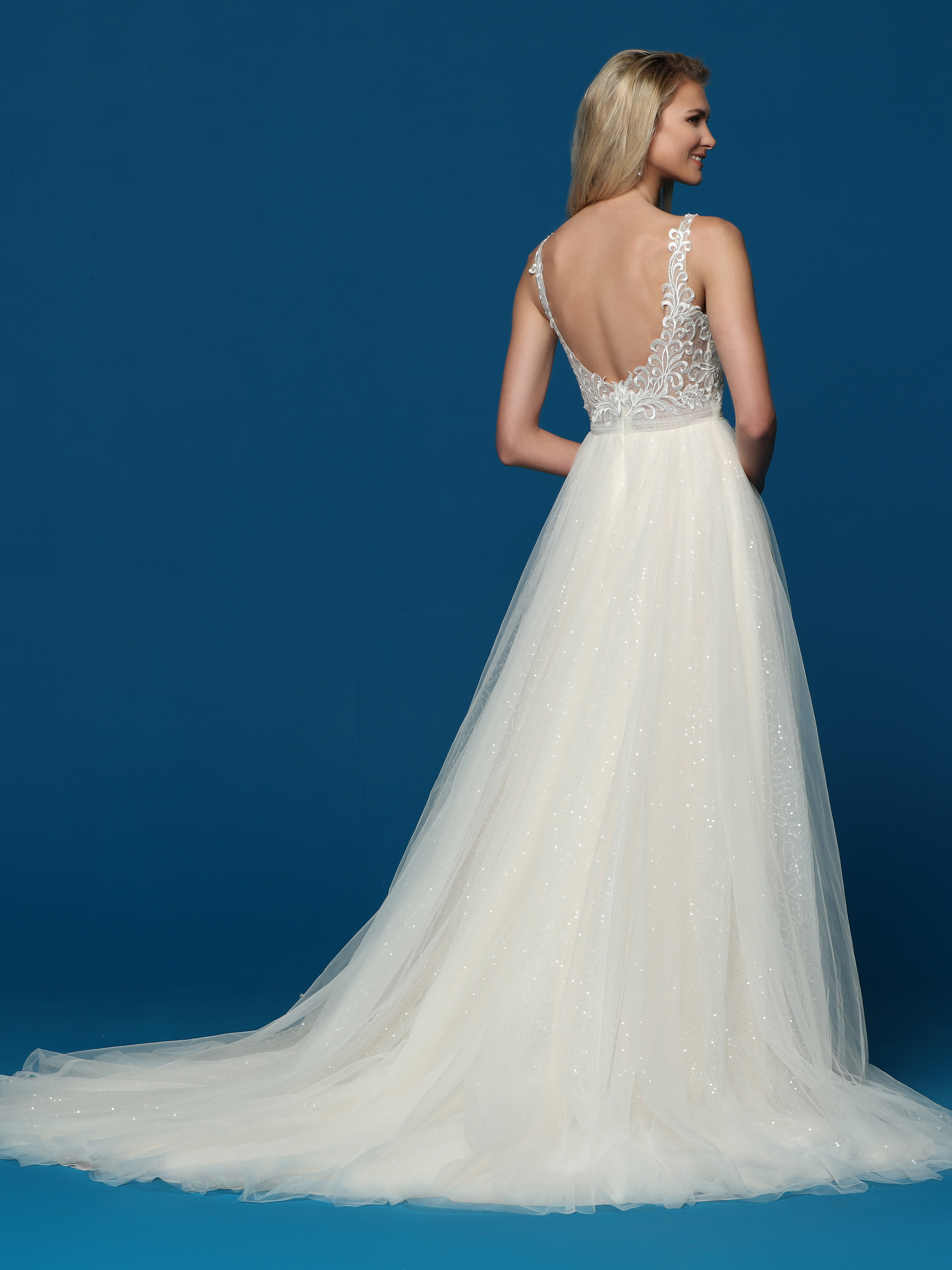 Available in: Ivory/Blush or Ivory/Ivory
To see more details Click HERE for DaVinci Bridal Style #50643
New for 2021! DaVinci Bridal Style #50652: Lace & Tulle A-Line Ball Gown Wedding Dress with V-Neckline, Low Scoop Back & Covered Buttons. Custom Lace Applique on Bodice, Straps & Waistband. Multi-Layer Lace Skirt with Sheer Overlay & Chapel Train. Available with Two-Tone Color Option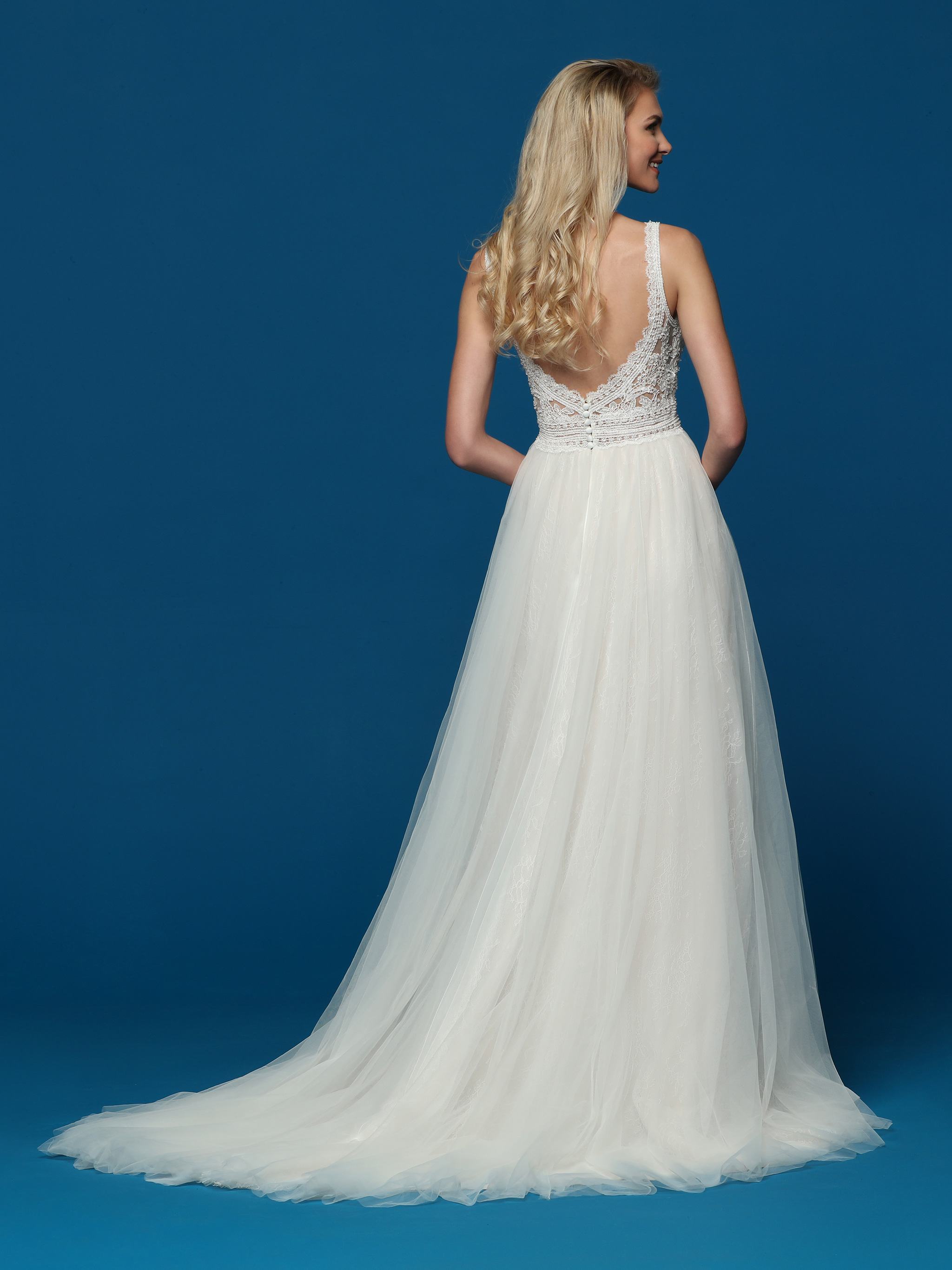 Available in: Ivory/Blush or Ivory/Ivory
To see more details Click HERE for DaVinci Bridal Style #50652
DaVinci Bridal Style # 50601: Soft Tulle A-Line Ball Gown Wedding Dress with Modest V-Neck. Lace Applique on Bodice & Front Skirt Hem. Tiered Tulle Skirt with Softly Fluted Chapel Train. Available in Two-Tone Color Option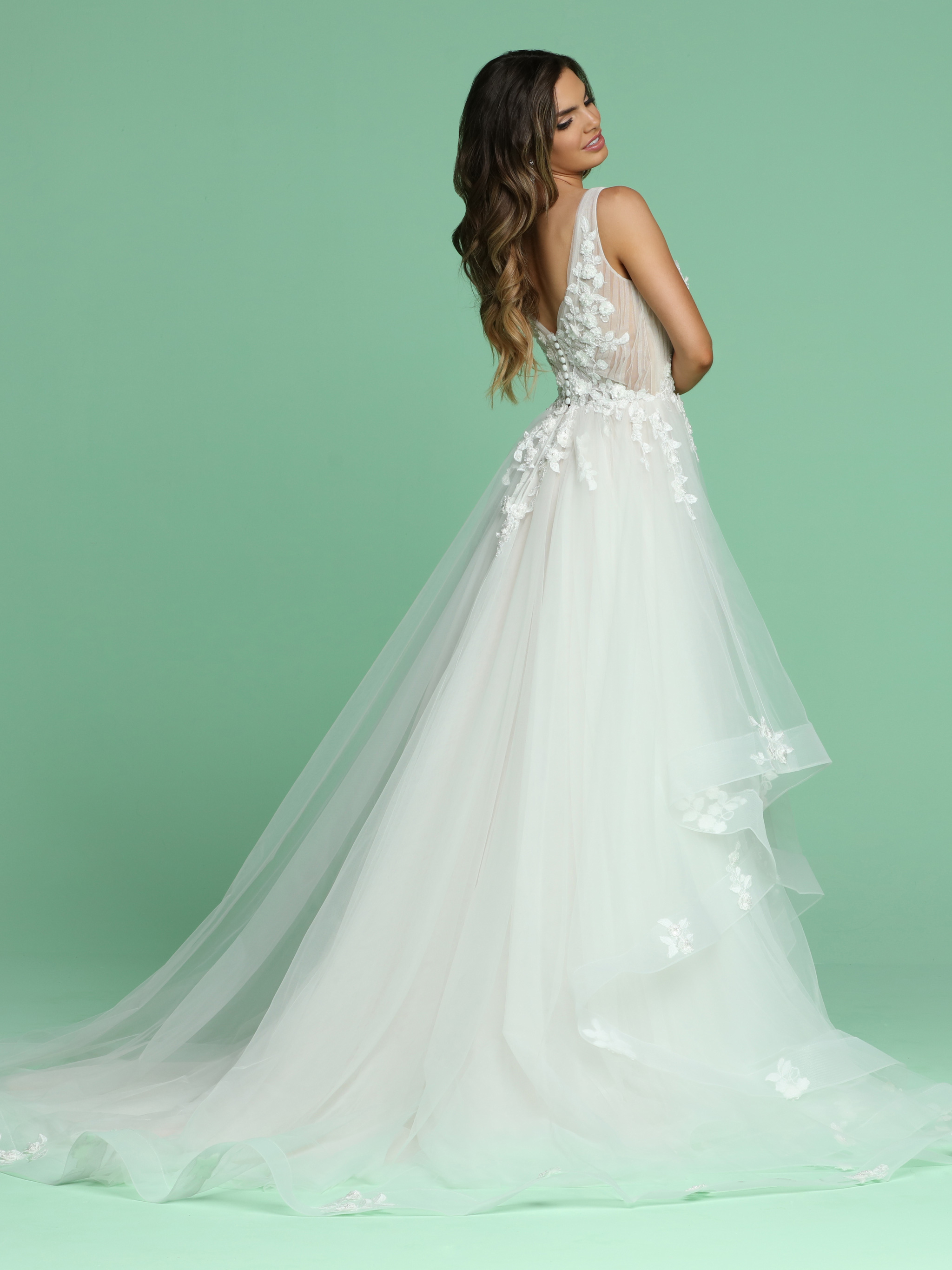 Available in: Ivory or Two-Tone Ivory/Blush
To see more details Click HERE for DaVinci Bridal Style #50601
DaVinci Bridal Style #50607: Lace & Tulle A-Line Wedding Dress. Modest, High Neckline, Full Coverage Back & Long Sheer Sleeves with Lace Applique & Sequin Accent. Full Skirt with Scalloped Lace Hem & Chapel Train. Available in Two-Tone Color Option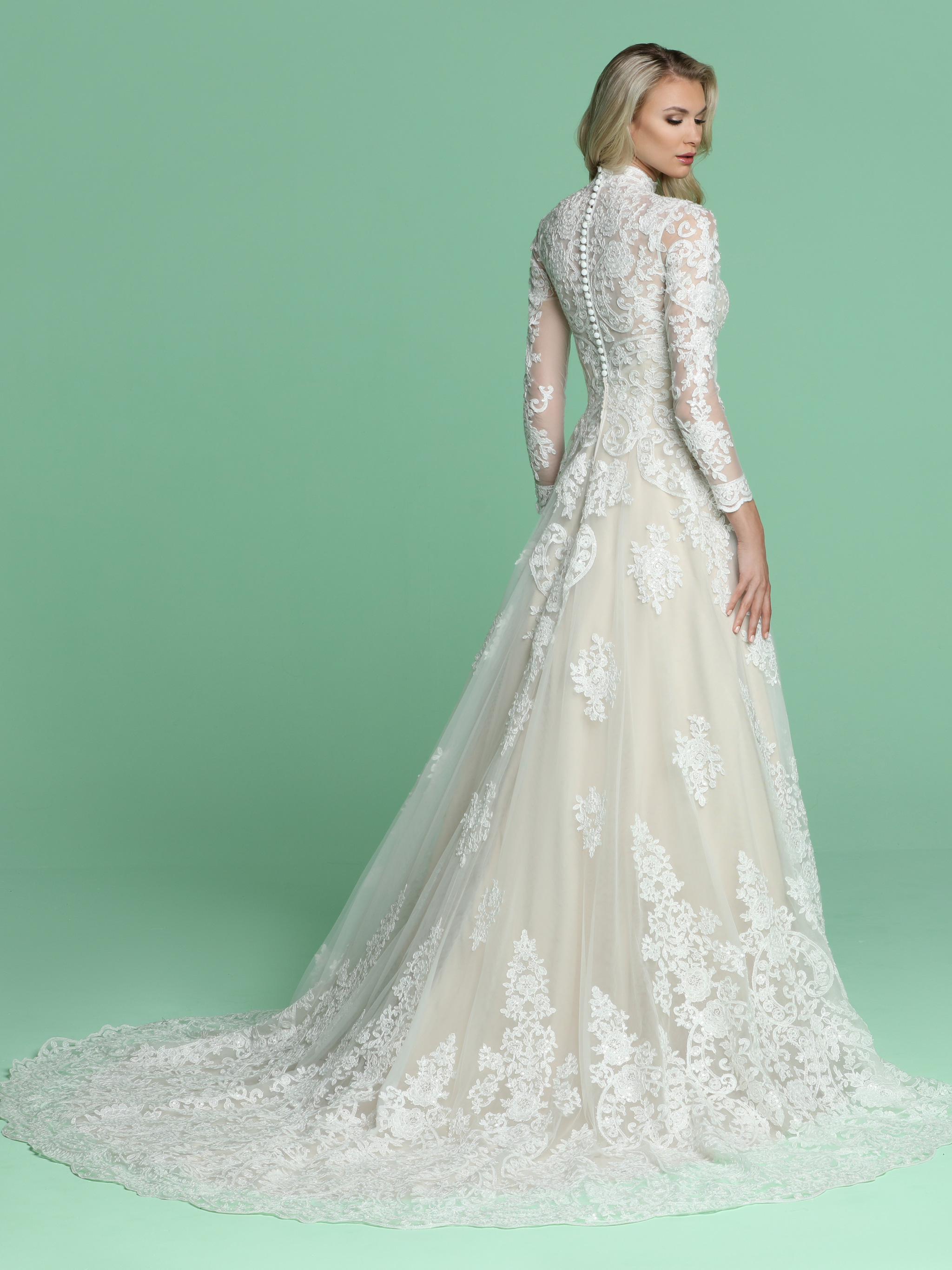 Available in: Ivory or Two-Tone Ivory/Blush
To see more details Click HERE for DaVinci Bridal Style #50607
Treat yourself to a truly unique detail for your wedding day! Click HERE or on the image below to shop our 2021 collection of Wedding Dresses with Pockets:
To see all of our beautiful dresses, Click HERE or on the image below: