If you're a bride who longs for a wedding dress with an original, individual look, you'll love our 2019 Bohemian Wedding Dresses & Boho Gowns..
This collection includes the most unique styles in both our formal and informal wedding dress collections.
Choose a formal gown with dramatic details or an informal wedding dress made with lighter fabrics like lace, soft organza, and chiffon.
No matter what gown you choose, you'll turn heads on your wedding day in a gorgeous bohemian-inspired DaVinci dress!
When you buy your Bohemian Wedding Dress or Boho Gown from DaVinci Bridal …
You know that your gown will be created by one of the premier bridal dress companies in the world. We use only top quality fabrics fashioned into high fashion design using high-end construction. We guarantee you'll love their affordable prices. A DaVinci is the bridal dress retailers love to carry because best of all, most of these dresses are available for rush delivery at no extra charge!
2019 Bohemian Wedding Dresses & Boho Gowns: One of a Kind Halter Neckline Wedding Dresses
Informal by DaVinci Style # F7091: Minimalist Fit & Flare Informal Lace Wedding Dress with V-Neck Halter Neckline. Open Back has Low Bandeau Closure with Covered Buttons & Keyhole Cutout. Beaded Waistband Accents Skirt with Sweep Train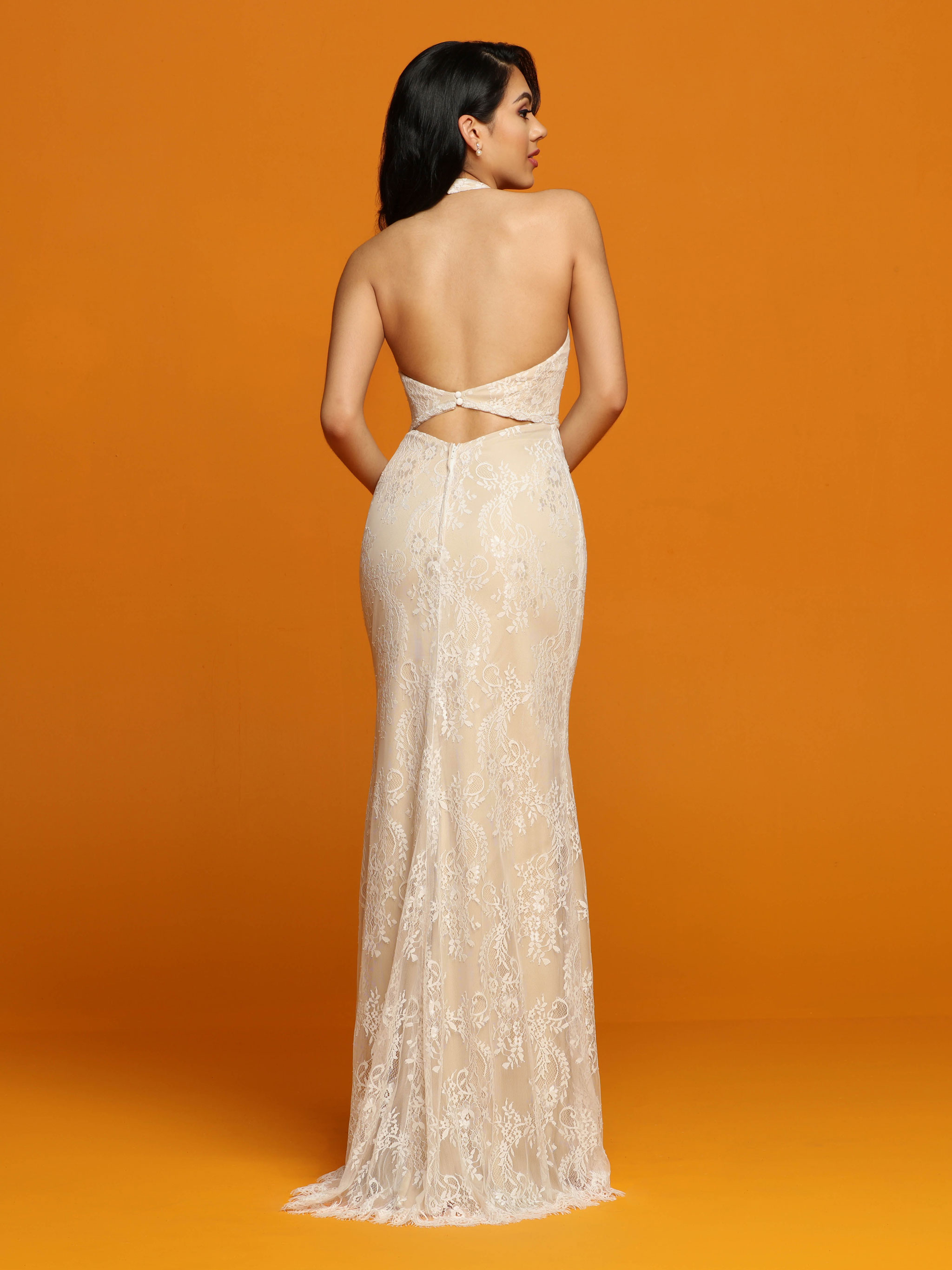 Available in: Ivory or Two-Tone Ivory/Champagne
To see more details Click HERE for DaVinci Informal Style # F7091
Informal by DaVinci Style #F7077: Tulle & Lace Informal Wedding Dress with Lace Bodice, Sheer High Halter Neckline & Sheer Back Straps with Triangle Keyhole. Smooth Tulle Skirt Flares into a Sweep Train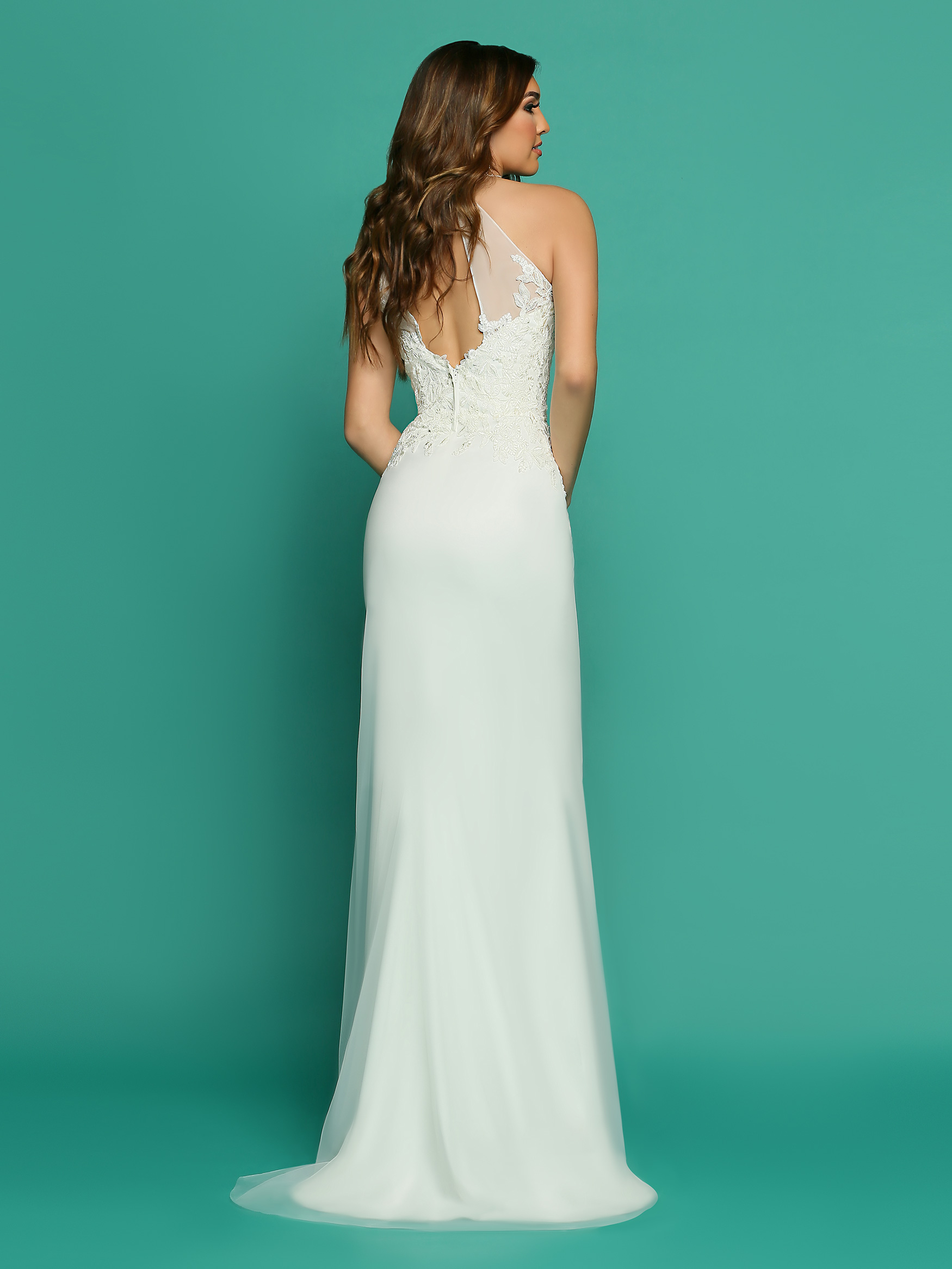 Available in: Ivory, White
To see more details Click HERE for Informal by DaVinci Style #F7077
Informal by DaVinci Style # F7096: Informal Chiffon Fit & Flare Wedding Dress with Embroidered Lace Bodice has Sheer Lace High Halter Neckline & Low Open Back. Lace Detail Accents Skirt with Sweep Train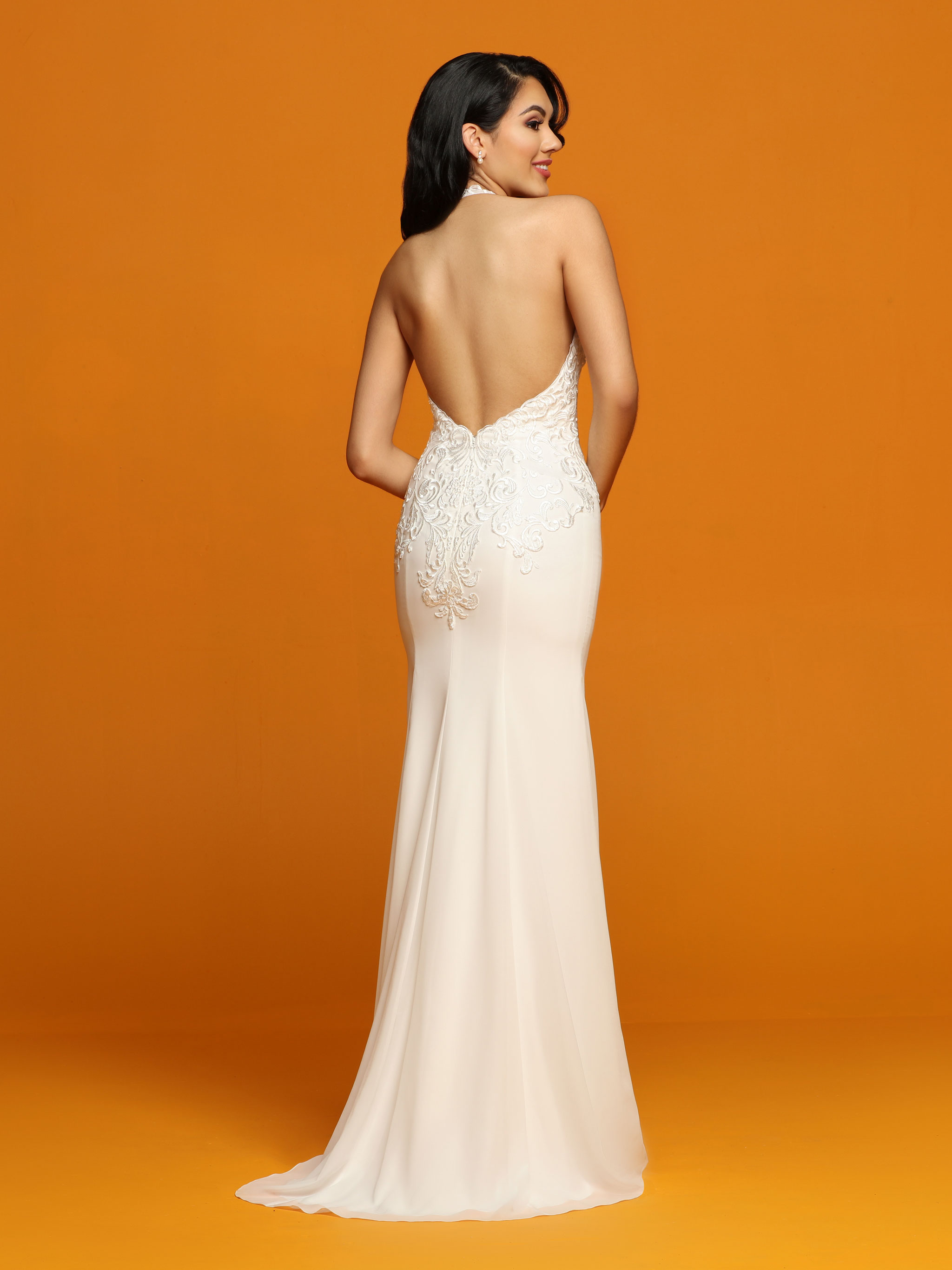 Available in: Ivory, White
To see more details Click HERE for DaVinci Informal Style # F7096
Informal by DaVinci Style #F7077: Tulle & Lace Informal Wedding Dress with Lace Bodice, Sheer High Halter Neckline & Sheer Back Straps with Triangle Keyhole. Smooth Tulle Skirt Flares into a Sweep Train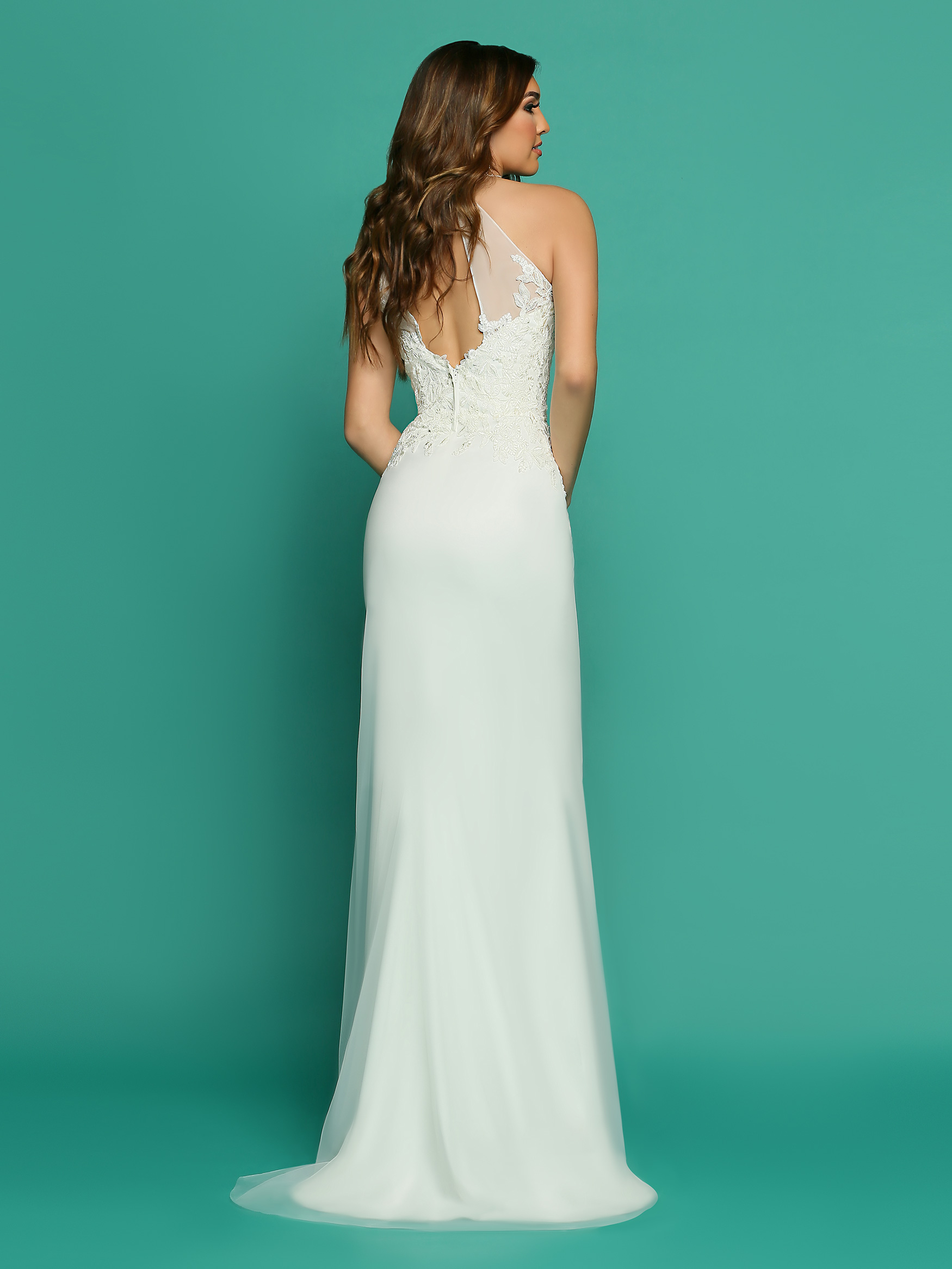 Available in: Ivory, White
To see more details Click HERE or Informal by DaVinci Style #F7077
Informal by DaVinci Style #F7040: Chiffon Informal Wedding Dress with Faux-Wrap Ruched Sweetheart Bodice, Halter Neckline & Open Back. Diagonally Ruched Skirt with Ruffled Overskirt, Beaded Applique Waist Accent & Sweep Train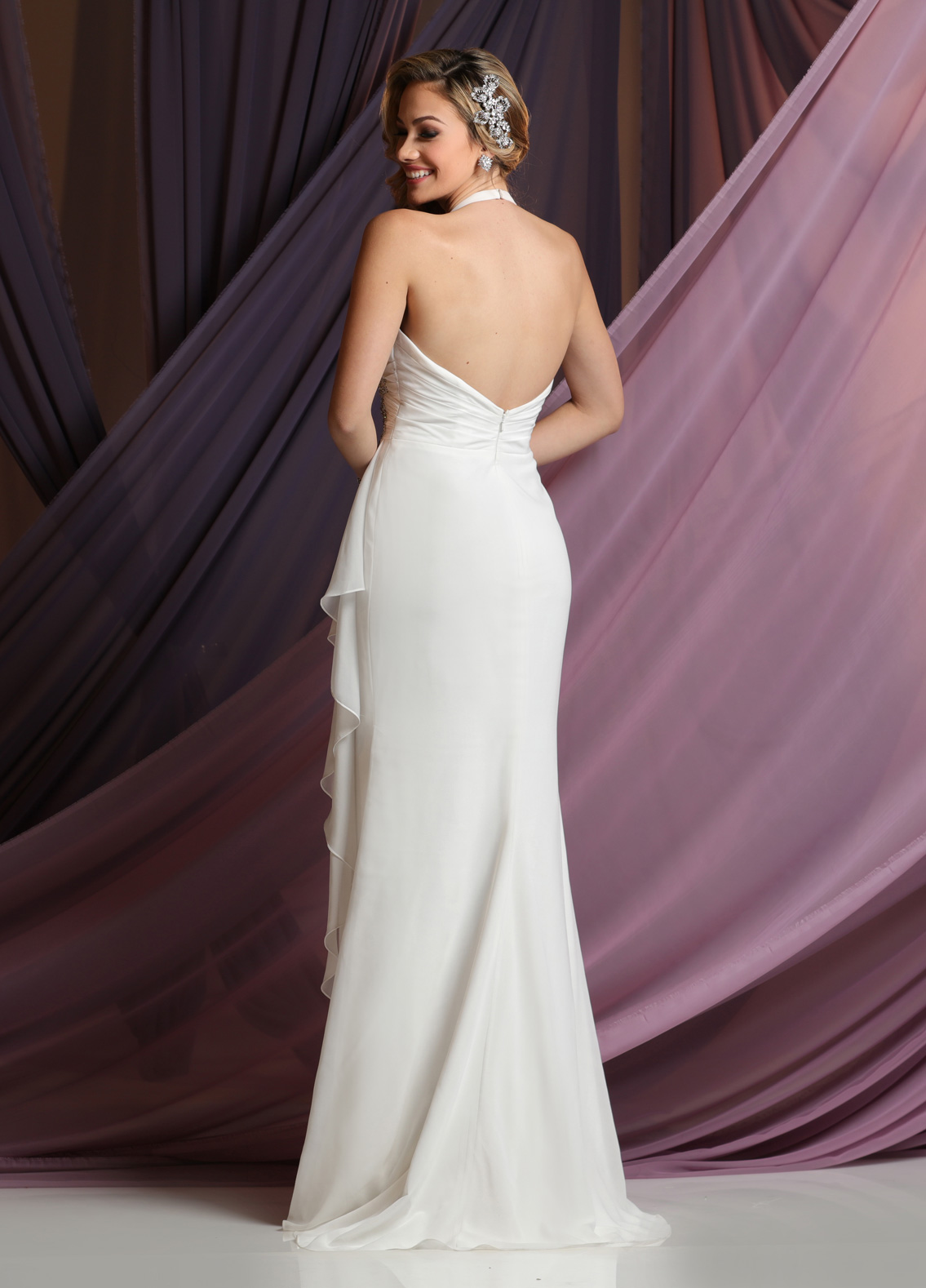 Available in: Ivory, White
To see more details Click HERE for Informal by DaVinci Style #F7040
2019 Bohemian Wedding Dresses & Boho Gowns: Wedding Dresses with Flutter Sleeve & Full Length Sleeves
New for 2019! Informal by DaVinci Style #F100: Lace Fit & Flare Sheath Wedding Dress has Strapless Sweetheart Neckline with Off the Shoulder Lace Flutter Sleeves & Sweep Train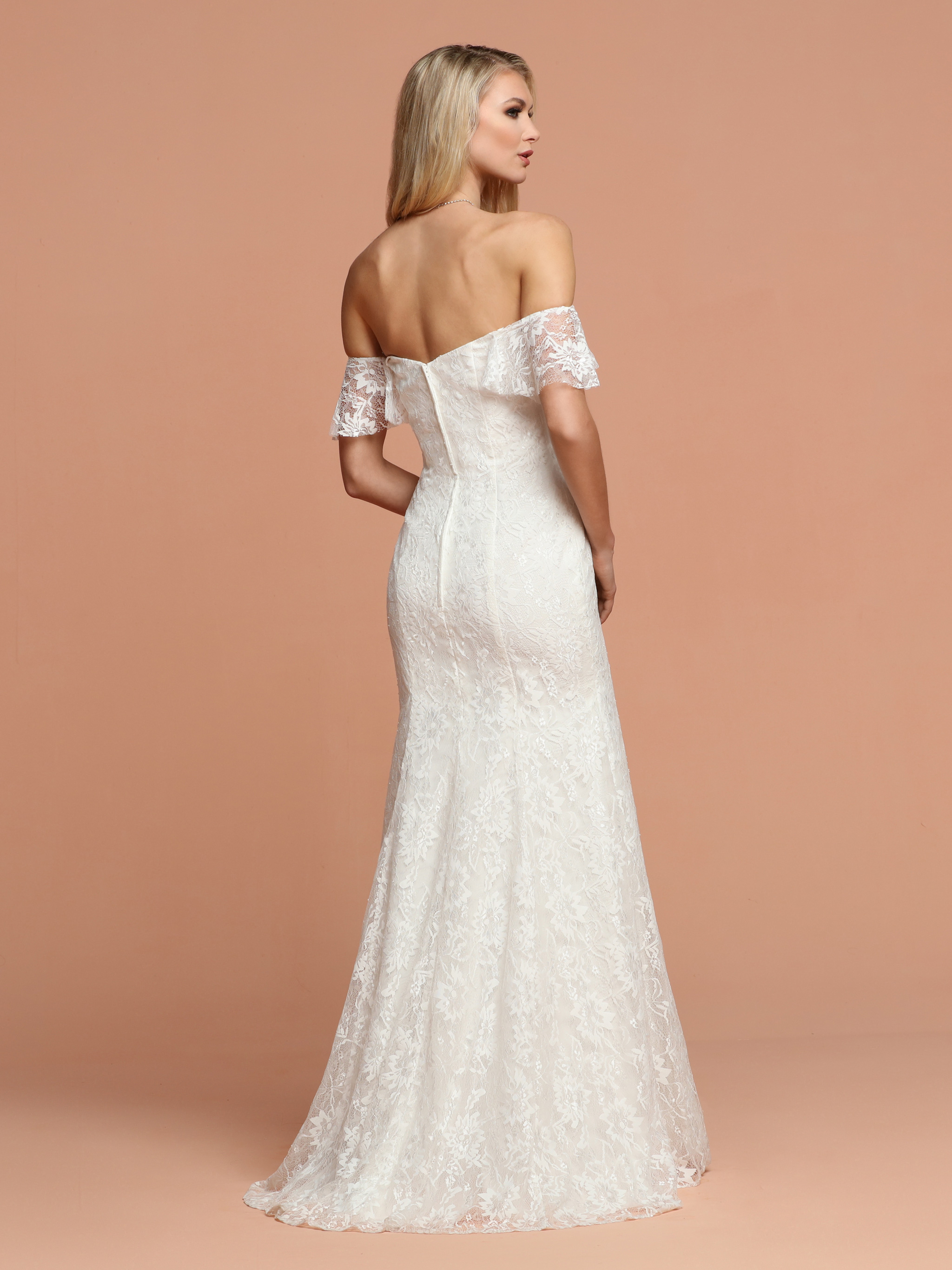 Available in: Ivory, White
To see more details Click HERE Informal by DaVinci Style #F100
New for 2019! Informal by DaVinci Style #F115: Crepe & Point D'Esprit Fit & Flare Wedding Dress has Sheer High Neckline over Strapless Sweetheart Lining & Lace Edged Back Triangle Keyhole. Full-Length Sheer Sleeves have Lace Applique at Wrist & Shoulder. Skirt features Sweep Train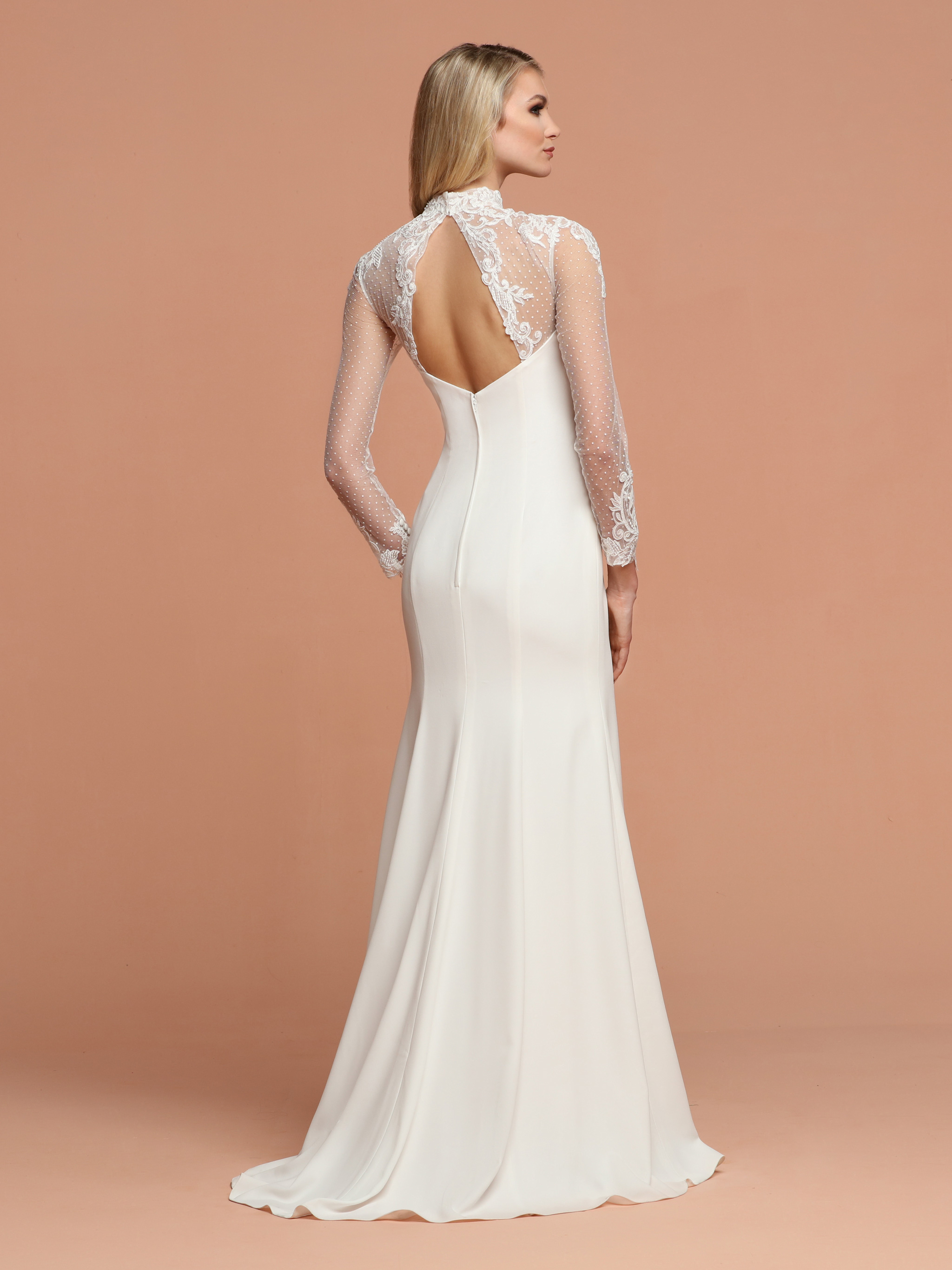 Available in: Ivory, White
To see more details Click HERE Informal by DaVinci Style #F115
2019 Bohemian Wedding Dresses & Boho Gowns: Unique Ball Gown & Mermaid Wedding Gowns
New for 2019! DaVinci Bridal Style #50598: Formal Lace & Tulle A-Line Ball Gown Wedding Dress has Plunging V-Neck Lining under Sheer Lace Halter Neckline & Lace Straps. Back of Dress is Open to the Waist with Button Accent over Zipper. Layered Tulle Ball Gown Skirt with Lace Applique Below Waistline has Chapel Train. Available with Two-Tone Color Option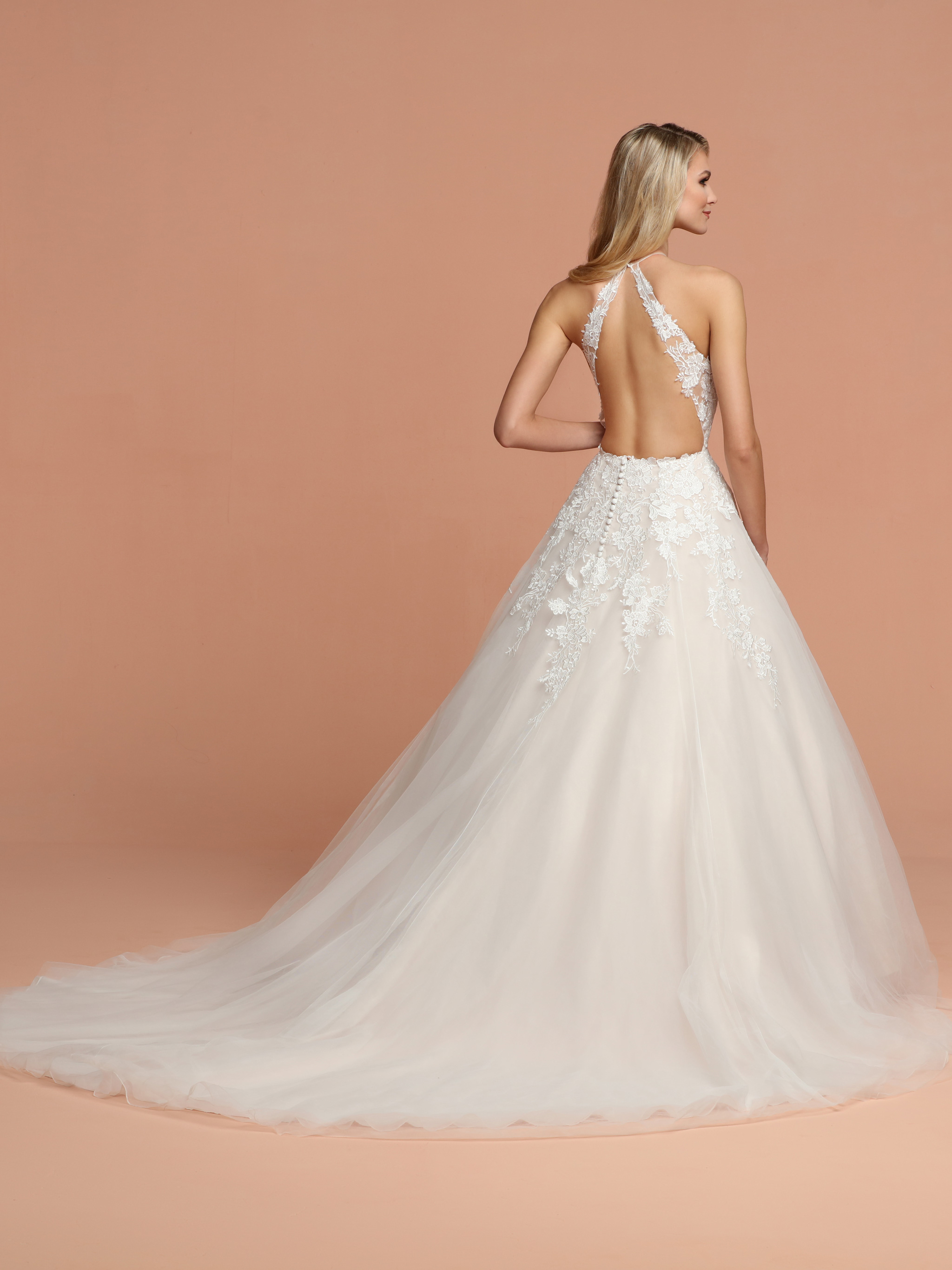 Available in: Ivory, White or Two-Tone Ivory/Blush, White/Blush
To see more details Click HERE DaVinci Bridal Style #50598
New for 2019! DaVinci Bridal Style #50600: Formal Beading, Embroidery & Tulle Mermaid Wedding Dress has Sweetheart Neckline, Intricate Beaded Design on Bodice, Beaded Straps & Zipper Closure. Full Layered Tulle Mermaid Skirt as Chapel Train. Available with Two-Tone Color Option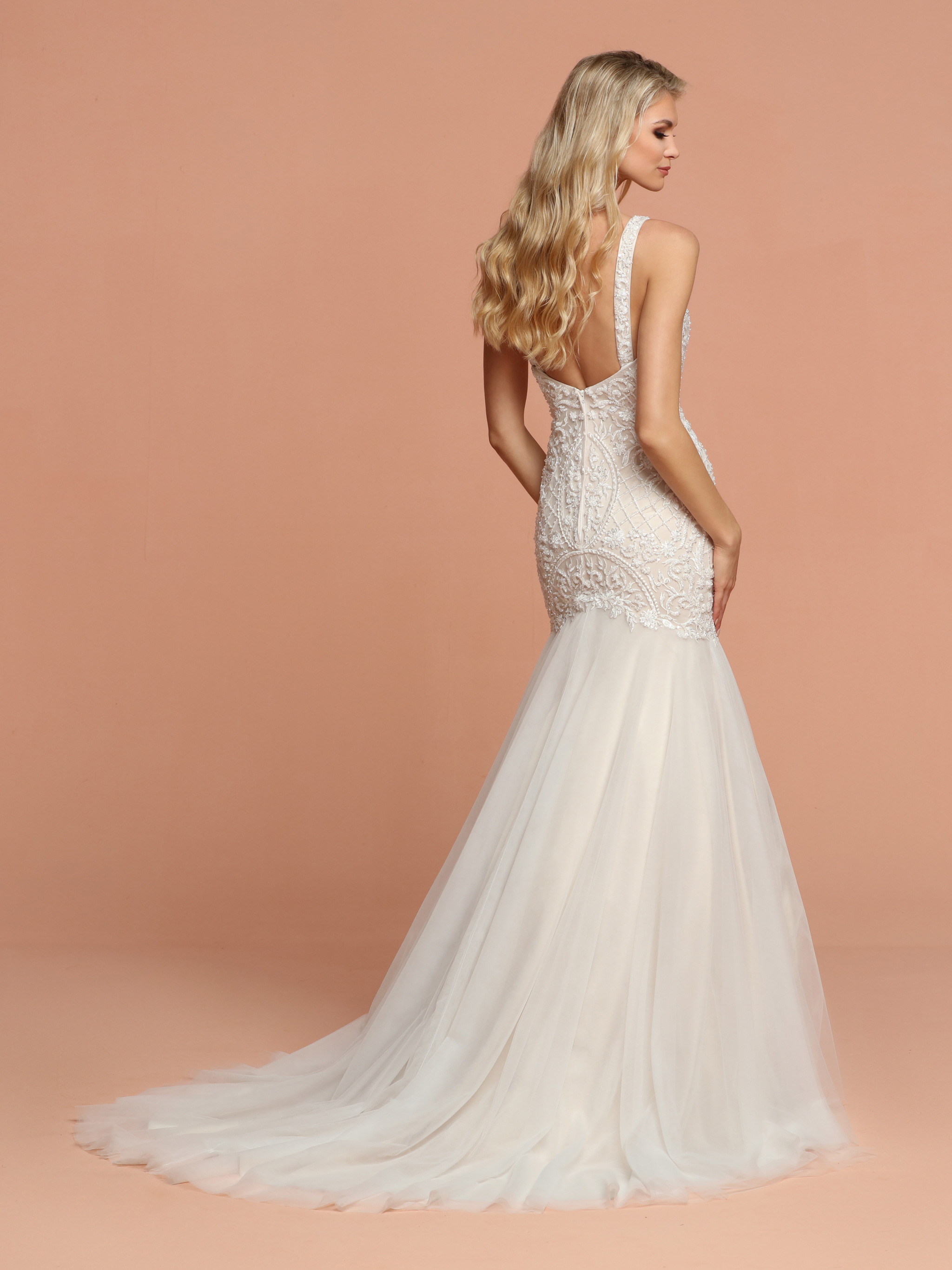 Available in: Ivory, White or Two-Tone Ivory/Nude, White/Nude
To see more details Click HERE DaVinci Bridal Style #50600
2019 Bohemian Wedding Dresses & Boho Gowns: Wedding Dresses with Removable Skirts & Removable Trains
Informal by DaVinci Style #F7065: Two-Piece Soft Tulle Informal Wedding Dress with Knee-Length Lace Sheath, Sheer Bateau Neckline & Sheer Back with Covered Buttons. Removable Soft Tulle Ball Gown-Style Skirt with Lace Applique Trim has a Sweep Train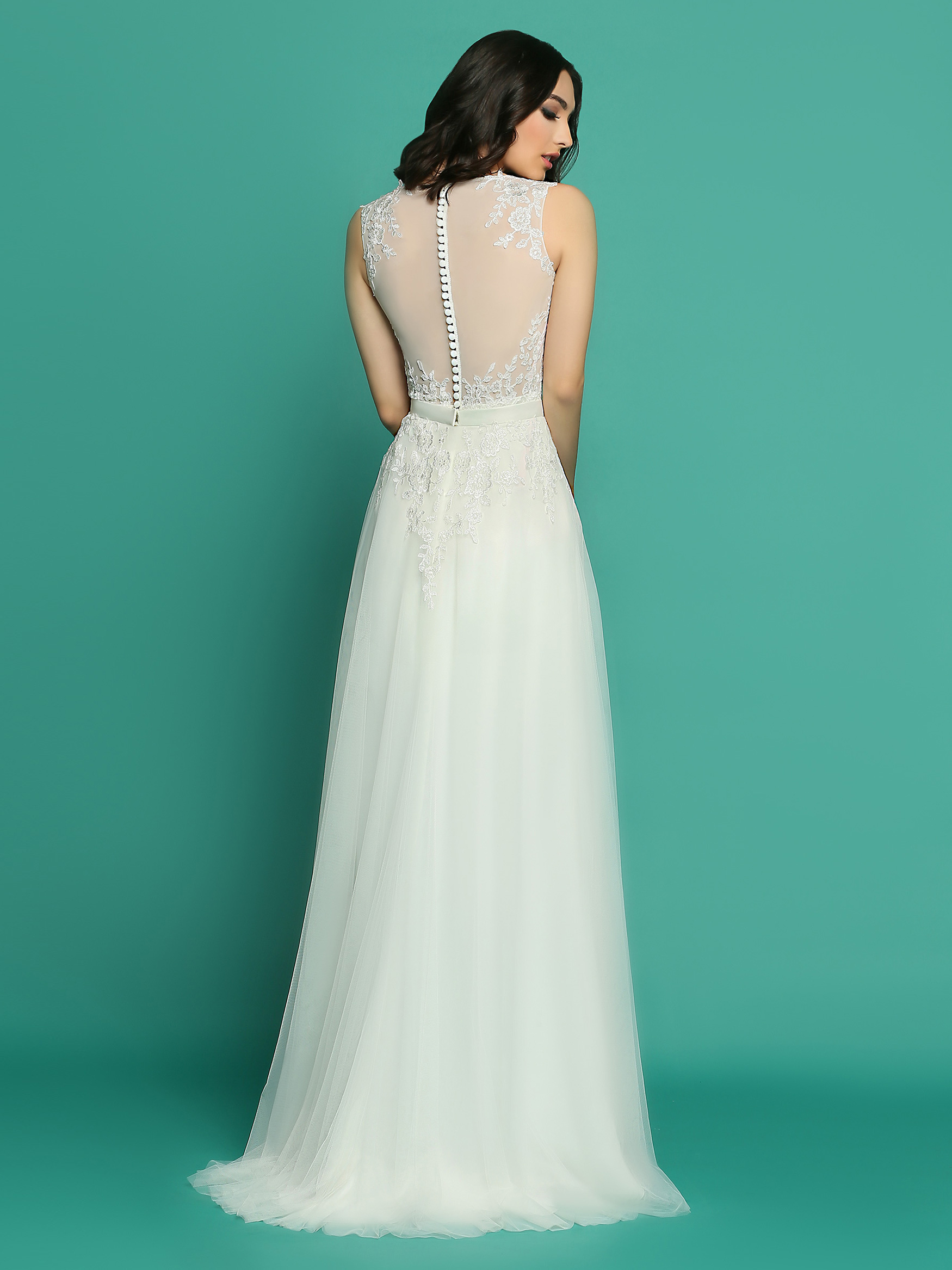 Available in: Ivory, White
To see more details Click HERE for Informal by DaVinci Style #F7065
Informal by DaVinci Style #F7073: Informal A-Line Wedding Dress with Lace Sweetheart Bodice, Sheer Bateau Neckline & Sheer Back with Keyhole. Flared A-Line Skirt with Scalloped Eyelash Lace has Floor Length Hem. Removable Sheer Tulle Skirt creates a Ball Gown Look with a Sweep Train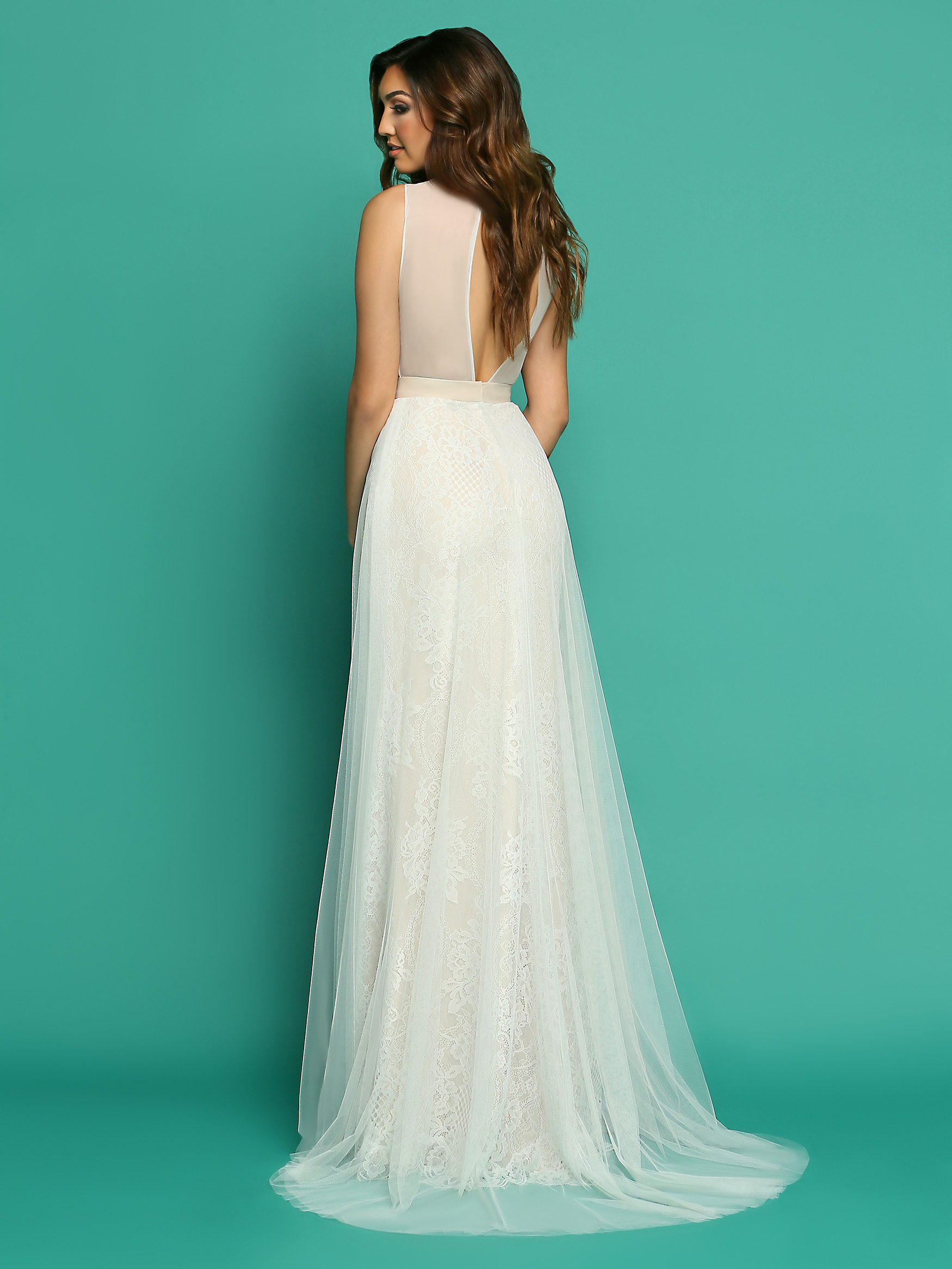 Available in: Ivory, White or Two-Tone Ivory/Champagne, White/Champagne
To see more details Click HERE for Informal by DaVinci Style #F7073
2019 Bohemian Wedding Dresses & Boho Gowns: Sexy Slit Skirt Wedding Dresses
New for 2019! DaVinci Bridal Style #50596: Formal All Over Lace A-Line Wedding Dress as Modest High Neckline over Strapless Sweetheart Lining & Full Length Lace Sleeves. Full Coverage Lace Back has Covered Buttons to Waistband. Gathered Skirt with Chapel Train has Thigh High Front Slit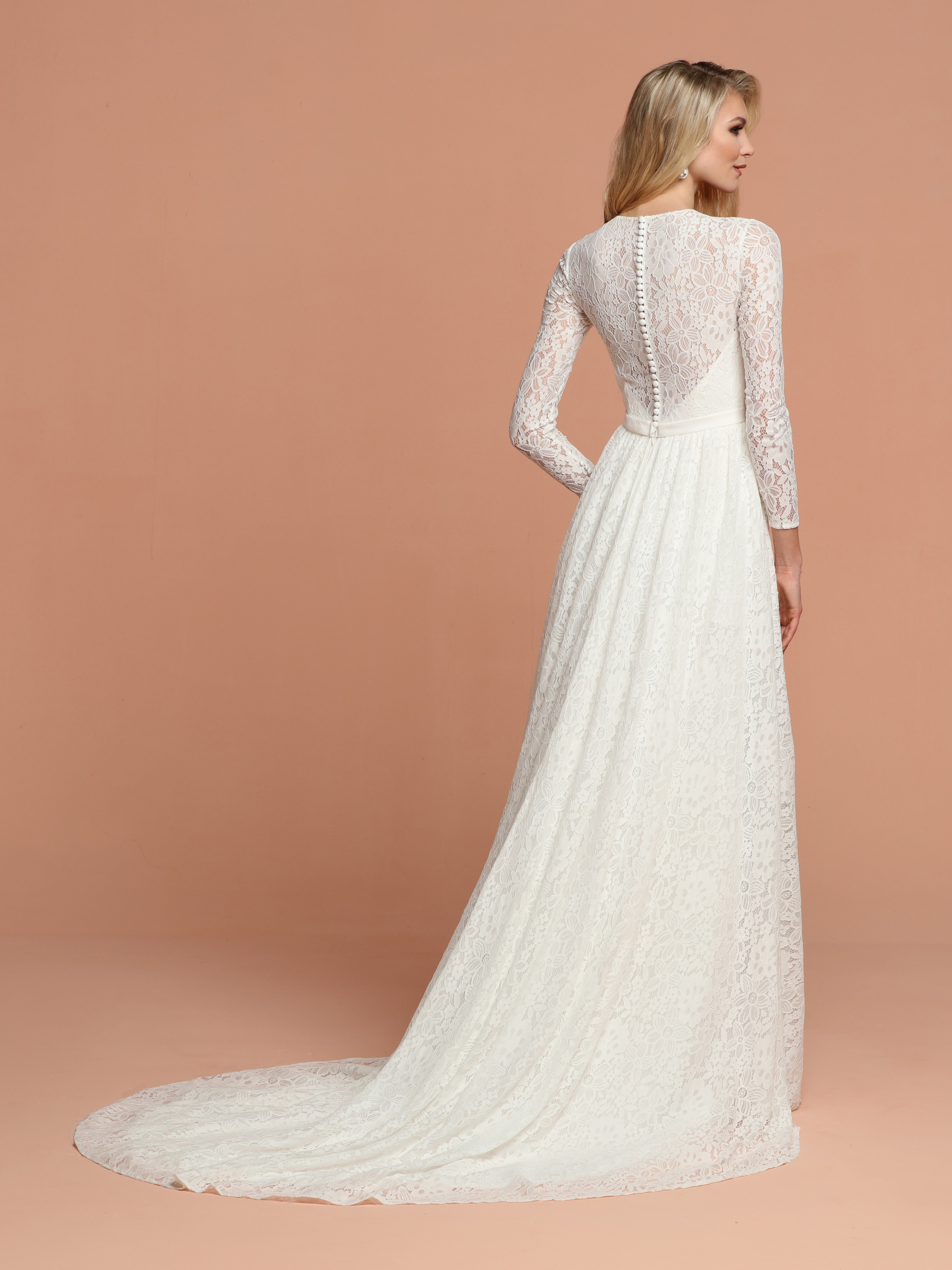 Available in: Ivory, White
To see more details Click HERE DaVinci Bridal Style #50596
 Informal by DaVinci Style # F7083: Soft Tulle Informal A-Line Wedding Dress with Sweetheart Bodice, Modest Sheer Bateau Neckline, Sheer Back & Sheer Three-Quarter Length Sleeves with Lace Applique. Covered Buttons hide the Zipper. Full Gathered Ball Gown Style Skirt with Thigh High Front Slit  Ends in Sweep Train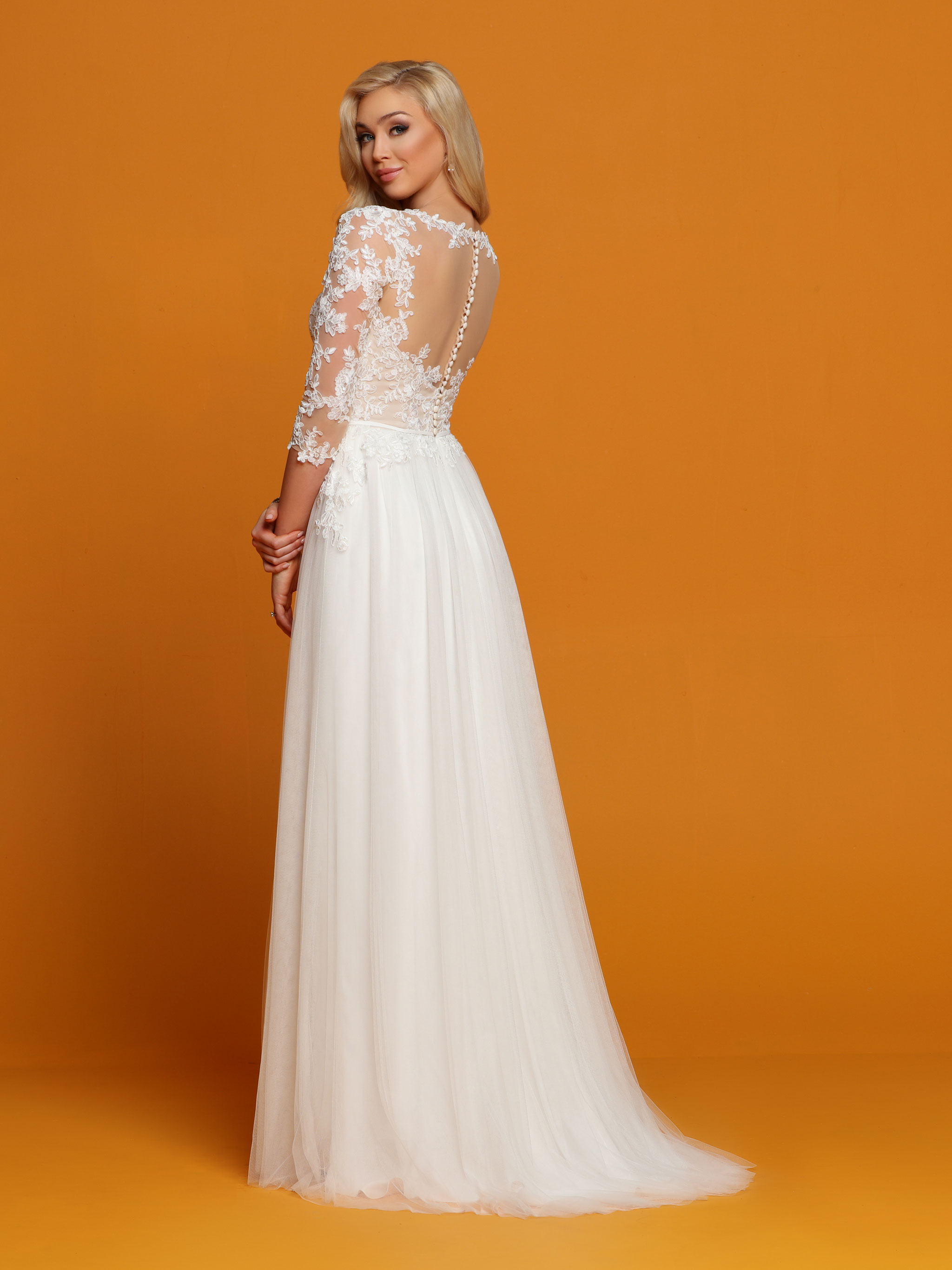 Available in: Ivory or Two-Tone Ivory/Nude
To see more details Click HERE for Informal by DaVinci Style # F7083
2019 Bohemian Wedding Dresses & Boho Gowns: Deep Scoop Back Wedding Dresses
New for 2019! DaVinci Bridal Style #50592: Formal Crepe, Lace & Tulle Fit & Flare Trumpet Wedding Dress with Lace Bodice, V-Neckline & Low Scoop Back with Button Accent. Smooth Crepe Skirt with Lace Applique at Waist has Chapel Train. Available with Two-Tone Color Option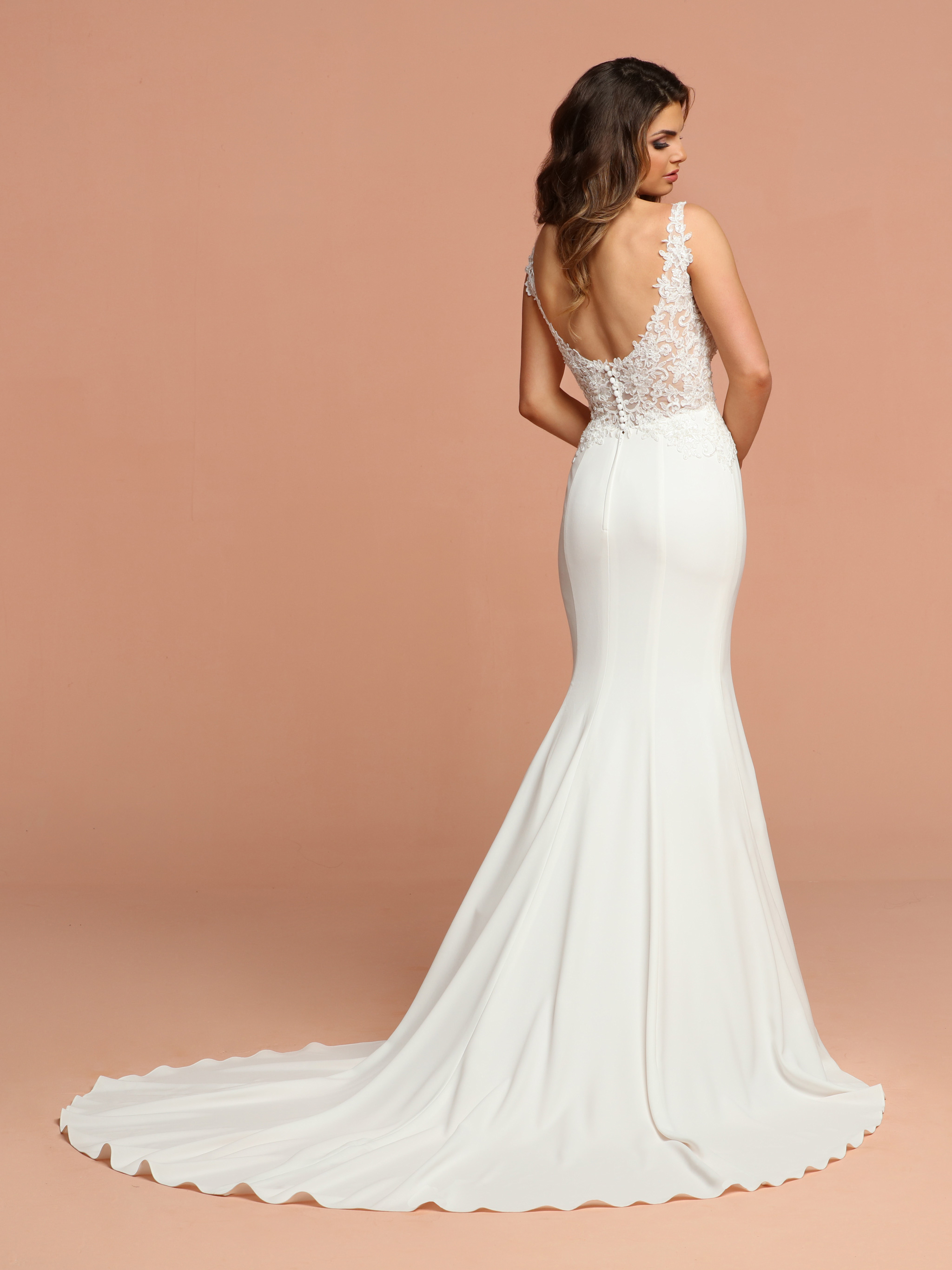 Available in: Ivory, White or Two-Tone Ivory/Nude, White/Nude
To see more details Click HERE DaVinci Bridal Style #50592
Informal by DaVinci Style #F7063: Tulle & Lace Informal Fit & Flare Wedding Dress with  Modest Sheer Lace Bateau Neckline & Daring Open Low Scoop Back. Skirt features Lace Applique & a Sweep Train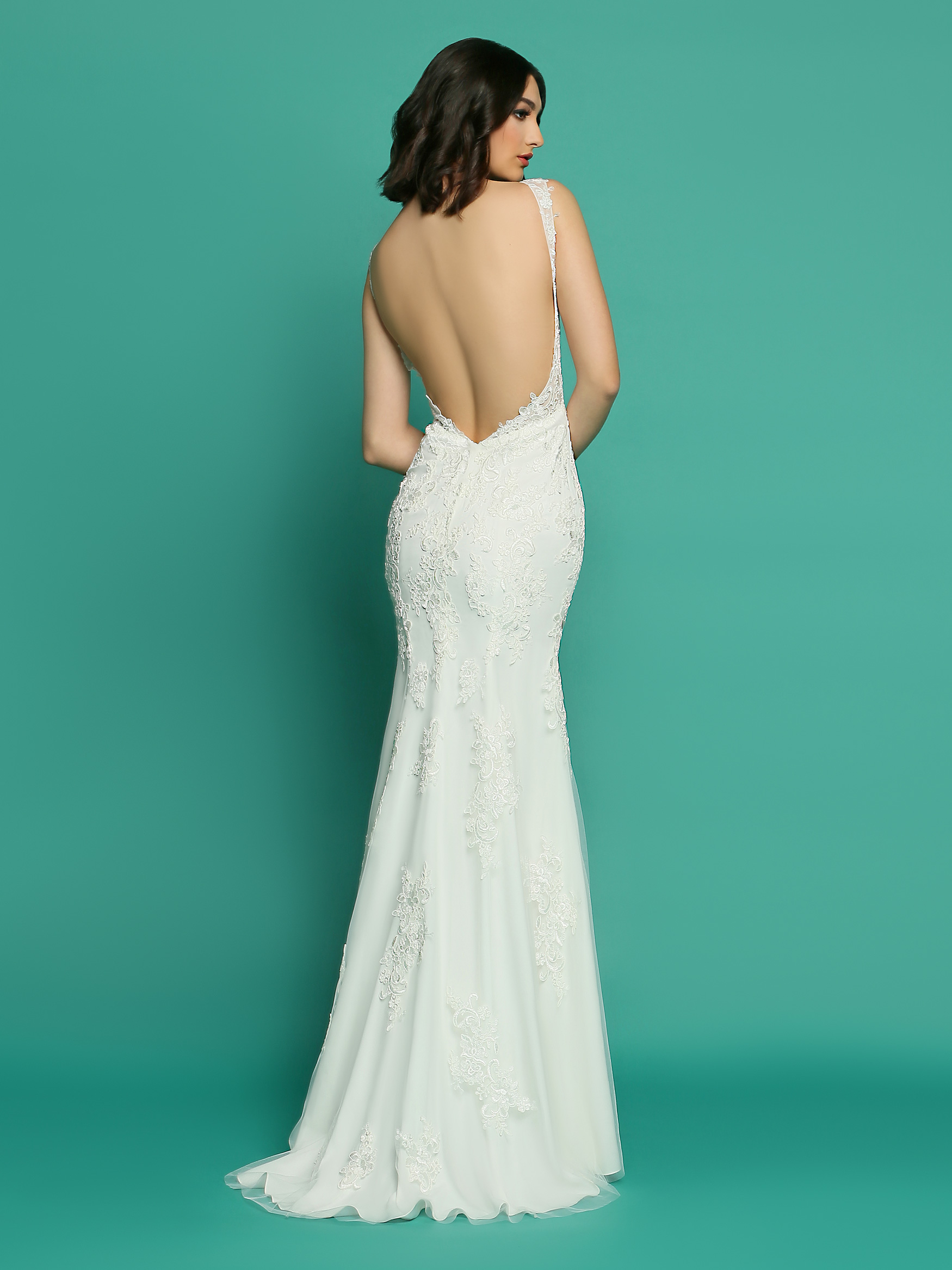 Available in: Ivory, White
To see more details Click HERE for Informal by DaVinci Style #F7063
New for 2019! DaVinci Bridal Style #50578: Lace & Tulle Fit & Flare Formal Wedding Dress with Deep V-Neckline, Modesty Panel, Narrow Lace Straps & Full Coverage Sheer Back with Lace Applique & Covered Buttons. Tulle Skirt with Wide Lace Hem has Chapel Train. Available with Two-Tone Color Option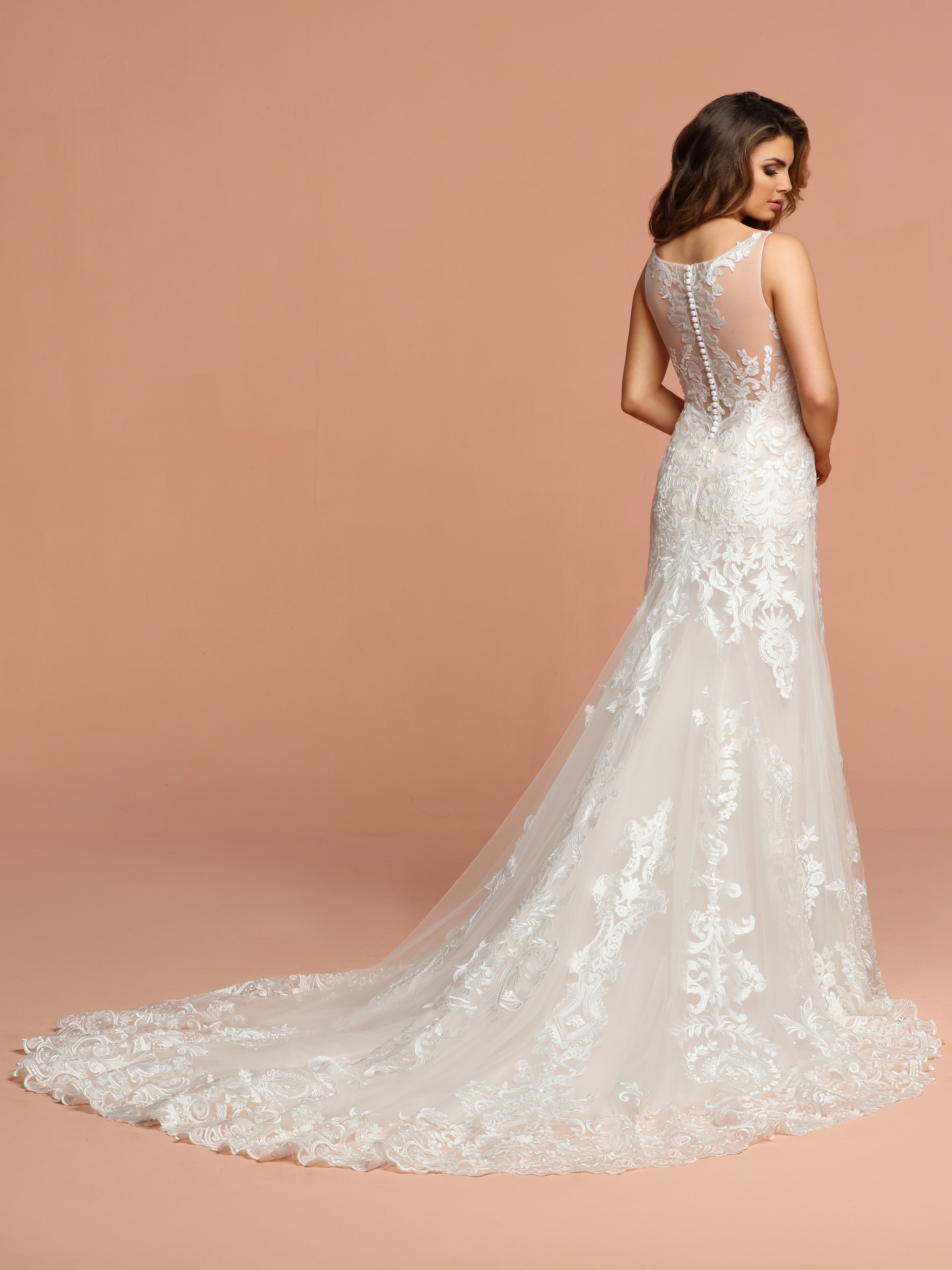 Available in: Ivory, White or Two-Tone Ivory/Blush, White/Blush
To see more details Click HERE DaVinci Bridal Style #50578
Informal by DaVinci Style #F7070: Informal Fit & Flare Lace Wedding Dress with  Modest Sheer Lace Bateau Neckline & Deep Scoop Back with Sheer Lace Overlay. Skirt with Sweep Train has Eyelash Lace Hem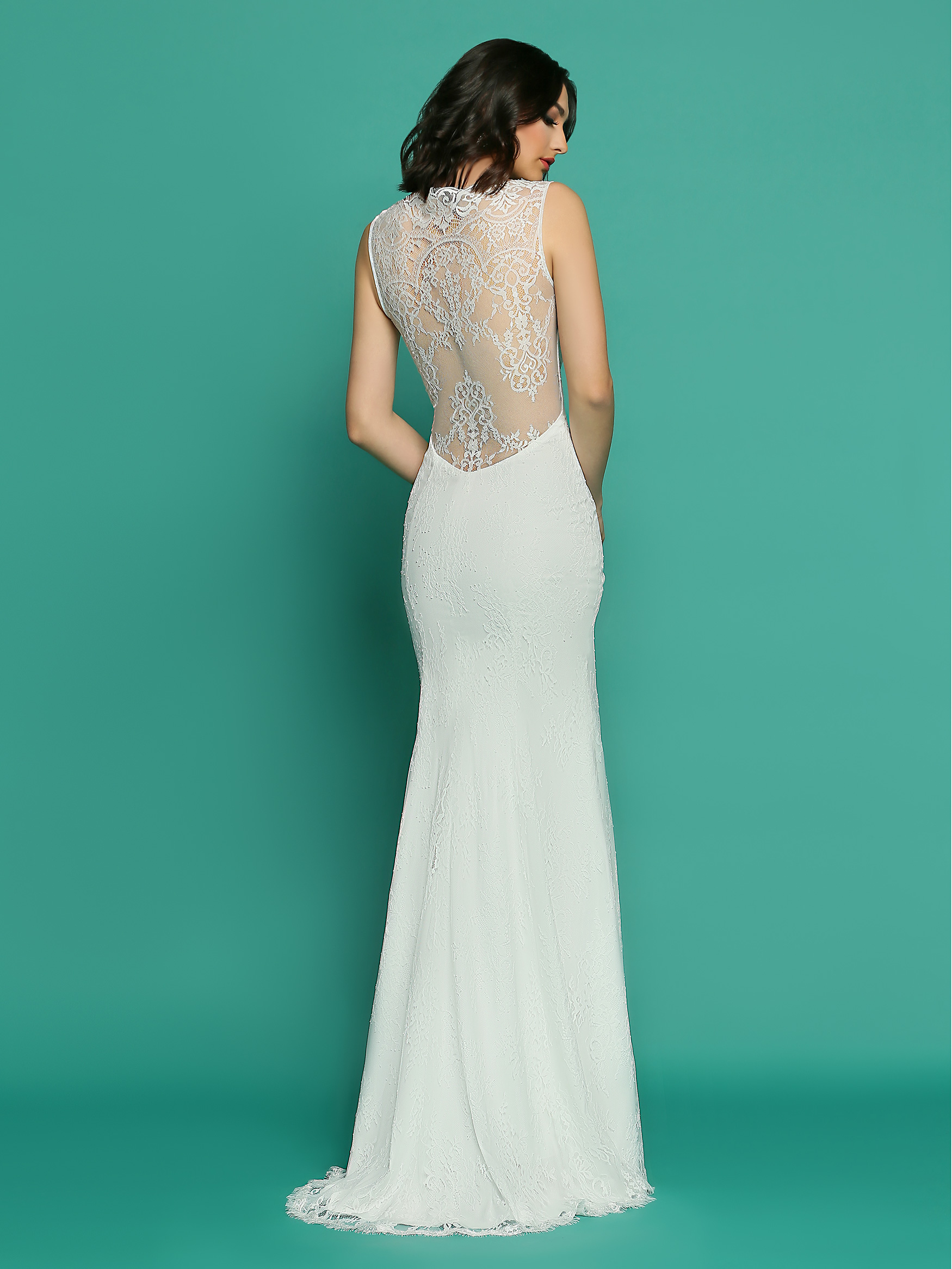 Available in: Ivory or White
To see more details Click HERE for Informal by DaVinci Style #F7070
For an overview of our 2019 Informal by DaVinci wedding dress collection, Click

HERE

or on the image below:
Be inspired by our entire 2019 Formal, Informal & Bridesmaid dresses. Just Click HERE or on the image below: