Dresses
Bridesmaid Gowns: A Basic Guide to Dressing Your Ladies in Waiting
We all agree that all eyes are on the bride as she walks down the aisle, resplendent in her beautiful wedding gown. But this doesn't mean others will completely ignore the rest of the wedding party. As a bride, you'll want your bridesmaids to look as radiantly beautiful as you do. After all, you are the company you keep, so you definitely want your bridesmaids to have plenty of appreciative glances coming their way, too. And it all starts with your bridesmaids dresses. While you're so very excited at how your wedding dress will turn out, your ladies in waiting are equally excited for the chance to look their very best on your most important day!
Which Overall Style Should You Choose?
While bridesmaids dresses aren't as complicated as wedding gowns, choosing the right look can still be tricky because you're dealing with different body types. Certain styles won't work as well for every bridesmaid. One of the best ways to begin is to find a unifying theme, even if each of your girls will wear a different style. For example, if your wedding motif is laid back and beachy, your gown will probably be more flowing and free, and your bridesmaids dresses should be, too.
Choose the Right Silhouette for the Right Body
Bridesmaids come in different shapes and sizes, and so should their bridesmaid dresses. It's likely that each member of your entourage already has an idea of a dress style that looks good on her and knows what she feels comfortable wearing, so take that into consideration. At the end of the day, you'll want your bridesmaids to look good in pictures, and they'll look better (because they'll feel better) if they're each wearing the right style for their individual type.
In addition to a flattering silhouette, comfort is key when settling on the type of dress each bridesmaid will wear. Luckily, the most flattering  silhouette will almost always provide the most comfort because the lines and cuts will work for – and not against – each girl's body type. Once it's time for the first fitting – or even if you and your bridesmaids are just out dress hunting – have your girls move around in their gowns. Ask them to describe how the dress feels as they move around. You want to be sure the style you choose is as comfortable to navigate in as possible. This is very important because come wedding day, your bridesmaids will need to be as free as possible to attend to their individual tasks.
Right up there with the comfort factor is that your bridesmaids dresses – just like your wedding gown – should be appropriate to the type of wedding you're having. Consider the season in which you're getting married, and the venue of the wedding and the reception. If your dream wedding is black tie requested in December, you can ask your girls to wear floor length velvet sheaths and elbow-length gloves. But outside in the middle of the summer, make sure you take into account the possibility of sweltering heat. Also,  bridesmaid dresses with certain design details might be seen as a little too revealing if you're getting married in a formal religious setting.
Also,  go for comfort in the type of fabric you choose. For a wedding in a warm setting (and even some churches may not have good air conditioning in the warmer months) your bridesmaids will love fabrics that feel soft and cool against the skin. The reverse is true, too. If your wedding is in the winter or a cooler climate, a warmer style might be better for your girls. You could  order matching capes, jackets or shawls, something that can be worn stylishly then easily removed in case of a sudden chill or draft, or if the ceremony venue requires ladies' arms and such be covered, but the reception venue does not.
It's Those Little Extras that Make a Bridesmaid Dress Personal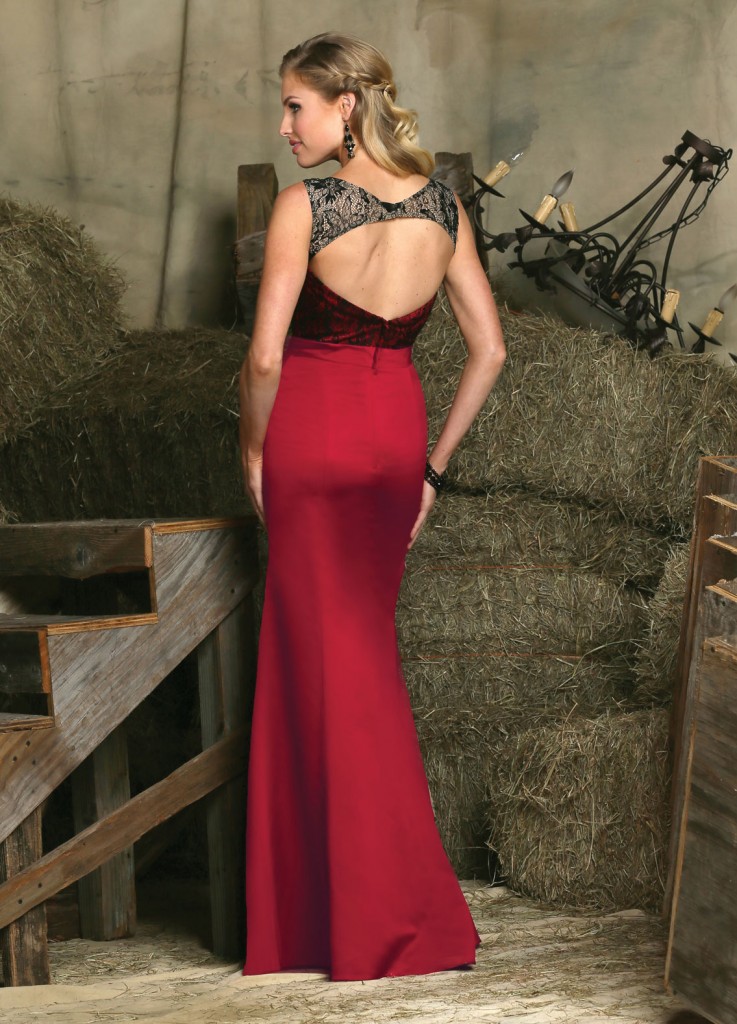 There are myriad other little things that go into designing a beautiful bridesmaid dress apart from choosing the best silhouette for each lady. Some bridesmaids might prefer a particular neckline – scoop neck, halter, enclosed with lace perhaps. Some may have  a specific request for the way the skirt falls or moves – full skirt, swishy, figure hugging, slenderizing pencil with a slit. Maybe one would have a preference for either showing off (or minimizing) her back – crisscross straps, a deep V, a half back. Ask enough questions to find out  what each of your girls prefer, then consider which, if not all, of these preferences, are possible to accommodate with regard to your wedding budget.
Here's a rule to keep in mind when deciding on the details of your bridesmaids' dresses: Emphasize their positive figure qualities and minimize whatever they feel is negative. If a bridesmaid is uncomfortable about her arms but loves how toned and shapely her legs are, she might love a dress with sleeves and a little side slit skirt. If another worries about her tummy but is dying to show off her Pilates-toned back, she could rock a backless halter-neck on an empire cut gown.
Keep a Common Thread Among the Dresses
The silhouettes for each bridesmaid dress can be different from one another, but there should be enough similarities to maintain a cohesive look. You could have all the dresses the same length and fabric, or all the same color or have everyone wear matching shawls or jackets. Each of your bridesmaids could have a bit of the same material as detailing on different areas – shoulder strap, waist, skirt seam – maybe Swarovski  crystal edging or brooch effect, or perhaps little silk rosettes here and there.
Play with Color: Skin Tones, Color Palettes, and Everything in Between
Deciding on the color of your bridesmaids dresses can be relatively easy: just turn to your overall wedding theme colors and use variations of the same color combinations for the dresses. For instance, if you're working with pink and green, then maybe have some girls wear predominantly green dresses with pink embellishments, and some wear predominantly pink dresses with green details. Some brides use the "matching bridesmaid dress color requirement" as an excuse to have fun, like having all the bridesmaids wear green dresses but in different tones. Or for a fun seasonal variation, maybe each bridesmaid wears a different pastel color dress to go with an Eastertime wedding, or different shades of falling leaves in autumn.
Whatever color combination you choose, still keep  in mind that you want the colors to beautifully set off your bridesmaids' skin. If a particular shade of yellow looks a bit off on one or more of your attendants, don't worry. Just  choose another fabric in a different shade of yellow.
Popular Trends: How Much is Just Right?
Don't be afraid to have a little fun when it come to trends. Let your bridesmaids inject  a bit of the latest fashion into their dresses. Why not  make wearing the dresses something to look forward? All you need to know is which trends work with your chosen styles and which you personally approve of. Giving your girls a green light when it comes to adding a touch of chic does not mean letting them run wild with metal pyramid studs, even if they are all the rage, and certainly not if it makes you cringe. Do the research together for up-to-the-minute elements in contemporary weddings that you like, then apply one or two to your own. You don't have to copy a fad down to the last detail, especially if the big picture won't look good on any or all of your bridesmaids. One detail, maybe two will work just fine.
Your Non-Negotiables: It's Still Your Wedding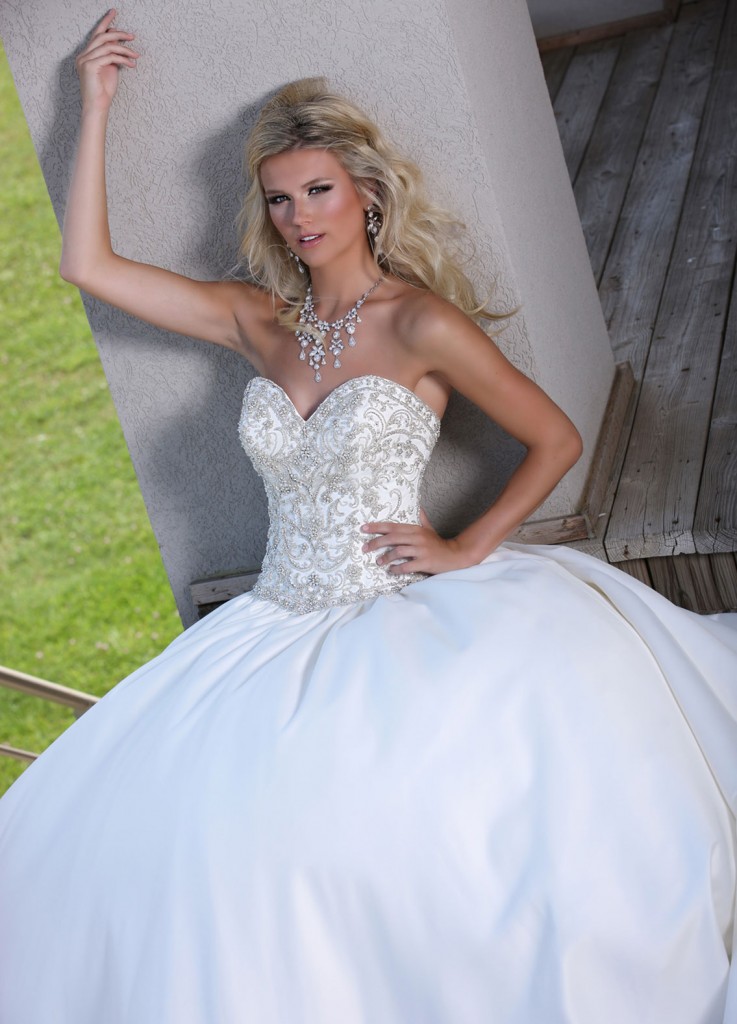 While you want to give your bridesmaids at least a little leeway when it comes to the design and detail of their bridesmaids dresses, it's  still your wedding. So you need be very clear with them regarding things you would not like at all. Your reasons could be personal, or maybe you're trying to avoid scrutinizing eyes, or you don't want to fail when it comes to cultural or modesty requirements. If a bridesmaid insists on a very low neckline and you're uncomfortable, just be  firm and say that you don't think your family would approve of wedding outfits that are too revealing. Offer a compromise if possible, for example, a daring neckline under beautifully embroidered illusion lace.  But even if there's no compromise to be had – and that sometimes happens – you do need to gently, but firmly, hold your ground.
The Quest for Beautiful Bridesmaids Dresses: A Memory in the Making
Remember: Shopping for, or designing your own bridesmaid dresses is one of the unforgettable memories that go along with planning a wedding. It further solidifies relationships with your girlfriends and is a great exercise in how true friends should act toward one another. You'll learn and appreciate just what good friends your girls are as they prioritize your needs and seek your approval for how they want their dresses to look. In turn, they'll welcome the gracious bride that you are by letting them in on decision-making when it comes to their gowns. The end result will be a beautiful bride, equally beautiful bridesmaids, and friendships that stand the test of time!