Dresses
Bridesmaids Dresses: from Boring to Breathtaking in 10 Easy Steps
Whether you know for sure that you're a modern, traditional, or even offbeat bride—or if you're just starting to think about your wedding style—one of the most important things to keep in mind is your bridesmaid's attire. You want to dress your ladies as well as you dress yourself. And of course, you want your wedding party to wow the crowd, either with elegance, or uniqueness, or maybe even both. And that's exactly why we're here! We've collected10 creative ways to make your bridesmaids look beautiful and feel comfortable. Maybe they'll even tell you "I'm so glad I said yes!" when they're wearing the dresses you chose for them as they stand beside you when you say, "I do."
1. Goodbye Sweetheart (neckline, that is)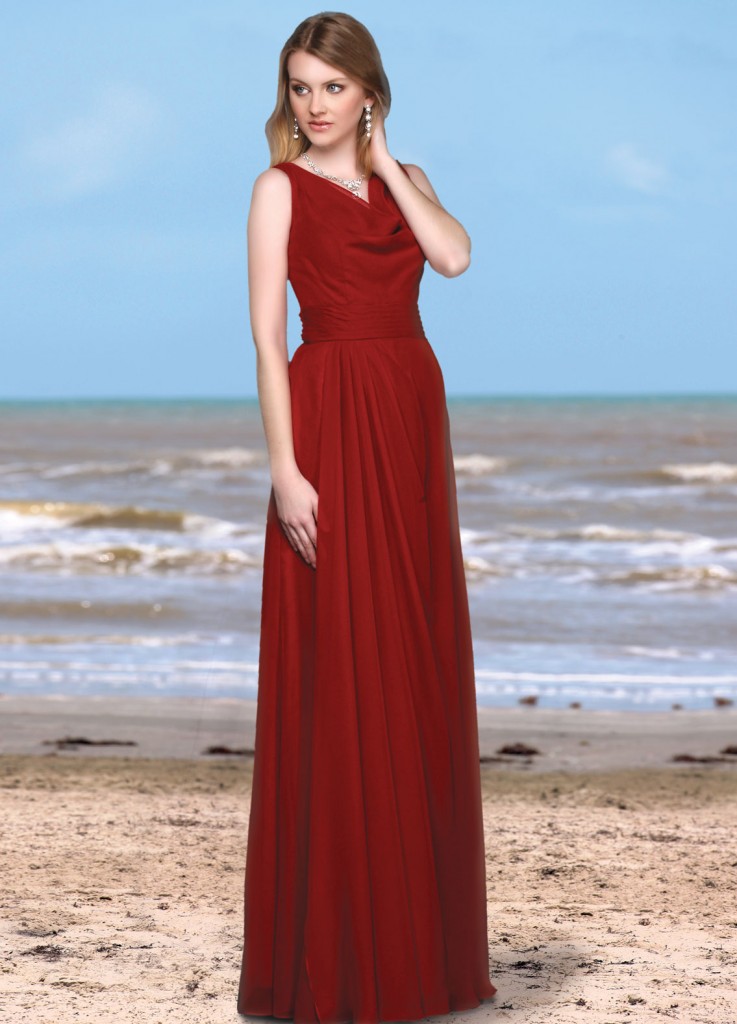 Nothing, but nothing, screams "Bridesmaid!" louder than a strapless, satin, A-line dress. Making it knee-length still doesn't soften the blow style-wise.  
Instead, envision a gorgeous, draped cowl bodice. That's a neckline that works on almost everyone and is stunning with both long and short skirts. Cowl necklines are also beautiful frames for statement necklaces. And those make for a wonderful gift that your bridesmaids will wear again—providing you mix-n-match the necklaces!
2. Shun Solid Satin
The other style that shouts "Wedding Party!" is head to toe satin. Yes, it's glamorous, and yes, it looks put together. But there are two major problems:
First, with all the girls in a satin dress, as much you try to vary the looks, you'll still look like almost every other bridal party in history. But worse than that, you'll look like you're "trying too hard to be different." That totally spoils the surprise effect and washes away the wow factor.
Second, unless it's carefully constructed with lots of ruching, or gathers, or unless it's exceptionally heavy, satin is frighteningly unforgiving. It can actually highlight body flaws. So unless your girls want to wear satin dresses—and some do—shun all that shine for something else.
3. Fall in Love with Lace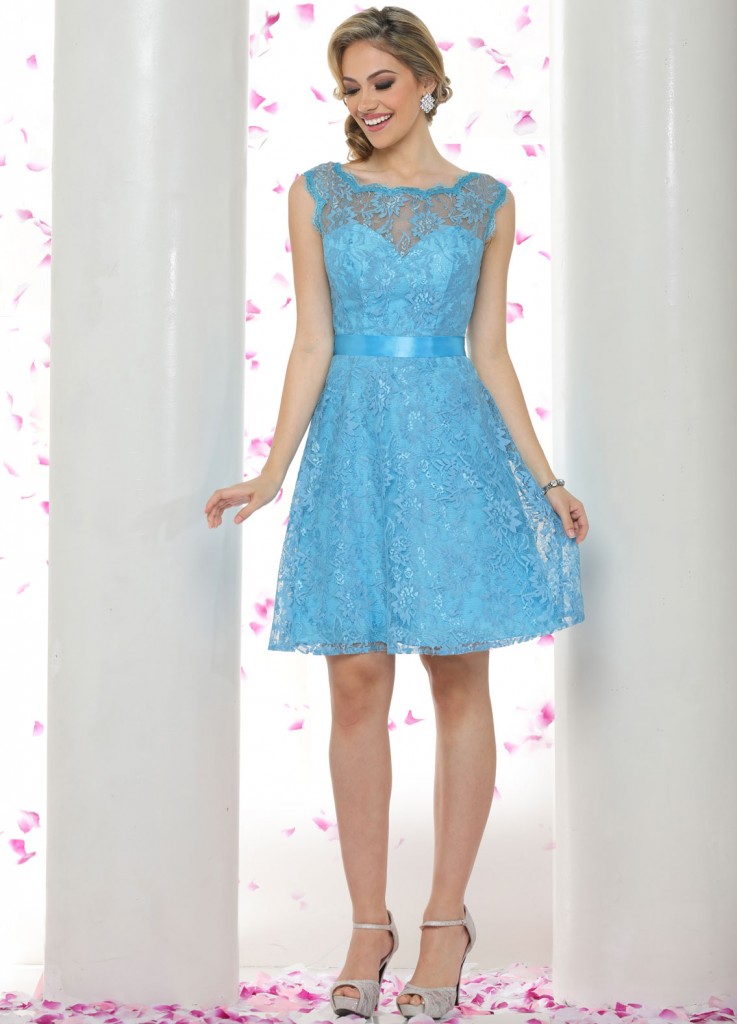 There's really not much more to say. Lace is stunning and oh, so hot in the fashion world. You can even take one of those standard satin sheath dresses, give it a lace overlay, and create a fabulous yet straightforward and cost-effective fashion statement.
4. Mix Satin with Sass
If your heart is set on satin, then at least consider mix-n-match fabrics for the top and bottom of each dress. Some of the hottest new styles have satin bodices and either chiffon or lace skirts—and vice versa! Or you can mix-and-match your girls in this very creative manner:
Put them all in the same or similar style, but some wear the chiffon version, and some wear the satin version. Your wedding party will be a luscious blend of glossy and matte fabric finishes and will create a uniquely modern take on not just one but two classic wedding fabrics!
5. Be Pretty in Prints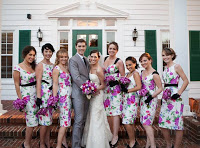 Prints can seem a bit tricky to work with when it comes wedding attire, but they're unquestionably perfect if you want something different. You have quite a few options, too. Let's start with variations on the "all in the same print theme."
Everybody wears matching prints in the same style dress.

All the

prints

match, but each dress is a different style.

The prints match and the styles are different,

and

there's a secondary detail like a shot of black or some other solid color.
Your other option is to go just a little wild and choose several prints that harmonize, then let each girl wear a different print. Creating this look is very much like putting together a harmonious quilt, so here's a great trick:
When you want help visualizing how different prints work together, go to the quilting section of the fabric store. Gather a few bolts of large florals or bold patterns in colors you like and lay them out to see how they might work together. When you're done, you have a "Patchwork Quilt of Bridesmaids" and it will be beautiful!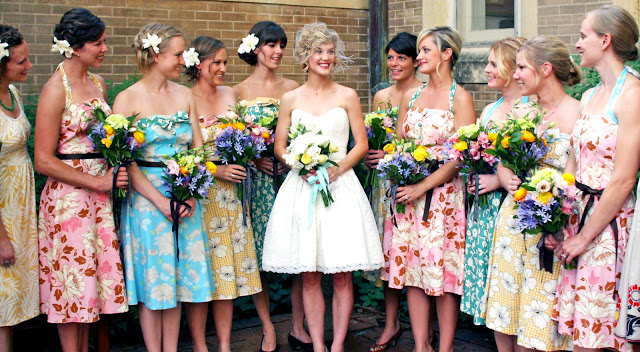 Big plus: This is a fabulous way to handle custom sewn dresses! Once you have the fabrics selected, you can have your seamstress—or your girls themselves—choose which print they want in a silhouette pattern that will harmonize with everyone else.
The absolute best thing about print bridesmaid dresses is that it's nearly impossible to look like anybody else's wedding—ever!
6. Somewhere Away from the Rainbow (far, far away)
This is another easy fix. Stay away from all colors that are "common to the season." No spring pastels, no burnished gold in the fall, and no "classic velvet" around the holidays, especially not hunter green. Green in the foliage? Absolutely, but no green or red velvet dresses. What to choose instead? Read on!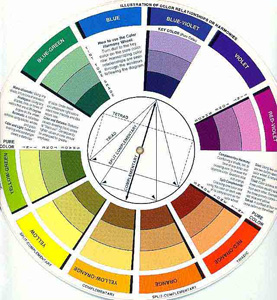 Visit an art supply store or printer and learn how a traditional color wheel can help you out (if you don't already know). Choose a color you're drawn to, then either move one notch to either side and/or move in closer to the center of the wheel. This will give you the advantage of a non-common variation of a pastel, and/or a richly blended color that you can lighten or darken as you please.
Pro Tip: Using a color wheel is the perfect way to choose your wedding color scheme! It will automatically give you fabulous combinations, many of which you may never have thought to use.
7. Awe-Inspiring Asymmetrical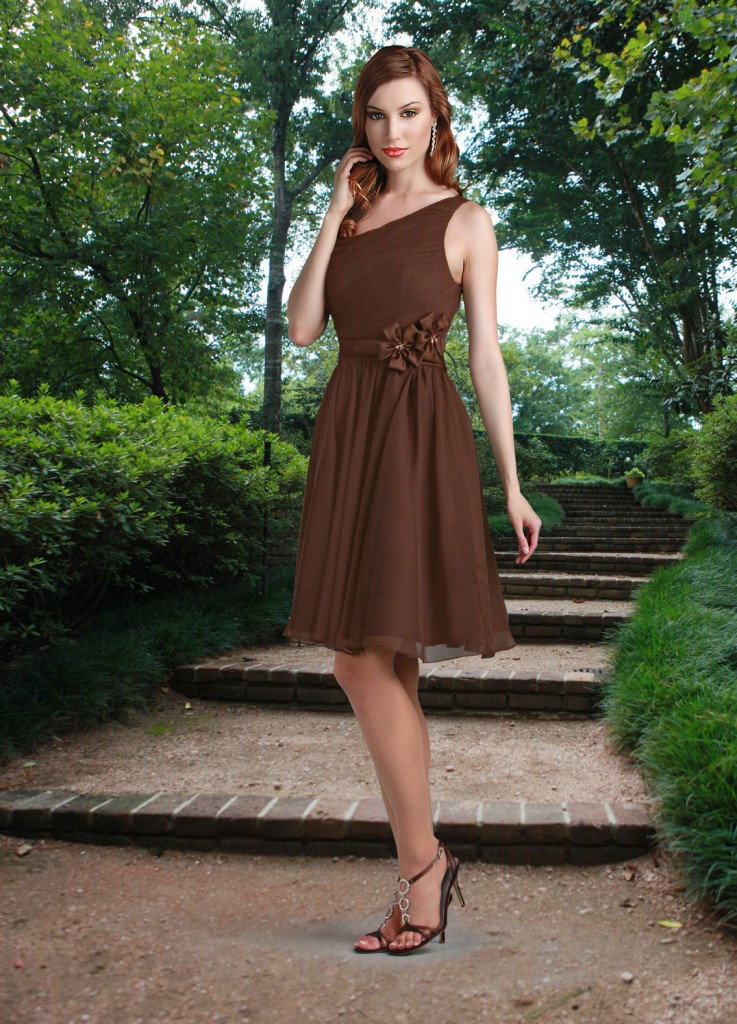 One of the all-time classic styles that's been the rage the last few years is the one-shoulder look. You can be a Greek goddess if the dress is long and flowy, or subtly chic and sexy in a shorter skirt. This trend is incredibly flattering on almost every body silhouette and bust type.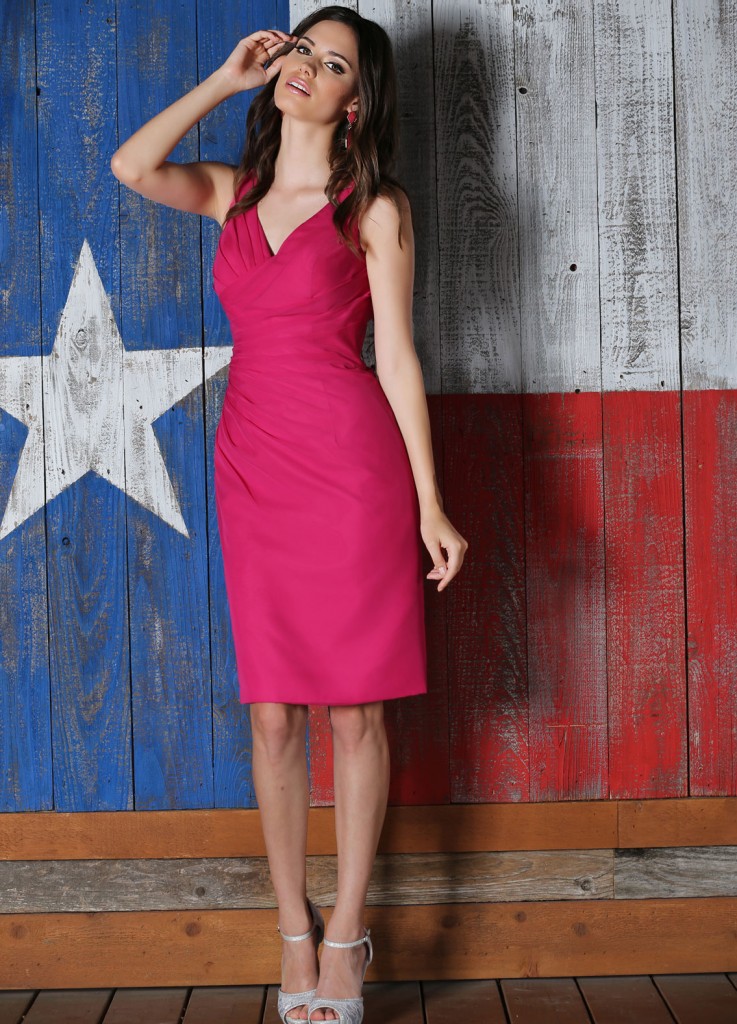 Another option is a full asymmetrical ruched cut or a faux wrap dress. Those lines make everyone look both slim and curvy at the same time.
8. Do Think "Wear it Again"
We know this can be tough, but when you look at possible bridesmaid's dresses, ask yourself, "Would I really wear this myself after the wedding is over?" If it's a definite no, or even a "well, maybe," move on. Fortunately, there are options, and while you'll find some in the bridal section, you'll also find some great ideas in the After Five and evening wear departments.
Here are three more fabulous ideas to help your girls want to wear their dresses again:
Softly flowing chiffon is gorgeous and forgiving. It's also comfortable and feels good against the skin. Just about any dress—even the classic bridal sweetheart A-line gown—looks better in chiffon. But you can also take a classic bridal chiffon and do something totally unexpected: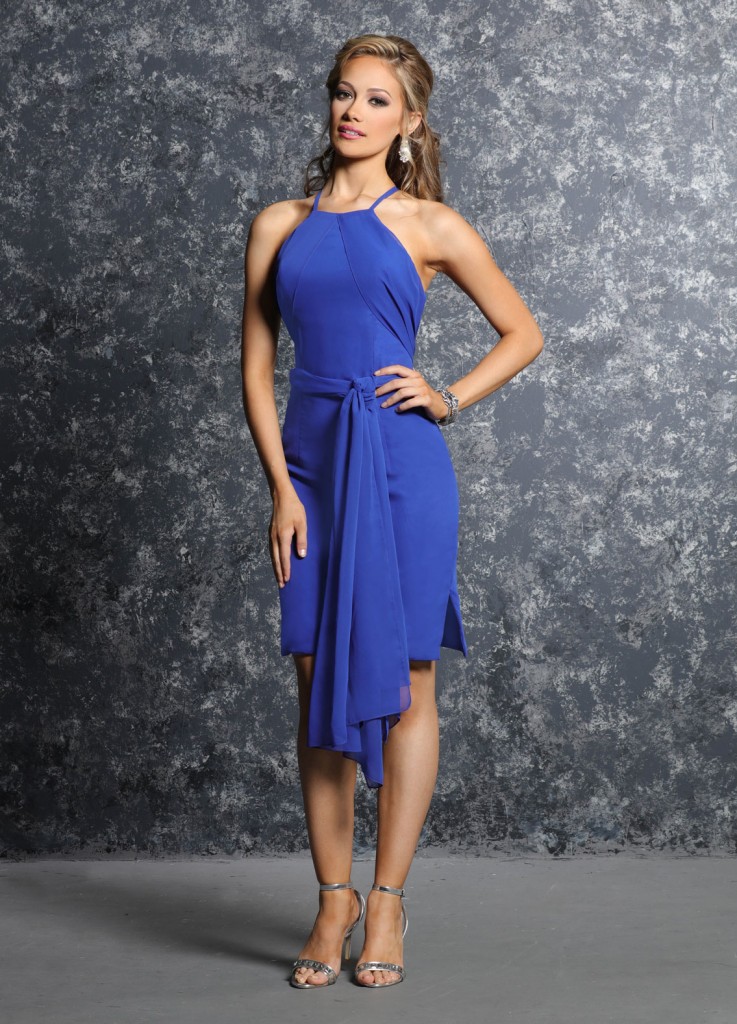 This dress is definitely a one-of-a-kind knockout. The cocktail sheath comes in whichever color you like with just a tiny side slit for comfort and a touch of sexy.  Then there are those unbelievably irresistible panels of chiffon at the cutaway shoulders. They spread into a split cape for a romantic float down the aisle, then tie into a dreamy belt at the waist for post-ceremony. Your girls can even play with how to tie the ends—some flowing long at the front, others wrapping around the front and then to the back in a smart little knot.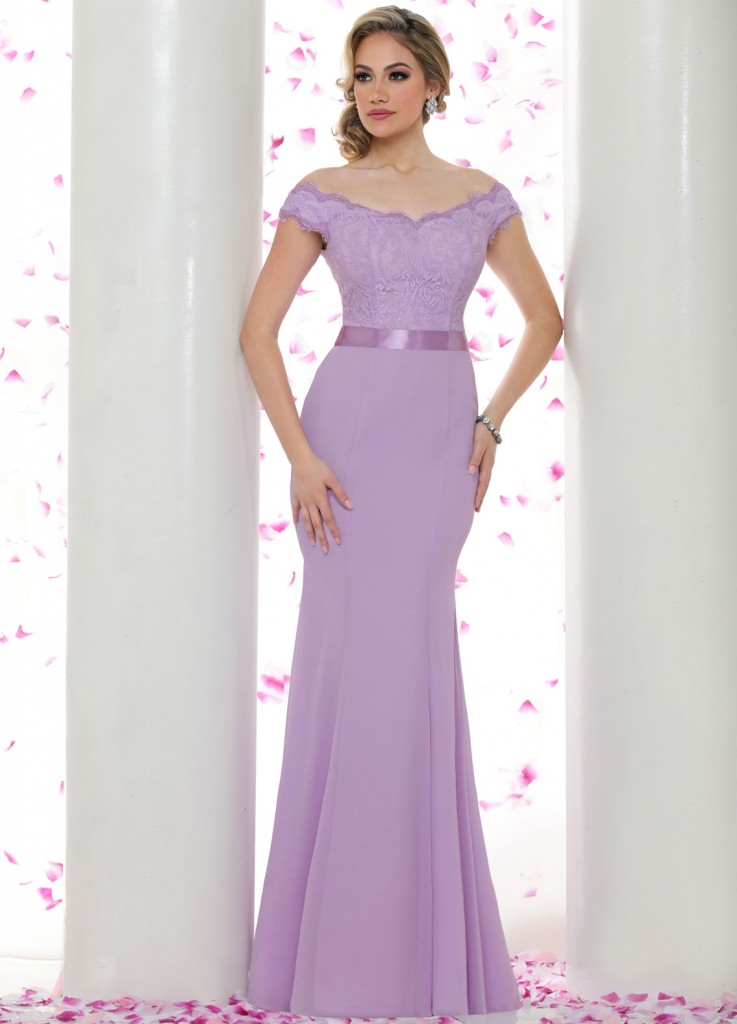 This concept is perfect both for the more daring bridesmaid and for the bride who doesn't mind sharing a little of the spotlight with her attendants.
There are plenty of ways to make your maids' dresses more daring. You can plunge the neckline or plunge the back. You can let the gown "slip off the shoulder" just a little. You can choose a fully open-backed halter style or go with one of the popular dresses with a convertible twist. Dessy's Twist dress and dresses from the Two Birds collection are good examples.
You can ramp it up one notch more by going with a jumpsuit. Check out this style, also by Two Birds: http://twobirdsbridesmaid.com/collection/jumpsuit/
The best news is that not only are these styles wearable long after the wedding, but the majority are also maternity friendly. So if you end up with a bridesmaid who's expecting, she can still expect to look and feel beautiful for your wedding!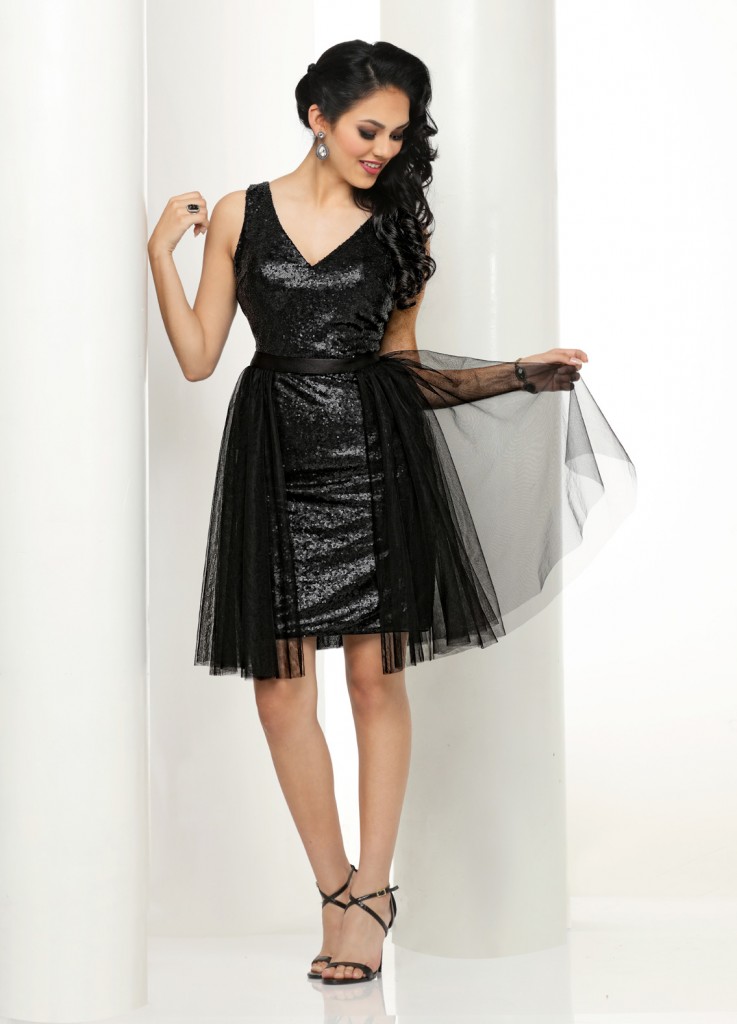 LBDs (little black dresses) are a staple in almost every woman's closet and with good reason. They're chic, glamorous, and always in style.
You might think a short black dress to be a strange choice for a wedding, but think of the gloriously stark contrast to your radiant white gown! LBDs are also as close to a surefire wear-again that you can find.
Now, you can't guarantee that your ladies will wear their little black bridesmaid frock again. But you can raise the odds by either letting each girl choose her own LBD or by selecting one for them that's just out of this world.
9. Details to Delight Them
Especially if you prefer your ladies to dress in the same color, why limit the "details" to a flower or bow or even just individual jewelry pieces?
Make a statement by dressing your ladies in an evening gown look, perhaps mixing fabrics in one dress or in a 2-piece ensemble. Picture how stunning it will be if one of the fabrics shimmers or glitters! Lace detail and intricate beading also make a dress far more wear-again than the usual bridesmaid apparel.
10. Give their Bank Accounts a Break
One of the most common reasons a woman might give for turning down your invitation to be in the wedding is the cost. It's not unusual for bridesmaid dresses to run into high double-digits and sometimes even triple digits. If you can shoulder some of the cost, that will help. But not too many brides can afford to pay for the entire outfit for each of her bridesmaids. There is help, though:
Not to toot our own horn too loudly, but when it comes to high-quality bridesmaid and wedding apparel at amazingly affordable prices, DaVinci Bridal pretty much has the corner on the market! All it takes is one look through our collection, complete with almost as many colors as that color wheel you're studying, and gorgeous styles in every length, shape, and fabric you can imagine.
And if you want that evening gown look, we're still your go-to site. Take a minute and browse our DaVinci Occasions line. Most of these gowns come in the same colors you'll find in the Bridesmaid line. Even our sequin gowns and dresses are available in some of the trendiest colors out there!
http://www.davincibridal.com/collection.php?cat=davinci_occasions
Yes, your average bridesmaid look is "a dime a dozen" but we're not talking average. With a little time, creativity, and implementation of some of our ideas—and our dresses!—you can have a wedding party that's totally unexpected without being totally off the wall.
For some help in picking styles that work with these out-of-the-box ideas—or if you're a traditionalist (which is just fine!) who needs a little style advice for choosing a gown that will work on everybody—check out our blog on the basics of choosing the best dress silhouette for each lady: http://www.davincibridal.com/blog/bridesmaid-gowns-a-basic-guide-to-dressing-your-ladies-in-waiting/