You've finally decided on your venue—your home—but how in the world can you pull that off? We can help with our Home Wedding Reception 101: 7 Top Tips for a Truly Successful Event.
The planning for your big day is well underway. You've finalized what feels like a thousand other details. But a wedding reception at home? Where do you begin? Not to worry. These 7 tips will get you going & make your beautiful home wedding reception a reality.
Home Wedding Reception 101: 7 Top Tips
Tip #1: Don't Go It Alone
The process of planning a wedding can be time-consuming, sometimes stressful, and very often incredibly hectic. Who knew that coordinating logistics to get a distant relative from two states away safely to your reception could take so much time? Sure, it'll be in your own backyard, but that doesn't mean you should be doing all the work yourself.
Let friends in on your plans
You might still want a professional wedding coordinator just for a consultation and to see what needs to be done. But once you have a to-do list, let your friends help!
Tip: Play it cool for a bit, let people know what you've decided, and see who volunteers. Keep everyone's job small and manageable. You may even score an energetic make-things-happen friend who will coordinate your wedding day for you. If not, then maybe budget in an on-the-day professional coordinator, just so that you don't have to worry about anything whatsoever on the actual day you get married.
Consider professional house cleaning teams
Invest in a good professional housecleaning a few days before your wedding so that you don't have to worry about anything more than tidying up after yourselves. Then have them come in a day or two after the wedding while you're on your honeymoon. (You can always have a friend come over if you wish so the cleaning crew won't be in your house all alone with all those wedding gifts!)
Tip #2: Choose a Theme or Direction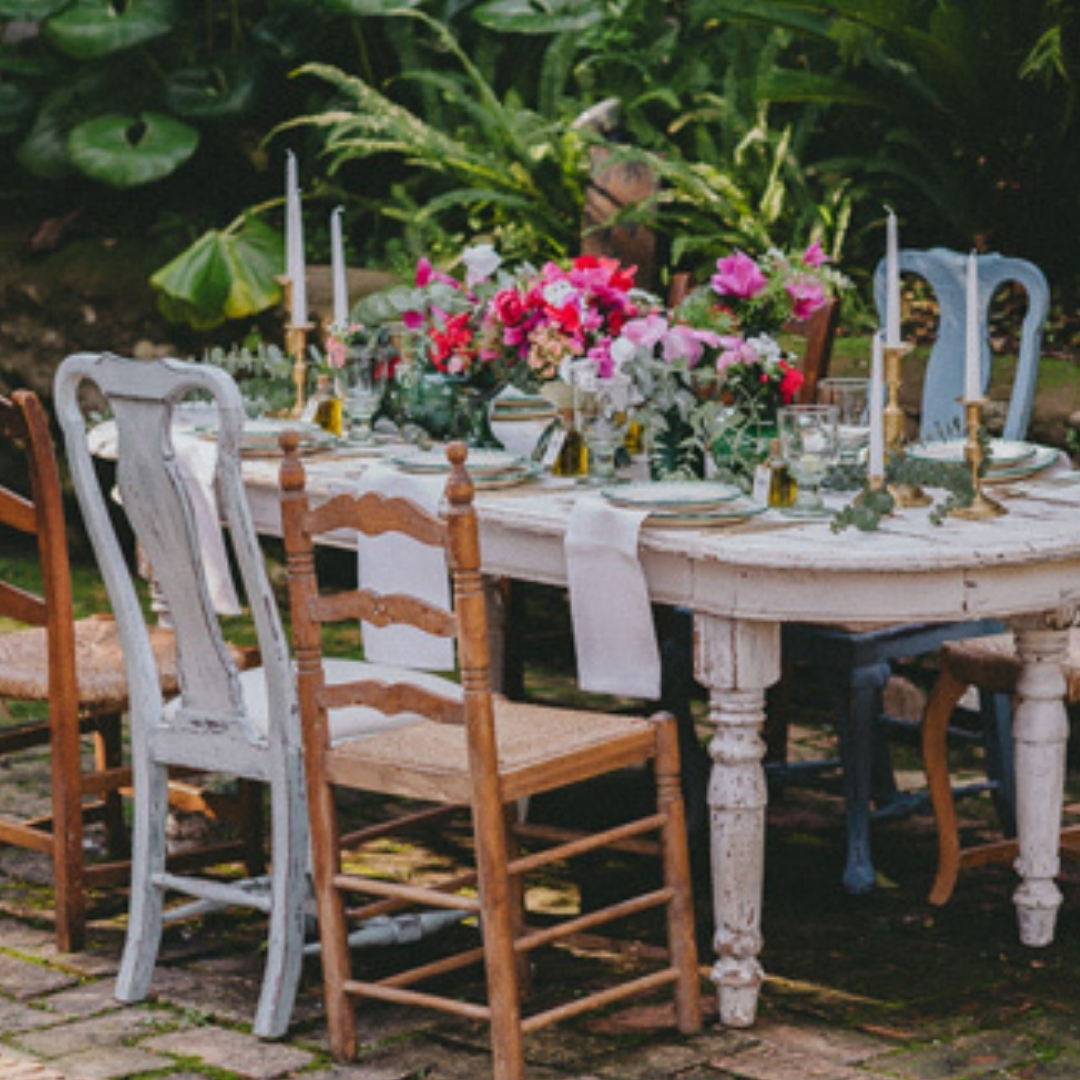 Whether you're planning a simple wedding in your backyard or an elegant affair—which you actually can do at home— your theme will drive your decorating decisions. So what style speaks to you? Sophisticated country? Vintage? Rustic? Whimsical?
Take some time to scope out Pinterest because each theme has its different flowers, photo both backgrounds, centerpieces, chairs, linens, catering choices and more.
Home Wedding Reception 101: 7 Top Tips
Tip #3: Create Separate Activity Locations
Many professional wedding planners like David Tutera recommend that you move your guests into another space approximately every 30 minutes. Even if you don't have much floor space to work with, you can still create different areas with specific activities in your house and/or backyard. Here's an example—in order—to create a "flow" and move your group from one location to another:
Greet your guests in the foyer or a created reception line-type outdoor space.
From there move everyone to a cocktails and hors d'oeuvres area with small bistro tables.
Move guests from the cocktail space to the dinner seating area.
Place separate stations for coffee and a dessert table around the dance floor (this will get people moving).
Cut your cake close to the original cocktail area.
If you have games, set those up a little distance from the dining and dance areas.
Tip: Even if you can only move people back and forth between two locations, that counts as "flow." The whole idea is to not have people standing and then sitting in the same location for the entire reception.
Also remember: While these are just examples to give you an idea to think about, know that one of the best things you can do to make your wedding feel "professionally planned" and definitely upscale is to create flow.
Tip #4: Professional Rental, Setup & Breakdown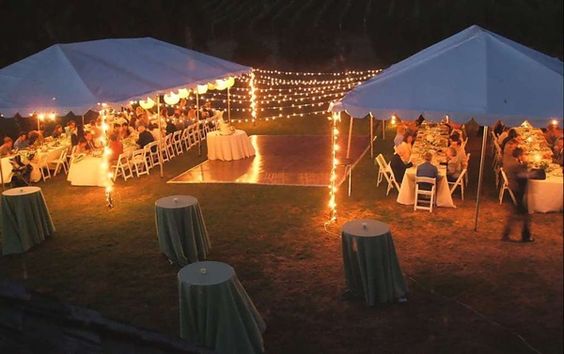 Yes, you could take on the responsibility of having chairs and tables delivered and maybe even set up your own tent, then afterward tear everything down and have it ready for pickup. If all you have is an extra table or two and a few chairs for an intimate indoor wedding, that's not an inconvenience. But if you're looking at outdoor tents and lots of tables and chairs, why put yourself or your friends through all that?
Give some thought to the following points and look at them as investing not just in your wedding, but also in your peace of mind!
No worries about setup and breakdown
When you rent your equipment from a professional company, you simply book a consultation appointment,  decide what you'll need, sign the contract and you're done! Your entire reception will be constructed and deconstructed for you.
Consider the rental an investment
One of the biggest considerations with home wedding receptions is cost. However, some things shold be looked at as investments. Whatever the weather—raging hot, rainy or even just windy—if you're celebrating outdoors, a tent will keep your guests comfortable.
If you have everything inside, you also want people to be comfortable and not feel crowded around a table that's too small. Comfortable guests are happy guests. Happy guests make for a beautiful wedding. And a beautiful wedding is definitely worth investing in!
Don't forget extras for inside the house
Even if your reception is small and indoors, you may need a few extras like chairs or linens—and linen napkins always feel upscale! Your caterer can either rent the equipment for you and include it in the quote or can direct you to a reputable firm that will work with you to stay within your budget.
One thing you should definitely rent for outdoor reception is a dance floor. Even if you have an intimate garden wedding, a dance floor will save the heels of your female guests' dress shoes and will provide protection from any moisture in the lawn. If you're inside, you might not need a floor covering but you will want enough room to at least have your first dance, your father-daughter dance, and maybe the 3 immediate couples all dancing together (meaning the newlyweds and both sets of parents).
Consider ground cover for the outdoors
Garden weddings are often intimate with smaller guest lists, but in addition to the practical consideration of renting a dance floor, also consider a tarp or other waterproof ground cover under the tent area. Also, if the main path from the parking area to the celebration site isn't paved with either stones or paving bricks, consider a ground cover there as well. In addition to sparing your guests' dress shoes from damage, a covered path will make for easier walking to the different activity areas.
Don't forget about this: Assess the need for rented facilities
This is probably the least romantic detail you can imagine, but unless you have a large house with several powder rooms, it might be a good idea to rent a portable facility. This is an absolute must if you have a larger crowd and/or plan to have the festivities outside.Even if you have plenty of restrooms inside, if it's too long a walk from the yard to the house, then rent a classy facilities trailer.
Click HERE or on the imge below for one of the nicest portable restrooms ever!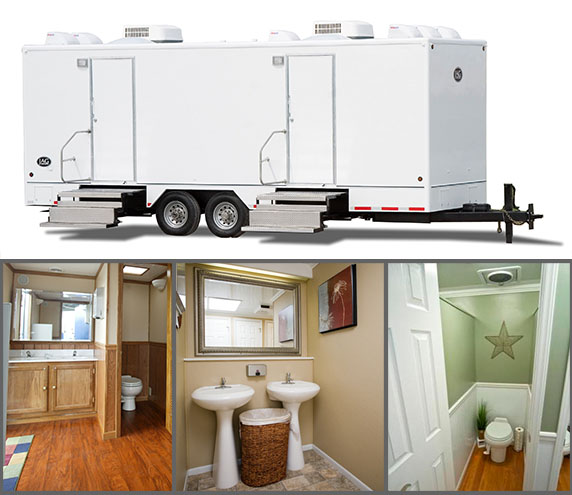 Home Wedding Reception 101: 7 Top Tips
Tip #5: Plan, Plan, Plan
Home weddings are a great way to save money, but you'll still need to consider as many things as you would with a regular venue.
How many guests?
Plated dinner or a buffet?
Waitstaff to circulate with hors d'oeuvres during cocktail hour?
Or self-serve buffet or grilled or picnic food?
Will you be hosting just the reception at home?
Or do you also need space for the wedding ceremony?
Indoor receptions are pretty much straightforward. You clear some space for the ceremony, dinner and any dancing or other party activities you want to include. But when it comes to outdoor receptions, there are a few more seriously important things to keep in mind:
Check the arrival route:

Call your local town hall. If construction is planned for the time of your wedding, you'll want an alternate route.

Outdoor personal facilities

: We already talked about this, but it needs to go on a checklist.
Always consider the weather:

Rain is only one concern. A hot sun will not only cause sweaty discomfort—it can cause sunburn and heatstroke. If you don't want to bother with a tent, make sure you have some other backup plan in case the weather doesn't co-operate.

Crucial! Invite your caterer over before the wedding day:

He or she needs to scope out your kitchen, see how much space there is to work in, what you have in the way of a stove, microwave and/or convection oven and also what's needed as far as refrigerator space.
Why does this matter so much? Your kitchen facilities will determine what your caterer can offer for the menu. The caterer can also guide you regarding table arrangements and tent setup.
Plan romantic lighting:

Whether indoors or out, unless you're having your wedding in the middle of the day, you'll want something romantic to create a mood. Flameless candles and mini light strings are go-to mood makers, and you might consider colored uplights for ambiance and maybe even a mirror ball for dancing.

Have everything ready to go at least an hour before start time:

Why? No matter how often you tell them, some guests will show up early. You don't want to rush your makeup artist or hurry through other personal preparations because you have to entertain early arrivals.
Tip: Ask a friend or a couple—people not in the wedding party—to be there early to greet guests.
About Your Neighbors:
A week or two before your wedding—maybe sooner— 

let your neighbors know your plans.
Warn them about potential noise, and traffic.
If you're planning an outdoor ceremony, tell them what time you'll start. Then they won't be out with lawnmowers or leaf blowers!
Also, you never know—friendly neighbors may volunteer some parking space and might even offer to help you out in some other way.
Tip #6: Purposely Plan Memories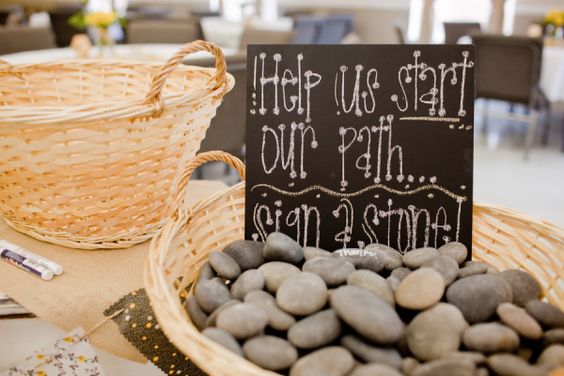 Come up with a couple of different creative ways to remember your wedding day. You do want to hire a professional photographer, and a videographer if you can afford it. Set up a photo booth or backdrop for portraits and group photos, and do a couple of things for a guest book. You can have people sign a stone, fill out a little card with wedding advice and sign it, and if you want, you can still have a traditional guest book because some older guests might have the mindset that "it's not a wedding if there isn't a guestbook!"
Home Wedding Reception 101: 7 Top Tips
Tip #7: Check That Checklist—a Dozen Times!
One more time, and for helpful reference, here are the biggest things to consider and deal with when planning a home reception:
Meet with your caterer before the wedding
Talk to your vendors before  finalizing your layout
Put "Rent a tent" on your to-do list as a backup plan
Invest in a real dance floor
Get professional help with house cleaning & rental setup and tear down
Rent or borrow fans etc. equipment to cool down or heat up your outdoor area.
If you'll have children, plan some distracting activities (we'll talk about that in Home Wedding Reception 102!)
That's all for now, so good luck and happy planning!
For the very best collection of great ideas for planning your wedding and adapting to circumstances that may have delayed your big day, Click HERE or on the image below for DaVinci Bridal blog: