Even on a small intimate scale, your evening wedding can be magical with our 10 tips for a romantic glam evening wedding.
This level romance isn't as difficult to pull together as you might think. Just choose the time of day, the setting, and the little extras that make for that fairytale feeling.
Here are our top 10 tips to help you bring the enchantment to life!
10 Tips for a Glamorous Romantic Evening Wedding
1. Hold the Ceremony After Dark
Nighttime is usually reserved for receptions and after parties but who says you can't have the ceremony after sundown? You'll have the moon and stars twinkling above you which will make your walk down the aisle no less than something out of a dream.
A late evening wedding "breaks some rules" in that you have dinner first, but it's worth it to create the mood of this type of wedding.
Here's a sample timeline for a wedding after dark with dinner first:
7:15 p.m. – Hors d'oeuvres
7:50 p.m. – Seat everyone for dinner
8:10 p.m. – Toast and/or prayer
9:15 p.m. – Guests move to Ceremony Area
10:30 p.m. – Back to dinner venue for Cake Cutting
10:50 p.m. – Bridal dance & Father-Daughter dance
1:45 a.m. – Last guest leaves
2. Do Something Different for your Walk Down the Aisle
Instead of a flower girl, have your guests throw petals before you or wave sparklers as you walk down the aisle. Sparklers make for fabulous photos and can be used at many different times throughout the evening.
3. Work with Your Photographer Ahead of Time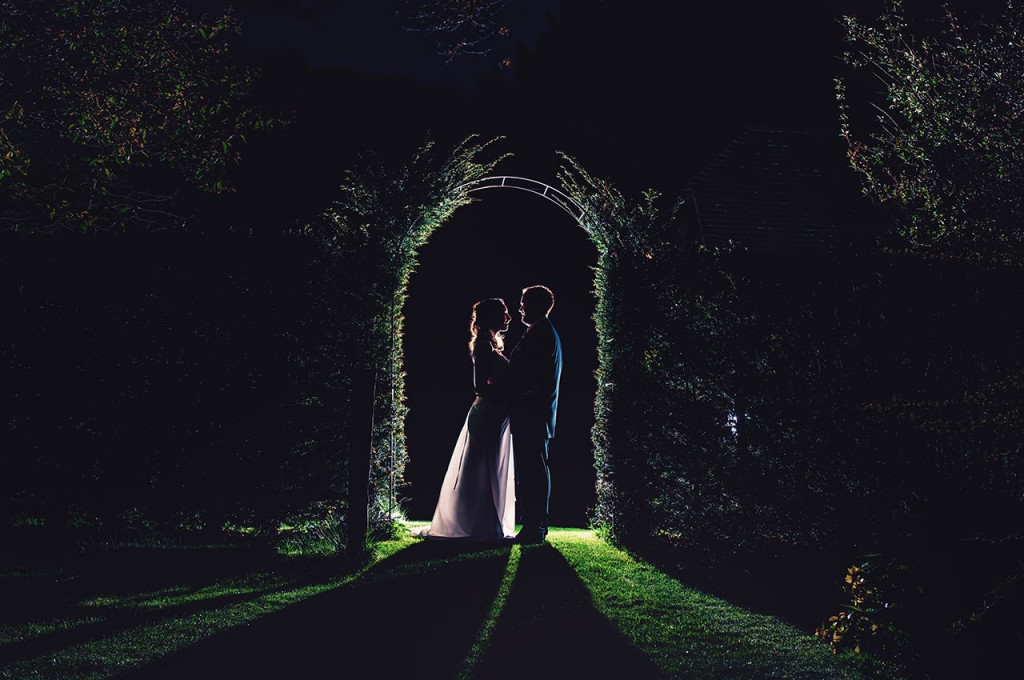 Worried that an evening wedding will produce dark and blurry pictures? Not if your photographer brings just the right equipment in order to generate magical photographs. Just imagine you and your husband surrounded by lanterns, firelight, and candles as you exchange vows, and backlit by the moon for your formal portrait.
Important Note: Ask to see more than one portfolio of your photo pro's evening weddings. You might have to shop around a bit to find a photographer who specializes in night shoots.
10 Tips for a Glamorous Romantic Evening Wedding
4. Let Mother Nature do Her Own Intimate Magic
Throughout the centuries, the intimacy of twinkling stars, the bright moon and the mystery of the night have inspired many a poet and writer who wished to describe love. It's precisely this intimacy that you want during your wedding. You'll feel naturally glamourous in the muted light, and you'll sense nature celebrating with you as you tie the knot.
5. Choose a great venue
As with any other wedding, your venue location will either make or break your wedding. In order to ensure that magical touch, make sure that the place you choose is especially suited for an evening wedding. You should also consider lighting options since one of the highlights of your wedding will be lanterns, candles, and perhaps even firelight.
6. Tie the Knot Like a Fisherman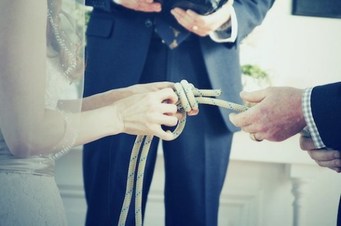 Instead of the traditional unity candles or sand sculptures, consider using a Fisherman's Knot. This is a beautiful representation of the strength of your relationship because a Fisherman's Knot is the strongest knot there is. As you tie the rope along with your husband, the knot becomes stronger and stronger due to the pressure, just like the effort you put into your relationship.
To learn more about this lovely tradition, check out Rev. Fuller's Wedding Blog: http://www.brevardminister.com/blog/fishermen-and-weddings-why-knot
10 Tips for a Glamorous Romantic Evening Wedding
7. Make Every Moment Unique
From the first moment that your guests arrive at your fairytale setting until you've walked down the aisle to exchange vows with your husband, and then throughout the reception afterward—keep everything entertaining.
Instead of the usual straight-line aisle, why not make a spiral out of the seats? Rather than tossing your bouquet, perhaps present it to the guests who have been married the longest and then videotape them giving you advice on keeping your relationship strong. Expand your first dance to include all married couples, then inviting all couples to the dance floor and let them dance with you.
For attire, because it's in the evening and everything sparkles, consider dressing your attendants in something with a little shimmer to the fabric while you yourself wear statement jewelry that glitters in the lamp or candle light.
And if you do want a traditional unity candle ceremony, put the candles in faceted antique glass candlesticks that will catch the light.
8. Release Romantic Sky Lanterns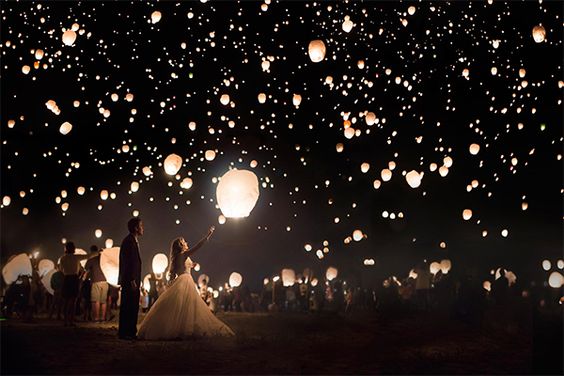 Instead of rice or any of the traditional wedding sendoffs, have each guest—or each couple—release a sky lantern. Also called "wish lanterns" these beautiful floating lights are made of oiled bamboo paper with a small candle providing the fuel. They come in different colors, can be personalized with a special marker, and will last about 5 to 10 minutes, creating one of the most dramatic backgrounds possible for breathtaking wedding photos.
Learn more about these lovely lanterns and buy an eco-friendly biodegradable version here: https://www.wishlantern.com/eco-wish-lanterns
9. First Visit the Venue at Night
Make sure you visit the venue once or twice to get a feel for just how dark it will be. This will let you know what kind of lighting you'll want—candles, lanterns, mini lights, etc.— and how much of each you'll need for safety while still maintaining the mood. You don't want your guests to stumble while finding their seats or for you to trip over your gown because you can't see well enough. You also don't want the magical mood ruined by excessive flash photography that can make you squint at the sudden brightness.
Bring both a lightning professional and your photographer with you and decide together what equipment you'll need both for safety and for beautiful pictures. Also, ask the venue manager about using an approved outdoor perimeter bug spray and insect repellent before the ceremony starts. You want your guests—and yourselves and your wedding party—as comfortable as possible.
If the area tends to get chilly, you might want to provide pashmina type shawls for your guests, just as you would sunglasses for a beach wedding.
10 Tips for a Glamorous Romantic Evening Wedding
10. The Ultimate Romance: A Beach Wedding After Dark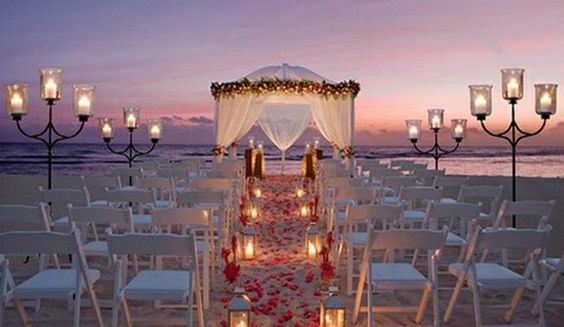 If you want the ultimate in romance and glamor, take your wedding to the seashore. The combination of sky lanterns, firelight and the waves kissing the shore is just magnificent. You can also hold your ceremony a little earlier because a beautiful sunset is just as stunning as a starry night and provides more natural light.
The beach will definitely be a bit breezy, so either ask your guests to bring a light blanket or wrap or plan to have shawls as your giveaway gift.
One note about sky lanterns and candles on a beach: Be sure to talk to the local Coast Guard or maritime organization and let them know what you're planning. Otherwise, the lovely luminaria lining the aisle or the bevy of sky lanterns released later in the evening might be misinterpreted as a distress signal!
These are just a few of the tips to help you plan a stunning romantic glam wedding. There are even more great evening wedding ideas on the internet. And because weddings after dark are rare, you're guaranteed a memory that will stay with your guests for years to come. You might even hear, "Your wedding was the most glamorous and romantic we've ever seen."
What more could you ask for?!
Evening weddings call for class & sparkle, so why not sequin bridesmaids dresses?To see our collection, Click HERE or on the image below: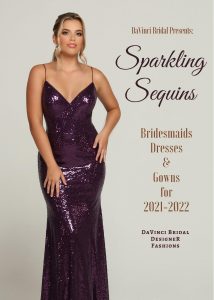 For the best ideas for wedding planning, beautiful on-trend dresses, classic styles & more, Click HERE on the link below for DaVinci Bridal Blog: