If you're reading this, most likely you have a wish list for your wedding gown and just can't wait to try on every dress you can get your hands on. But whether you put this at the top of your priority list, or put it off until 2 weeks before your wedding day, shopping for a wedding dress is never an easy task. Though some girls know what they're looking for and can purchase a wedding gown in a snap, others struggle to find a dress that brings out their personal style, and that best flatters their figure.
Brides come in all different shapes, sizes, and preferences. Some are fairly certain that they know what's best for them.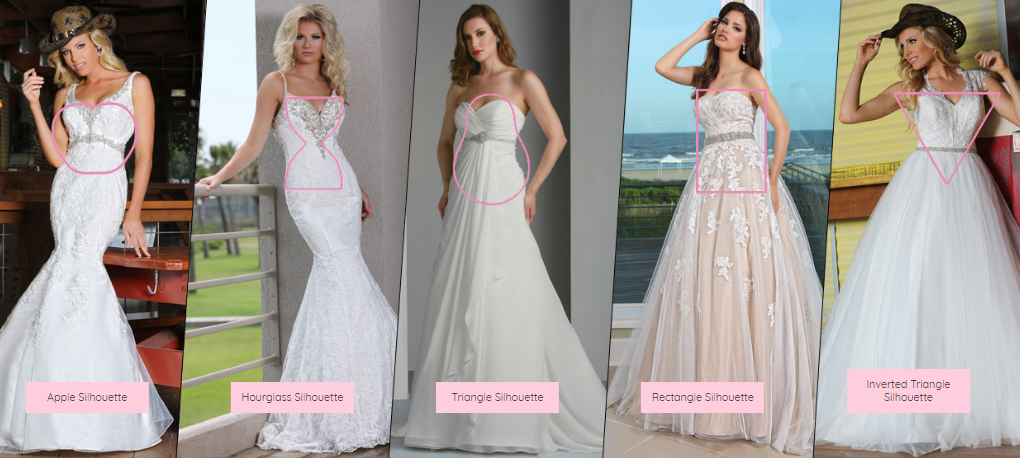 Others make multiple wedding dress appointments, try on dress after dress, and never find the one that seems to please. Whatever type of bride you are, though, we want you to look good, but most of all, feel good on your big day.  
One simple way to limit your dress options is to find the best silhouette to fit your shape. Specifically, you want to complement your assets and downplay whatever else you want. So to start, let's figure out what body type you are:
Are you a Pear? An Apple? An Hourglass?
Next: Are you tall, slender, petite, well-endowed?
Not to worry if you don't know the answers. Here's our premiere guide to help you find your perfect silhouette:

All dresses available at davincibridal.com
Most petite brides aim for a dress silhouette to give the illusion of being a few inches taller. If this is you, opt for a modified A-line gown with a waistline slightly above your natural waist, making the skirt of the gown longer than the bodice. A gentle fit and flare gown is another go-to option, especially if you can wear a shoe with a bit of a heel. Some bridal stylists recommend floaty, chiffon goddess-style wedding gowns with unbroken lines to elongate your frame. For some flair, try adding some beading or floral details to your dress!
You might want to avoid a noticeable dropped waist, as it will shorten your legs. A classic Cinderella ball gown can also have a shortening effect unless you're comfortable in very tall heels. One lovely option is a short dress worn with pumps or sling backs. The short hem will show off your slim legs, the low vamp shoes will lengthen, and you can choose any skirt from full and fluffy to pencil-straight, just so long as the hem hits above mid-calf.
Tip: If you're a petite bride who still craves a sweeping train, order a "cathedral length" veil. Keep the bulk of the veil sheer but add beautiful lace embellishments if you wish. The veil can be swept out in front of you for formal pictures and then be removed so you can move more freely at your reception. Find inspiration for this in Witney Carson's wedding video on YouTube. She's only 5-foot-3 but look at that veil! 

All dresses available at davincibridal.com
If you're a luscious Pear, you have wonderfully generous hips. Depending on your preference, you can flaunt your curves in a mermaid or fit and flare gown and then choose any neckline, fabric and hemline that you please.
If you want to downplay your hips, look for an A-line gown with a slightly higher waistline. The flared skirt narrows your waist, flowing away from the hips and lower body. If you feel an A-line is a bit too much on the formal side, you can dress it down with a chiffon overlay or a more casual lace.
As for the neckline, you could opt for a strapless gown, but if you want to slenderize your upper body, go with a spaghetti strap or V-neckline. All that taken into consideration, a beautiful Pear such as yourself can glow in a dress with as much generous detail and texture as you want and your gown will still slenderize.
All dresses available at davincibridal.com
Most women, no matter their shape, tend to dress a bit more conservatively for their wedding. Some even go for styles that either minimize their bust or hide it completely. It's all up to personal choice.
If you want a little more coverage, a dress with a scoop neck may be a perfect choice as it doesn't show too much cleavage but is still elegant. You might also prefer a gown in silk, satin or organza that are more constructed fabrics. Consider straps or sleeves for added support, and to help highlight you in all the right places. You might also want to opt for a sweetheart neckline or a wide V-neckline, as straight necklines sometimes aren't quite as flattering.
Also, keep in mind that you'll want a fitted bodice with good interior structure for a beautifully polished look.

All dresses available at davincibridal.com
Just about any silhouette looks beautiful on an Hourglass bride. With shoulders and hips in perfect balance, a sheath will show off your figure's assets while still streamlining you from head to toe making you look tall and sleek. You can go all out and be a fairytale princess or an elegant, classy queen for a day with a full ball gown complete with bell skirt and an embellished bodice.
However, for brides who want to really rock their curves, nothing beats a mermaid or trumpet gown. This body-hugging, waist-accentuating silhouette will be beautiful in all the right places.
The only caveat for Hourglass brides is to avoid an empire waist gown (it won't show off your beautifully slim waist to best advantage). And if you prefer to draw less attention to your bust line, choose something other than a sweetheart neckline.
In the end, whatever your body style, remember that your preference rules. Don't let family, friends, or even your fiancé override your heart. Not all brides believe they know what looks best for them, so start by trying on dresses of your personal choice. If you begin to feel your choices aren't working, then do solicit opinions from professionals like your bridal retail consultant.
The most important factor when it comes to your wedding gown is your heart. Wear the dress that feels fabulous on your body and that makes you feel beautiful when you look in the mirror.
Our guidelines are just that: Guides. We're only relating what has worked well for others with particular body types. But don't take just our word for it. Get out there, do your own research, dive into the chase, and try on as many different dresses as you want. You never know—maybe you'll find that The Perfect Wedding Dress for You wasn't anything at all like you expected!

All dresses available at davincibridal.com
All dresses available at davincibridal.com
Plus sized brides sometimes find their sample choices limited due to most bridal boutiques' limited selection. However, you should still be able to find some basic silhouettes.
Consider an empire gown with a skirt that flows from just below the bust into a floor length A-line. This will give you height and a sleek line. Too much ruching can add bulk but a small amount on the diagonal can be stunning. Be wary of under-the-bust vertical pleats or gathered fabric lines, and unless you love the unfettered goddess look, consider styles and fabrics with more construction.
One of the most beautiful looks is an empire waistline with an A-line skirt of any style (fluffy or sleek) and a bolero, sleeved jacket, or shrug. Remember though, it's entirely up to you whether you want a dress that's loose and flowing or a more formal gown that's sleek and constructed.

All dresses available at davincibridal.com

All dresses available at davincibridal.com
All dresses available at davincibridal.com
If you're a beautiful bride on the tall side, keep the silhouette simple to emphasize your shape. Look for a gown with a drop waist and a floor-sweeping hem to balance your legs and torso. Then, if you wish, go all out and add as long a train as you dare.
You might want to be careful of embellishments so as to not look too costume-y, but a dramatic cape sweeping from your shoulders can be breathtaking.
If you want long sleeves, make sure they're hemmed past your wrists. Also, if you wish to highlight your throat and décolleté, choose either a sleeveless gown or one with spaghetti straps.
At DaVinci Bridal, we pride ourselves on the excellence and dedication we have for providing the utmost sophistication and quality in our wedding gowns. We also insist on providing the best possible value for you, our treasured bride-to-be, so you can spend less and get more with your DaVInci wedding dress. We want you to enjoy every minute of your journey toward finding the perfect dress to wear down the aisle, because choosing your wedding gown may very well be one of the most moving and special experiences of a lifetime.
We invite you to browse our entire collection of formal and informal wedding gowns. You will also find the same fine attention to quality, detail, and affordability with our lavish collection of bridesmaid, junior bridesmaid and prom dresses. If you have any questions or need more information on finding the one and only DaVinci wedding gown for you, please contact us via our website, or visit your local bridal boutique to view the beautiful and affordable DaVinci wedding dresses for yourself.
You can find the DaVinci boutique closest to you simply by entering your address, town, or zip code on our Store Locator page.Once more, thank you for choosing DaVinci Bridal. You have our best wishes for the most special wedding day imaginable, and an exciting beginning to the next chapter of your life!