Shoes
How to Choose Your Bridal Shoes: Befriend the Perfect Pair
As your big day fast approaches there will be plenty of things you should either be doing or must get done soon. But before attending to any of the important little things, first take the time to take care of this big detail: Your wedding shoes! Just the thought of walking down the aisle can turn you into a nervous mess. Never mind the fear of someone stepping on your train, or your veil, or worse, you tripping face first at the most inopportune moment. But your wedding shoe worries can be solved with the only 4 things you need to know in order to choose the perfect shoes for walking down the aisle on your perfect wedding day, so read on!
Step #1: Choose the Right Shoe Size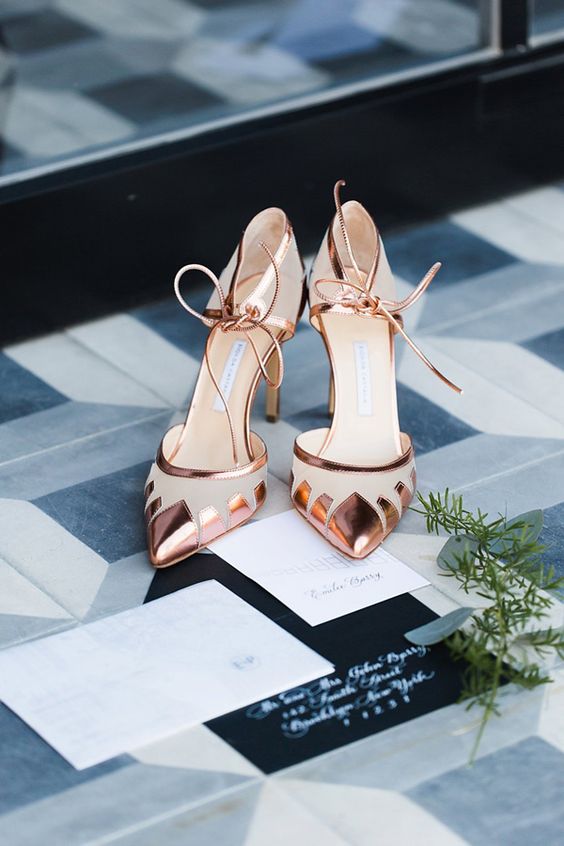 If you've found a pair of shoes you really love, but one size is a little too small—or that size fits "perfectly" but without much wiggle room—and the next half size up is a bit too big, choose the larger size. Why? Because due to stress and everything else wedding-related, if your feet swell even a little bit…
The last thing you want is the beginning of a blister just from walking down the aisle. Besides, just imagine how long that day will feel—and how aggravating that blister will be—by the time you get around to dancing at your reception!
Usually, when wearing high heels, you'll find that, depending on the height of the shoe,  your toes will slide forward to a greater or lesser degree. So what you think is your old reliable size—the size that has fit perfectly for years with anything from ballet flats to the pumps you wear to work or the stilettos you wear to the club—might suddenly be not quite roomy enough.
Believe it or not, there is a formula to help you with this size issue that you can use as a guide and then go from there:
Heel height = 2" to 3-1/2":

choose

one-half size

larger
Heel height = 4" – 6":

choose

one full size

larger
Heel height

= 6-1/2" and above:

choose

one & one-half sizes

larger
Step #2: Break Those Babies In!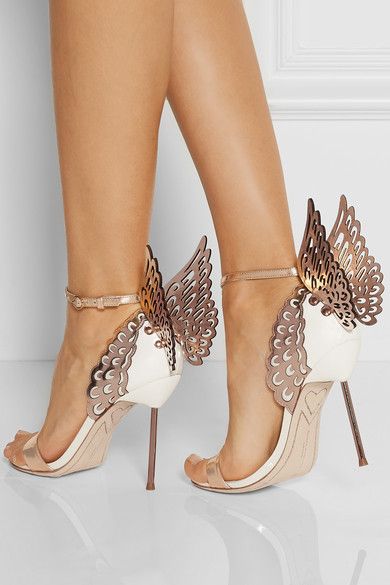 It doesn't matter if your shoes are too big or just right—every good pair of heels needs a proper breaking in period before their big debut! Practice walking around your house, around the mall, in the grocery store, or even at work once in a while. Breaking them in before your big day will be a lifesaver.
Here's a great trick: Wear thick wool socks with your shoes for about 20 minutes every day. You'll be amazed at how good your shoes will start to feel.
You can also try using a hairdryer to help your shoes conform to your feet. Put on the socks, then put on the shoes, and then hit the tight spots with the hair dryer. You'll find that the heat from the dryer can make the shoe leather more pliable so it will stretch enough to mold to your foot.
You can also use the hair dryer on the shoes first, then slip the shoes on with your socks and walk around a bit.
Step #3: Bring the Shoes to Every Dress Fitting!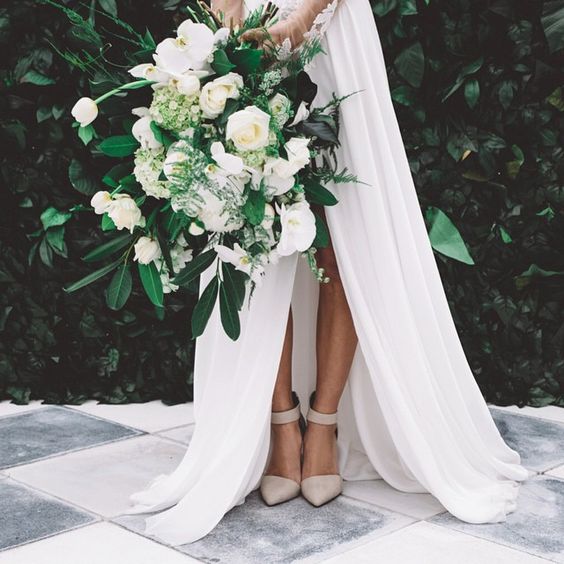 This is one rule that's mandatory, whether or not the shoes are broken in yet. Remember the old saying that the right pair of shoes can make or break an outfit? Well, you'll find that this holds very true when it comes to hemming your wedding dress. This will be one of the biggest days of your life, and with a carefully planned fabulous dress, it's only right that your shoes are nothing less!
Gone are the days of brides in plain white shoes. Recent trends in fashion have elevated shoe shopping to an art form, so trust us when we say you should make sure your shoes reflect your personality!
More important than choosing the right style or color, though, is taking your shoes with you to every fitting. Whoever is doing your alterations needs you to wear either your bridal shoes or shoes that are the exact same heel height as what you plan to wear. There's no other way to have your hemline tailored to the right length. This is particularly crucial if you've chosen a pair  of gorgeous statement shoes. You want those babies to be seen and appreciated!
Generally speaking, it's best to buy your wedding shoes before your first dress fitting so that the alterations seamstress knows exactly what she's working with. Here's another handy set of guidelines once you've picked your perfect pair:
Beach Wedding:

 Whether you opt for classy flip-flops, beaded or chain sand sandals, or just go barefoot, your dress should be long enough to cover your feet.

Traditional Wedding:

Make sure to order your dress with more length if need be to allow for the extra height of the shoes. You don't want the dress awkwardly short. And if you plan to wear flats down the aisle, you don't want the dress too long.

Pedicure for Sure:

Whether you're wearing closed toe or open toed shoes, you really need to treat yourself to a professional pedicure. It's more than likely you'll slip off your shoes at some point, so you'll want your toes to be as pretty as the rest of you!
Step #4: Short-Circuit Shoe Emergencies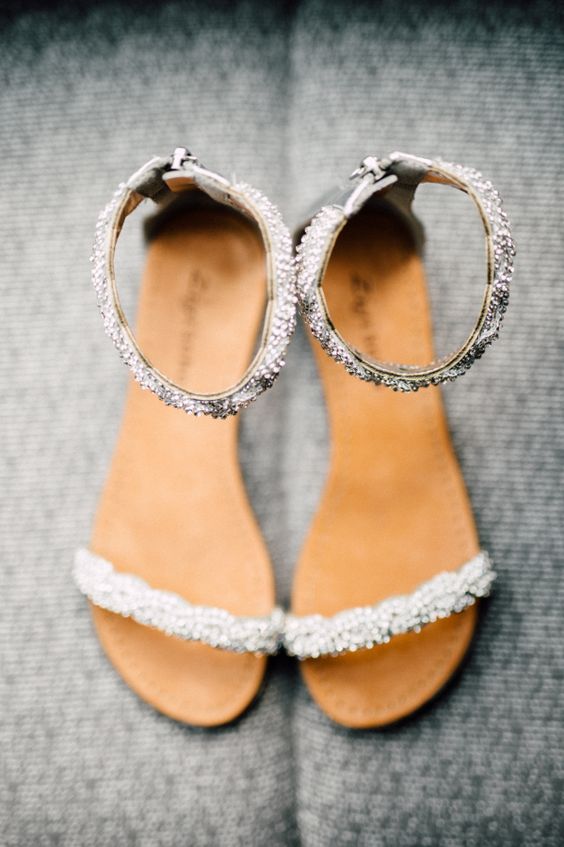 Of all the major events there are, weddings attract Murphy's Law like no other. And once it strikes there's nothing you can do except manage the damage. So to keep Murphy at bay when it comes to your wedding shoes, you'll want to do a few things in advance and then pack appropriate supplies in your wedding day emergency kit. Here are the key points that will really serve you well:
Practice, practice, practice your walk:

Practice on a straight flat floor as much as you can. An empty grocery store aisle or a stretch of walkway in the mall is perfect. Take time to straighten your posture and don't forget to walk

heel

first. Keep your shoulders back, your chin up, and we promise: By the time you're ready to walk down that aisle you'll be looking like an angel straight off the runway!

Make sure your shoes are anti-slip:

You can rub the soles down with some sandpaper,

or

purchase shoe pads for the outside soles of your shoes,

or

apply a thin film of hot glue. Do whatever it takes to give you a better grip and a sturdier stance.

Pack shoe supplies:

 Even if your shoes feel absolutely

perfect

, make sure to pack band-aids and moleskin in your wedding handbag or emergency kit. And in case you feel even a

slight

pinch or a blister threatening to form, do

not

delay. Take the time

as soon

as

you possibly can to layer on some band-aids or apply a piece of moleskin to the part of the shoe that's irritating your foot.

Have a backup plan:

Unless you're having your

entire

wedding at the beach, reception included, you'll want to wear some type of shoes after the ceremony. And the more formal your wedding, the less you'll want to end up with photos or videos of you in bare feet. Barefoot brides in designer gowns

never

look classy. So so be sure to carry an extra pair of bridal shoes in your bag. Not only can you find a lovely pair of inexpensive yet dressy flats to slip into, but you also get to have

two

pairs of gorgeous shoes for your big day!
One Last Note
Especially if you plan to splurge on two dresses for your wedding—one for the ceremony and another for the reception—you'll probably want two pairs of shoes, one to complement each dress. But even if you can't afford to change your gown, changing your shoes and adding some statement jewelry can give your ceremony look a whole new feel for the reception.
So if you find two pairs of shoes you like, why not go for both?
After all, it's your wedding day, and you're worth it!