Weddings used to be simple, intimate gatherings. These days they're grand and elaborate and don't end at the ceremony followed by a little punch and cake. Guests now proceed to the reception where they have their fill of food and drink and conversation with old and new friends. Usually, there's also dancing, which is fun but also expected. So if you really want to spice up your reception, think out of the box with games and activities. Games and such are a nice diversion for single guests. Kids can also have their own area where they can play and stay busy.  And if the newlyweds also participate in the games, they'll steal the show.  
Now, we know games aren't "the usual" that you'd expect at a wedding reception, but especially if you're a Boho couple or an offbeat bride, who wants The Usual anyway? Read on for some tips on wild—and mild—games and activities for your wedding.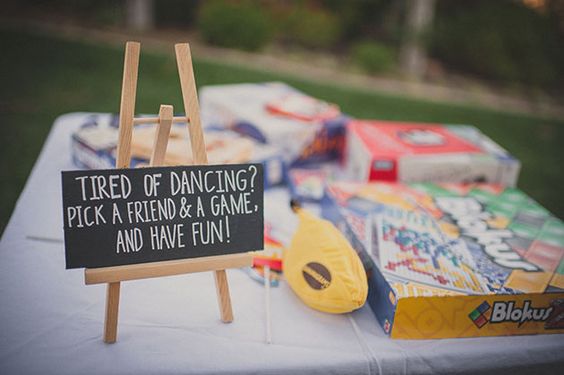 Board games are trending as a way for guests to not get bored (pun intended!) sitting and waiting for dinner. They can compete with players at nearby tables or try entirely different games at other tables. Kids also love board games, so if you're a kid at heart, still don't forget to  take a break from gaming and dance with your partner at least once!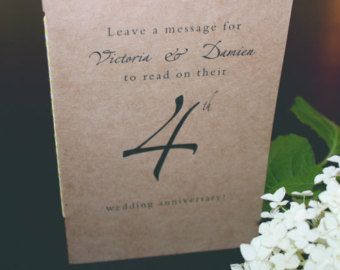 Another variation is booklets—filled with trivia about the bride and groom and also fill-in-the-blanks or empty places for the guests to write a message—that can be signed for the newlyweds to read on their anniversary.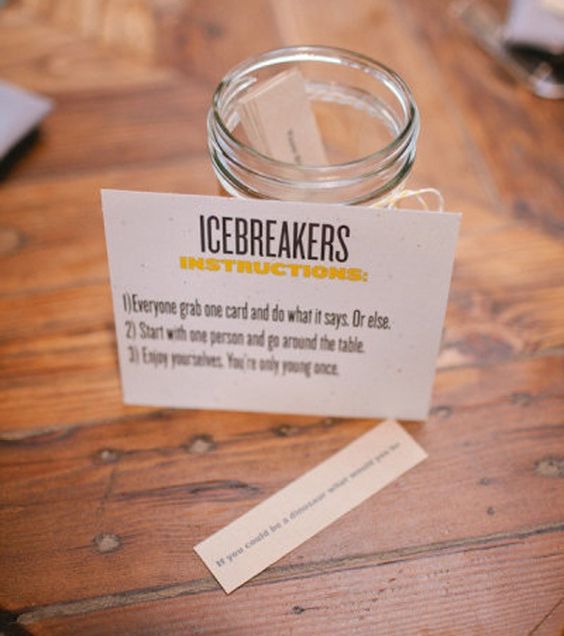 Put a jar on each table with things the guests must do…or else.  The couple can personalize the cards based on how well they know their family and friends. This can also encourage single guests to mingle and help everybody feel more comfortable with each other even if they just met at the wedding.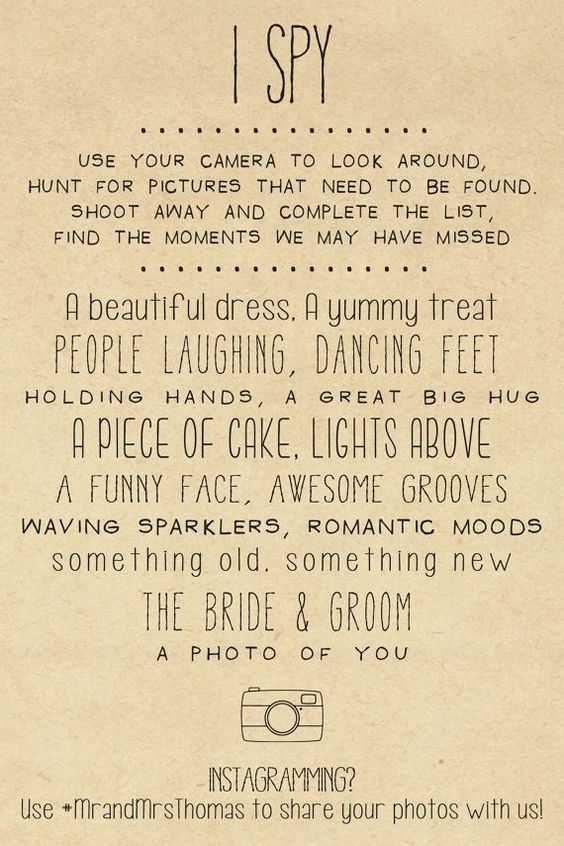 Some guests will be kids. Other guests will be kids at heart. The I Spy Camera Game is fun for all. This can be done with cell phones or as a variation on the classic disposable-camera-on-the-table concept. The guests have a list of scenarios to take a snapshot of. Parents can keep their kids busy by pointing out what to shoot, and if they use a digital camera or phone, they can use a wedding app to post the photos online. Offer a prize for the best photos—or the most photos—taken by the little guys!
Bouquet Toss with a Twist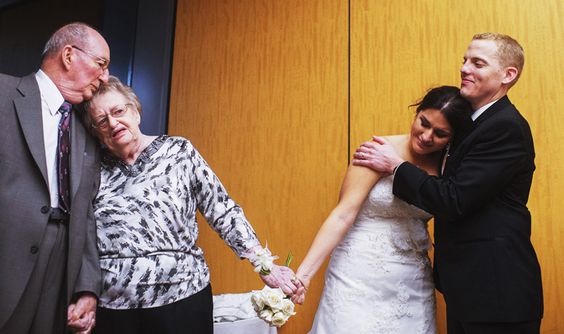 You can stick to the sweet old tradition where the bouquet is tossed, and the girl who catches it is supposed to get married next, but there are some fun variations. One of the most charming we've seen is that the bride's throwaway bouquet goes to the couple who's been married the longest.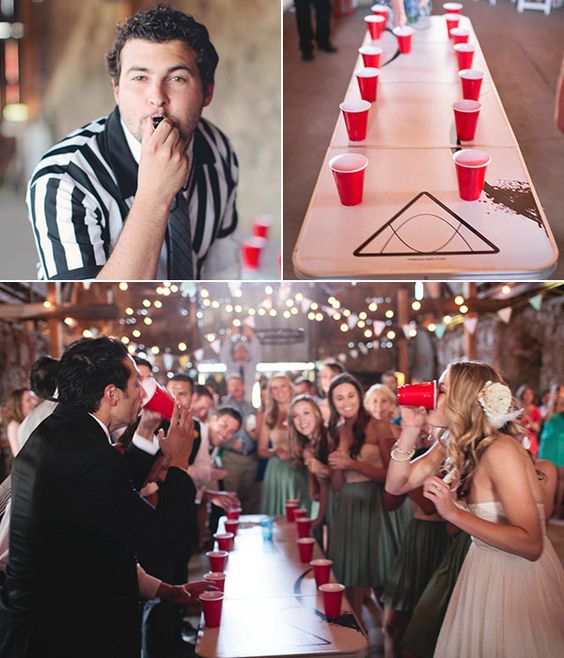 Just like any wedding, liquor will always—well, usually be present. But drinking games like Flip the Cup can be done with soda so all of the kids can join in, and so all of the adults can drive home safely.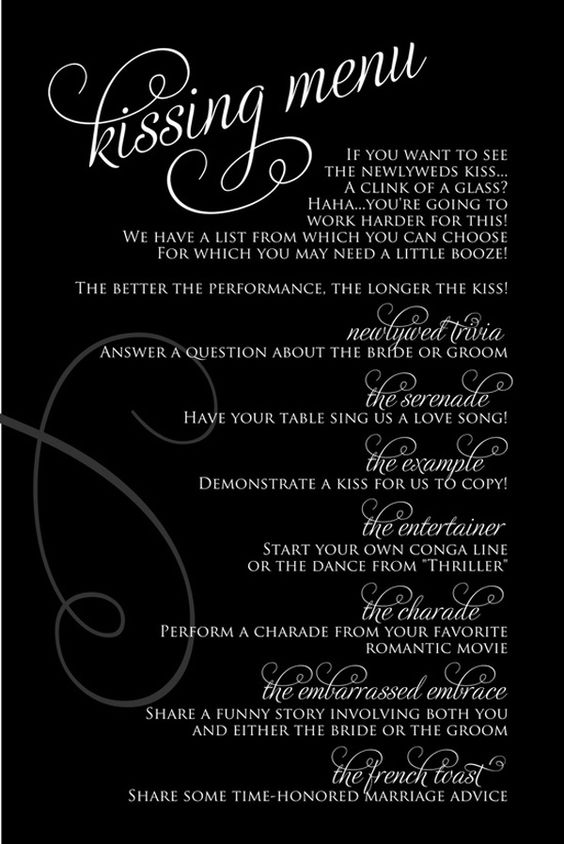 No more old school clink-the-glass-and-kiss. Now the guests have to do a little something fun—or wildly outrageous—to get the couple to kiss. For example, correctly answer a newlywed trivia question, serenade the couple with a song, or demonstrate on the guest's wife or girlfriend (or willing table mate) a kiss for the newlywed couple to copy.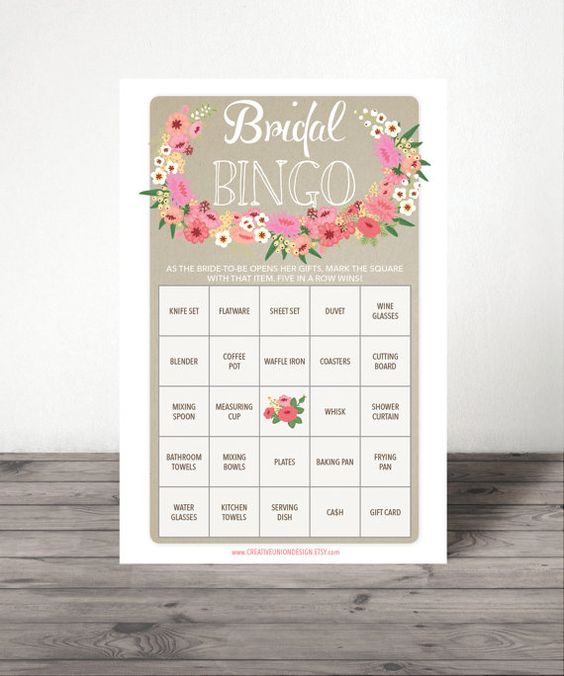 Playing bingo gets your guests moving around. Not only will they get to know others than those at their own table, wedding bingo is one of the best icebreakers we know. This also works fabulously at a buffet or open seating reception. Offer a big prize for those who get bingo.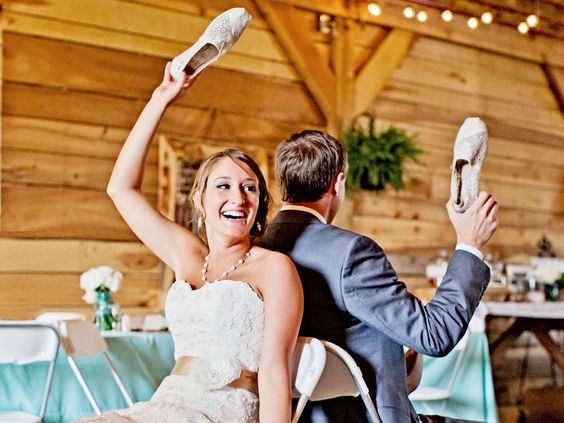 With the Shoe Game, your guests get to watch you as a couple answer fun—and possibly embarrassing—questions about each other. The newlyweds sit back to back and swap a shoe, so they are holding one of each, then someone asks the couple a series of questions such as "who snores louder?" or "who said I love you first?" It sounds corny, but it can get really romantic and even be a little bit of a tearjerker depending on the answers to the questions.
This wheel—usually handmade—either has tasks for everyone to do or just things the couple has to do.  There are a lot of variations on this one but what matters most is that it gets everybody doing something other than just sitting there—and hopefully that something is laughing themselves silly all night long!
There are loads of other games and activities to make your wedding reception memorable. What makes it amazing is when couples are hands-on and add personal touches to the fun. Close friends reminisce about good times spent with the bride or groom while playing. The games also make for fabulous photo ops for your photographer and videographer, and will surely leave you laughing—and crying—for years to come.