Dresses
Romance is In the Air: 14 Soft Chiffon Dresses for Your Attendants
Who doesn't love the softness of chiffon? It drapes beautifully, is comfortable to wear, and adds a touch of elegant innocence to any wedding. Choose floor-lengths gowns for a formal look, knee-length dresses for a flirty touch, or have the best of both words with the trendy high-low hem. Here we present 5 each of our most popular long and short gowns plus 4 stunning high-low dresses. All are created with DaVinci Bridal's top quality fabrics and high-end construction. The best part is, not only are these gorgeous chiffon dresses comfortable, but they're more than affordable so you can dress your attendants in high style without the high price tag!
A Note About Colors:
Our dresses are photographed in just one color, but that is not your only choice. The majority of our dresses are available in more than 50 colors, and when you add in a ribbon belt, the combinations are almost endless! Choosing the dress you want in the color you love best is also easy: Just visit your nearest DaVinci retailer and ask to see swatches!
To find the retailer nearest you, click here, then enter your city, state, or zip code:
https://davincibridal.com/blog/store_locator
5 Floor-Length Frocks: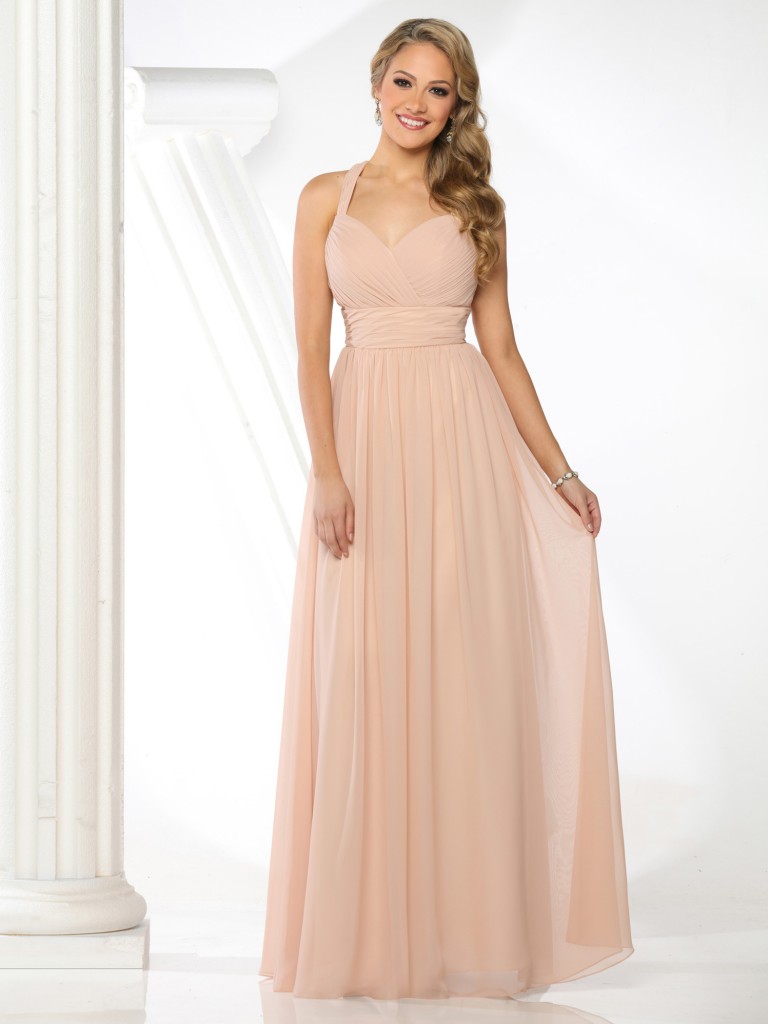 This beautiful Grecian style A-Line sheath couldn't be more comfortable! Entirely fashioned of the softest chiffon, the ruched sweetheart neckline leads to wide set gathered straps that create a halter in front and then flatten as they crossover for a beautiful and comfortable back interest. The wide ruched waistband adds a touch of an Empire silhouette while the full, gathered chiffon skirt flows softly to the floor length hem.

Always a classic, an A-Line halter dress flatters almost every figure. Our chiffon floor-length gown features a full skirt falling from a natural waist that's accented with a delicate beaded belt. The V-neck and back of the bodice are ruched for comfort and cut just a little higher for a modest look. Your attendants will love the soft, wide halter straps and the convenient hidden zipper closure.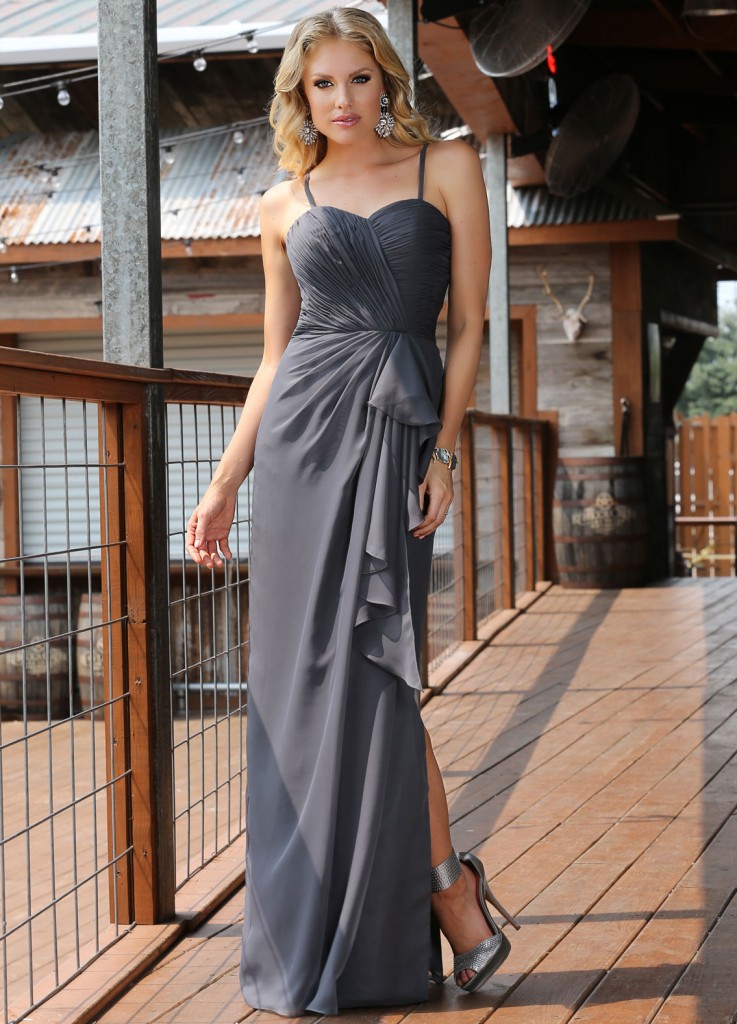 Sexy and chic describes this chiffon A-line sheath. Figure flattering ruching begins at the modest, high cut sweetheart bodice and continues to the side accent of a single waterfall chiffon ruffle that starts at the natural waist then falls to show off the demure knee-length side slit. Spaghetti straps provide comfort and security from front bodice to the higher cut open back.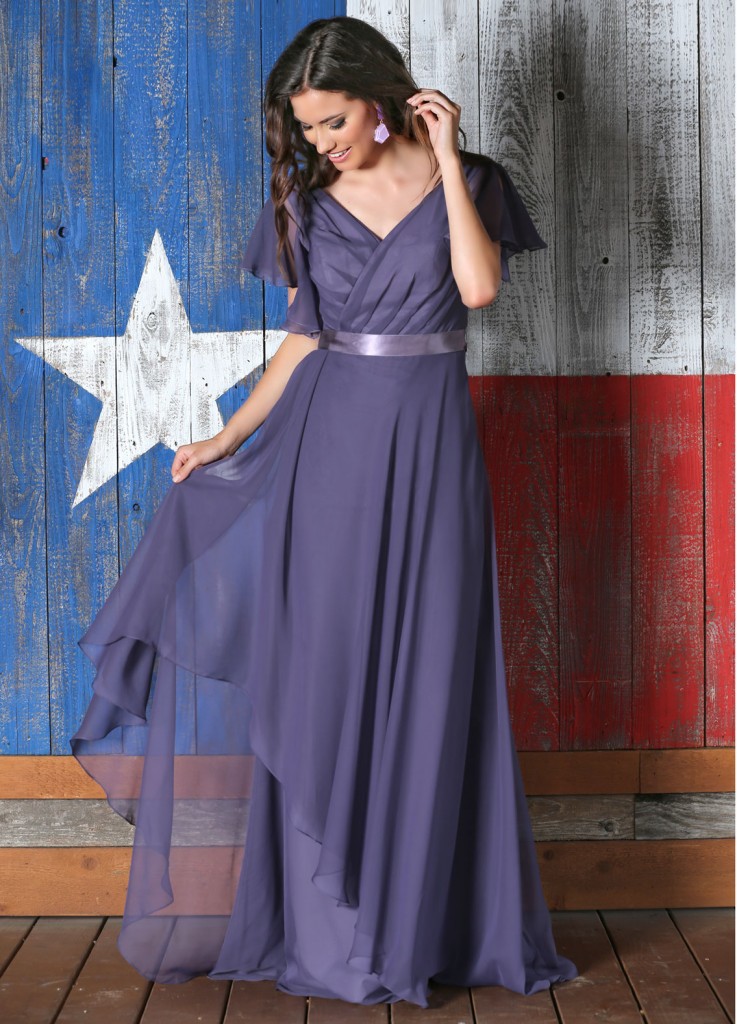 Fluttery sleeves and a ribbon belt set off the wrap-look bodice on this floor-length chiffon dress. The modestly cut V-neck is gently ruched while the skirt floats from a natural waistline. Choose the ribbon belt in a contrast color to match your wedding color scheme, or choose the same color for a lovely monochromatic look.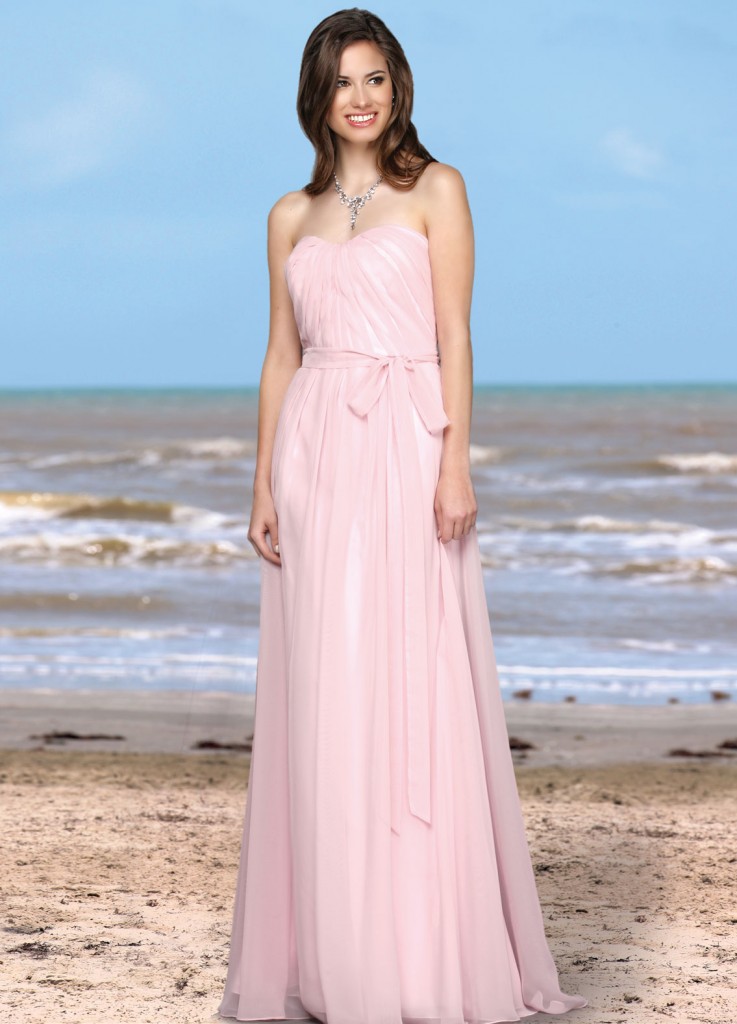 Elegant with a touch of innocence, this flowing A-Line chiffon sheath is both modest and fashionable. The strapless sweetheart neckline is ruched to flatter every figure while the soft, full skirt is accented with a flirty off-center bow.
5 Flowing Knee-Length Dresses: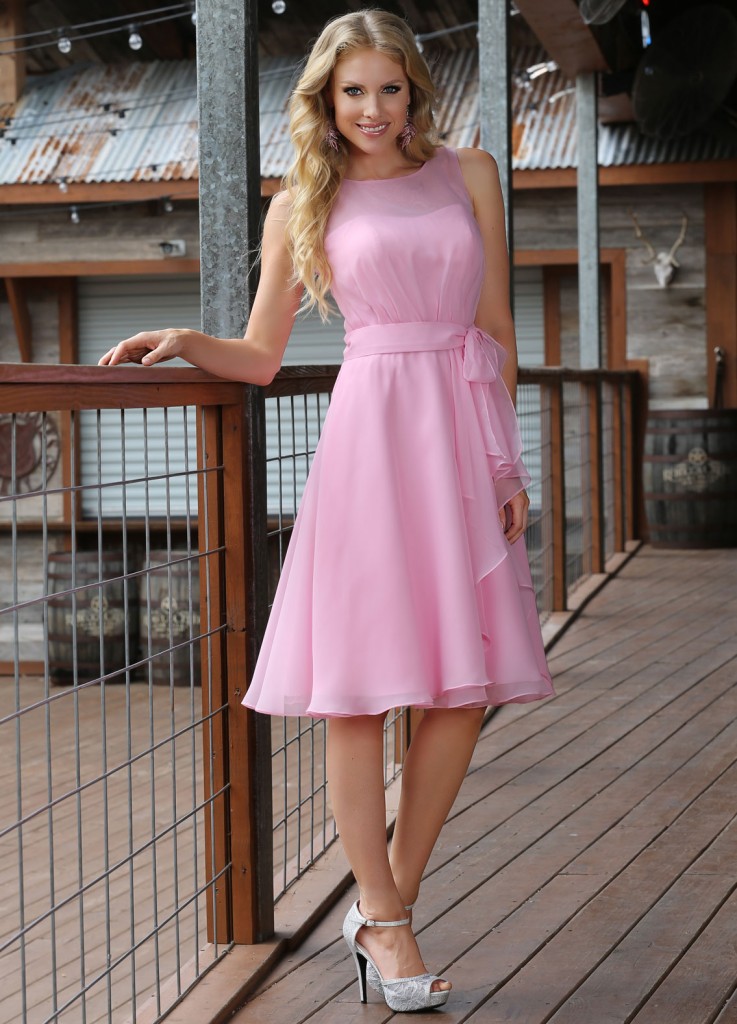 How much more fun could your bridesmaids have than in this knee-length dress that combines the look of a strapless sweetheart with a modest illusion bateau neckline of soft chiffon? The A-line silhouette flatters with a full skirt falling from the natural waist and a lovely side sash accented with a bit of waterfall ruffle. The back features a keyhole above the hidden zipper closure.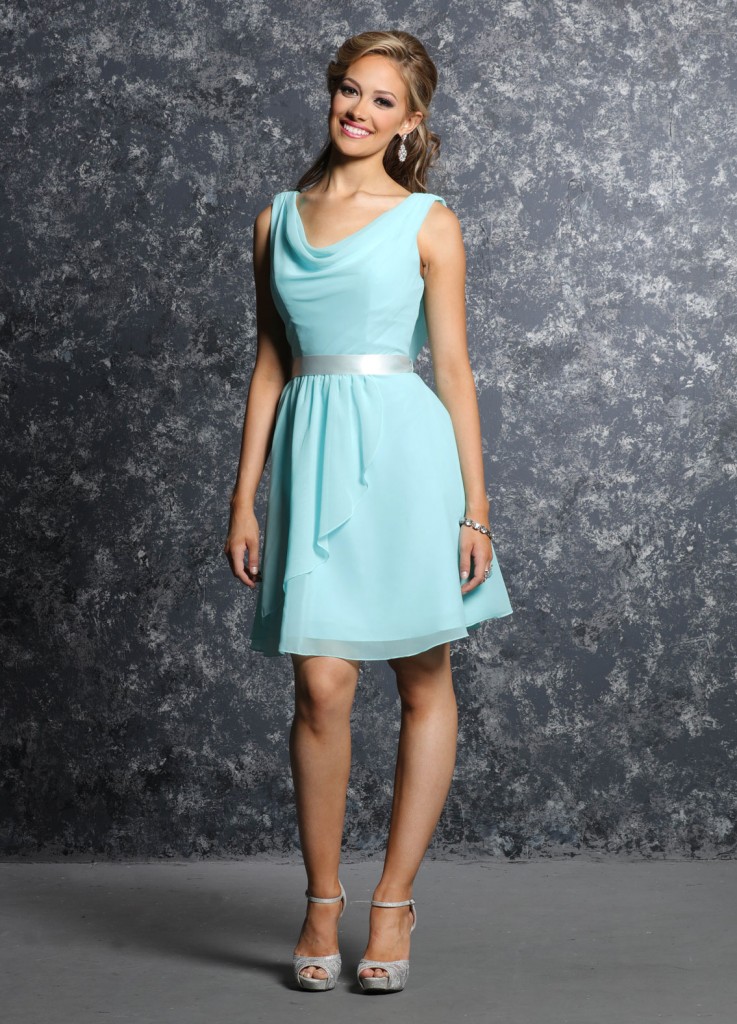 The softly draped necklines both front and back turn this otherwise modest knee-length A-line frock into a dress suited for the most formal wedding. The full chiffon skirt falls from the natural waist with a soft waterfall overlay in the front and is accented by a ribbon belt that ties in a bow for back interest. Choose a contrast ribbon to match your theme or keep the look formal by matching the ribbon to the dress.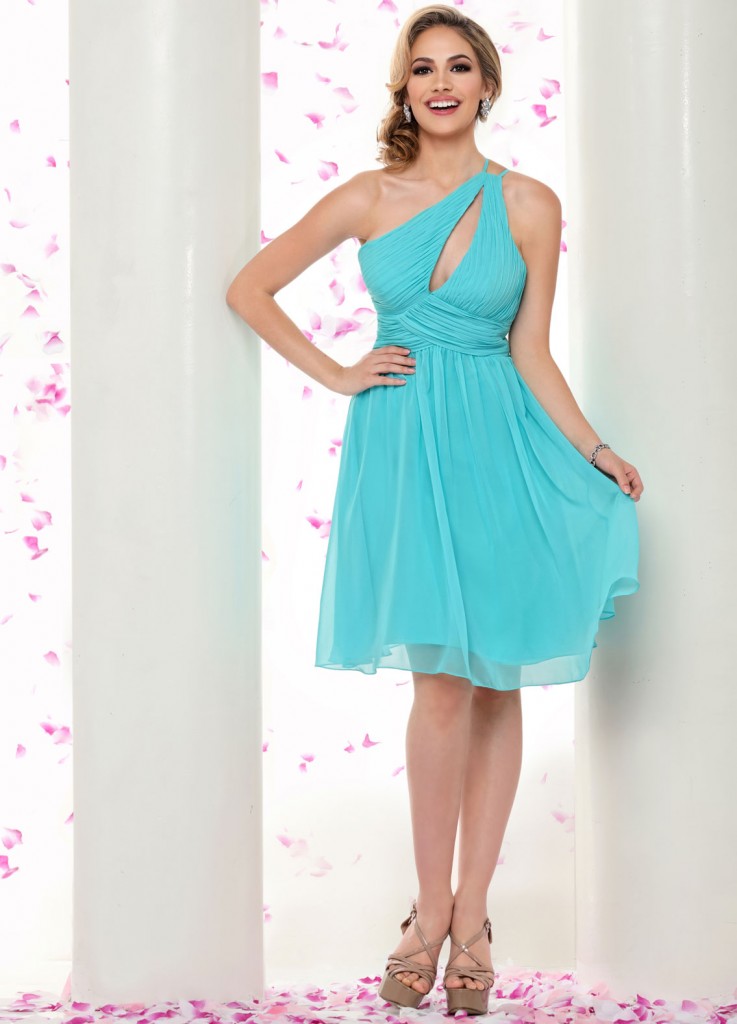 The high style bodice of this chiffon A-line dress takes it from flirty to downright sexy! The bodice is gathered and ruched into two straps in the front that created a keyhole at the bust. The straps then join at one shoulder and convert to spaghetti straps across the back. The wide ruched waistline adds a touch of Empire to the silhouette while the softly gathered full skirt falls to knee-length.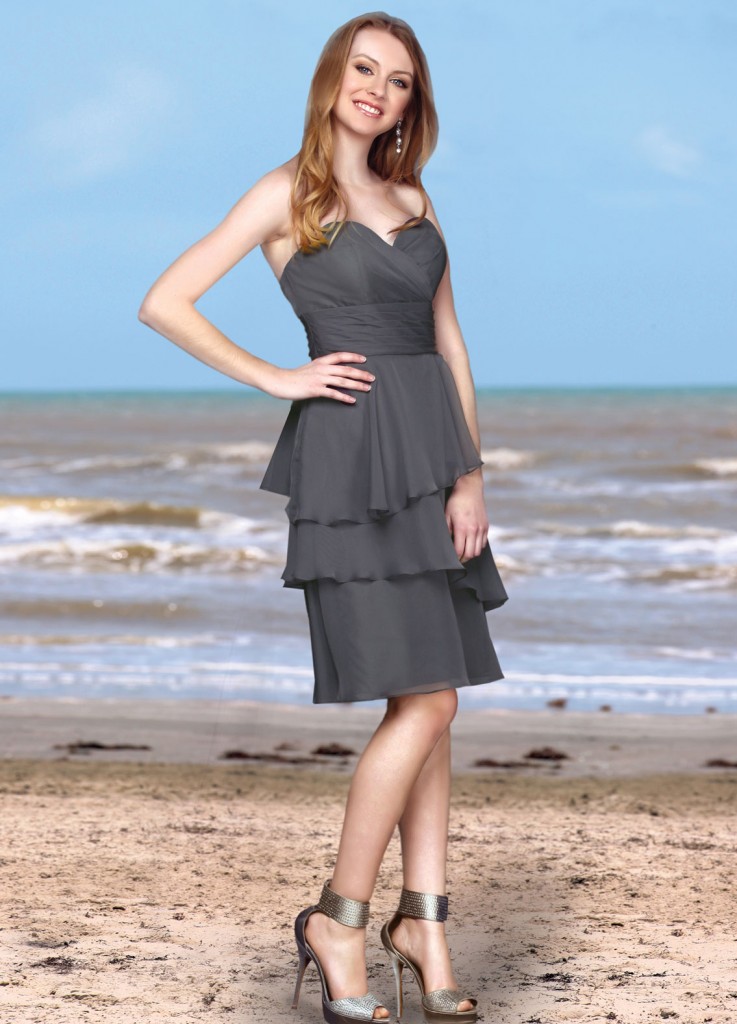 Add drama to your entourage with this strapless sweetheart sheath that features a triple tier chiffon skirt. The bodice is ruched and has a wide waistband that adds an Empire look to the silhouette while the skirt falls in 3 diagonal layers to a conservative just above the knee hemline.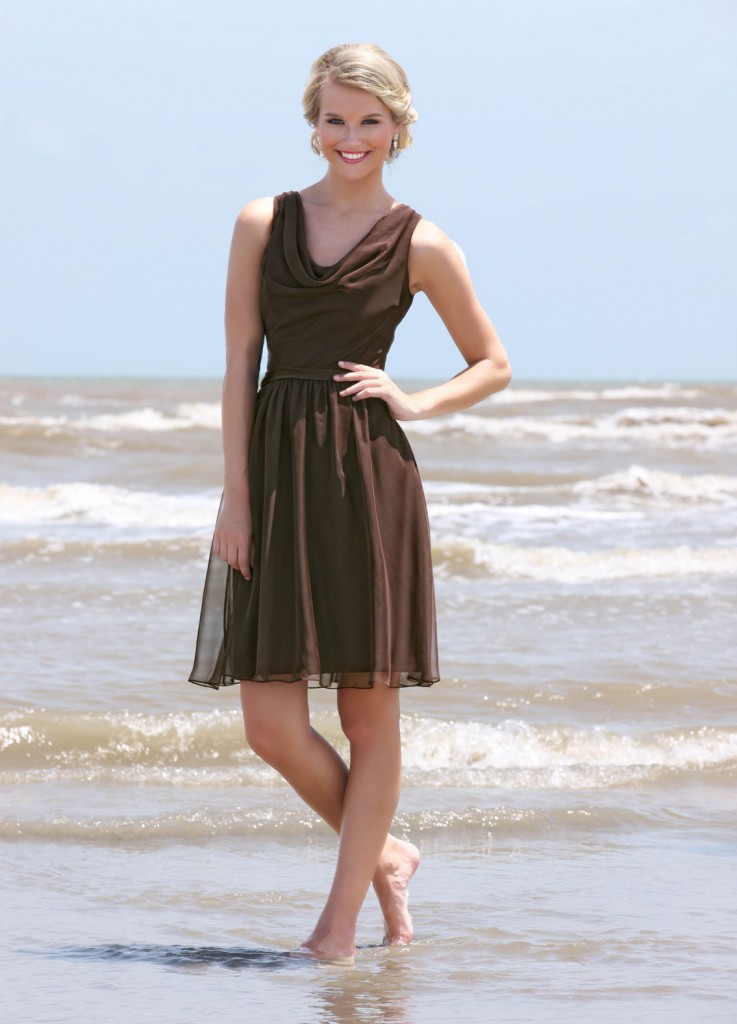 Classy and lighthearted at the same time, this knee-length chiffon sheath is simply timeless. The modestly draped cowl neckline is the perfect contrast to the sexy keyhole back, and all the softly full A-line skirt needs is the tiny touch of a ribbon tie at the natural waist for an accent.
4 Stylish High-Low Hemlines: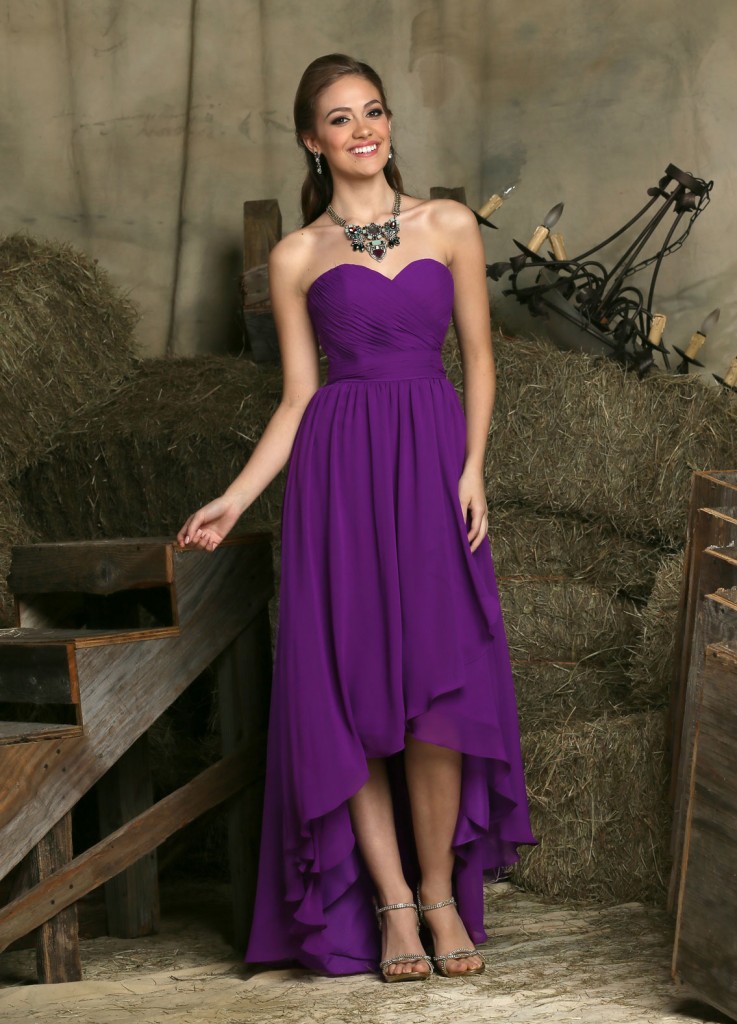 Generous layers of chiffon and structured ruching make this strapless sweetheart high-low gown picture perfect. The bodice is cut modestly high both front and back with ruching at the waist for definition. The full A-line skirt falls from the natural waist and floats into a multi-layered ruffled hemline that hits below the knee in front then falls to floor length at the sides and back.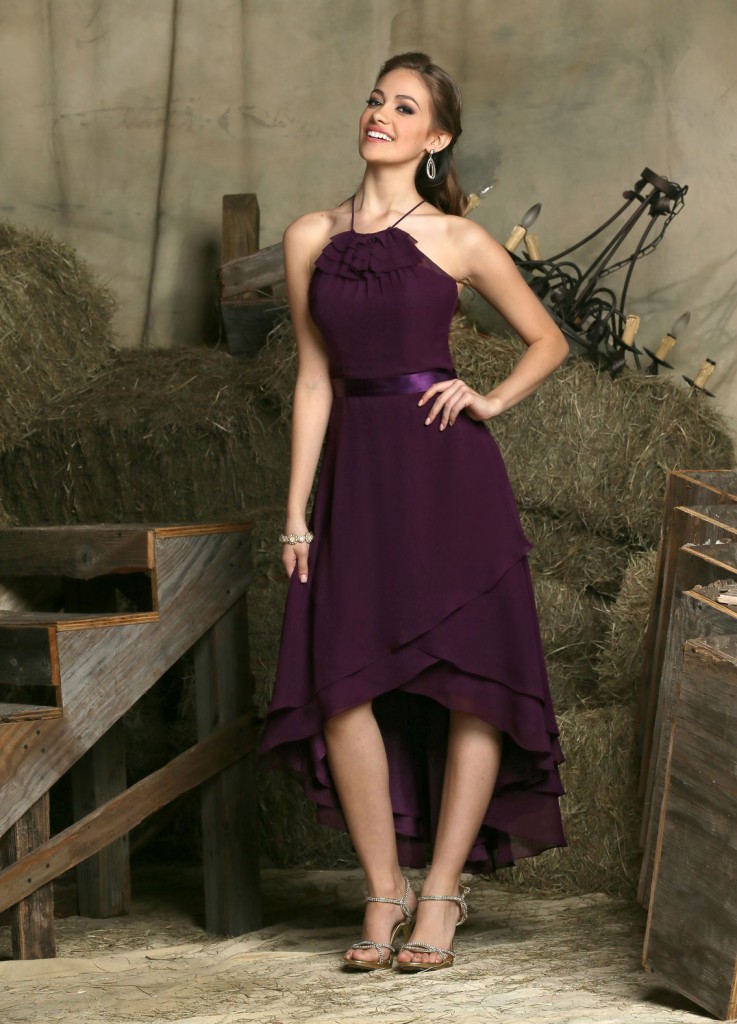 Combining an easy-to-dance-in knee-length hemline in front then falling to ankle length in back, this A-line halter dress features a modestly high front bodice with criss-cross spaghetti straps across the open back. The high-low skirt falls in smooth layers from the natural waist with just a hint of ruffle along the hemline to echo the dainty ruffle at the throat.
3. Style #9244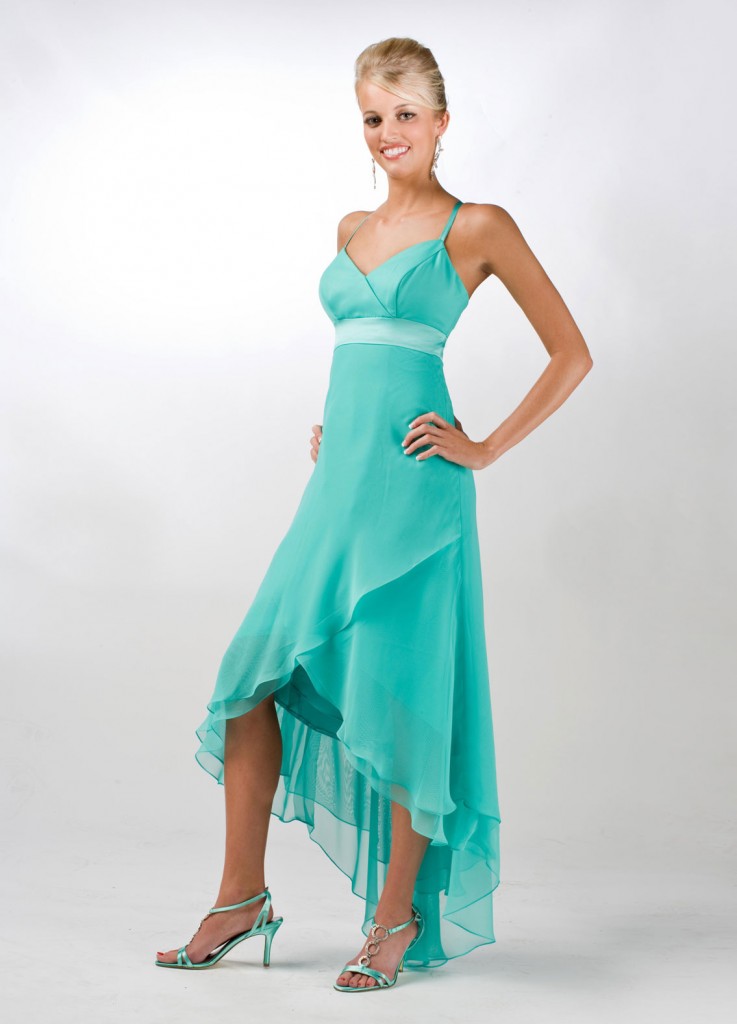 Perfect for a breezy, warm weather wedding as well as a dramatic dressy affair, this A-line sheath features a sweetheart neckline with flirty spaghetti straps and an Empire waistband. The slimming chiffon skirt falls smoothly from the waist in diagonal layers that are knee-length in front and fall to the floor in the back. Choose a contrasting waistband to accent your wedding colors or match the dress and waistband for a lengthening monochromatic effect.
4. Style #9180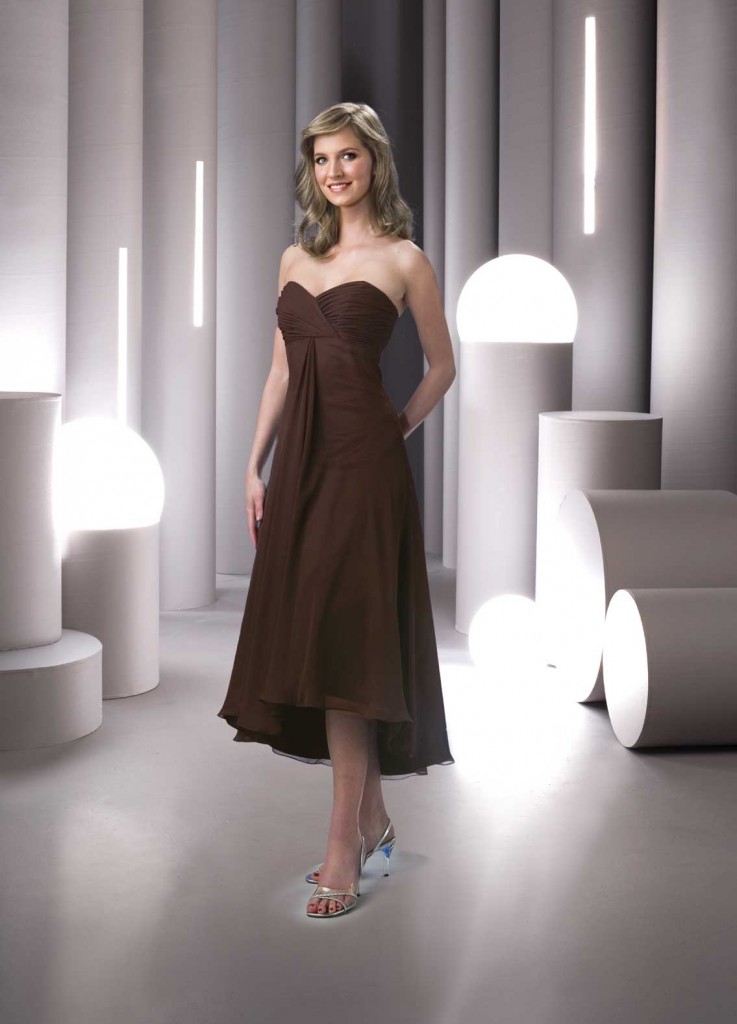 Just enough of a high-low hem for interest, this strapless sweetheart A-line dress features a generously ruched bodice with a skirt that falls smoothly from the Empire waist. A single gather at center front provides style interest while the hemline varies from just below the knee in front to just above the ankle at the back.
Share Your Bridesmaid Photos with Us!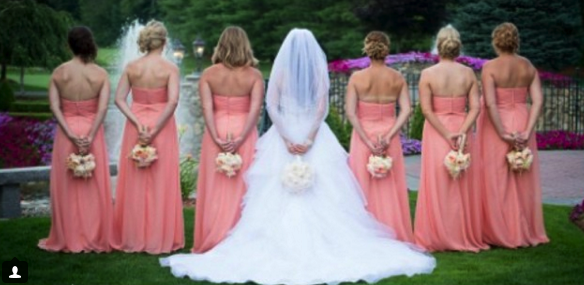 http://www.davincibridal.com/real_brides.php
Share your favorite photos from your wedding day featuring your lovely attendants in their DaVinci dresses, and you'll have a chance to be featured on our website and social media. And as a special bonus, you'll automatically be entered into a sweepstakes to win a framed sketch of your wedding dress!
For tips on how to make your wedding attire a stylish standout, check out this blog: http://www.davincibridal.com/blog/bridesmaids-dresses-boring-breathtaking-10-easy-steps/
For a closer look at a selection of our new bridesmaid dresses for 2017, check this out: http://www.davincibridal.com/blog/style-for-miles-4-marvelous-new-2017-bridesmaids-gowns/