Nails
10 Timeless & Trendy Wedding Day Manicures
Did you ever stop to think that one of your most important wedding day "accessories" are your nails? Well, they are, and if you want to go classic and neutral with traditional pale pink or nude, that's great. But if you want to rock a fun and festive trend, go for it! The one big thing to keep in mind is to try these styles before your big day—as in a few weeks before. That way you'll know if you can live with the look while wearing other outfits and how long the manicure will last. The sky's the limit these days for bridal nails, so we've gathered 10 of our favorite timeless and trendy looks for inspiration.
Twists on Timeless Classics
1. Metallic French Tip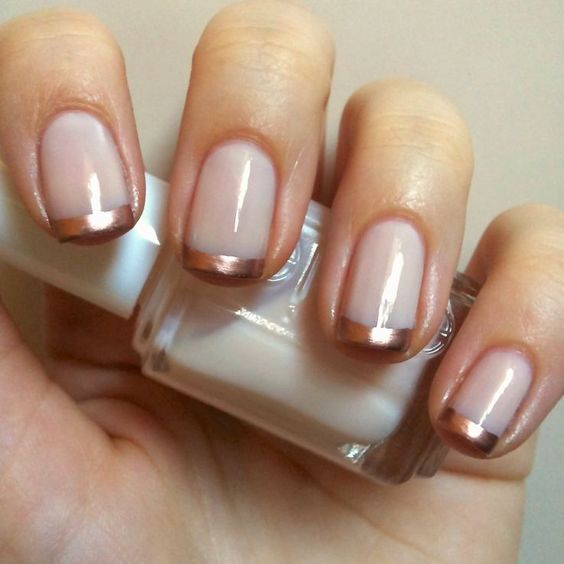 Many brides still prefer the traditional French manicure because it's simple yet elegant. But consider an upgrade by adding a metallic tip instead of the traditional white. This will give you a much bolder look while at the same time still maintaining the classic French design.
2. DIY Asymmetrical Swoop Tip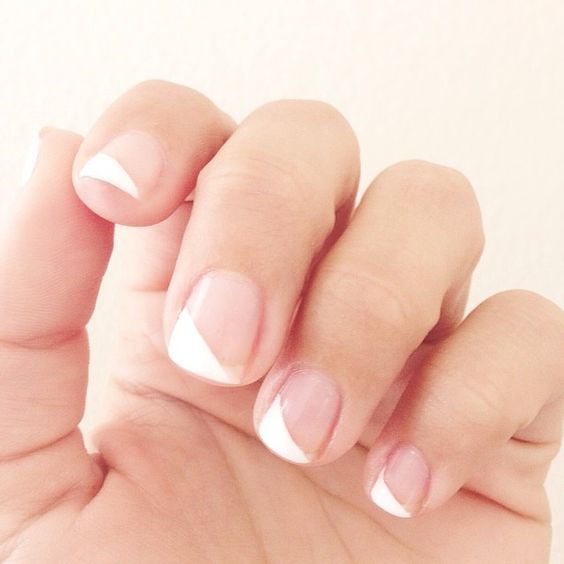 This is one French tip that you can do at home. Just lay tape above the tip in a curve, paint on the white and let it dry. Then carefully lift off the tape and apply a coat of clear gloss to seal the edges.
3. Just a Touch of Glitter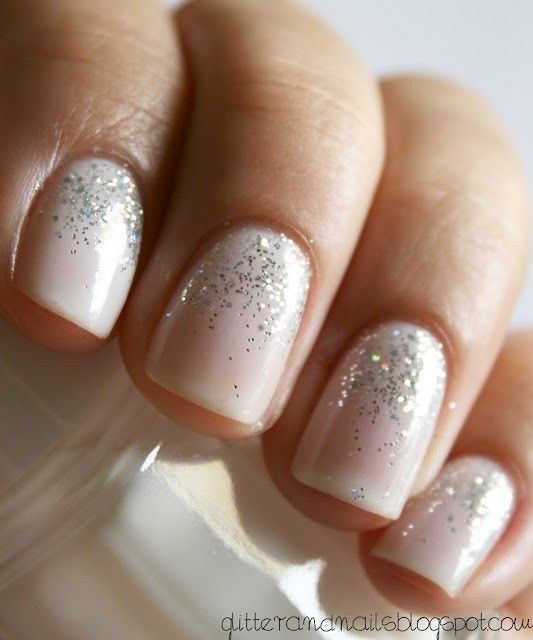 If you're really into sparkle and glitter but want to tone it down for your big day, this nail style is for you. Add a glow to your classic pale pink manicure by sparingly adding bits of silver or iridescent glitter to create a glowing look.
4. Sheer nude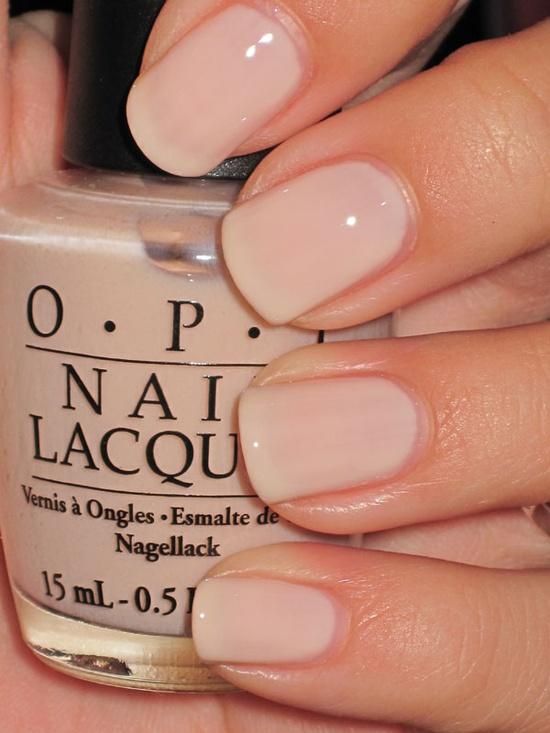 Nude nails are timeless, but to give them a touch of wedding day sass, trade in the traditional creamy opaque for a sheerer version with a lot of shine.
5. Ring Finger Accent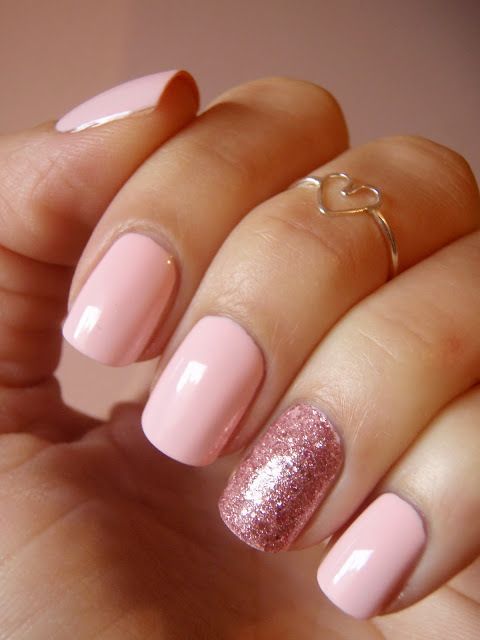 Nothing is simpler and more charming than a one-finger accent. On your wedding day, let that one finger be the one that wears your ring!
Hot Trends to Rock on Your Big Day
6. Graphic Print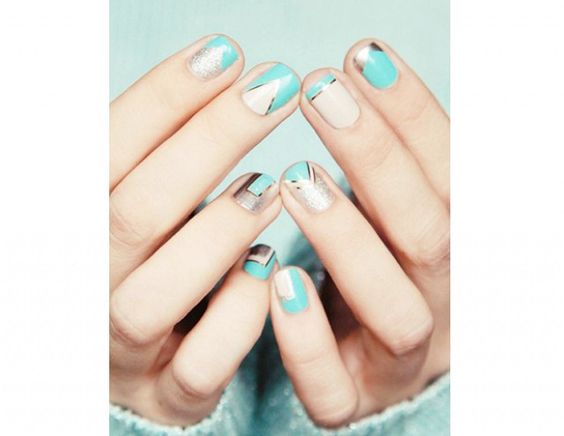 The trick to pulling off graphics for your wedding is to keep the base shade pale. You can also tone this look down by having a metallic French tip on 4 fingers and then a graphic on just your ring finger.
7. Gradation Manicure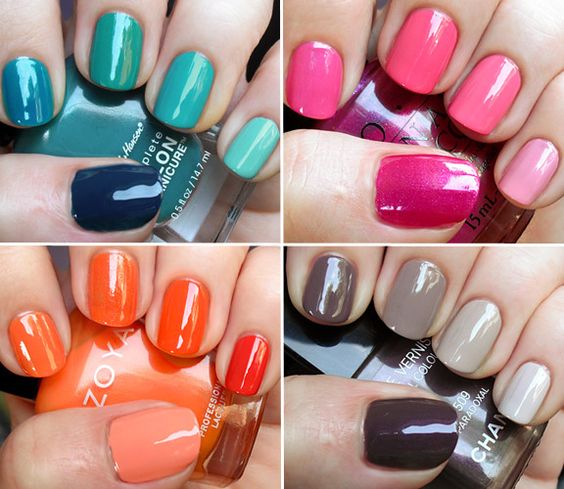 This is a full-hand variation on ombre. To get the perfect gradation manicure in any color family you like, do this:
Choose the color family you want that goes with your fashion look.

Choose only

all

warm or

all

cool shades from that color family. Mixing cool blue-based green with warm yellow base green won't work. (If you're stumped, ask the nail salon artist for assistance.)

Play around with the lightest and darkest shades until you get them in the order that you like.

Polish each nail a different color putting the lightest color on one end and the darkest color on the other.
8. Prismatic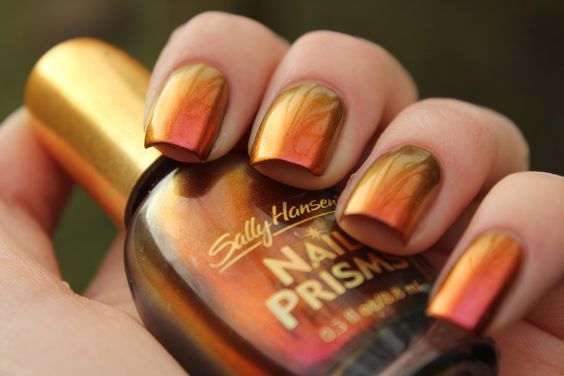 This is definitely daring, but especially if you're having touches of metallic in your wedding colors, prismatic polish can be fabulous!
9. Over the Top Taupe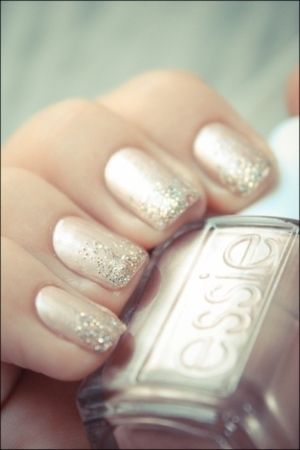 For a bold but still toned down look, choose a sleek taupe polish for the base. Then you can leave it be, or French tip with glitter or gold, or go all out with a glitter tip and gold band.
10. Smoke & Ash Tuxedo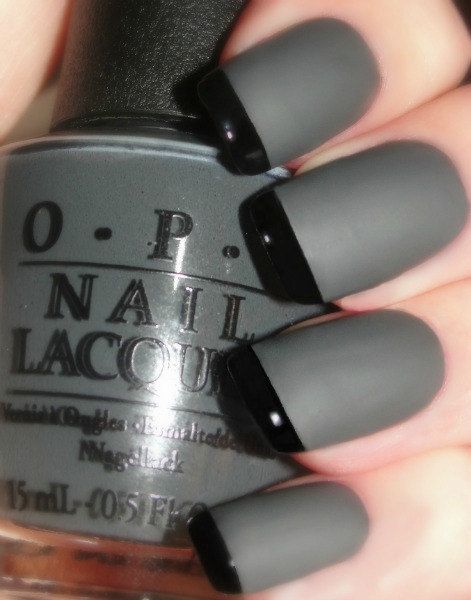 This is also a daring design, but the matte color base with a touch of glossy black at the tip softens this look from brassy to sophisticated haute couture!
For some great tips on how to choose just the right colors and then maintain your stunning bridal manicure, check out our blog: 7 Top Tips for Perfecting your Wedding Day Manicure