Accessories
How to Accessorize Your Wedding Gown: Going Beyond Borrowed and Blue
Finalizing the overall design of your wedding dress is a lot of fun, but there is a bit of stress involved in determining the right cut, the right fabric, and the ideal silhouette for your body. What's totally fun, however, are the accessories that go with your dress! This includes jewelry, shoes, necklaces, hair ornaments, even a lovely bridal handbag.
We've researched a few timely tips to help you choose the right accessories for your big day.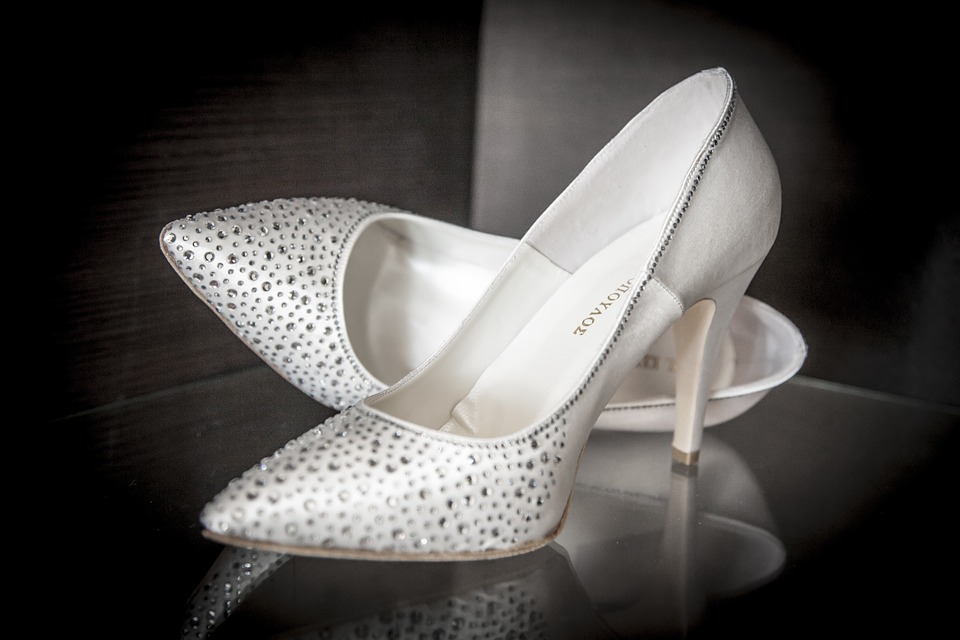 While most of the spotlight will be on your wedding gown on the big day, it's still good to make sure you have the best shoes, so prioritize comfort over everything else, especially if you're going to wear the same pair for the ceremony and the reception. Choose shoes with good padding and support, or at least ones into which you can put a good gel or memory foam insert. Also, be sure to choose a heel height that you can walk in! Make sure the heels and soles don't slide, and if they feel a bit slippery, scuff them with sandpaper or walk up and down the driveway shuffling your feet a bit. This will prevent you from slipping and falling on your wedding day. Once you've made your wedding shoe choice, practice walking in them for a few days before the wedding, so you'll feel comfortable come showtime.
When it comes to color, the safest bet is to get shoes the same color as your gown. However, do not be afraid to add character to your look by choosing a shoe that feels great on and has a lot of personality. A lovely pair of fire engine red heels is just the right touch to break through what would seem like a completely proper ensemble without looking too bizarre. Or – and this look is hot on the runway these days – classic white shoes with the soles painted red!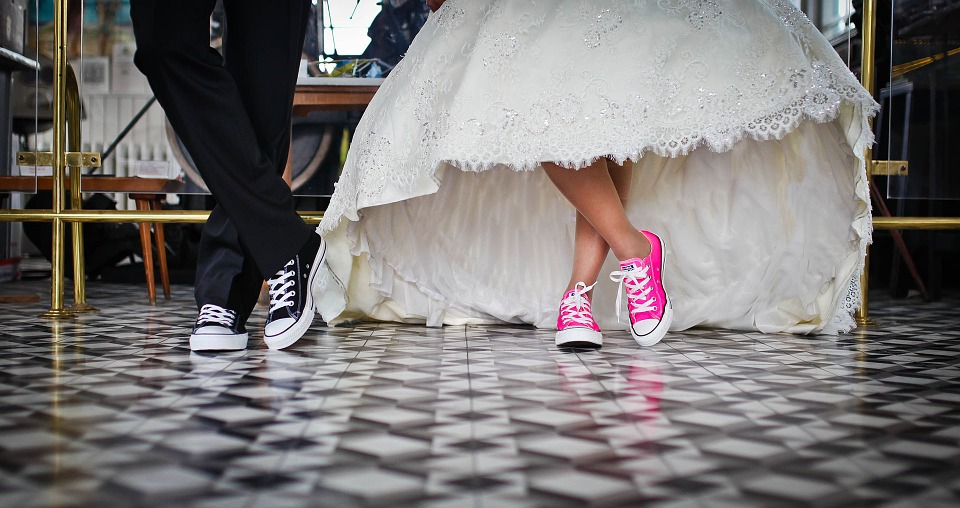 Also, it's not uncommon for brides to slip into a pair of more comfortable shoes for the reception. Give this serious consideration if you plan to do a lot of dancing. Something with a lower heel, open toes, or embellished flats is an excellent choice.
Wedding Bling (apart from The Ring)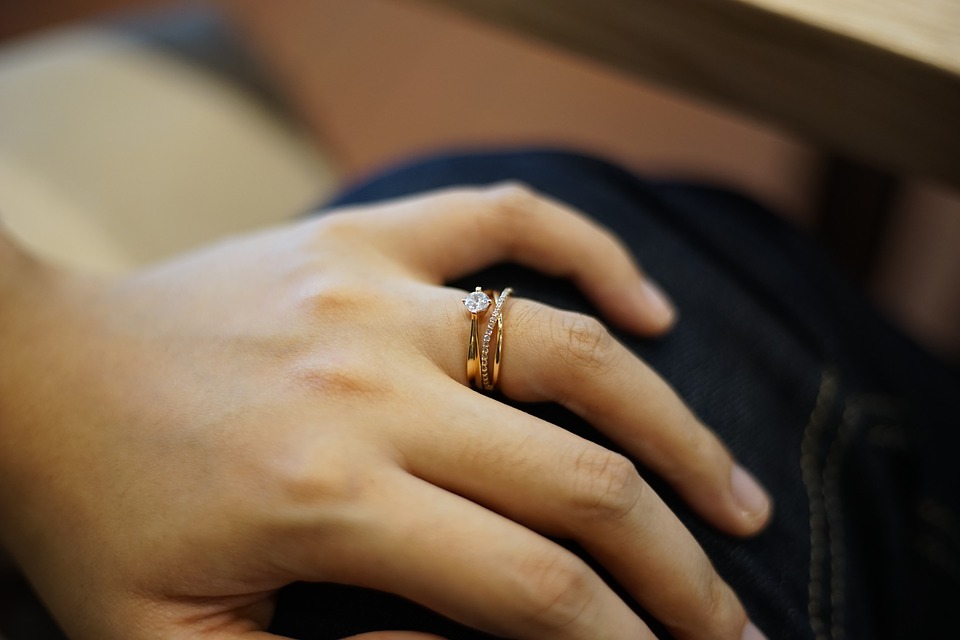 On your wedding day, it's traditional to wear your engagement ring on your right hand until he slips the wedding band on your left finger, then put your engagement ring on that finger shortly after the ceremony. Apart from this, you can also wear all sorts of bling like earrings, necklace, and even bracelets.
One note: While the sky's the limit when it comes to the size and style of your other jewelry, it's not customary to wear all three pieces of a set—earrings, bracelet, and necklace—at the same time. That could look a bit over the top. Balance is the key. If you're wearing an eye-catching necklace, wear understated earrings. On the flipside, if you go for dramatic earrings, a delicate and unobtrusive necklace will even things out. One extremely edgy and classy mix is to wear glamorous earrings with a matching or contrasting bracelet but no necklace.
Also, don't be afraid to wear costume jewelry on your wedding day as an alternative to antiques or priceless pieces. Beautiful, well-made costume pieces can give you the right pizzazz without the high price tag. Vintage pieces, though, are a great tribute to the women who have bequeathed their jewels for you to wear on your important day. Another fabulous perk to costume jewelry is that, even if you lose a piece sometime during the reception, you won't have to worry!
Both ideas—classy costume jewelry and heirloom treasures—are incredible, and each has its own advantages.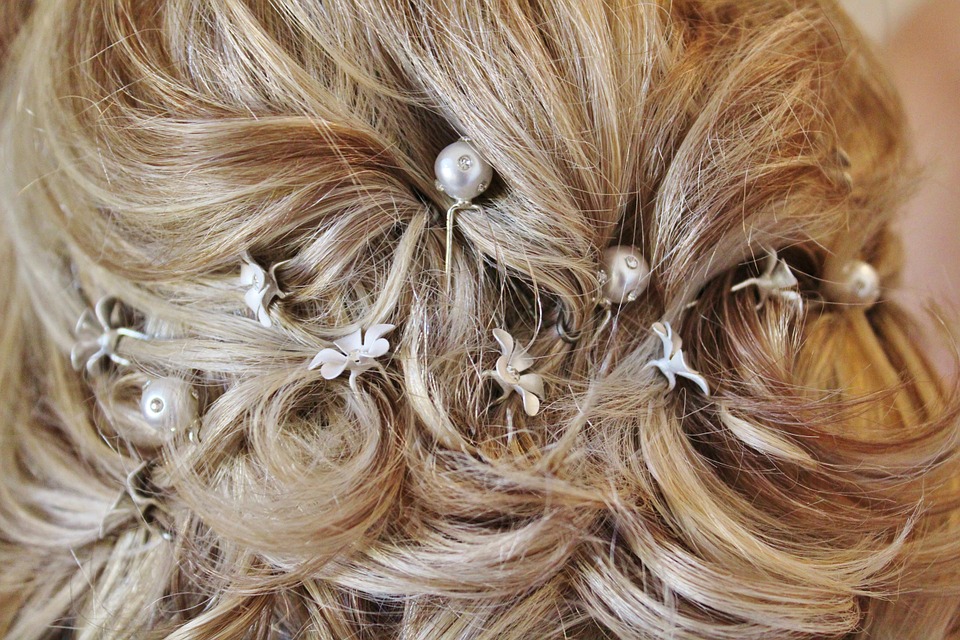 Gone are the days when bobby pins are the only things in your hair. Some brides choose to accessorize their wedding updo's with hair clasps and embellishments. These days, bridal hairstyling trends utilize crystals, pearls, and gems as hairpieces that bring together the entire look. Don't go overboard with this, though. One or two pieces artfully placed atop your beautifully styled hair should be enough to add sparkle and catch the light.
If gems and jewels are not your thing, you could consider a floral wreath as a hair accessory. This is lovely for those who want their hair down but still want an embellishment. Something dainty and sweet crowning your beautiful waves should be enough, and here's a great tip: if you plan to wear a wreath with flowers placed all in a row, keep the blooms no bigger than an infant's curled fist. For greens with a statement flower, one larger bloom—like in the   photo—creates drama without overwhelming your facial features.
Some Dos and Don'ts When It Comes Accessorizing your Wedding Gown
Don't

go overboard with the accessories. Choose one or two eye-catching pieces, and keep the rest subdued.

Do

choose pieces that reflect your personal style, not just what's trendy at the moment.

Don't

wear your watch. As much as you want to be able to check the time, a watch is considered a style-breaker on a bride. You want to look dreamy on your wedding day, and we've yet to see a watch that's "dreamy" enough for a bride! If you need to check the time, have your maid of honor keep a watch in her bag, or…ask your new husband!

Do

choose pieces in subdued colors. Avoid jewelry that looks clunky, or loud colors that detract from the elegance of your look.

Don't

opt for a tiara. It might give you that princess feeling, but according to today's high-end designers, tiaras are a bit dated, considering all the other options available today.

Do

make sure that your bridesmaids and maid of honor are accessorized, too. Look for pieces that will complement the personality and gown of each girl on your wedding day. Purchased as a gift, these are a lovely gesture from you. Keep in mind: If

you're

wearing statement pieces, choose jewelry for your girls that are statement-worthy as well!

Don't

choose pieces that are flimsy or have weak links or clasps. The last thing you want is for your beautiful bib necklace to come apart during the reception. Check the sturdiness and build of your wedding accessory pieces ahead of time to ensure that they last the entire night right along with you.
Now – get out there and start pinning down how you want to pin your hair and your jewelry for your fabulous wedding day!