No more "shoes must match the color of the dress." Go classic & classy with these Black Bridesmaids Shoes: 6 Reasons to Say Yes!
Once you've chosen your bridesmaid dresses, your next task will be to choose shoes—and it's not always an easy one! One look at Pinterest and you'll see wedding parties in red shoes or each girl in a different color shoe. Very often, even if the colors match, the style of the shoes vary.
You'll also see one of the most practical shoe colors there is: Black. There's a multitude of good reasons to choose black for your bridesmaids' shoes, but we'll list just a few here to help make your decision easier.
Black Bridesmaids Shoes: 6 Reasons to Say Yes
1. Zero Stress About Matching the Color
With few exceptions, most black shoes today are either the same shade of black or close enough to not stand out as different. You can also give your girls a swatch of black and ask them to make sure what they choose isn't too much on the brown side. That's about the only worry when it comes to black shoes: That they'll look brown.
2. Most Variation in Individuality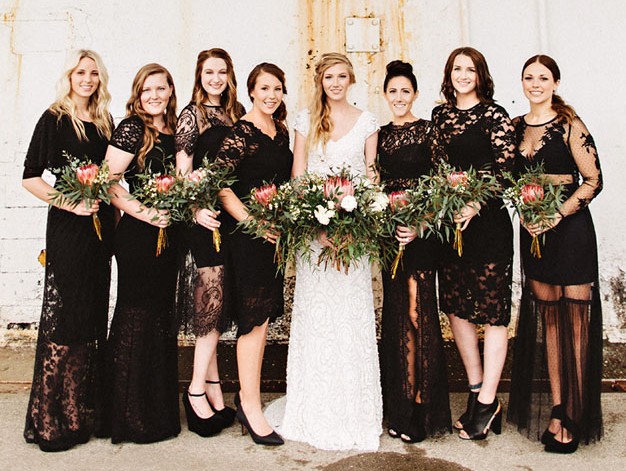 Turning your 'maids loose to buy any black shoe they want can ease your mind and make their search a lot more fun. You can set some guidelines if you wish. Perhaps you prefer a closed toe, or you'd rather see a peep toe than a full sandal. You can also take into consideration height. Your photographer can pose everyone to look good, but you might want to ask your taller bridesmaids to choose a lower heel, specifically so they won't tower over you.
Black Bridesmaids Shoes: 6 Reasons to Say Yes
3. Each Girl Chooses Her Own Price Range
Whether you state a preference for one style over the other—pump, closed toe, sandal, etc.—allowing each attendant to buy her own shoes will help them keep other wedding expenses under control. You'll also probably have different income levels among your bridesmaids. But by letting them choose their own shoe, if one of your 'maids wants to splurge on Oscar de la Renta…
…and another wants something adaptable, perhaps like these from Sole Society, that she can wear with her bridesmaid dress and then later with blue jeans…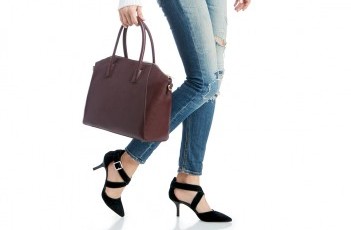 …and still another loves high fashion but because she needs to seriously watch her pennies, she prefers to shop at Payless…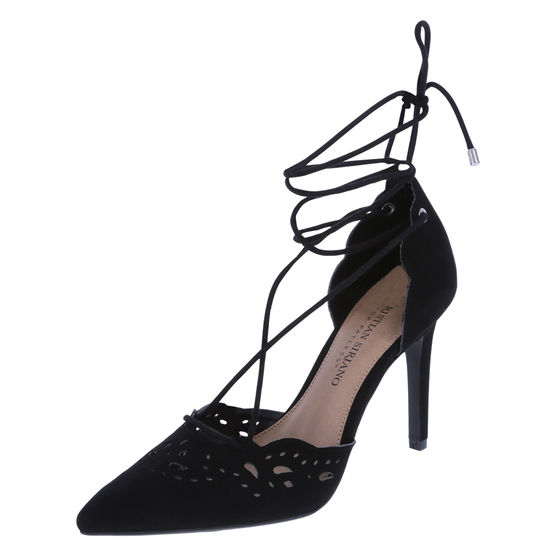 …you've pretty much made everyone happier to be part of your wedding!
Black Bridesmaids Shoes: 6 Reasons to Say Yes
4. Most Likely Wear-It-Again Shoe
If you want to guarantee at least one thing from your wedding attire that your girls will wear again, it'll be black shoes. They might not wear the LBD you choose for the wedding itself, but for sure they'll wear the shoes.
5. No Bare Feet During Dancing
It's easy to keep continuity—and have every photo look good, even the candids during the party—if you choose black for the ceremony then ask everyone to bring a pair of black flats for dancing.
Black Bridesmaids Shoes: 6 Reasons to Say Yes
6. No Need for All-Black Dresses!
Ultra-formal black gowns may call for black shoes, but there's a terrific fashion trend that uses a touch of black in just about any color or style bridesmaid dress.
Love the black & white look but need more ideas? Check out our blog Classic Wedding Color Scheme Black & White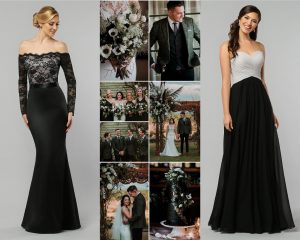 For the very best collection of great ideas for planning your wedding and adapting to circumstances that may have delayed your big day, Click HERE or on the image below for DaVinci Bridal blog: