One of the biggest challenges you'll face when planning your wedding is finding ways to keep your guests happily occupied while you do such things as taking photographs of the wedding party, greeting other guests, and hopefully slipping away for a private moment or two with your groom. What complicates it even more is that the longer your guest list, the greater the challenge. Sure, you can provide cocktails and hors d'oeuvres to keep everyone distracted, but not only do some guests not want to "eat for entertainment," once the food is gone, what else is there to do?
Well, guess what? We've got a solution! We've collected some of the best ideas for non-boring wedding activities that can fill in the gaps all the way from you running a little bit late with your hairdresser to entertaining those guests at your reception who truly aren't into dancing. We're sure that there's at least one idea here that you can use, even if your wedding is the fanciest and most formal of the season. Even better, though, you may well have people talking about your wedding at your 10th anniversary!
The only thing you need to worry about when it comes to choosing an activity or two for your wedding is to make sure that you don't have too many options. You want your guests occupied, not overwhelmed. So unless you're having a long wedding weekend, don't go overboard. If you can incorporate no more than 2 of these ideas—or maybe 3 if you're having a really big wedding or need to hold the interest of quite a few children—you should be able to keep pretty much everyone entertained.
Tip; Some of these activities really are perfect for kids, even if you're having a the most formal reception imaginable. Just find some room off to the side of the banquet tables, or ask your venue for a dedicated children's space.
#1: Photo Booth & Backdrop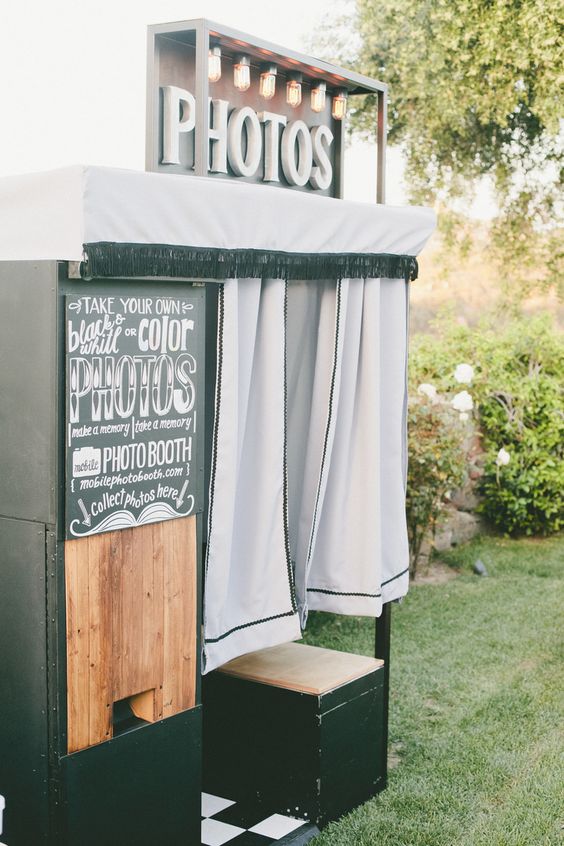 Thanks to smartphones and technology, many wedding guests these days already take selfies with friends they haven't seen in some time, so why not play on that?
Of course, you can always rent a professional photo booth, some of which come already packaged with costumes or silly accessories. But better yet, why not create the same idea for less and make it undeniably more personal by making not only a DIY backdrop but even a little setting like a miniature room with a couple of chairs and a fake chandelier?  
Take the selfie idea even further and provide an instant printer like a Polaroid PoGo. That way your guests will create a keepsake for you and be able to take home a print for themselves.
In case you don't know what a PoGo printer is, check out this link. The PoGo  creates 2"-3" borderless prints with a sticky back. https://www.amazon.com/Polaroid-CZA-20011B-Instant-Mobile-Printer/dp/B0019UGCLG/ref=sr_1_1?ie=UTF8&qid=1472241323&sr=8-1&keywords=polaroid+pogo
Pros of a rented photo booth: A rented photo booth can come prepackaged to match your theme. It's quicker than waiting for prints from your wedding photographer. Photos are printed usually within half an hour so guests can take home a souvenir and the quality of the photos is fairly good. Most of the time, online copies are also available and can be accessible to both you and your guests.
Cons of both rented booths & DIY selfie booths: If it's a big wedding the lines might be long and many guests may end up standing around waiting—which is exactly what you're trying to avoid!  
Also, both methods will cost you something. You'll have to pay for booth photos, but even if you provide your own Polaroid PoGo camera, you'll have to buy enough papers to go around.
Solution: Have more photo stations and get the PoGo as a gift
Having 2 or even 3 DIY settings—or renting one professional booth then creating another setting or two yourself—will solve most of your problems.
Then you can either put that handy Polaroid PoGo in your gift registry along with a few packages of papers or ask one of your parents to sponsor the setup. Either way, you're all set!
Tip: Check out this link for backdrop ideas. http://www.popsugar.com/love/20-Wedding-Ceremony-Backdrops-38814841#photo-38814952
#2: Video Messages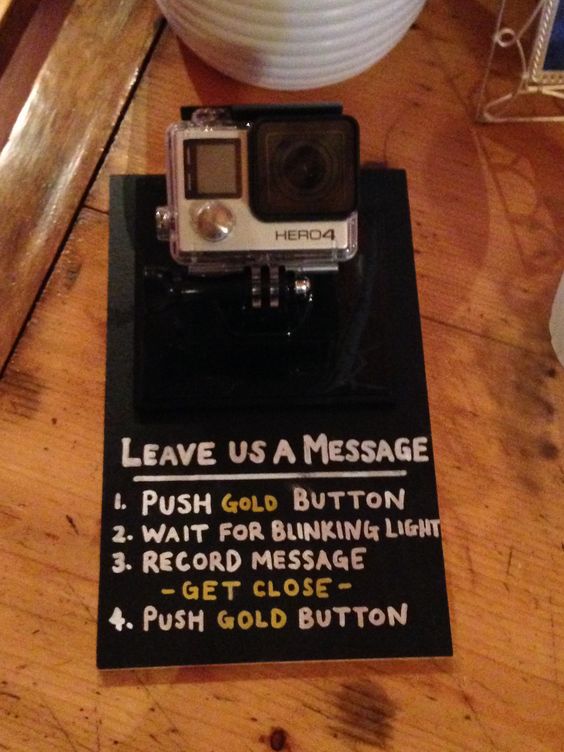 You've probably been to weddings where the videographer offers to do "interviews" but that can be limiting and what if he's busy doing that instead of paying attention to what's going on with your wedding program? Also, some people might want to say more than the time the videographer allows, or maybe they don't want to say it in front of a stranger.
All you need for a DIY video message station is a video camera and instructions, and you may already own a decent camera, so this is a pretty simple setup.
Pros: A video message station saves you from people wanting to pull you aside to give you a long congratulatory speech. You'll also be able to absorb the message on your own time, and some messages may be even funnier to watch because your guests felt free to let loose and be both more candid and creative—maybe even silly which can make for good fun.
Cons: If there's no timer, you may end up with another line on your hands. You also might have a little trouble with lighting and background noise than you would with a microphone.
Alternative idea: Recruit a two-person team, one a cameraman who uses your personal video camera, and the other an MC. Then have them circulate and interview guests. This can be done all throughout the reception. Be sure to choose a host with some personality and maybe a little experience to make it more enjoyable for the guests and more fun for you later.
Tip: This is an excellent way to include a couple of friends who you wanted to honor or give a special place to, but couldn't include in your wedding party. This is also great to keep a couple of teenagers entertained by giving them a little job to do.
#3: Games & Contests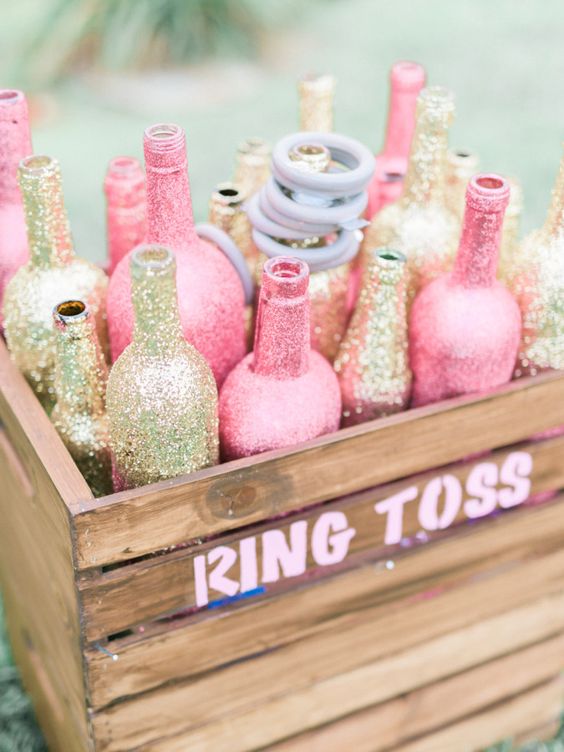 Games can be a lot of fun, and you can either award prizes or just poke some good fun at traditional wedding customs and superstitions. Some ideas include:
Most creative group photo: G

uests upload their photo using a hashtag and the judges can be the couple's parents or the entourage.

Trivia game:

The table that gets the most number of correct answers about the couple's love story wins.

Photo scavenger hunt:

Each table must complete a list with 10-15 photos that they must capture during the ceremony and reception.

Board games:

Instead of a floral centerpiece, put a different board game on each table so your guests can play until the food is served.

Yard games:

These are a great way to keep your guests busy and to set an especially festive mood.

Bride vs. Groom:

Using photos of the bride and groom's faces, guests are asked to guess whose qualities are being described.

Drinking games:

This is one sure way to make the guests happy

and

you can have grand fun with drinking games using

non

-alcoholic drinks. That way the kids can join in the fun, too. (And they just might beat the grownups!)
Check out this link for a list of sixteen wedding reception games, some traditional and others just plain off the wall fun: http://weddingsandromance.com/weddings/wedding-reception-games-and-wedding-activities/
#4: Polaroid Guest Book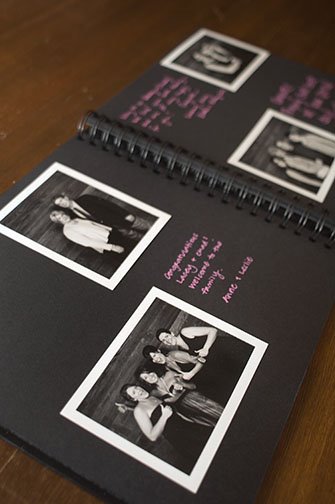 This is another way to make use of that nifty Polaroid PoGo. All you need is the camera, the PoGo printer, photo papers and a scrapbook with markers or pens in a color that will show up against the scrapbook pages.
Pros: It's pretty self-explanatory because this idea doubles as a guest book and a wedding memory scrapbook.
Cons: The PoGo printer and enough photo paper for everyone aren't cheap, and you also may not have everyone participate.
Alternative ideas: Either use a couple of regular scrapbooks or have a few loosely bound scrapbook pages at each table. Then put out baskets of markers and stickers so everybody can get creative with their messages.
#5: Flipbooks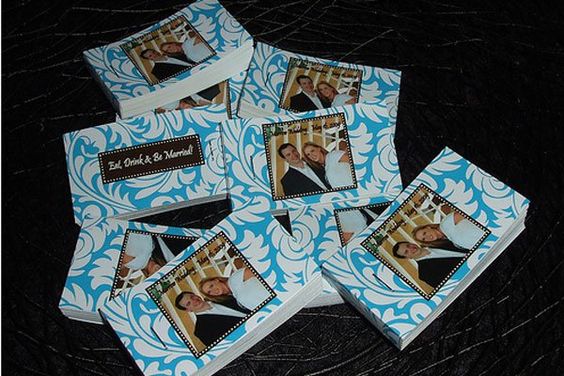 This is a make-ahead project for you and your groom or bridesmaids to put together. There really aren't too many pro's and con's to discuss because flip books are more for your guest's personal amusement.
Pros: Flipbooks make for one extraordinarily memorable wedding souvenir.
Cons: They can be pricey, but you can make the flipbook do double duty. Check out this tutorial on to make a variation of a flipbook that's a combination wedding program and photo gallery: https://www.youtube.com/watch?v=-568UYaPmQI
#6: Suggestion Notepads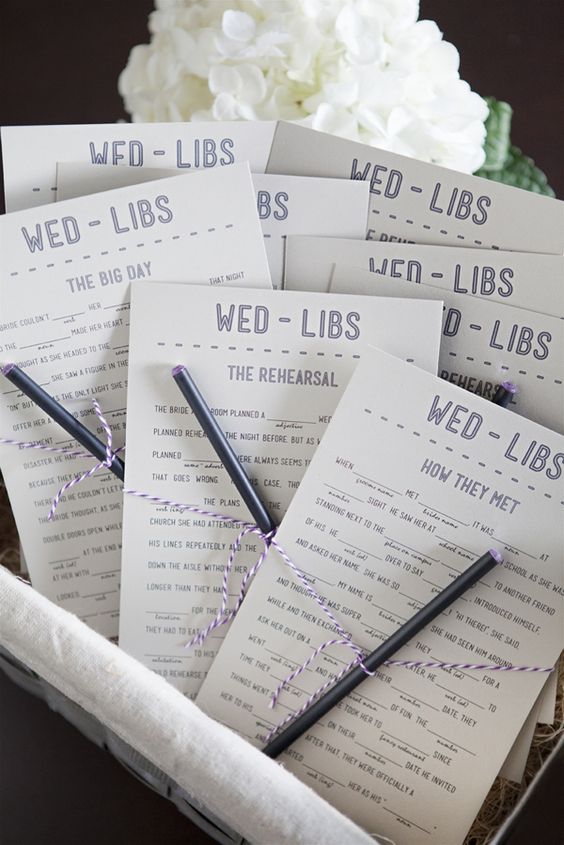 You can do these a few different ways, but pretty much across the board, we guarantee a lot of your guests will love this! The great thing about advice cards is that they double as a beautiful keepsake—sort of like each guest personalized a little gift just for you.
Individual Advice Cards:

Just pre-print whatever questions you want your guests to answer—or use a fill in the blank format—then either leave a stack on each table or, for a classy place setting, have the venue tuck one card into each guest's napkin.

Index Cards:

You can get these pre-printed, or you can DIY with a pretty wedding stamp either with a design or a custom stamp with your names and the date.

Table Number Notebook:

This is an ingenious concept because the table number goes with the anniversary year. Your guests will write advice for you to put away and read on that year's anniversary. (But of course you won't be able to wait—you'll just

have

to have a peek beforehand, but that's OK!)
#7: Surprise Dance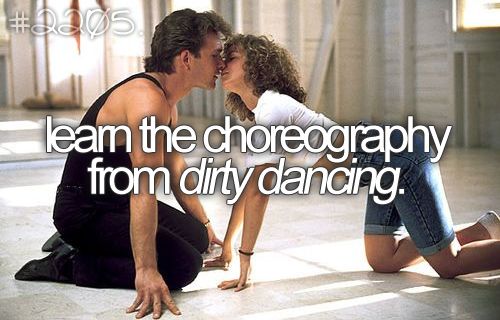 Most guests expect to see you and your groom have your first dance, but the type of dance they expect is maybe a waltz or that sweet high school side-to-side sway. So instead, why not set them to cheering with a choreographed dance? You can have the DJ do a music mix, starting with a tame, low-key number, then do a segue into something wild like hip-hop or swing or whatever suits the two of you.
Or you can learn a fully choreographed dance like the one from Dirty Dancing or the disco competition in Saturday Night Fever, or take a few lessons from a dance pro who can choreograph something special just for you.
Some couples get the entire wedding party involved, and sometimes the families, too. For fun, have a look at this over the top surprise dance that Lin-Manuel Miranda, the writer and star of the Broadway show Hamilton!, prepared for his bride, Vanessa: https://www.youtube.com/watch?v=KgZ4ZTTfKO8
Have a Ball Planning Your Wedding Bash!
More than being fun and entertaining, weddings are all about the guests enjoying themselves while celebrating the union of two of their favorite people: You and your groom. Inviting them and having them celebrate in the first place is what really makes a wedding successful, but adding games and amusements is a kind gesture on your part to let them feel your gratitude for them going out of their way to attend.
Thoughtfully planned games are also a lovely way to remind them of who you are in their lives and how thrilled you are that they came to celebrate your love and happiness, both now and in the years to come.