Nails
7 Top Tips for Perfecting your Wedding Day Manicure
Preparing for your wedding is so much fun, and everything from your wedding shoes, wedding dress, veil, jewelry really does need to be perfect. Just as important, though, are your hands and nails. Everyone will be asking to look at your wedding ring, and your photographer will probably do a few close-ups so you want to make sure that your hands are soft, presentable and as well-manicured as you can make them. Here are some tips for finding the perfect shade of polish, the most beautiful manicure look, and maintaining those beautiful hands and nails from your wedding day through your honeymoon and on into your life with your brand new groom.
1. Choosing Polish: Try Out Multiple Shades in the Same Color Family
In order to get the shade exactly right, you'll want to look at more than one version of the color you want. So pick a primary shade then choose between 2 and 4 more of the same variety and try each one on a different nail. That way you'll find the shade that matches your skin tone perfectly.
2. Buy Extra Bottles of the Colors You'll Use
Once you have your perfect shade, buy 2 or 3 bottles of it at one time. One you'll take to the salon, one is for your wedding day emergency kit, and the 3rd is to pack for your honeymoon. Pack a top coat, too, and you'll have everything you need to maintain the beauty of your original bridal manicure.
3. Develop Good DIY Home Nail Care
You won't have to rely on a nail technician as much if you make sure to take good care of your nails at home. Attend to chips and flaking immediately with a file and a polish touch up.
Tip

: Ask the specialist at your nail salon for exactly the right file for your type of fingernails.
If you've ever picked at your dry cuticles or chewed your fingernails when stressed, now's the time to break that habit. You can use a bitter nail gel to discourage biting and wear moisturizing gloves to bed. The sooner you break negative habits and develop good ones, the healthier and more glowing your nails will be on your big day.
4. Moisturize for Close-Ups
It's not just your nails that you want to take good care of but also your hands. Make sure to moisturize regularly with a quality hand cream. If you massage your hands and fingers when applying the lotion, this will increase circulation. Then your hands will be even more beautiful when your photographer wants to take a close-up of you holding your bouquet or wearing your wedding ring.
5. Consider a Gel Manicure for Your Wedding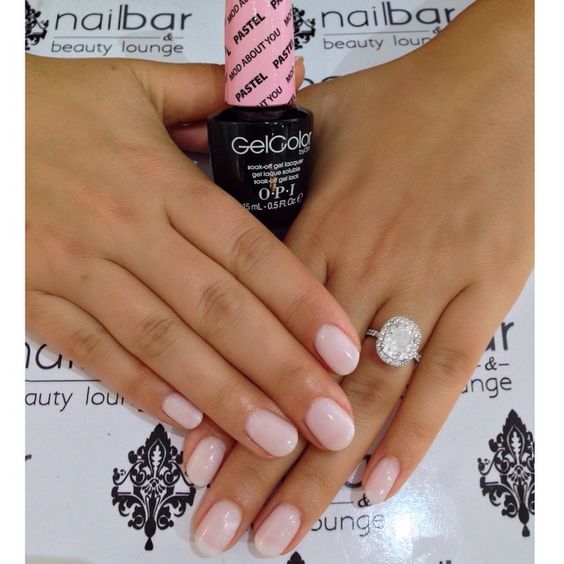 Especially if you have thin or soft nails beds but want the extra shine and durability of an acrylic, consider a gel manicure for your bridal nail look. It will help the nail polish dry in an instant, and it will also help prevent any designs from chipping.
Note: The one downside to gel nails is that they tend to lose their luster, so plan to add a layer of clear top coat every few days.
Gel vs. acrylic:

Gel nails don't require the same strong-smelling chemicals for application or removal and are thinner and more flexible than acrylic. They do have a couple of disadvantages, though. They may or may not cost a little more because they require skill to apply correctly. They can be a bit harder to remove, and also, if they're not applied skillfully, they can look thick and lumpy.
Maintenance tip:

If you're wearing a French manicure or any type of nail decoration, it's a good idea to apply a top coat

every other day

to help prevent chipping and yellowing.   

Honeymoon tip:

If you'll be enjoying your honeymoon in the sun, apply a top coat

every

day.
6. Bring Your Own Bottles to the Salon
No matter how well-stocked your nail salon is, even if you chose your perfect nail colors from among the regular line, there's no guarantee that the salon will have your exact color or color group for your wedding day manicure. This is one of the key reasons that we recommended that you buy a few extra bottles once you've made your final choice. 
7. Say No to Last Minute Nail Art
As a general rule, do not choose elaborate airbrushed or hand painted designs for your wedding look. It's fine to pick a simple embellishment, and as long as it won't clash with your honeymoon clothes, go for it. However, do not experiment with anything new on your last manicure before the wedding day. You put a lot of time and effort choosing the exact color and/or design that you want. Don't go changing your mind at the last minute or letting your nail artist talk you into anything. You may regret it down the road, especially in the pictures.
The one exception to this rule: Limited Clear Jewels
If you've decided on a simple manicure in a pink or nude shade and decide you want just a little something glittery at the last minute, you can fancy up your manicure with a tiny touch of rhinestones or beads but only on your ring finger!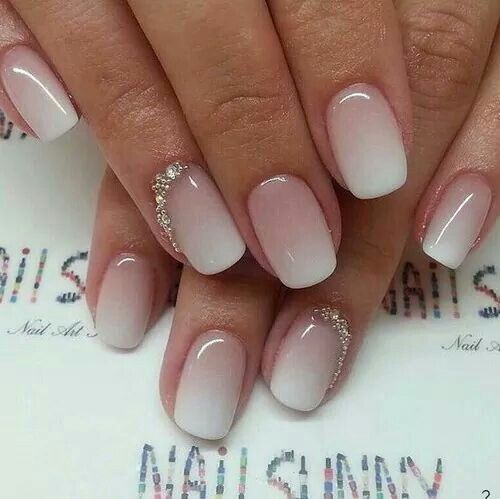 For help choosing just the right nail polish look, check out our blog on 10 of the most popular wedding day manicures: 10 Timeless & Trendy Wedding Day Manicures