Treat your bridesmaids to one of the most convenient features offered in wedding styles: our Bridesmaids Dresses with Pockets for 2021!
Each of these designer gowns is created with a hidden pocket in each side seam & tucked into the skirt's folds. Our pockets are roomy without adding bulk & are the perfect place to hold tiny things your ladies need on your big day.
Of course, make sure your maid of honor or one of your attendants has a fully stocked bride's purse at the ready, but especially for a tissue or two to dry happy tears, your bridesmaids will thank you for choosing such a convenient style.
When you buy your 2021 Bridesmaids Dresses from DaVinci Bridal …
You know that your dresses will be created by one of the premiere bridal dress companies in the world. We use only top quality fabrics fashioned into high fashion design using high-end construction. We guarantee you'll love their affordable prices. A DaVinci is the bridal dress retailers love to carry because best of all, most of these dresses are available for rush delivery at no extra charge!
About our Colors:
Each of our bridesmaids dresses are available in many more colors than are shown here. This color chart gives you an idea of how much we have to offer:

For a closer and accurate look, check out swatches at one of our DaVinci bridal boutiques.
To find the DaVinci retailer nearest you, Click HERE then enter your city, state, or zip code.
Bridesmaids Dresses with Pockets for 2021: Lace Bodice Dresses
New for 2021! DaVinci Bridesmaid Style #60434: Tulle & Lace A-Line Bridesmaids Dress features a Low V-Neckline with Full Coverage Sheer Lace Back. Flared Floor Length Tulle A-Line Skirt has Hidden Pockets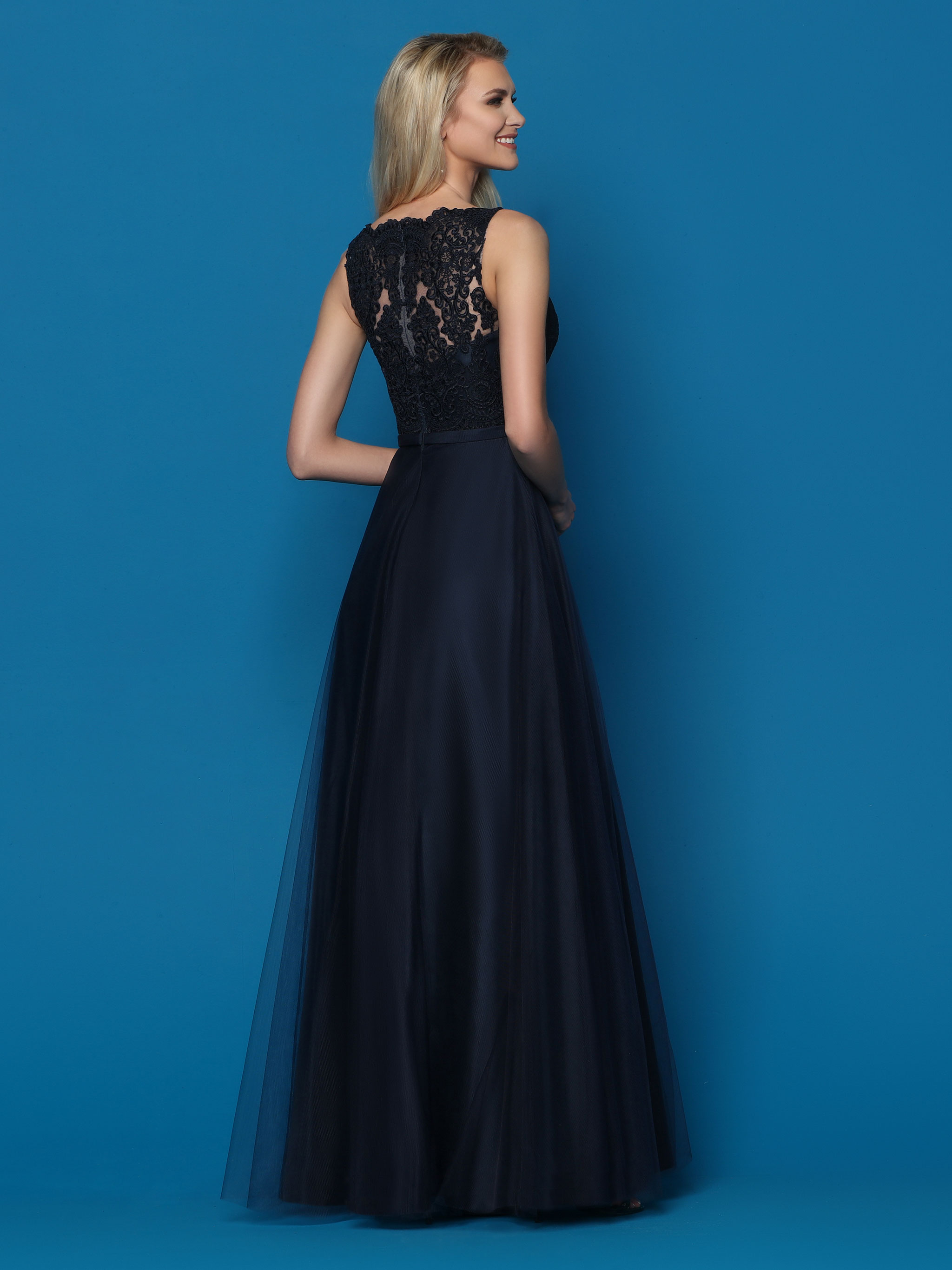 To see more details Click HERE for DaVinci Bridesmaid Style #60434
New for 2021! DaVinci Bridesmaid Style #60445: Chiffon & Lace A-Line Bridesmaids Dress features a Modest One Shoulder Sweetheart Neckline & Sheer Lace Strap. Pleated Floor Length Skirt has Hidden Pockets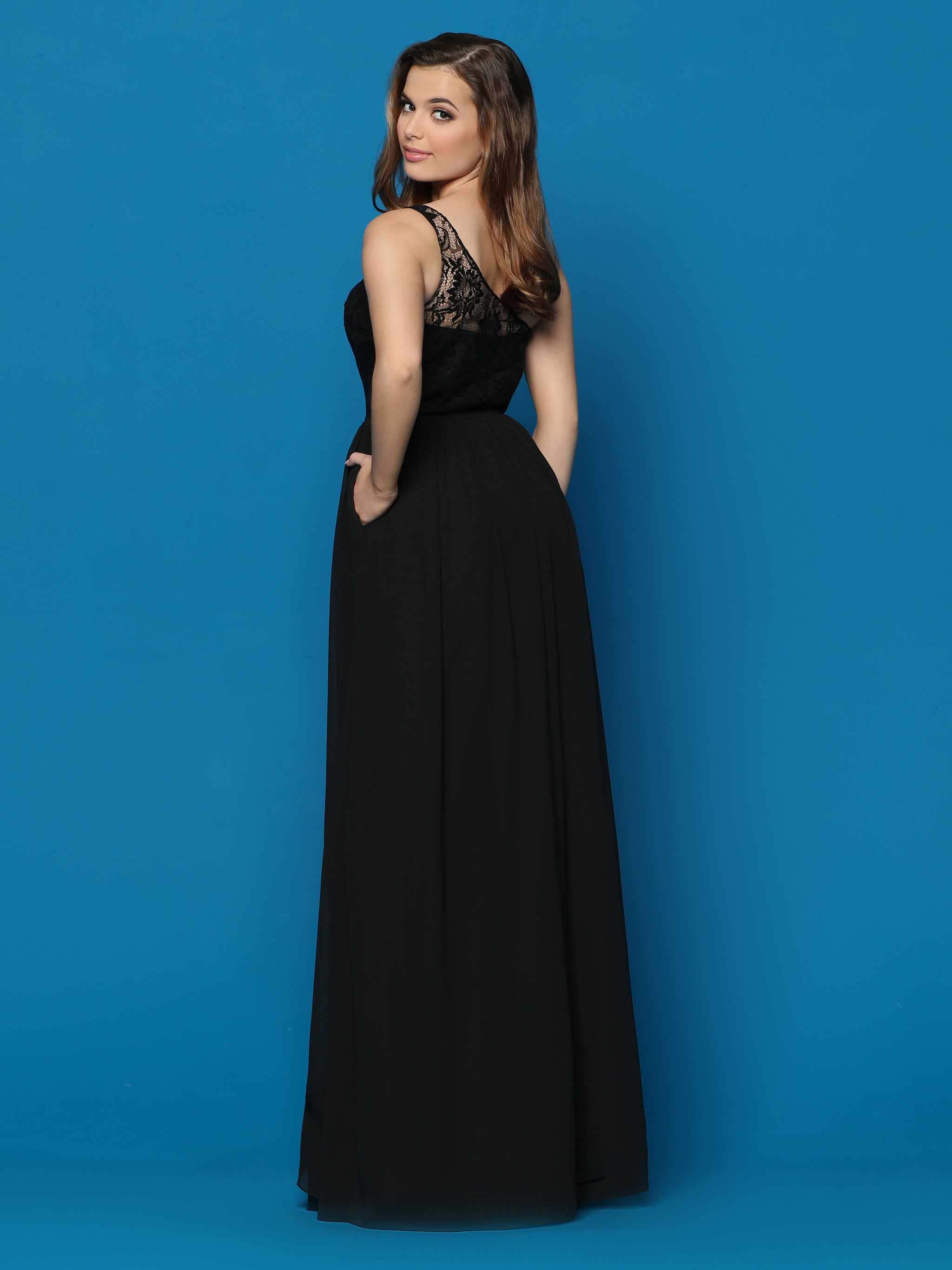 To see more details Click HERE for DaVinci Bridesmaid Style #60445
New for 2021! DaVinci Bridesmaid Style #60451: Chiffon & Lace A-Line Bridesmaids Dress features a Lace Bodice & Modest Bateau Neckline. Applique Frames the Sheer Straps that Highlight the Low V-Back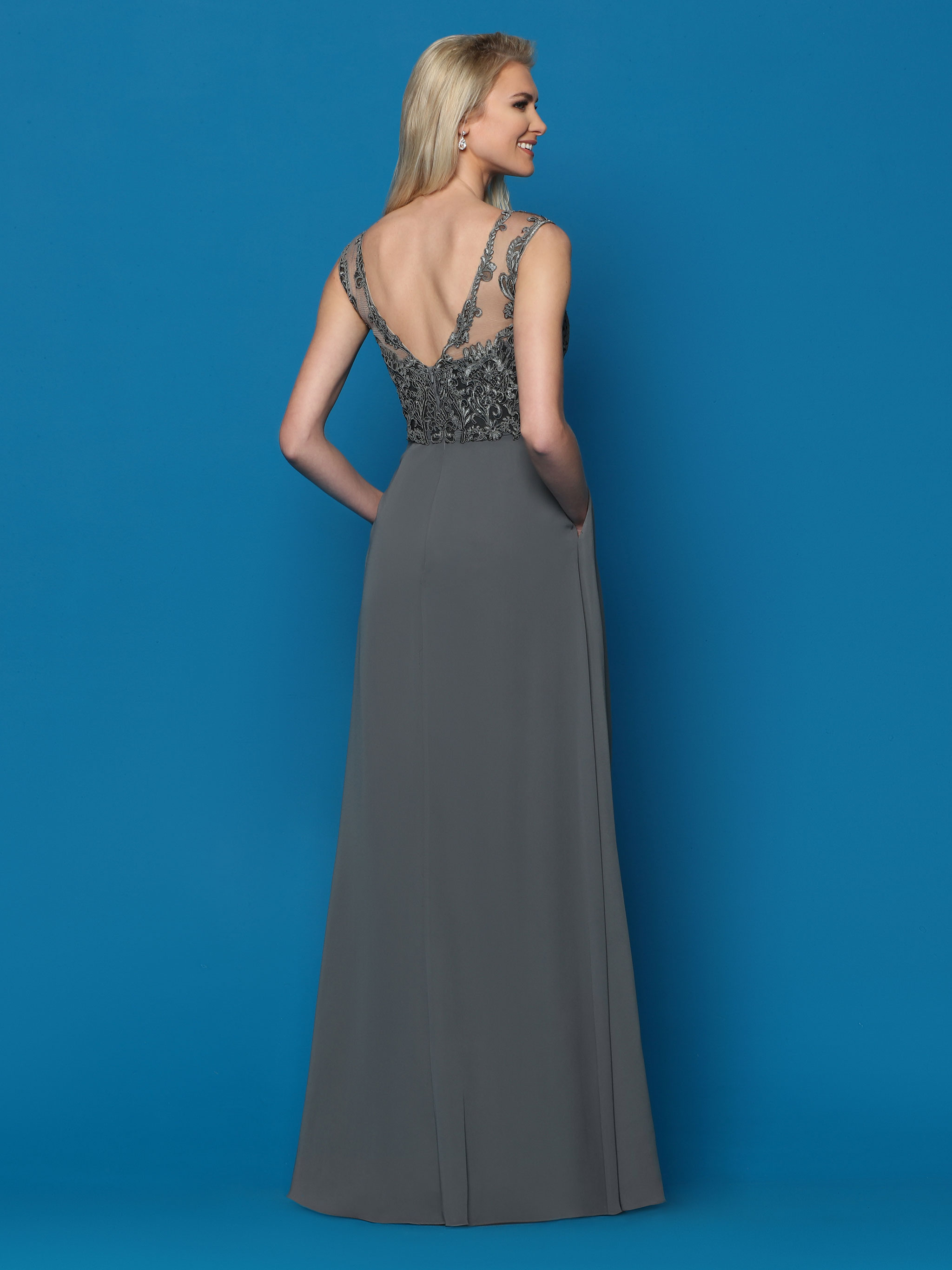 To see more details Click HERE for DaVinci Bridesmaid Style #60451
Bridesmaids Dresses with Pockets for 2021: Dresses with Full Skirts
New for 2021! DaVinci Bridesmaid Style #60426: Satin & Lace A-Line Bridesmaid Dress with Strapless Sweetheart Neckline features an Open Back, Full Gathered Floor Length Skirt, Zipper & Hidden Pockets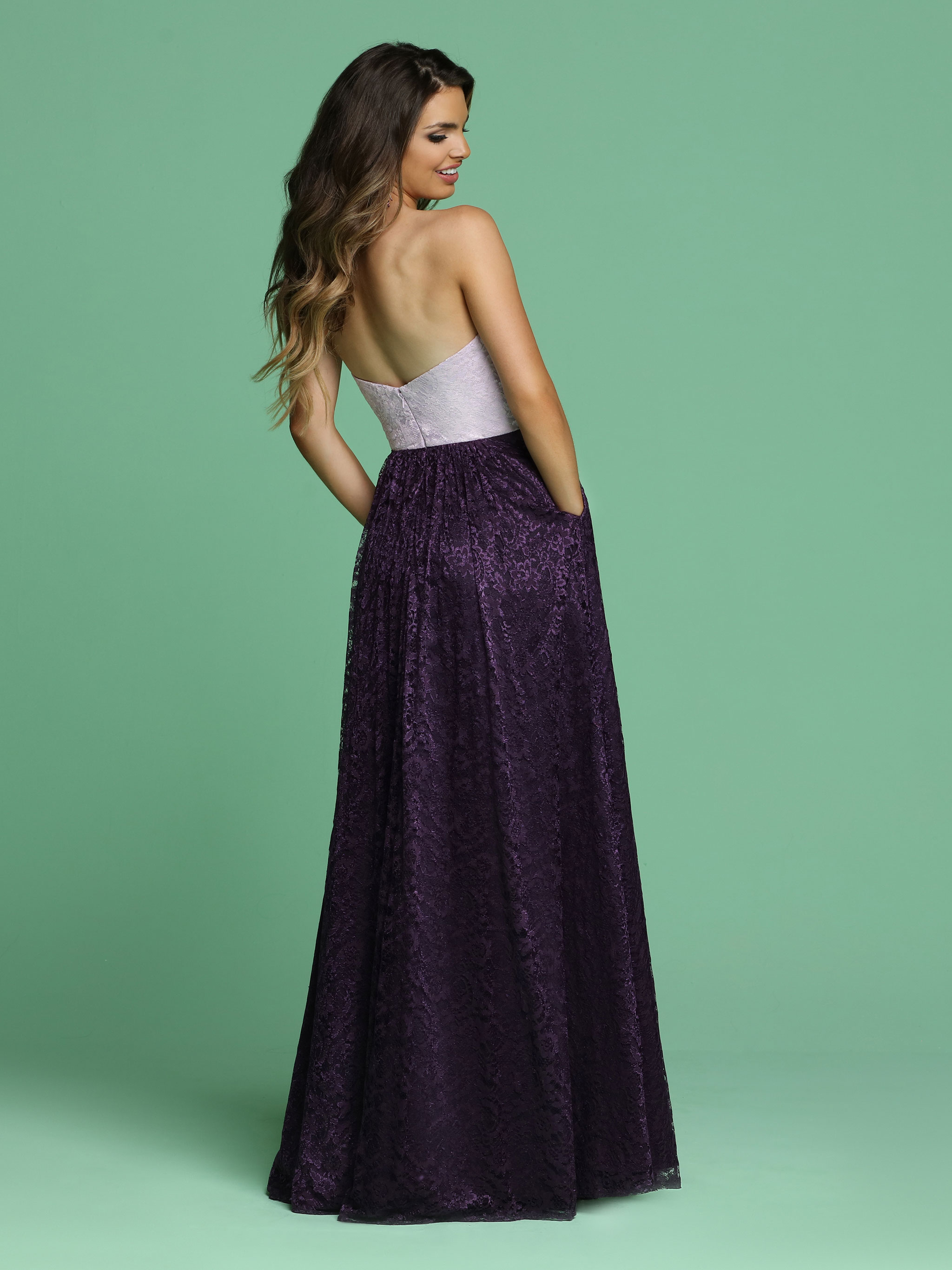 To see more details Click HERE for DaVinci Bridesmaid Style #60426
New for 2021! DaVinci Bridesmaid Style #60430: Chiffon A-Line Bridesmaids Dress features a Ruched V-Neck Bodice with Squared Open Back. Ruched Empire Style Waistband is Framed with Beaded Applique. Floor Length Skirt features a Pleated Front, Smooth Back & Hidden Pockets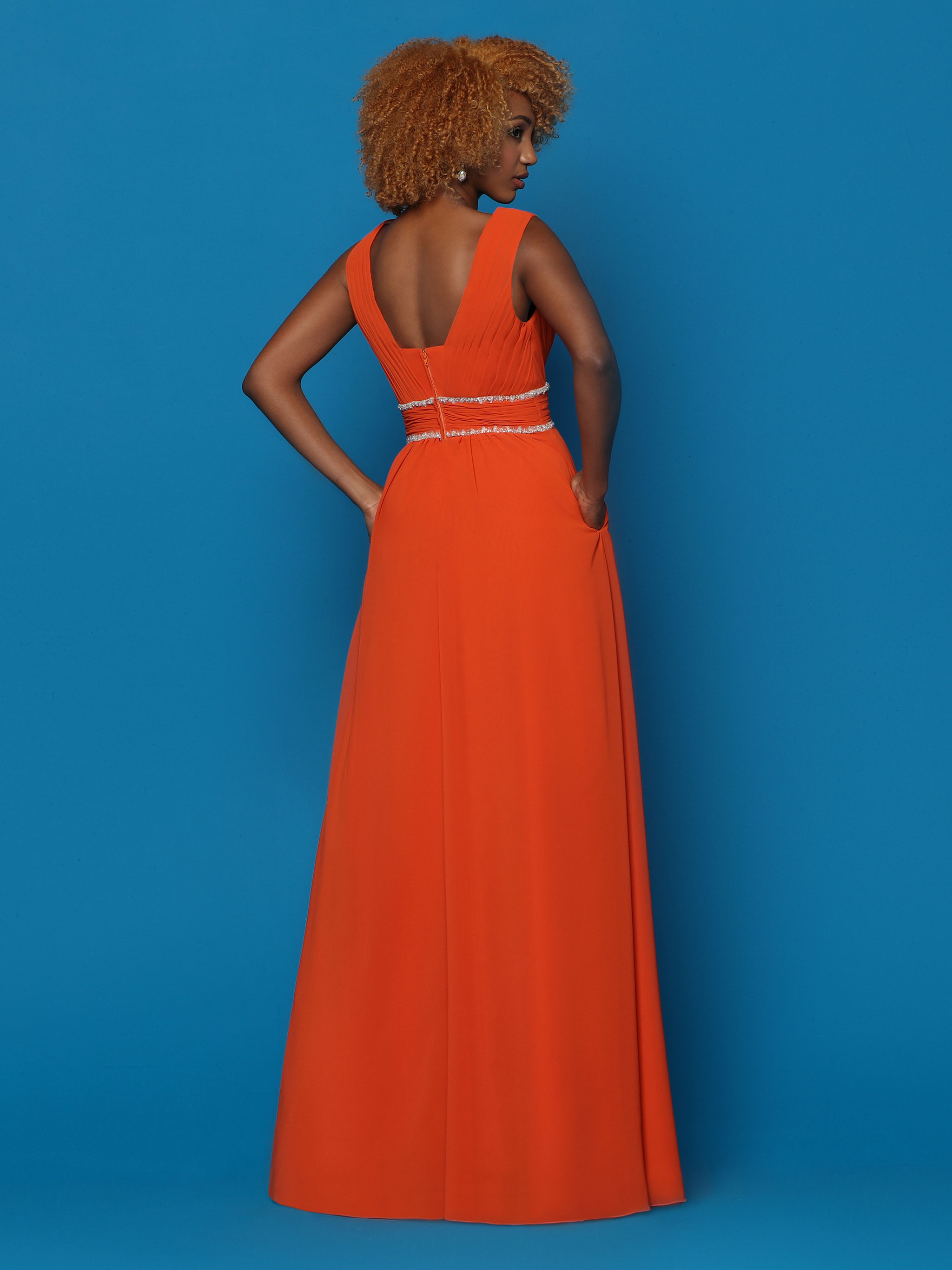 To see more details Click HERE for DaVinci Bridesmaid Style #60430
Bridesmaids Dresses with Pockets for 2021: Halter Neckline Dresses
New for 2021! DaVinci Bridesmaid Style #60425: Chiffon A-Line Bridesmaid Dress features a Halter Neckline above an Open Back Sweetheart Bodice. Necklace Style Beading Accents the Modest Sheer High Neckline. Full Gathered Floor Length Skirt has Hidden Pockets & Zipper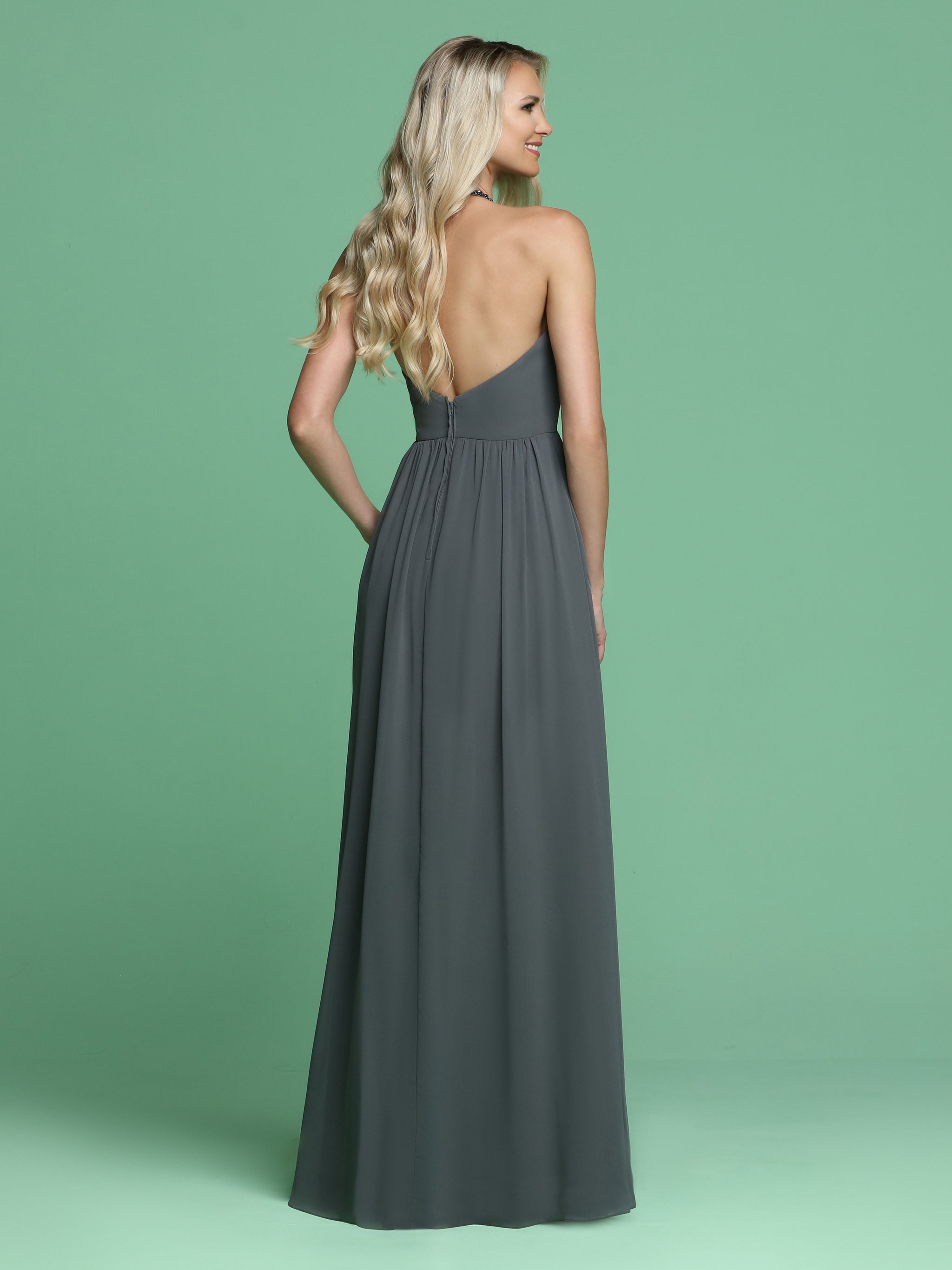 To see more details Click HERE for DaVinci Bridesmaid Style #60425
DaVinci Bridesmaid Style #60379: Chiffon A-Line Bridesmaid Dress, Modest High Halter Neckline, Back Straps, Wide Ruched Waistband, Floor Length Gathered Skirt, Side Pockets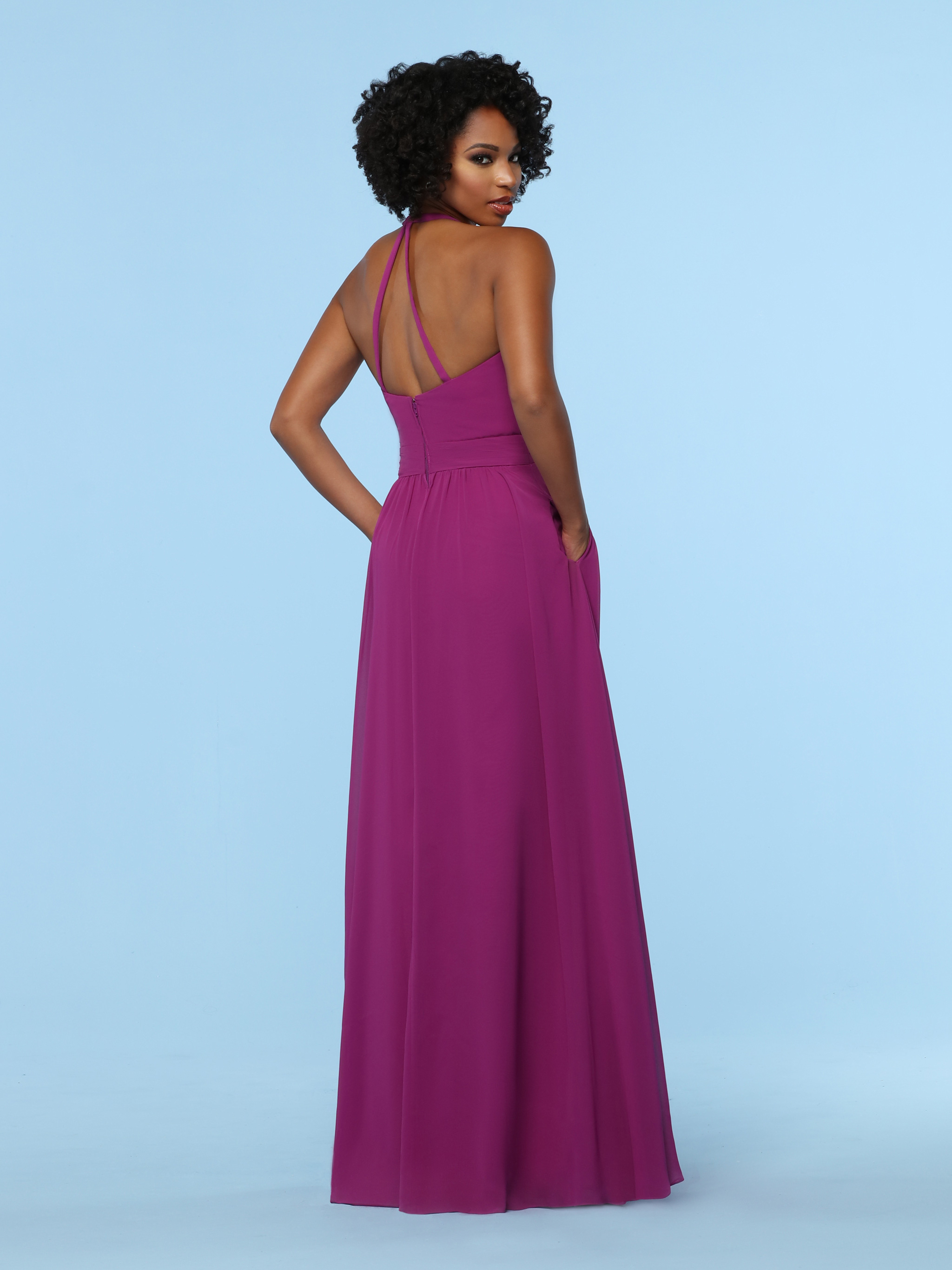 To see more details Click HERE for DaVinci Bridesmaid Style #60379
DaVinci Bridesmaids Style #60409: Chiffon A-Line Bridesmaid Dress has Modest High Neck Halter Bodice with Keyhole in Front, Open Back with Narrow Strap Detail & Unique Draped Elbow-Length Off the Shoulder Straps. Flared Skirt has Hidden Pockets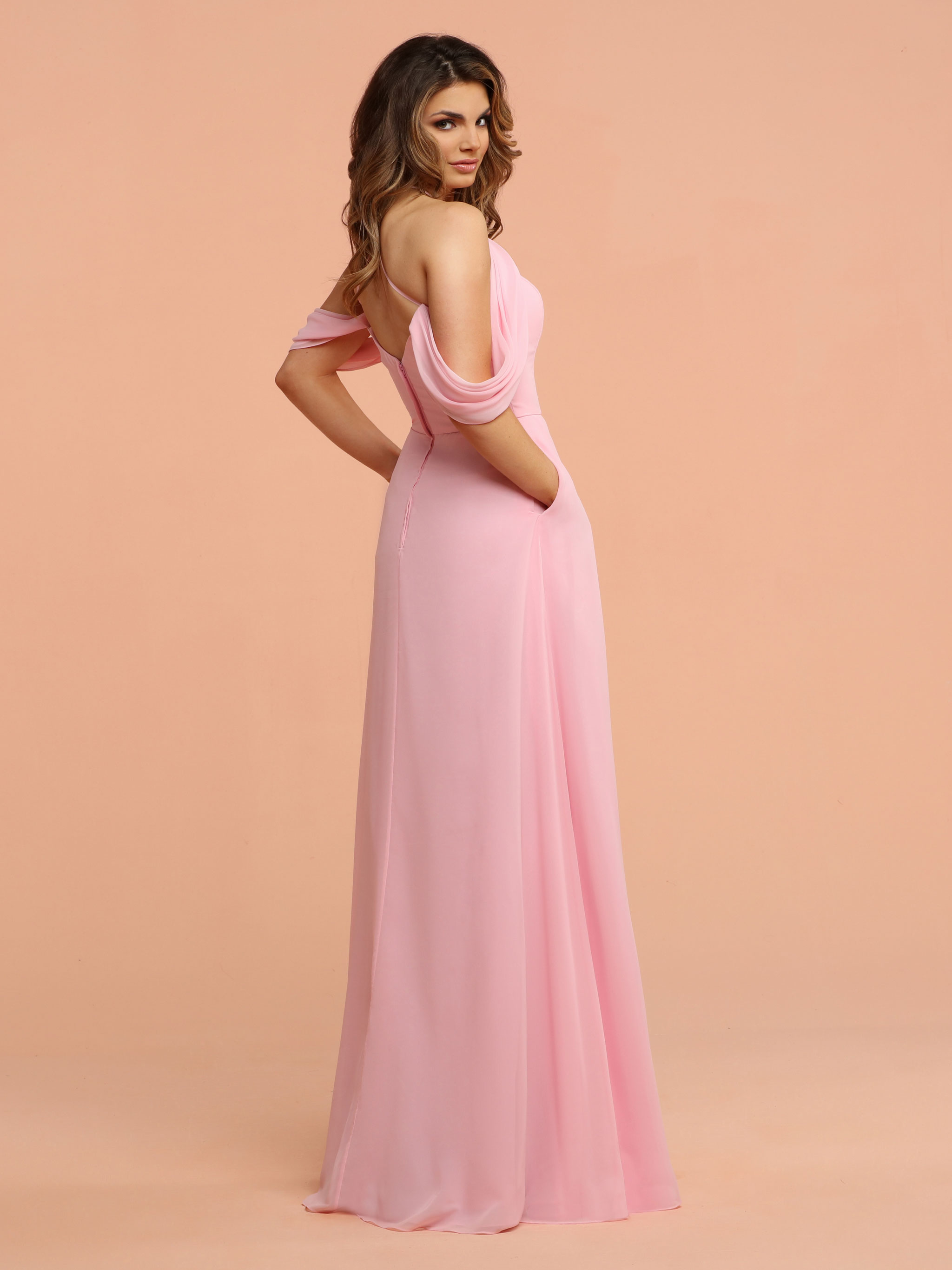 To see more details Click HERE DaVinci Bridesmaids Style #60409
DaVinci Bridesmaids Style #60414: Chiffon A-Line Bridesmaid Dress with Ruched Bodice, Plunging Sweetheart Neckline & Narrow Halter Straps. Full Gathered Floor Length Skirt has Hidden Pockets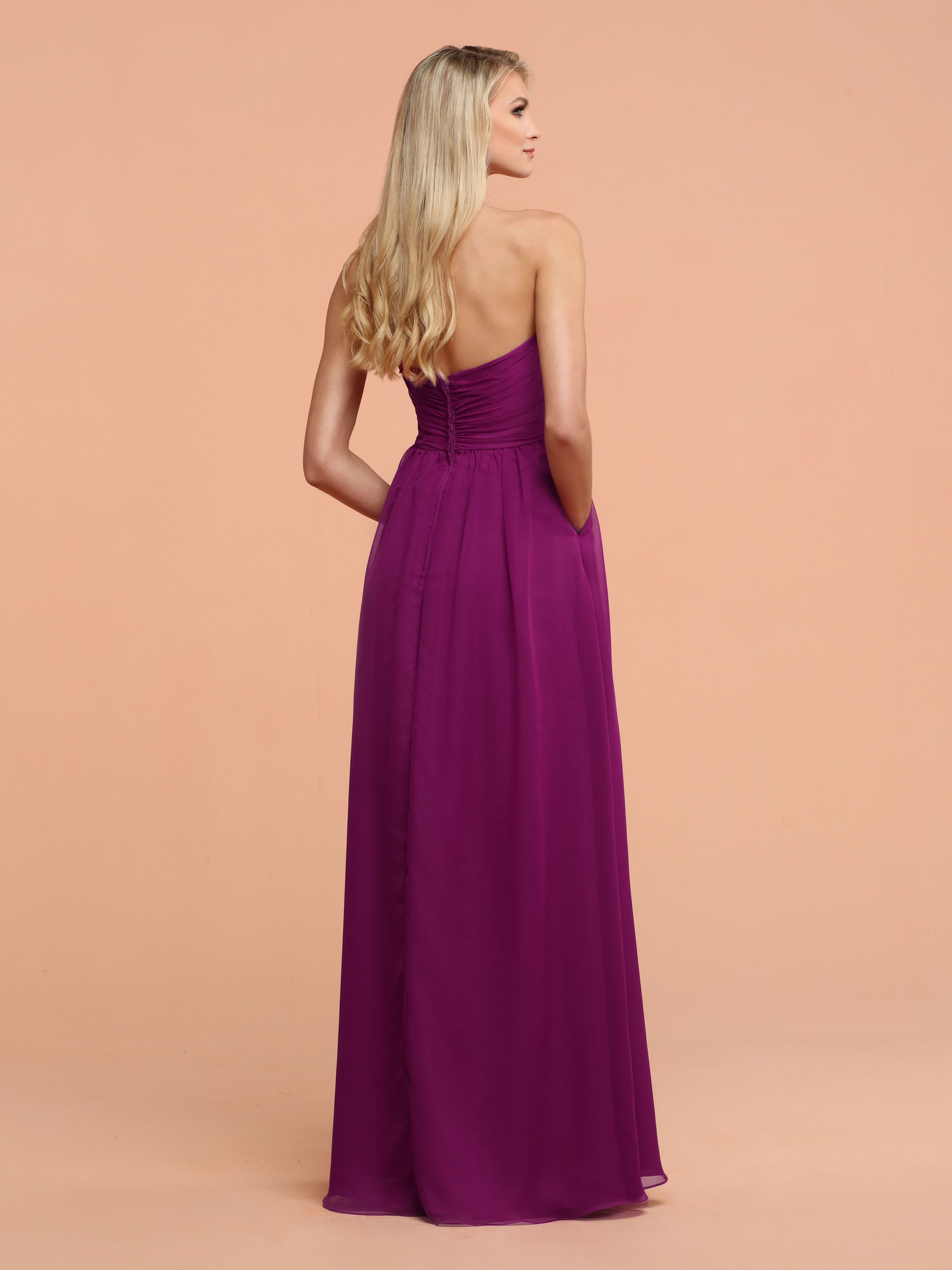 To see more details Click HERE DaVinci Bridesmaids Style #60414
Bridesmaids Dresses with Pockets for 2021: Flutter Sleeves & Neckline Ruffles
New for 2021! DaVinci Bridesmaid Style #60433: Chiffon A-Line Bridesmaids Dress features a Wide Ruffled Neckline with Off the Shoulder Flutter Sleeves & Delicate Shoulder Straps. Smooth Floor Length Skirt with Diagonal Front Panel has Hidden Pockets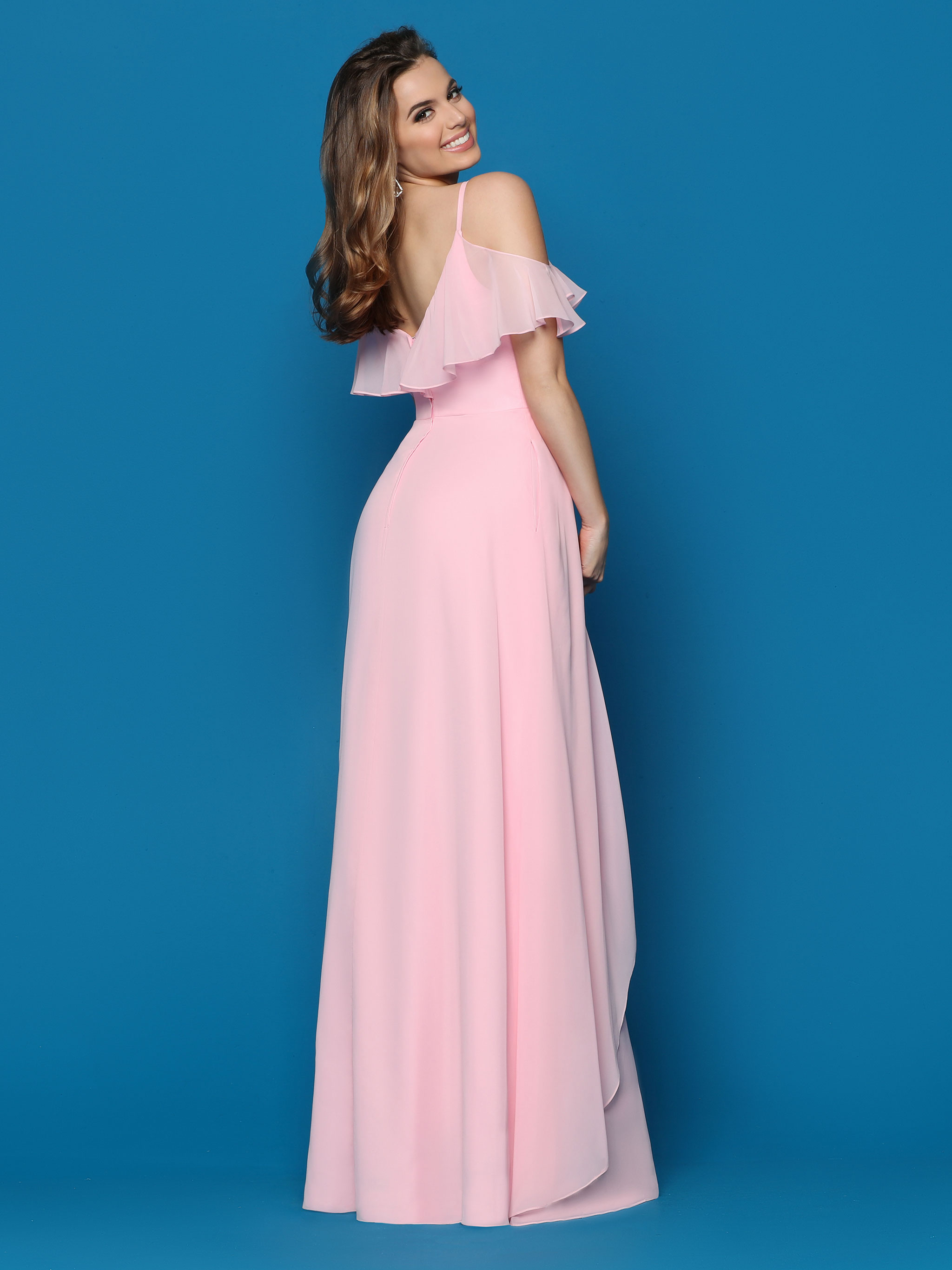 To see more details Click HERE for DaVinci Bridesmaid Style #60433
New for 2021! DaVinci Bridesmaid Style #60444: Chiffon A-Line Bridesmaids Dress with Fitted Bodice & Double Shoulder Straps features a Modest V-Neckline with Wide Ruffle Accent. Smooth Floor Length Skirt has Hidden Pockets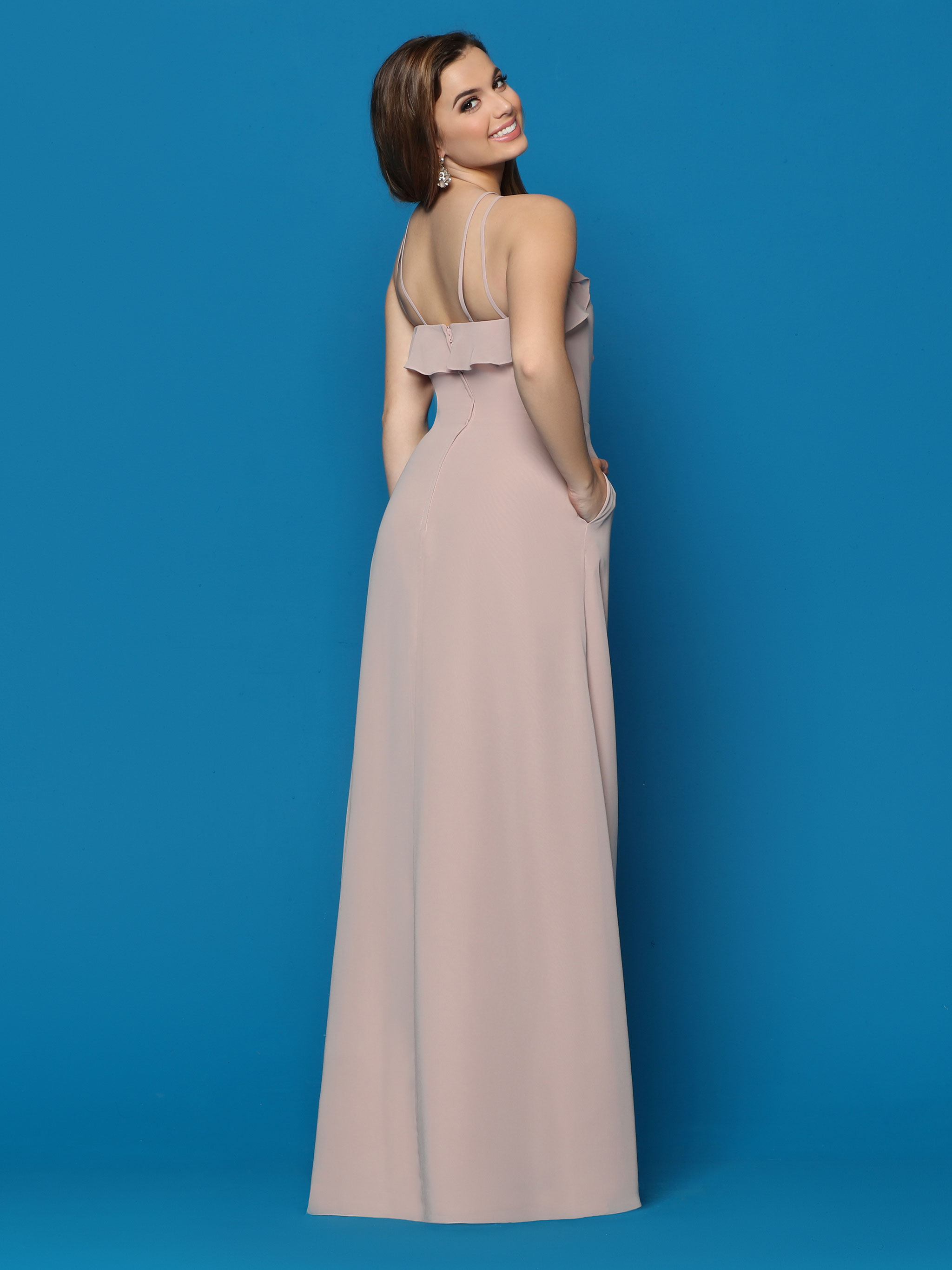 To see more details Click HERE for DaVinci Bridesmaid Style #60444
New for 2021! DaVinci Bridesmaid Style #60436: Chiffon A-Line Bridesmaids Dress features a Ruched Faux-Wrap Bodice with V-Neckline, V-Back, Flutter Sleeves & Slender Bow Detail. Smooth Floor Length Skirt has Hidden Pockets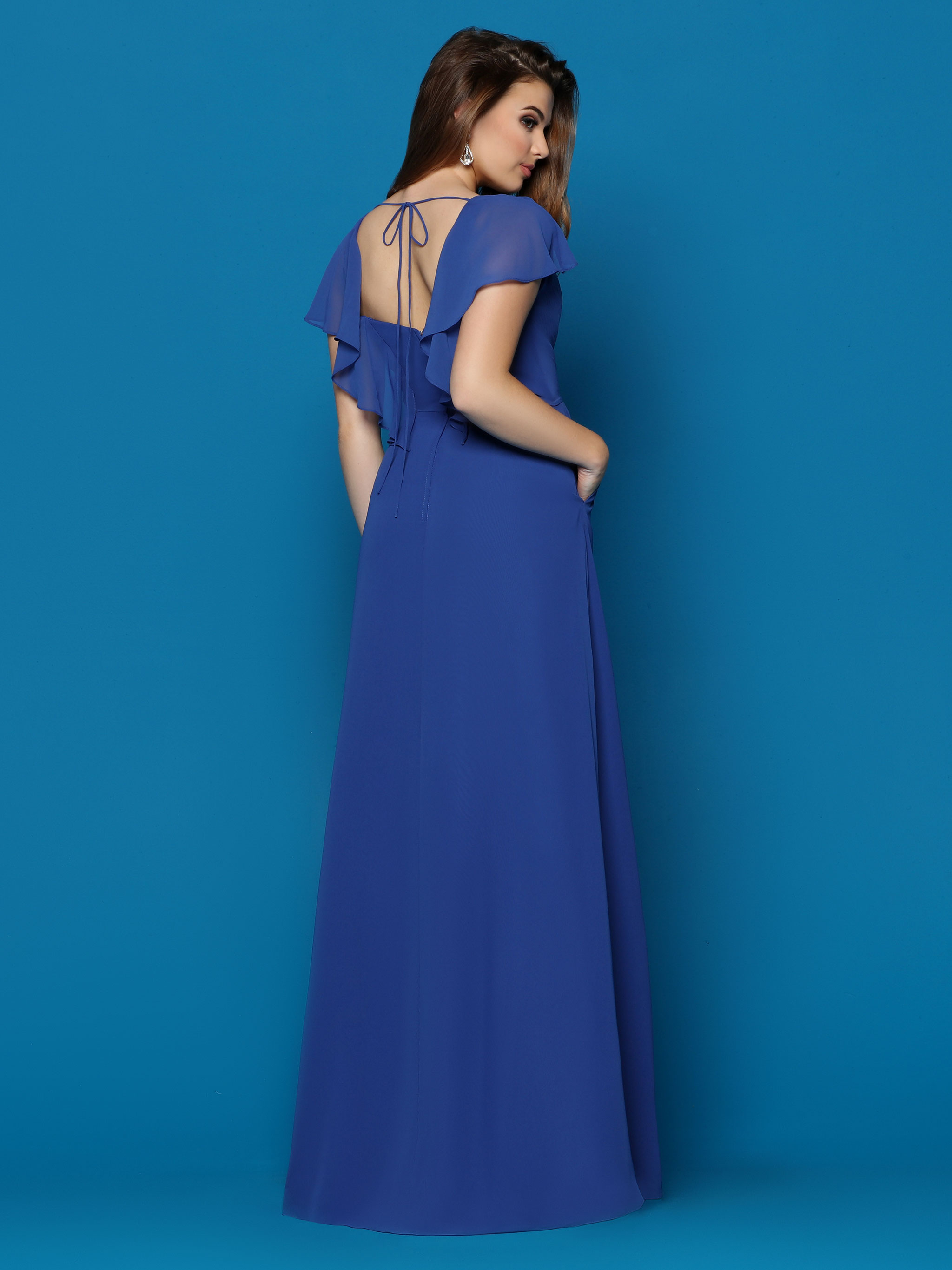 To see more details Click HERE for DaVinci Bridesmaid Style #60436
New for 2021! DaVinci Bridesmaid Style #60438: Satin, Lace & Tulle A-Line Bridesmaids Dress features a Lace Bodice with Sweetheart Neckline & Center Front Gathers. Off the Shoulder Lace Flutter Sleeves & Slender Shoulder Straps Accent the V-Back. Smooth Tulle Skirt features Hidden Pockets & Narrow Satin Waistband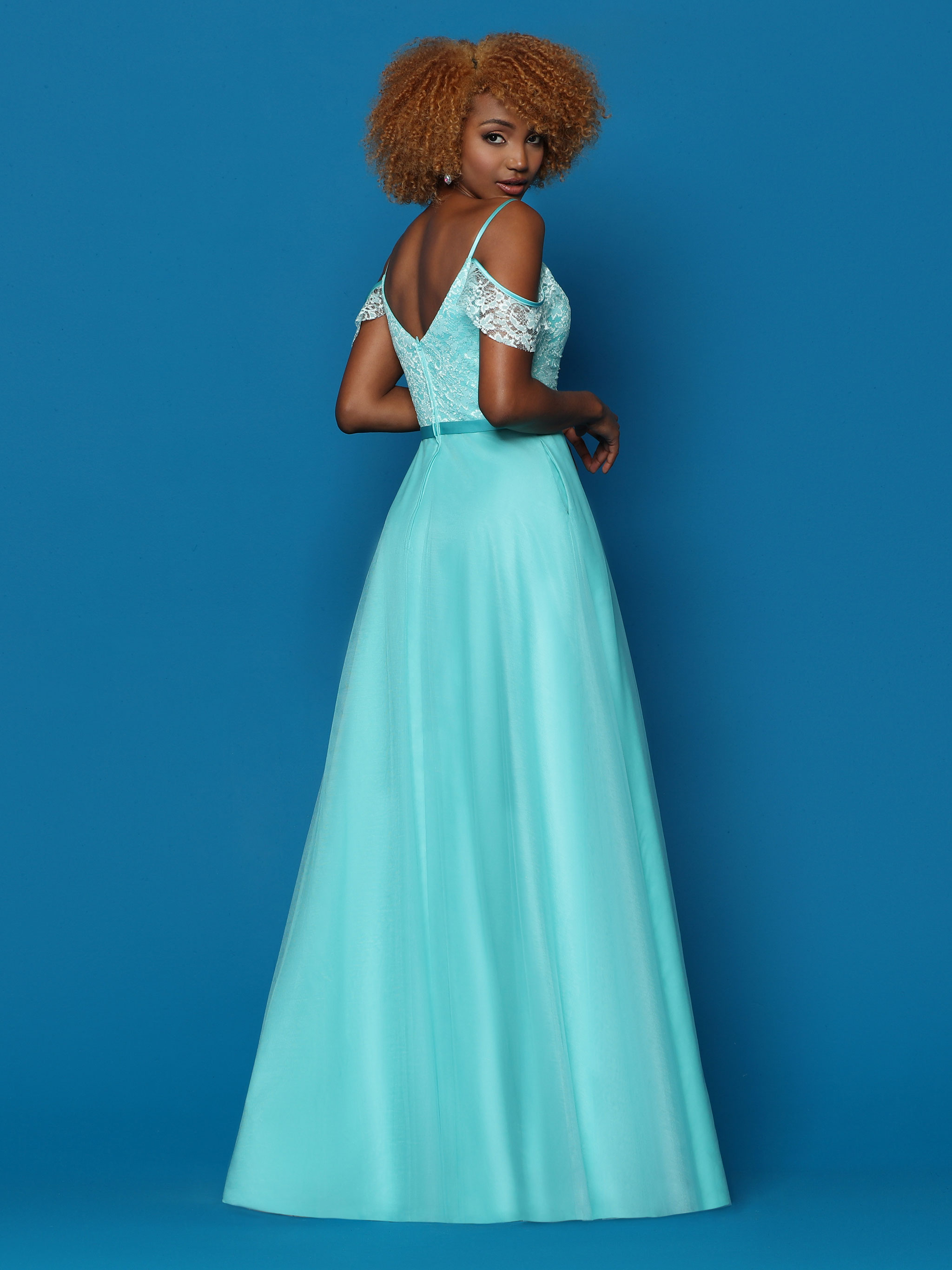 To see more details Click HERE for DaVinci Bridesmaid Style #60438
New for 2021! DaVinci Bridesmaid Style #60441: Chiffon A-Line Bridesmaids Dress features a Fitted Bodice with Sheer Off the Shoulder Flutter Sleeves, Slender Shoulder Straps & V-Back. Pleated Front Floor Length Skirt has Hidden Pockets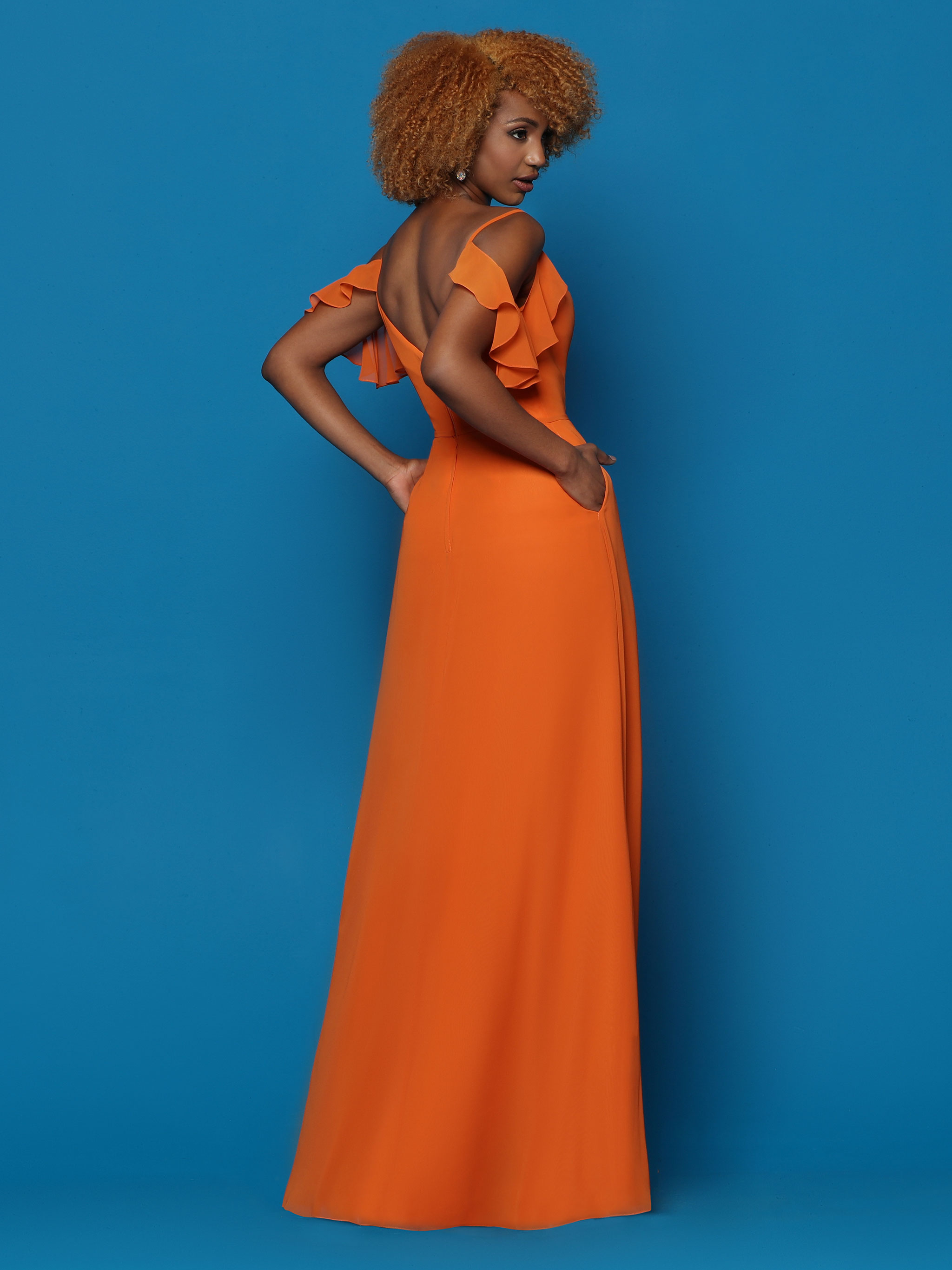 To see more details Click HERE for DaVinci Bridesmaid Style #60441
Bridesmaids Dresses with Pockets for 2021: Satin & Floral Sequin Bridesmaids Dress
New for 2021! DaVinci Bridesmaid Style #60420: Glittering Floral Sequin & Satin A-Line Sheath Bridesmaid Dress with Modest, Straight Across Strapless Bodice, Open Back & Zipper. Skirt with Hidden Pockets Flares from a Natural Waist to Floor Length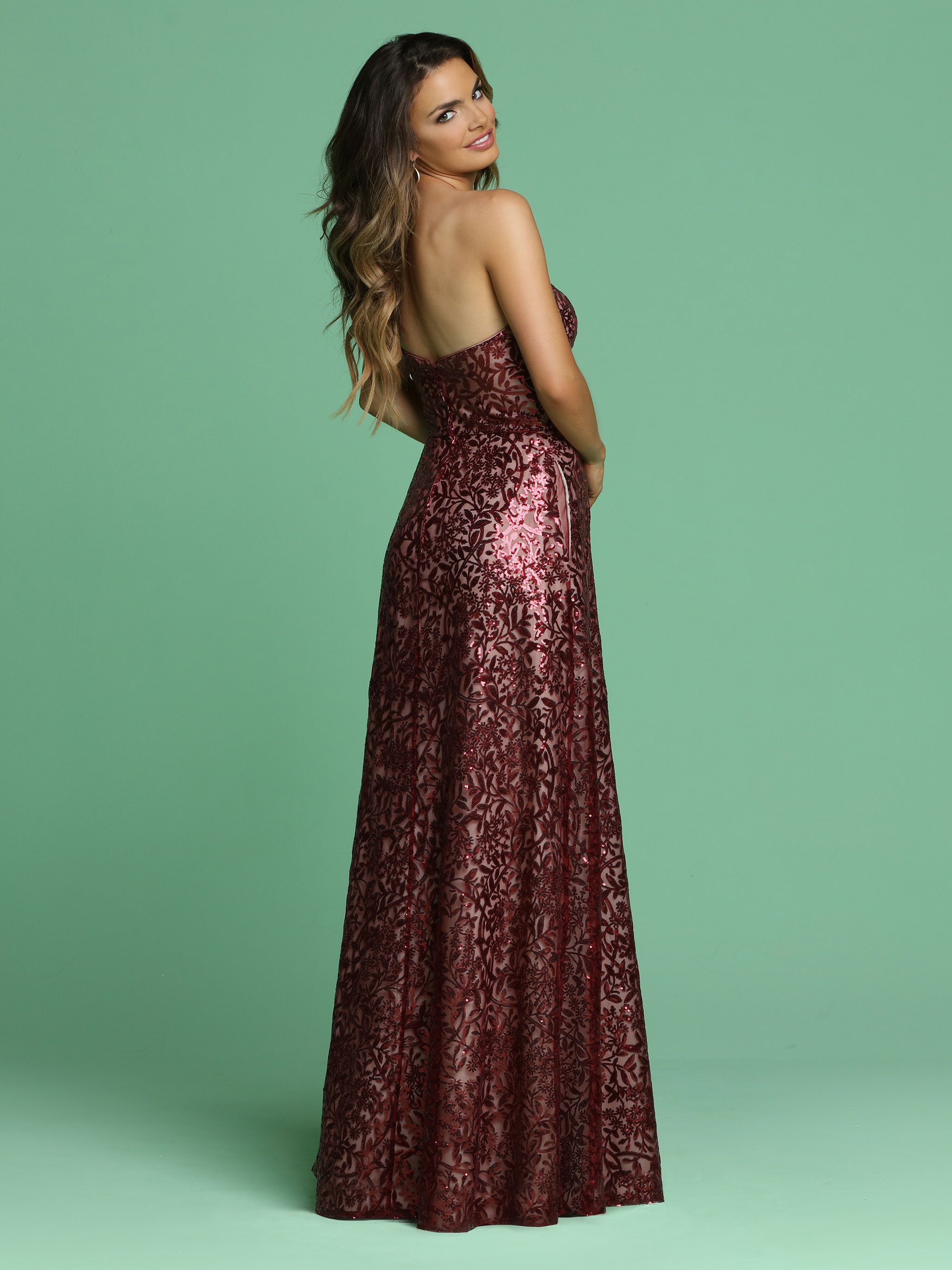 To see more details Click HERE for DaVinci Bridesmaid Style #60420
Bridesmaids Dresses with Pockets for 2021: Dresses with Back Strap Detail
New for 2021! DaVinci Bridesmaid Style #60439: Chiffon A-Line Bridesmaids Dress features a Sweetheart Neckline, Fitted Bodice with Empire Style Waist & Double Shoulder Straps. Floor Length Skirt has a Pleated Front & Hidden Pockets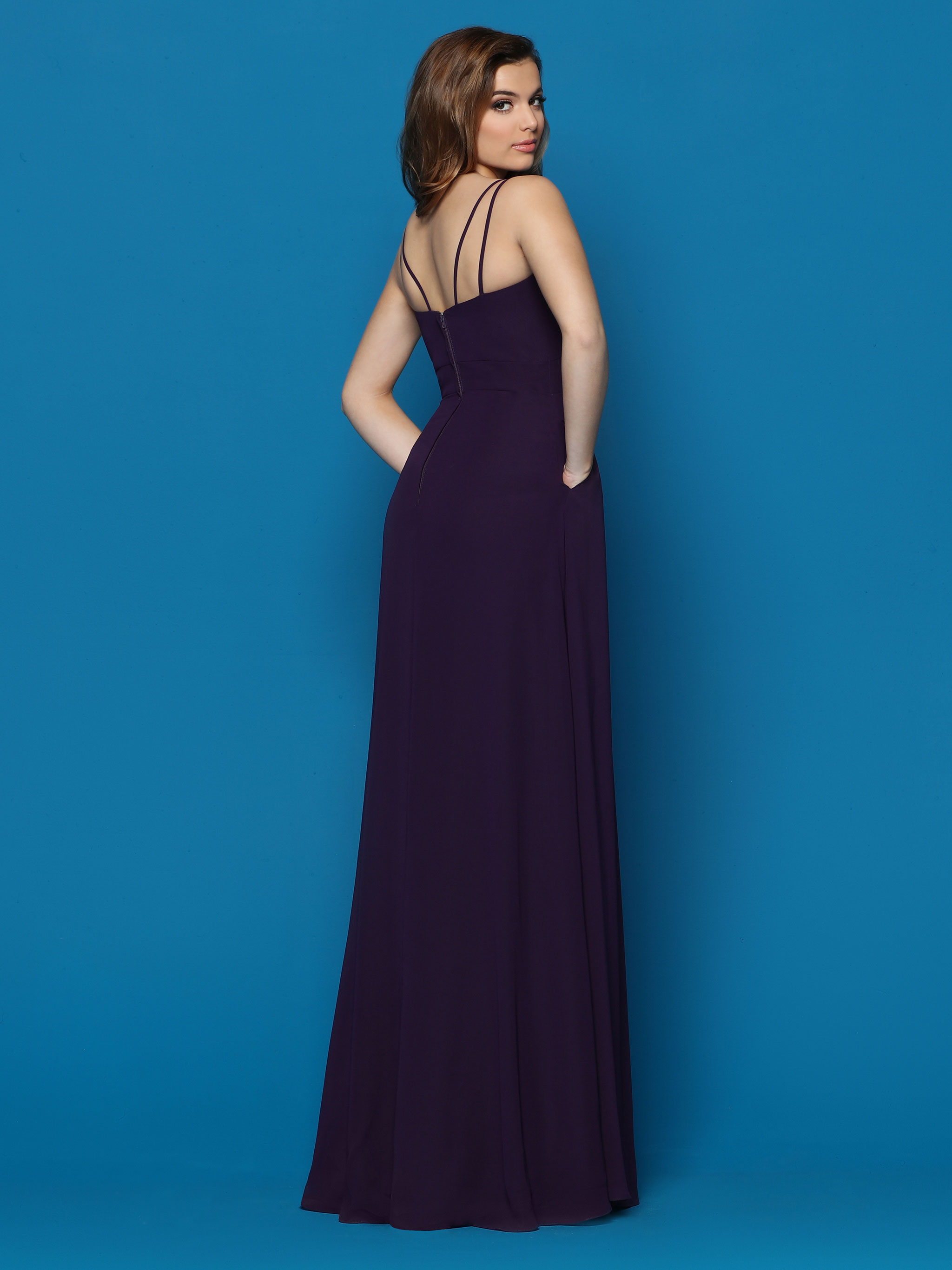 To see more details Click HERE for DaVinci Bridesmaid Style #60439
New for 2021! DaVinci Bridesmaid Style #60423: Chiffon  A-Line Bridesmaid Dress with Modest, Straight Across Neckline & Cage Back Strap Detail over Open Back. Floor Length Skirt features Hidden Pockets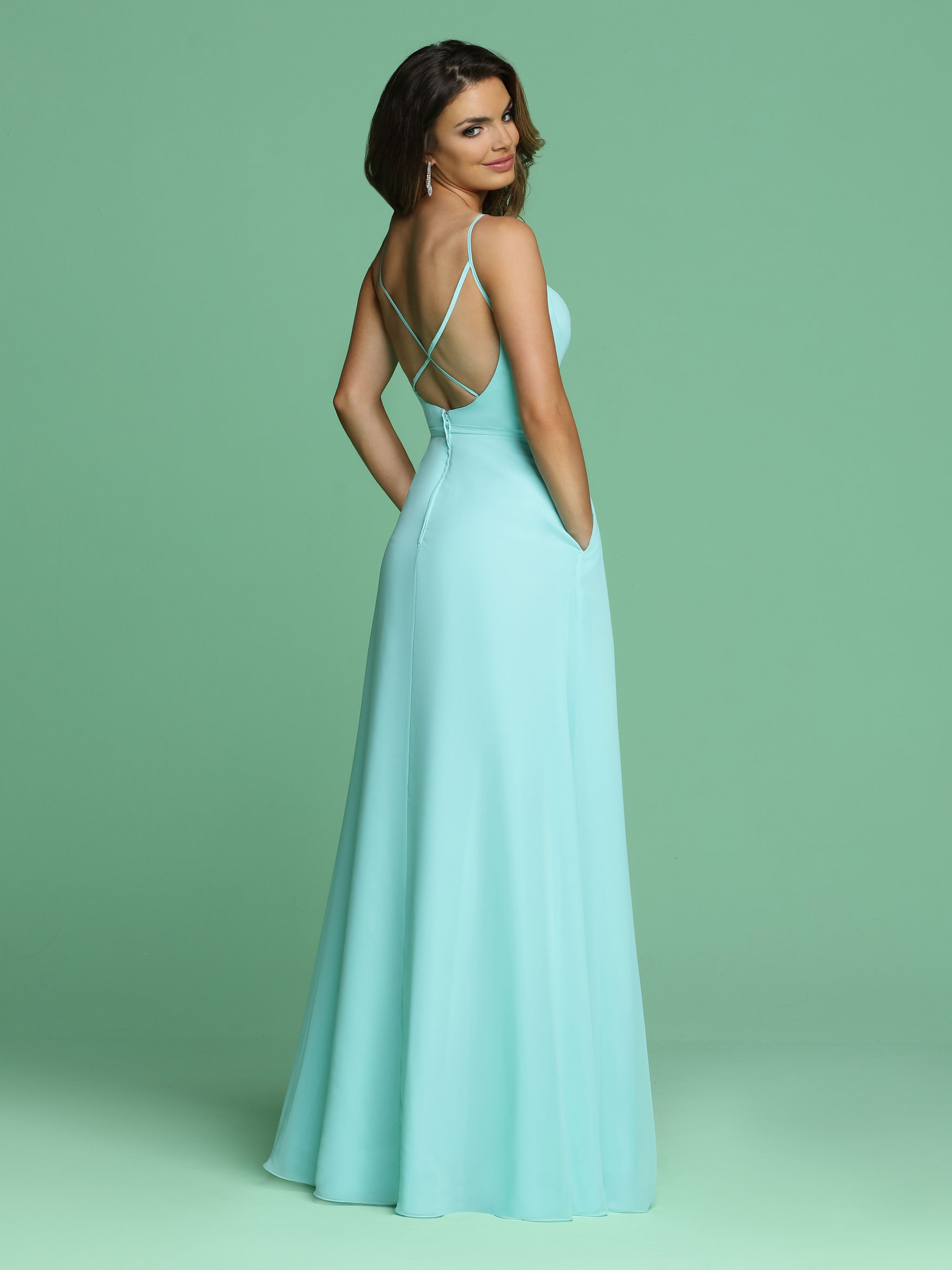 To see more details Click HERE for DaVinci Bridesmaid Style #60423
DaVinci Bridesmaids Style #60412: Satin & Lace A-Line Bridesmaid Dress has Classic Front V-Neckline with Unique Open Back Bow Tie Strap Design. Full Gathered Floor Length Skirt has Hidden Pockets. Choose Matching or Contrasting Lace & Satin for Dress & Lining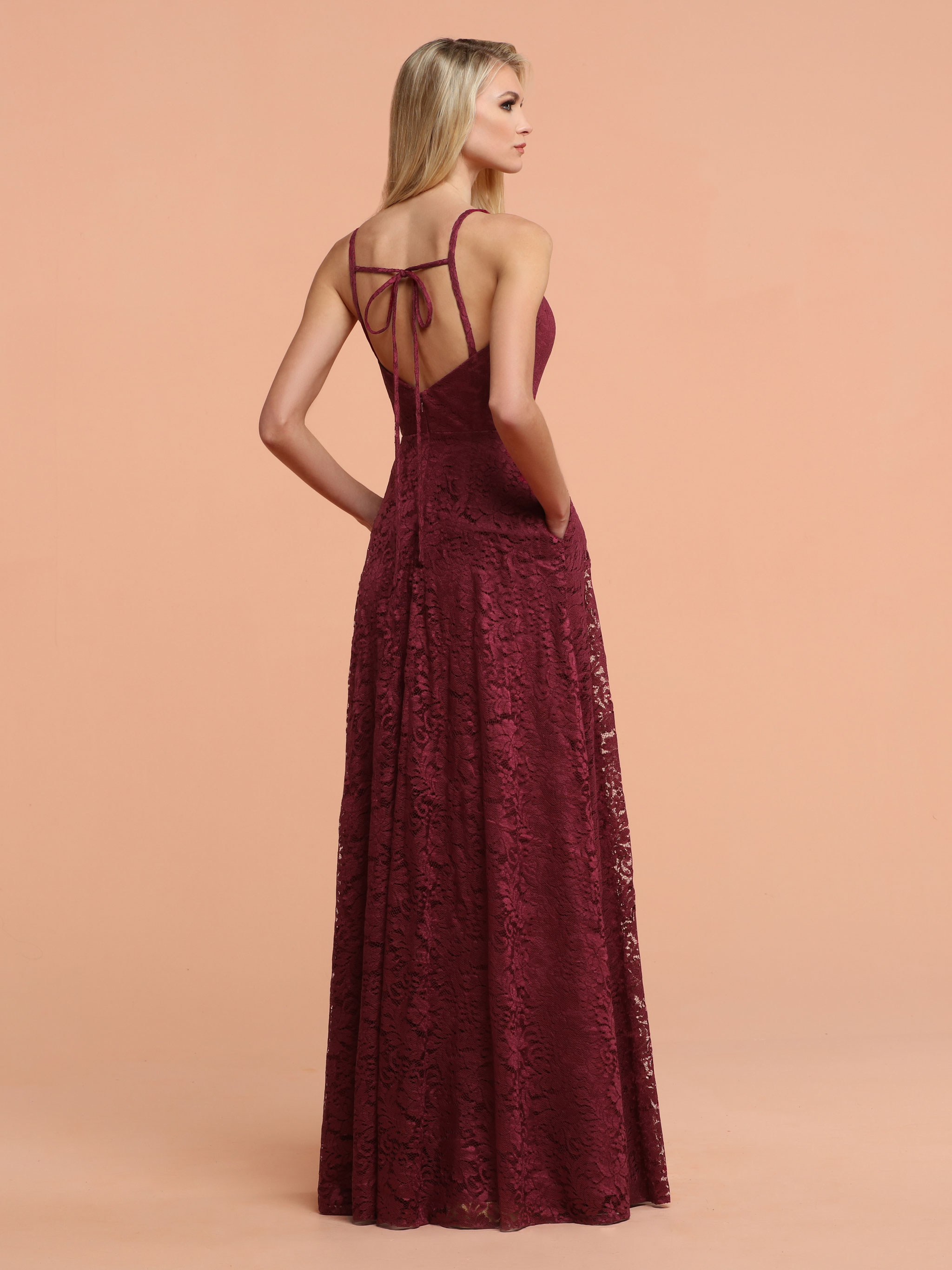 To see more details Click HERE DaVinci Bridesmaids Style #60412
Bridesmaids Dresses with Pockets for 2021: Satin & Mikado Silk Bridesmaids Dresses
DaVinci Bridesmaids Style #60405: Satin A-Line Ball Gown Bridesmaid Dress with V-Neck & Deep V-Back. Pleated Skirt has Hidden Pockets. Choose Matching or Contrasting Colors for Dress & Waistband/Belt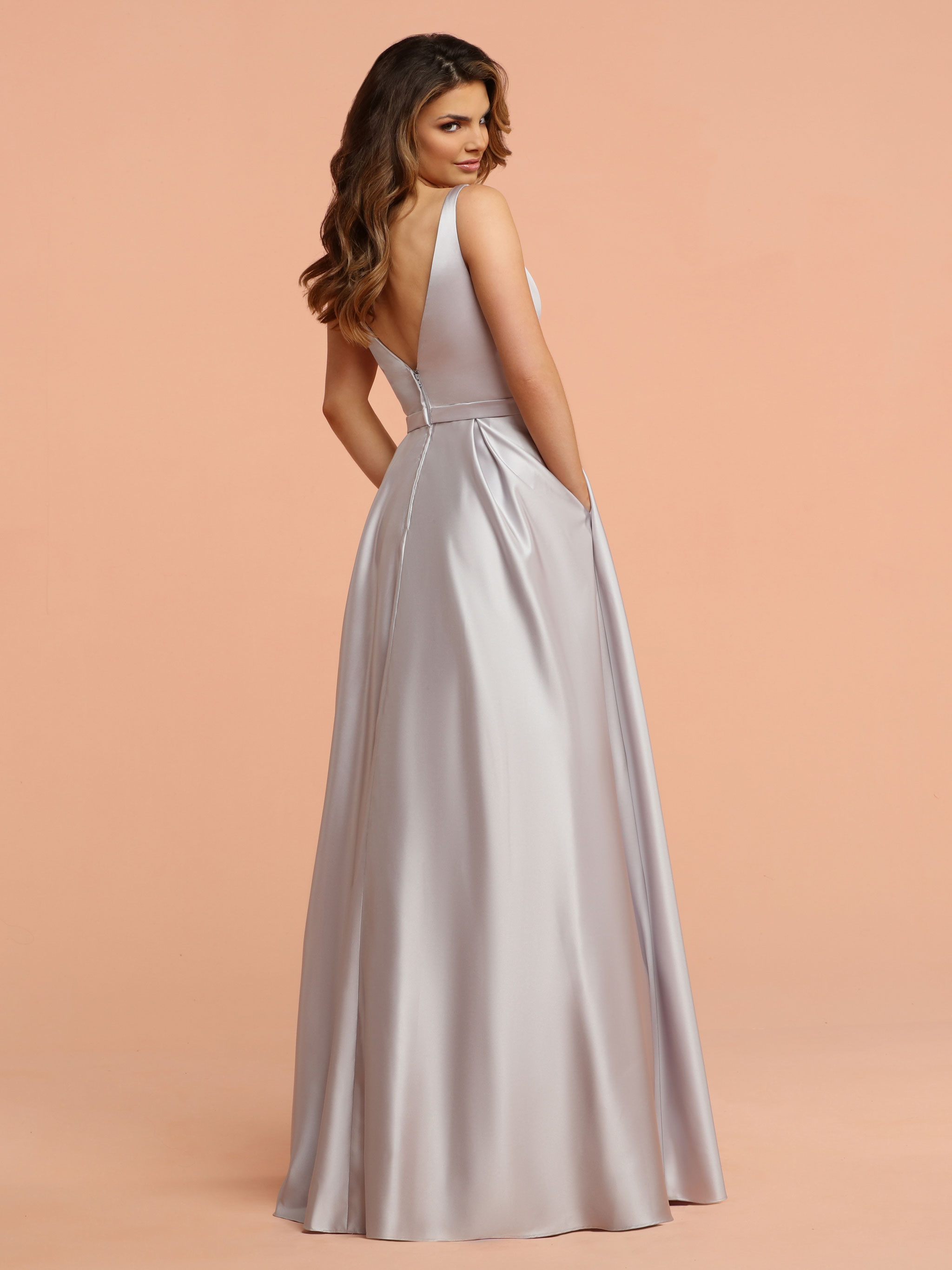 To see more details Click HERE DaVinci Bridesmaids Style #60405
DaVinci Bridesmaids Style #60400: Minimalist Satin A-Line Bridesmaid Dress with Sweetheart Neckline, Arched Strap Detail & Floor Length Skirt. Choose Matching or Contrasting Colors for Dress & Waistband/Belt
To see more details Click HERE DaVinci Bridesmaids Style #60400
DaVinci Bridesmaid Style #60365: Mikado Silk A-Line Bridesmaid Dress has Tailored Bodice with Sweetheart Neckline, Spaghetti Straps, Open Back & Covered Buttons. A-Line Floor Length Skirt has Side Seam Pockets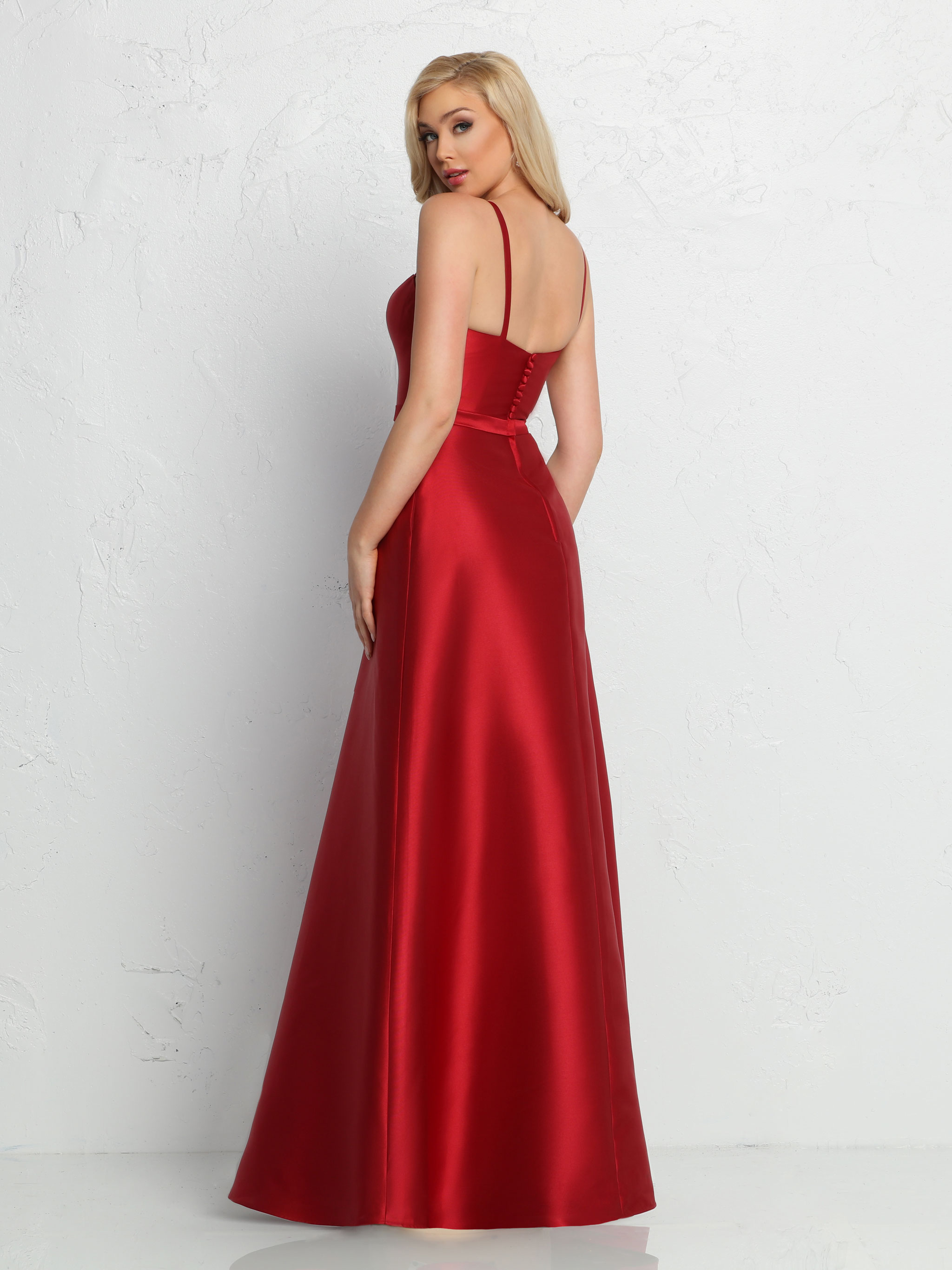 To see more details Click HERE for DaVinci Bridesmaid Style #60365
Bridesmaids Dresses with Pockets for 2021: Mikado Silk Bridesmaids Dresses
DaVinci Bridesmaids Style #60407: Sleek Mikado A-Line Bridesmaid Dress with Sweetheart Neckline & Narrow Shoulder Straps has Flat Wide Empire Waistband. Smooth Flared Skirt has Hidden Pockets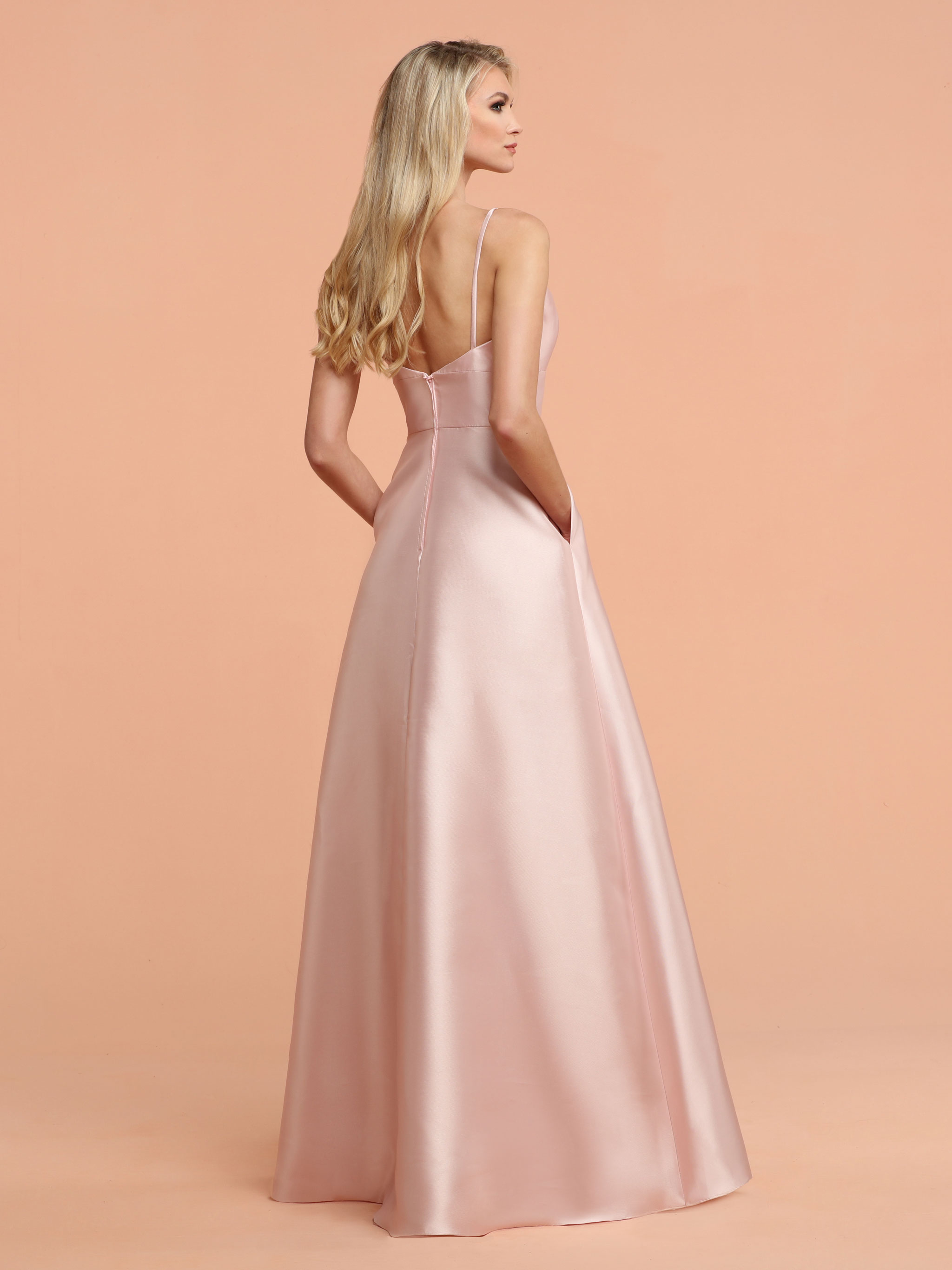 To see more details Click HERE DaVinci Bridesmaids Style #60407
Treat yourself to the same convenience of a handy little pocket in your wedding gown. Click HERE or on the image below for our Wedding Dresses with Pockets for 2021:
To shop all of our beautiful dresses—Formal Wedding Dresses, Informal Wedding Dresses & Bridesmaids Dresses—just Click HERE or on the image below: