If you're into arts and crafts, now's the time to put that hobby to good use. Making DIY souvenirs and take homes for your wedding guests is a great way to extend your most heartfelt thanks and is therapeutic! Focusing your attention on the little details involved in a DIY is one fantastic stress reliever that comes in doubly handy during wedding planning. It's also a great distraction to take your mind off the guests who haven't sent their RSVP yet, or the fact that you're still trying to drop a couple of pounds to make that wedding dress look even more impressive. We think that, for a bride who loves to create, making your own favors and take-homes is one of the most exciting parts of planning a wedding!
Before you begin, though, make sure that you can handle the number of souvenirs you'll need. You want to have one for everybody, but you also need to keep an eye on time management. If you're following a planning chart or timetable, then the souvenirs must be all done and ready to go at least 4 or 5 days before the wedding day. Even if you're having a grand bash for 500 people, you can still make everyone a lovely handmade trinket if you wish, because we have some awesome hacks that'll save you oodles of time and effort.
What matters most is that you have fun making these take homes. And depending on the project, DIY wedding souvenirs can be an excuse for some really sweet together time with you and your groom in preparation for your wedding.
Here are some ideas on what to give your guests as souvenirs or take homes for your wedding. Each project indicates the level of difficulty involved. Remember:  This should be fun for you and your bridesmaids or groom, so don't choose something too difficult or out of your comfortable skill set. The person who helps you must also be 100% focused and ready for at least a little manual labor
Bag o' Beans (Level: Easy)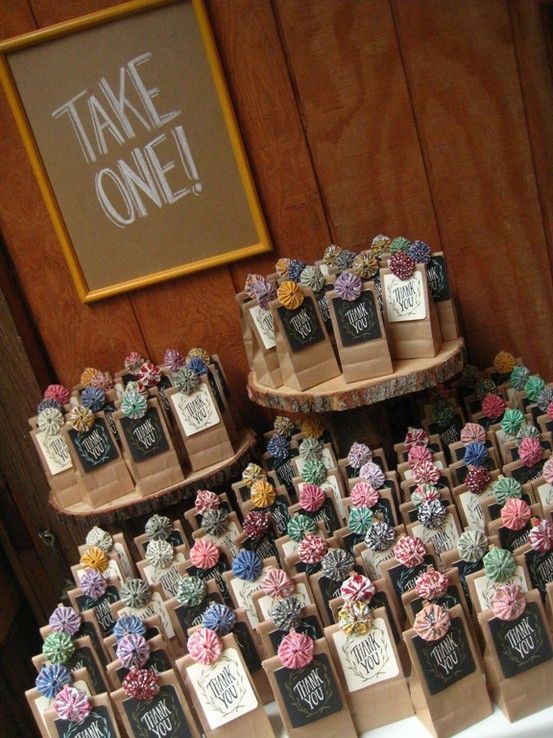 One of the simplest but most appreciated wedding favors is a bag of gourmet beans. If you're a coffee connoisseur and happen to be in love with a select bean from one of the best coffee producing countries in the world, then by all means, do not hesitate to share such a wonder with your wedding guests! About one ounce of beans per bag—yielding about 4 cups of coffee—would be just right. Then all you need to do is get creative with small sacks made out of linen or cheesecloth.
If you're not a coffee person, you can use jelly beans, tea, granola, or potpourri. Get the instructions here: bluemagpieinvitations.com
Tote Bags (Level: super-easy)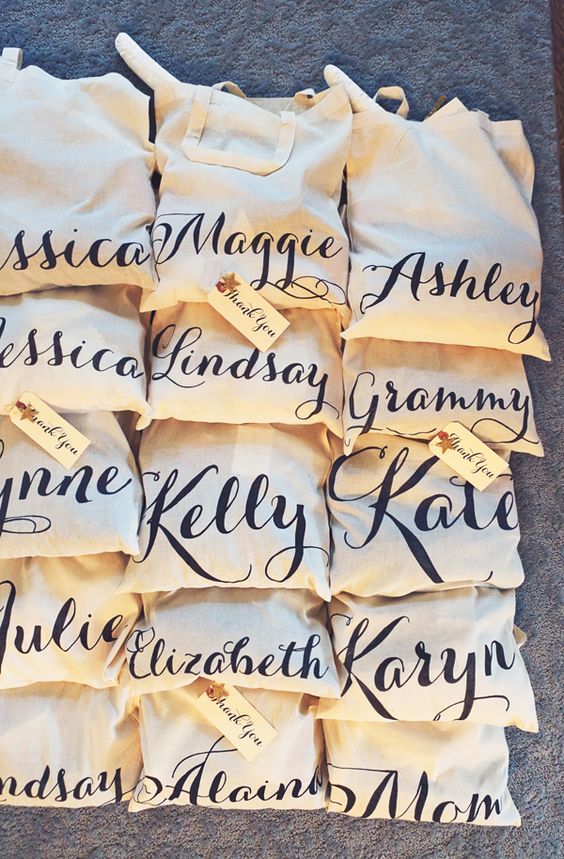 Tote bags are plentiful in craft stores, are sometimes available in dollar stores, and if you look around, you'll probably find some online at wholesale prices. These bags are easy to wrap so it's just a matter of applying the design you want and letting the bags dry before rolling and gift wrapping in time for the wedding. If decorating these bags comes easily to you, then you can also include some store-bought favors for your special guests like the parents, bridesmaids, or groomsmen. Get the instructions to make them here:  www.youtube.com
Cupcakes (Level: intermediate)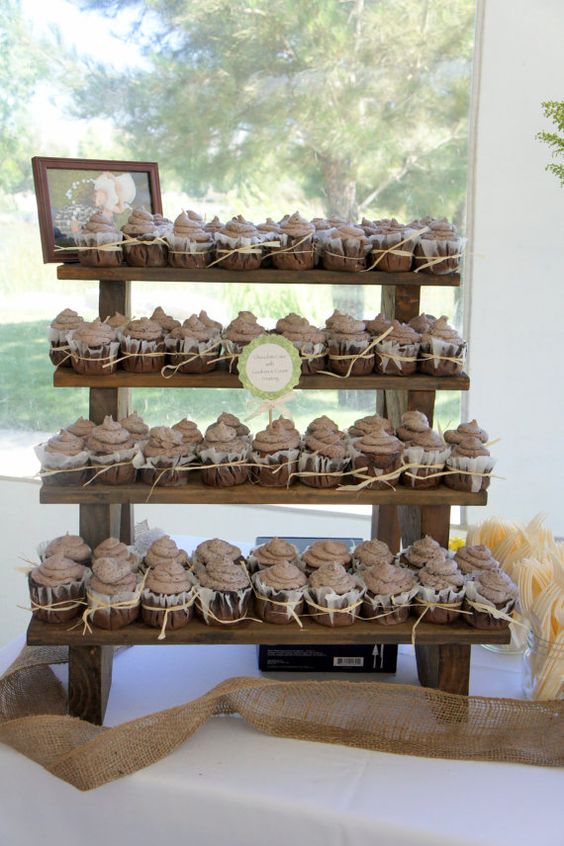 If baking has always been your way of de-stressing, or you just love to cook, then why not bake wedding cupcakes? You can get creative with the colors and the packaging, too. Here's a tutorial for a cute cupcake tower you can make for your wedding: www.junipercakery.co.uk
S'mores Kit (Level: Easy)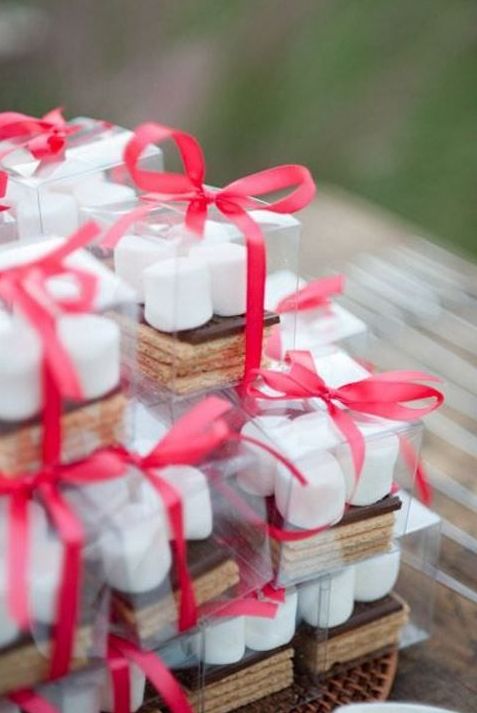 Who doesn't love S'mores? All you need are the typical S'mores ingredients—marshmallows, graham crackers and a bar of Hershey's chocolate—then a lovely package that you can customize with your initials or wedding date. pinterest.com
Herbs (Level: intermediate)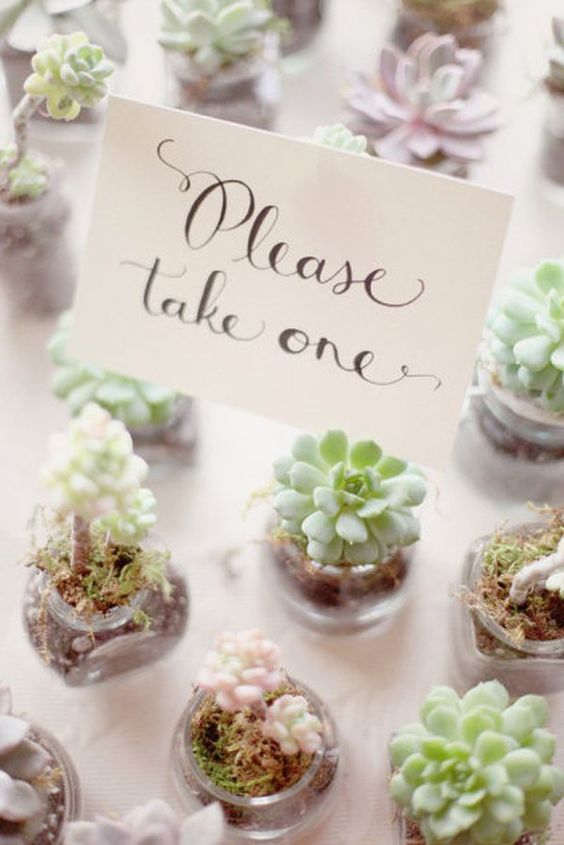 Plants are meaningful to some people. Many homes have gardens, so giving guests something to add to their labor of love—or something small and easy to care for to display on a windowsill or desk—would mean a lot. Plants are also representative of love that blossoms, or love that grows and transforms. While you could give small cacti or succulents, consider herbs that guests can use for cooking. Basil, peppermint, rosemary, and tarragon are popular choices that can be planted in an existing garden, or be a starter for a home herb garden—all thanks to you!
Get the instructions here: http://www.thesweetestoccasion.com/2012/07/diy-potted-herb-favors/
Candles (Level: intermediate)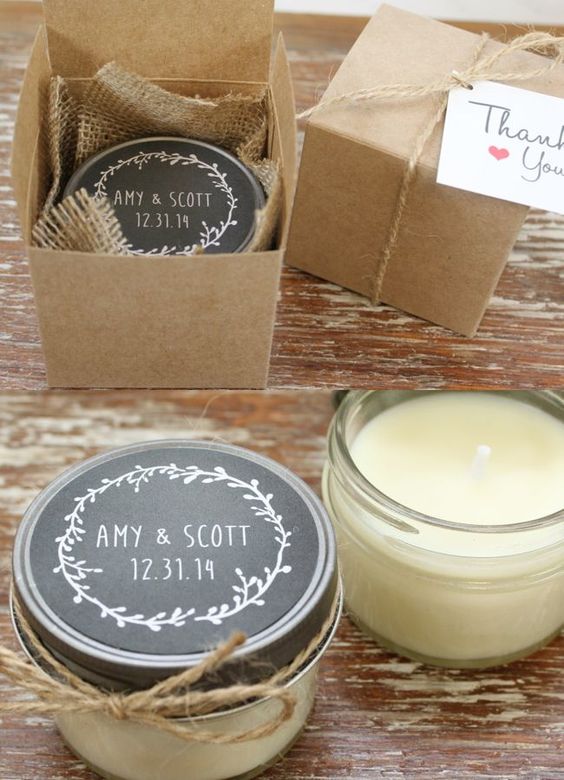 A scented candle is a simple wedding favor that you can make and have fun experimenting with different scents. Choose the classics like vanilla, lavender, citronella, or come up with your own custom fragrance blend. Candles are ideal for those who want to finish all the wedding favors in one day because you can make one huge batch and put them in tiny containers.
Here are the instructions: https://www.candlescience.com/learning/diy-soy-candle-wedding-favors
Jam (Level: tedious but worth it!)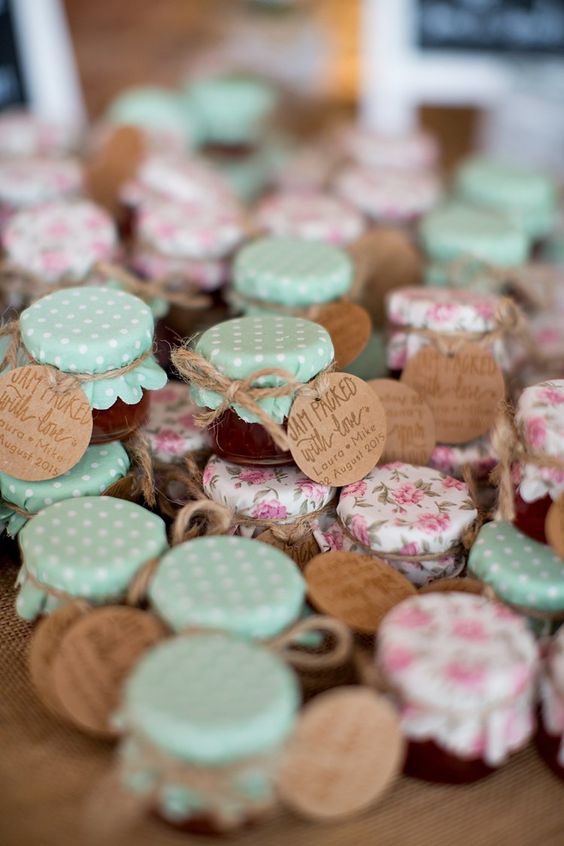 Nothing beats the taste of homemade jam. It's richer in flavor and color and has more bits of fruits than anything you'd typically find in a store-bought jam. You can get creative, too, by mixing unique combinations or perhaps using your grandmother's recipe. Jam goes well with cheese, crackers, and on toast, and doesn't spoil quickly so storage won't be a problem. And if you've made too much, just keep the rest for yourself!
Here's a delicious raspberry jam recipe:  http://www.elli.com/blog/diy-raspberry-jam-wedding-favors/
Matchbox (Level: a bit of work)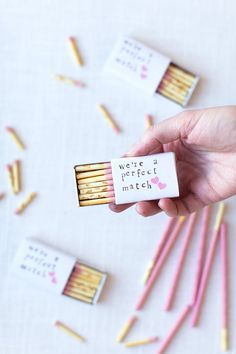 You might wonder how a matchbox could make an interesting wedding favor, but it is because it looks like something else on the outside. Then your guests open it to see that it's really filled with matches—and that's what you and your groom are: a perfect match!  https://liagriffith.com/personalized-matchbox-wedding-favors/
Personalized Wine Bottles (Level: easy)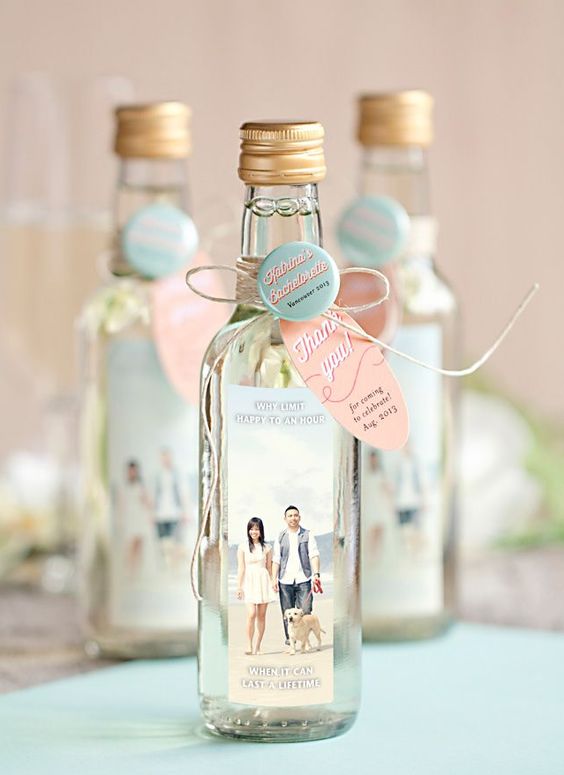 En vino veritas. "In wine, there is truth." Giving wine on your wedding day is symbolic of giving truth and is sure to please your guests. You can make a few extra or have different kinds of wine for your guests to choose from. Having red, white, and rose wine will give you more options when you make the labels. All you need is a few cases of your favorite wine, some labels, and a little creativity with your PC printer. Here's a video on how to make simple but truly lovely personalized wine bottles: https://www.youtube.com/watch?v=Pm6DL-A0Wgg
Decorated Mason Jars (Level: simple but you must be reasonably artistic)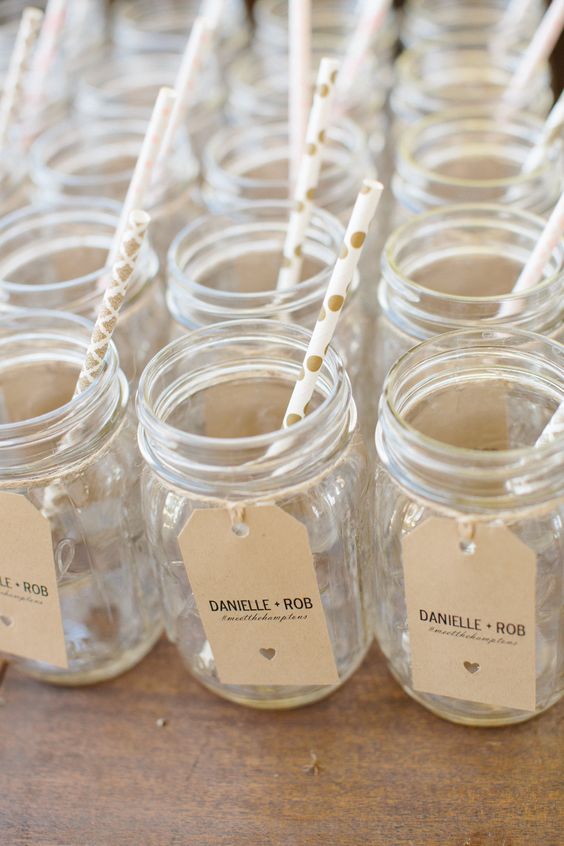 Mason jars are all the rage. Many cafes and restaurants have ditched regular glasses for mason jars. They're both easy to hold and fun to decorate, and come in different colors, so you can find one that matches or complements your theme. If you're into drawing or coloring, then this might be the perfect DIY wedding favor for you. All you need is a box or two of mason jars and lots of markers. Here's how to do it: http://blog.soulmakes.com