Pregnant bridesmaid dress shopping can be a challenge, but following these tips will make her feel comfy and your entire wedding party will look beautiful!
We've pulled together the best tips for pregnant bridesmaid dress shopping to help you find the perfect dress for your beautiful mommy-to-be.
Pregnant Bridesmaid Dress Shopping Tip #1: Decide If She'll Need a True Maternity Bridesmaid Dress Style
So… Which of these bridesmaids is pregnant? They all look stunning!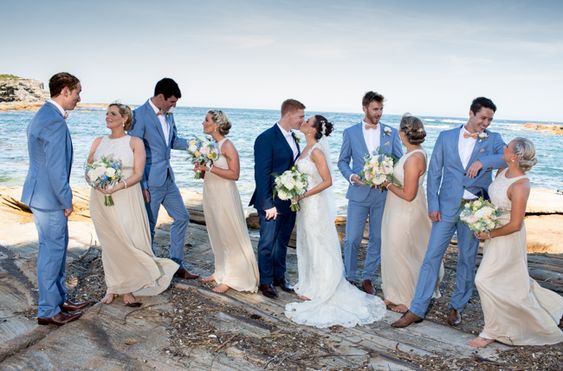 Source: Pinterest
Depending both on her basic body type and how far along she'll be on your wedding day, you might be able to dress her in a style that's not specifically "maternity" – just "baby bump-flattering."
Here are some dress styles that will work without being specifically maternity:
Empire waist dresses
Loose A-line dresses
Stretch fabrics
Shirring or gathering
Pregnant Bridesmaid Dress Shopping Tip #2: Take Careful Measurements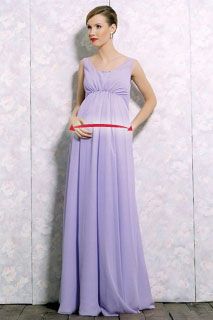 Source: Pinterest
Your bridal retailer's tailor or seamstress will take bust, waist, and hip measurements for all of your attendants. But with pregnant bridesmaids, waist measurements are pretty much useless.
Instead, the seamstress should focus on bust and hips and then add a few inches for growth.
TIP: This is a really good time to remember the cardinal rule that "Dresses are far easier to take in that let out."
Pregnant Bridesmaid Dress Shopping Tip #3: Rock the Hot Mismatched Bridesmaid Fashion Trend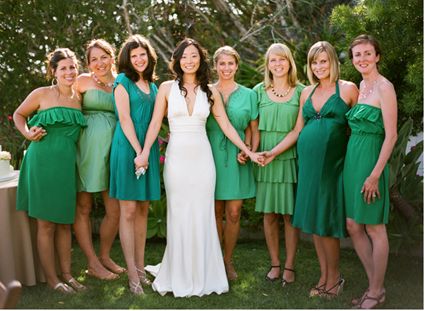 Source: Pinterest
Your pregnant bridesmaids are not going to look like all the other ladies anyway. So make the most of her beautiful differences by choosing a gorgeous bridesmaid dress for her that's a different style but coordinates with your other ladies.
Tip: If you want your wedding to have a slightly more formal feel, you'll want to follow the mix & match bridesmaids idea of having each lady in a different style but dress everyone in the same color or color family. This will give a unified look in your photos.
Source: Pinterest
It can also help your pregnant bridesmaids feel like they fit in a little more. Because no matter how confident they are with their body in regular clothes, formal outfits can still stir up feelings of feeling bulky or out of place.
Pregnant Bridesmaid Dress Shopping Tip #4: Wait as Long as Possible to Order Her Dress
Wait to order the dress! You never know how much she'll show!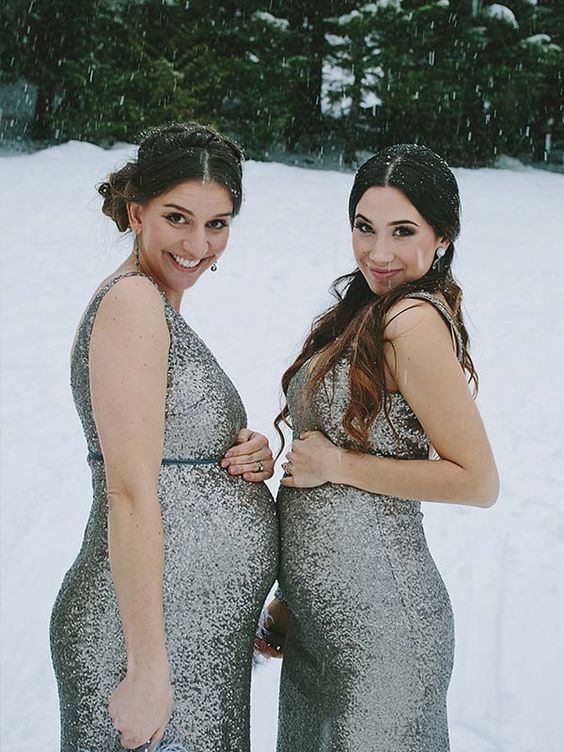 Source: Pinterest
Bridesmaid dresses are usually ordered 5-6 months ahead of the wedding. But because your pregnant bridesmaid's body will probably change drastically, try to wait as long as you can to order her dress and then wait literally until the last minute for her final alterations.
Great News: Order your bridesmaid dresses from DaVinci, and we can have them ready in just a few days!
Click HERE to find the DaVinci retailer nearest you and you're all set!
Pregnant Bridesmaid Dress Shopping Tip #5: If She'll be No More than 4 Months Along on your Wedding Day…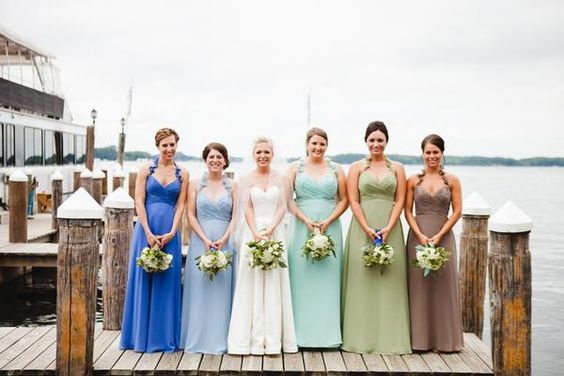 Source: Pinterest
You can probably order her the very same dress as your other attendants. Just get hers a couple of sizes larger. (Once again: It's easier to take in than to let out!)
Tailoring Fact: Almost any dress can be altered down as much as 2 sizes and still look perfect.
Pregnant Bridesmaid Dress Shopping Tip #6: If She'll be More than 5 Months Along on your Wedding Day…
All bridesmaids in beautiful gray Empire waist dresses: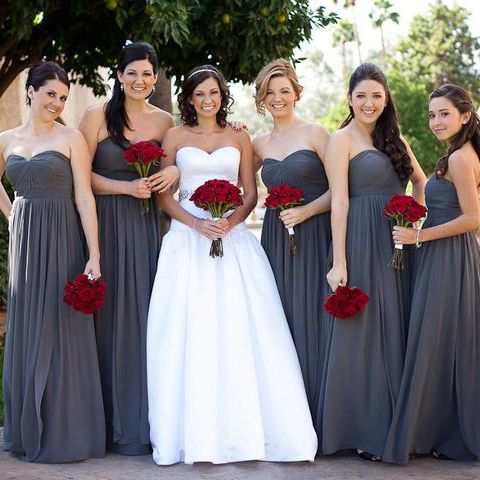 Source: Pinterest
 You can do one of two things:
Dress all your ladies in Empire waist bridesmaids dresses.
Choose an Empire waist dress for your pregnant bridesmaid with the same neckline and bodice features as your other attendants.
Pregnant Bridesmaid Dress Shopping Tip #7: Choose Soft, Flowing Fabrics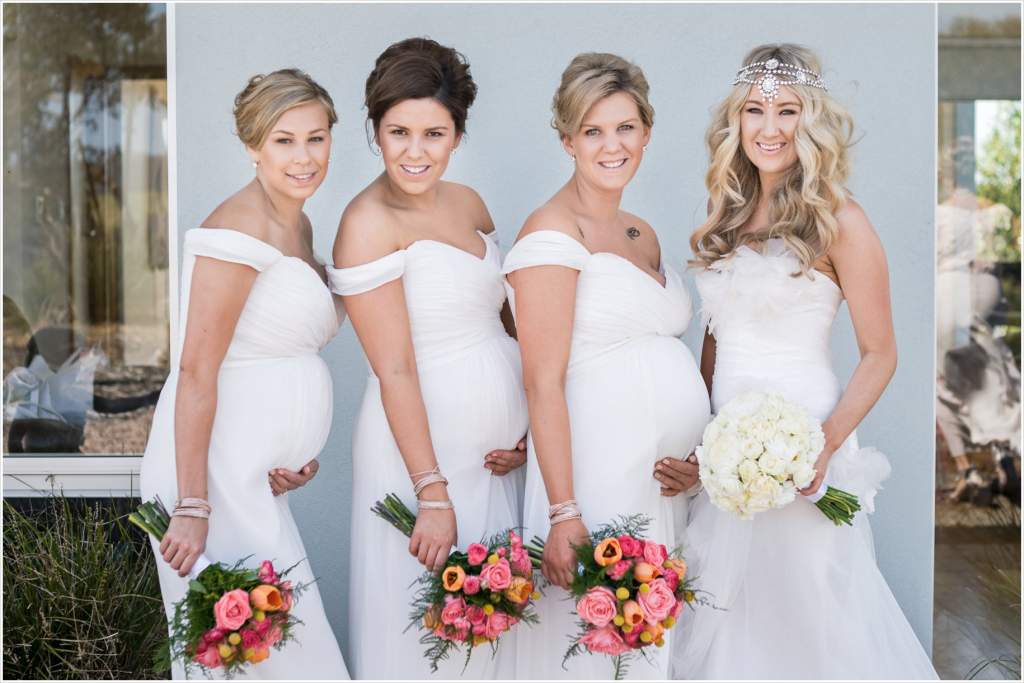 Source: jadenorwood.com
Chiffon bridesmaids dresses will always be in fashion, and this soft fabric is really forgiving when it comes to baby bumps.
TIP: Order an additional yard of dress lining fabric or ask your seamstress to plan to add a gusset to the lining (a triangle of extra fabric). This will let the chiffon dress flow around her bump while letting her feel loose and comfy in the lining.
Pregnant Bridesmaid Dress Shopping Tip #8: Order Extra Length
Even hem all around: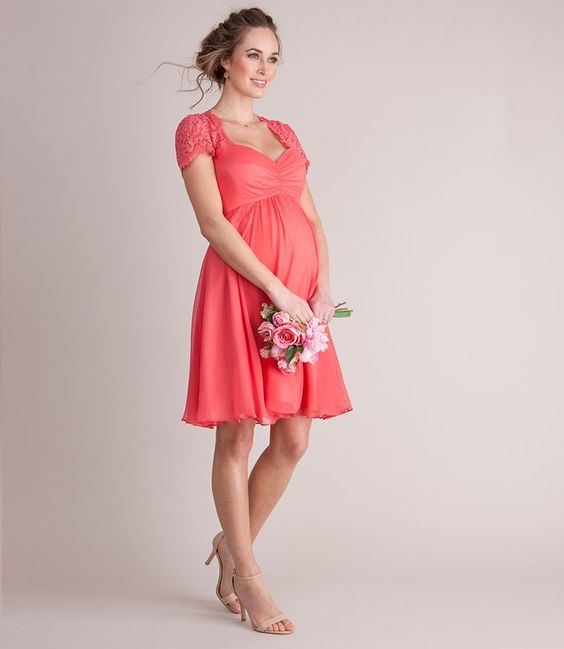 Source: Pinterest
If both bridesmaids and wedding dresses can be ordered with extra length to accommodate a taller girl, why not order a few inches longer for your pregnant bridesmaid?
FASHION FACT: Maternity fashions are almost always cut an inch or two longer in the front so that the dress or top hangs evenly all around. Bridesmaid dresses are no different. Just again, wait until the last possible minute for that final hem fitting!
Pregnant Bridesmaid Dress Shopping Tip #9: If Your Bridesmaid Will Give Birth Shortly Before Your Wedding…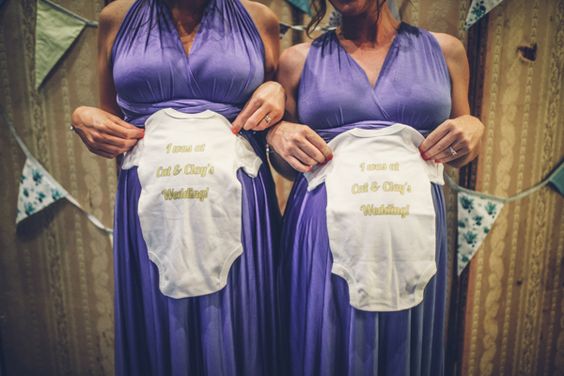 Source: dailymail.co.uk
Try to have her measurements taken and her dress ordered when she's 5 months along.
Pregnant Bridesmaid Dress Shopping Tip #10: If Your Bridesmaid is Breastfeeding on Your Wedding Day…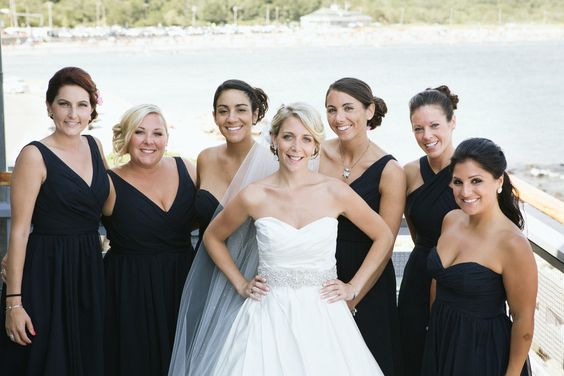 Source: Pinterest
Choose a neckline that makes it easier for her to feed or pump milk for her little one.
Halter dresses are really easy just to untie/unfasten, and some dress styles with straps can be converted to a halter for your nursing bridesmaid.
Pregnant Bridesmaid Dress Shopping Tip #11: If Your Wedding Will Be a Few Months After She Gives Birth…Resist Temptation to Order Her Pre-Pregnancy Size!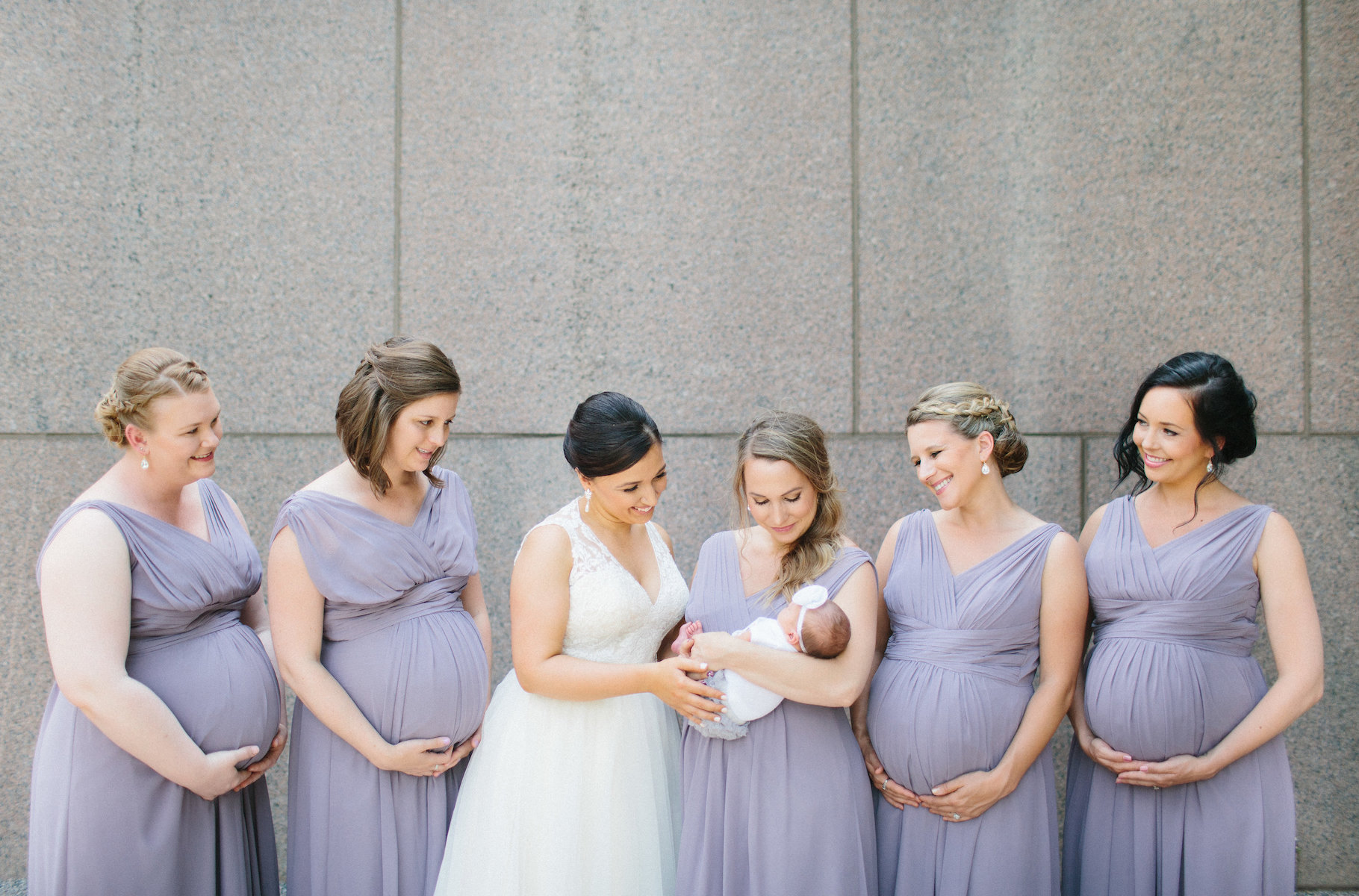 Source: Foreverbride.com
No matter how motivated she is, it is not uncommon for a woman's shape to change after having a baby. Even if she loses all her baby weight, she may still have a different bust size, or slightly wider hips, or a little fuller waistline.
So the one thing you need to "put your foot down" about is not to let her order a bridesmaid dress in her pre-pregnancy size. You're pretty much asking for disaster on a number of levels… Most of all disappointment.
Check out our gorgeous collection of Empire waist dresses. The cover dress is a classic Empire style, but there are a lot of dresses in that collection that have higher cut waistlines and/or less structured waistlines. Click HERE or on the image below: