Second only to the wedding itself, bridal showers are the best thing on the planet! Whether you're the bride-to-be, the maid-of-honor, the bride's single high school friend, or her now-married college buddy, wedding showers are the ultimate girl bonding experience.
The bridal shower theme you choose totally sets the mood, and it can sometimes be even more fun than the bachelorette party! You can also go all out with a shower—relive the 1990s, go to Paris via your theme, have a slumber party, a surf party, even enjoy a metaphorical breakfast at Tiffany's—pretty much anything goes with a little creativity.
Brainstorming for unique bridal shower themes and decorations plus fun bridal shower games for the party you throw for your happily engaged girlfriend can be a ton of fun.
Here are the top 10 bridal shower themes for 2016 plus ideas you can use for the most creative and memorable bridal shower ever. These tips can even help you plan a bridal shower on a budget!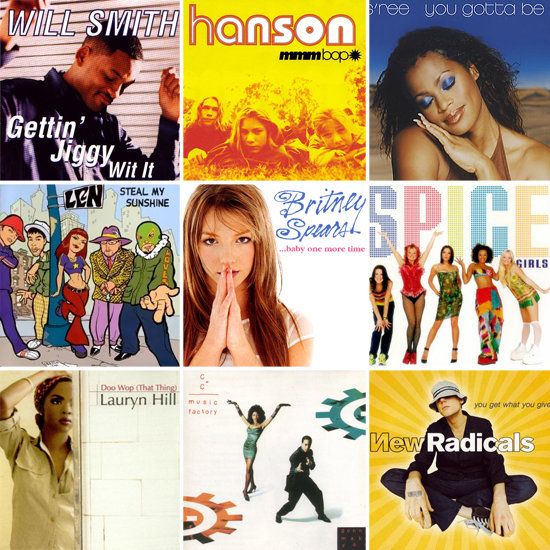 Boy bands, plaid, and Lisa Frank stickers make us rather nostalgic about being a girl in the decade of the 90s. Plaster the bridal shower venue with posters of boy bands and dig out those old cassette tapes of your favorite Spice Girls jam. This party theme will be the ultimate nostalgic shindig!
Tip: If you want to go all out with goofy treats, serve Bubble Tape gum, Trix cereal, Ring Pops, and Laffy Taffy. You can find all those and more here: www.candystore.com
Have you ever seen the movie Bridesmaids? The bride—played by Maya Rudolph—has always wanted to go to France, so her bridesmaids decide to bring France to her. The whole place was decked out in plum with hints of navy blue and lavender. For a Paris theme, serve up macaroons, mimosas, and fruit fondue, play French music in the background, and maybe even rent that silly Bridesmaids movie to watch together!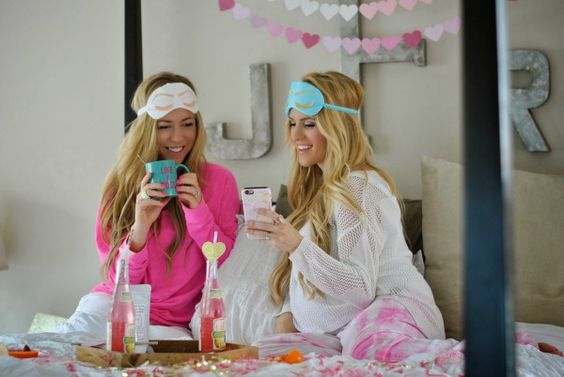 Didn't you just love slumber parties with your little girlfriends? Imagine that as grownups in sexy silk robes and feather boas—or comfy midriff jammie tops and plaid pants! Serve strawberries, champagne, and a beautiful cheese platter. If you've got a good vacuum cleaner, go all out and fill a pillowcase with white and pink feathers for a pillow fight. You'll make a mess all right—a beautiful mess indeed!
Surf parties are practically a guaranteed hit, and if the bride-to-be is a surfer chick, you have got to do this theme! Surfer girls are no-fuss, no worries, totally laid back, and this party is just the same. Trek out to the beach just in time for sunrise, then paddle out and catch a few waves. After that, camp out and snack on fresh fruits, tan while sipping on margaritas, then head on back out for an afternoon surf fest. As the sun goes down, you can watch the sunset together and maybe even end the day with a bonfire. If you want to be total California girls, reminisce with the ultimate boy band, The Beach Boys.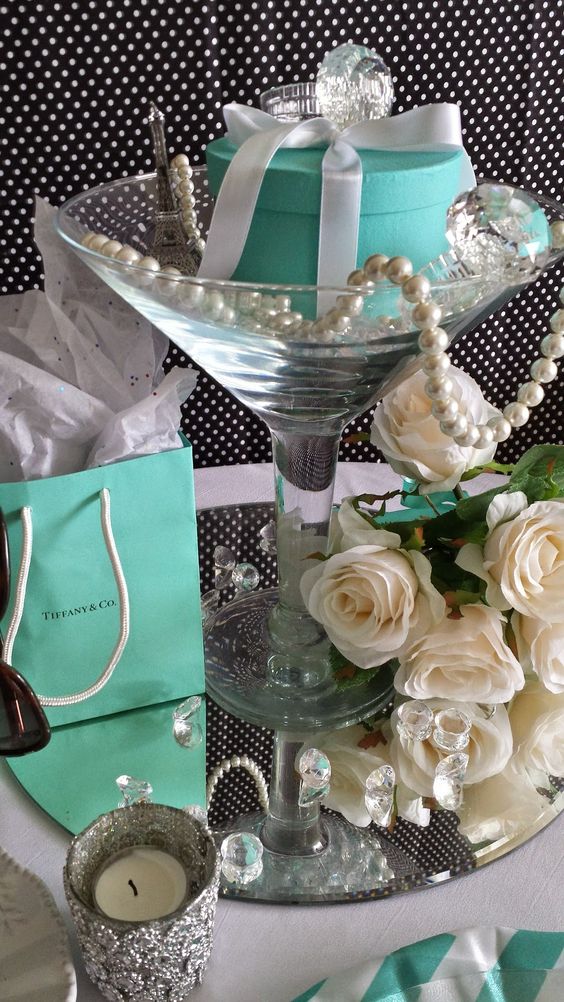 Tiffany's may be the most common bridal theme out there, but it's a classic. Have everyone show up in her best little black dress and strike a Holly Golightly pose for your own Audrey Hepburn inspired selfies. To set the mood, play the soundtrack to the movie Breakfast at Tiffany's in the background. Even better, buy the bride a copy of the film and show it!
If you're not familiar with the movie, check out the original trailer here: https://www.youtube.com/watch?v=urQVzgEO_w8
For party favors, give away tiaras and pearls. Add a few Bellini's and you've got yourself one ultra-glamourous party!
Throw this shower for the bride who loves to cook. Book a cooking lesson at a restaurant, or hire a culinary student to come over and teach everyone how to make a fabulous mini-feast. The food factor is built in because you'll be sampling his or her wares! For party favors, get everybody a disposable chef's hat (these are available at most party supply stores) and give the bride an apron in a color she'll love—maybe even monogrammed.
Then pamper her with truly upscale kitchen gifts. Pool your resources for a set of copper cookware, or that cappuccino machine you know she wants but was hesitant to put on her gift registry. Ceramic knives are fabulous and more than functional.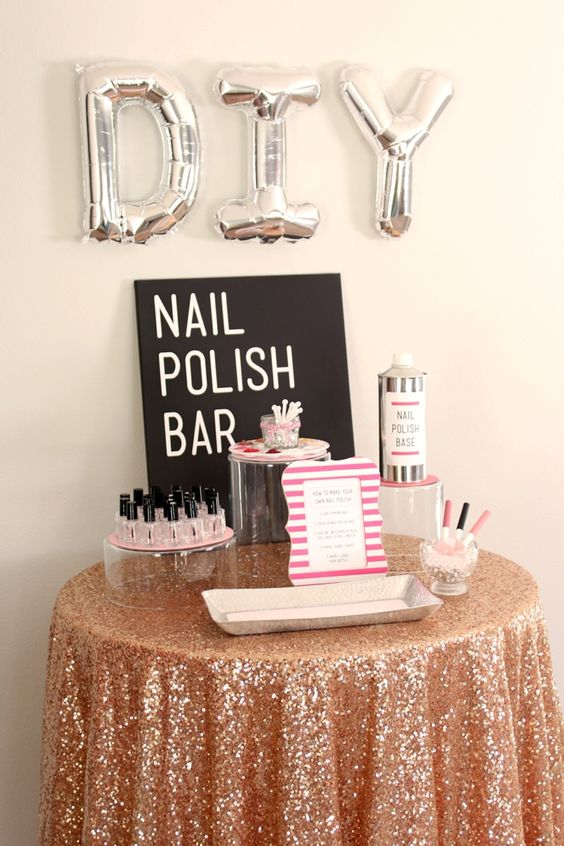 This is the theme for a bride who loves to have beautiful nails, and there are two ways to throw this shower.
One is perfect for a small group because everybody gets a treat! To pull this off, book a nail salon in advance for however many ladies will be at the party. The bride-to-be, of course, gets the works, courtesy of her girls: Spa pedicure, deluxe manicure, and even nail art if she wants it. Everyone else can choose what they want. To make it fun, buy flip flops and those little toe spreaders either in the bride's color scheme or to match her theme. Take some champagne if the salon allows, and for sure they'll let you have some treats like cookies or chocolate strawberries. They might even let you decorate a little.
Note: While this may sound expensive, many salons will give you a group rate, so shop around!
The second way is to shower the bride with beauty-related gifts she can use at home. Give her a set of upscale hand and foot creams, a foot scrubber, and moisturizing gloves. A cuticle grinder for her toes is a real treat. So is a quality UV light box if she likes to use gel polish. For decorations and treats, make one of those cute tier cakes made of towels, and cut out sugar cookies shaped like a nail polish bottles, or hands with decorated fingernails.
This shower combines the concept of luxurious lingerie with upscale linens. Gift the bride with a set of Egyptian cotton sheets, bamboo pillows and perhaps pool your resources for a memory foam mattress topper. Then instead of the usual naughty baby doll nighty, give her a real silk dressing gown and classy mules (little slippers with a small heel and either beading or feathers).
For treats and decorations, almost anything goes, but of course strawberries and champagne. You could set the scene with 1950s pinup girl posters or decorated napkins. And if you get her those bamboo pillows, you could give mini bamboo plants as party favors!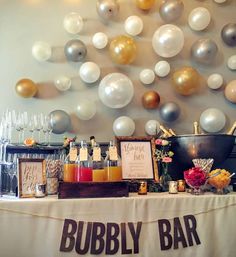 This is the perfect theme for a bride who likes to throw small parties. Gift her with monogrammed stemless wine glasses, a fancy martini shaker, and bottles of upscale liqueur like Courvoisier or single malt Glen Fiddich or Glen Livet scotch.    
Decorations are easy: Cute little cocktail napkins with funny sayings, mini tea lights in plastic martini glasses, and everyone wears their best Little Black Dress. Serve one or two upscale drinks like Cosmopolitans or chocolate martinis, plus hors d'oeuvres.
Tip: You can get pre-made trays of fabulous snack at your local restaurant supply like Gordon Food Service. Just heat and heat! For more fabulous fare, check out their culinary idea page. https://www.gfs.com/en/ideas/category/culinary-ideas
For this shower, you'll need to know where the bride and groom plan to honeymoon, then decorate the space to match. For instance, if they're going to Hawaii, it's leis and grass skirts all the way, and Mai Tai is the beverage of choice. If New York or Paris, then black and white Broadway theme decorations or Eiffel Tower and pinks respectively. Anything goes for gifts, but for sure give her a customized Survive the Long Plane Ride bag—the latest paperback book, a cooling sleep mask, and a memory foam neck pillow.
For more tips on how to make a bridal shower the best ever, check out our blog!
http://www.davincibridal.com/blog/brides-showers-bachelorettes-how-to-throw-a-bang-up-bash/