No matter why you had to wait, don't let your original wedding day pass by. Celebrate with one of our 8 Ways to Celebrate Your Original Wedding Date.
You're not alone when it comes to a postponed wedding, but knowing that does not make it easier to handle. When your original Big Day Date comes around, you're bound to feel a lot of emotions—confused, sad, overwhelmed. Maybe even angry, which is also OK!
But someway, somehow, find a way to honor that wonderful day. It won't be what you spent time & energy planning but we guarantee—you'll be happier if you choose to honor the day in spite of unfortunate circumstances.
8 Ways to Celebrate Your Original Wedding Date: Ceremony Ideas
Have a "Minimony" 
Source: YouTube
Minimony is the new buzzword for a mini-ceremony. You can keep all the sentiment while still keeping everyone safe.
Choose a traditional venue to get married
Or get married at home or in the backyard
Invite up to 10 in-person guests (or whatever is allowed)
Include an officiant either live or virtual
First dance outside or in your living room
Say vows specially personalized for the day
Incorporate details or elements of your original theme
Commitment Ceremony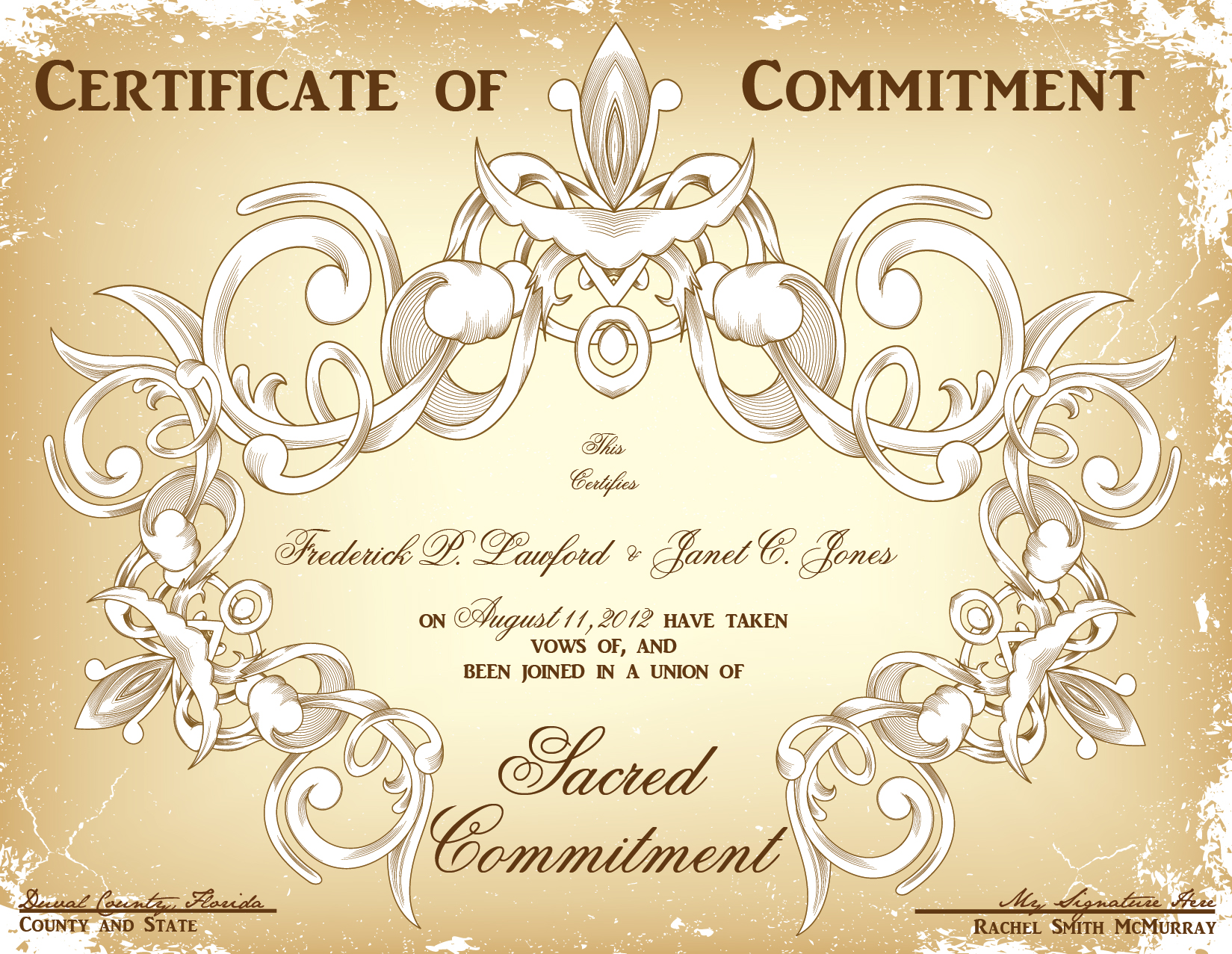 Source: weddingofficiantjacksonvillefl.com
NOTE: This won't be a legal wedding but it does celebrate your love and devotion to one another. Just have the legal wedding at a later date.
Get dressed up
Recite your vows
Have the commitment ceremony with a tiny in-person crowd or
Host a larger virtual get-together
Say Your Original Vows: Either Commitment Ceremony or Minimony
You don't need a formal venue to say your heartfelt vows to each other. Consider something creative like this "Happy Would Be Wedding Day" card: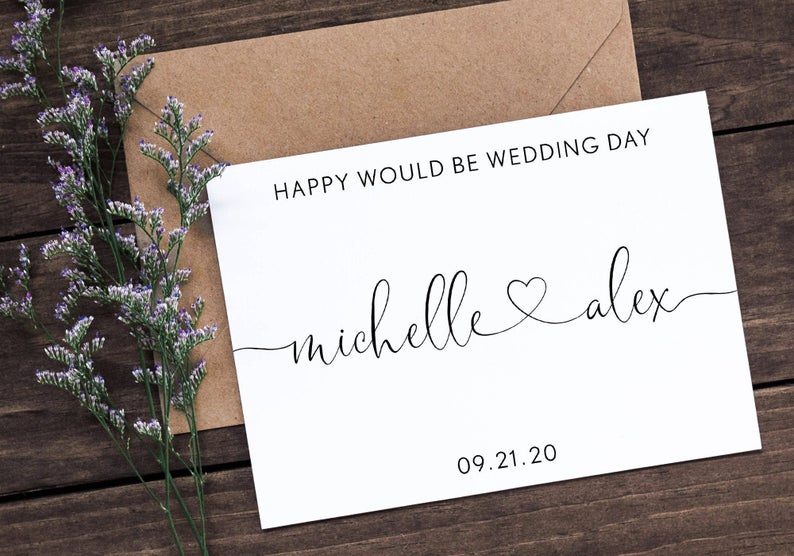 Source: Etsy
Mail these to friends with a note
Use them as invitations to a virtual wedding—or a minimony
Write your vows inside to read to each other
TIP: Again, this won't be a legal wedding unless you have an officiant, but they're the perfect keepsake. You can even use them again in your formal wedding!
8 Ways to Celebrate Your Original Wedding Date: Dress Up for Photos
Source: herworld.com
Wear dressy duds
You don't need to wear gowns & tuxedos, but it'll feel more like a wedding if you dress up at least a little.
Him:
Suit with dress shoes
Sport coat, dress pants, good shoes—and a tie!
Her:
Your original wedding dress—or—dress up a pretty outfit with details from your original wedding day look:
Wear white or a version of white
Wear your veil or headpiece
Wear or carry an original wedding accessory
Carry a mini-version of your original bouquet in either fresh flowers or a silk keepsake
Or Wear "Something Blue" all over:
Get married in a blue dress
Add your veil if you wish
Carry a mini-version of your original bouquet in fresh flowers or 
Order a silk bouquet that's different from the original to go with your new outfit
Fun Silk Flower Ideas:
Display the silk bouquet in your home in a vase or as a centerpiece or
Use the silk bouquet as your "throw away" bouquet at your big wedding reception down the road
8 Ways to Celebrate Your Original Wedding Date: Create a Beautiful Setting
Outdoor Setting
Source: Pinterest
Do Get Flowers!
If you want fresh flowers to carry:
Order a mini version of your bouquet
Or get a single bloom of the main flower in your bouquet
Order a small bouttoniere for him
Order a pretty centerpiece for the table
Keep it simple by getting bundles of baby's breath & DIY a setting with a baby's breath bouquet then arrange baby's breath & candles for an "alter" & on the food table
Alternative: Use our Silk Flower Ideas from the "What to Wear" section
Inside Setting: Borrow Greenery—Use Plants
Source: vogue.com
Move all your houseplants into one place
Rent or borrow large ferns—or get fake tree—to fill out the space
Get potted plants like mums & seasonal hanging baskets that you can use outside
Let friends & family send you decorations
Have a Photo Shoot
Even if you'll have fancy photos down the road, savor the moment & take pictures of everything:
Your attire
The food
A picture of your vows on paper—or those pretty cards
Pix of your drive-by wedding procession
Professional photo options:
Pro-quality sessions using FaceTime
In-person shoots that follow social distancing & group guidelines
8 Ways to Celebrate Your Original Wedding Date: Gifts & Guests
Have a Drive-By Wedding Procession
Decorate your front porch
Ask friends to drive through your neighborhood
Decorate the cars
Honk the horns
Have them take pictures
Get a banner!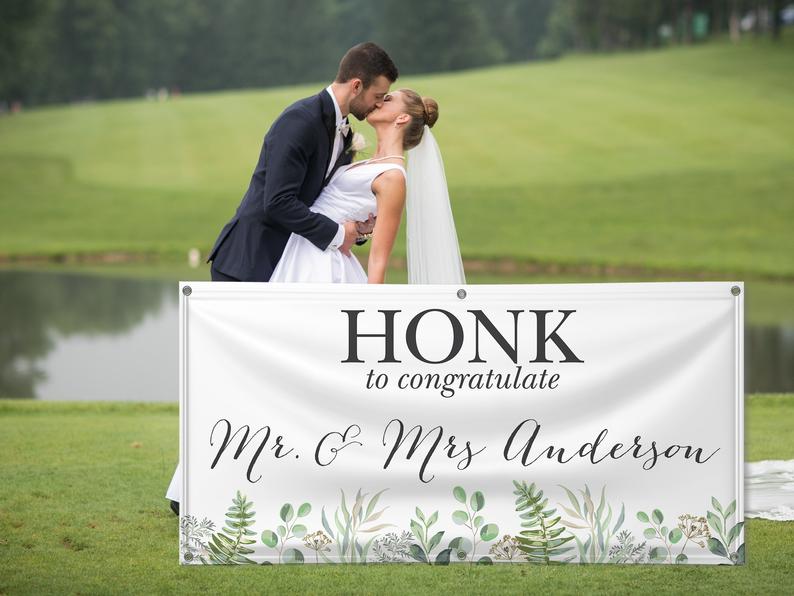 Source: Etsy
Open a Wedding Present (or Two)
If you've already received gifts—or if your friends decided to get you a few things from your registry ahead of time—open a few & put them to good use now:
Dinnerware or china
A monogrammed gift
Something you really do need for the kitchen
NOTE: Don't forget thank you cards! Use those pretty "Happy Original Wedding Date" cards.
8 Ways to Celebrate Your Original Wedding Date: Food!
Have a Fancy Meal Together
Order a feast of all your favorite takeout meal items
Support a fancier restaurant & get a carryout steak, lobster or other specialty meal
Pop a bottle of champagne
Create a custom cocktail—or make the one your caterer already had planned
Throw a Virtual Cocktail Hour
Schedule a Zoom call or Google Hangout
Tell them it's BYOC (Bring Your Own Cocktails)
Have a toast—or a few!
Splurge Champagne Toast Idea:
Order a case of champagne splits
Leave the case on your porch or front door
Have each couple or pair of guests collect their bottle
On "The Big Alternative Day" everybody pops the cork—where they are!
Mini Wedding Cake or Cupcakes
Order a small version of your original cake from the bakery
Have them create just the top layer—or—a slightly larger version if you're having in-person guests
Order cupcakes—or—make your own!
Do The Cake Smash!
8 Ways to Celebrate Your Original Wedding Date: Throw a Not-Your-Regular-Reception
Kick Things Off with a Drive-by Ceremony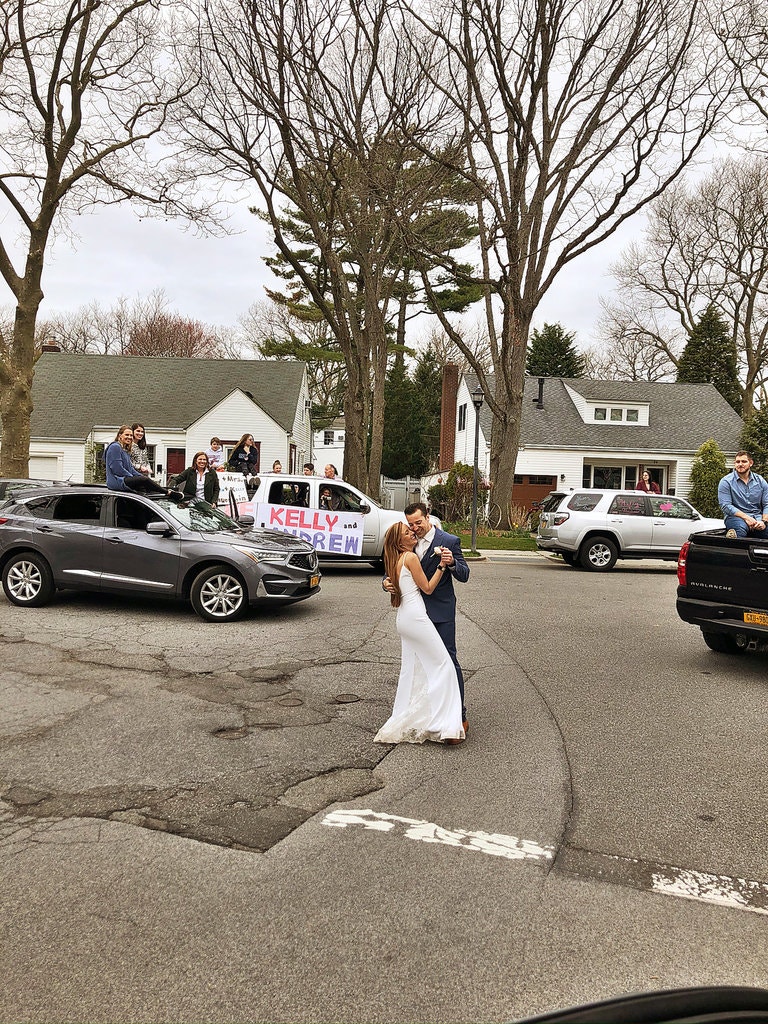 Source: nytimes.com
Invite everyone to drive on over—no limits if they keep a distance
Have the ceremony outside
Do your dance outside
Do anything else you'd like—cut a cake outside, do a toast
Retire inside & call everybody up on Zoom
Throw a Virtual Game Night
Karaoke
Trivia
Bingo
Cards Against Humanity
For the Cyber-Savvy:
First Dance … then … Dance Party!
Move your furniture out of the way
Light a candle
Have your first dance in the living room
Party On!
Use the iTunes, albums or mix you had planned for your reception
Invite everyone to dance the night away with you
Need—or want—to stream your wedding? For everything you need to know, just  Click HERE or on the image below for our Virtually Plan & Livestream Your Wedding How-to Guide:
For a gorgeous pared down minimalist but still very wedding dress look, Click HERE or on the image below for our 14 Simple & Elegant Informal Wedding Dresses: