Dresses
Best Formal & Informal Slip Dress Wedding Gowns
Stunning, striking, simple & sleek—the perfect description for our elegant & understated Best Formal & Informal Slip Dress Wedding Gowns.
A slip dress often has delicate straps & is designed with the look of the lingerie it's named after. Other styles have more structure but still have slip-dress elements. They're also just as much of a showstopper as other wedding gown styles, just a bit more pared down.
If you prefer more support or embellishment—beading, lace, a boned bodice, the fuller skirt of a traditional wedding dress—we have just what you're looking for.
And slip dresses aren't just for warmer weather weddings. Picture these beautiful styles with a cape, shawl, or pretty bridal jacket.
When you buy your Wedding Dress from DaVinci Bridal…
You know that your gown will be created by one of the premiere bridal dress companies in the world. We use only top-quality fabrics fashioned into high fashion design using high-end construction. We guarantee you'll love their affordable prices. A DaVinci is the bridal dress retailers love to carry because best of all, most of these dresses are available for rush delivery at no extra charge!
Best Formal & Informal Slip Dress Wedding Gowns: Crepe & Satin Fit & Flare
DaVinci Bridal Style #50717: Crepe & Lace Fit & Flare Sheath Wedding Dress features a Plunging Sweetheart Neckline with Narrow Beaded Straps. Sheer Scoop Back had Lace Applique & Draped Waist Detail. Smooth Skirt falls to a Chapel Length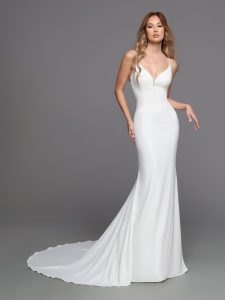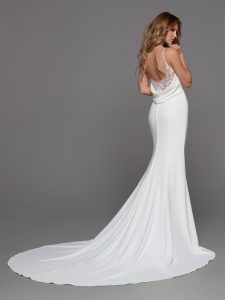 Available in: Ivory
To see more details Click HERE for DaVinci Bridal Style #50717
Informal by DaVinci Style #F105: Sleek Minimalist Crepe Fit & Flare Wedding Dress with Sweetheart Neckline, Criss Cross Back Straps & Sweep Train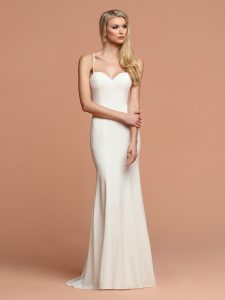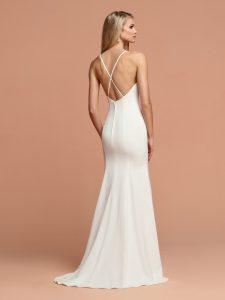 Available in: Ivory, White
To see more details Click HERE Informal by DaVinci Style #F105
Informal by DaVinci Style # F7097: Mikado Fit & Flare A-Line Informal Wedding Dress with Sweetheart Neckline, Sweep Train, Scoop Back & Intricate Back Strap Design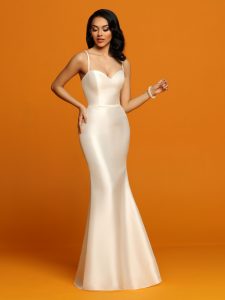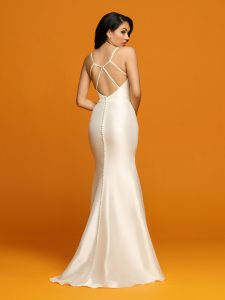 Available in: Ivory, White
To see more details Click HERE for DaVinci Informal Style # F7097
Best Formal & Informal Slip Dress Wedding Gowns: Lace
DaVinci Bridal Style #50700: Lace Sheath Fit & Flare Wedding Dress features a Sheer Lace Bodice with V-Neckline & Keyhole Back Detail. Fit & Flare Skirt has Chapel Train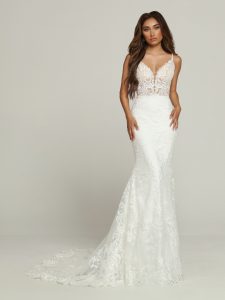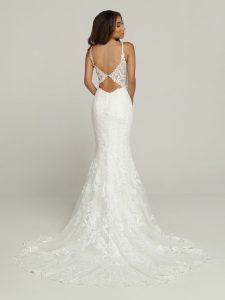 Available in: Ivory/Ivory or Ivory/Nude
To see more details Click HERE for DaVinci Bridal Style #50700
Informal by DaVinci Style #F101: Lace Fit & Flare Sheath Wedding Dress with Sweetheart Neckline, Beaded Cage Style Back Straps & Sweep Train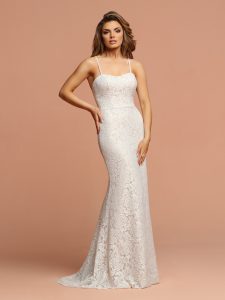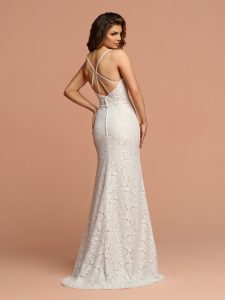 Available in: Ivory, White or Two-Tone Ivory/Nude, White/Nude
To see more details Click HERE Informal by DaVinci Style #F101
Informal by DaVinci Style # F7095: Lace Fit & Flare Informal Wedding Dress with Sweetheart Neckline, Open Scoop Back, Sweep Train & Criss-Cross Back Straps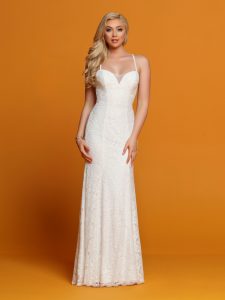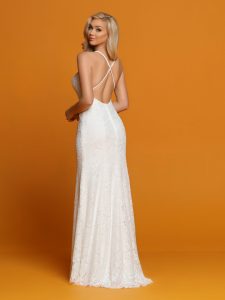 Available in: Ivory, White
To see more details Click HERE for DaVinci Informal Style # F7095
Best Formal & Informal Slip Dress Wedding Gowns: Vintage Vibes
DaVinci Bridal Style #50480: Vintage Style Embroidery & Tulle Fit & Flare Wedding Dress, Art Deco Beadwork, Sweetheart Neckline, Beaded Spaghetti Straps, Chapel Train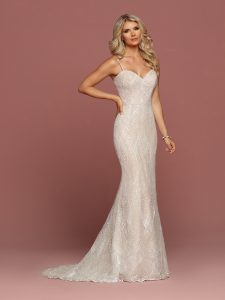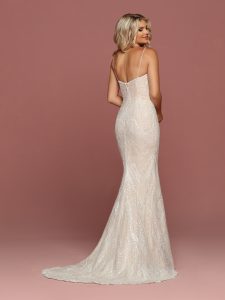 Available in: Ivory, White or Two-Tone Ivory/Topaz, White/Topaz
To see more details Click HERE for DaVinci Bridal Style #50480
DaVinci Bridal Style #50619: Glittering All Over Sequin Tulle A-Line Ball Gown with Sweetheart Neckline, Criss Cross Back Straps & Chapel Train. Available in Two-Tone Color Options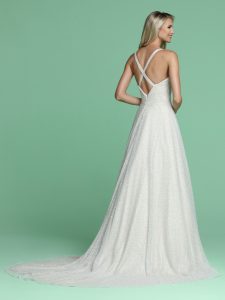 Available in: Ivory or Two-Tone Ivory/Blush
To see more details Click HERE for DaVinci Bridal Style #50619
Informal by DaVinci Style #F107: Lace & Tulle A-Line Wedding Dress with Sweetheart Neckline, Beaded Spaghetti Straps, Lace Bodice, Lace Applique at Waist, Gathered Tulle Skirt, Beaded Belt & Sweep Train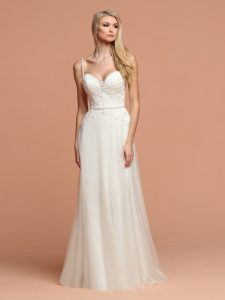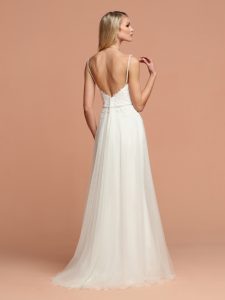 Available in: Ivory, White
To see more details Click HERE Informal by DaVinci Style #F107
DaVinci Bridal Style # 50511: Tulle Fit & Flare Wedding Dress, Vintage Style Embroidered Tulle, Fitted Bodice, Sweetheart V-Neckline, Beaded Spaghetti Straps, Beaded Belt, Chapel Train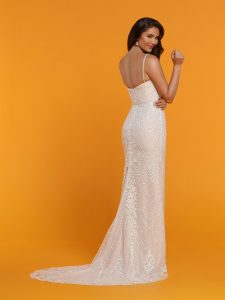 Available in: Ivory or Two-Tone Ivory/Blush
To see more details Click HERE for DaVinci Bridal Style #50511
Best Formal & Informal Slip Dress Wedding Gowns: Sultry Lingerie Looks
Informal by DaVinci Style #F7071 Chiffon A-Line Informal Wedding Dress, Ruched Criss Cross Empire Bodice, High Waist, Beaded Straps, Sweep Train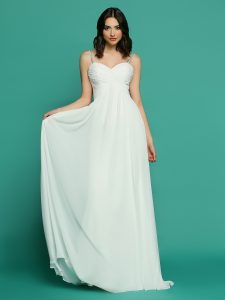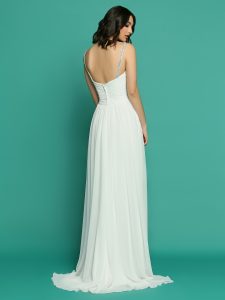 Available in: Ivory, White
To see more details Click HERE for Informal by DaVinci Style #F7071
Informal by DaVinci Style #F7064 Chiffon A-Line Informal Wedding Dress, High Waist, Lace Bodice, Criss Cross Back Straps, Sweep Train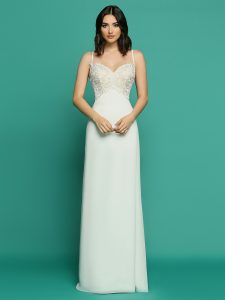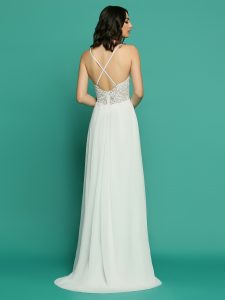 Available in: Ivory, White or Two-Tone Ivory/Champagne, White/Champagne
To see more details Click HERE for Informal by DaVinci Style #F7064
Best Formal & Informal Slip Dress Wedding Gowns: A–Line
DaVinci Bridal Style #50682: Chiffon A-Line Wedding Dress with Sheer Lace Applique Bodice, Open Back, V-Neckline & Beaded Straps. Skirt has Narrow Beaded Waistband & Chapel Train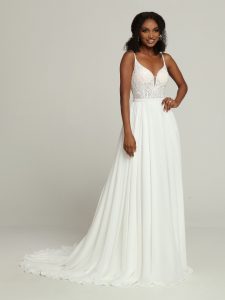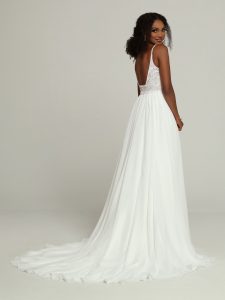 Available in: Ivory/Ivory or Ivory/Blush
To see more details Click HERE for DaVinci Bridal Style #50682
DaVinci Bridal Style #50706: Sparkle Tulle A-Line Ball Gown Wedding Dress features a Sheer Bodice with V-Neckline, Open Back & Slender Shoulder Straps. Lace Applique accents the Bodice & Full Skirt with Chapel Train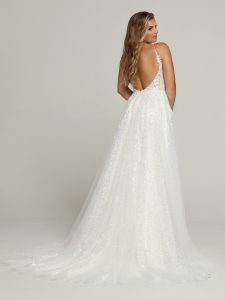 Available in: Ivory/Ivory or Ivory/Nude
To see more details Click HERE for DaVinci Bridal Style #50706
Informal by DaVinci Style # F7087: Point D'Esprit A-Line Informal Wedding Dress with Ruched Sweetheart Bodice, Spaghetti Straps, Open Back & Full Ball Gown Skirt with Sweep Train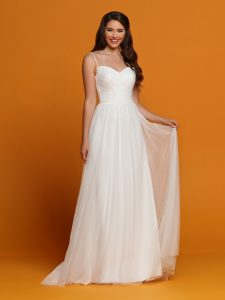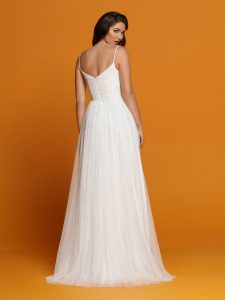 Available in: Ivory, White
To see more details Click HERE for DaVinci Informal Style # F7087
DaVinci Bridal Style #50696: Chiffon A-Line Wedding Dress with Sheer Lace Applique Bodice, V-Neckline & Open Back with Spaghetti Straps. Chiffon Skirt with Chapel Train has Lace Applique Accent at the Waist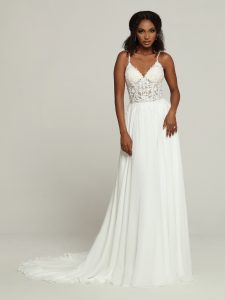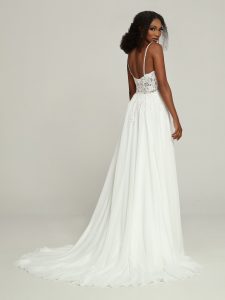 Available in: Ivory/Ivory or Ivory/Nude
To see more details Click HERE for DaVinci Bridal Style #50696
Best Formal & Informal Slip Dress Wedding Gowns: Tulle Ball Gown with a Slip Dress Bodice
DaVinci Bridal Style #50603: Tulle A-Line Ball Gown Wedding Dress with Beaded Bodice, Sweetheart Neckline & Delicate Spaghetti Straps Accenting Deep Scoop Back. Full Multi-Tiered Tulle Skirt with Chapel Train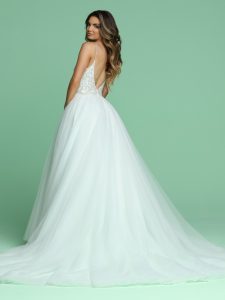 Available in: Ivory or White
To see more details Click HERE for DaVinci Bridal Style #50603
What could be better for a lovely slip wedding dress than an evening venue? Click HERE or on the image below for 10 Tips for a Glamorous Romantic Evening Wedding: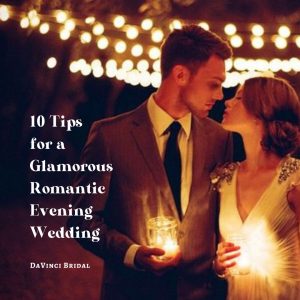 For the best ideas for wedding planning, beautiful on-trend dresses, classic styles & more, Click HERE on the link below for DaVinci Bridal Blog: