Brides are very particular about how they look on their wedding day. You will be, too, and there's nothing wrong with that! In addition to looking fabulous in your dream wedding dress, you want your makeup to look as picture-perfect as you feel inside on such an important day.
It goes without saying that having your makeup done by a professional can be expensive. You're paying for top quality makeup that's supposed to be flawless and foolproof for your entire wedding day and evening, and for it to be applied by a makeup artist with years of expertise. These days, though, more and more brides have taken a DIY approach to wedding makeup, both as a way to save on other expenses and for the joy and satisfaction of doing their own makeup, and successfully, too. Many attribute this trend to Duchess of Cambridge Kate Middleton's decision to do her own makeup on her wedding day. If Kate can do it, then so can you. Here's how:
Months (or Years) of Prep Work
Let's be honest: DIY wedding makeup is so much easier when you have the best skin, but this doesn't happen overnight. So if you're not already on a good skin regimen, start the day you get engaged. Seriously! Look at the beautiful ring on your finger, then look in the mirror, and promise yourself that you'll do everything you possibly can to make your skin look good from this moment on: sleep right, eat right, have regular facial treatments (which you can also do yourself), exercise for a healthy glow, everything. The better condition your skin is in, the easier it'll be to make you gorgeous. Here's the biggest bonus: It'll take less makeup, too! Clear, smooth skin needs far less concealer, and also usually a lighter application of foundation, so you'll look less made-up even close up!!
Arm Yourself With the Right Tools
Take the money you'd otherwise spend on a professional makeup job, and invest in high-quality products that won't melt in the heat or fade away by noon. Buy the best basic makeup you can afford, and then invest in additional products that will ensure your makeup stays put. Look into tips of the professional makeup trade, like silicone primers, setting sprays, and sealants.
It's also a good time to look into HD makeup. High-definition powders are finely milled and contain light-diffusing ingredients. Diffused light creates the beautiful illusion of a flawless, even finish. HD products can make you movie-star perfect even if your wedding video is hi-def. Bye-bye enlarged pores – hello gorgeous!
DIY wedding makeup requires a fairly specific routine. While the steps may vary from bride to bride, this is the basic sequence:
Cleanse, tone and moisturize. Cleanse your face, so you have the best foundation for layering. Toning and moisturizing are equally important. You want to get as much dead skin cells off and out, then make sure your skin is properly hydrated.

Apply a face primer and your foundation of choice. A face primer helps your makeup adhere to your skin and minimizes shine. For your foundation, choose something that offers enough coverage to make your skin color as even as possible. Professionals suggest you use a matte formula to minimize any tendency for shine or oiliness later on.

Spot correct and set. If you have blemishes or dark circles, now's the time to hide them. Apply concealer as sparingly as possible, then set with loose powder to make the concealer blend with your foundation.

Sculpt if necessary. (This is a skill that takes mastery, so practice sculpting well in advance of your big day.) Play up your cheekbones, contour your chin, create a straighter bridge of your nose, whatever you've learned that you need. However, do

not

overzealously sculpt your face. Instead, focus on one or two key areas that you feel you need to correct or minimize.

Next are your eyes. Apply primer to your lids and brow bone, and then your shadow and liner. Important: Today of all days is the day you do

not

want to forget to use waterproof eyeliner and mascara! You'll be crying happy tears for sure, but you don't want to end up with raccoon eyes and smudges.

Shape your brows. (Don't think you can skip this step, not today anyway.) The right shape will create the best frame for your beautifully made up eyes. Always match your eyebrow color to your hair color for uniformity.

Clean up your cheeks. When you did your eyes, it's possible that some of the powders fluffed onto your cheekbones. Brush any of this away with translucent powder.

Apply your blush. How light or dark you go depends on your eye makeup. Keep a sense of balance: if you went for dramatic eyes, play down your cheeks with just a hint of color. If you went neutral on your eyes so your lip color will pop, keep your blush in balance.

Now slick on the longest lasting lipstick you can find. Choose a gorgeous shade in a smudge-proof formula. You'll want your lips to stay fresh-looking all through the ceremony

and

the reception, so keep an extra tube for touchups in your bridal bag.

Set your face. Use a specialized facial mist that seals in your work. Look for a sealant you can mist all over your face. Sealants have particles that help your makeup further adhere to your skin, giving it an extra smudge-proof layer.
Hint: Treat yourself to a makeover or two (so that you get more than one opinion) at one of the high-end cosmetic counters at a quality department store. Ask the artists to explain what they're doing step by step. Tell them you want to learn a little sculpting and contouring, then take notes on what products they use and the order in which they apply each one.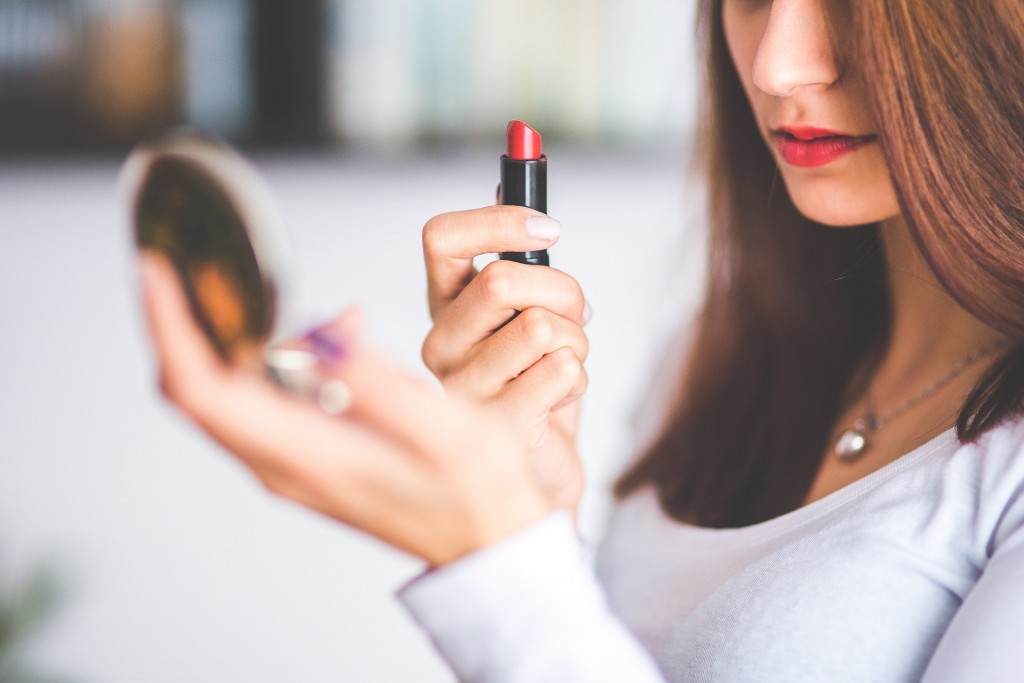 Once you've gathered your equipment – the perfect colors and the best tools – you'll need to practice your look, using these specific products, at least three or four times, if not more. Practice enough that you can do your makeup almost without thinking come wedding day. If you have it down pat, you're less likely to forget a crucial step, plus you won't lose your place if you're distracted.
A Word Regarding Timeless Brides
Sure, it's exciting to try the new trends and latest fads when you do your wedding makeup, but… Twenty years from now, you'll want to look at your wedding album and know that you looked like an ultra-beautiful version of yourself, not someone you barely recognize. If you absolutely must do something trendy, keep it subtle: lush (but realistic) fake lashes, subtle strobing (that's a new trend in highlighting), or just a hint of shimmery highlighter.
Spend the months before your wedding learning, step by step and product by product, what it takes to make you look stunning, then practice and practice to get it down pat, and it'll be a breeze to make yourself picture perfect for your long-awaited walk down the aisle!