For sophisticated, show-stopping wedding dress that's also sexy, choose one of DaVinci Bridal's Plunging V-Neck Wedding Dresses for the Daring Bride.
Today's plunging V-neckline wedding dresses combine the traditional skin-baring neckline detail with elegant silhouettes that are extraordinary and designer chic.
Choose a traditional, classic Mikado silk ball gown with a surprising "down to there" neckline. Or go with a slinky look with a body-skimming fit & flare gown or a traditional mermaid dress with a modest back to offset the sexy low-cut neckline.
And you don't have to give up your fairy tale wedding to be sexy on your big day. Keep the dreamy romance alive with a traditional ball gown wedding dress with the fluffy, multi-layer skirt you love plus the daring plunging neckline that adds the right touch of sizzle.
If you think a plunging wedding gown is right for you, scroll through our collection of comfortable and affordable wedding dresses.
When you buy your Wedding Dress from DaVinci Bridal's Collection…
You know that your gown will be created by one of the premiere bridal dress companies in the world. We use only top quality fabrics fashioned into high fashion design using high-end construction. We guarantee you'll love their affordable prices. A DaVinci is the bridal dress retailers love to carry because best of all, most of these dresses are available for rush delivery at no extra charge!
Plunging V-Neck Wedding Dresses for the Daring Bride:  Elegant Plunging V-Neck Ball Gown Wedding Dress
DaVinci Bridal Style #50561: Mikado Silk A-Line Ball Gown Wedding Dress with Plunging V-Neckline, Wide Smooth Waistband & V-Back. Full Pleated Ball Gown Skirt with Chapel Train has Covered Buttons from Back Bodice to Hem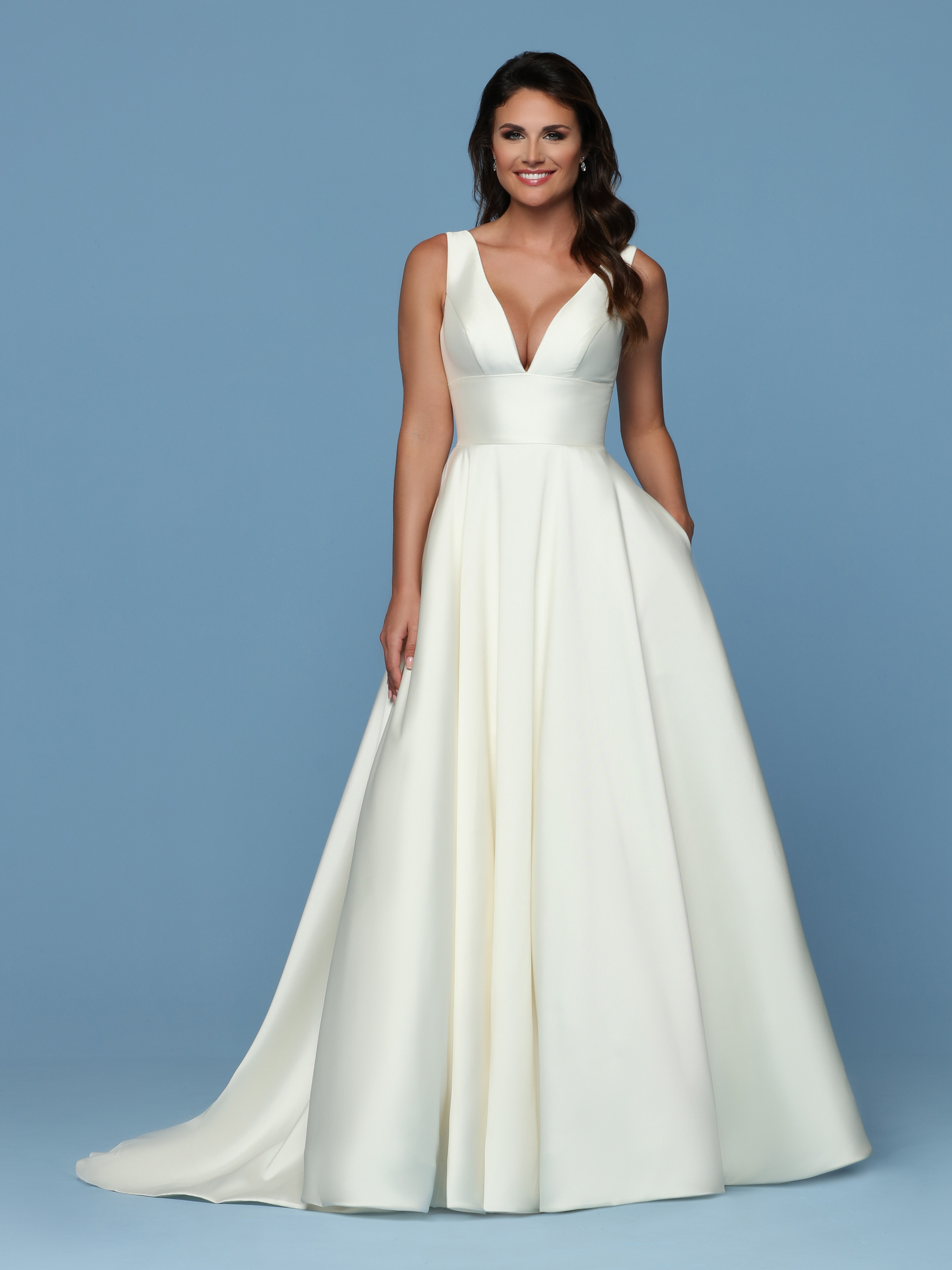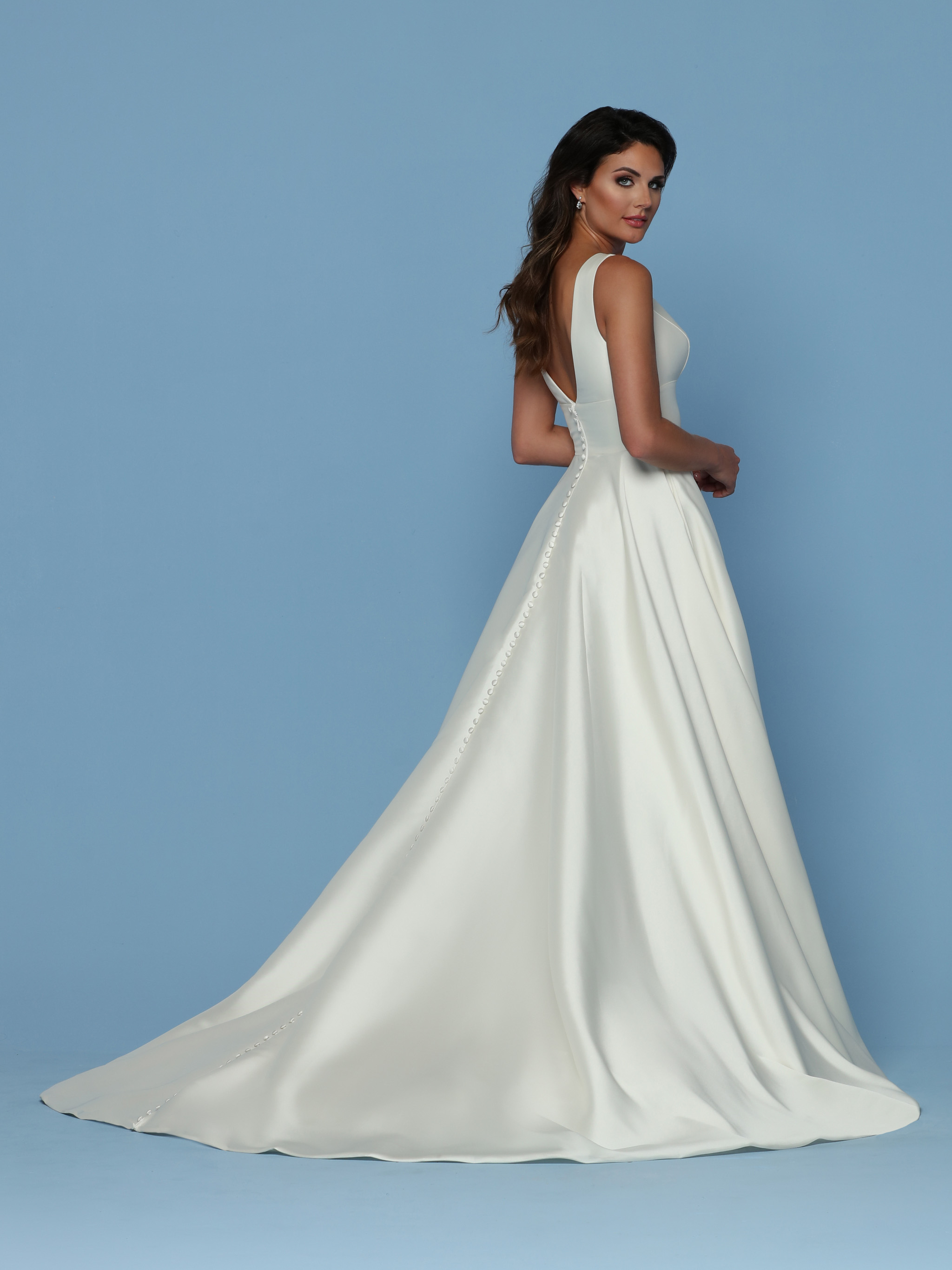 Available in: Ivory, White
To see more details Click HERE for DaVinci Bridal Style #50561
Plunging V-Neck Wedding Dresses for the Daring Bride:  Fairy Tale Ball Gown Wedding Dresses with Plunging V-Neckline
New for 2019! DaVinci Bridal Style #50591: All Over Lace & Tulle A-Line Ball Gown Wedding Dress with Beaded Lace Bodice, Plunging V-Neckline, Modesty Panel & Low Scoop Back. Full Tulle Skirt with Glittering Brushstroke Accent has Chapel Train. Available with Two-Tone Color Option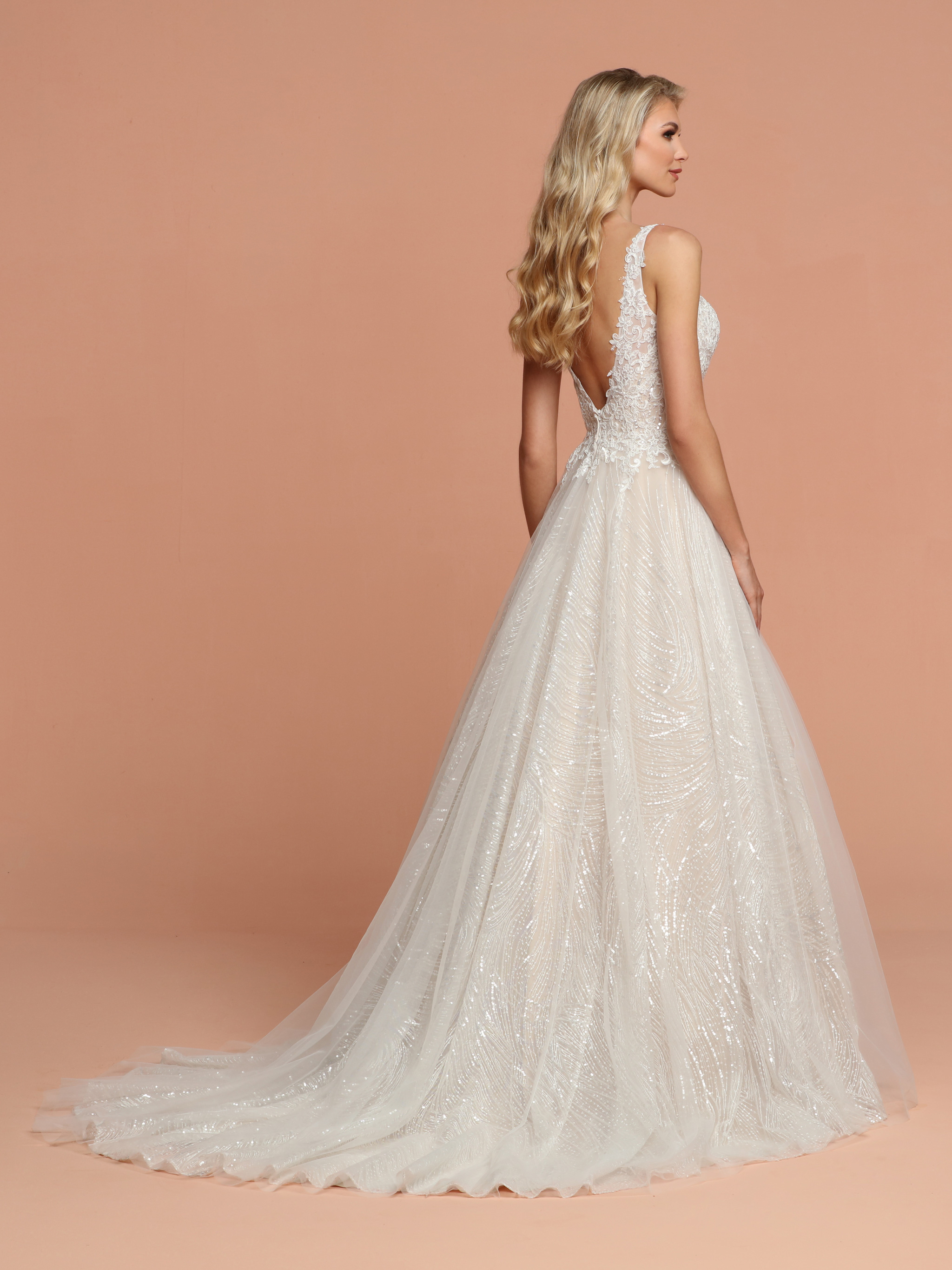 Available in: Ivory, White or Two-Tone Ivory/Nude, White/Nude
To see more details Click HERE for DaVinci Bridal Style #50591
DaVinci Bridal Style #50457: Soft Tulle A-Line Ball Gown Wedding Dress with Lace Bodice, Sheer Back with Covered Buttons & Plunging V-Neck with Lace Modesty Panel & High Sheer Bateau Neckline. Gathered Ball Gown Skirt has Chapel Train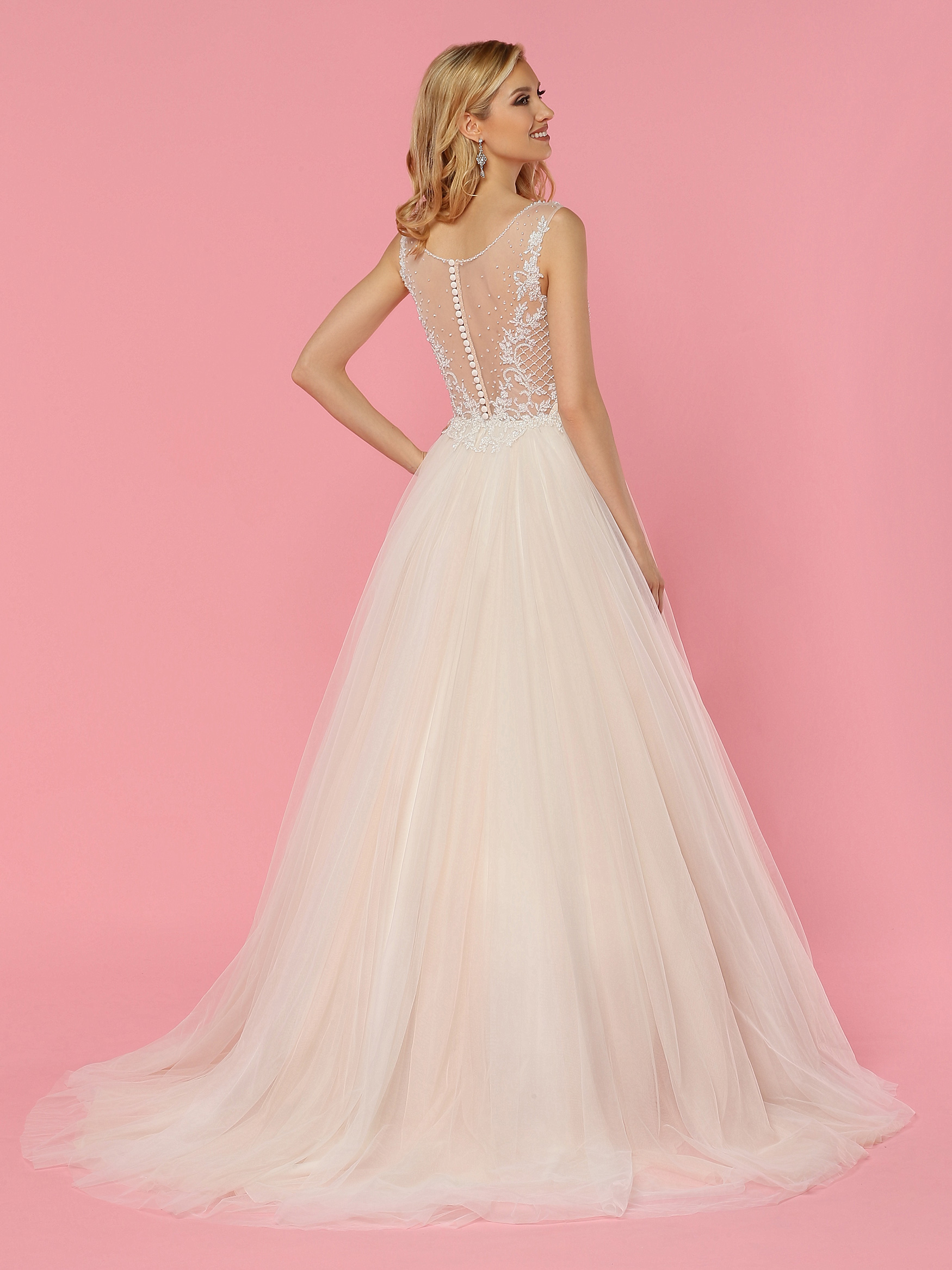 Available in: Ivory or Two-Tone Ivory/Blush
To see more, Click HERE for DaVinci Bridal Style #50457
Plunging V-Neck Wedding Dresses for the Daring Bride:  Classic Mermaid Wedding Dress with Plunging V-Neckline
DaVinci Bridal Style #50484: Tulle Mermaid Wedding Dress with Fitted Beaded Bodice, Plunging V-Neckline, Sheer Beaded Straps & Corset Back. Gathered Tulle Skirt has Chapel Train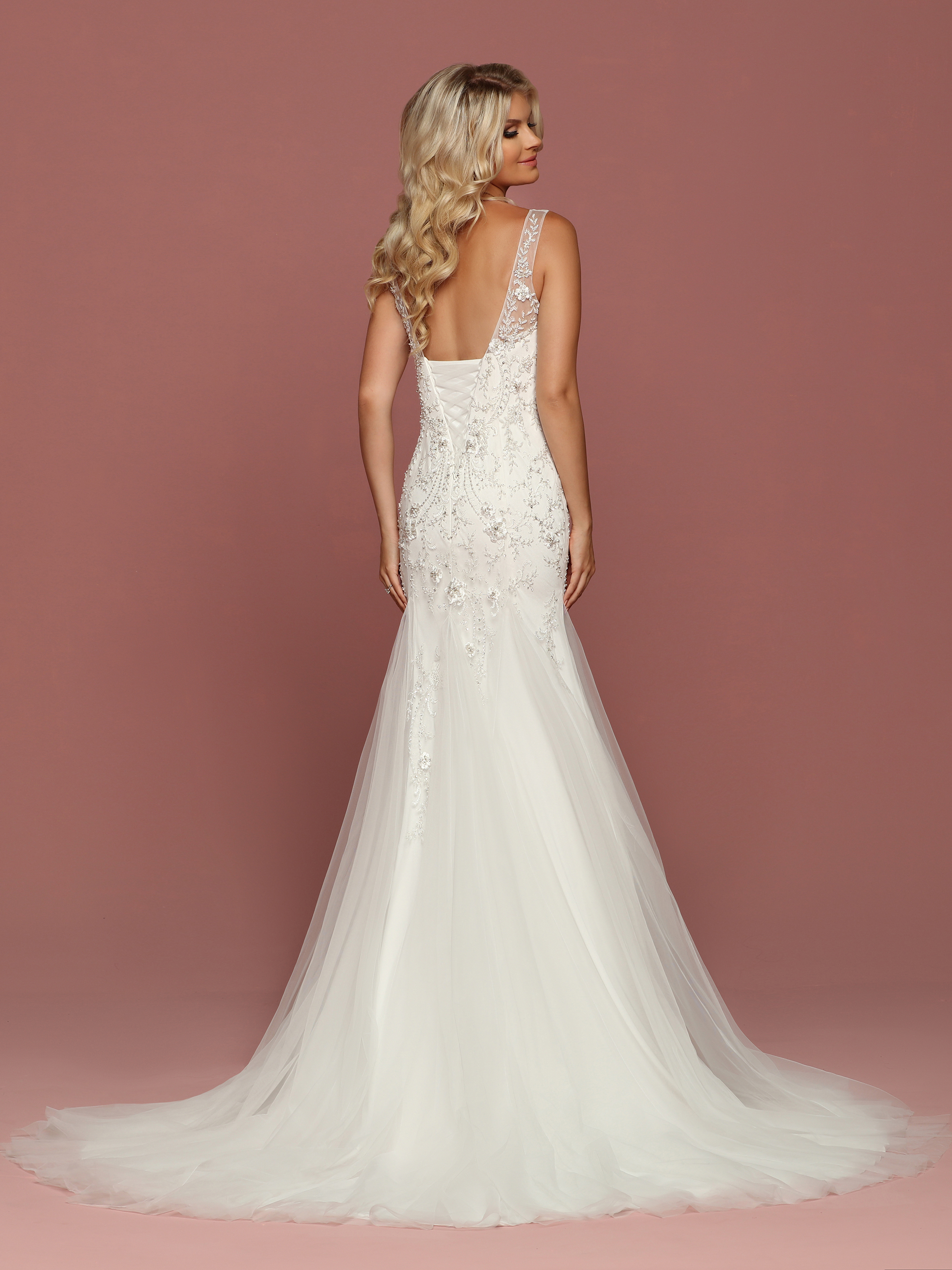 Available in: Ivory, White
To see more details Click HERE for DaVinci Bridal Style #50484
Plunging V-Neck Wedding Dresses for the Daring Bride:  Sexy Slip Dress Style Fit & Flare Wedding Dresses with Plunging V-Necklines
DaVinci Bridal Style #50445: Soft Tulle & Embroidered Lace Fit & Flare Wedding Dress with Plunging V-Neckline, Sheer Bateau Modesty Panel, Sheer Scoop Back with Covered Buttons & Scalloped Lace Chapel Train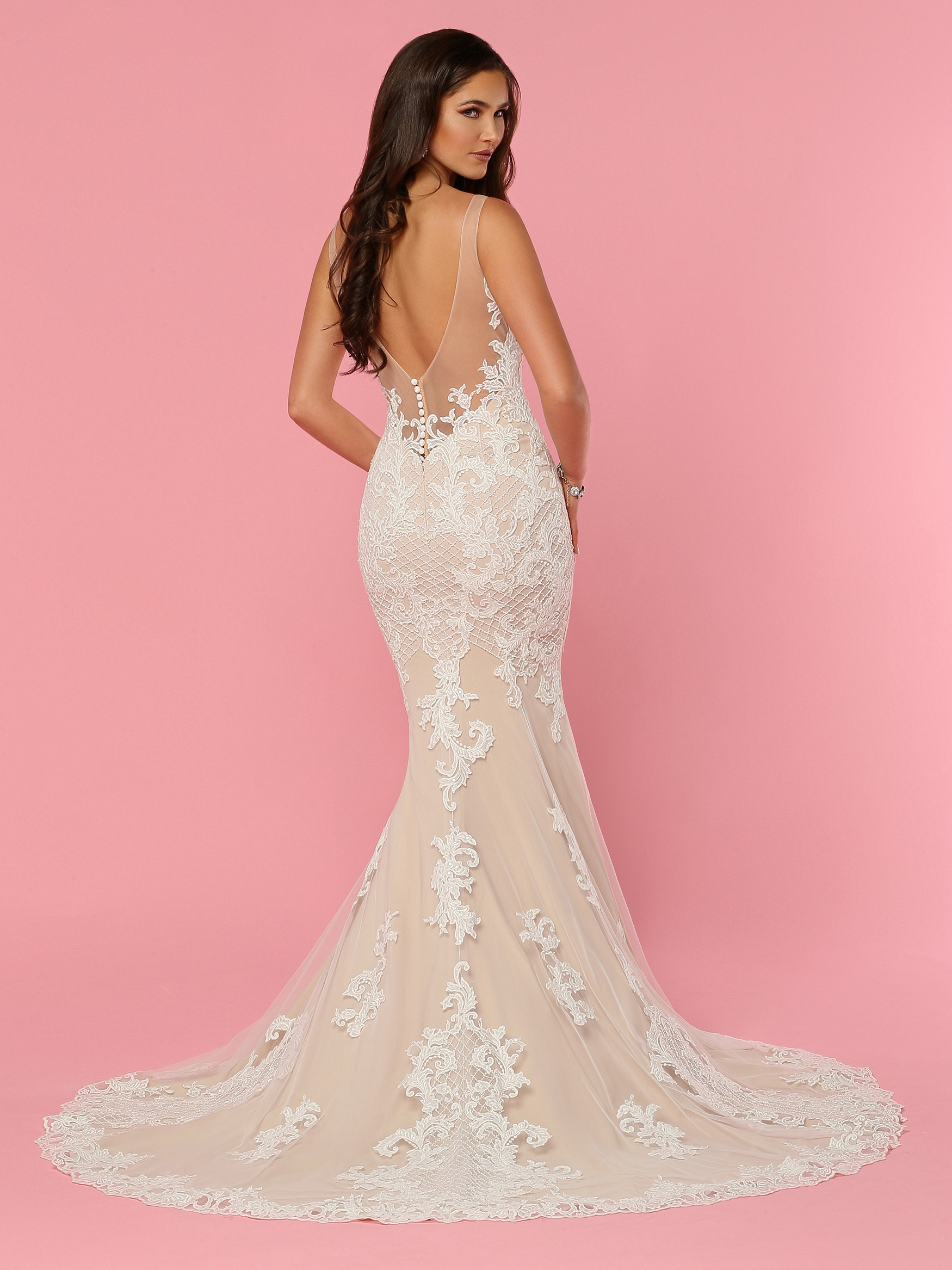 Available in: Ivory or Two-Tone Ivory/Nude
To see more, Click HERE for DaVinci Bridal Style #50445
DaVinci Bridal Style #50369: Lace Fit & Flare Sheath Wedding Dress with Plunging Beaded V-Neckline & Beaded Modesty Panel. Mesh Lace Straps with Beaded Shoulder Detail Criss Cross over Low V-Back.  Fitted Skirt Flares into a Chapel Train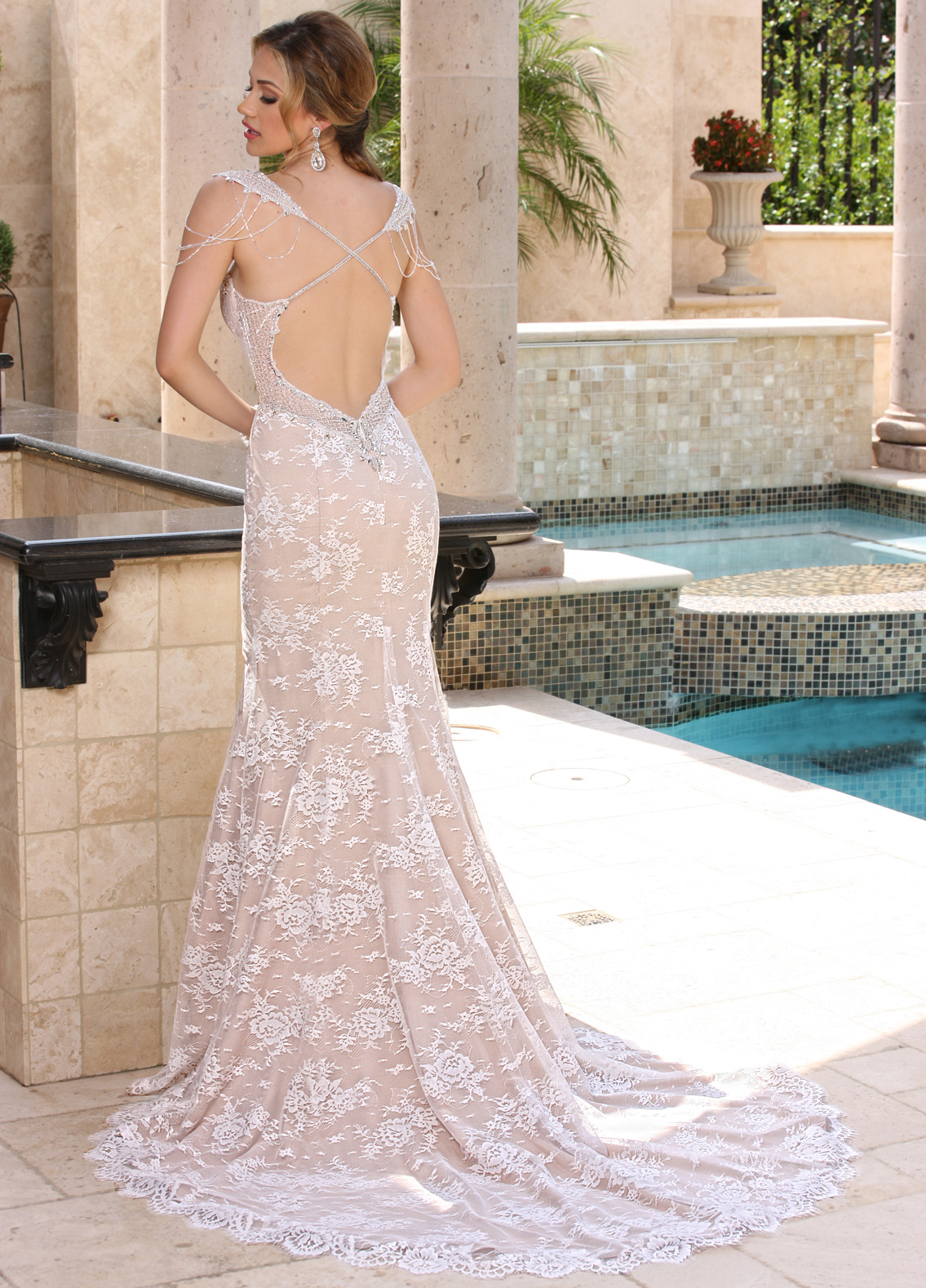 Available in: Ivory, White or Two-Tone Ivory/Champagne, White/ Champagne
To see more details Click HERE for DaVinci Bridal Style #50369
Plunging V-Neck Wedding Dresses for the Daring Bride: Wedding Dresses with Moderate Plunging V-Necklines
New for 2019! DaVinci Bridal Style #50578: Lace & Tulle Fit & Flare Wedding Dress with Deep V-Neckline & Modesty Panel. Narrow Lace Straps, Full Coverage Sheer Back with Lace Applique & Covered Buttons. Tulle Skirt with Wide Lace Hem has Chapel Train. Available with Two-Tone Color Option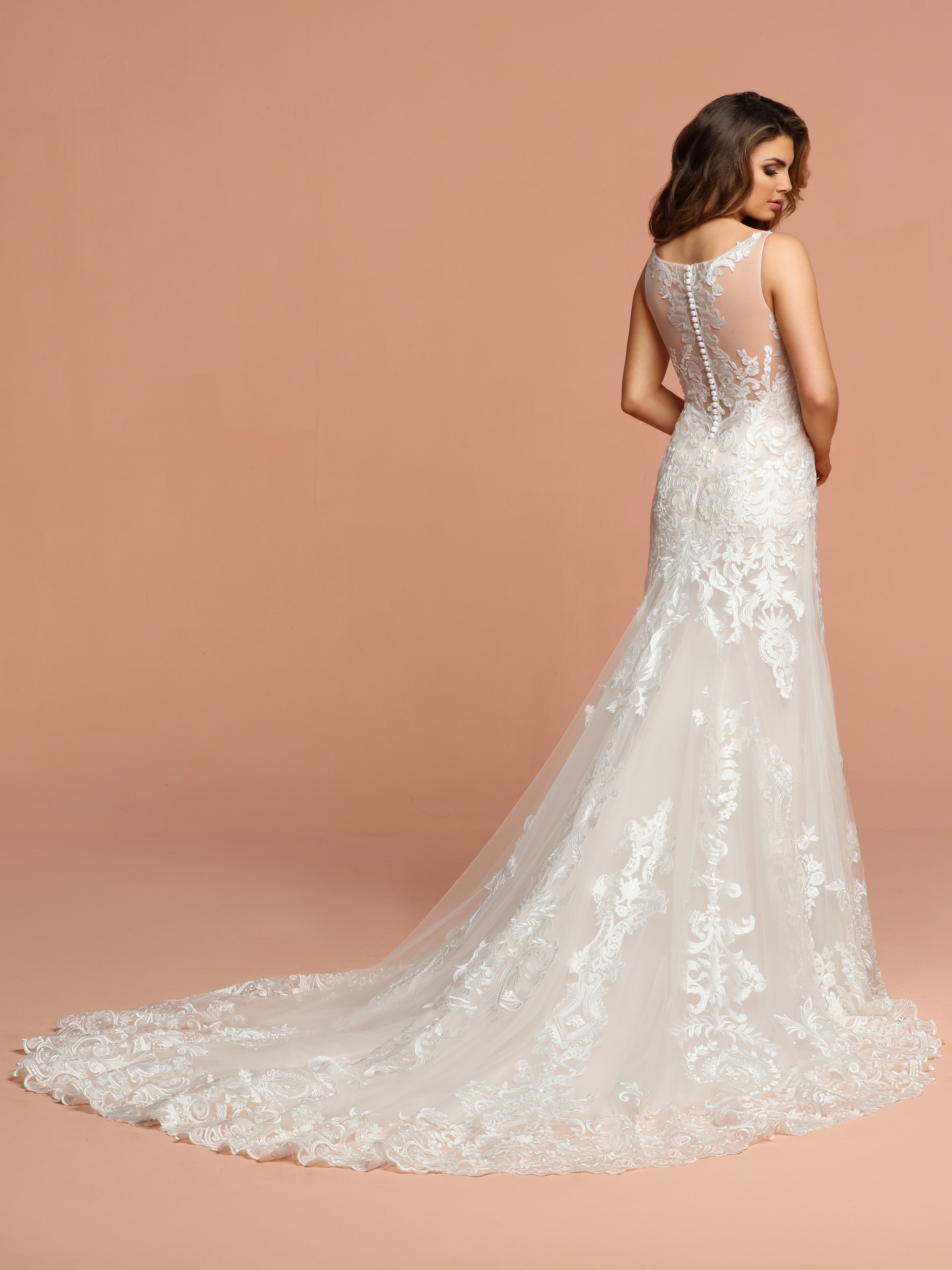 Available in: Ivory, White or Two-Tone Ivory/Blush, White/Blush
To see more details Click HERE for DaVinci Bridal Style #50578
DaVinci Bridal Style #50335: Beaded Lace Fit & Flare Wedding Dress with Deep V-Neckline, Wide Lace Shoulder Straps & Deep V-Back with Covered Buttons. Fit & Flare Skirt with Lace Applique has Chapel Train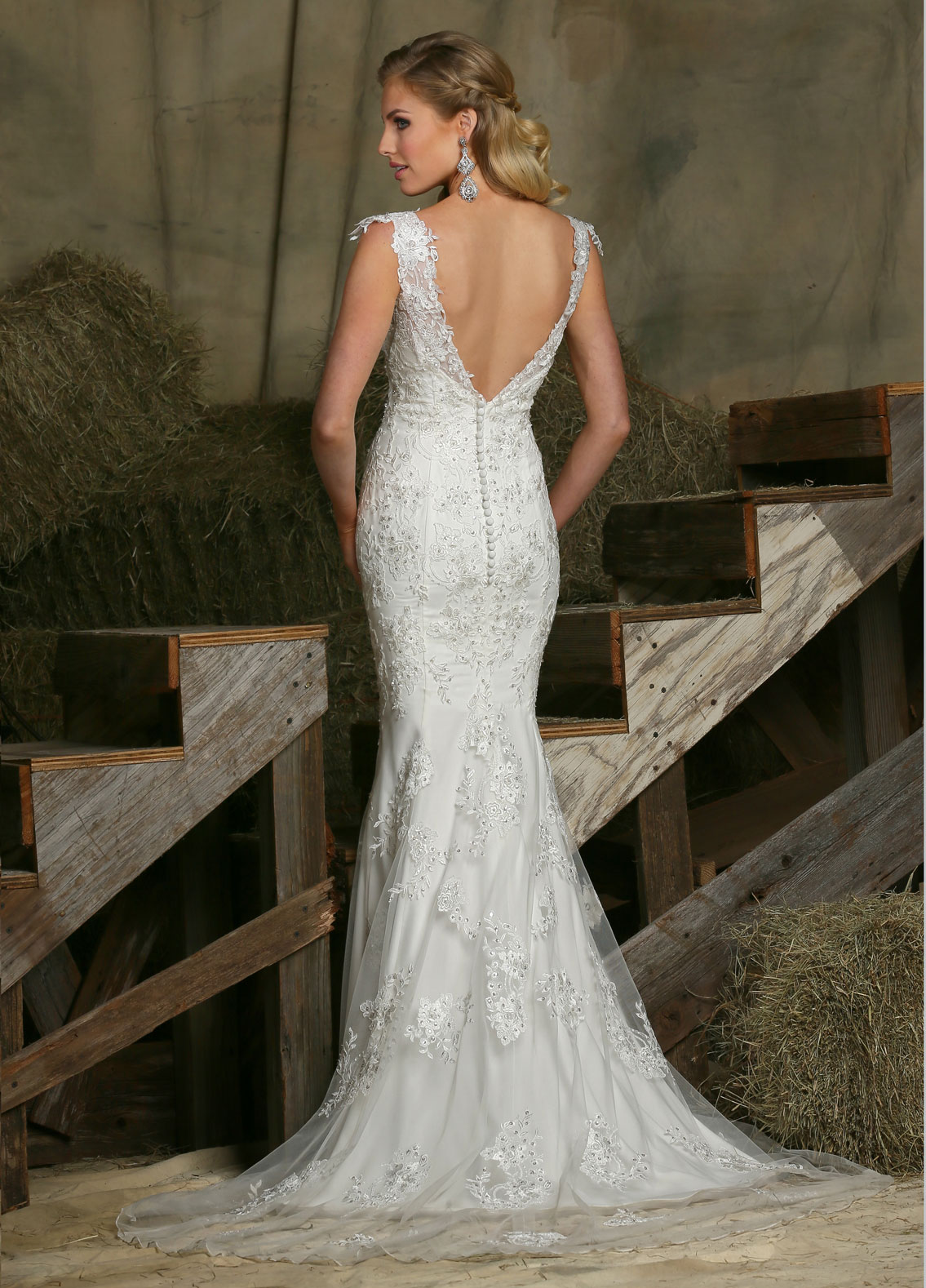 Available in: Ivory, White
To see more details Click HERE for DaVinci Bridal Style #50335
DaVinci Bridal Style #50431: Lace & Tulle A-line Wedding Dress with Plunging V-Neckline, Lace Bodice, Wide Sheer Lace Straps, Sheer Lace Back with Covered Buttons & Wide Ribbon Waistband. Gathered Tulle Ball Gown Style Skirt with Lace Applique Waist Detail has Chapel Train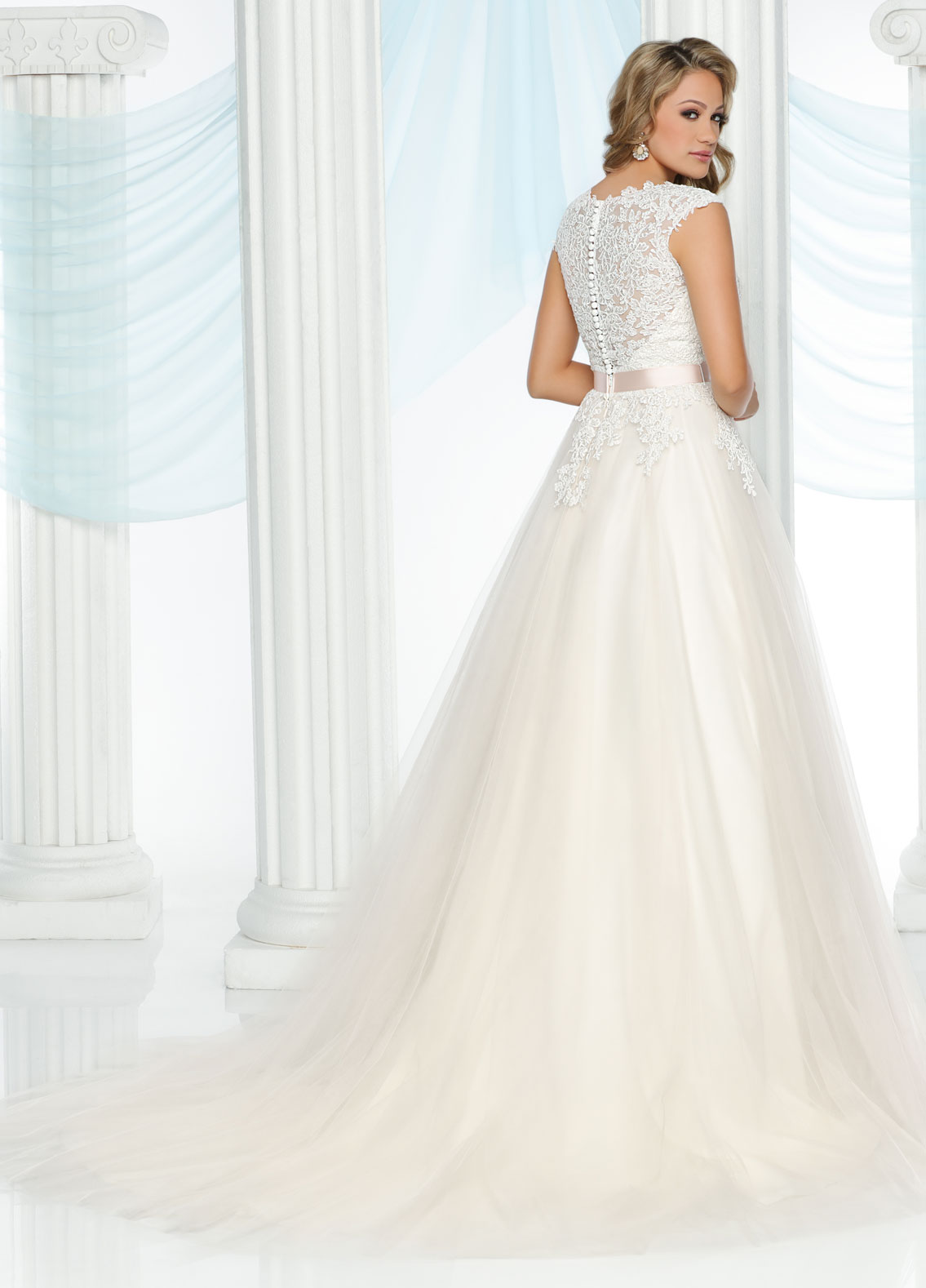 Available in: Ivory, White or Two-Tone Ivory/Blush, White/Blush
To see more details Click HERE for DaVinci Bridal Style #50431
DaVinci Bridal Style #50329: Lace & Tulle Fit & Flare Wedding Dress with Fitted Lace Bodice, Scalloped Lace V-Neckline, Sheer Lace Back with Covered Buttons & Wide Lace Cap Sleeves. Fit & Flare Skirt with Scalloped Lace Hem has Chapel Train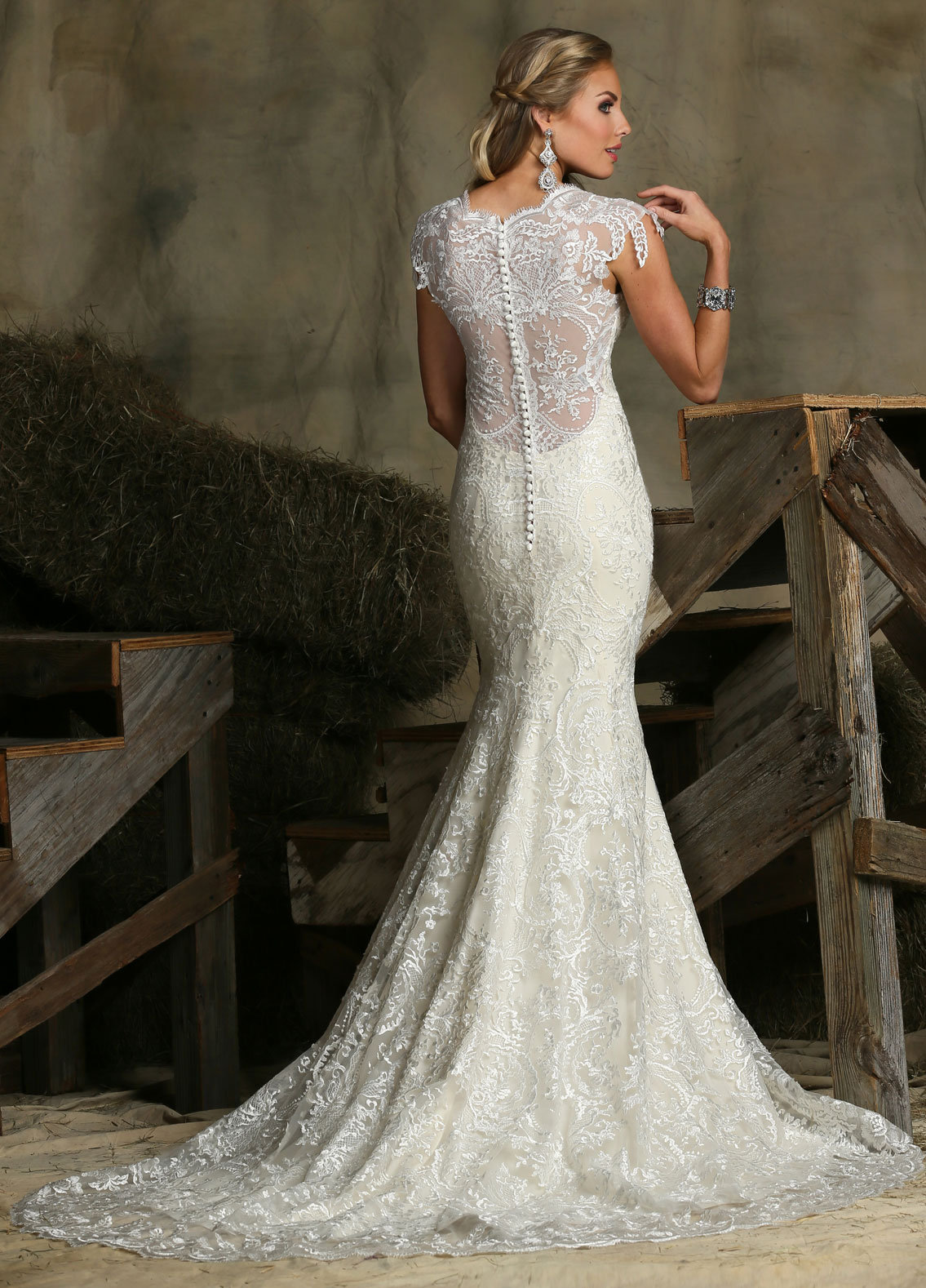 Available in: Ivory, White or Two-Tone Ivory/Champagne, Ivory/Bridesmaid
To see more details Click HERE for DaVinci Bridal Style #50329
Plunging V-Neck Wedding Dresses for the Daring Bride: Unique Sweetheart Ball Gown Wedding Dress with Plunging V-Neckline
DaVinci Bridal Style #50411: Lace, Organza & Tulle A-Line Wedding Dress with Lace Bodice, Plunging V-Neckline, Modesty Panel & Spaghetti Straps. Multi-Tiered Organza Ball Gown Style Skirt ends in a Chapel Train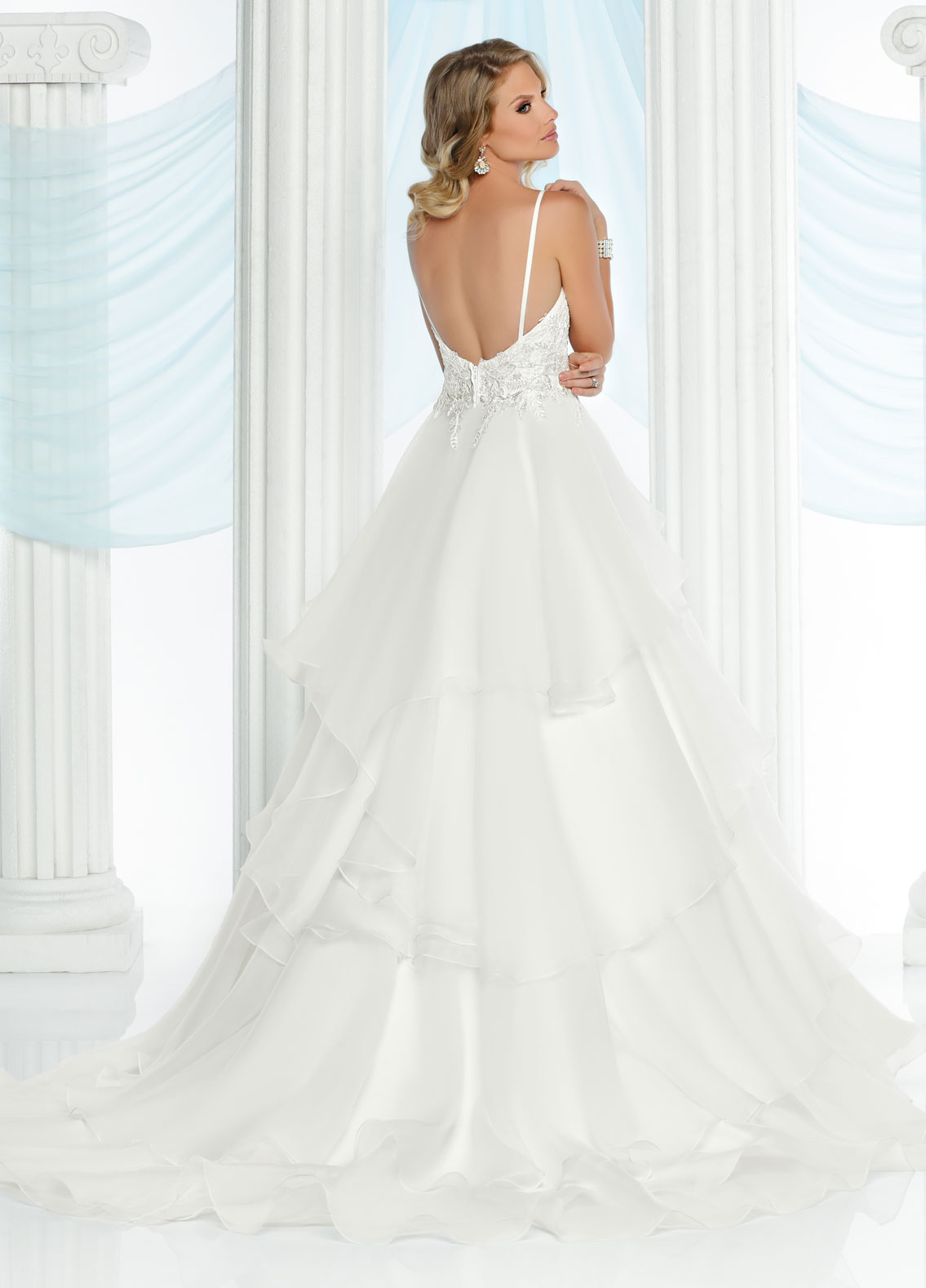 Available in: Ivory, White
To see more details Click HERE for DaVinci Bridal Style #50411
Plunging V-Neck Wedding Dresses for the Daring Bride:  Wedding Dresses with Modest Sheer Bodice over Plunging V-Neckline
DaVinci Bridal Style #50371: Jersey & Lace Fit & Flare Wedding Dress with Plunging V-Neck, Sheer Lace Modesty Panel & Sheer Bateau Neckline with Lace Applique. Sheer Lace Back with Covered Buttons has Cut Out Side Seams. Skirt Flares into a Chapel Train
Available in: Ivory, White or Two-Tone Ivory/Bisque, White/Bisque
To see more details Click HERE for DaVinci Bridal Style #50371
Informal by DaVinci Style #F7080: Informal Lace Fit & Flare Wedding Dress with Sheer Lace Bateau Bodice, Scalloped Lace Plunging V- Neckline & Modesty Panel. Sheer Lace Back features Covered Buttons. Skirt with Sweep Train has Scalloped Lace Hem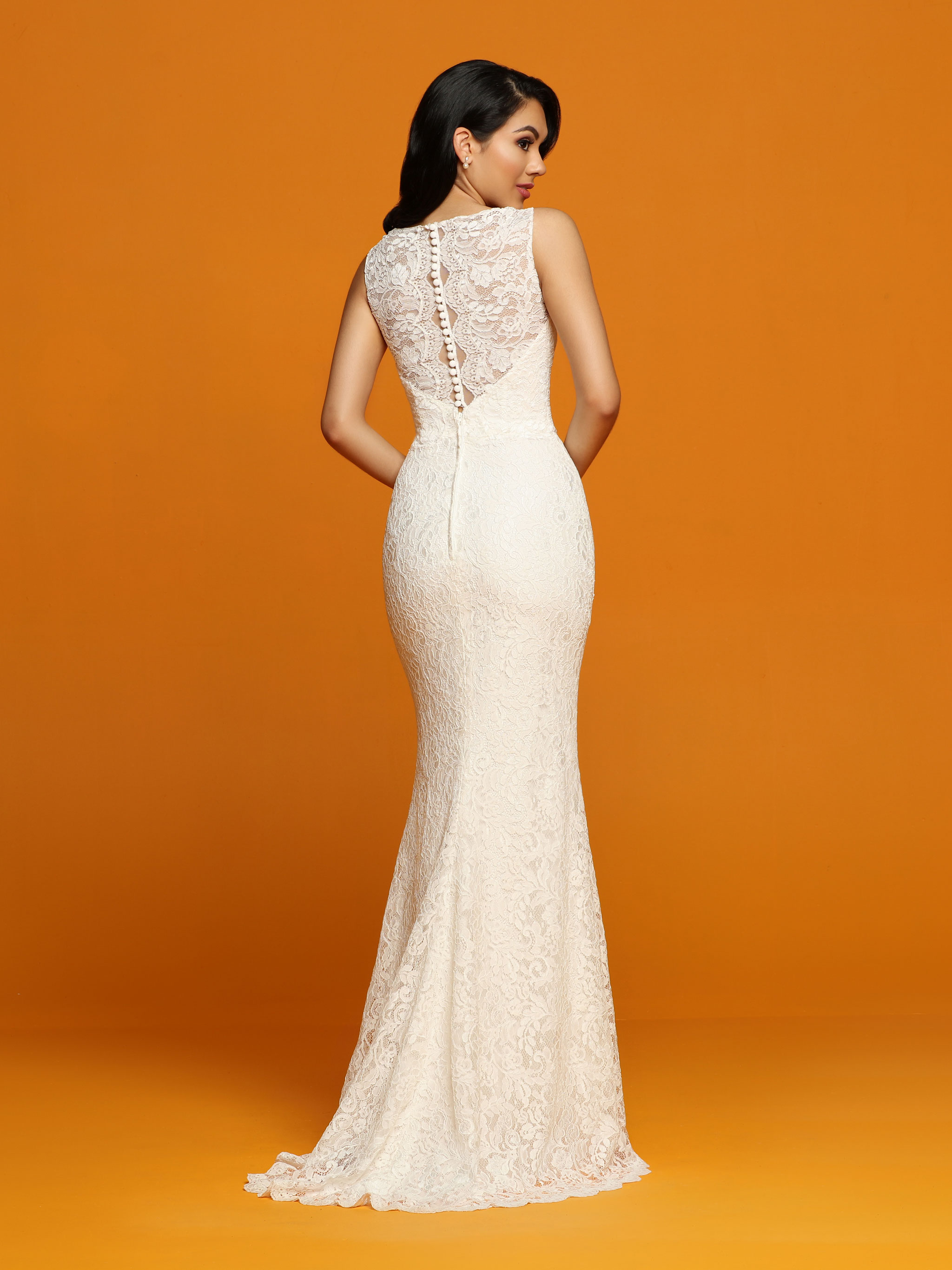 Available in: Ivory, White
To see more details Click HERE for DaVinci Informal Style #F7080
DaVinci Bridal Style #50382: Satin Mermaid Wedding Dress with Modest Sheer Bateau Neckline over Plunging Deep V-Neckline. Sheer Lace Back with Embroidered Lace Bodice. Smooth Satin Skirt as Covered Buttons from Back Neckline to Chapel Train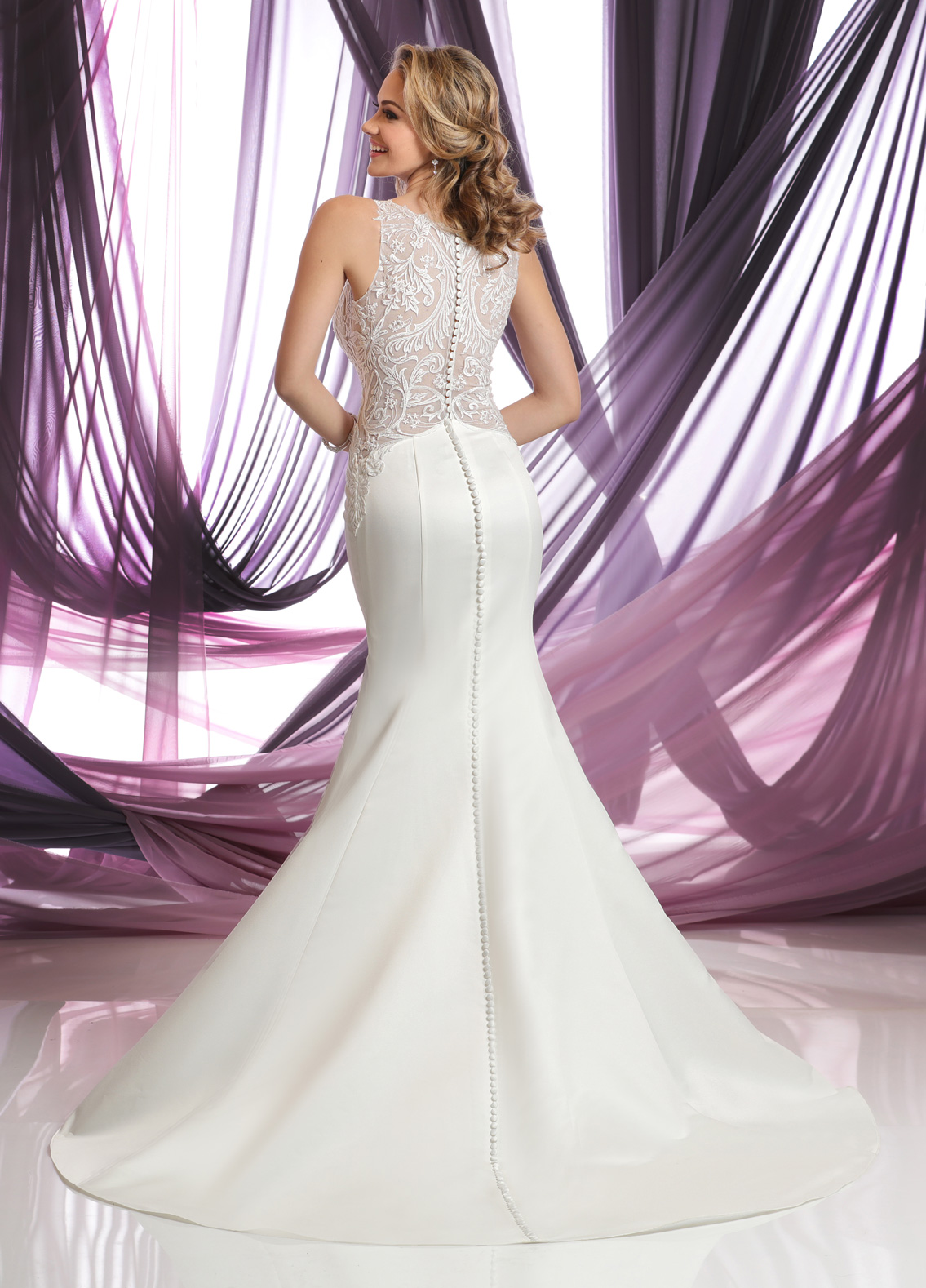 Available in: Ivory, White
To see more details Click HERE for DaVinci Bridal Style #50382
Special Color Option Wedding Dress Collection:
If you love the idea of incorporating color into your wedding gown, Click HERE or on the image below to check out the beautiful gowns in our Color Me Lovely: Wedding Gowns with a Hint of Tint: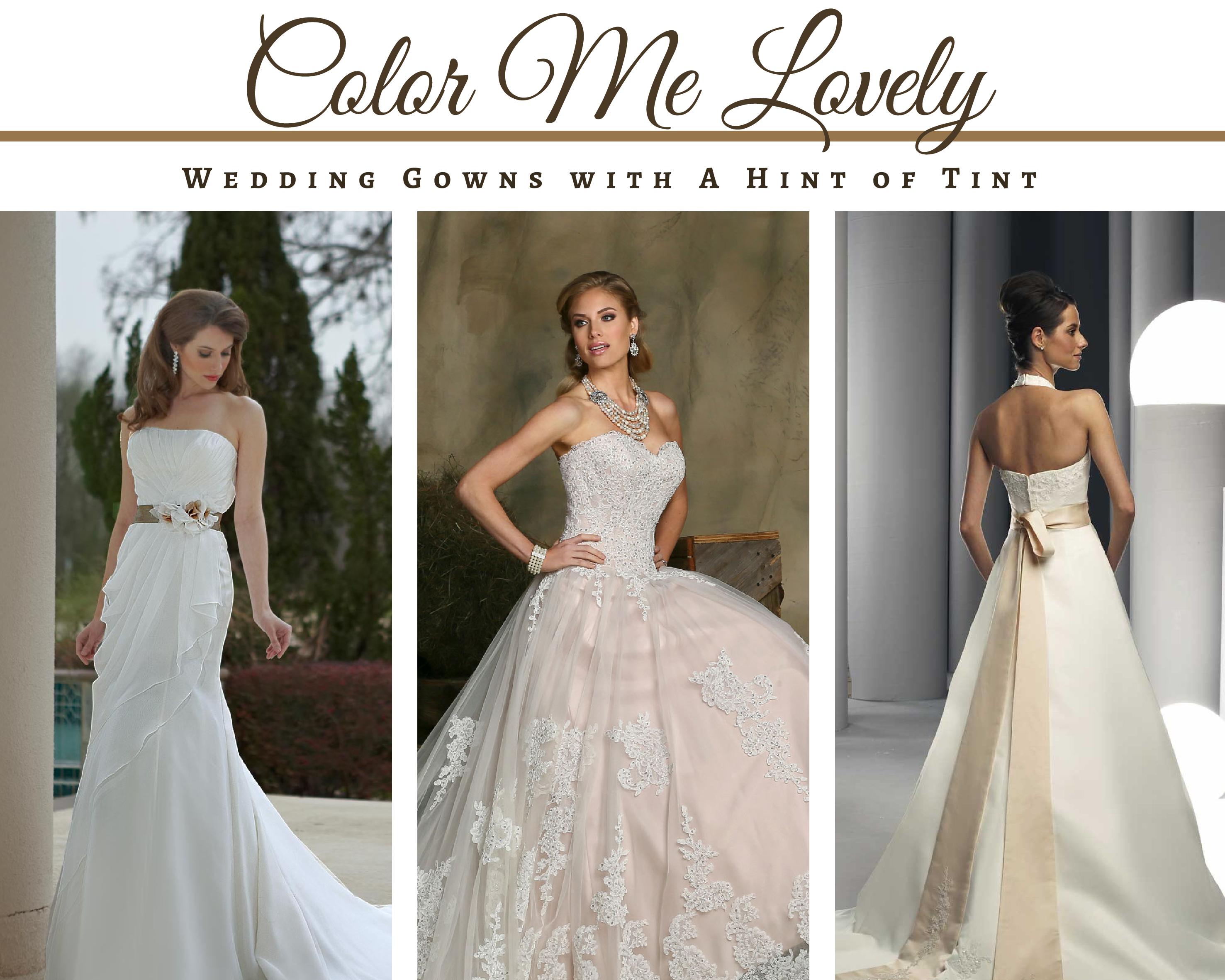 To see all of our beautiful dresses, Click HERE or on the image below for DaVinci Bridal's Flagship Wedding Dress Collection: