Dresses
Winter 2023 Wedding Dresses Sneak Peek
We couldn't wait to show you our brand-new designs, so we included all of our beautiful de designs in this Winter 2023 Wedding Dresses Sneak Peek.
This season includes updated classic styles & the hottest designer details:
Brand New Ball Gowns
Dresses with Veil Options
Slip Dresses
A-Lines
Dresses with Detachable Skirts & Trains
Dresses with Detachable Sleeves
Fit & Flare Mermaid Dresses
You're sure to fall in love with one of them, so make an appointment at one of our DaVinci boutiques for a closer look.
When you buy your Wedding Dress from DaVinci …
You know that your dresses will be created by one of the premiere bridal dress companies in the world. We use only top-quality fabrics fashioned into high fashion design using high-end construction. We guarantee you'll love their affordable prices. A DaVinci is the bridal dress retailers love to carry because most of these dresses are available for rush delivery at no extra charge!
Winter 2023 Wedding Dresses Sneak Peek: Brand New Ball Gowns
DaVinci Bridal Style #50764: Glitter Tulle A-Line Ball Gown Wedding Dress features a Modest Bateau Neckline, Beaded Bodice with Full-Length Sleeves, Back Keyhole, Corset & Chapel Train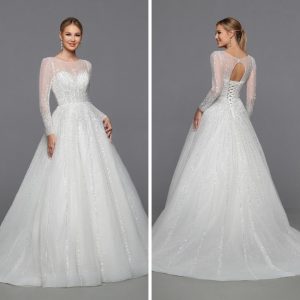 Available in: Ivory, White
To see more details Click HERE for DaVinci Bridal Style #50764
DaVinci Bridal Style #50766: Satin A-Line Ball Gown Wedding Dress with Ruched Faux-Wrap Bodice, Low Scoop Back & Skirt with Hidden Pockets, Detachable Bow & Chapel Train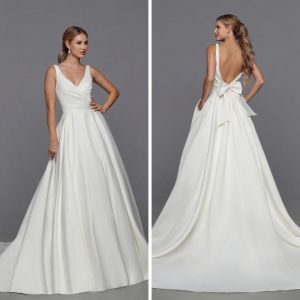 Available in: Ivory, White
To see more details Click HERE for DaVinci Bridal Style #50766
Winter 2023 Wedding Dresses Sneak Peek: Dresses with Veil Options
DaVinci Bridal Style #50761: Tulle & Lace A-Line Ball Gown Wedding Dress with Modest Sheer Bateau Neckline, Lace Applique Bodice, Removable Full-length Sheer Sleeves with Lace Applique & Chapel Train
Ask your DaVinci Retailer about veil options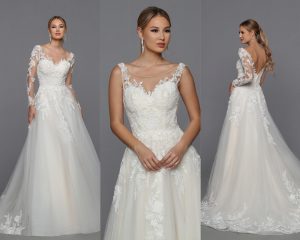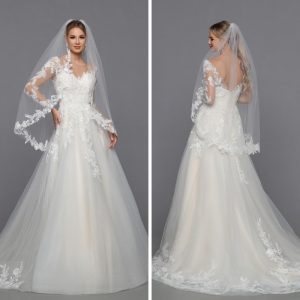 Available in: Ivory/Ivory, Ivory/Lt.Nude, White/White
To see more details Click HERE for DaVinci Bridal Style #50761
DaVinci Bridal Style #50768: Tulle & Lace A-Line Ball Gown Wedding Dress with Plunging V-Neckline, Low V-Back, Lace Applique Bodice, Beaded Spaghetti Straps & Chapel Train
Ask your DaVinci Retailer about this dress's Veil option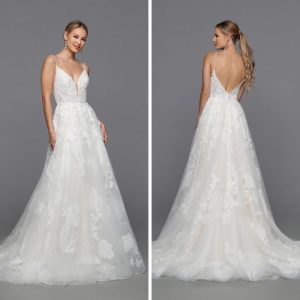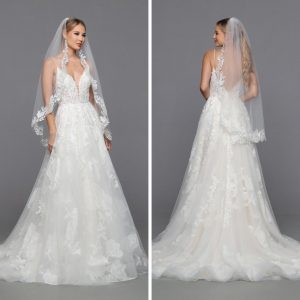 Available in: Iv/Lt Blush, Ivory/Ivory, White/White
To see more details Click HERE for DaVinci Bridal Style #50768
Winter 2023 Wedding Dresses Sneak Peek: Slip Dresses
DaVinci Bridal Style #50786: Tulle & Lace A-Line Ball Gown Wedding Dress with Plunging V-Neckline, Lace-Up Bodice Back & Chapel Train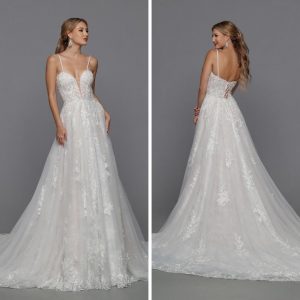 Available in: Ivory/Blush, Ivory/Ivory
To see more details Click HERE for DaVinci Bridal Style #50786
DaVinci Bridal Style #50777: Tulle & Lace Fit & Flare Sheath Wedding Dress with Deep V-Neckline, Lace Applique, Covered Buttons & Chapel Train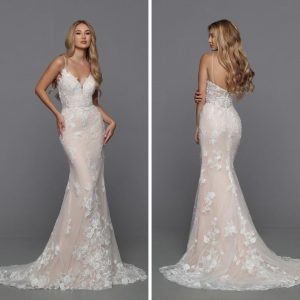 Available in: Ivory/Ivory
To see more details Click HERE for DaVinci Bridal Style #50777
Winter 2023 Wedding Dresses Sneak Peek: A-Lines
DaVinci Bridal Style #50760: Tulle & Lace A-Line Ball Gown Wedding Dress with Plunging V-Neckline, Beaded Back Straps, Lace Applique Bodice & Chapel Train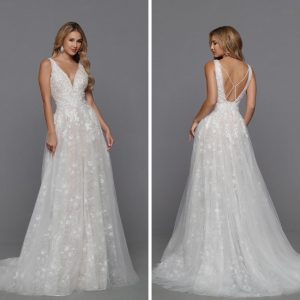 Available in: Ivory/Ivory, Ivory/Nude
To see more details Click HERE for DaVinci Bridal Style #50760 
DaVinci Bridal Style #50787: Tulle & Lace A-Line Ball Gown Wedding Dress with Sweetheart Neckline, Off the Shoulder Straps, Covered Buttons & Chapel Train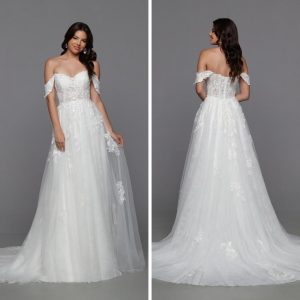 Available in: Ivory/Blush, Ivory/Ivory
To see more details Click HERE for DaVinci Bridal Style #50787
Winter 2023 Wedding Dresses Sneak Peek: Dresses with Detachable Skirts & Trains
DaVinci Bridal Style #50762: Tulle & Beading Fit & Flare Sheath Wedding Dress with Off the Shoulder Sleeves, Beaded Back Strap Detail & Detachable Tulle Overskirt with Chapel Train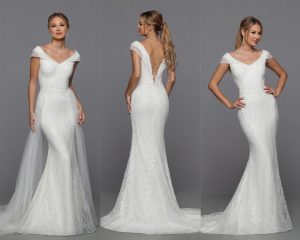 Available in: Ivory
To see more details Click HERE for DaVinci Bridal Style #50762
DaVinci Bridal Style #50783: Tulle & Lace Fit & Flare Mermaid Wedding Dress with V-Neckline, Sheer Lace Racer Back Bodice with Covered Buttons & Mermaid Skirt with Train & Detachable Overskirt with Chapel Train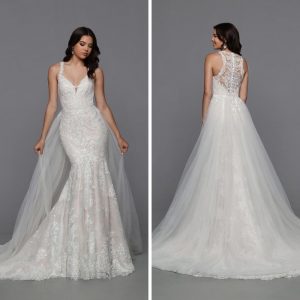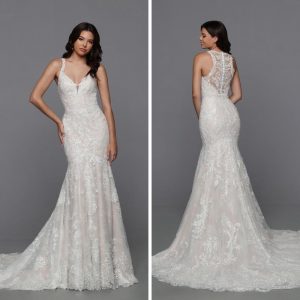 Available in: Ivory/Nude, Ivory/Ivory
To see more details Click HERE for DaVinci Bridal Style #50783
Winter 2023 Wedding Dresses Sneak Peek: Dresses with Detachable Sleeves
DaVinci Bridal Style #50769: Tulle & Lace A-Line Ball Gown Wedding Dress with Modest Sheer Neckline over Plunging V-Neck, Removable Sheer Full-Length Sleeves, Lace Applique Bodice, Low Scoop Back & Chapel Train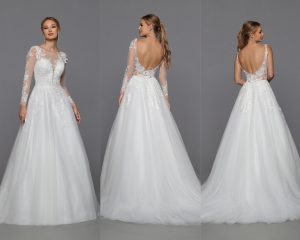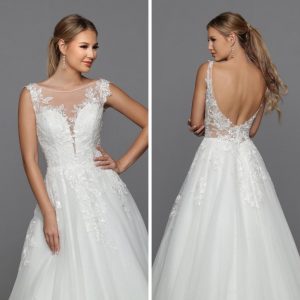 Available in: Ivory
To see more details Click HERE for DaVinci Bridal Style #50769
DaVinci Bridal Style #50776: Crepe & Lace Fit & Flare Sheath Wedding Dress with Deep V-Neckline, Sheer Lace Back with Covered Buttons, Detachable Full-Length Sleeves & Chapel Train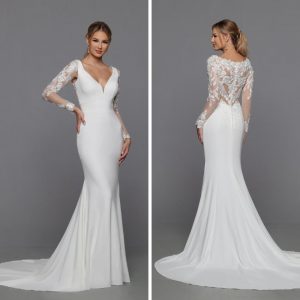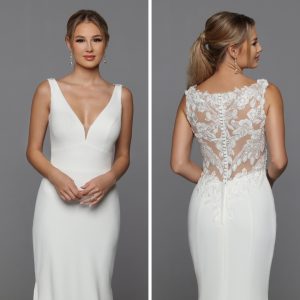 Available in: Ivory/Nude, Ivory/Ivory
To see more details Click HERE for DaVinci Bridal Style #50776
DaVinci Bridal Style #50774: Tulle & Lace Fit & Flare Sheath Wedding Dress with Strapless Sheer Illusion Bodice, Corset Back, Detachable Fill Length Sheer Sleeves & Mermaid Skirt with Chapel Train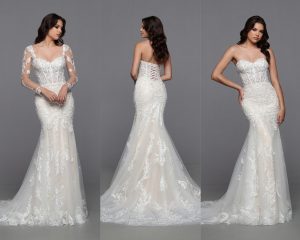 Available in: Ivory/Ivory, Ivory/Nude, White/White
To see more details Click HERE for DaVinci Bridal Style #50774
Winter 2023 Wedding Dresses Sneak Peek: Fit & Flare Mermaid Dresses 
DaVinci Bridal Style #50765: Tulle & Lace Fit & Flare Mermaid Wedding Dress with Plunging V-Neckline, Low V-Back, Sheer Illusion Bodice with Lace Applique & Layered Tulle Mermaid Skirt with Chapel Train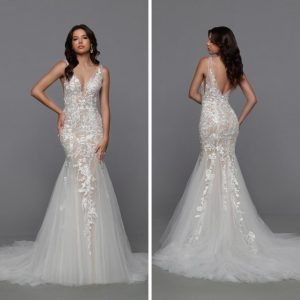 Available in: Ivory/Latte, Ivory/Ivory
To see more details Click HERE for DaVinci Bridal Style #50765
DaVinci Bridal Style #50770: Tulle & Lace Fit & Flare Sheath Wedding Dress with Sheer Illusion Bodice, V-Neckline, Low Scoop Back, Lace Applique, Covered Buttons & Mermaid Skirt with Chapel Train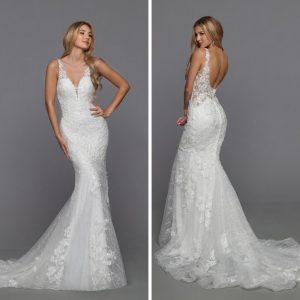 Available in: Ivory
To see more details Click HERE for DaVinci Bridal Style #50770
We have terrific ideas for planning your wedding and tips to help you adapt to circumstances that may have delayed your big day. Click HERE or on the image below for DaVinci Bridal blog: